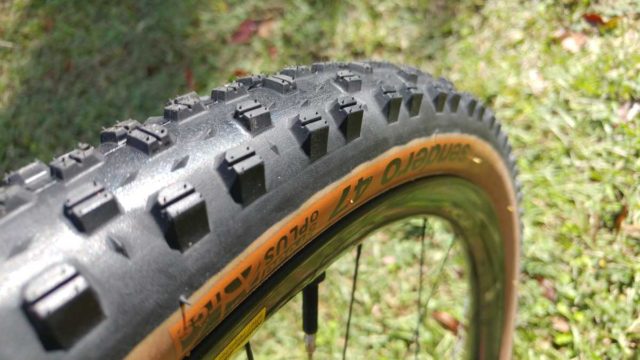 WTF is going on with tires gravel people? The recently released All Road gravel bike from State is spec'd with Vittoria Barzo tires. Now, this is a tire I installed on my XC race bike not long ago when I wanted more grip and an aggressive tread upfront. For racing XC! The Niner RLT Steel 650b appears in promo photos with WTB Sendero's that are essentially fast-rolling XC race tires.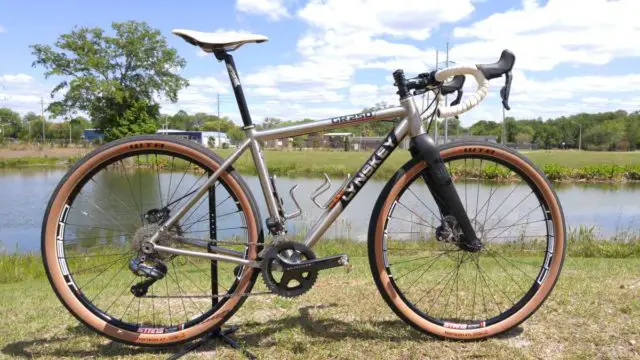 These are just two examples that came across my feed in the few past days. Is your gravel bike really spending so much time on technical singletrack or wallowing through off-camber mud sections to warrant the two-wheeled equivalent of permanently running mud tires on your lifted truck that never ventures beyond the burbs but once a year? If yes, then stop here and find another entertaining article on GravelCyclist.com. But if not, and you are one of the other 99% of gravel riders out there, here are a few points to consider…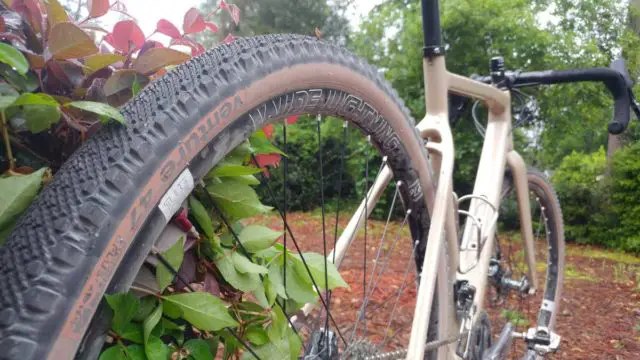 Have you ever ridden through a sandy section and produced enough watts to spin out your back wheel? No? Then you don't need these aggressive tires. Have you lost a gravel race purely on cornering? No? Then you don't need these aggressive tires (honestly, I have seen it happen – once – but in that instance, no amount of tread was going to save the rider from their gross miscalculation of the last downhill turn). Do your regular gravel rides still feature 30%-50% pavement sections that link the favorite sectors together? Yes? Then you don't want these aggressive tires. Do you want to be faster or simply roll easier with less effort on 99% of gravel routes? Yes? Then you don't need these aggressive tires.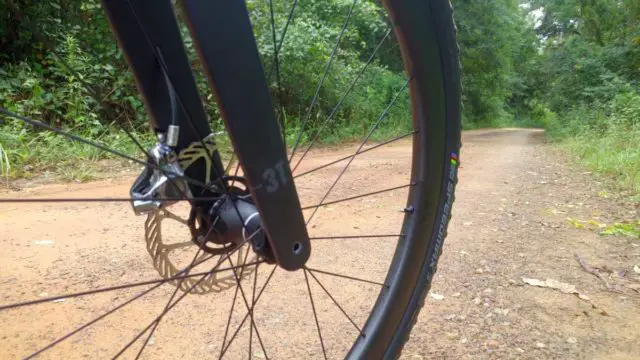 Do aggressive tread patterns have a place in gravel? Sure, but not for most people most of the time. That's why tires such as the Panaracer Gravelking SS, WTB Byway, and Tioga Binary (plus many others) are already on the market. Even the popular Gravelking SK tread is excessive for most routes in most conditions (but if you need one everything / all-conditions tire, this is a good option).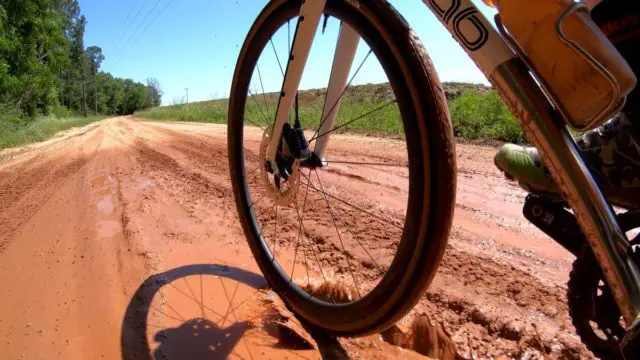 If you are consistently backcountry bikepacking or simply into riding "party pace" then hey, install the knobbed-up aggro tires. If they fit then it's fine. I can appreciate a slow roll as much as anybody. But I normally ride with a bunch that turns every outing into something pretty spirited because it seems somebody is always on a hard effort day. In other words, the usual type-A bike jerks.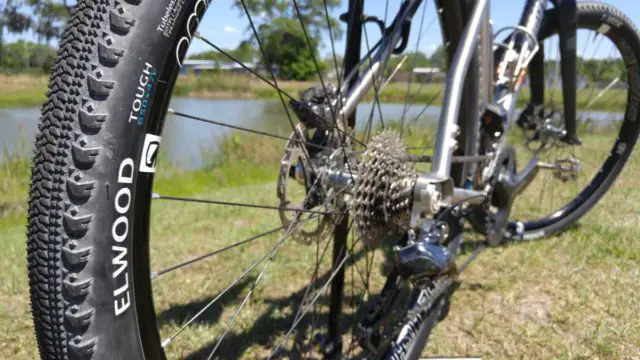 So I want fast-rolling, quick tires to close down the gaps, or sometimes even open them. I'm not suggesting going all Jobst Brandt by just running slick 25mm tires: girth is your friend when the going gets particularly soft or chunky and 38mm to 40mm is on the low side of what we run. But why are you tarting up that gravel bike like you intend running it down an enduro course? Shouldn't you really have another bike for that sort of fun (and I'm guessing you do)?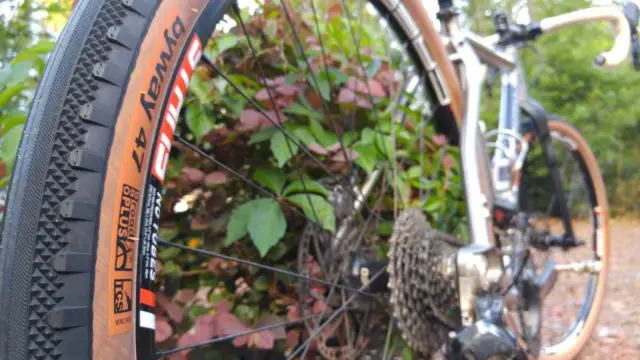 I get it – aggressive tires do look pretty cool in a "wow, I could really take that bike anywhere" catalog photo kinda way. Except that you usually won't. And if you do, you still probably won't need these aggressive tires. On the occasion you do, buy those tires for that adventure then afterward hang them up in the garage and look at them wistfully each time you roll in from your real gravel rides.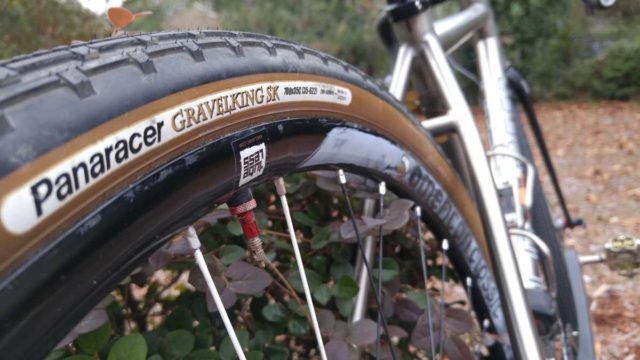 Instead ride smoother, faster, further, and happier. Save the aggression for conditions that warrant it. You will not be over-tired. Oh yeah, tire choice is very personal and what works for me might not work for you!
Tyre Reviews on Gravel Cyclist: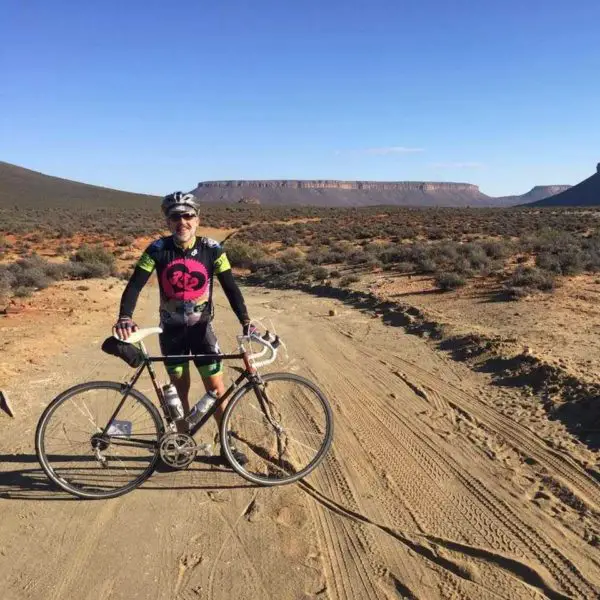 Above, your author, Big Head Todd at the 2017 Tour of Ara (South African Karoo) – Vintage bike, narrow tires, seriously challenging conditions. Re-visit Todd's Tour of Ara experience – Part One – Part Two – Part Three