About WTB (Wilderness Trail Bikes)
"WTB was founded in Marin County, California in 1982, fueled by the need to create durable and reliable mountain bike-specific equipment. Back then mountain biking was a new and burgeoning sport, and mountain bikes weren't much more than cobbled-together oddities. The original WTB crew was captivated by the experience of riding bikes on dirt trails, and they started creating more durable and functional components for their own bikes. Soon, local frame builders sought to outfit their bikes with WTB's high-end components. WTB was able to turn our passion for bikes into a successful business."
A little about 650b Wheels and Tires
WTB is a huge advocate of the smaller wheel size, 650b / x 27.5″, originally made popular on the MTB side of the fence. I don't know who, but someone figured out shrinking the physical size of a wheel, enabled a tyre with a wider casing to fit into bicycles that ordinarily lacked decent tyre clearance.
Whomever that boffin was (boffin = really smart person), also figured out that a 650b tyre that measures 47mm in width, is about equivalent to a 700c x 28mm tyre, at least in terms of its outer circumference. Very clever eh.
This potentially means, depending on the bike's chainstay design, an older frame could be reconstituted to fit some seriously wide rubber. Wide tires in the 650b size are a total effin blast to ride on single track, drop bar style, or for some gnarly gravel roads.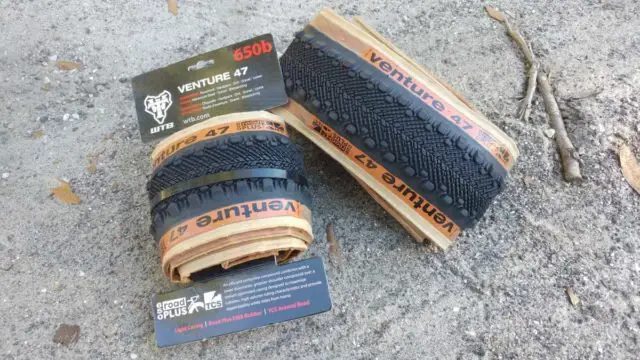 WTB Venture Tire
"Among our most versatile drop bar tires, the Venture delivers optimal performance across the widest range of conditions to serve as a truly set-it-and-forget-it gravel tire for riders who demand traction across a wide variety of terrain."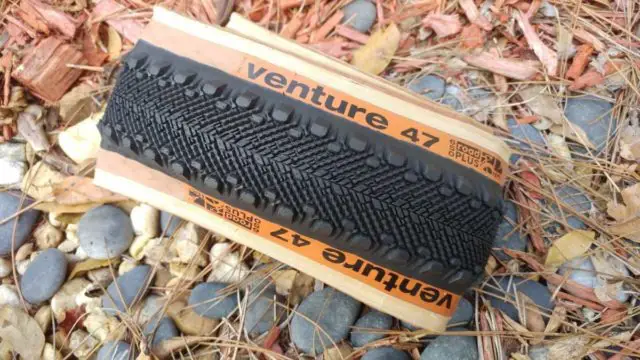 "Elevated centerline ridges provide consistent working edges that dig in whether hammering up a climb or leaning into a turn. Two rows of outer knobs provide confidence regardless of how hard you're cornering while also providing substantial sidewall protection"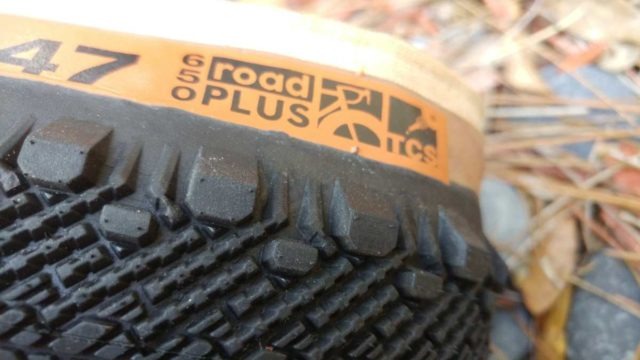 Whilst this review mentions WTB Venture 700c x 40mm / 50mm in the title, the focus of this review is the 650b x 47mm model. We received the 700c samples after our period of testing had concluded. With that said, you could safely assume the merits of the 650b x 47mm model will apply to those as well.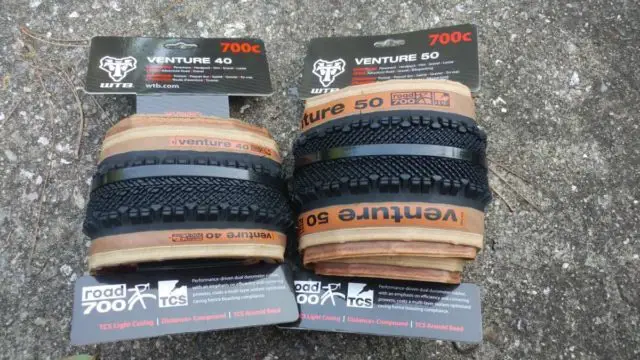 As at late June of 2019, the WTB Venture is available in 650b x 47mm, 700c x 40mm and 700c x 50mm. Features include:
The large, high-volume footprint of each Venture tire allows for more working edges of the tread to always be in contact with the terrain.
Rounded profile with vertical channels to enhance cornering characteristics.
High volume casing enables comfortable ride.
Dual Compound Rubber means a fast rolling tire with great corning traction.
Weighing Them Up
The sample WTB Ventures in 650b x 47mm weighed 538 grams and 561 grams respectively.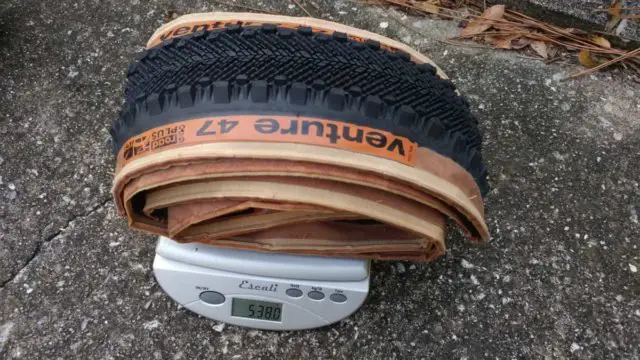 WTB's advertised weight on these tyres is 555 grams. 'Tis always nice receiving a sample tyre that weighs less than the advertised spec, in the case of the sample pictured above.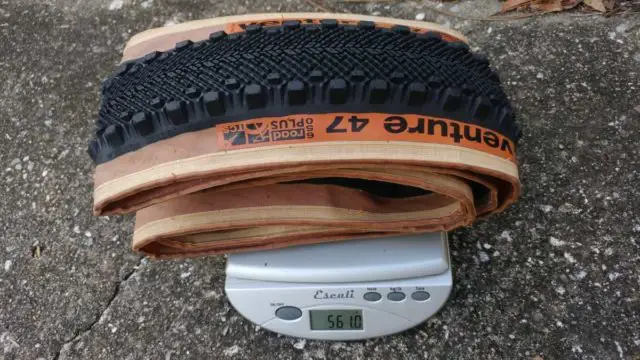 The 561 gram sample tyre is heavier than spec, but falls below the two percent + / – margin of the bicycle industry's advertised weight rule.
Mounting the WTB Venture 650b x 47mm Tyre
The WTB Ventures were a doddle to mount to a pair of American Classic's Wide Lightning 650b wheels. Sadly, American Classic is temporarily out of business?, but the Wide Lightning Wheels are one of my personal go-to wheelsets for 650b fun. The rim is of aluminium construction measuring 29.3mm internally. They are intended as an MTB wheelset and as the name implies, they are W-I-D-E. These WTB Venture tyres are not indicated on their sidewalls as being directional specific, but I mounted them in the direction that seemed logical… the chevron of the centre tread pattern pointing forward.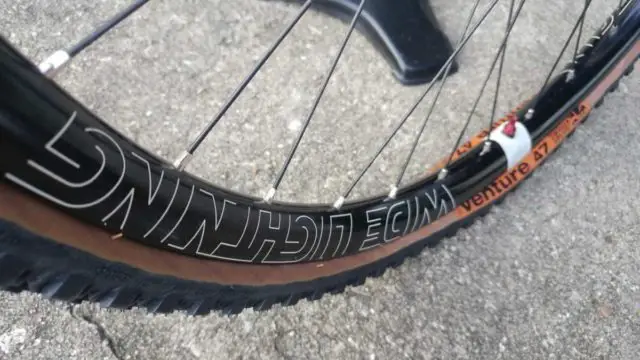 WTB is not in the business of manufacturing tyre sealant, thus, I rely on Orange Seal's Endurance Formula Sealant. If you've not tried this sealant, give it a whirl, you will not be disappointed.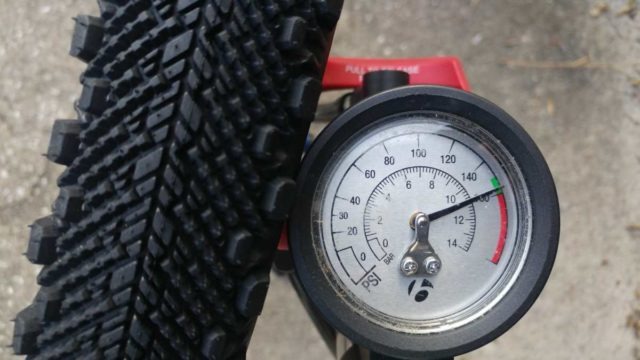 Inflation to appropriate pressure was a breeze, utilizing Bontrager's TLR Flash Charger pump to get the job done. The Venture tyres popped easily into the bead of the American Classic Wide Lightning wheelset, and held air. Once the sealant was installed, I followed my usual routine of "shake and bake" for the tyre (shaking back and forth and rotating the wheel completely, to cover inside of the tyre with sealant). Visually, the Venture sidewalls appear as if they could be porous, but that isn't the case. Hence, no leaking of air or sealant occurred.
If you have questions about ideal tyre pressure, do yourself a favour and check out ENVE's super helpful tyre pressure chart.
Tubeless Tyre Installation Tips:
Always dry mount a tyre first sans sealant, to ensure it will seat and hold air. That can save making a big mess and losing a bunch of sealant.
If you have trouble mounting a tubeless tyre, these tips may help:
Remove the valve core and inflate. This process allows a greater volume of air into the tyre and most times, the tyre will pop onto the bead.
If this doesn't work, apply something like Sleek Beeswax & Mink Oil Furniture Polish to the sidewall. This product is far better than soap and water and will help seat even the most stubborn of tyres. This product can be purchased from your local furniture store or online.
Once the dry mount test has been passed, install your favourite sealant and inflate. Don't forget to keep a fingertip over the valve if you removed the core. This simple step will retain the air you just inflated; if you're good at juggling, you can quickly re-install the valve core and still keep some air inside the tyre. Then, inflate to the desired pressure.
How do the WTB Ventures 650b x 47mm Tyres measure up?
The Ventures measured a smidge over 47mm mounted to the American Classic Wide Lightning wheelset I mentioned earlier (see the photo below).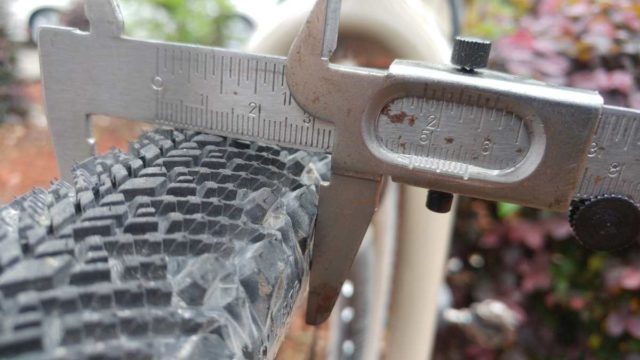 In my experience, most gravelly tyres increase in size from manufacturer specification by about two millimeters on a decently wide rim. As for the Ventures, they stayed at around 47.4mm – on the positive, the Ventures are not undersized.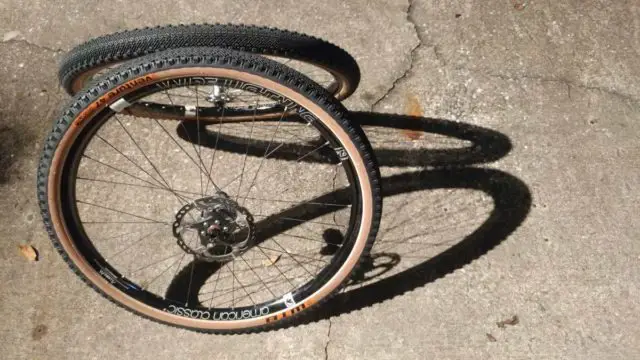 Riding the WTB Venture 650b x 47mm Tyres
Stated earlier, WTB market the Venture as "a truly set-it-and-forget-it gravel tire for riders who demand traction across a wide variety of terrain". So, I began my testing in my usual manner, by taking this tyre to some reclusive mountain bike trails within my USA hometown of Gainesville, Florida. My MTB skills do not set the world ablaze, in fact, I don't even own a mountain bike. Thus, I bumble about the woods on a drop bar bike not really suited to playing in the woods… but I digress…
At my level of riding, the WTB Ventures did a nice job. There was plenty of traction in and out of the saddle and going around corners. I wouldn't say the edge knobs are as confidence inspiring as say a true knobby MTB tyre, but that isn't the point of this tyre. I wasn't overly concerned when I had the bike leaned over left or right, and I didn't go arse over handlebars due to my inept skills. In a straight line on a smooth section of trail, the Ventures are rapido! Most 650b tyres for gravelly use aren't the lightest of beasts and the WTB Venture is no exception. However, their weight didn't hamper me having a nice old time rolling around MTB trails.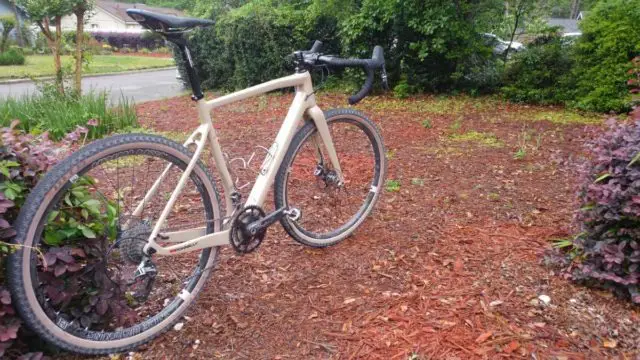 Above, WTB Venture 650b x 47mm tyres fitted to the Donnelly G//C review bike.
Onto mixed, all-round surfaces such as dirt, gravel and pavement which is what the Venture is designed for, it really shines. Once up to speed, they tick along nicely on pavement of any kind, smooth or rough. And inflated to an appropriate pressure, the ride quality is so so nice. There is nary any howling on blacktop, the tell-tale sound of rolling resistance.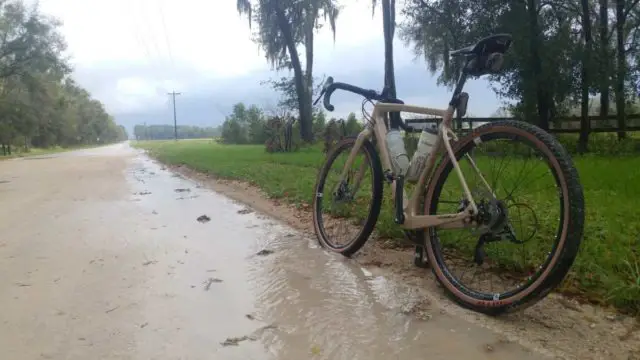 Crossing over to the fun stuff of dirt, gravel and everything else, the speed continues on hardpack dirt and gravel surfaces. Should you encounter a deep pit of despair, meaning mega chunky and loose gravel (think railway ballast) or a sand pit, the wider casing of the 650b x 47mm is really nice. You'll likely chuckle as you drop your friends riding loose gravel as they're floundering about on 35mm to 40mm tyres. Cornering traction is bang on superb. With that said, I am not in anyway suggesting you take dirt and gravel corners as if you're railing a criterium corner, but those little side knobs never let me down. I didn't slide out, fall over or lose any skin turning left or right. This is a good thing.
Even in muddy spots (unfortunately, I didn't try these in some known peanut buttery type locations, as the rain stayed away), they performed well. Whilst I don't have any photos of the tyres caked in mud, because the muddy spots in the photo above were rather underwhelming, the Ventures did well in the non-sticky type mud. Good traction with a minimum of sliding around the place.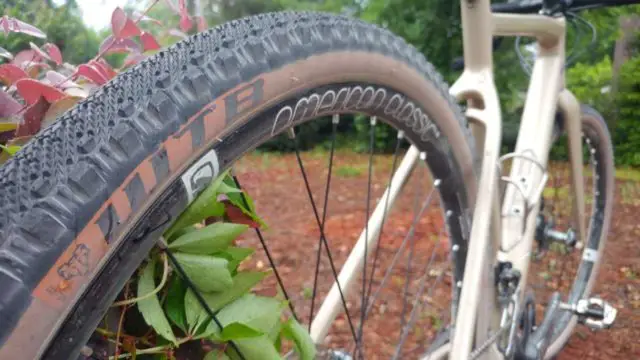 I've mentioned this in other tyre reviews. The composition of soils and such varies across the planet, so what has worked for me in this review, may not work for you. Bear that in mind, as the WTB Venture is marketed as an all-round tyre, and not a true mud tyre.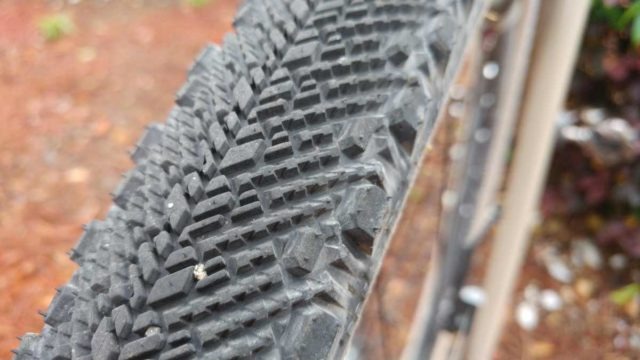 If you haven't figured out yet, the negative of the WTB Venture is its weight. However, in its defense, just about every 650b tyre I have ridden has been porky, which makes no sense at all when you think about it. Shrink the tyre down to 650b / 27.5, widen it a little, and hypothetically you'd expect them to weigh somewhere in the 400 gram range. But, I'm not a tyre designer and there is likely some puncture protection built in there somewhere.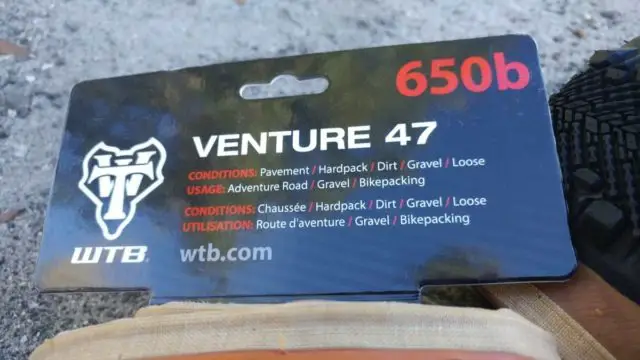 This is another point I've mentioned in earlier tyre reviews. Gravel cycling isn't about rapid accelerations out of corners or brutal attacks (unless you're trying to beat up on your friends). This more pleasant side of cycling is about getting one's tyres up to speed, rolling a nice tempo and chugging along. The Venture has that virtue covered. In fact, I received some WTB Venture feedback from some trendsetters who watch the Gravel Cyclist Facebook presence… these are direct quotes of their experiences:
Tony R – "I used the 650b ventures at the dirty kanza this year and they were fantastic! no punctures great in loose great in hard pack couldn't recommend them more!"
Eric C – "The 700x40s were awesome at the Hilly Billy Roubaix. Ridiculous mud sections, steep loose climbs, and deep gravel descents. This may have been my favorite 40c gravel tire yet." Note from JOM – Hilly Billy Roubaix is ONE OF MY FAVO(U)RITE RACES of all time. Hopefully, I can return in 2020.
Nic V – "The 700×40's Ventures performed without fault at this weekends Gritfest".
Mark J – "

Its an awesome tyre, a real all rounder."
If the above feedback doesn't win you over, well…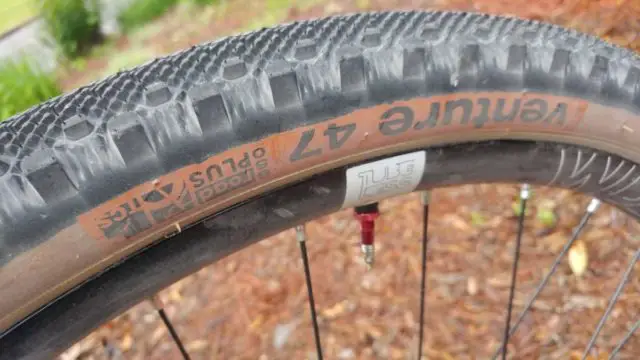 Finally, I don't go around poking holes intently into tyres or riding them over broken glass. With that said, I didn't experience any tyre punctures during the review period… that my sealant would likely have fixed anyway. However, I'm going to assume puncture protection is a good part of the Venture's construction. Tony R's comment above is especially telling. No punctures at Dirty Kanza is a nice accomplishment for any tyre.
Summary
The WTB Venture 650b x 47mm (now available in 700c x 40mm and 700c x 50mm) truly is an excellent all-rounder tyre.
Fast on hardpack – Check (tick if you're Aussie / UK).
Corners well with confidence – Check.
Look good – Check – Tan sidewalls add a touch of class to any bike! If Tan sidewalls aren't for you, WTB offer all of the Ventures in all-black.
Not a true mud tyre but handles the non-sticky stuff well – Check.
Wider volume of 47mm casing is nice on a mega chunky / rocky gravel roads or trails.
Good wear properties – I don't have 5,000 miles on the samples, but they have held up well for the approximately 800 miles I have recorded on them.
The Venture's weight is similar to that of other 650b tyres I've ridden, but I do wish they were a little lighter. However, once up to speed, they maintain it well, so we can let that slide.
MSRP on the WTB Venture line of tyres is as follows:
650b x 47mm – $US 70.95
700c x 40mm – $US 59.95
700c x 50mm – $US 59.95
The Venture tyre can be had cheaper, depending on where you look. The Amazon links below may be helpful to you.