Stage Three – Mbotshwa Buda: Middelpos to Calvinia, 98km
"There is something sticking out of your head"
During our braai dinner following stage two, we heard the unfortunate news that Tour of Ara organizer Stan Engelbrecht's beloved Alpina had been diagnosed with a cracked downtube. A fourth completed Tour not in the cards, he was out of the race and would be watching the last four stages from one of the support vehicles. This prompted a small frenzy of after dinner bike inspections, looking for any telltale signs of imminent failure. They can be hard to spot.
Two hard days of racing finally conquered my persistent jet lag and I awoke after getting more than five hours sleep for the first time in days. After the prior long day, despite having zero sit bone issues, I had the first sense that saddle sores could become a reality. Yet you can only use so much chamois cream. Morning temps felt less severe so I ditched the knee warmers but still in a vest with insulated full finger gloves and toe covers. Although the shortest stage of the Tour, I suspected this only meant distance would not be the chief obstacle of the day. Johannes had discovered a cracked rear rim after breakfast so he and Rolf scrambled to fit a suitable replacement. They found a wheel and got it fitted by start time, but the freewheel looked considerably smaller than I suspect Johannes would have liked. At least he was riding!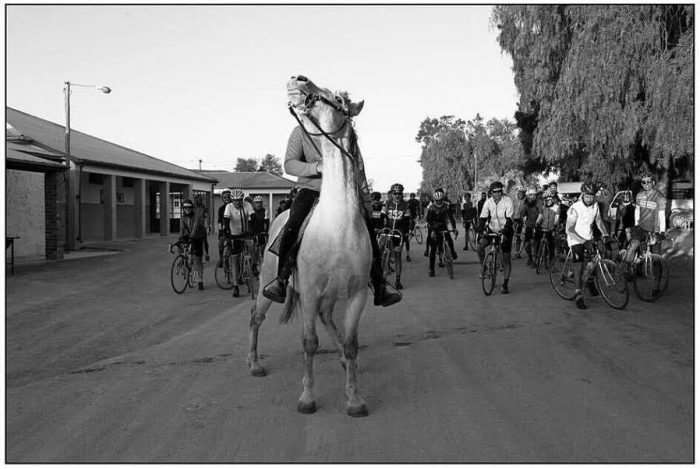 After our galloping pace vehicle pulled off we had only a kilometer or so until the left turn towards Droekloof. Almost immediately after the turn, Matthew punctured – a very tough way to start a stage as the pressure on the front had already begun. No surprise, it was Danie, Mhpo, Sven and Nkosi going out early. On the roads around home, we have a popular saying: "I didn't get dropped, I sat up." Usually it is greeted with knowing smiles and/or laughter. This particular morning however, that was exactly the case as I had already decided to ride my own tempo until whenever the legs said I could do otherwise. So it was not "shut up legs!" but rather "wake up legs!" as my motto early on.
The road, mostly straight and rolling fast, meandered a bit through a long valley and an especially welcome golden sun came up over hills on our right. The light, so perfect, necessitated a lot of will not to stop for endless photo opportunities (and this would continue to be a problem for me throughout the Tour). The same perfect light revealed the leaders, well ahead now, climbing a long steady ascent between the Onderplaas se Berg and Elandsoog se Berg. This would be an early reveal for how my day might go. Talking to myself: "okay legs, it's wake up or shut up time." The even gradient treated me well and once over the top a long gradual downhill of smooth-packed red clay provided a great recovery. I caught Tshepo Molemane and Justin Fiske at a farm gate. We rode together briefly but Justin's descending soon outpaced us so Tshepo and I continued across a short section of valley. When we hit the other side the road kicked up to pass between the Skuitkop and Tweelingberg.
As we came around a short switchback, the gradient increased severely and I reached down to get one more gear. I did not have one more gear. Flashback to stage one: I'd had a number of ghost shift incidents on the climbs. The shifters were properly tight so Rolf and I had adjusted my limit screw ever so slightly after the stage. I had no problems on stage two. But now, in a moment of desperation, I pulled too hard on the shift lever and threw the chain into my spokes. It really does make an awful sound. Tshepo, riding just behind, stopped immediately and we set about trying to remove the chain from between the spokes and freewheel. While struggling, Jacques and Daniel came by, going well – they are built like climbers. Then Carlos Nobrega and Johannes Buntjer passed. Now had I been alone, I'm sure my utterances at this point would have contained a much different set of vocabulary but Tshepo provided a calming influence and after removing the wheel from the dropouts we finally got sufficient purchase to pull the chain free. No obvious damage to spokes so good to ride. I took a moment to remove vest and gloves while Tshepo continued onwards and upwards.
The gradient quickly became too steep to ride and I could see Johannes and Carlos also walking in front of me. After remounting I caught Johannes along the top of this little pass and we rode together for a bit. He was not enjoying the limited gear ratio of his replacement wheel. After a brief section of plateau, we hit a short descent down to Elandsfontein and a series of several farm gates. I could no longer see Johannes in back but Carlos and Tshepo were just there in front. I caught them on a very rocky section of farm road – the kind where you really have to pick your line carefully because the rocks were big and embedded. Hitting one would cause damage. Thankfully this section ended quickly and turned into smooth fast red clay. Legs said "hey, we're awake!" and I was on the front riding hard. We reached the sector's final farm gate together and Carlos snapped a nice pic for me because… not always racing!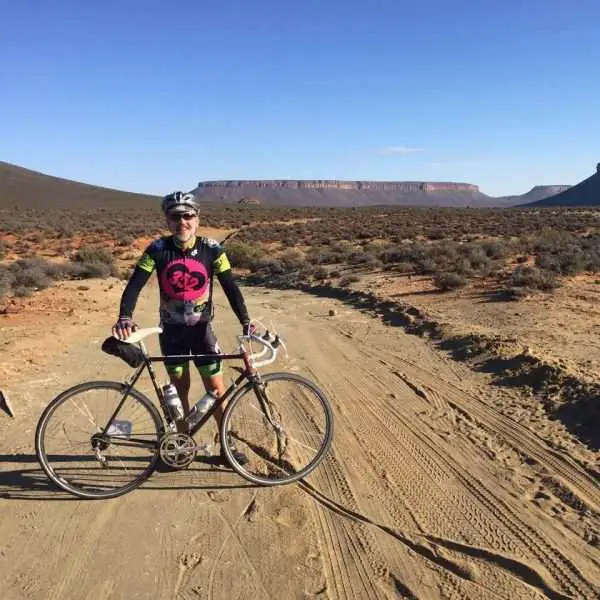 We remounted and rode away from the gate but Tshepo pulled over almost immediately with Carlos, while I waited about 100 meters up the road. He flipped his bike over and began looking at something in the back end. After a minute or so I saw Matthew coming through the gate, clearly going well now after fixing his early puncture. Like the day before, quick decision time: stay with Tshepo since he had helped me on the previous climb or hitch myself onto the formidable power of Matthew's wheel. With Carlos already assisting Tshepo, I decided to go with Matthew who appeared to be flat out hammering. We only rode for a few minutes before descending a rocky small ravine. I suddenly heard the telltale "psssssssh" and knew that Matthew had punctured. I told Matthew I'd ride easy, thinking perhaps both he and Tshepo/Carlos might regroup with me. And I rode easy for the next 10km, as evidenced by stopping to get these nice photos. Perhaps my favorite section on a tour filled with beautiful views.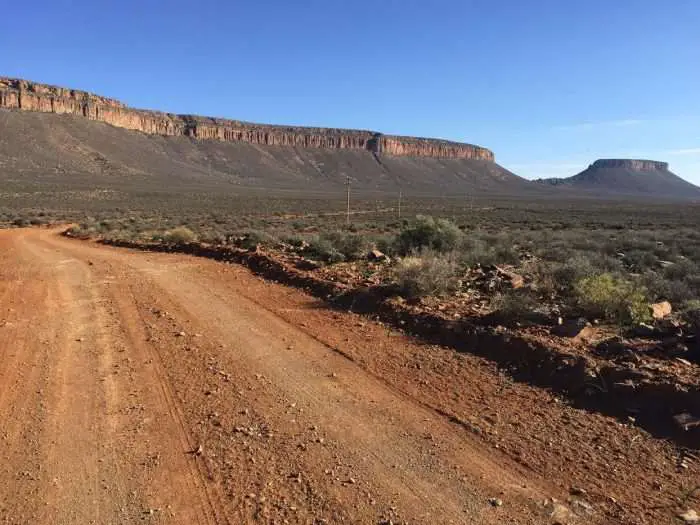 A few kms later and still riding easy but nobody coming into sight behind. Uh, better pay attention to what is in front.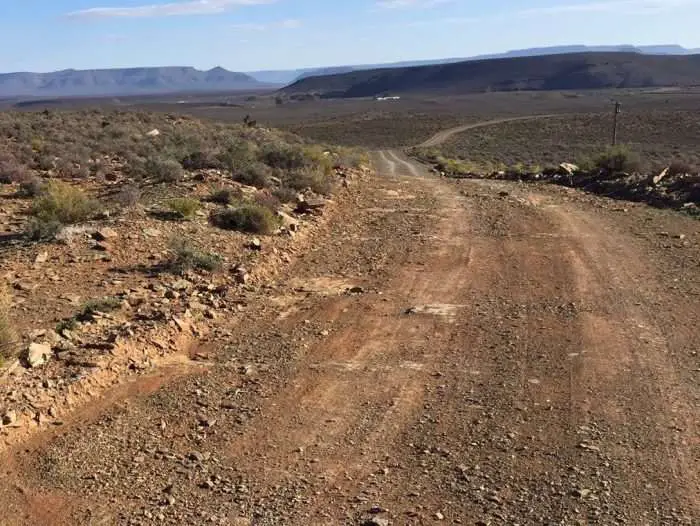 Anyone who has ridden the North Florida gravel roads with me knows that I have a penchant for photographing old, abandoned houses and farm buildings. So when still riding easy I came across these abandoned farm dwellings made from stacked stone, well, of course, I had to stop.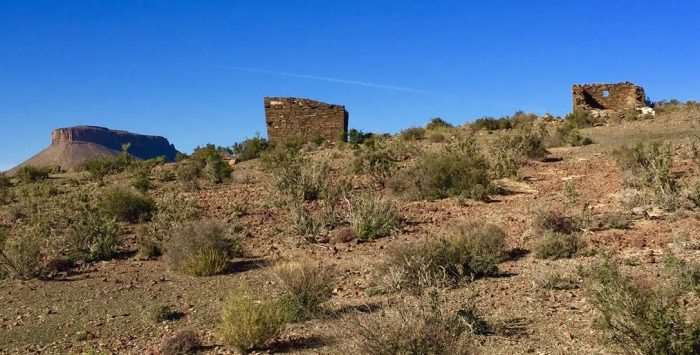 Very shortly after Leliekrans the route reached a t-junction and turned left. A definite tailwind became noticeable, even while climbing the long hill that began almost immediately. I could see a rider just cresting the hill, I guessed probably Jacques. At the top, I gave another look back and could see nobody all the way to the junction. On the other side, the road became smooth hardpack clay. With a perfect surface and a tailwind, I couldn't resist putting it in the big ring and going hard. I soon had the 52×14 going well and it felt effortless. I knew from the morning map briefing that the route would eventually turn back into this wind. But whatever, it felt too good to conserve anything.
With no electronics onboard I have no accurate data to confirm the speed in this section but riding for 35 years gives you a somewhat reliable range to estimate. I'd put it 45-50kph – on a flat road. Like I said, going well. Very well. I passed Weltevrede and approached the halfway point of the fastest sector of the Tour so far as well as the halfway point of the stage. I felt the best line lay on the right side, so despite being in a left-hand driving environment, when I saw a motorcycle approaching (the first non-race vehicle of the day?) I simply held my line and he then moved to his right. I figured this to be a farm worker and waved with my left hand. Whether it was sand, a rut or pothole that jerked my front wheel to the right I'll never know. But whatever the cause, it put me into the sandy apron with only one hand on the bars. I could not regain control and hit the embankment, going over the bars and straight into the Karoo proper. What did I land in at 45-50kph? Take another look at the rocky soil and woody shrubs in those pictures above.
If it gets a wee bit fragmented for some time after this, bear with me. I popped back up and being a veteran of a few crashes over the past decades, I moved my shoulders around to pretty quickly ascertained that I'd broken nothing. I never saw stars so seemingly not a serious head impact. I picked up the bike and the handlebars had turned 90 degrees to the front wheel but the drivetrain and wheels looked intact. As I set about turning the bars back, something began to run down my glasses and onto the bike. Sweat is not normally red. Talking to myself: "Ok, you have some cuts, but not a surprise. And now you're jacked on adrenaline. Better use it until you lose it." The motorcyclist had stopped about 50 meters up the road and watched as I checked to make sure I still had my phone and map. I waved to him – a second time – and rode off. He probably had a nice crazy story to tell that night.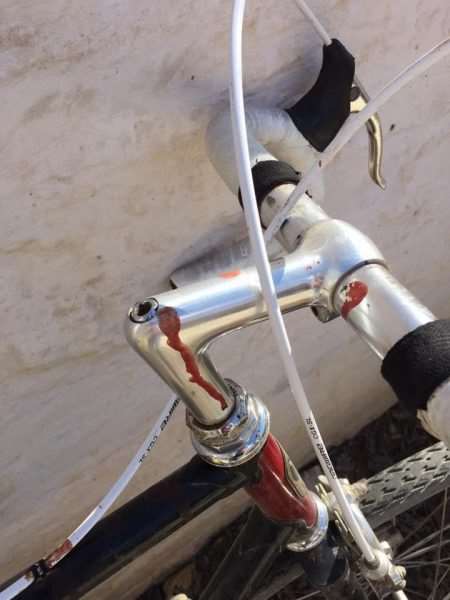 So with the road still smooth and the tailwind still blowing, I set about getting back up to speed. It felt good to ride and I knew any stoppages could result in soreness setting in. Wind kept the blood out of my eyes and coupled with the dry Karoo air, the bleeding soon stopped. I had no idea how I looked of course. Somewhere before the next right turn, I came up on Sven and Justin – Sven had a puncture. I rolled past slow and told them I had gone down and so needed to keep rolling. I think they probably figured out the first part for themselves. Justin surprised me by joining up only a few minutes later. He asked me what happened and I couldn't quite remember. I think I failed to mention the motorcycle at all. So right, probably no serious head impact. I asked him how it looked. Always positive, he replied, "you'll have great street cred!"
I think I told him again that I needed to go as hard as possible before the adrenaline wore off and then put my head down. At some point, he dropped off my wheel so I continued alone. Now to me, the most interesting thing on our map for the stage was "turn right at blue gum trees" to get on the road to Calvinia. Have another look at the photos above. You probably cannot miss a stand of gum trees anywhere in the Karoo environment. This particular stand is visible on Google Earth. And I never saw them. Yet I made the correct right turn. Perhaps one of Rolf's giant chalk arrows guided me onto the road towards the finish. I really don't know.
After this last turn and a farm gate, the road wound through a surprisingly green farming area – anything very green during a Karoo winter is surprising – before hitting a nasty little climb up to Brakfontein. We'd been warned about this climb as exceptionally rocky and steep. At breakfast, it had remained unclear whether any race vehicles would even attempt this portion of the stage. Part way up I began to ride unclipped since any stall and fall would have serious consequences. I walked the steepest section, my back and hamstrings welcoming the brief change in position and effort. When it flattened somewhat I rode unclipped once more to the top. A spectacular panorama back across the valley below towards the Tafelberg greeted me. I took a picture. Sadly, it wasn't my best effort.
The long downhill felt more than welcome but I now faced another problem – almost out of fluids and uncertain of the distance or obstacles before the finish. Looking seriously for a farm stop, as I passed Keiskie I could see a windpump – very accessible from the road and putting out a steady stream of water into the round holding tank. Everyone said "the farmers don't mind" and in any case, I could not see anyone around. I walked my Trek through the brush to the long slanted pipe and filled both bottles with fresh borehole water, the lifeblood of every Karoo farm. A hundred meters further on, a few small kids played around one of the last farm gates of the day, apparently having a blast opening and closing it for Tour of Ara riders all morning. A child's small shoe lay in the road, waiting to be found again. I should have gotten their picture.
Leaving the farm behind, the Keiskieberge rose up in front of me. A tough little climb remained to reach the summit. I stopped at the top for a bit of food and a couple of ibuprofen, which I now had a reason to be carrying for these three days.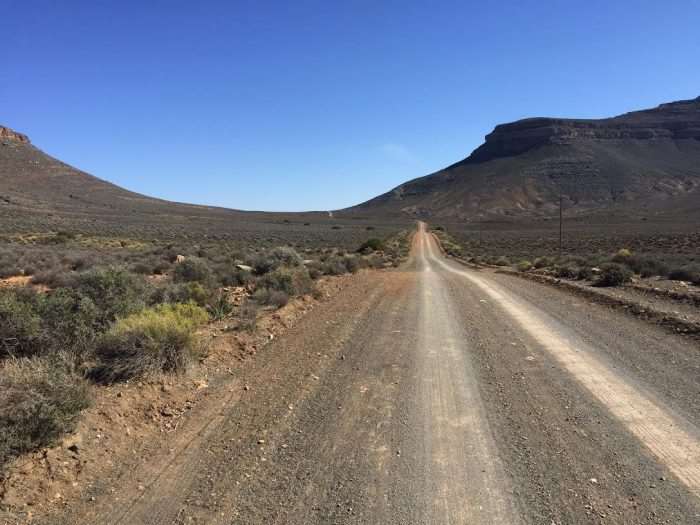 The initial pitches of the descent made me glad to not face their ascent as racers had done the year prior. But I'll admit going downwards did not make me entirely happy either. Several very steep grades led to a hard left bend before dropping down into a wide sweeping right bend that went all the way to the valley floor. Bomb this one and you could easily exceed 70kph. On gravel. On an old road bike. I took a more conservative approach.
All that remained now as the descent revealed Calvinia in the distance, was about 10km of flat road into a fairly strong headwind. Nobody in sight front or back so just put the head down and grind it out. The road surface stayed fairly smooth on the approach to town, then just one last right turn onto the main road before the finish at our B&B. I rolled in and the inevitable questions began. I told the story best I could recall at the time. I grabbed a much appreciated kalimoxto from Mishaq. Then someone (Stan?) said, "There is something sticking out of your head." I had yet to look in a mirror but for the last half of the stage, I'd had the sensation and/or peripheral vision of something above my right eye near the temple. It had to be just hair and blood right? Wrong. Thoughts still a bit scattered, I cannot recall who reached up and pulled a tiny stick – about 4cm x 0.5cm – out of my temple. I'd ridden approximately 50km since the crash with this small extra passenger.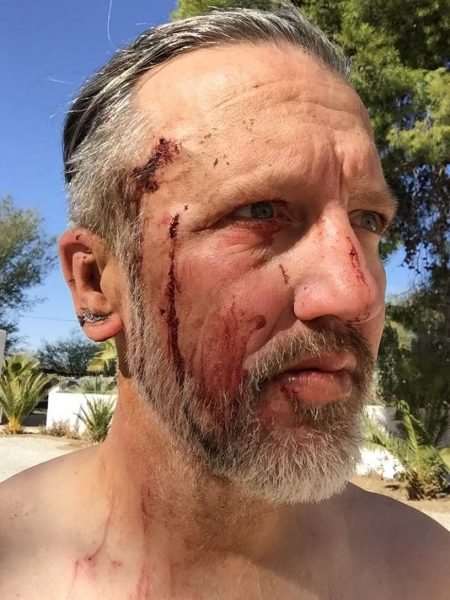 The short stage meant the first half of the field arrived before check in time. Charl scrambled to find a room for me to shower so that he could perform a better assessment of my wounds after removal of all the dried blood. I had several whiskeys from Mishaq's table while waiting, trying to take the last edges of adrenaline down. The shower felt good despite all the stinging bits and everything cleaned up well. In the meantime, word had come in that Bryant Roux's fork snapped clean off at the bottom of the Keiskie se Poort descent and he narrowly escaped serious injury. He was on his way for x-rays – did I want to get checked out as well? I declined a ride to the clinic, told Charl I felt ok, and instead went for a walk into town. I probably looked pretty horrible as Calvinia bustled on a sunny Monday afternoon. We'd be starting earlier than usual tomorrow for the longest stage of the Tour. And mornings after any crash have never felt good. At least nascent saddle sores would be the least of my worries.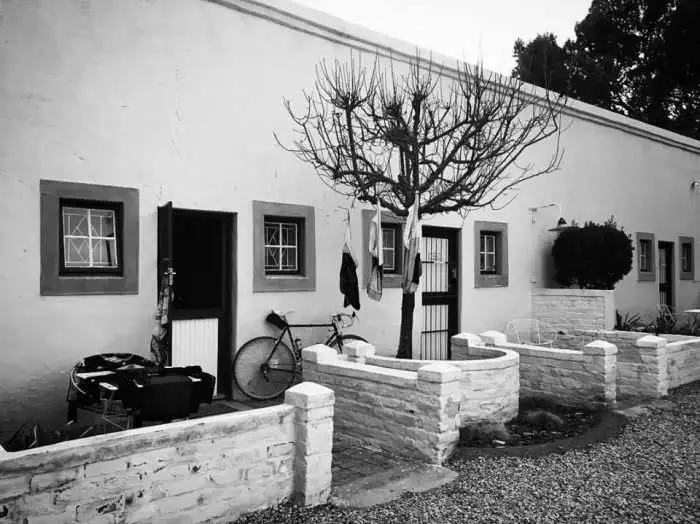 Stage Four – Toby Dreyer: Calvinia to Calvinia, 213km
"I went to a very dark place"
Just enough pre-dawn light revealed cloudy gray skies upon emerging from breakfast at Hantam Huis. Leaving 30 minutes earlier than usual, with a long day ahead, all racers had to fit lights in order to start the stage. Mishaq rode with us through town to the start line. With all assembled, the day would begin when he lit one of his omnipresent rollies. Stage four would be the only day with any appreciable amount of pavement as once we covered the 80km of gravel to Loeriesfontein, the remaining 130km would be smooth rolling. After a couple kilometers of pavement, the road transitioned to decent quality gravel. In an unfortunate repeat of Matthew the day prior, Sven punctured within the first kilometer of gravel – perhaps the only time we could see exasperation on his face over the entire Tour. He would have a long way to chase.
Perhaps it was the gray skies or maybe the thought of facing another 200km that kept the early pace quite restrained, cruising at a moderate tempo. Nobody seemed inclined to lift this comfortable speed, which probably benefited me more than most following the events of stage three. The longer it stayed tranquilo, the better. Slowly however, the pace lifted and the group began to shrink. After a few sizable climbs and descents, only about 12 remained in contact. That number shrank further when Deon Bruwer dropped his chain on a descent. Then Carlos punctured and pulled over.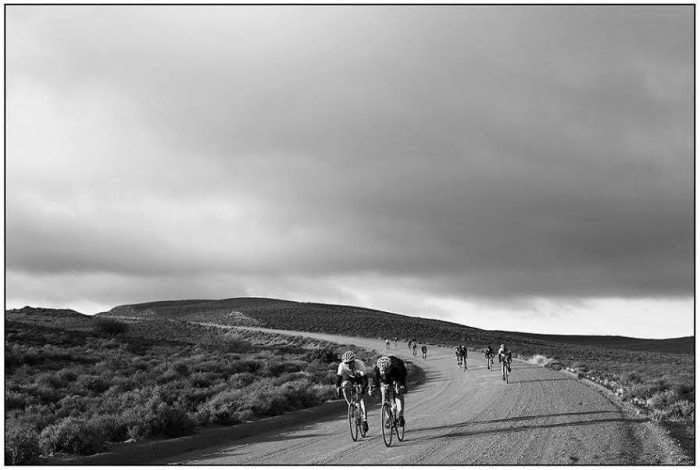 This left me in the lead group with Danie, Andrew, Mpho, Carsten, Nkosi, Lance, Justin, Matthew, Tshepo, and Johannes. Talking to myself, but out loud now: "First time I'm riding in a real group since the very start of stage one!" We all seemed to enjoy the dynamic and with good roads predominating, even our solid tempo felt easy after the long warm up. Eventually, and not a surprise to anyone, Danie opened a gap without a response coming from the group. He continued to build it over a couple kilometers until finally, Andrew decided to bridge across. Again, no response from the other general classification contenders. After Andrew joined Danie, we kept them in sight over the long straight sections between Jangora and Bloukrans, the gap never going above 2-3 minutes. With the road still running smooth, I took a long pull in the sector between Bloukrans and Koppieskraalrivier.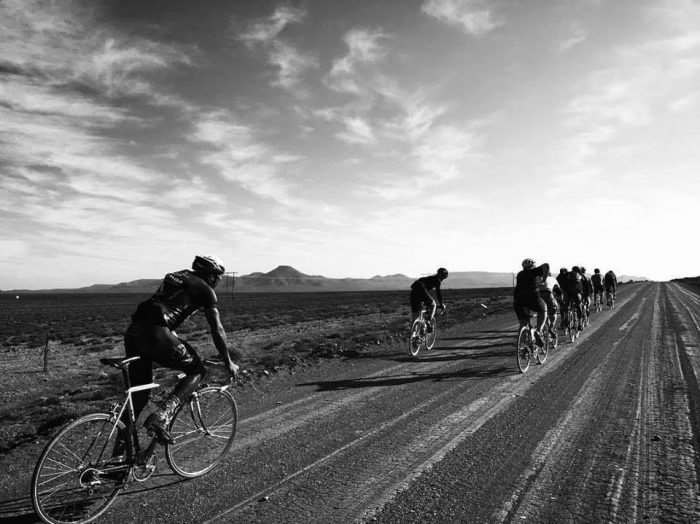 Shortly thereafter a large yellow sign appeared on the roadside: "caution – construction zone next 10km." The surface deteriorated considerably – getting quite sandy – but for awhile good lines still existed. And then there were no lines. Power and sand skills determined not who made it through but only how far until they had to dismount. While only a few hundred meters, this section created a few small gaps with the main result that Matthew, Johannes and I got split off from the rest. Mpho and Carsten soon put in another move before we reached Loeriesfontein and put others into difficulty. We could see them just leaving the feed zone with Nkosi as we approached – they had a very quick stop. A quick stop made more remarkable because Francois' daughter had driven up from Cape Town to provide an impressive spread of sweet and savory energy snacks plus rehydration. I downed four glasses of Coke along with a delicious chocolate something.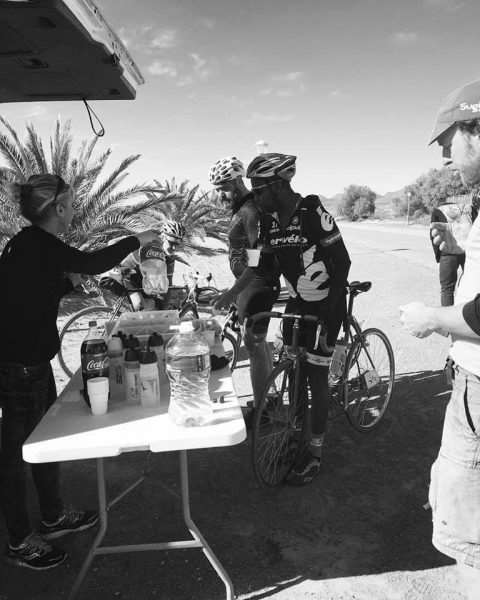 Justin and Lance had decided to ride with us so our group became six chasing the leaders as we presumed that Mpho and Carsten would probably manage to connect with Danie and Andrew up front. Exiting town on the R357, the road dropped away quickly taking us on the first of many long, very fast descents. Matthew led every time the road pointed down and the elevation generally decreased over this section. One after another gigantic, wide-open Karoo vistas opened on our right. I held on for life right off the back and at some point, we lost Johannes on a downhill. A good number of kilometers later, on a section of rollers before the steady climb around Slagberg, we dropped Tshepo. The long downhill off the side of Slagberg drops into the Hantamsrivier valley, and somewhere here we came upon Nkosi finishing a puncture repair. He waved us on and we reached a nice section of flat road across the dry valley. After passing Brandkop Justin pulled over unannounced for a break – did he know what lay before us?
We had some idea as the road ahead curved up to the left between Zylkop and Steenkampsberg. Matthew, Lance and I rode up into the unnamed pass not realizing it would be the longest climb of the entire Tour. A few early bends prevented us from seeing very far up the road at any point as we held a steady tempo. Coming through a right-hand bend, Lance put in a short but hard dig that quickly opened up 100 meters. Matthew and I did not alter pace. On the subsequent straightaway, the gap held steady as Lance came back to a manageable tempo. As a sweeping right hand bend took us into a straight along the shoulder of Grasberg, it seemed the gap lessened and we surmised Lance had decided to wait on us. Riding up to regroup, we did wonder if this effort might cost him later.
Matthew and I hoped that upon reaching the top we would find a straight run into the mandatory checkpoint/lunchstop at Nieuwoudtville. Of course not. The small valley formed by Doringrivier meant a short hard descent and a longer steady climb up the other side. At that point, the landscape leveled out fully and we had a cross tailwind through several farms into Nieuwoudtville. With the crosswind coming from our right, and the route heading left after lunch, conditions looked favorable for a fast run over the final 70km back to Calvinia.
While Matthew and Lance consumed the soup and bread on offer, I secured a Coke to wash down my own supplies: Karoo droewors plus a Simba peanut/raisin mix. I did not want to stop long in order to avoid the dreaded post-lunch dead legs syndrome. We did manage to roll out pretty quickly and turned onto the R27 with a stiff wind at our backs. This would be the busiest road section of the Tour, but a one-meter paved shoulder and good quality pavement, coupled with the tailwind, meant we quickly reached +40kph without much effort. Matthew did big turns up front on the flats, Lance and I rode hard tempo on the small uphills. We'd been told all climbs were over for the day so this would be a great ride to the finish.
We'd only gone 15-20km from lunch when Matthew's bike made a terrible sound and he pulled over immediately. It first appeared to be a dropped chain. Then the damage to his derailleur became apparent. This would not be a quick fix. Lance left his multitool behind and the two of us pressed on. We knew if Matthew could not make a go of the repairs that several race vehicles were behind us on course. Still, a downshift from three to two in the group necessitated some alteration in strategy. I told Lance we should ride hard on the flats but go a bit easier on any hills. I actually started to feel pretty good – nothing like a tailwind and smooth pavement to bolster the mental state. Even saddle sore pain seemed manageable by moving around every so often.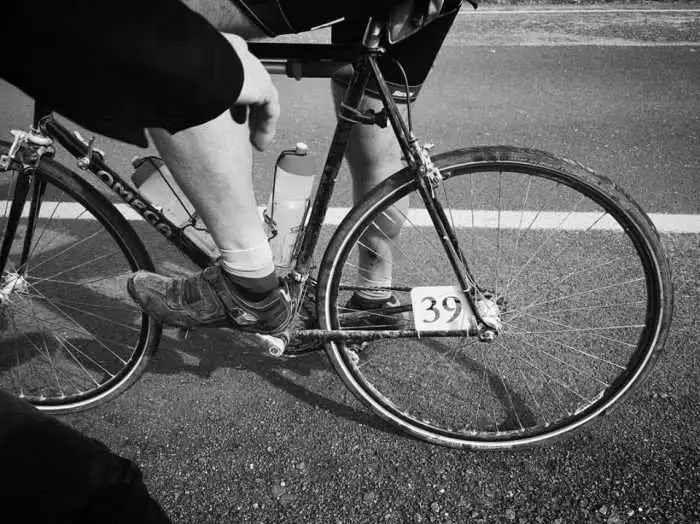 With about 40km to go, I took a long turn on the front. When Lance pulled through it seemed the snap had gone out of his legs. I let him take a short pull then went back to the front for another long turn, hoping he might just need a few minutes of recovery. When I went to the back next time, the situation revealed itself fully. Our pace slowed markedly and Lance, normally a buoyant personality, had stopped talking. Nothing says suffering like silence. I got back to the front right away to keep us rolling strong. Lance was well ahead of me in general classification, but could put time into his nearest rival if he could hang on. And I now had a chance for top five on the stage with only Danie, Mpho, Andrew and Carsten somewhere ahead.
So keep pulling, under 30km to go. The tailwind remained in force. Eventually, I could see the "Calvinia 20km" sign ahead near the top of a punchy little climb. The rubber band had been stretching for a while now. It snapped about 1/3 up this hill and I was alone at the top. Sitting in the drops, rolling fast and smooth on a silent bike in the late afternoon Karoo sun. My favorite 20kms ever? Quite possibly, despite the lack of gravel.
I crossed the courtyard finish line and general classification leader Mpho greeted me with a smile and big hug: "I didn't think to see you next!" It's always nice to exceed expectations. Lance came in about five minutes later. When asked how the last segment had been: "I went to a very dark place." We had no idea how Matthew fared until he rolled up only 15 minutes back, obviously smashing it all the way in on his impromptu single speed. The last group came home long after, using their lights in the early darkness to a cheer from the small crowd. It all felt great. Tomorrow we would face the longest gravel stage of the Tour.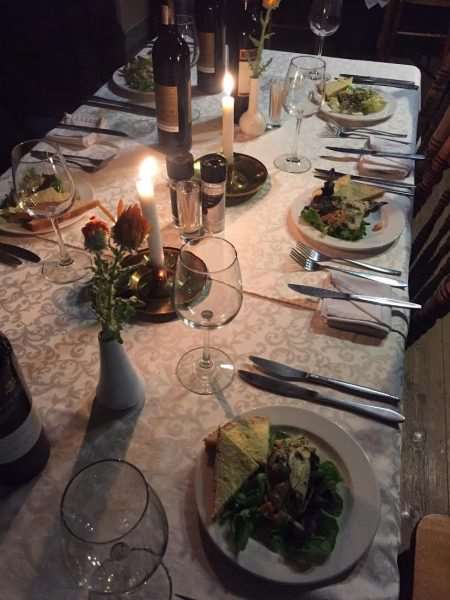 Coming up…
Stage Five – Naaim de Vos: Calvinia to Sutherland, 161km
"The morning road is, um, not in great condition"
Stage Six – Jan Jantjies: Sutherland to Matjiesfontein, 117km
"Careful on that descent, please"
Epilogue