Stage Five – Naaim de Vos: Calvinia to Sutherland, 161km
"The morning road is, um, not in great condition"
Heading over to Hantam Huis for breakfast in the usual cold morning vest and arm warmers, I noticed the streets surprisingly slightly wet and a heavy mist in the air. No sign of pre-dawn light meant thick cloud cover. Could it actually rain? Sure it could. While winter precipitation in the Karoo is uncommon, we'd all heard the stories of the snow and freezing rain that had decimated a stage of the 2014 Tour of Ara. I moved quickly through a hearty breakfast and rode back to my room to swap out the vest for a full jacket. Even a drizzle would make the arms wet and early hours potentially miserable at just 5-10C.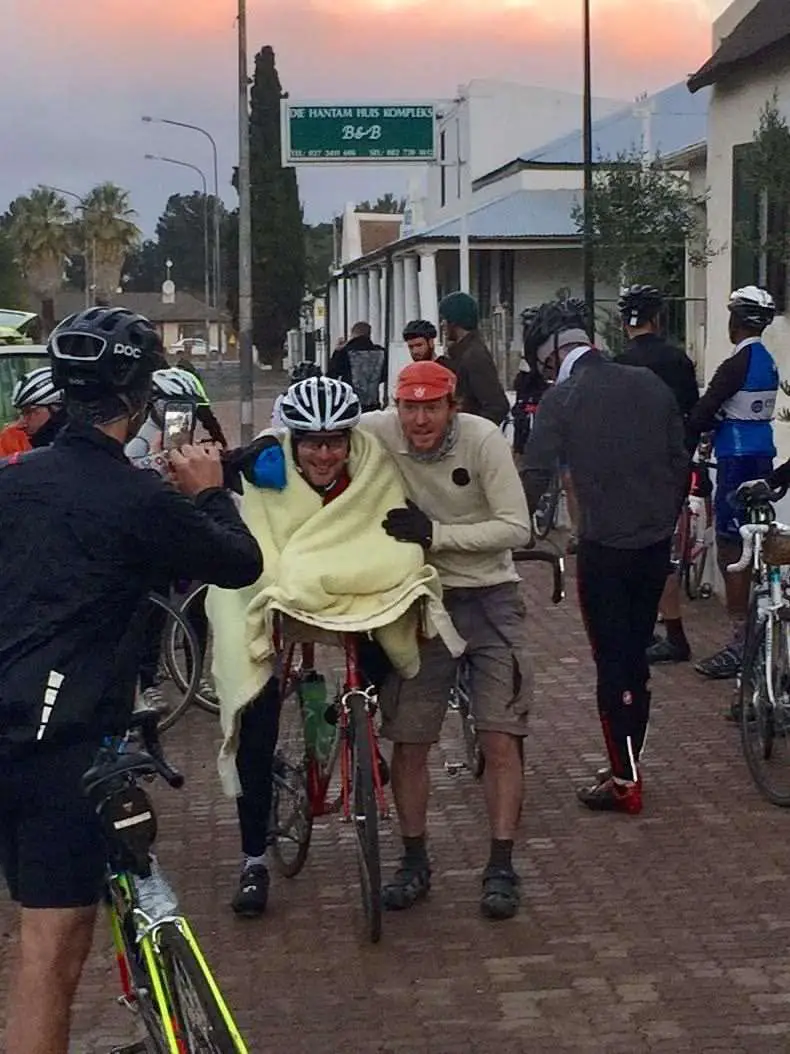 Back in time for the map briefing. Stan announces that he's heard the morning road back to Middelpos "is, um, not in good condition." Considering how many bad sectors we'd already ridden that went unremarked upon in morning briefings, this sounded ominous. On the other hand, what conditions hadn't we seen already? By the time we assembled for rollout, the threat of rain seemed more unlikely but with plenty of moisture still in the chilly air and the sun hiding out behind heavy clouds, I happily kept the jacket fully zipped. As any rider from Florida knows, humidity intensifies both hot and cold.
With 15km of tar road into a light headwind before hitting the gravel for the remainder of our day, the entire group stayed together at a very moderate pace. Over 200km yesterday had perhaps taken something out of everyone's legs. Talking to myself, out loud: "Maybe we can just ride this pace and all stay together until Middelpos." At least nobody laughed in my face. Nobody disagreed either. We turned right onto the all gravel all the time R354 and Danie immediately cranked up the watts. Almost as quickly some perfectly spaced corrugation dumped his chain. He'd get back to the front. Only a few hundred meters later Lance pulled over with the same problem. He would not be as fortunate. This first sector ran through the long flat floodplain of Oorlogskloofrivier. Good lines did exist through regular sections of corrugation and sand so the tempo pace did not put any of us into difficulty.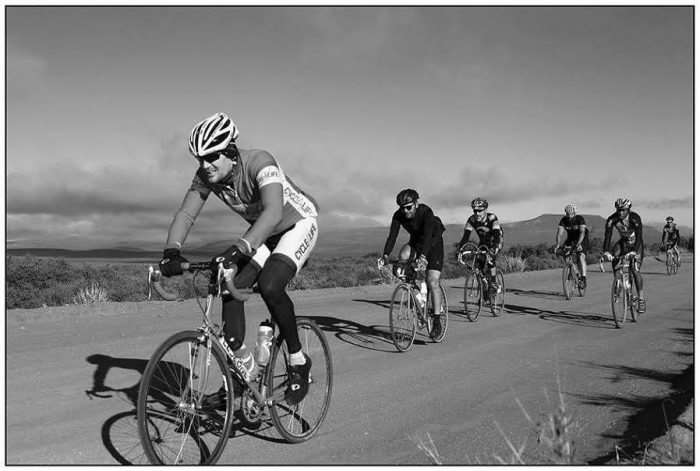 After about 10km the road swung to the left as we began the long southeasterly traverse to Nuwerus and then over the same last kilometers of stage two to Middelpos. Still predominantly flat, the amount of loose sand gradually increased. We hit a modestly steep climb up between Riboksyfrer and Elandsberg. With Justin continually pushing the pace, I wondered how long I might hang on as we reached the top. A gap had opened back to Matthew, probably still feeling that singlespeed effort from stage four. The long, straight descent did not present anything technical but with so much sand and as always a few rocks thrown in, I cautiously let a gap open. Justin, Danie, Carsten, Mpho, Sven and Nkosi pulled away. This descent led almost immediately into a long steady climb between Kapgat se Berge and Hottentotsfontein se Berge. The front of the race slowly vanished as I went backwards.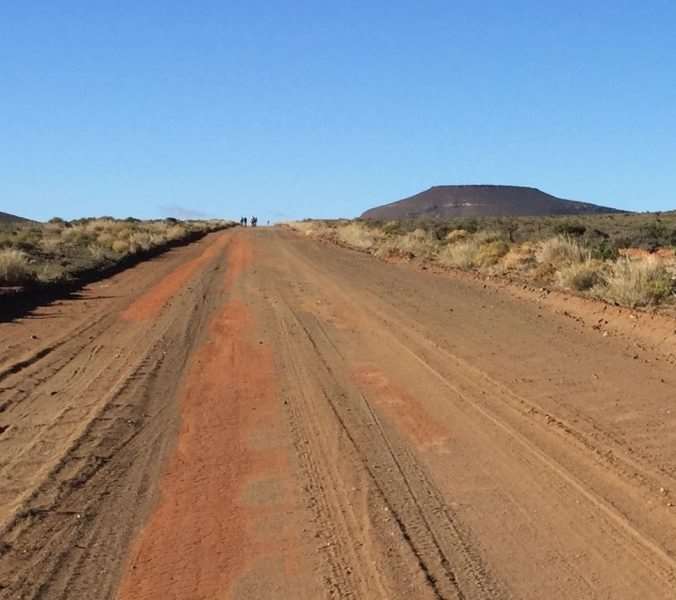 Still, I could see that Matthew now sat only a minute or two behind me so I knew we could regroup. I also figured Lance might make his way across depending on how he recovered from the dropped chain. We had already seen more automobile traffic than any other gravel sector and as it grew later in the morning we began to see even more – spotting the dust from far away. Mostly in pickups, these guys had a heavy foot and so it really was no surprise that the corrugation got progressively worse. The brilliant red clay sands also gave way to a dull gray sugar peppered throughout with small rocks. The traffic stayed consistent enough that when going up the blind rollers which dominated until Nuwerus, Matthew and I often had to stay all the way left even when there might have been a better line on the right. But overall, very few good lines could be had and the corrugation surely punished everyone.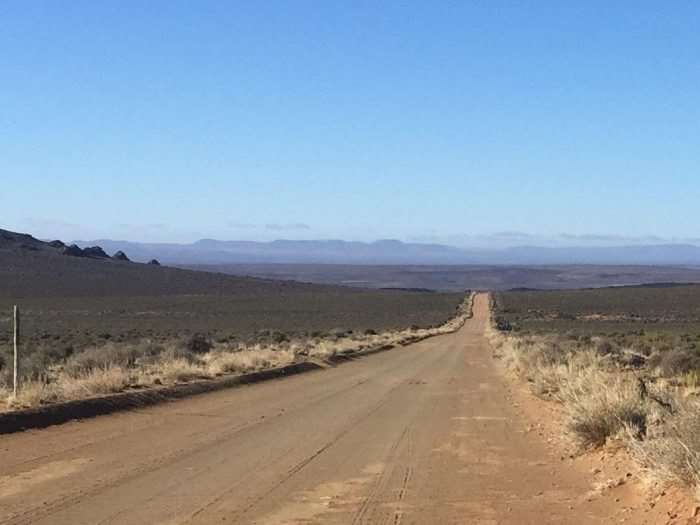 Somewhere around Kookfontein (OK, that's just a guess but I really wanted to include "Kookfontein") we caught Sven pulled over with a puncture. He had everything under control so we kept rolling and not long after made the turn south for the run into the lunch stop at Middelpos. On the long straights south, eventually, we could see a lone rider in a dark kit several hundred meters back. Sven chasing back? Or perhaps Lance?
Only as we rolled into Middelpos did our pursuer reveal himself: Carlos enjoying a very strong solo effort. Many locals joined us for a ToA-sponsored community lunch and the long parade of riders over the noontime hours was probably one of the main events in Middelpos this year. We gobbled some tasty sandwiches, refilled bottles, and had a quick session at Liam's portrait studio (check out all his photos on the Tour of Ara Instagram or Facebook feeds).
Carlos joined Matthew and I as we left the warm atmosphere of Middelpos for the final leg to Sutherland. Just past Rose Villa farm, we hit a nasty little climb, one of those that would probably not get much notice over the previous days. But coming 20 minutes after a lunch stop on stage five it certainly made itself known in a rude manner. Descending past Muldersfontein the road conditions fluctuated: only a few small rollers meant we could push fairly hard but any section of off-camber seemed to feature corrugation as well. We tried to take the high side whenever possible but sometimes crossing the heaviest corrugation to get there simply was not worth it and the only option was a very narrow rock-strewn apron. Following the shoulder of Brandekraalskop, we came around a right-hand bend and the views opened across a narrow section of the Visrivier valley. Pools in the riverbed still held enough water to support a number of Egyptian geese – an unexpected and pleasant sight in wintertime Karoo. Rolf and Stan passed us in the Green Machine, offering encouragement as they headed towards Sutherland.
With Matthew and I riding a strong tempo, Carlos had been hanging on the back for a while and by the time we passed Wolwedans a definite gap opened. The gap grew slowly over the next kilometers as the R354 loosely followed Visrivier until turning off along tributary. The road condition actually improved as we skirted along the base of Besemgoedkop with about 30km to go. A gradual bend to the right took us to the base of Kommetjie se Hoogte. Whoa, we could not see the summit! This would turn out to be the biggest gravel climb since Gifkop on day one. As we began the ascent, a farmer working near the Klawerfontein turnoff gave us a seemingly bemused Afrikaans cheer.
Matthew and I had each ridden our own tempo on the other big climbs we faced together and this was no exception.The gradient on first lower sections stayed relatively consistent (6-8%) and I could knock out a nice consistent rhythm without going into my largest two cogs. A long relatively straight climb at first, Kommetjie then sweep right and left before entering the steeper (10-12%) bits near the top. While I had to get the 42×14 spinning, the road surface stayed quality and my legs felt good. Cresting the top, the road did not really flatten so much as transform into a series of smaller rollers.
I rode recovery for a few minutes, expecting to see Matthew coming back across. When he still did not appear at the bottom of the descent past Panorama, I decided to put my head down and roll on. A few kilometers past Welgevonden the road swung right and dropped into the Dorpsrivier valley. Winding my way past the irrigated green winter fields of Matjiesrivier and Middelfontein, I eventually hit the sharp little climb over the far edge of Rebelskop. While auto traffic had certainly returned to normal ToA levels after lunch, i.e. almost zero, near the top of this climb a large lorry came over the crest and began the down towards me. Now the pickup drivers all morning had usually waved about 50 meters before they passed at full speed and covered us with dust. I did not get a wave from the lorry driver. But I did get a lot more red dust.
Once over the top, Sutherland came into view and a long gradual downhill led to pavement once again at the edge of town. Rolling in on Piet Retief Street, I passed children playing in the afternoon sun before making the turn into the Sutherland Hotel. After cleaning up I headed over to join Sven and Johannes for drinks. Mysteriously, the wacky taxidermy set of giraffe head and forelegs had moved across the dining room sometime in the previous five days. Thankfully, the bar remained in the same spot.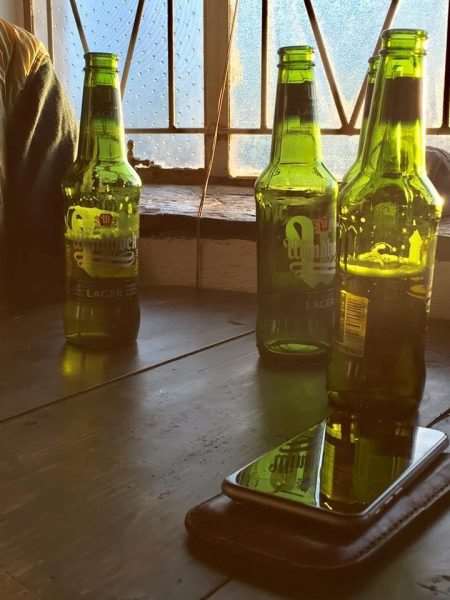 By dinner time, outside temperatures dropped significantly. We were once again in "the coldest spot in SA." A short final stage on tap tomorrow but what might the start feel like?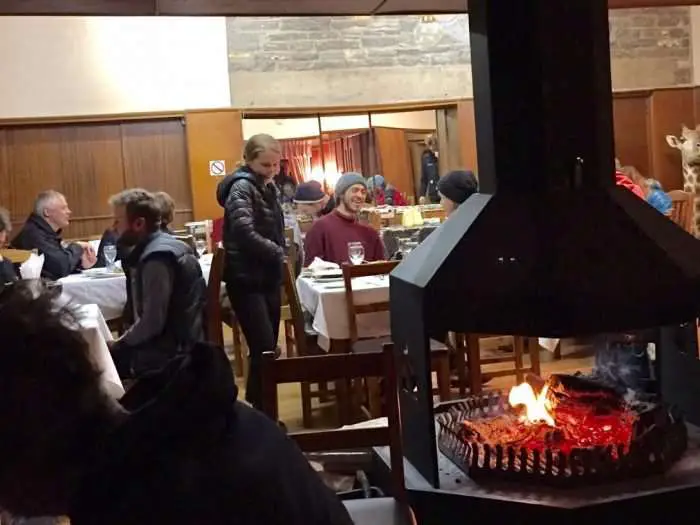 Stage Six – Jan Jantjies: Sutherland to Matjiesfontein, 117km
"Careful on that descent, please"
If it was cold in the dining room at dinner, breakfast took it to another level. No shortage of winter gear appeared at the tables. The stage would begin with some 20km of pavement before hitting reportedly good quality gravel for most of the day. The overall descent from Sutherland to Matjiesfontien would be nearly 600 meters despite a number of significant climbs. The map briefing featured both excitement for the upcoming lunch stop with Poppie's roosterkoek and a warning regarding the Komsbergpas descent due to its steep gradient and rocky surface. We'd have to negotiate the latter to get to the former. Willem Boshoff, one of only two riders to have completed every km of the previous three Tours, sadly would be a DNS due to his cracked fork discovered the previous night.
Only when we emerged into the hotel courtyard would the cold truly reveal itself through the figure of Rolf scraping ice from his windshield in preparation for rollout. Someone said the overnight low was -8C but I thought probably not quite that cold at start time. Nonetheless, once underway we faced that sort of cold which makes the ears sting and nose run. A few riders took the Dr. Pain approach to cold mornings – go hard until you warm up, then keep going hard.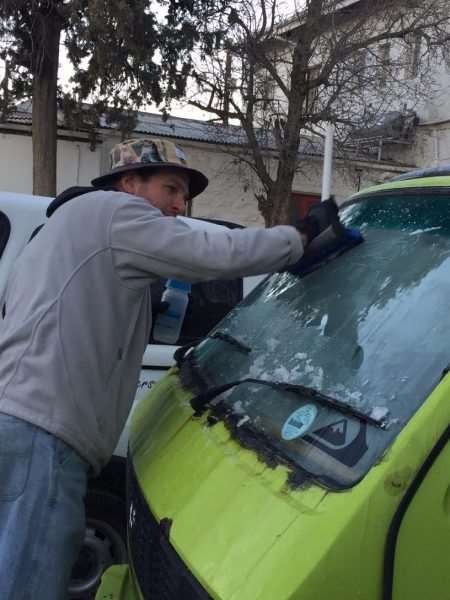 Despite this, a fairly flat first 5km made it easy to stay in the front group. However, when the long climb from Rooikloof to Jakkalsfontein began, gaps quickly appeared. Once again I found myself riding hill tempo with Matthew, Carlos and several others as a small lead group put 200-300 meters into us by the top. Apparently, that had been sufficient to warm up as the leaders' pace returned to 'tolerable' and we caught back on within another one to two kilometers. After regrouping we rolled together over the remaining tar road until the left turnoff onto our last gravel sector of the Tour.
As expected, the pace lifted again to a hard tempo but nothing that caused real difficulty to those who had made the front group. Surface quality seemed quite good, particularly after parts of stage five, and we rolled on. Not long after Gunsfontein, Matthew punctured somewhat unexpectedly since the road remained smooth. No real climbs in this section, just rollers until a long sweeping downhill past Theronsrus. Carlos was the next to pull over here with a mechanical. The pace increased following another short downhill and my legs definitely struggled to turn out more watts after the hard efforts of the past days. I detached from the front group, talking to myself: "Your nearest GC riders are behind you. Placement on the stage doesn't matter. Goals for the day are no mechanical, no crash, no bonk." Alone, I passed by the turnoff to Beerfontein. Perfect.
By the time I reached the drop into Komsbergpas, the leaders had already vanished around the first bend. The warning at breakfast – "careful on that descent, please" – had set me a bit on edge but it really didn't prepare the mind for what lay below. After a recent crash in competition, 3-time world downhill champion Greg Minnaar said "fear is an instinctual reaction to be harnessed and used to your advantage." Well, in this instance my instinctual reaction would prove more than difficult to harness.
While I'm certainly better at estimating the gradients of ascents this initial section appeared easily in double-digit territory. The descent began with a long sweeping left-hand bend that vanished around a shoulder of Skurwekop. The long bend ended with a hard right into a short, even steeper section which then vanished into another hard right. Not being able to see the next turns put me into "fistful of brake" mode and my speed fell dramatically. The surface quality in these sections also degraded substantially and clearly all the broken/cracked steel frames/forks had also gotten in my head. When the road swung back out to the left I could see how much further the route dropped as well as that the steepest parts seemed to be behind me now. I could also see Nkosi up ahead changing a puncture. One of the rocks had gotten him. It didn't cost me much momentum to stop for a pic.
I continued a relatively careful descent as the gradient lessened on a long run toward Welgemoed. Even though I had not seen anyone since passing Nkosi, I had to hold a steady line since I knew better descenders might come past 10-20kph faster. Instead of Matthew, Lance came by fast just before the road leveled out. I chased for a couple kilometers before I passed him stopped for a break. A series of rollers took me onward to Haashoogte, another long descent although much less demanding than Komsberg. Halfway down Matthew screamed past, nose to stem – about like that guy
who blew past K-Dogg at the Tushar race
a few weeks ago. A few kilometers later I could see him climbing Smoushoogte as I approached the base.
Another long descent on the backside of Smoushoogte led into a series of shorter climbs and descents. Nkosi came up having joined with a resurgent Mmeke. Then Johannes caught me after Avondsrus and the four of us reached the lunch stop at Saaiplaas just as the lead group rolled out. Tannie Poppie's lunch has become a ToA staple and the stand of trees at Saaiplaas made for a lovely setting. Nic Grobler's primo VW van had made the trip from Cape Town and was set up with canopy plus a table of assorted drinks. Willem, unable to start the stage due to his cracked fork, grilled boerewors on the braaistand.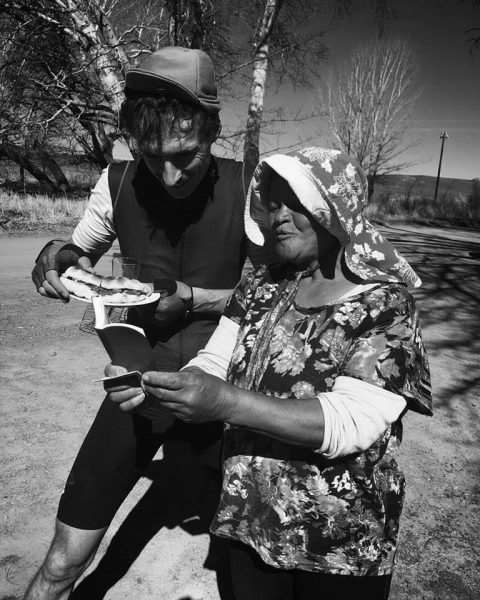 I had not eaten much at this point and while the wafting aroma of grilled bread and sausages played havoc with my senses, I knew I couldn't down that heavy of a meal and ride any sort of pace to the finish. So plain roosterkoek it would be, delicious and washed down with a few small glasses of Coke. Nkosi and Mmeke rolled out quickly but I needed to finish eating. I thought I might ride the final leg with Johannes but sitting in that sun-soaked lawn chair, he looked intent on enjoying Saaiplaas to its fullest. I asked Stan how far to the start of the final paved sector. "Less than 10km, just up a small hill to the tar road."
So off I went, only a couple minutes back of Nkosi and Mmeke. The road continued along a small river valley for a few kilometers until a long climb revealed itself ahead. I could see those two ahead, working hard. So this did not appear to meet my expectations of a "small hill." Sure enough, climbing along the side of Skaapberg had me into the lowest gear pretty quickly as the legs just did not want to respond with anything more. Yet by this point, all the big climbs over the previous five days had instilled some fortitude – remember I live in Florida – and it became mostly a mental challenge to keep turning the pedals at a steady rate.
The road eventually leveled as the last 300 meters of gravel for ToA 2017 reached the R354 at the top of Turck se Pas. A left turn onto the pavement led immediately into a welcomed long smooth descent around the backside of Skaapberg. The road generally pointed downward now with only a few small rollers and short climbs, giving a good opportunity for recovery even as the kilometers clicked by fairly quickly. But in the back of my mind I knew that this was the road we'd taken the opposite direction to Sutherland before stage one and recalled a bus conversation about several "nasty" hills to be dealt with before reaching Matjiesfontein. These would turn out to be the Bulhouerrante – two prominent ridges running roughly east-west and separated by a flat valley floor several kilometers across.
The first ridge was tough with a long steady grade followed by a short steep section that kicked to the left just before curving around the top. Again, just cranking out steady tempo and reading the road markers to know I had under 20 km to go. Dropping down to the valley floor, the flat road did not provide much recovery as a bit of headwind had crept in. The second ridge sat there waiting in the distance – but knowing this would be the final big climb diluted the pain. Coming down the other side I passed Francois (not riding the final stage due to a back injury) next to his team car and talking with a non-ToA rider sporting vintage gear. I remembered my hard lesson from stage three: I did not wave.
One more short climb and a long descent to the finish line on the north side of the N1. I crossed over, rolled up to the Victorian-era Lord Milner Hotel, and found some sun as I chatted with those who'd finished in front of me on the stage.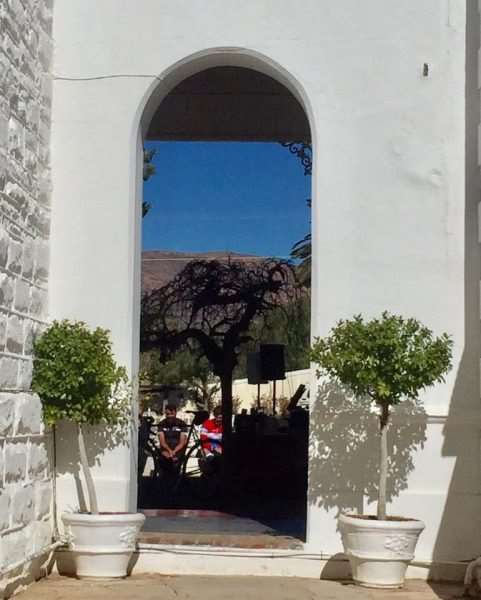 The stage times got recorded as riders came in, but the stage "win" would be decided that evening with a 1km final sprint for glory. Some seemed to take this mildly serious but sprinting being the last thing on my mind, I wandered over to see what new drink concoction might be had from Mishaq's final table. We settled on whiskey with locally-made apple fizz. Refreshing!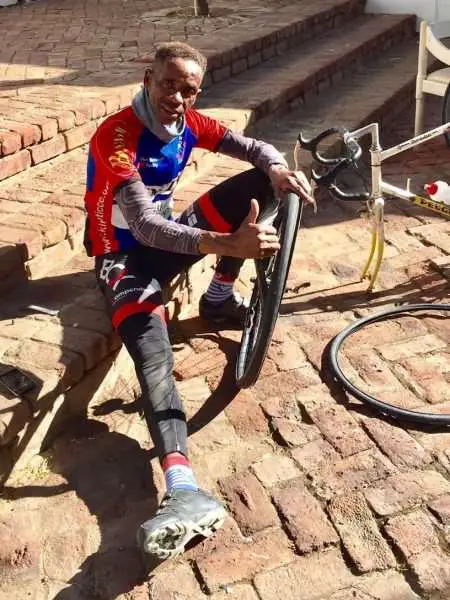 As other racers finished, more stories of the day emerged, James had blown out a quarter of his spokes when his chain went into the wheel. Tshepo's bars had snapped before leaving the gravel and the resulting crash had cut his knee badly. Other riders gave aid, managing to get both Tshepo and his machine into some semblance of working order to complete the stage. Quite the hard man, he took a number of stitches Rambo-style (no anesthetic!) from Jon-Randel Vermaak after finishing. Don't worry, Jon's a real doctor.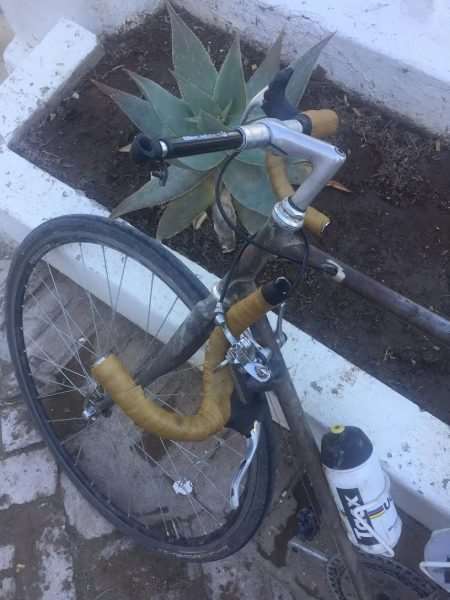 By the time of our final 1km, I had grown even less interested in sprinting. Some were clearly going for it but I instead resolved to attempt a last-place finish, something that would not be easy in such a packed field. Still, a very slow start coupled with an average output of well under 0.5 watts/kg saw my goal realized. Then off to a celebratory final dinner full of toasts, cheers, gift exchanges, etc.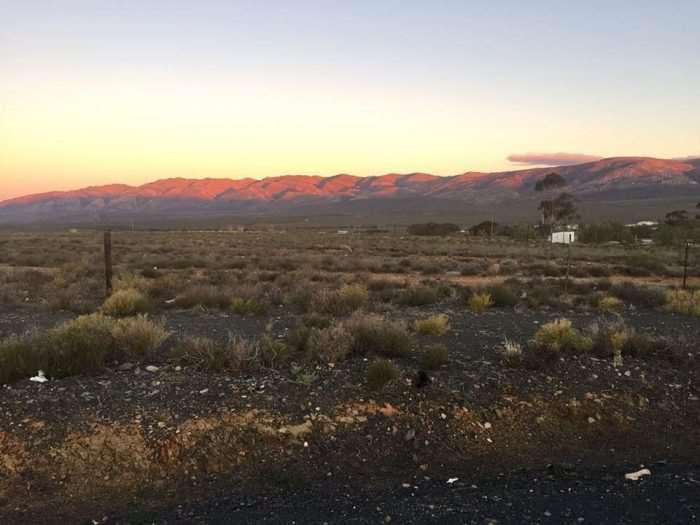 Epilogue
With everyone home and dry, some assessment of the toll this route took on the bicycles became possible. Trying to count punctures would be pointless, some riders probably do not even know how many they had over six days. We do know Danie set the all-time ToA single day record with seven flats on stage two. But he never had another after that. While this list is surely incomplete, it gives some sense of the punishment our machines experienced: broken fork (Bryant); broken handlebar (Tshepo); cracked frame (Stan); cracked fork (Willem and Daniel); detached crank arm (Mpho); cracked rim (Johannes); broken spokes (James); broken chain (Danie); brake pad meltdown (Jon); miscellaneous rear derailleur fails (Alten, Martin & Matthew); freewheel fail (Deon).
I stayed fortunate throughout the Tour with my only mechanical failures consisting of multiple sideways water bottle ejections (I was warned but didn't listen). While I might want to say that a complete absence of punctures resulted from my wise choice of lines and deft handling skills, the reality is simply a great set of super tough tires from Schwalbe and a good deal of luck. My (almost) all original Trek 640 handled everything the Karoo could throw in its way. If Trek Bicycles ever wanted to hop in the retro re-issue game like Bianchi has done, they have a ready-made platform in the specs for this frameset.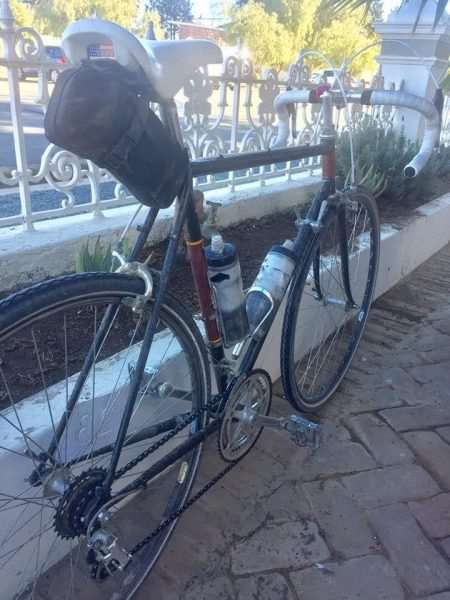 It wouldn't be a proper race report without some podium pictures, right? Well, there are no podiums at ToA, and no categories or age groups either. Just the top woman and man getting some cool handmade trophies.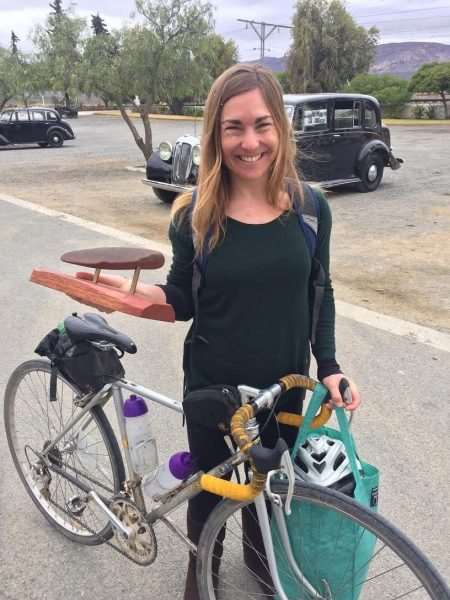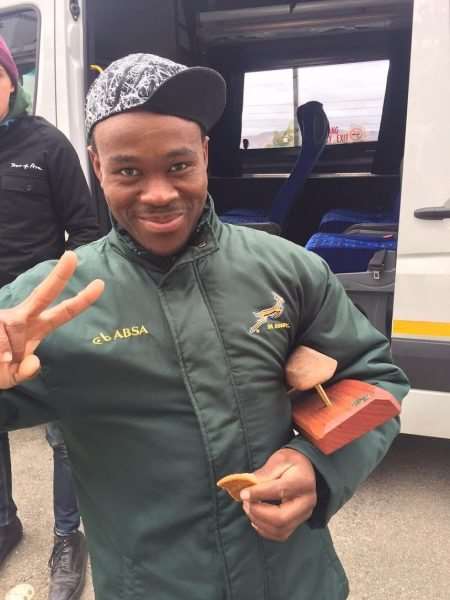 In contrast to the day prior, gray skies covered Matjiesfontein as we awaited our buses back to Cape Town. Melancholy – driven by the end of a phenomenal week and the looming return to "real world" life – mixed with feelings of unexpected accomplishment and new friendships. Talking to myself: "What if this just kept going? Could I do ANOTHER six days?"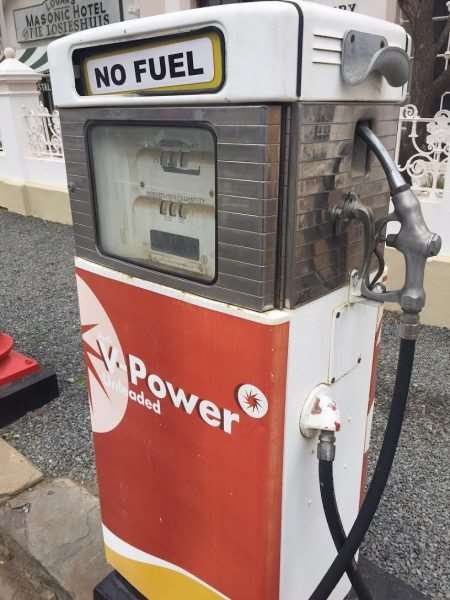 The list of thank-yous would be long and risk leaving someone out. But to the organizers, support staff, media crew, local hosts – we, the racers, know who you are and won't forget these remarkable days.
As long as this three-part report has been, I obviously only captured a fraction of the competition, the drama, the fun, the swim stops, the bone collecting, the opera listening. Those stories are in the heads of other writers. Myself, someday I will be back for more "beautiful suffering."