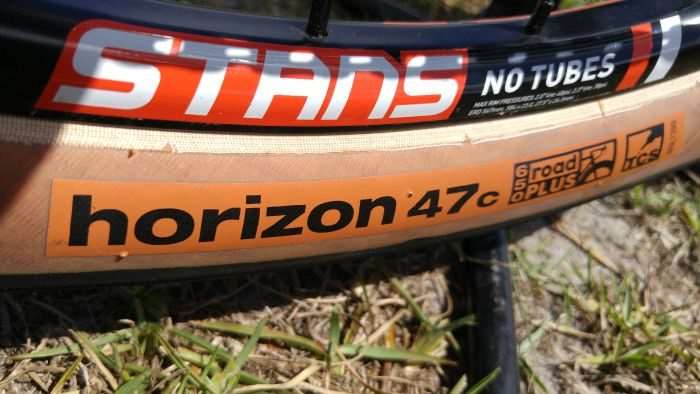 "WTB was founded in Marin County, California in 1982, fueled by the need to create durable and reliable mountain bike-specific equipment. Back then mountain biking was a new and burgeoning sport, and mountain bikes weren't much more than cobbled-together oddities. The original WTB crew was captivated by the experience of riding bikes on dirt trails, and they started creating more durable and functional components for their own bikes. Soon, local frame builders sought to outfit their bikes with WTB's high-end components. WTB was able to turn our passion for bikes into a successful business."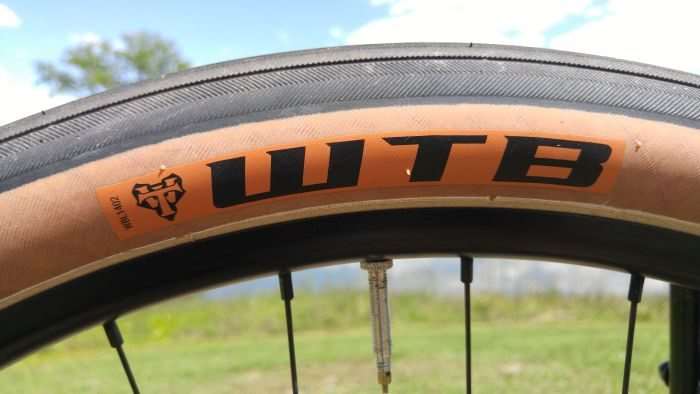 Horizon Road Plus Tire
"The Horizon Road Plus tire brings supple plus-size traction and smooth riding characteristics beyond where the pavement ends. A smooth centerline and all-weather herringbone pattern with cornering channels make anything possible, just like the size. High-volume road provides deceivingly svelte performance on pavement, with resiliency that isn't shaken by chasing confidants down dusty dirt roads."
WTB's marketing department kindly sent Gravel Cyclist a pair of the Horizon 650b x 47mm tyres for review.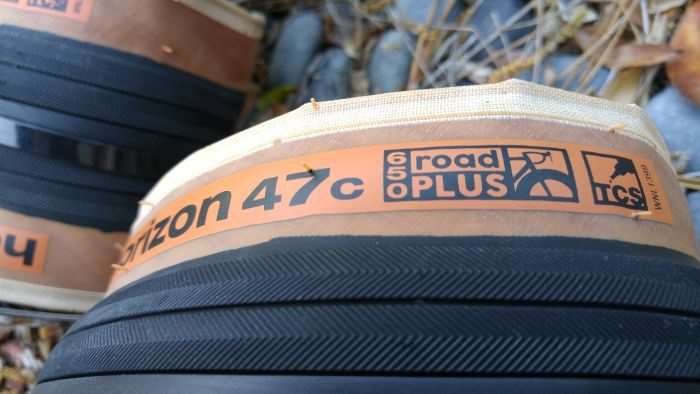 "Sneak it into a cross bike, fit it into a road frame, the overall wheel diameter stays the same as a 700 x 28 – 30mm road tire. Ride it on tarmac, take it to the dirt as well. Creating a new riding experience, regardless of where your exploits lead you."
As the sidewall implies, the WTB Horizon tyre is available in one size only – 650b (aka 27.5″) x 47mm (aka 1.8″) wide – and is marketed as a road tyre, namely under WTB's "Road Plus" nomenclature. As highlighted in the previous paragraph, the overall diameter of the Horizon 650b x 47mm tyre remains nearly the same as a 700c x 28mm road tyre. Provided you have the frame clearance, this tyre can squeeze into a gravel bike that would ordinarily accept a 700c x 40mm tyre. However, clearance is going to depend on a frame by frame basis, as not all frames are compatible with a tyre of this volume. Be sure to check WTB's frame compatibility list before you purchase.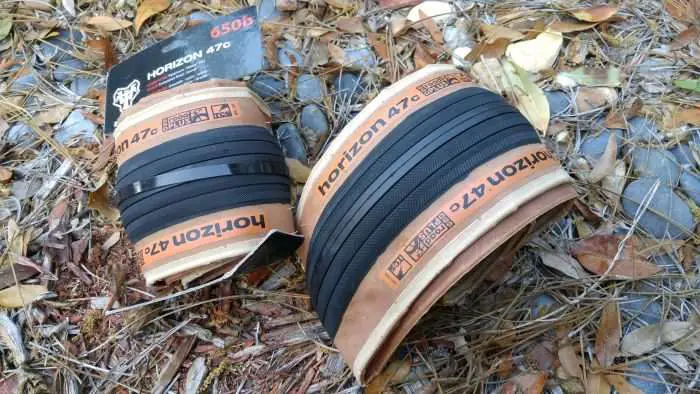 The Horizon 47's fit no worries at all into one of our current review bikes, the Lynskey GR250 Titanium gravel bike. WTB, please add this frame to your compatibility list!
Weighing it up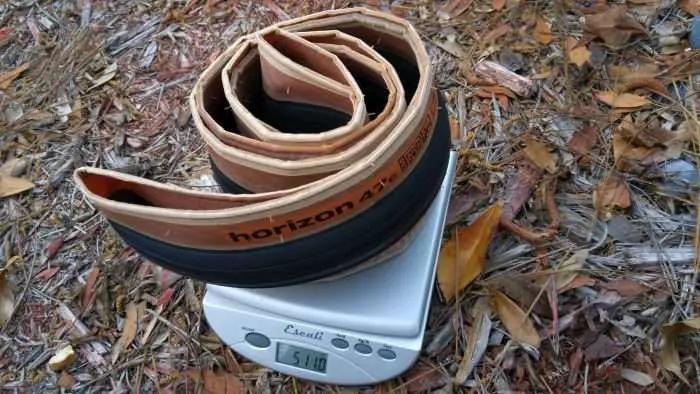 The sample Horizon tyres weighed 511 and 513 grams respectively, a little under the specified weight of 515 grams from the manufacturer. That's always a nice bonus.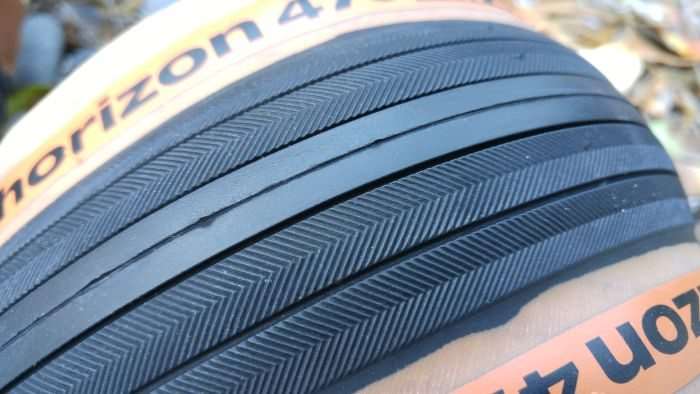 Mounting the WTB Horizon 650b x 47mm Tyre
The Horizon tyres feature WTB's TCS (tubeless compatible system) with an Aramid tyre bead. As TCS is a "system", that also includes items such as rim tape, valves and sealant. TCS is designed to make tubeless tyre setup an easy process, and that rang true during my install. The test sample Horizon tyres mounted with a minimum of fuss using Bontrager's TLR Flash Charger pump, WTB's valves (I also used Notubes and American Classic valves) and Orange Seal's Endurance Formula Sealant.
During the review period, the Horizon tyres were mounted to a Stan's Notubes.com Crest 650b wheelset and American Classic's Wide Lightning 650b wheelset.
Installation Tips:
Always dry mount a tyre first sans sealant, to ensure it will seat and hold air. That can save making a big mess and losing a bunch of sealant.
If you have trouble mounting a tubeless tyre, these tips can help:
Remove the valve core and inflate. This process allows a greater volume of air into the tyre and most times, will pop the tyre onto the bead.
If this doesn't work, apply something like Sleek Beeswax & Mink Oil Furniture Polish to the sidewall. This product is far better than soap and water, and will help seat even the most stubborn of tyres. This product can be purchased from your local furniture store or online.
Once the dry mount test has been passed, install your favourite sealant and inflate. Don't forget to keep a fingertip over the valve if you removed the core. This simple step will retain the air you just inflated; if you're good at juggling, you can quickly re-install the valve core and still keep some air inside the tyre. Then, inflate to the desired pressure.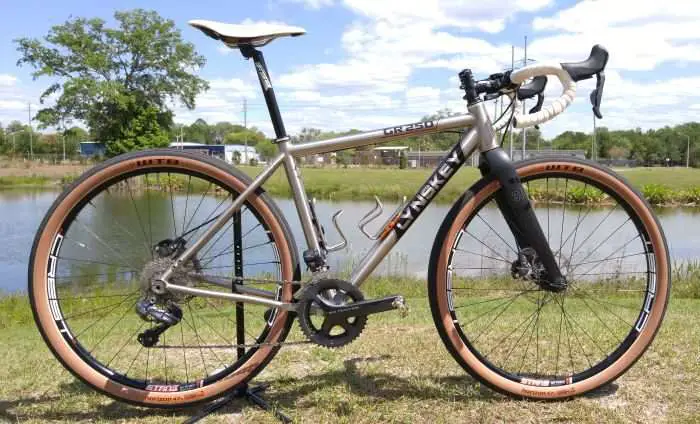 Do the WTB Horizon 650b 47mm tyres measure up?
The Horizons measured 48mm mounted to the Stan's Notubes Crest 650b wheelset (21mm internal), and a portly 52mm on the American Classic Classic Wide Lightning 650b wheelset (29.3mm internal). Both wheelsets are MTB wheelsets and increase the width of the Horizon tyres nicely, and for free! Additional tyre width is always a good thing.
Riding the WTB Horizon 650b 47mm Tyres
As is the norm around here at Gravel Cyclist, I rode the Horizon's a little out of their comfort zone. The tread pattern of the Horizon is conducive to reasonably fast pavement riding, and does very well on rough paved road surfaces. In fact, it turned the Lynskey GR250 review bike into a boulevard cruiser, shrugging off bumps or potholes in the road. The Horizons simply make bumps feel plush.
To further test how well the Horizons fare on paved roads at speed, I took them and the Lynskey GR250 gravel review bike to a couple of roadie rides, including a rapido Tuesday night ride in Gainesville, Florida known as the "Rouleur" ride.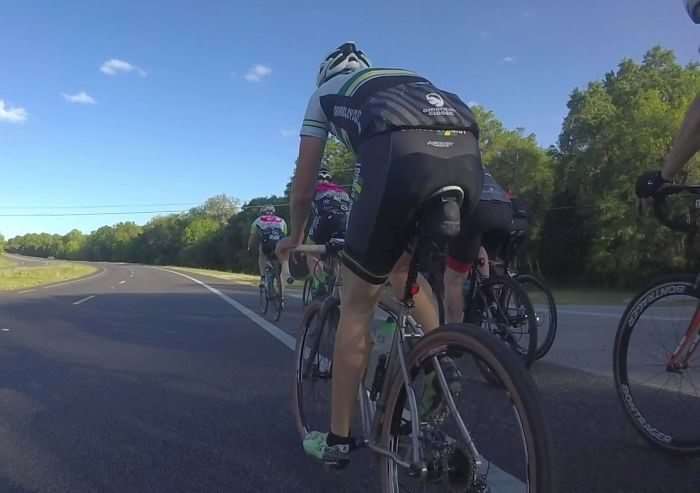 Can you ride the "road plus" Horizons at serious speed on pavement? Sure, but prepare to suffer. The 500+ gram weight of the Horizons plus sealant and 40psi are a handicap riding with fast roadie types aboard lighter machines shod with narrow 700c x 23mm – 700c x 25mm tyres. In fact, you can check out my Strava workout from the Rouleur ride HERE, and what I called, "I brought a knife to a gun show…"
Max speed on that ride was 58km/hr / 36mph. I definitely suffered but hung in there.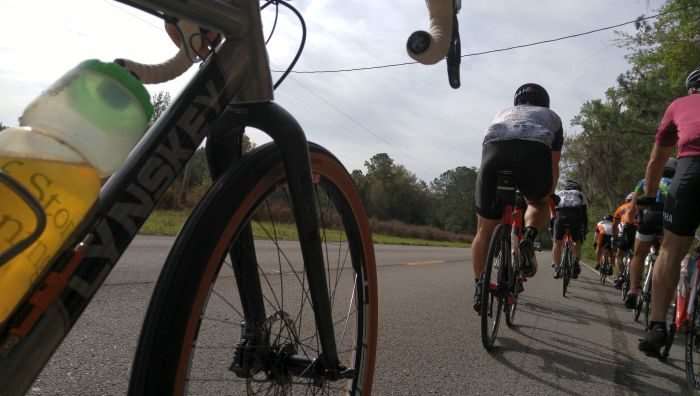 In the defense of the Horizon tyres, they aren't really meant for hammering on roadie group rides, but if you're strong enough to push them, it can be done. They are much better suited to cruisier speeds and really do well at around 18mph / 30km/hr. They take a little effort to get up to speed, but the smooth center tread of the Horizons is good for all round riding, and the herringbone pattern on the edges is confidence inspiring during cornering on pavement.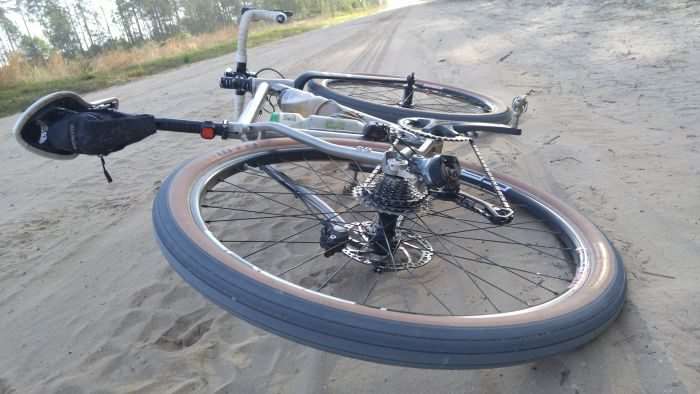 But, you're probably not reading this review to see how well the Horizons perform on pavement? So, I put them to the test on some long gravel rides. Firstly, the pressure was dropped to 30psi front and 32psi rear to make the ride even more comfy on the bumps you come to expect with dirt and gravel roads. It is important to note that WTB recommend inflating to between 35psi and 55psi with this tyre. Because the Horizon is essentially a mountain bike tyre with no tread knobs, it was logical to me to inflate it closer to mountain bike pressures on gravel.
Surprisingly, the Horizons did very well on just about every dirt and road that I traversed. The big volume of these tyres simply steamrolled over bumps and tracked nicely on loose gravel surfaces. They aren't the sort of tyre you can rail hard into a loose gravel corner, but that isn't something I recommend anyway. They do corner well, but take it easy.
Even with tyre pressure set lower than the manufacturer's stated recommendations, I experienced no burping or loss of air. Lighter weight riders could try experimenting with lower pressure, but for a rider of my weight (155lbs – 158lbs), I'd recommend 30psi as your low number.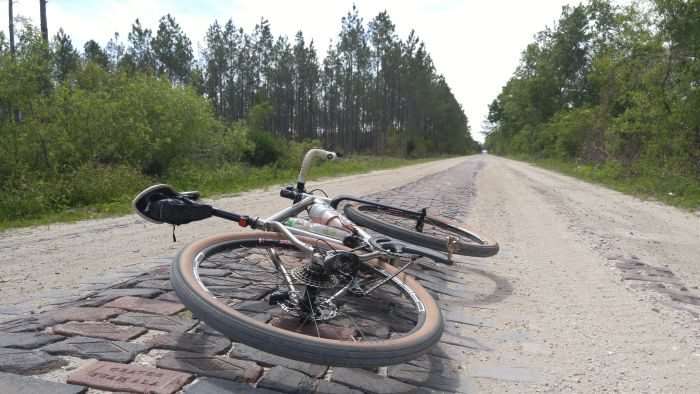 In the photo above, a historic brick road in Florida, the Horizons simply gobbled up the sometimes jarring, bumpy and uneven surface. Even along the nastiest sections of this road, the Horizons simply floated over the bumps, providing a Cadillac like ride. These would be fantastic tyres to smash across the cobblestones of Northern France!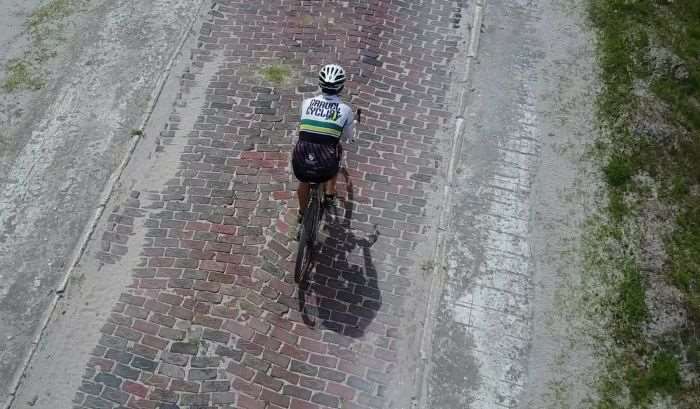 The Horizons can break loose a little under power on a climb while a rider is stomping it out of the saddle, but overall, the performance of these tyres is impressive. Even in deep sand, something I encountered during a recent weekend ride, the Horizons floated on through. Such are the advantages of a wide tyre. Riders aboard 40mm wide tyres would have been sinking and floundering.
The sidewalls of the Horizon are a little thin which could be a weakness in rocky terrain or flinty gravel, the type you'd see in the hills of Kansas. But, I am thankful to say that no tyre punctures were experienced during the review period.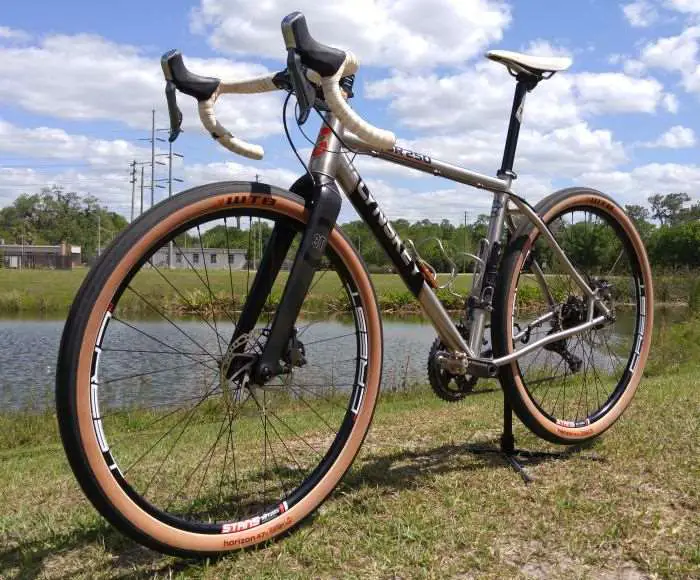 Summary
The WTB Horizon 650b tyre is a great performer on pavement and gravel, and the smaller wheel / tyre size provides an option for those who own frames with limited tyre clearance to possibly experience wider tyres on gravel – don't forget to consult WTB's frame compatibility list before buying. The Horizon is a great choice for a rider who commutes a few miles / kilometres in order to reach their local gravel road(s). Not exactly designed for high-speed cornering with its lack of tread blocks on the sides, the Horizon still does well enough on just about every dirt and gravel road surface imaginable. However, as stated earlier, it isn't a tyre I'd consider for the flinty rigours of an event like Dirty Kanza.
The WTB Horizon 650b tyres have an MSRP of $67.95, but can be found a little cheaper depending on where you buy.
Highly recommended by the Gravel Cyclist crew!