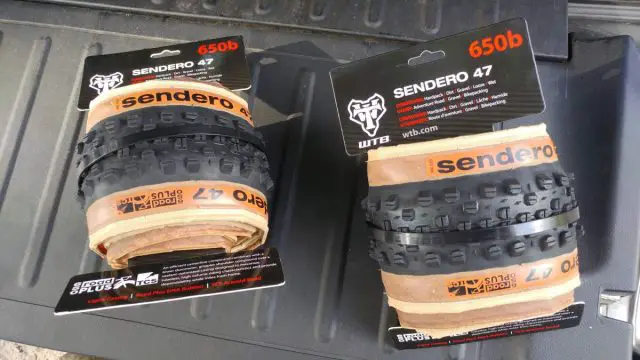 About WTB (Wilderness Trail Bikes)
"WTB was founded in Marin County, California in 1982, fueled by the need to create durable and reliable mountain bike-specific equipment. Back then mountain biking was a new and burgeoning sport, and mountain bikes weren't much more than cobbled-together oddities. The original WTB crew was captivated by the experience of riding bikes on dirt trails, and they started creating more durable and functional components for their own bikes. Soon, local frame builders sought to outfit their bikes with WTB's high-end components. WTB was able to turn our passion for bikes into a successful business."
Road Plus
With the obligatory company history out of the way, I can make mention of WTB's "Road Plus" series of tyres, designed to "Explore The Road Less Traveled". In a nutshell, Road Plus is a wider, plus-size tyre casing that offers smooth riding characteristics beyond the end of the pavement. At the risk of being burned by the readers of this article, WTB claim all of their Road Plus tyres rank highly on the "supple" scale.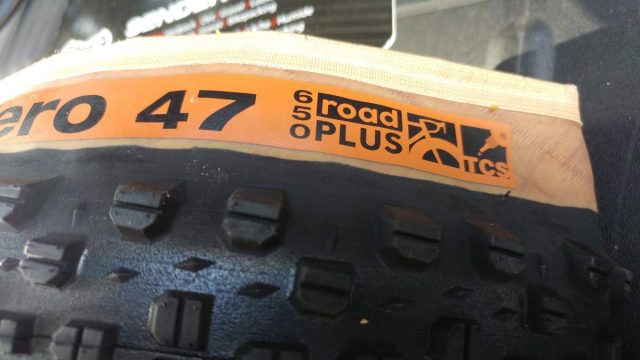 In addition to smooth riding traits, the 650b x 47mm tyre size has virtually the same overall diameter as a 700c x 30mm tyre. This sizing methodology also gives the potential to squeeze a bigger volume tyre into a bike that may have less than stellar clearance when fitted with 700c wheels. But that will depend on how the chainstays are designed. WTB offers a comprehensive list of frames that have been tested with 650b x 47mm tyres, at this link.
A note to WTB, please add the Lynskey PRO GR, GR250 / GR260 / GR270 and Litespeed Ultimate G bikes to the tested with success 650b x 47mm tyre list.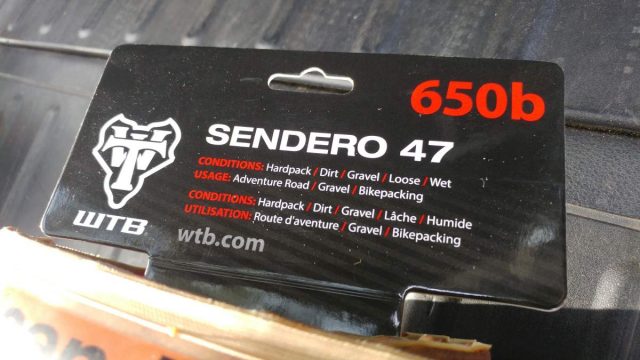 WTB Sendero
With the success of the original entry into WTB's 650b x 47mm tyre line-up, the Horizon, followed shortly thereafter by the Byway, WTB builds upon these foundations with a MTB-like tyre designed for drop bar bicycles; the Sendero.
"Sendero is for those who believe sending it shouldn't be limited to mountain bikes. As the first Road Plus™ tire designed solely with dirt in mind, the Sendero combines drop bar efficiency with the capabilities of an aggressive tread pattern."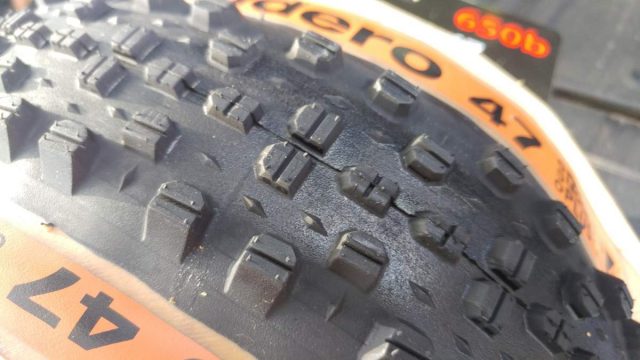 WTB is not kidding around with this tread pattern. If you've ridden the Sendero's little cousin, the 650b x 42mm wide Resolute (still my #1 fave 650b tyre), you'll know these tyres have a tendency to howl a little, should you roll them on smooth pavement. That howling noise is the sound of resistance. With that said, the Resolute and the Sendero were never designed for pavement, but let's not kid ourselves here. Many of us traverse paved roads to transition between dirt and gravel road sectors. If the Resolute howls, then the Sendero lets out a full-on whine. The pattern of the centre knobs of the Sendero is quite different from the Resolute. If you're looking to ride the Sendero's in a spirited group gravel ride, these are NOT the tyres for you… more on that later.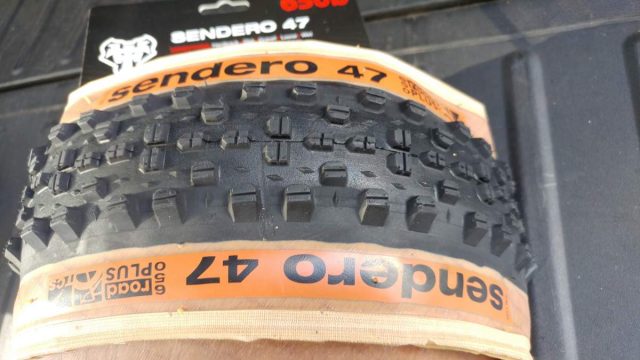 "Ramped center knobs minimize rolling resistance while substantially spaced outer knobs ensure footing in loose terrain. Sendero was designed to be an aggressive tire without compromise." By low rolling resistance, WTB is talking off the beaten track.
Looking at the Sendero's outwardly, they share the same pliable sidewall as the other tyres in WTB's Road Plus line-up. They feel good in the hand with a foldable casing that oozes comfort, style and good looks. Paired with the right bike, tan sidewalls add a real touch of class, and looking good is especially important if you're a proven underperformer like me! 🙂
Weighing Them Up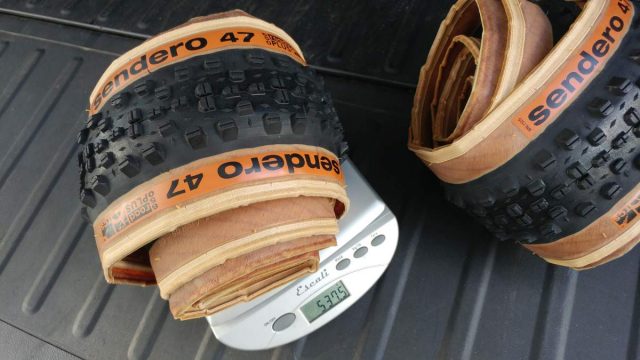 The sample WTB Sendero's in 650b x 47mm weighed 537 grams and 544 grams respectively.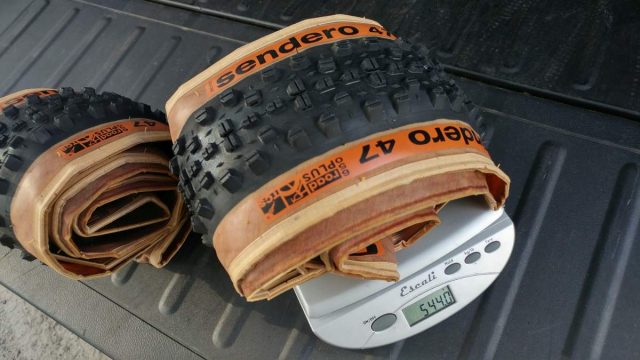 WTB's specification weight on these tyres is 530 grams, which is a smidge optimistic with these samples, but both fall close to the two percent rule of bicycle industry manufacturing.
Mounting the WTB Sendero 650b x 47mm Tyre
WTB does not manufacture their own sealant, thus, I rely on Orange Seal's Endurance Formula Sealant. If you've not tried this sealant, give it a whirl. I mounted the Sendero's sans any trouble to the latest pair of high zoot gravel review wheels, ENVE's G27 650b wheelset. I have a review of this wheelset coming soon, but in the meantime, imagine a sub 1,300 gram 650b carbon wheelset with an inside rim diameter of 27mm. Very tasty.
Inflation was another simple affair, with Bontrager's TLR Flash Charger pump being up to the task once again. A reviewer on another website complained that a compressor was needed to mount these tyres. Perhaps for his choice of rims that may the case, but the Sendero's easily popped into the bead of ENVE's G27 wheelset, and the exotic Xentis Kappa2 650b carbon four spoke wheels I reviewed earlier in 2018.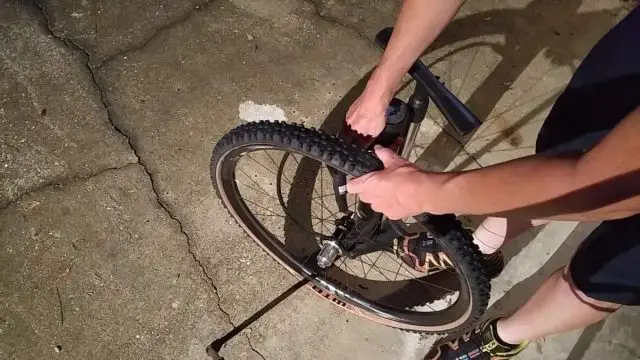 You'll just have to wait for my ENVE G27 video review to see how easy the Sendero's are to mount, but in the meantime, enjoy the video capture of me popping the Sendero's onto the rim. If you have questions about ideal tyre pressure, do yourself a favour and check out ENVE's super helpful tyre pressure chart.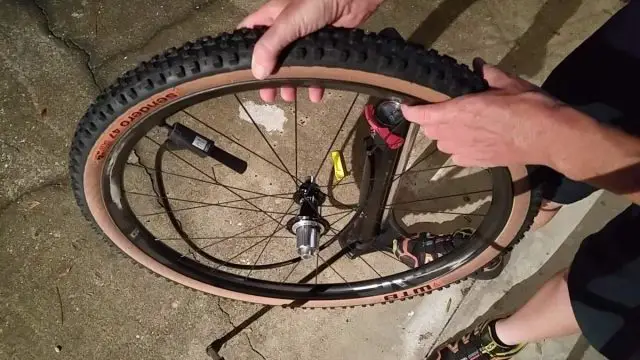 Installation Tips:
Always dry mount a tyre first sans sealant, to ensure it will seat and hold air. That can save making a big mess and losing a bunch of sealant.
If you have trouble mounting a tubeless tyre, these tips can help:
Remove the valve core and inflate. This process allows a greater volume of air into the tyre and most times, will pop the tyre onto the bead.
If this doesn't work, apply something like Sleek Beeswax & Mink Oil Furniture Polish to the sidewall. This product is far better than soap and water and will help seat even the most stubborn of tyres. This product can be purchased from your local furniture store or online.
Once the dry mount test has been passed, install your favourite sealant and inflate. Don't forget to keep a fingertip over the valve if you removed the core. This simple step will retain the air you just inflated; if you're good at juggling, you can quickly re-install the valve core and still keep some air inside the tyre. Then, inflate to the desired pressure.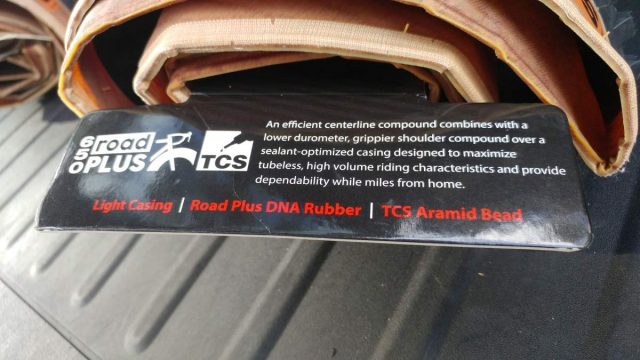 How do the WTB Sendero gravel tyres measure up?
The Sendero's measured 48mm mounted to the ENVE G27 carbon 650b wheelset (see below). The carbon rims of this wheelset measure 27mm internally.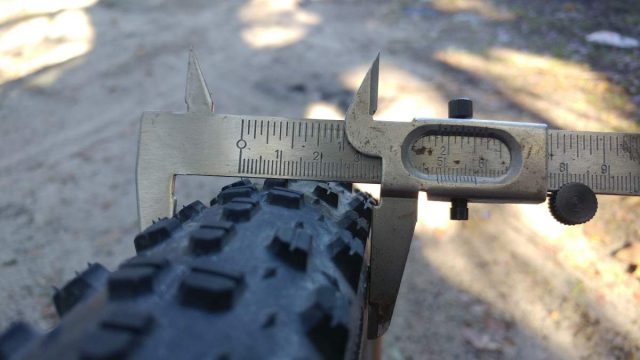 Unlike most tyres which seem to increase in size by about two millimeters on a decently wide rim, the Sendero's only increased a smidge in width from their stock specification. Thankfully, there's no false advertising here, and on the positive, the Sendero's are not undersized.
Riding the WTB Sendero 650b x 47mm Gravel Tyre
If taking your gravel bike into the hinterlands and areas usually reserved for mountain bikes is something you enjoy, the Sendero may be the ticket for you. To appropriately test this scenario in the real world, I dragged myself in and around some of the reclusive in-town mountain bike trails that proliferate my USA hometown of Gainesville, Florida. Before the Sendero appeared, the WTB Resolute was my go-to tyre for these sorts of activities. The Sendero has one-upped the Resolute in that regard. With its aggressive centre tread pattern and raised edge knobs, this tyre hooks up the traction in abundance. I'm no expert MTB'er, but the Sendero instilled extra confidence in corners, particularly if there was any loose stuff hanging about. Whilst I ride seated about 99% of the time, trying to ride efficiently and all that, my out of the saddle efforts were rewarded with traction and zero dreaded tyre slip.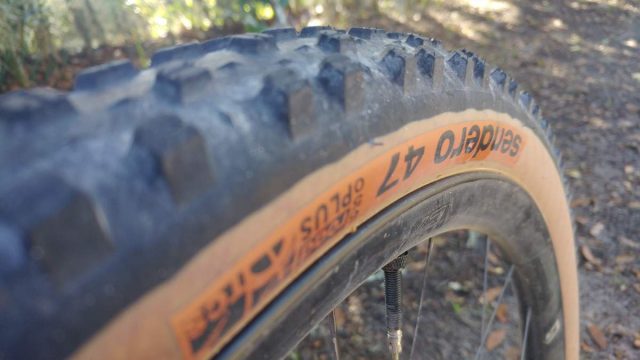 Playing around on MTB trails, I didn't notice the weight of the Sendero's. At 530+ grams, I consider them a bit portly for the 650b wheel size, particularly if riding faster on gravel is your thing. I understand these tyres have to contain some kind of puncture protection, but 650b has so much potential, especially if some manufacturer out there produced a 650b x 38mm to 42mm tyre that didn't weigh a ton! But I digress 🙂
Continuing in the vein of appropriate testing, I appeared at the Gravel Cyclist Tuesday Night Gravel "Worlds" ride, aboard the Litespeed Ultimate G gravel review bike, shod with ENVE G27 650b carbon wheels and WTB Sendero tyres. Any ride with "Worlds" in the title is going to cause problems, as in mucho speed.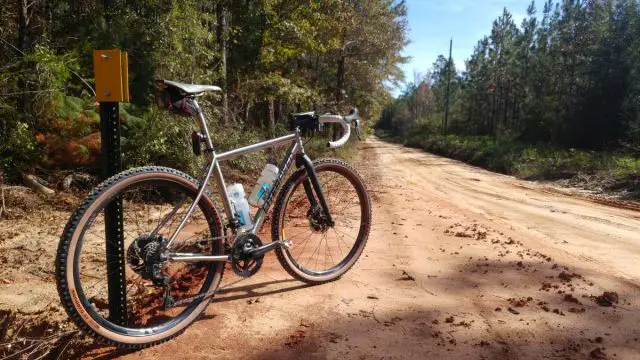 Rolling from my abode, I could hear and feel the Sendero's resistance during the 10kms of pavement to reach the ride start. I could also feel their extra heft, which I feel negated the advantages of the uber light ENVE G27 wheelset. Unfortunately, my experience on this very fast ride only went downhill. Much of the "Worlds" short route features a mix of hardpack limerock type road surfaces with gravel here and there, and on occasion, the odd sandy patch or two.
The rolling resistance of the Sendero's may be lower upon a road surface that is a little more gravelly, but combined with the weight of the Sendero's, I felt severely handicapped on this particular ride. They were overkill, and in this scenario, the equivalent of showing up to a gun show armed with a knife. To further illustrate that point, this is a ride where speeds of 27mph / 44km/hr are regularly seen on flatter parts of the course when the hammer is down… all of this happens in the dark (good lights and skills are needed). Don't believe me?, check out this recent workout from my Strava account (as a polite reminder, I don't upload too often).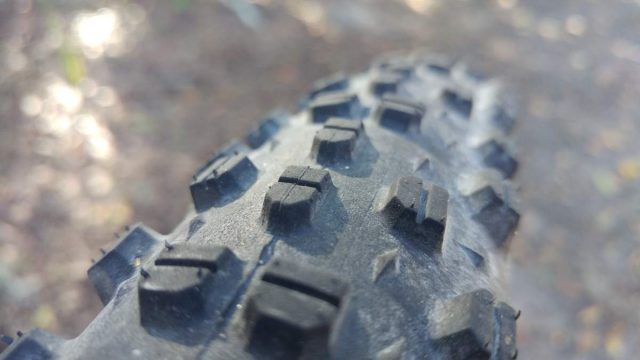 My form wasn't great on that particular November evening and I suffered miserably, eventually pulling the pin, turning off early to noodle along at my own tempo. Now, riding the Sendero's at a more comfy speed, I appreciated them much more. Despite not having the gnarliest of gravel on this particular route, they provided plenty of grip, comfort and traction. Just be sure to inflate them to the right pressure. I often meet gravel cyclists who run insanely high pressure, who then wonder why they have to resort to a suspension fork or seatpost to mitigate their harsh riding bike!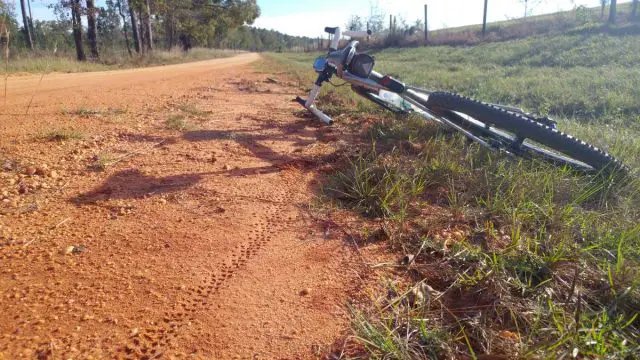 Now, this review isn't all negative. During the month of November, I attended the inaugural 3G Georgia Gravel Grinduro starting in Helen, Georgia, USA. I made an error in my tyre selections for that event. Historically, if I possess zero "tribal knowledge", I choose one of my favourite all-around performing tyres in 700c x 35mm (measures about 38mm on most rims). This tyre is all-around to a point; the point of failure is when the rocks and loose stuff overwhelm most tyres and traction is lost. Confidence in my bike also lost.
The Sendero would have been absolutely perfect on the loose, rocky and steep grades of the 3G, and the 650b wheel size lends itself so well to slow handling where you need to finesse the bike through tight spots. At faster speeds, I could have rolled those Georgia descents faster had I selected a more suitable tyre for my bike. For 2019, should I return to the 3G Georgia Gravel Grinduro, I'll be rolling the WTB Sendero without question, even if there a weight penalty.
Be sure to check out my race report and race video from the 3G Georgia Gravel Grinduro.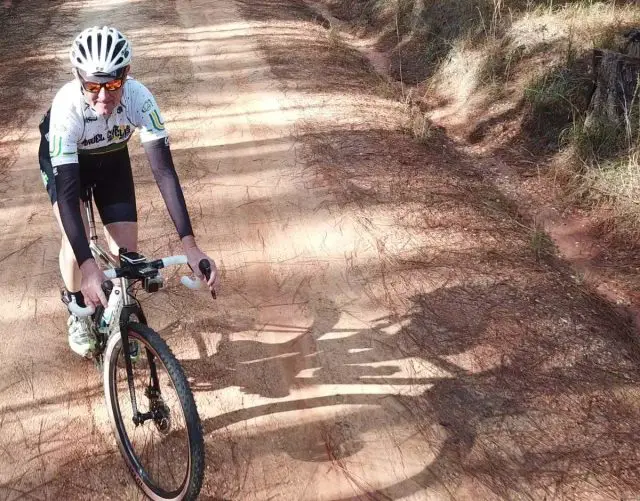 Above and below, snapshots of me putting the WTB Sendero through its paces in Southern Alabama and Florida's Blackwater River State Forest. That ride featured every sort of terrain going, and the Sendero was a good choice for my solo jaunt. Check out my ride video from that day.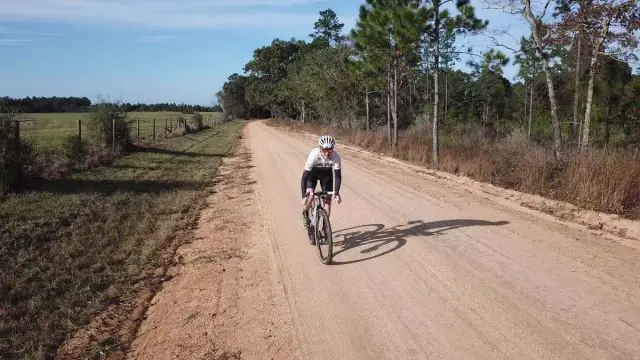 Summary
The WTB Sendero is a useful tyre to have in one's arsenal, provided you like riding gnarly gravel roads, MTB trails or rock-strewn climbs and descents. I can think of several areas in Pennsylvania, North Carolina, Georgia where these tyres would be perfect.
Are they an all-rounder tyre, no? Would they be suited to the average gravel cyclist out for a day of fun? Yes, but provided you realize this isn't a speed merchant tyre. I don't bikepack, rather I slack pack (meaning, someone else usually schleps my stuff), but I could visualize the Sendero's as being a solid and reliable choice for a serious off-the-beaten-track bikepacking rig.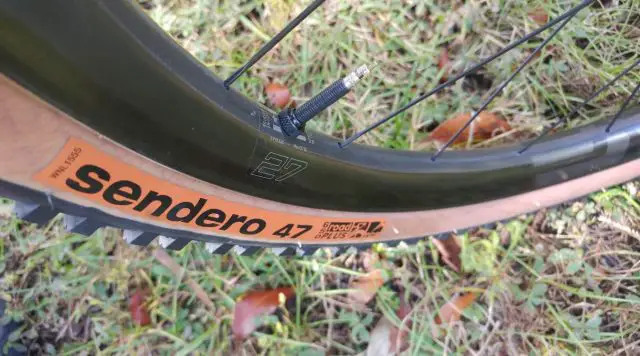 MSRP on the WTB Sendero 650b x 47mm tyre is $US 70.95, but they can be had cheaper, depending on where you look. The Amazon link below may be helpful to you.