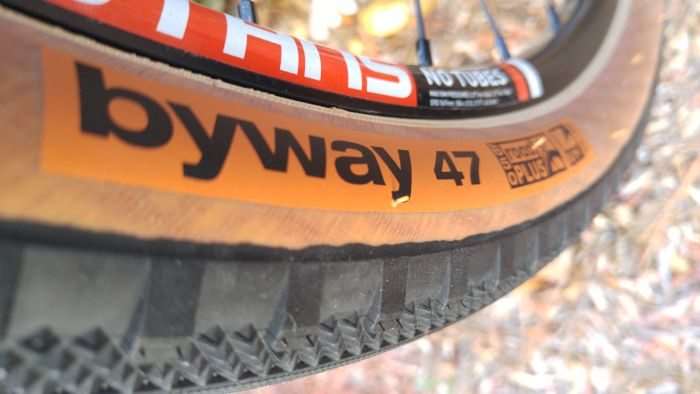 About WTB (Wilderness Trail Bikes)
"WTB was founded in Marin County, California in 1982, fueled by the need to create durable and reliable mountain bike-specific equipment. Back then mountain biking was a new and burgeoning sport, and mountain bikes weren't much more than cobbled-together oddities. The original WTB crew was captivated by the experience of riding bikes on dirt trails, and they started creating more durable and functional components for their own bikes. Soon, local frame builders sought to outfit their bikes with WTB's high-end components. WTB was able to turn our passion for bikes into a successful business."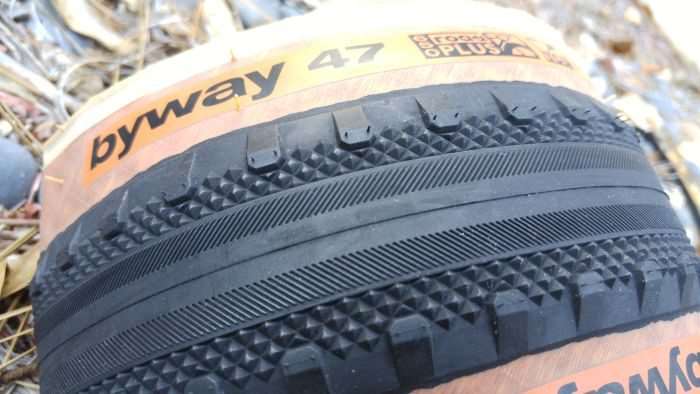 WTB Byway Road Plus Tire, 650b x 47mm
"Our most dirt-centric Road Plus tire yet, the Byway Road Plus tire delivers supple plus-size traction and smooth riding characteristics further into the dirt. Staying true to its road usage, a slick centerline borders angular hatching to keep everything smooth on sections of pavement. Intermediate, diamond-shaped peaks provide steadfast traction under power, while consistent and more substantial side knobs extend down the side to protect it against ill-intentioned rocks or gashes while exploring new areas."
WTB's marketing department kindly sent Gravel Cyclist a pair of the Byway 650b x 47mm tyres for review.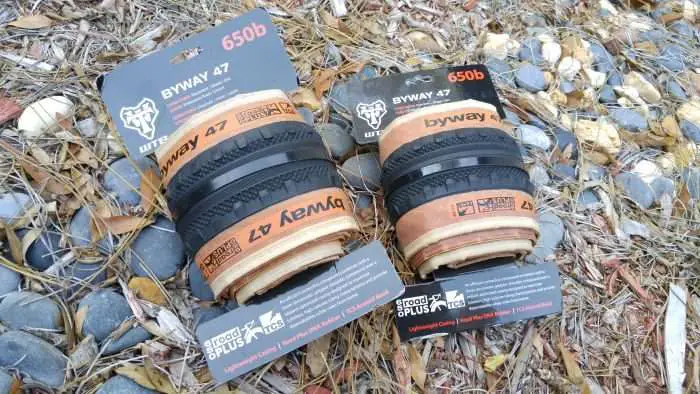 "With the same overall diameter as a 700 x 30mm road tire, Road Plus provides the option for two different riding experiences with the same endurance road bike. The Byway Road Plus tire allows riders to find comfort on remote gravel roads without being slowed down on the pavement required to reach them."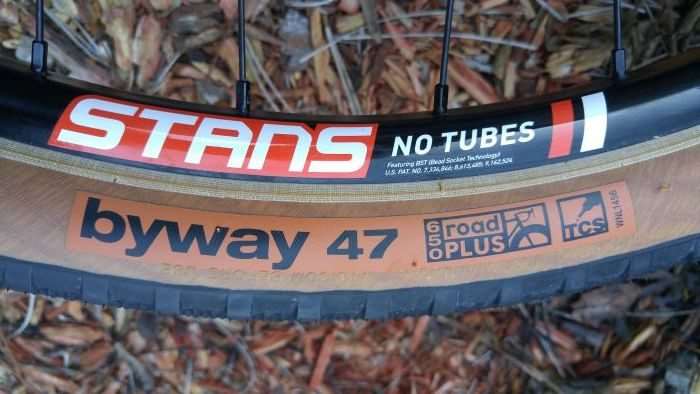 WTB's Byway tyre is available in one size only – 650b (aka 27.5″) x 47mm (aka 1.8″) wide, and is marketed as a road tyre beneath WTB's "Road Plus" moniker. Mentioned in the previous paragraph, the overall diameter of the Byway 650b x 47mm tyre is virtually the same as a 700c x 30mm road tyre. Provided you possess a frame with suitable clearance, this tyre should fit into a gravel bike that would ordinarily accept a 700c x 40mm tyre. With that said, clearance is best evaluated on a frame by frame basis, as not all frames are compatible with a tyre of this volume. Be sure to check WTB's frame compatibility list before you plonk down your hard earned cash.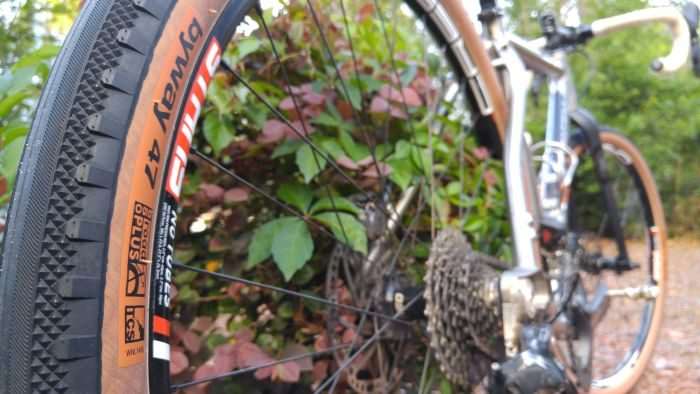 The WTB Byway 47's were an easy fit into one of our former review bikes, the Lynskey GR250 Titanium gravel bike. The newest review bike we have from Lynskey, the PRO GR 6/4 Titanium gravel bike, features identical rear end geometry as the GR250, and once again, the Byways fit with plenty of room to spare.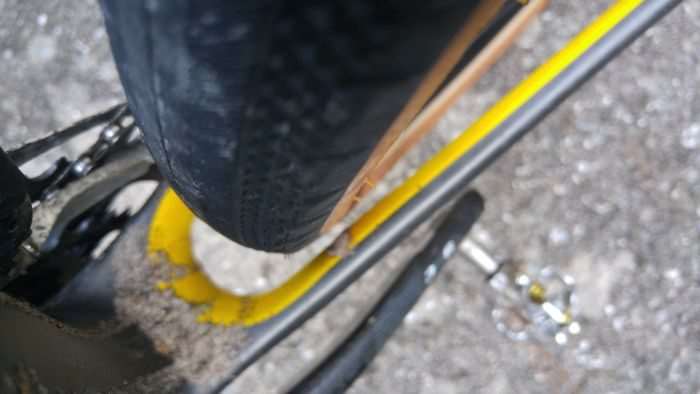 The Byways will fit between the chainstays of the Orbea Terra gravel bike (pictured above), another machine we are reviewing. This is a perfect example of running a wide 650b tyre on a bike designed originally for 700c x 40mm tyres.
WTB, please consider adding the Lynskey and Orbea frames to your compatibility list!
Weighing it up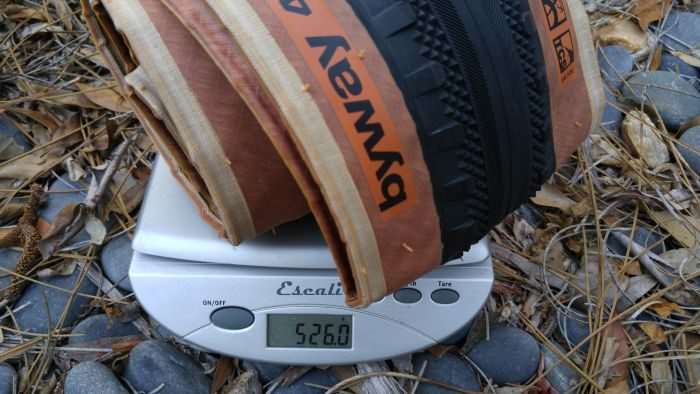 Manufacturers of bicycle frames, wheels, tyres and components are often guilty of fudging their spec weights. More often than not, manufacturers will cherry pick an early sample from a first production run, and advertise that as the product's weight. But smart manufacturers mention something like + or – 2% to cover themselves. In the case of WTB, that isn't necessary, as their tyre weights are accurate – or underweight in my case.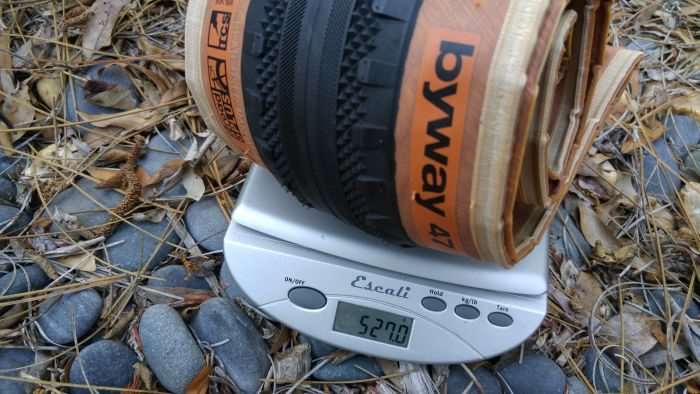 The sample Byway tyres weighed 526 and 527 grams respectively, eight to nine grams less than the specification weight of 535 grams from WTB. Chapeau WTB! It should be noted the sister tyre to the Byway, the WTB Horizon 650b (reviewed earlier by us), weighs about 15 – 20 grams less.
Mounting the WTB Byway 650b x 47mm Tyre
WTB's Byway tyres feature WTB's TCS (tubeless compatible system) with an Aramid tyre bead. TCS is a "system" that also includes rim tape, tubeless valves and sealant. TCS is designed to make tubeless tyre setup an easy process.
The sample WTB Byway tyres mounted easily using Bontrager's TLR Flash Charger pump and WTB's valves. Expect similar performance from American Classic or Stan's NoTubes valves. A Stan's Notubes.com Crest 650b wheelset and Orange Seal's Endurance Formula Sealant was used for the duration of the review.
The Byways are intended to be mounted directionally, meaning, pay attention to the rotational arrows on the sidewall. The rotational arrow on each tyre should be in sync with forward rotation of the tyre.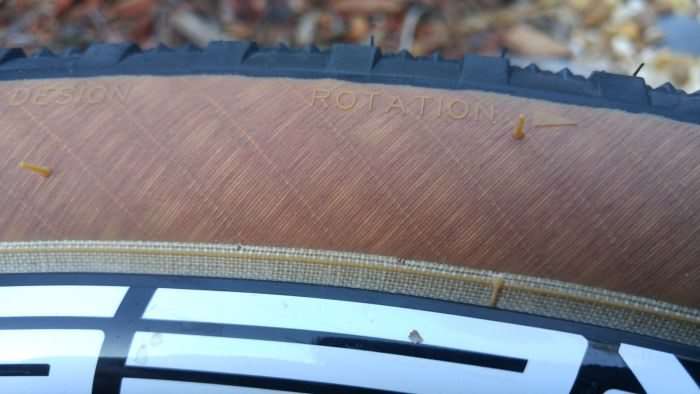 Mind you, I purposely ran the rear backwards for a ride or two and didn't note any difference. Placebo anyone?

Installation Tips:
Always dry mount a tyre first sans sealant to ensure it will seat and hold air. That can save making a big mess and losing a bunch of sealant.
If you have trouble mounting a tubeless tyre, these tips can help:
Remove the valve core and inflate. This allows a greater volume of air into the tyre and most times, will pop the tyre onto the bead.
If this doesn't work, apply something like Sleek Beeswax & Mink Oil Furniture Polish to the sidewall. This product is far better than soap and water, and will help seat even the most stubborn of tyres. This product can be purchased from your local furniture store or online.
Once the dry mount test has been passed, install your favourite sealant and inflate. Don't forget to keep a fingertip over the valve if you removed the core. This simple step will retain the air you just inflated; if you're good at juggling, you can quickly re-install the valve core and still keep some air inside the tyre. Then, inflate to the desired pressure.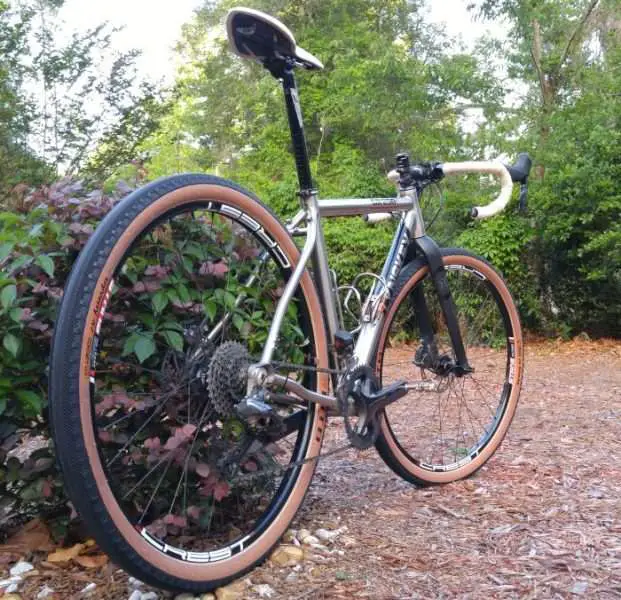 Do the WTB Byway 650b 47mm tyres measure up?
The Byways measured 48mm wide mounted to the Stan's Notubes Crest 650b wheelset (21mm internal). If they follow the example set by the WTB Horizon 650b, I would expect them to measure a little wider on a rim with a wider rim bed.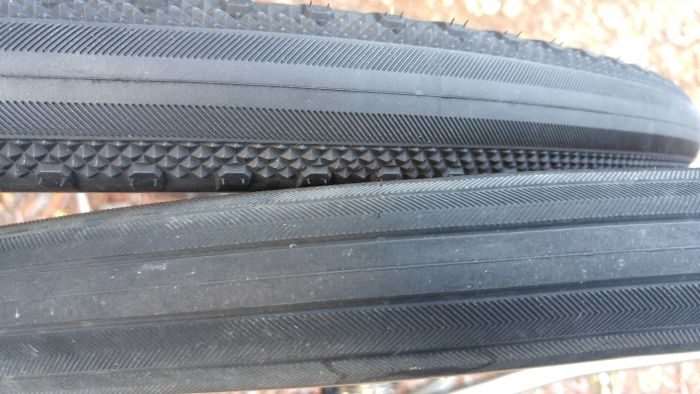 In the photo above: At top is the WTB Byway and bottom, the WTB Horizon. Not the similarities in the center tread and herringbone pattern towards the edges. The biggest differences are the diamond-shaped peaks and side knobs of the Byway.
Riding the WTB Byway 650b 47mm Tyres
On good pavement, bad pavement and lovely smoothish hard-packed gravel, the WTB Byway rides in an almost identical manner to the WTB Horizon tire. The center section of the Byway is super fast, conducive to fun, rapid riding.
WTB recommends the Byways be inflated somewhere between 35 – 50psi, but I rode them at lower pressures than suggested. I weigh anywhere from 155 – 158lbs and 28psi front and 30psi rear was the average for me, but there were times I dropped them to 25psi front and rear, all sans burping. These numbers sound low, but the huge casing of the Byway eats up the bumps and ruts at these lower pressures, and the ride is akin to free suspension on your gravel bike but sans hassle and extra expense! Think of a 1977 Cadillac Eldorado with its uber comfy ride, and you've got the Byway.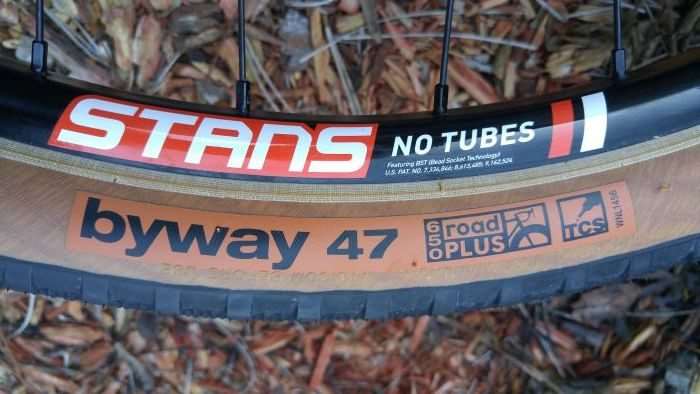 It's important to note that 650b wheels and tyres don't steamroll quite as well over harsher bumps compared to their bigger 700c cousins, but they are a little more nimble and a blast to ride in tight situations.
Now, because this is the Gravel Cyclist website, you didn't come here to read about how the WTB Byway performs on fancy pants pavement or uber smooth gravel roads. So, they were put to the test over some more appropriate – or inappropriate – gravel roads. One ride that really sold me on the virtues of the WTB Byway tyre was the time I rode with Boyd Johnson of Boyd Cycling.
For those readers who don't know about Boyd, he's a former professional cyclist – that means, even on an easy day, he's probably going to make you suffer. Boyd resides in Greenville, South Carolina with his family, and in between the day to day operations of his company, travel and family time, he somehow finds time to ride. I happened to be near Greenville recently and met up with Boyd for a sweet dirt and gravel ride. The route took us north of Greenville, into North Carolina and through sections of the DuPont State Forest – an area renown for its mountain biking.
On this day, I was rolling an almost new Lynskey PRO GR 6/4 Ti gravel review bike, American Classic Wide Lightning 650b wheels and WTB's Resolute 42 tyre (yep, a review of that is close at hand). Boyd was aboard a Carbonage gravel bike with his very own wheels – Boyd Jocassee carbon 650b's shod with WTB Byways. Incidentally, we are reviewing the Boyd Cycling Jocassee wheels and Tickled Pink sealant – watch this space…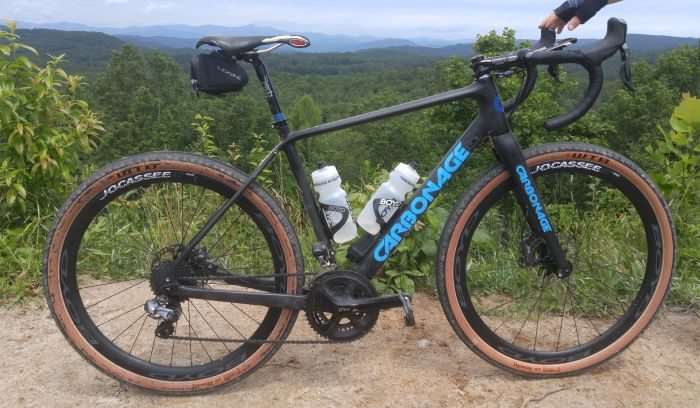 Boyd was a good fellow and took it pretty easy on me during the climbing portions of the ride, most of which came during the first half. I was impressed with the manner in which he made riding uphill for extended periods of time look easy, but more impressed by his handling skills anytime we cornered, especially on the dirt and gravel roads.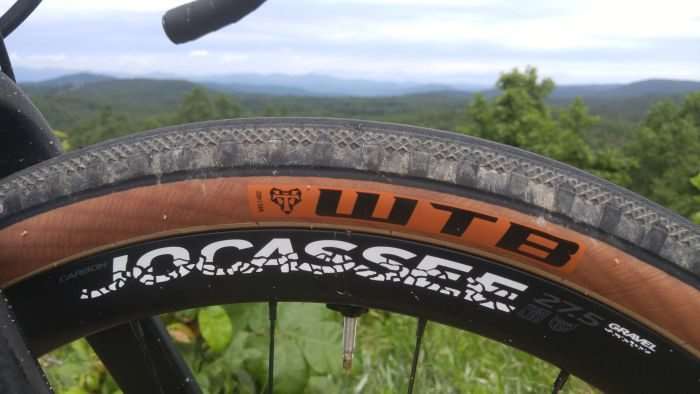 Boyd was pushing his bike and tyres hard on the descents – something you can do when you're an ex-professional and you know these roads like the back of your hand. During this ride, Boyd's tyre pressure was 34psi front and rear. For a ride with an even mix of pavement and gravel, he'll bump the Byways up to 38psi.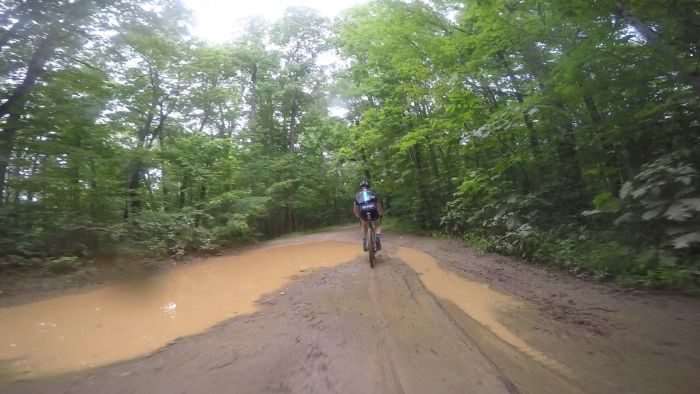 The WTB Byway certainly lends itself as a better cornering tyre on gravel versus the WTB Horizon. Those side knobs and diamond-shaped peaks do make a difference.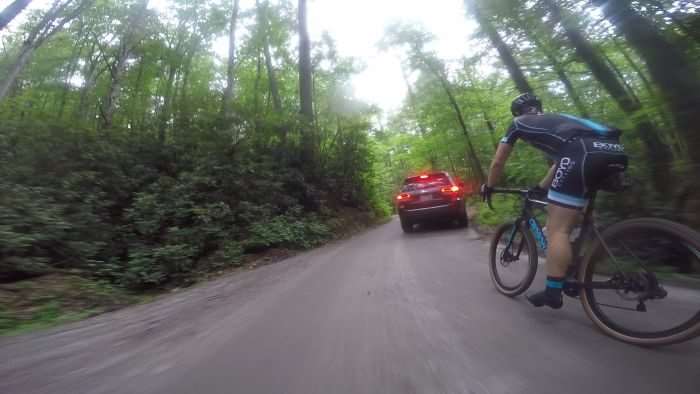 In the scene above, Boyd and I are riding a segment on Strava known as "Green River Gravel DH" – you can see my Strava data from the ride HERE. I was happy to follow Boyd's lead down the descent, as it was the first time I'd ridden the road. We were significantly delayed by a car on the descent, and even with that factored in, Boyd rode his fastest time on that segment. The point of this? He eclipsed his best time riding WTB's Byway tyres.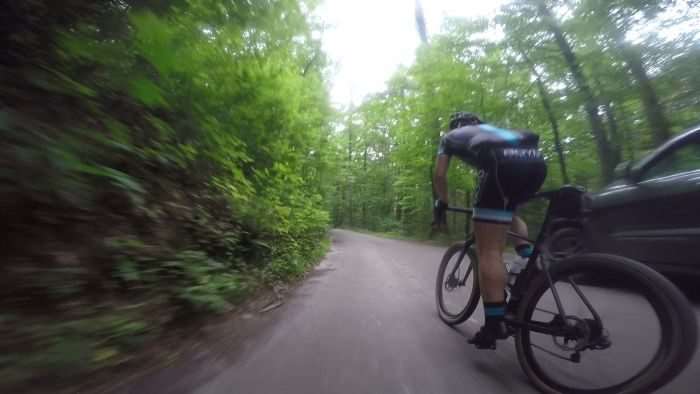 To better illustrate how well the tyres handle at speed, check out my video from the ride below (forward to about 2:34 to see my ride with Boyd).
With this experience and other rides I completed with the WTB Byways, it seems WTB has created a problem for themselves. The Byway rides just as well as the Horizon on pavement and smooth gravel, but it ups the ante on gnarlier gravel and places where better cornering grip is needed – on every surface. Effectively, the Horizon has been made obsolete because of the Byway.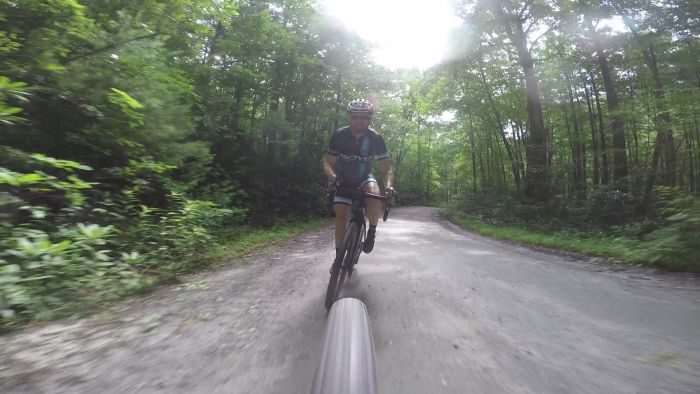 Similar in behaviour to the WTB Horizon tyre, the Byway can break loose under power on a climb when a rider is stomping it out of the saddle. But overall, the performance of the Byway tyres is impressive. They ride well in deep sand or loose gravel, a fact mostly attributed to their wide casings. Conditions like this can leave any rider aboard 40mm wide tyres, floundering.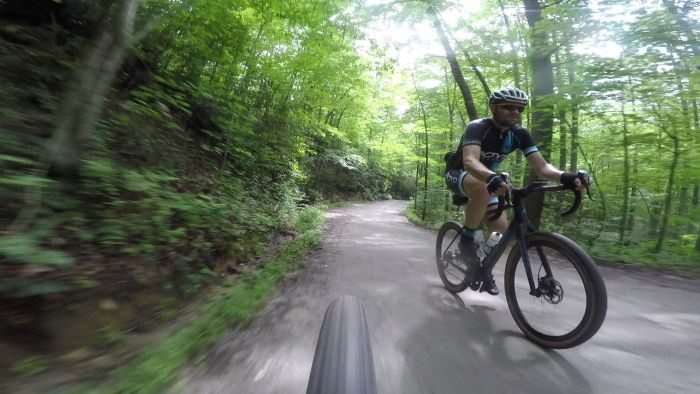 I hold similar reservations about the sidewall strength of the Byway tyres, just as I did in my WTB Horizon review. I've yet to puncture them, but the sidewalls could be a weak point in rocky terrain or flinty gravel, the type you'd see in the hills of Kansas.
Summary
The WTB Byway 650b tyre is a fantastic all-round performer on pavement and gravel, and the smaller 650b size provides a good, wide tyre option, for bikes that can only fit 700c x 40mm tyres. Don't forget to consult WTB's frame compatibility list before buying.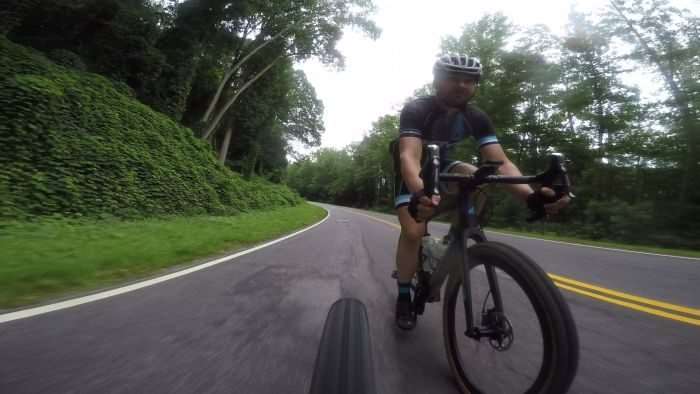 As alluded to earlier, the WTB Byway improves upon their Horizon tyre in that it rolls just as fast on pavement and smoothish gravel, but corners much better on every surface. It would seem the Horizon has been made obsolete with the introduction of the Byway.
The WTB Byway 650b tyres have an MSRP of $67.95, but can be found a little cheaper depending on where you buy.
Highly recommended by the Gravel Cyclist crew!