About Ritchey Design
"Tom Ritchey is one-of-a-kind. He continues to juggle his duties as president and lead designer of our company, which now has products distributed in over 40 countries – and he still logs at least 10,000 miles per year all over the world. Inspiration often comes to him while out on a ride, generating ideas that he then processes as three-dimensional design images – in his head." – RitcheyLogic.com
"San Carlos, California is home to Ritchey Design, recognized around the world as one of the cycling industry's premier innovators of high-quality bicycle components. Formed in 1974 by Tom Ritchey, the company actively designs a steady stream of new products, while constantly improving upon existing components, refining their lightness and durability with untiring drive, we call it; 'relentless innovation.' Modern-day enthusiasts are very knowledgeable about their choices in the parts upgrade quest, and Ritchey strives to be their very first choice."
Ritchey's Adventure Bike Tires
"A pioneer in Vector Force Analysis (VFA) in tire tread design, Tom Ritchey noticed how stock moto tread wore irregularly, and he developed VFA to create treads specific to rotation direction, front or rear, and application. Going strong for more than 30 years, VFA is at the core of all Ritchey adventure and gravel tires. Matched with Stronghold and tubeless casing, Ritchey tires are the surefire choice for the most questionable terrain."
Ritchey Speedmax Tyre
Originally designed for the mountain bike race at the 1996 Olympic Games in Atlanta, Georgia, the 20+ year old Speedmax design was reintroduced after a hiatus, but returns with a number of improvements, according to Ritchey. The Speedmax tyre is now available for cyclocross racers and gravel cyclists, and tubeless-ready with Ritchey's "Stronghold" casing. Ritchey market the Speedmax as an all-rounder tyre perfect for all-terrain exploration.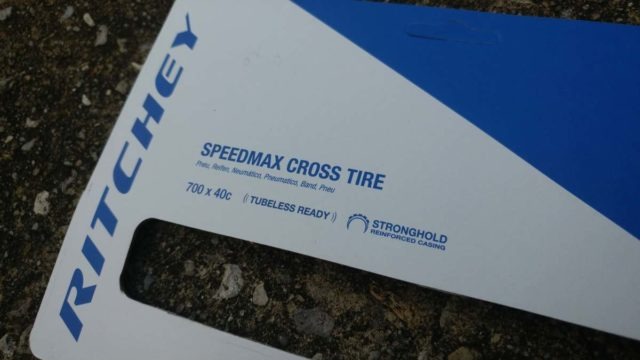 Speedmax is available in 700c x 32mm, 700c x 35mm and 700c x 40mm, and three models:
WCS at 120TPI with Stronghold Tubeless Ready (700c x 40mm only)
Comp 30TPI Foldable
Comp 30TPI Wire Bead
As the title of this review alludes to, I'm reviewing the top-tier WCS model in 700c x 40mm.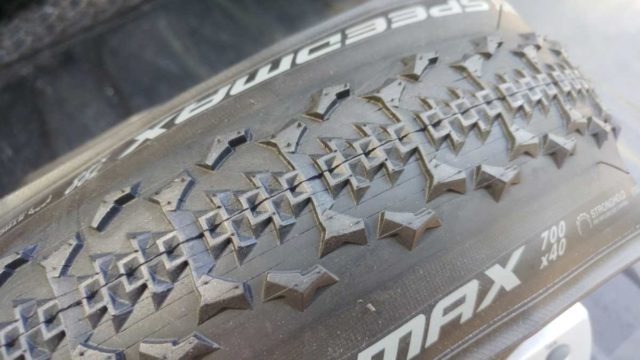 Weighing Them Up
The sample Ritchey WCS Speedmax's in 700c x 40mm weighed 526 grams and 545 grams respectively.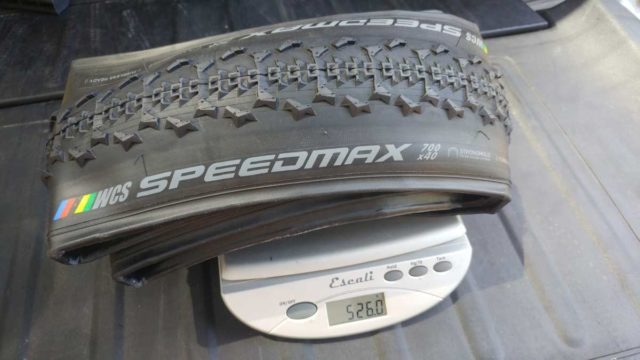 Ritchey's advertised weight on these tyres is 514 grams, with both sample tyres weighing a little more.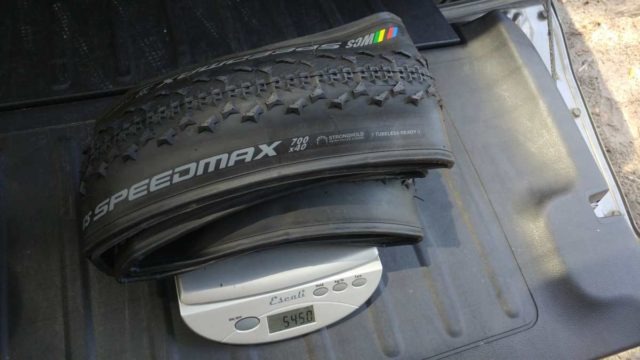 The 524 gram sample tyre falls exactly at the two percent + / – margin of the bicycle industry's advertised weight rule, whilst the 545 gram sample sits about 5.5% above advertised weight.
Mounting the Ritchey Speedmax 700c x 40mm WCS Tyre
The Ritchey Speedmax tyres mounted without any trouble to a pair of 3T Discus 45 tubeless ready carbon wheels. These wheels are stock equipment on the 3T Exploro with SRAM Red AXS eTap that I currently have in for review. The rim on this wheelset measures 25mm internally and 32mm externally. Rim depth is 45mm. These tyres are directional specific, so play close attention to that when installing them onto your rim.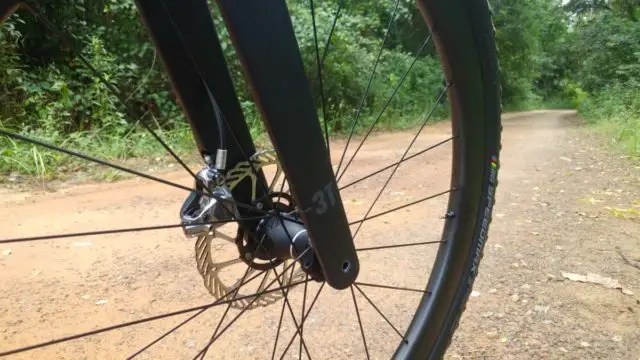 Ritchey or 3T is not in the business of manufacturing tyre sealant, thus, I rely on Orange Seal's Endurance Formula Sealant. If you've not tried this sealant, give it a whirl, you will not be disappointed.
Inflation to appropriate pressure was a breeze, utilizing Bontrager's TLR Flash Charger pump to get the job done. The Speedmax tyres popped easily into the bead of the 3T C45 Discus wheelset, and held air with a minimum of effort. Once the sealant was installed, I followed my usual routine of "shake and bake" for the tyre (shaking back and forth and rotating the tyre completely, to cover inside of the tyre with sealant), but the sidewalls are not porous and hence, do not leak air or sealant.
If you have questions about ideal tyre pressure, do yourself a favour and check out ENVE's super helpful tyre pressure chart.
Tubeless Tyre Installation Tips:
Always dry mount a tyre first sans sealant, to ensure it will seat and hold air. That can save making a big mess and losing a bunch of sealant.
If you have trouble mounting a tubeless tyre, these tips may help:
Remove the valve core and inflate. This process allows a greater volume of air into the tyre and most times, the tyre will pop onto the bead.
If this doesn't work, apply something like Sleek Beeswax & Mink Oil Furniture Polish to the sidewall. This product is far better than soap and water and will help seat even the most stubborn of tyres. This product can be purchased from your local furniture store or online.
Once the dry mount test has been passed, install your favourite sealant and inflate. Don't forget to keep a fingertip over the valve if you removed the core. This simple step will retain the air you just inflated; if you're good at juggling, you can quickly re-install the valve core and still keep some air inside the tyre. Then, inflate to the desired pressure.
How do the Ritchey Speedmax 700c x 40mm WCS Tyres measure up?
The Speedmax's measured a smidge under 44mm mounted to the 3T Discus 45 wheel I mentioned earlier (see the photo below).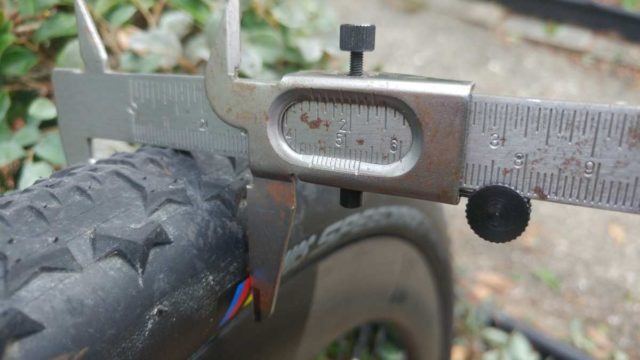 In my experience, most gravelly tyres increase in size from manufacturer specification by about two millimeters on a decently wide rim. The Speedmax's were no exception but continued to grow by almost 4mm. Keep this in mind if your frameset has limited tyre clearance front, rear or on the sides. On the positive, the Speedmax's are not undersized.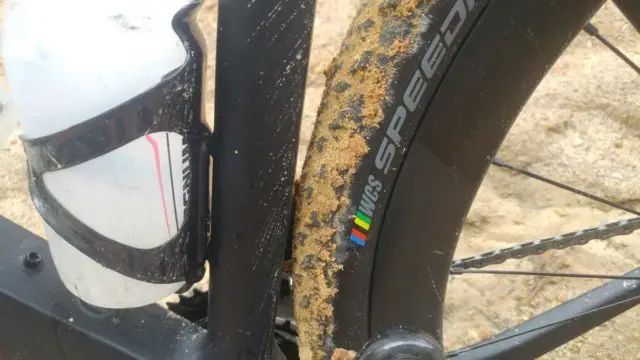 Riding the Ritchey Speedmax 700c x 40mm WCS Tyres
Stated earlier, Ritchey market the Speedmax as an all-rounder tyre perfect for all-terrain exploration. Thus, I thought it a genius idea to take the tyre back to its roots, mountain biking, and some reclusive mountain bike trails within my USA hometown of Gainesville, Florida. I'm no mountain biker, and my best effort riding trails is akin to tiptoeing carefully around the woods whilst avoiding a crash. My typical go-to tyre for these sorts of activities has always featured a much more aggressive and knobby tread, which is where the Speedmax differs greatly.
Tom Ritchey knows a lot about everything, and the Speedmax tyres did not disappoint. They were more than capable for my level of riding with plenty of traction, in and out of the saddle and in corners. The edge knobs of the Speedmax go a long way to inspiring confidence when the bike is leaned left or right. In a straight line on a smooth section of trail, these tyres are very fast. The Speedmax tyres are above the weight of similarly sized 700c x 40mm tyres, but I didn't notice that extra heft playing around on the MTB trails.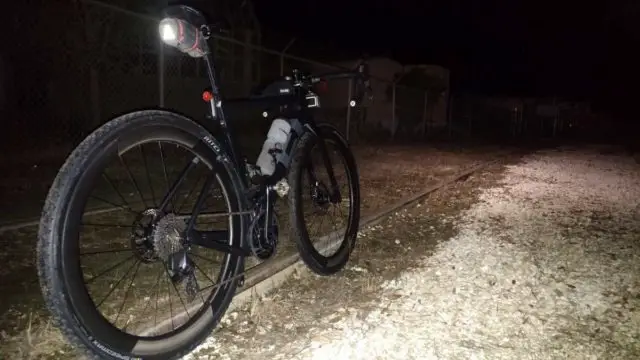 Onto mixed surfaces such as dirt, gravel and pavement, the Speedmax really is an excellent all-round performer. Visually, the centre tread of the Speedmax gives the impression of a slow ride. Riding sections of ultra-smooth and completely crap pavement to connect gravel roads, the Speedmax's fly. They roll along the blacktop without the tell-tale howling sound of rolling resistance.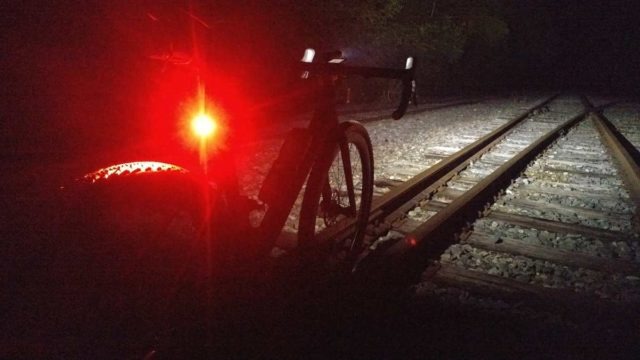 Crossing over to dirt, gravel and everything else, the speed continues on hardpack dirt and gravel surfaces. To be expected, should you encounter a deep pit of gravel or sandy bits, you will sink and flail, but that's attributed to the 700c x 40mm size and not the Speedmax. Cornering traction is excellent. I'm not suggesting you can rail gravelly corners hard on these tyres, but they never slipped or skidded anytime I turned left or right.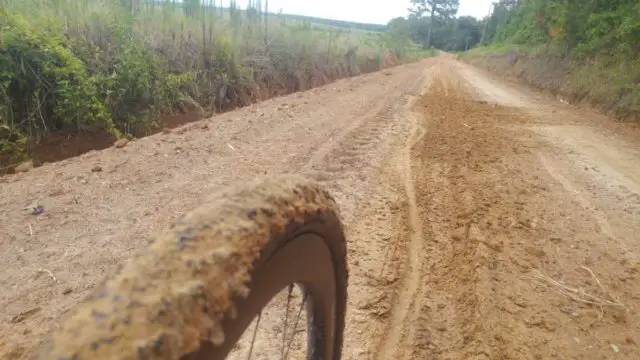 The biggest surprise to me was the Speedmax's performance in mud. Anyone who has ridden mountain or gravel bikes in some areas of the fine state of Georgia, USA, knows all about the red clay mud. In the dry, this stuff is a sweet ride. Wet, it is a sticky mess renown for destroying drivetrains, and in the right circumstances, clogging up one's bike.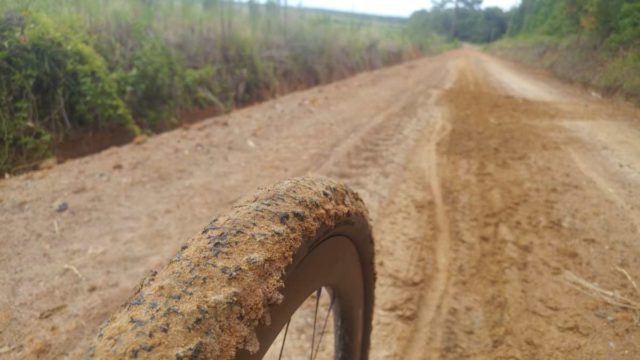 In the photo above, the muddy dirt is not collecting all over the Speedmax tyre.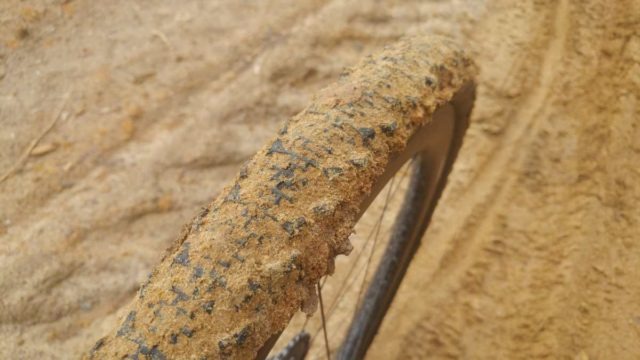 Above, this is as bad as it got. The Speedmax did a great job of shedding this particular variant of mud. The composition of soils and such varies across the planet, so what has worked for me in this review, may not work for you. Bear that in mind, as the Speedmax is not marketed as a true mud tyre.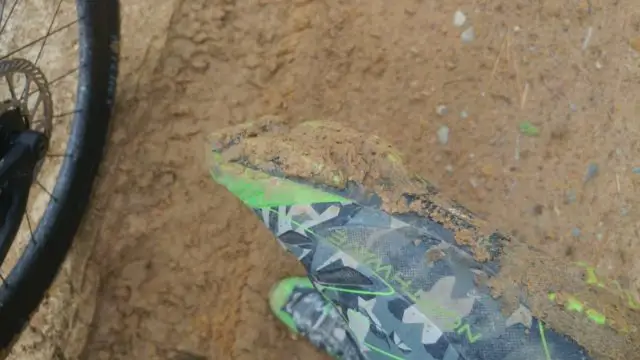 The Speedmax does have a negative, and that would be its weight. For most of us, gravel cycling isn't about rapid accelerations out of corners or brutal attacks. It's more a matter of getting a tyre rolling up to speed and chugging along. For that, the Speedmax is perfect. Paired with the 3T wheelset as pictured above, it isn't a light wheel and tyre combination, and I noticed that if I did attempt to accelerate hard out of a corner whether it be on dirt or blacktop pavement, the Speedmax was slower to accelerate than a tyre weighing some 100 grams less.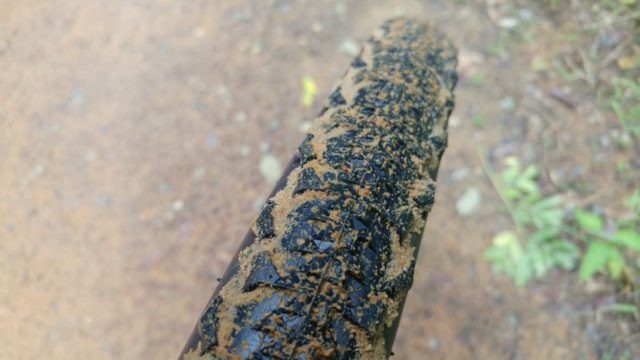 There isn't a lot of in-depth technical information available about the Speedmax, but judging from the sidewalls and their completely non-porous nature (don't worry, they're not overly stiff), I'm going to assume there is a good measure of puncture protection built into these tyres. Sometimes you have to make a trade-off. With that said, they certainly are a nice riding tyre.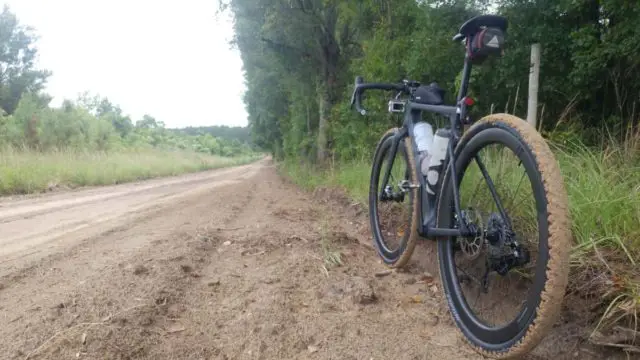 Summary
The Ritchey Speedmax WCS 700c x 40mm tyre is an excellent all-rounder tyre and quite possibly, one of the fastest I have ridden. I cannot vouch for their puncture protection (a good thing), or how they would ride on a mega chunky / rocky gravel roads or trails, but considering this tyre has its roots in mountain biking, I suspect they would behave nicely when the going gets really rough.
Their weight is above that of similarly sized all-rounder tyres, but weight isn't necessarily everything, and these tyres just roll so so fast, and maintain their speed so so well. These tyres have never received much press which is a shame, because they are truly worthy of your consideration.
MSRP on the Ritchey Speedmax WCS 700c x 40mm tyre is $US 69.95, but they can be had cheaper, depending on where you look. The Amazon link below may be helpful to you.