K-Dogg

K-Dogg is the only bloke we know who successfully sells heaters, fireplaces and wood stoves in Florida.  Even in the middle of summer!  He is the owner / proprietor of the Wood Stove and Fireplace Center in Gainesville, Florida (free plug for his business). Regarding his cycling persona, he is one of the sneakiest, but talented cyclists we've ever met. A multiple time Florida State Road Race champion, in addition to wins at epic races such as Rouge Roubaix (twice), and Boone Roubaix. For the later part of 2015, K-Dogg will be racing in the 60+ category… you have been warned.
K-Dogg's hobbies include Gumby, wood stoves, chilling out, Mrs K-Dogg, and not washing his bike.  He is also the unofficial leader of the Cycle Logic Squad (sponsored by Bike Works), even though he does nothing other than coordinate the jersey order.
Bike of Choice: Motobecane (Fakebecane) Titanium CX with beat up components.
Mrs K-Dogg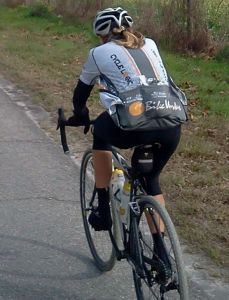 Behind every fast bloke on a bike, there is usually a lady having something to do with it.  In K-Dogg's case, Mrs K-Dogg handles all logistics relating to K-Dogg's life. i.e. For the trips to L'Eroica, Spain, Italy and Australia, Mrs K-Dogg took care of it all. She also handles all the technology in the Dogg household. i.e. K-Dogg received a Garmin 800 as a gift sometime in 2013. Two weeks later, it was on Mrs K-Dogg's bike, because K-Dogg is a complete luddite and can't follow (or see) the purple line.
Mrs K-Dogg holds a job of great responsibility, and has much experience relating to management. She manages K-Dogg. She likes cycling, horses, traveling and cleaning K-Dogg's bike.
Bike of Choice: Blue Cycles CX.
Dr. Pain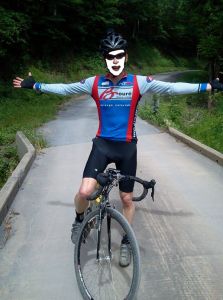 Dr. Pain's identity is a secret, meaning we really can't tell you much about his work, and that sort of thing. He's a legitimate Doctor (not the M.D. type) and like someone else on this blog, is known for bicycle tinkering, and meticulous preparation of his machines pre-race. He also maintains a list. A list of transgressions. If you screw up, or piss off the good Doctor, you'll make the list. K-Dogg and JOM are on the Doctor's list, and have zero chance of being forgiven. The Doctor isn't that sort of guy. For a bloke who is 55+ years of age, Dr. Pain possesses the most graceful and aerodynamic position on a bike we have ever seen. His back is perfectly flat. Ironically, he hates time trialling.
Dr. Pain's hobbies include making lists, selecting gear ratios, measuring tubeless tyres, and riding his bike for fun.
Bike of Choice: Quiring Monster CX.
Dr. Meshugganah (Dr. MSG for short)


The artist formerly known as Clayton.  This dude is another legit Doctor, but again, not of the M.D. type.  Dr. Meshugganah has an esteemed background in cycling.  I won't mention the name of his former USA based amateur team(s) from the 1990's, but he's raced against the likes of certain individuals who rode with Motorola, US Postal, etc.  Readers will have heard of these dude's names.  Dr Meshugganah is also the 2014 GAINESVILLE WORLD CHAMPION.
Dr. Meshugganah's hobbies include laughing, Campagnolo, fancy Colnagos, bridging to breakaways, and hurting anyone on his wheel.
Bike of Choice: Cannondale SuperX.
The Fraulein (moved back to Germany)
One of the strongest female cyclists we've met, and one of the most humble.  The Fraulein is a rather unoriginal name for her, considering she is originally from Germany. We really should have thought of something better.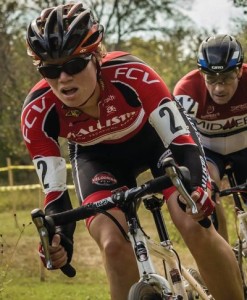 For those who don't sprechen ze Deutsch, The Fraulein simply means Lady.  She is a biologist of some kind (we always forget this stuff) and has spent considerable time racing in Canada, and parts of the USA.  We are slowly converting her to the ways of the gravel.  The Fraulein is the 2014 TALLAHASSEE WORLD CHAMPION and the 2015 GAINESVILLE WORLD CHAMPION!
Hobbies include podium appearances, attacking, crushing, and smiling on race videos.
Bike of Choice: Opus CX.
Pfaff Daddy (Retired from Cycling)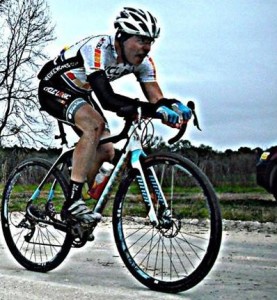 Scott as he sometimes goes by, is an IT (Info Technology) professional by trade, and gear stomper on the bike.  Pfaff Daddy is one of these guys who doesn't require a whole lot of training, before he's fit as a fiddle, and hurting your legs.  He is known for sitting on the front of races and training rides for long periods of time, in an annoyingly efficient aero tuck, that is a total pain in the arse to draft behind.  Second only to Dr Pain for aero efficiency.
Pfaff Daddy's hobbies include house renovation projects, buying expensive bikes for his son (Pfaff Junior) and twea(r)king databases.
Bike of Choice: Niner BSB 9 RDO.
Pfaff Junior

Is Pfaff Daddy's offspring.  Justin has been riding bicycles since the age of eight.?  At that time, we in the Gainesville community would always look out for little Justin.  Shield him from the wind, fetch his water bottles, not drop him, etc.  He even had his own "Junior's" ride, where he was the only junior in attendance, accompanied by 10 adult weirdos.  Turn the clock forward to the current day, and Justin is almost a grown man.  Do you think he remembers all those times we were nice to him?  No.  Rather, he attacks us at every opportunity, and uses his youthful powers of recover to destroy most of us on training rides.  Justin has won several road races as a Category 3 here in Florida, and is the 2014 TALLAHASSEE WORLD CHAMPION.
Pfaff Junior's hobbies are having his dad buy expensive bikes on his behalf, his car, wheelies and dropping people at rides and races.
Bike of Choice: Specialized Carbon Crux.
The Nature Boy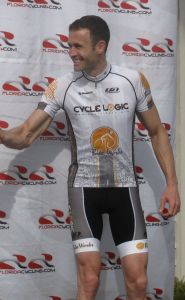 Rob likes fish and snakes, but he's nothing like Ric Flair.  However, his passion for the outdoors and supreme knowledge of fish and snakes, lead us to nickname him The Nature Boy.
He's handy on a bike, and possesses the ability to jump HARD up short, steep climbs, and gap / piss off those who are unfortunate enough to be riding behind him.  He is a complete n00b when it comes to bicycles.  To the Nature Boy, a bicycle is a tool, and not a thing of beauty.
The Nature Boy's hobbies include fish, snakes, interesting banter, offensive jokes, and wishing he was a member of the A-Team (Face).
Bike of Choice: Giant TCX Advanced 1.
The Belgian Diesel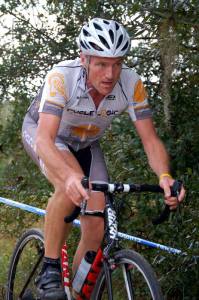 Lambert (the T is virtually silent) hails from the country where cyclo cross is king, the beers are awesome, and the Frites are hot.  He speaks fluent Flemish.
The Diesel is a tireless worker, always putting his own aspirations behind others.  He has the ability to sit on the front of training rides and races, grinding out some huge gear at an uber low cadence, while everyone else clings to his wheel.
Leg speed and cornering aren't his strengths, and he despises twisty roads.  Lambert is a finance guy by day, whose hobbies include the 53 x 11 gear, beer and supporting Belgian cyclists.
Bike of Choice: Giant TCX Advanced SL.
BHT (Big Head Todd)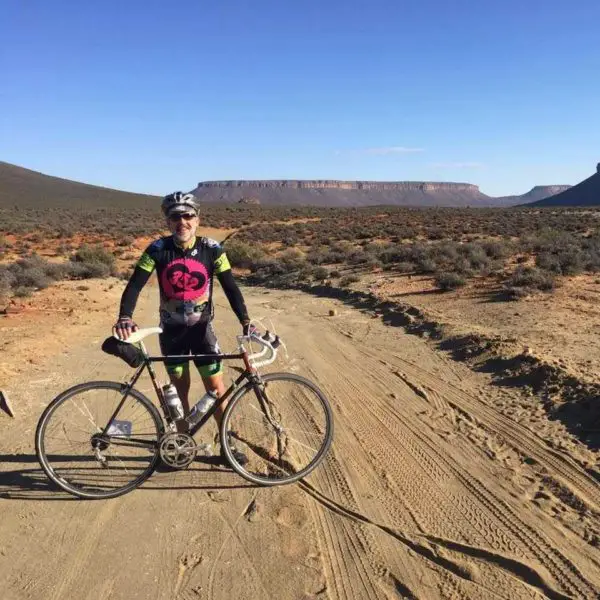 Todd is the head honcho of the 352 Racing Team, out of Gainesville, Florida.  352's team is sponsored by one of the best shops in town, Bikes and More.  Todd is an Associate Director in the world of Academia, with a proven track record for getting $hit done.  He is the promoter of Gainesville's only cyclocross race, Swamp Cross.  Todd's strengths on the bike include setting a strong tempo on the front while people suck his wheel, funny observations and stories, keeping his long hair nicely tied up in a pony tail, and coordinating his team kit perfectly.
His hobbies include beer, Bianchi, Africa and libraries.
Bike of Choice: Felt CX, aluminium Frame.  One of the older bikes among the cast members.
Jimbo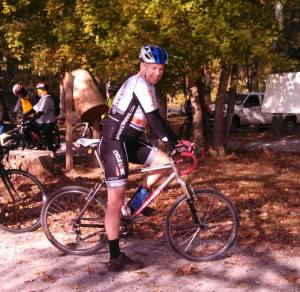 Or Jim for short, is a long time bike racer, but new to racing in 2014.  Jimbo took a 25+ year hiatus from bike racing to have a family, put kids through college, etc.  During Jim's hiatus, a lot of cycling inventions happened; mainstream carbon fibre frames, electronic shifting, different wheel sizes, internet bike shops, Eurosport over the internet, etc.
Jim's hobbies include Rodney Rude.  There are other hobbies, but Jimbo is the guy responsible for bringing the original Rodney Rude tapes to Gainesville, Florida.  This was back in the days of cassette tapes, i.e. pre-internet.
Bike of Choice: Fuji Altamira CX and The Frankenbike.
The Terminator (Retired from Cycling)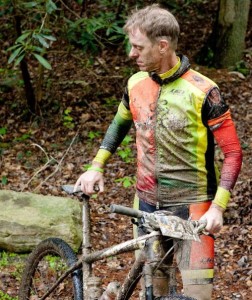 Otherwise known as Roger, who hails from Ocala, Florida.  Roger regularly joins the crew during the Winter Tuesday Night GCX Worlds rides, and on special rides, such as the Rodman Dam (Damn) ride.  Roger is a former Ultra marathon runner, who has only been cycling for three years.  Under the tutorial of John Murray, he has made leaps and bounds in that short time.  Already a race winner, Roger likes to make everyone suffer on the local training rides.  Roger is an IT guy with a personality.
Roger's hobbies include his wife, nice bikes, riding hard tempo and winning races.
"Listen, and understand.  That terminator is out there.  It can't be bargained with.  It can't be reasoned with.  It doesn't feel pity, or remorse, or fear.  And it absolutely will not stop, ever, until you are dead."
Bike of Choice: Specialized Carbon Crux, Hydro Di2.
Shannon the Cannon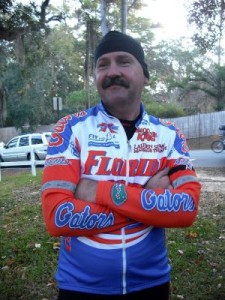 Shannon joined the crew late in 2014, after he splurged on a mac daddy CX bike, purely to ride on dirt and gravel roads.  Like many others in this group, he eschews the idea of running barriers and other such nonsense.  Shannon is a master craftsman when it comes to paint, of the vehicle and bicycle variety.  He's also very handy when it comes to house projects.
Shannon has been a long time A level cyclist in the Gainesville area, and holds a top 20 time, in the esteemed but now seemingly defunct, Cemetery Time Trial (Angle Road).  Shannon's hobbies include his huge dog, swimming pool and fancy cars.
Bike of Choice: Boardman CX, Hydro Di2.
Randy Andy the Irishman (Back in Scotland)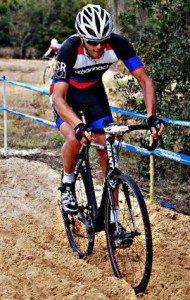 A relative newcomer to the US of A and the riding of dirt, limerock, sand, sludge and gravel roads, Andy is no slouch on a road or cross bike.  He is still honing his skills on the CX bike, both on proper long rides and running around in local parks jumping barriers, but it will only be a matter of time before this changes.  Being a younger lad, he's able to attack and recover quickly, which greatly displeases a few of the more senior members of the Gravel Cyclist Crew.  However, we can't write about it here, but we do know his weaknesses 😉
Randy Andy's interests include shooting the breeze, good beers, life in the US of A, riding hard and riding easy.
Bike of Choice: Giant Carbon CX, ex Lars Boom Rabobank (for real).
Snowflake (see alt. spelling: Snoflake) – Back in Germany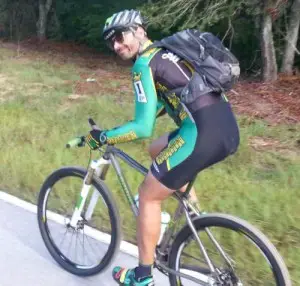 Snowflake is a true Renaissance Man. He appreciates life's finest things: an expertly brewed cup of coffee, the Dresden Philharmonic, hand-woven Persian rugs, a 50 million year old shark tooth, and the quiet hush of an alpine meadow freshly blanketed by snow. A true monster on the bike, both in performance and physique, he looks like the last person you'd want to meet in a dark alley. But to know Snowflake is to know his gentle and empathetic demeanor. Never did a more tender soul create so much pain and suffering on the bike.
A former German state champion in cross-country skiing, Snowflake says he is not a sprinter, but routinely crushes the group on steep short hills.
Snowflake's hobbies include cross-country ski training on roller skiis while pushing his daughter's stroller and looking very scary while being just so darn nice. On loan to the US for just two years, he's a gravel-cyclist member for life.
JOM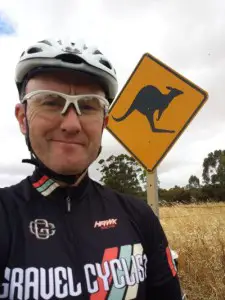 JOM aka Jayson has an About page with a bunch of info about the Gravel Cyclist website, and a bit of stuff about himself.  He, or I in this case, is the #1 contributor to this website, because nobody else can be bothered.  Other factoids – JOM is a long time I.T. guy, with a penchant for travel and socialising (socializing if you prefer American English). He is the promoter of the Heartbreaker Cycling Invitational, the only gravel ride in Florida where all the profits benefit a local charity. What a fun event that is!
JOM is a known bicycle tinkerer, and often hangs out with Dr. Pain, tweaking bikes, drilling holes in frames, etc. His hobbies include being a lad, bicycle projects, hypermiling hybrid vehicles, scoring deals and thinking about bollocks to write for the website.  He used to own pet chickens, including a handsome rooster (no cock jokes please).
Bike of Choice: Lynskey Monster CX (sold), Colnago C50 CX, Lynskey PRO GR, T-Lab X3 Titanium Adventure Bike, and others.