Prologue
"Because I'm 50!"
The Tour of Ara is a six-day stage race over a predominantly gravel road course in the 'Great Karoo' area of Northern Cape Province, South Africa. It began in 2014 as the brainchild of Stan Engelbrecht. Stan also runs the South Africa official L'Eroica event each year so you know he loves vintage bikes. His newest event, Karoobaix, is 404km over two days on gravel. So you know he loves the unpaved life. The ToA combines both these passions and is a small, intimate affair with entries capped at 40 racers. Perhaps it could even be billed as "the world's most exclusive gravel stage race." This small size ensures all racers know one another after a day or so while sharing meals, sharing drinks, and sharing stories of the day's suffering. And in some of the tiny towns along the route, ToA racers and support crew take up virtually all available accommodation.
While the rules governing your ToA machine are not as stringent as an Eroica event (e.g. saddle & pedal choices are unregulated), racers must still use steel bikes produced before 1999, shifting must be downtube or bar-end, tire width a maximum of 32c, and a low gear ratio of not less than 39×32. Locals must ride a South African-produced bicycle and international riders need a machine produced in their home country.
After having my entry confirmed, I needed to find a suitable rig. Visions of a painful Ebay/Online Swapmeet/Craigslist crapshoot loomed, until I remembered that 352 Racing p/b Bikes and More teammate Gaby Mendez had an old Trek at a swap meet a few months earlier. Still available? Yes, and my size as well. So we struck a deal. Not many modifications needed – I changed up the saddle to a nicely used Concor America purchased from JOM of Gravel Cyclist himself a few years back. I'd been warned about saddle sores for this event (more later on this) so a proper seat fit would be critical. For pedals, I selected Shimano PD-M324, the basic quill/spd flip flop model for traditional looks and multi-functional performance. I knew the existing Florida-friendly 12-19 Regina corn cob would never suffice for the expected ToA climbs so I consulted the original 1983 Trek catalog to confirm that the Gran Sport rear derailleur could accommodate a 14-28 freewheel and purchased the affordable 6-speed Shimano version. With a 52/42 on the front, I would not be getting anywhere close to the minimum gear inches.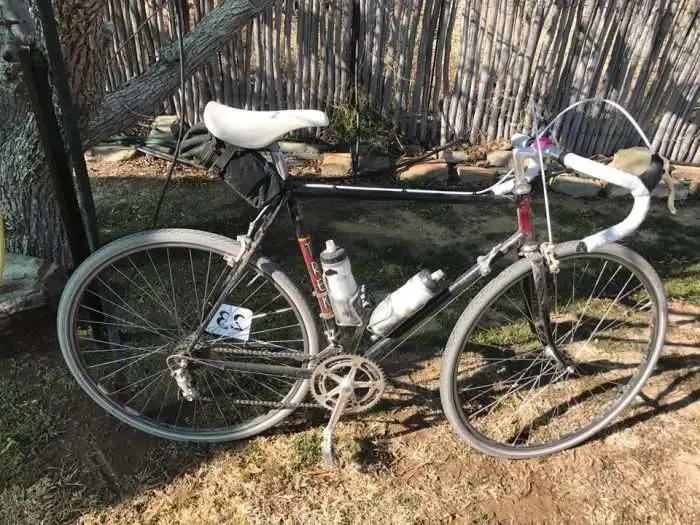 I then went round and round over tires (tyres) for weeks. Should I keep the original 27″ rims which limited tire choice and risked lack of spares during the race? Should I swap over another set of 700c wheels and expand my options? Finally, Paul Schmidt at Bikes & More convinced me to keep it original just like the freewheel range. I selected Schwalbe Marathon tires after remembering Dane Ziljstra's unequivocal recommendation in Cape Town a couple months earlier: "Just get Marathons and don't think any more about it." This race had a notorious reputation for punctures – mainly pinch flats – so stout tires seemed worth the weight trade-off.
The extremely rural environment of the Karoo also necessitated self-sufficiency on the route each day so a proper and complete toolkit was a must. I selected my Jannd old-style tubular seat bag (another bikeswap purchase, this time from Michael McAleer) to maximize capacity and proceeded to stuff it with: Lezyne multitool w/ chainbreaker, spare master link; small set of pliers; small Swiss army knife; Pedros tire levers; two tubes; quality patch kit; set of Park tire boots; small roll of duct tape; a few zip ties, and a small packet of chamois cream. I also carried spare spokes – taped to the non-drive chainstay (a la Jim Phillips). With this kit, the Marathon tires, a Lezyne frame pump, and two full bottles, the Trek 640 quickly closed in on 30 pounds. I consoled myself that everyone else would be in a similar situation.
After a few rides with the full setup in place, I packed it up in a Trico Ironcase (thank you Gainesville Cycling Club), headed to the airport, and checked the bike all the way to Cape Town. Fast forward to Oliver Tambo International airport in Johannesburg where I needed to claim the bike, go through customs, and re-check it for my flight to Cape Town. Except the bike could not be found at any of the "out of gauge" baggage claims. A quick check at the Swissport counter confirmed my fears – the weather delays in getting to Atlanta that forced me to hoof it gate to gate and just barely make the Joburg flight had resulted in only my "in gauge" bag making it across the pond. With only one Atlanta-Johannesburg flight daily, the bike would not arrive in Cape Town until the following night. This news had several implications. First, it ended my plans for a nice 2-3 hour Thursday spin to empty the legs of travel toxins. Second, the Friday morning shuttle taking all racers to the start in Sutherland would leave earlier than any guaranteed delivery via airport contractors, so I'd need to return to the airport on Thursday night to claim the bike myself. Fortunately, longtime friend Raymond Carelse offered to assist and much to my relief, the case arrived on the last flight from Joburg only 24 hours late!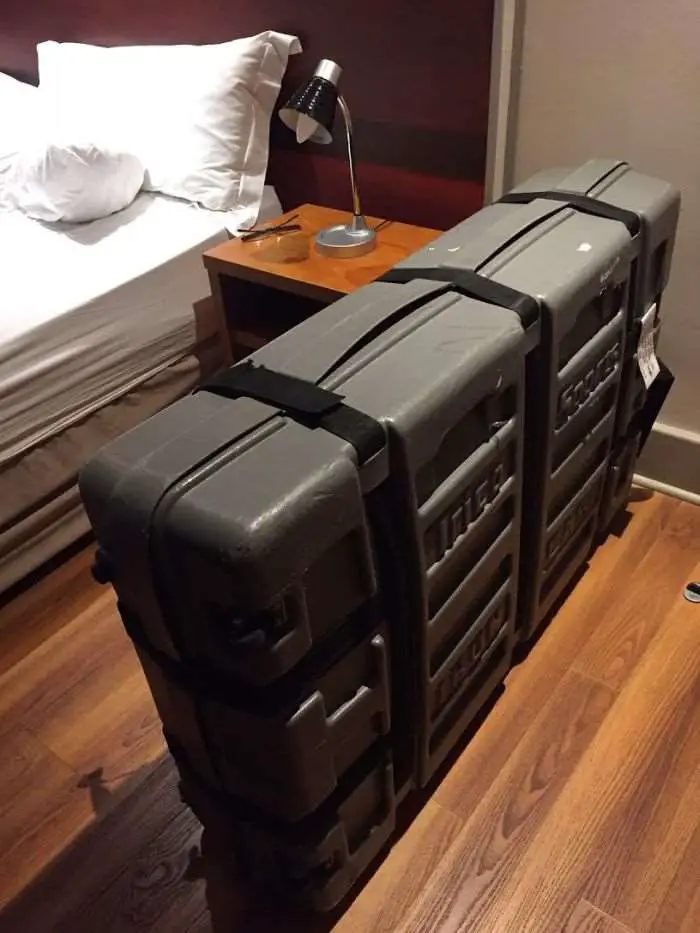 Friday morning we managed to stuff the bike case and luggage into an Audi sedan taxi for the short trip over to our departure point: Woodstock Cycleworks. Nils, Rolf, and Dane run an incredible shop in a warehouse space stuffed with vintage steel, a cycling library, and small coffee lounge. I definitely needed coffee on this morning.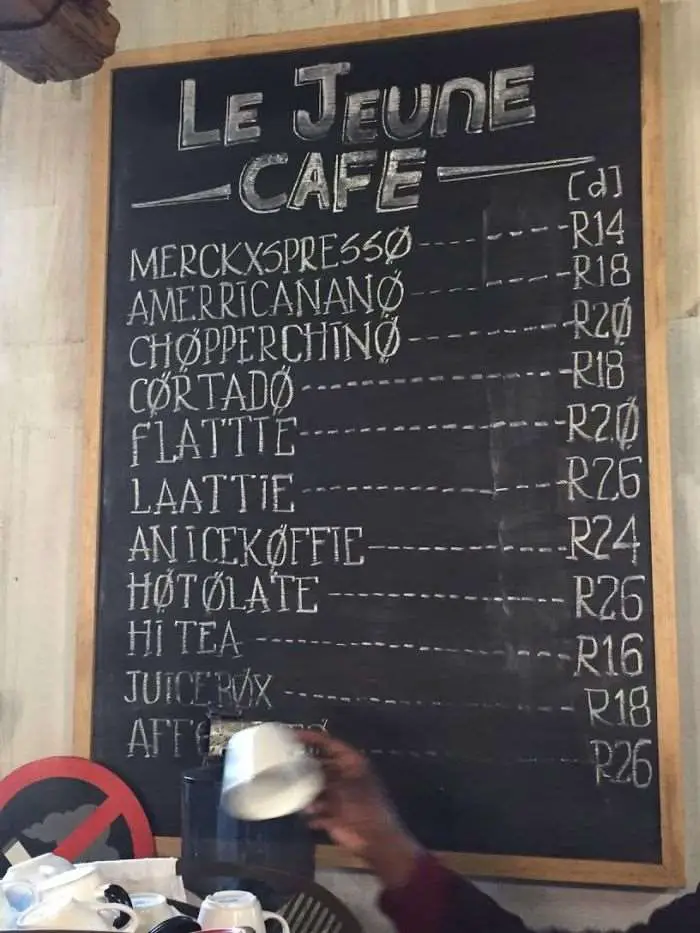 Racers trickled in over the next two hours. An impressive pile of duffel bags grew and grew. An even more impressive trailer absolutely packed with old steel bicycles slowly took form alongside. Nearly all the South African bikes came from the shop of legendary SA racer/framebuilder/coach Francois DuToit who would also be racing this year's ToA. Over coffee and pastries, I met some of the other international riders: Johan from Namibia, Mmeke from Lesotho, Johannes from Netherlands, Matthew from England, Carsten from Denmark, and Alex from France. I was the sole racer from the USA (so zero pressure!).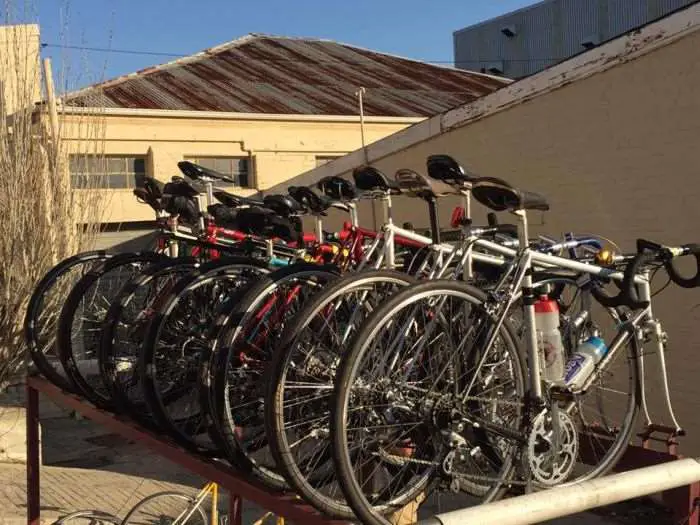 Once on board the bus we quickly got on the N1 – South Africa's main highway that stretches from Cape Town all the way through Johannesburg and up to the Zimbabwe border (over 1900km). Smooth sailing past the wine farms of Paarl and through the Hawequas mountains via the Huguenot tunnel, we reached the outskirts of Worcester where a routine traffic checkpoint turned into a 30-plus minute delay.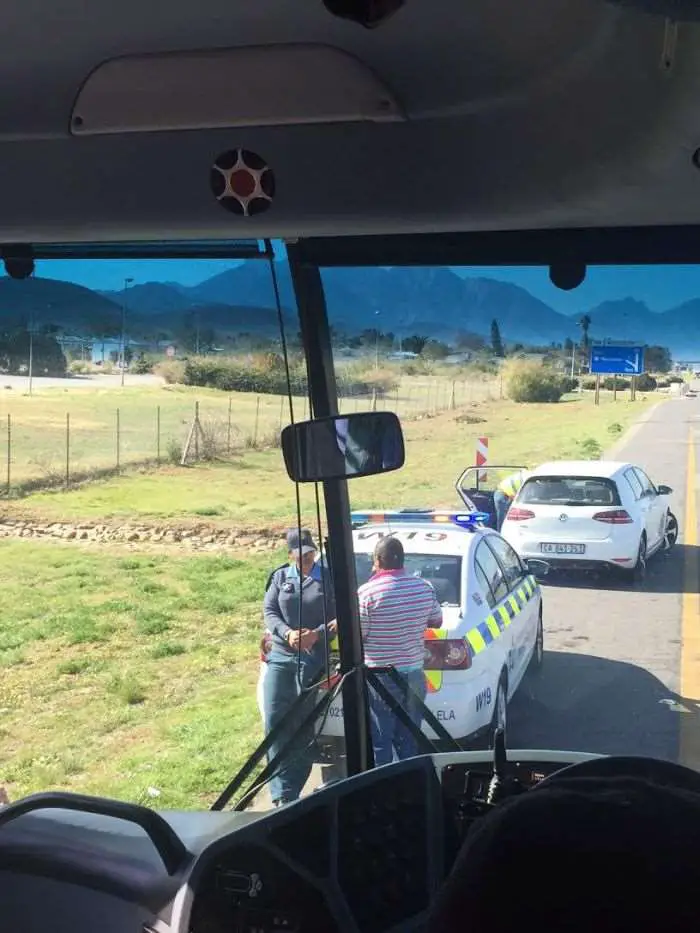 We pressed on, with a brief stop for refreshments in the Hex River Valley before passing our stage six finishing town of Matjiesfontein where we turned north to Sutherland – reputedly the coldest place in South Africa. The highlight of this shuttle ride, however, would be stopping for sundowners served up by Tjol Herbst at the top of Verlatenskloof ("Desolate") Pass.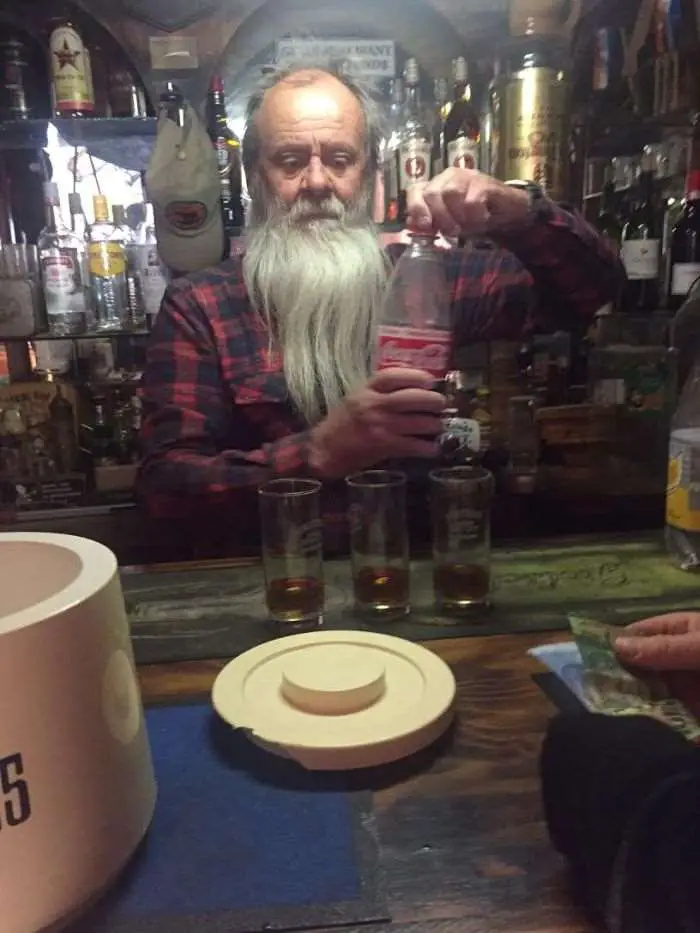 Stage One – Thomas Tumo: Sutherland to Fraserburg, 135km
"Everything in the Karoo is farther away than it looks"
The morning after a huge protein-laden dinner (beef, chicken, and we're in sheep country so, Karoo lamb) came quickly. Our normal schedule became breakfast at 6:30, map briefing at 7:00, stage start at 7:30. As predicted by everyone in Cape Town who shivered instinctively when I mentioned Sutherland, it was cold at start time – about 3C or 37F. Some riders circled the side streets of this tiny town, others waited at the start line content to warm up over the first 10km of tar before we hit gravel for the rest of the stage. Sutherland's elevation (approximately 1,450m) and remote location makes it ideal for geeking out on the night sky, so much so that there are several internationally-funded observatories outside town, including the Southern African Large Telescope (SALT). Not surprisingly, the road became gravel immediately after the SALT turn off.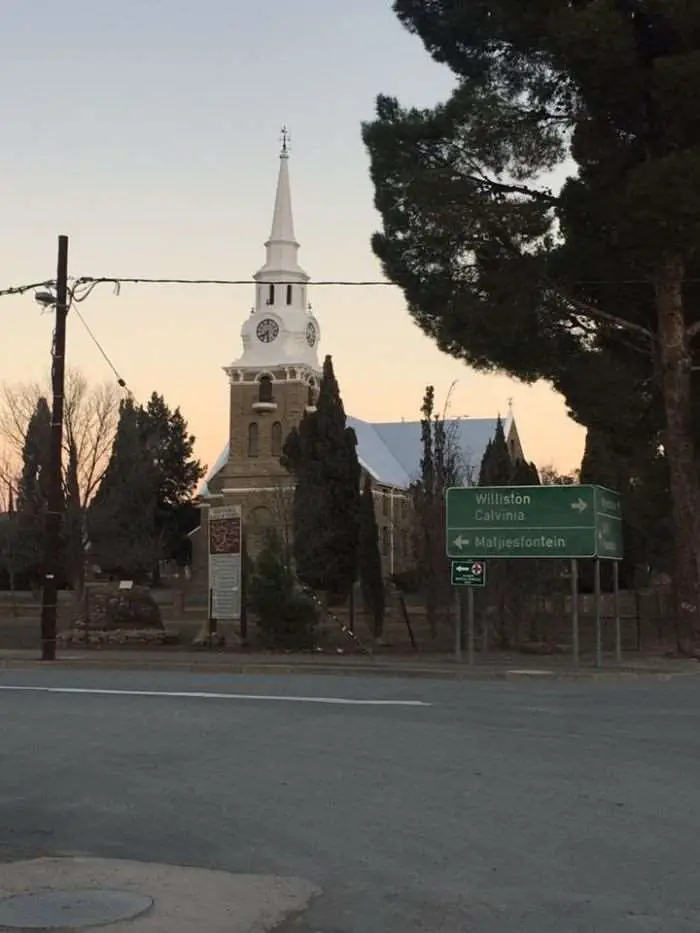 The long climb to the turn off had already created a front group of about 12 riders and once we hit gravel the pace elevated and this group quickly shattered into several smaller pods. I found myself following Tour veterans Sven Uhlig and Nkosi Mpofu. We soon passed last year's winner Andrew Wheeldon pulled over with an early puncture. We caught and soon dropped another previous winner Mpho Moloi. Was he on a bad day? Our small group then got one stronger with the addition of morning puncheur Justin Fiske. Justin drove the pace and we rolled along well with only two riders now out in front.
Immediately after we turned off the R356 to head towards Rhenostervlei, the first of what would be several steep climbs rose up in front of us. And it was here that 30 hours of travel, several short nights, and no shakedown ride would manifest in my legs. The other three dropped me fairly easily on a short climb that took only several minutes to ascend. With the road flattening out on top, I could see them a few hundred meters in front. Knowing how much of the stage remained, and not seeing anyone behind me, I burned the first of many matches reeling them back in over the next few kilometers. I rejoined as we began to cross the wide valley containing Kromkolk farm and felt the first real headwind of the day. Looking across the valley, I could see a road winding up the other side. Sven said, "I think we are heading up that pass." And I gulped because when someone says "pass" as opposed to "hill", you should know it means trouble.
As we crossed the valley, Justin apparently paid for his early pacemaking and dropped off. Then when the road tilted up very slightly, I was next off the back. It was only when ahead I saw Nkosi – who had been killing it on every hill – put a foot down that I knew the gradient would be real a problem for my heavy legs trying to push a 42×28 gear over loose gravel. Gifkoppas, like many we would encounter, had varied grades with the steepest around 20% but other stretches a more reasonable 6-10%. I was forced to walk a sizable portion and watch any position I had in the stage evaporate. Justin passed me. Andrew passed me having mended his puncture. Mpho flew past, having been dropped earlier only to fix a rear spoke issue. He was NOT on a bad day. Matthew Sowter ground his way past. At that point, I simply stopped and took pictures of the vast panorama below as Lance passed me. Ok, remount and ride on…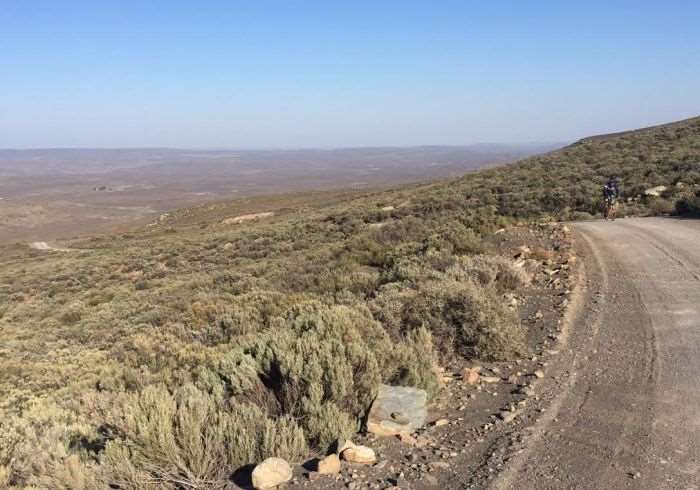 Now alone at the top of Gifkop, I rode on looking for the lunch stop at Rhenostervlei since in the Karoo aridity I'd already consumed most of my two bottles. When I rolled in a few kms later, Justin and Lance were finishing hearty looking sandwiches. I grabbed a Coke, downed a Jungle Bar, refilled the bottles, and quickly hopped back on the bike after Justin cried "Come suffer with us!" The most unfortunate side of racing the Tour – as opposed to "riding" the Tour – would turn out to be missing out on the full spread provided by these daily lunch stops. We had not ridden far when on a downhill left-hand bend, we ran straight into a surprise water crossing. This drift looked about 10-15 meters across and with no time to reach the downtube shifters, I simply had to power through. Lance took it first and his line seemed smooth. Justin hit second and he ran into trouble, having to step off while forcing me wide. The line held however and cool bottom bracket deep water felt nice on both feet as I pedaled through.
Justin took awhile to emerge from the drift and though we soft pedaled for a bit, he still remained a few hundred meters back. Lance had clearly enjoyed his sandwich and the pace soon increased to where I knew Justin was not getting back on easily. I struggled to stay with Lance on any of the rocky short descents as we passed through a section of rollers. Finally, I had to let him go and ride my own tempo since some 60km remained on the stage. I kept seeing Justin over my shoulder for a few more kilometers and figured he would rejoin. But all at once the road flattened, the surface turned to quality gravel, and a slight tailwind developed. I got into the drops and began to hammer. Talking to myself: "if the road stays like this, I'll be in Fraserburg in 1.5 hours!"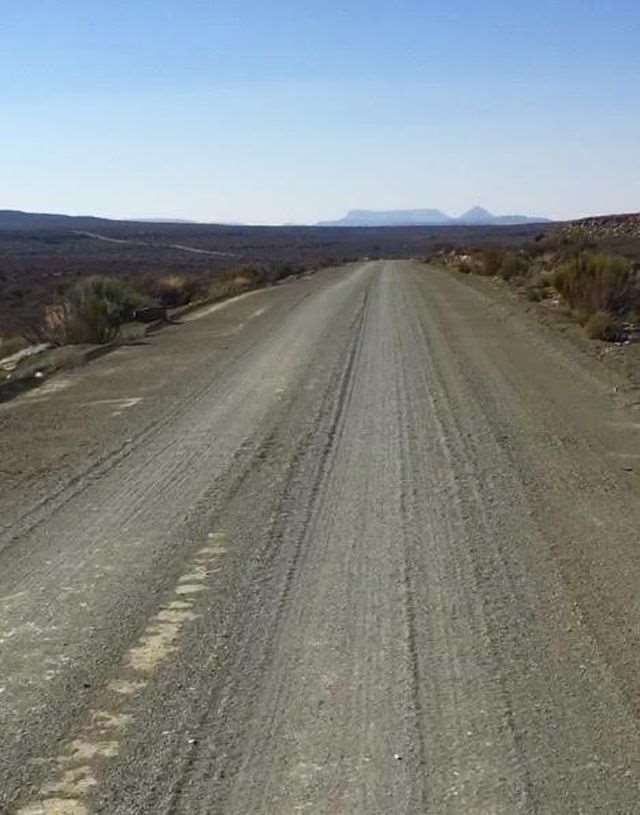 Of course, this would not persist. Sections of heavily corrugated road, some with loose sand on top, dotted the remainder of the route. The sort of dull, quiet suffering that comes with long miles ridden alone soon set in, and of course I had no idea of how far to the finish. One of the photo cars with Liam and Dani eventually passed me near Witfontein. I proffered a weak smile and quick wave. I was hurting but Liam later told me I was the only one who looked happy over those last kilometers! At the base of a lengthy climb past Spitskop I could once again see Lance in the distance as he crested the top. But this one made me pay for the optimistic earlier efforts and I dismounted to walk one last time. It's not the way you want to get good pictures, but it works.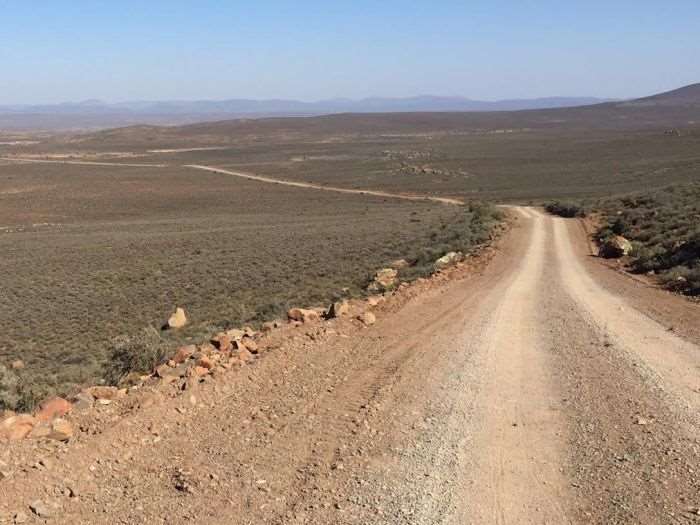 Somewhere in this sector, I began expecting Fraserburg to appear over every hill and around every bend. When it remained elusive, refusing to show itself, my repeated muttering refrain became "where the f*%# is Fraserburg?!!" A noticeable increase in car traffic – from zero to perhaps three – meant I had to see it soon. Finally, coming through the uphill bend around Klipheuwel, I could see buildings in the hazy distance. What I could not see was several kilometers of corrugated road that held no good lines, to be ridden into a block headwind. Just over 6 hours of racing on day one, followed by laying in the warm afternoon grass with red wine and fresh bread. A tasty lamb potjie and more wine for dinner at Die Kliphuis. How would I feel tomorrow?
Stage Two – George Mazibuko: Fraserburg to Middelpos, 149km
"The Karoo is full of sheep"
My roommate Charlie and I rose early to pack so our bags would be ready for pickup when we left for breakfast. Charlie is a road racer from Belville with zero prior experience riding gravel and he'd taken a beating on stage one. He crushed the guesthouse coffee while I went light on food since yesterday's heavy breakfast hadn't sat well in those early hard miles. The sun began to rise as we rode from Tuishuis through deserted streets back to Die Kliphuis for the map briefing.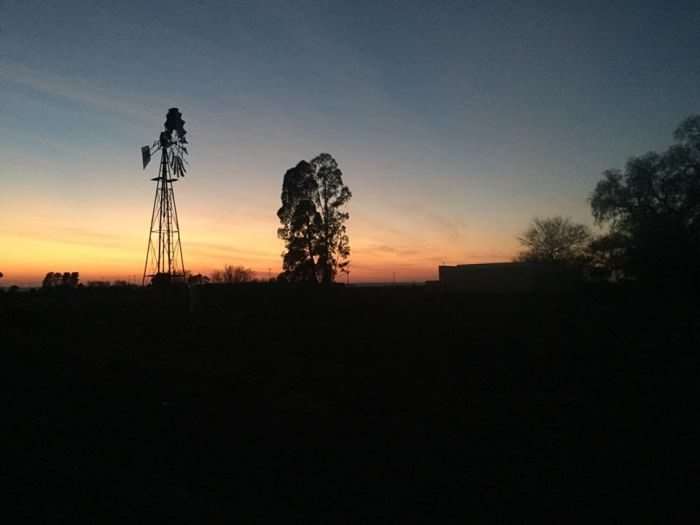 The route map detailed four key intersections/turns for the day. For the first two, just keep right on the main road. Easy enough. On paper, the trickiest looked to be a hard right at Vlieekraai followed by a quick hard left at Sandheuwel. The final turn was left at a T-junction towards Middelpos. There would be a sign. No problem. So we lined up at the start in the cold morning air, positioning ourselves to catch any available sunlight. A few local kids showed up to lead us out for the neutral first kilometer of tar – the only pavement we would see all day.
As on stage one, Danie Marais again seemed motivated to stir things up early. He went off the front with Sven Uhlig and they soon had a gap of several hundred meters. The chase group struggled to become coherent, instead consisting of about 8 riders split into several small 1-2 man fragments, but all within 100 meters of each other. Carsten Schaeffer – second place on day one – seemed to have missed the move. Soon we passed Danie, partway through a puncture change. So only Sven was out ahead. As we swept through the wide right-hand turn at Droogvoetsfontein, the road turned magical: long, smooth, volcanic gravel straightaways rolling so fast I could not discern whether I had a slight downhill, a slight tailwind, both, or neither. I passed Andrew and Mmeke Mapanya: "Now this is beautiful riding!" We passed Lance pulled over on the apron – he looked to have dropped a chain. A number of rough cattle grates and a few downhills later saw Mpho, Matthew, and Nkosi bridge up to Sven with Andrew, Mmeke and I still chasing. Soon Andrew put in a dig and left Mmeke with me as he joined up to make a lead group of five. Mmeke popped on a short hill and suddenly I was alone as chase group 1.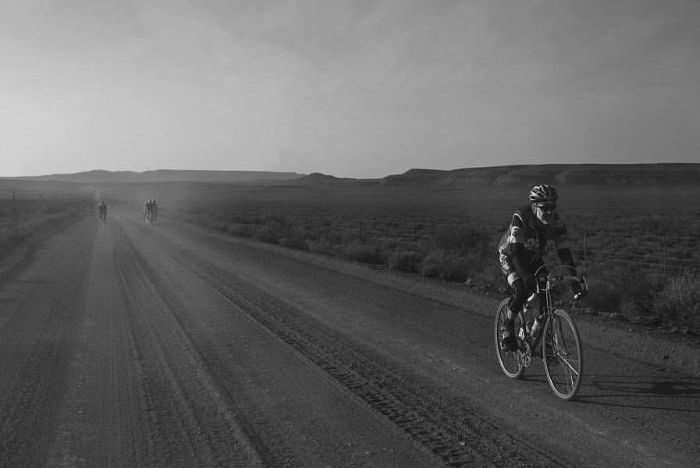 A few minutes later I passed Mpho on a nature break and just kept my tempo going, knowing he'd catch me soon enough. He passed me at the top of a steep, punchy hill. "Come on – I'll take you up to them!" but after that hill, I could not hold his wheel and told him to go on. On a long straight, I watched him cross the gap, taking a few minutes to finally join the front four. Once he reached them the pace seemed to relax and I then could tell my gap was closing. As they approached the Oupad se Laagte bridge, riders spread across the road in an obvious truce to eat and drink. I grew more confident of catching onto the front. Less than 200m off the back when I came off the bridge and turned right – only to see a sharp, short hill ahead. I put my head down and the gap continued to shrink. The steep hill appeared quite loose as I closed in and when the front five hit the bottom I watched Mpho attack to immediately create a gap. Just as quickly, my chance to bridge across vanished when the inevitable counterattacks came, ending the brief truce up front.
As it turned out, even had I been able to rejoin, I would have been dropped on that hill. Too many matches burned riding across the gap coupled with the steepest pitch of the day once again forced me off the bike to walk a short section of 15-20% grade. No pictures this time because… racing! Once over the top the leaders were still in visual range as we passed through several farm gates (always close the gate!) before the right/left turn at Vlieekraai/Sandheuwel. Directeur sportif Rolf Niemeyer and photographer Liam Lynch were there, making sure the leaders got through cleanly. A series of rollers followed between farm fences. I lost sight of the leaders when a ewe and lamb came into the road, somehow stuck outside the barbed wire on each side. When they spotted me, instead of retreating to the wide easement on either side they ran away straight down the middle of the road for a 100m or so before panicking and darting quickly right. Right into the barbed wire fence. I stopped on the downhill to see if the entangled ewe would be okay but she quickly freed herself. Apparently not her first rodeo.
Now I had completely lost sight of the front group. Some minutes later I came to a fork near Biesjes Leegte. The triangular road sign showed a left turn, which indicated the main road went that direction. In the sandy intersection, I saw multiple tire tracks heading to the right. No tracks went left. Split second decision time. All five in front has ridden the ToA before. All chose to go right. Continue to chase hard or stop to consult the map? Chase hard of course. I never had a moment of regret.
The road quality diminished markedly after a couple kilometers but nothing that hadn't already been encountered on stage one. At Danielshoop the van with race commissaire Charl Neethling and soigneur Mishaq Diesel caught up to me. Running behind schedule to reach Middelpos for finish line and accommodation set up, they still stopped when I told them I needed water. A quick refill and off we went. At this point, I had not seen anyone behind me in many kilometers. Well past the halfway point now, talking to myself: "Keep riding strong tempo, don't crack, don't puncture and you'll have at least 6th on the stage." And that's when I saw Charl and Mishaq driving back towards me.
That left-hand arrow 12km back, the one where all the tracks went right? Yeah, that one. Well guess which way we should have gone? As instructed, I turned around and headed back riding through some fairly terrible sections for a second time. Now figuring to be chasing the remainder of the day as many riders who did not miss the turn were surely out in front, I rode fairly hard tempo, picking up Mmeke and Tsepo who had also made the mistake. As we approached the ill-fated intersection, I could see a collection of riders and cars waiting. It turned out that the DS vehicle responsible for marking course turns had itself suffered a puncture and therefore had not been able to overtake the leaders. Vague recollections of several "stay right" instructions at the map briefing had led the front group to go off course without stopping to check maps. I had followed, trusting the group to have gotten it correct. Sven laughed when I said this and pointed out "The Karoo is full of sheep."
While the leaders – 6 of top ten GC racers – could have suffered a substantial penalty by simply being allowed to chase as everyone else behind the DS car stayed on course, the race organizers took the decision to neutralize the stage up to that point and restart the race with some 60-70km still remaining. The leader's penalty instead amounted to riding that 25km extra on some truly bad roads. As we waited for the last few riders to reach the restart, the sun started to feel quite warm and I made sure to top off my bottles. 60-70km did not sound too bad but given the efforts I had already made, followed by sitting for 20 minutes, I did not go into the restart with much optimism of a strong finish.
Only 1km in, we hit a section something akin to a black sand beach – deep, loose volcanic sand that forced nearly everyone to dismount. after bogging down I scrambled to the other track and remounted quickly. Daniel, Carsten, Mpho, Nkosi, and Sven all went up the road. When I saw Carsten dismount in a sand section – he's a former member of the Danish national CX team – I knew I'd be walking a bit. But after this, I got into a nice rhythm with Stan and Carlos for a few kms until Stan punctured on a rock strewn little descent. Riding strong, Carlos put me in a "spot of bother", so when Jeremy's bakkie pulled alongside and he responded yes to my plea for more water, I stopped immediately. I had already consumed most of both bottles. Probably 15 minutes later I came up on Jeremy again, doling out more water from the truck to another rider. As I had gone through another half bottle already, I stopped and topped off once more. The fabled "stop at a farm for more water" tactic was not going to work on this stretch as no farm houses appeared along the road. I passed Danie fixing his fourth or fifth flat of the day. A few minutes later he passed me, going hard to make up time. I had nothing there to get on his wheel.
Another 15 minutes and I could see Jeremy once more, this time with a small crowd of racers all getting bottle refills. And then Danie changing yet another flat with Justin's help. Where was he getting all these tubes? Here I caught on with Sven, also saying he felt blown after his hard morning efforts and the restart. We settled into a mutually agreed "touring" pace, any racing over for the day. Four hard stages would still follow. The remainder of stage two caused me mucho suffering as despite the reduction in pace, Sven would gap me on nearly every uphill and then sit up to wait. We stopped at the base of the long grade at Hardeheuwel and Sven gave me half of his vetkoek from the morning. He's a good lad that Sven.
We finally caught a slight tailwind after turning south just past Nuwerus so the final 20km felt somewhat better. We finally spotted Middelpos on the horizon – hardly a town, it is not much larger than a typical Karoo farming operation. Ten shattered looking racers already strewn around the front of the tiny Middelpos Hotel gave us a weak cheer as we rolled in side by side. Mishaq's table offered the usuals: fresh bread, cheeses, olives, Coca-Cola, red wine, herbal tea, whiskey. Something for everyone. Perhaps sensing how shattered I felt, he suggested a new drink option – a kalimoxto. Half red wine, half cola. I was skeptical but ultimately pliable. Wow, pretty damn good and it ticked all the boxes after over 7 hours on the road. Maybe tomorrow's stage wouldn't be so bad…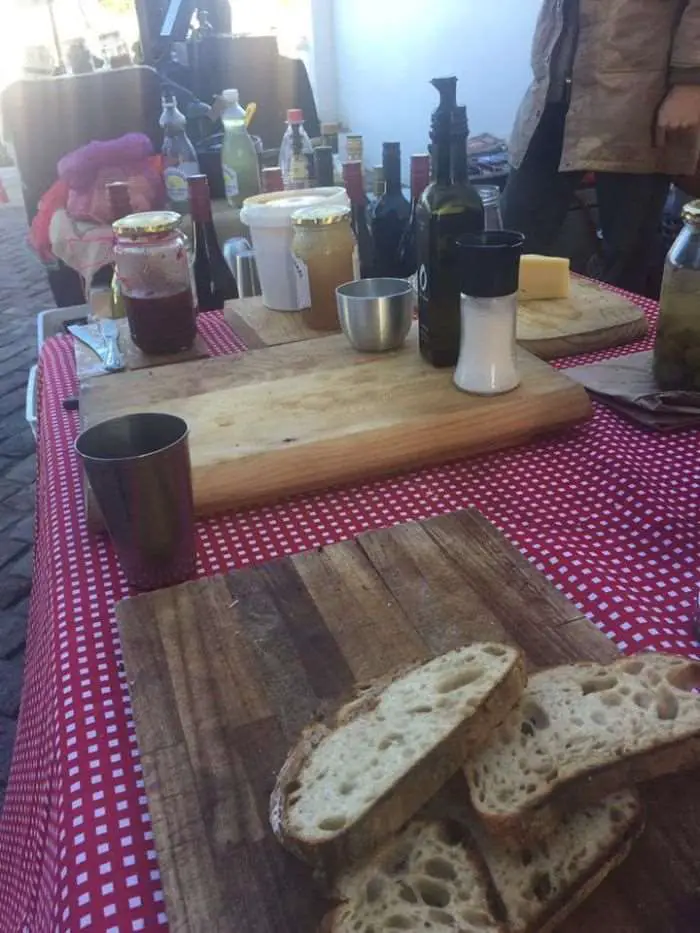 Coming up…
Stage Three – Mbotshwa Buda: Middelpos to Calvinia, 98km
"There is something sticking out of your head"
Stage Four – Toby Dreyer: Calvinia to Calvinia, 213km
"I went to a very dark place"
Stage Five – Naaim de Vos: Calvinia to Sutherland, 161km
"The morning road is, um, not in great condition"
Stage Six – Jan Jantjies: Sutherland to Matjiesfontein, 117km
"Careful on that descent, please"
Epilogue