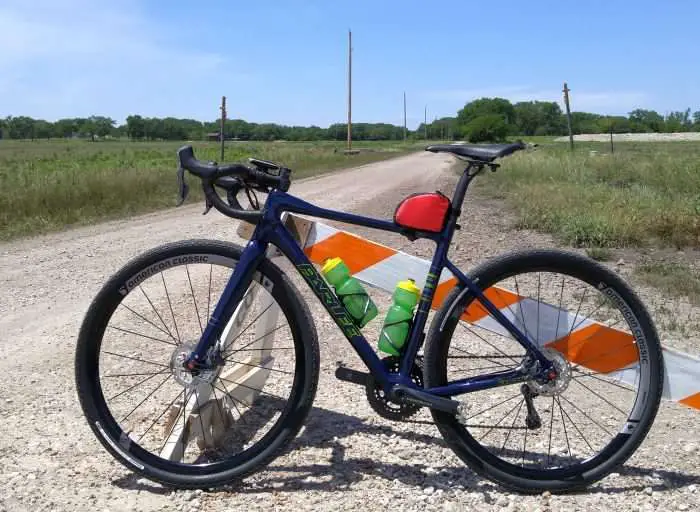 "Formed in 1953, Panaracer began manufacturing rubber products for a variety of commercial and consumer applications. In 1978 we began to exclusively manufacture bicycle tires so we could carefully focus on producing the finest tires available today. Without a doubt, Panaracer is the last Japanese manufacturer still producing bicycle tires in Japan. We feel that our domestic production allows us to maintain our quality control at the highest levels."
Panaracer has made their mark in the MTB world, with models such as the Smoke and the Dart. In more recent years, they responded to the growth of the gravel cycling market, producing tyres such as the Comet (we reviewed the Comet on behalf of our friends at BikeRumor.com) and the Gravelking.
The Gravel King is available in two distinct flavors:
Gravel King – The regular file-tread version, available in 700c x 23mm to 700c x 32mm – mostly suited to pavement and some of the nicer gravel roads around the world.
Gravel King SK – Featuring a more aggressive tread and wider casing for the demands of true gravel cycling. This model also happens to be tubeless ready and is available in 700c x 32mm, 700c x 35mm and 700c x 40mm widths. Featuring Panaracer's ZSG Natural rubber compound, puncture protection breaker and AX-⍺ special low rolling resistance casing make the "Gravelking a go-anywhere tire."
A "go-anywhere tire" is a pretty bold claim to make; naturally, we had to put those claims to the test.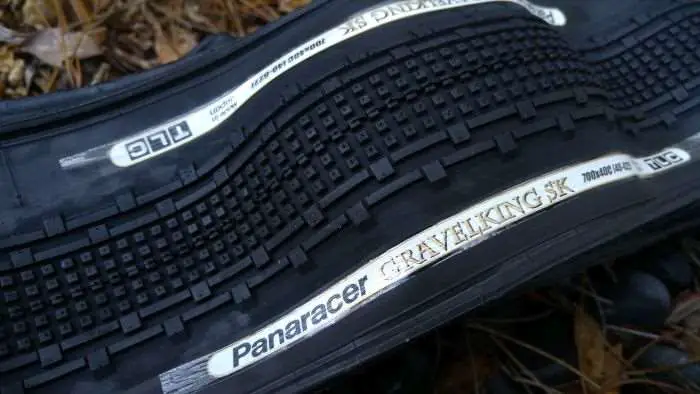 Panaracer USA were kind enough to send along two sets of the Gravelking SK for test – the 700c x 35mm and 700c x 40mm versions.
Weight
The sample 700c x 35mm Gravelking SK tyres weighed 382 and 384 respectively, just a tad over their advertised weight.
The sample 700c x 40mm Gravelking SK tyres weighed 496 and 504 grams respectively, again a small amount over their advertised weights.
Mounting the Panaracer Gravelking SK
The 700c x 35mm and 700c x 40mm versions of the Gravelking SK are very easy to mount. The best way to demonstrate the ease at which this process happened is to link to the video review (below) of the Topeak Joe Blow Booster Pump I reviewed earlier. The video below will jump directly to the spot where I inflate the Gravelking.
As always, dry mount the tyre first sans sealant, to ensure it will seat and hold air.
I mounted the Gravelking SK to these five wheelsets with ease:
American Classic Argent Disc wheelset.
American Classic Hurricane rim brake wheelset – non tubeless and tubeless type.
American Classic RD2218 wheelset with Shimano Dura-Ace hubs.
Mavic Allroad Pro Disc wheelset.
Stan's Notubes Alpha 340 wheelset with Shimano Dura-Ace hubs.
If you ever have trouble mounting a tubeless tyre, these tips can solve the problem:
Remove the valve core and inflate. This process allows a greater volume of air into the tyre and most times, will pop the tire right onto the bead.
If this doesn't work, apply something like Sleek Beeswax & Mink Oil Furniture Polish to the sidewall. This product is far better than soap and water, and will help seat even the most stubborn of tyres. This product can be purchased from your local furniture store or online.
Once the dry mount test has been passed, install your favourite sealant and inflate. Don't forget to keep a fingertip over the valve if you removed the core. This simple step will retain the air you just inflated; if you're good at juggling, you can quickly re-install the valve core and still keep some air inside the tyre. Then, inflate to the desired pressure.
In all cases, I used Orange Seal's Endurance Formula with the Panaracer Gravelking SK sample tyres.
Do the Panaracer Gravelking SK's measure up?
Taking an average measurement across the wheelsets I used these tyres with, the 700c x 35mm versions measure 38mm wide, and the 700c x 40mm versions measured 43mm wide.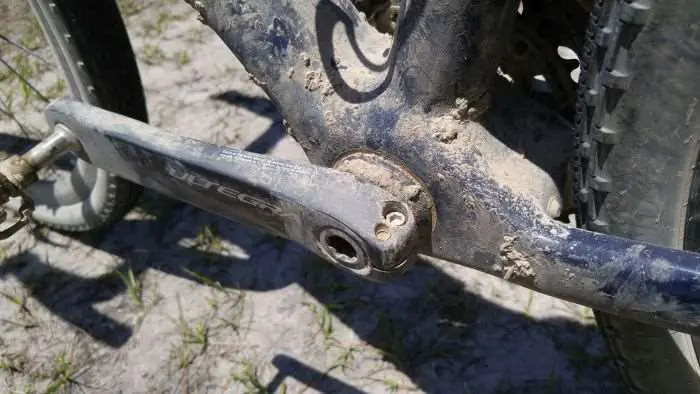 Frame clearance may be an issue for some of today's modern framesets if you choose the 700c x 40mm version of the Gravelking SK. The 40mm tyre was a tight fit in my Parlee Chebacco review bike, which was the configuration I ran at the 2016 Dirty Kanza. You can check out that bike in more detail HERE.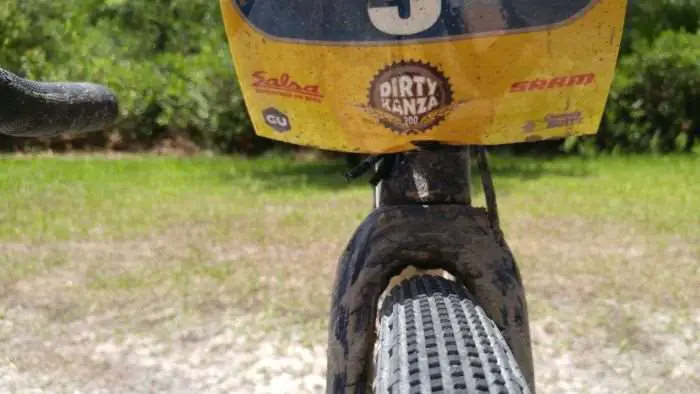 Riding the GravelKings…
Like many of the tyres that adorn my bikes, both pairs of the sample Gravelkings have traveled near and far. As mentioned earlier, the 700c x 40mm set was my tyre of choice at the 2016 Dirty Kanza race. The 700c x 35mm versions have rolled a bunch of training miles and appeared at 2016 Gravel Worlds and the 2016 Pisgah Monster Cross race. I haven't exactly been kind to them…
I rode the 700c x 40mm models at 40psi front and rear – probably a bit to high to best honest, and the 700c x 35mm versions – after a bit of psi experimentation, at 35psi front and 38psi rear. Bob Cummings of the Panracer Gravel team provided some good tyre pressure insight – thanks Bob!
The 700c x 40mm tyre was the perfect choice for a race such as Dirty Kanza 200. Weight-wise, they are on par with similar tyres of this width, but instill great confidence and security when the terrain gets really rough. The first 75 miles of Dirty Kanza feature plenty of rocky roads and the larger volume Gravelking handled them with ease. I still picked my lines with great care, but their tough nature eradicated any worries in my mind about puncturing a tyre; I could focus on riding.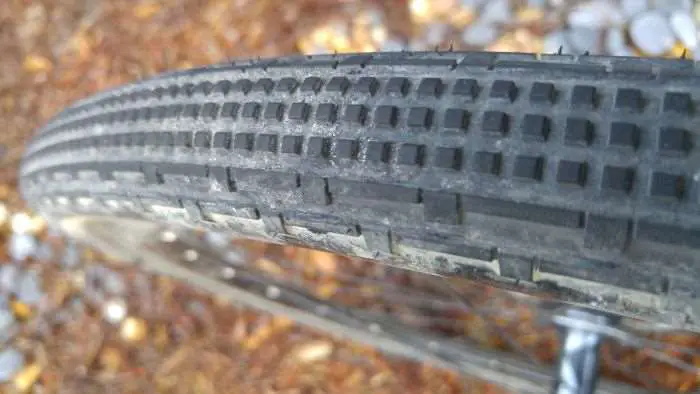 The little knobs that comprise much of the tread pattern roll very fast on most gravel road road surfaces; on pavement, they fly. However, if the texture of mud is just right – and by that I mean the mud you'll find at Dirty Kanza (Emporia, Kansas) – tacky and sticky – the Gravelkings will collect mud, grit and small stones – and potentially begin packing up. However, that phenomenon happened to many riders at the 2016 race, no matter what tyre they were riding. Such is the nature of the muddy roads in that area.
Unless the gravel is gnarly, the 700c x 40mm version of the Gravelking may be complete overkill for many of the gravel roads throughout the world. Sure, they are tough, but they felt sluggish to accelerate, particularly on the local roads in my USA home town of Gainesville, Florida. I felt handicapped during a fast gravel group ride, which typically feature a lot of attacking. The Gravelkings roll fast once up to speed, but during acceleration they felt slow. But, if you're chugging along all day at a race like Dirty Kanza 200, this is a moot point and the 40mm size is very worthy of consideration.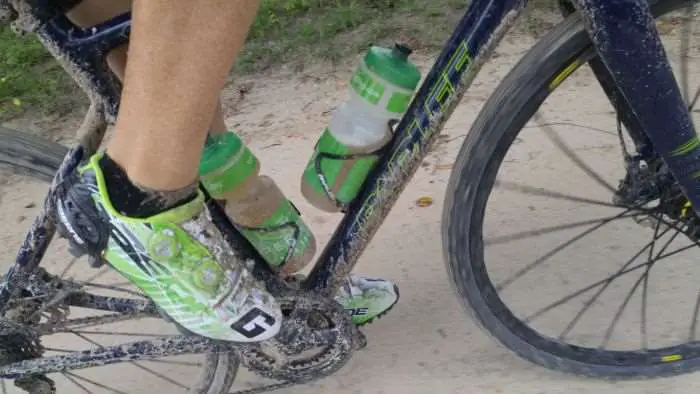 On the other hand, the 700c x 35mm version of the Gravelking is a rocket. Over 120 grams lighter, and with a casing that measures at least 38mm on every wheelset I tested them on, they are fast. Just like their bigger brother, they roll fast over just about everything, but with the added advantage of fast acceleration.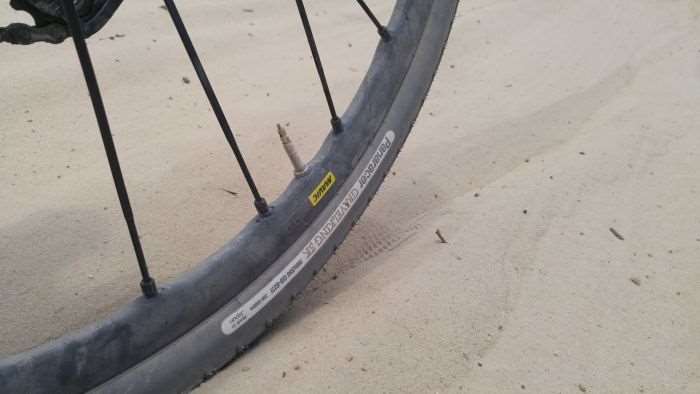 An additional surprise was how well they rode across sandy roads. The roads I ride between Gainesville, Florida and little towns like Live Oak, Florida can get a bit loose in places with sand scattered here and there. Without doubt, this was the fastest rolling "narrow" tyre I've ridden on gravel when sand is present on the surface. Granted, you'll sink like a stone if the road truly turns to sand – then, time to get our your Monster CX bike with its 2.0″ tyres – but I was impressed with their performance. Suffice to say, I like the 700c x 35mm version of the Panaracer Gravelking SK a lot.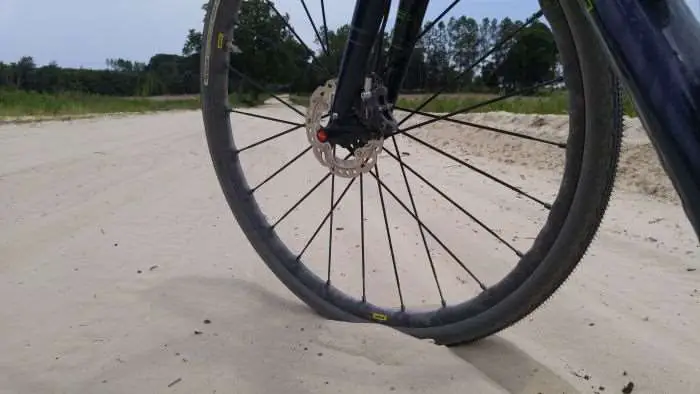 Both widths offer grip in all situations and surfaces, barring only the loosest of gravel while cornering – but this is an issue inherent to any tyre cornering hard on gravel. On the subject of cornering, the Gravelking SK 700c x 35's have lovely manners for descending some of the gnarly gravel in the mountains of North Carolina.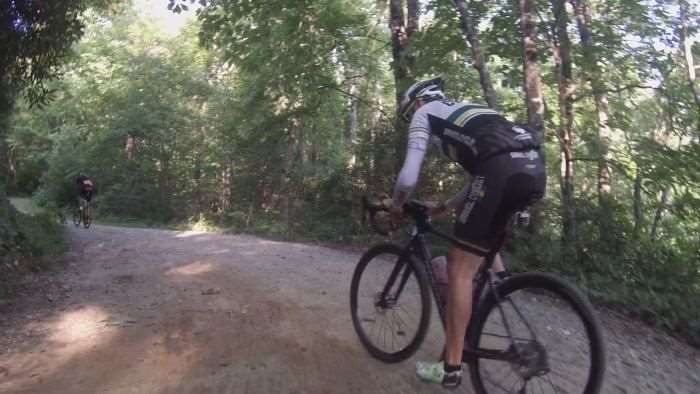 This ain't your nice Midwest gravel – some of these roads are rutted up and potholed to hell – all while flying down a serious mountain where good brakes, concentration and skills go hand in hand. In the photo above, I'm suffering hard on a gravel climb in North Carolina at the 2016 Pisgah Monster Cross, rolling the Panaracer Gravelking SK in 35mm.
As a side note, if you haven't ridden gravel roads in places such as North Carolina and Virginia, you really ought to. Amazing gravel and amazing scenery!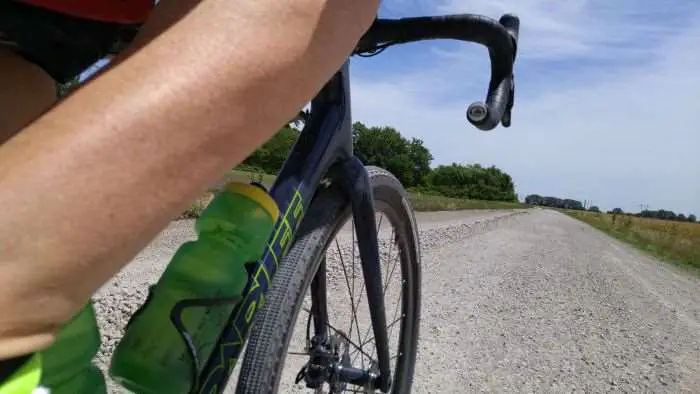 I've already mentioned both versions of the Panaracer Gravelking SK are tough – both widths have experienced no cuts or slices in their casings during the period of my review. Nor have I punctured… maybe I got lucky there? Also, the Gravelking SK's are long wearing. I have barely made a dent in the 700c x 35mm model which is the one I have ridden the most miles / kilometres on.
Summary
For gnarly gravel terrain and the miles are long, I would choose the Panaracer Gravelking SK 700c x 40mm tyre. It is my go to "narrow" tyre for that event.
For everything else, the Panaracer Gravelking SK 700c x 35mm tyre is fantastic. I rate these as highly as the Maxxis Rambler I reviewed earlier, although I feel the Panaracers offer better protection from punctures – whereas the Ramblers perform better in more varied situations – you could ride Ramblers on an easy MTB trail without trouble.
But, the Gravelkings are appropriately named – they are Kings on gravel and a tyre very worthy of consideration.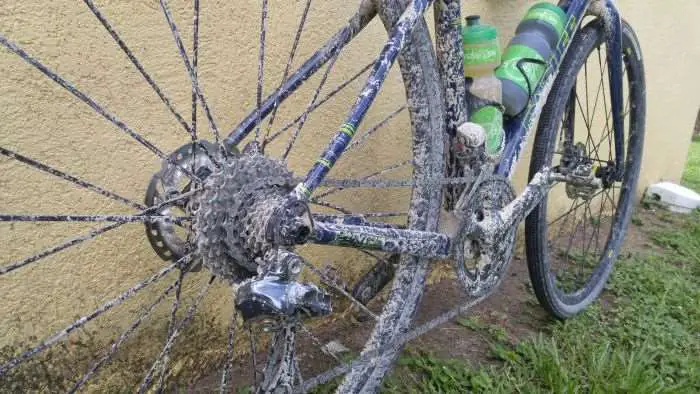 Panaracer Gravelking SK's are a veritable bargain, priced anywhere from $40 – $45 depending on where you buy.
Highly recommended by the Gravel Cyclist crew!