Easy on the Eyes, Hard on Legs
No truer words have been spoken, I said to myself, and a thought likely echoed by my fellow competitors at the inaugural edition of unPAved. Unlike the 600 or so riders who towed the line at this new event, I was one of the few who possessed a little tribal knowledge… as we say around here at Gravel Cyclist HQ. Dave Pryor, promoter of unPAved, invited myself and a few other journalistic types to an exclusive preview of the course in May of 2018. Now, we didn't ride the entire course, but enough to know what we could get ourselves into, all of which I duly shared with the Gravel Cyclist audience.
Forward ahead to the week leading to unPAved, where I took an interesting journey to reach Lewisburg, Pennsylvania, host town for the event, Bucknell University and some quite splendid scenery. The abridged version of my journey is as follows:
You can check out part one of my Amtrak Auto Train, Washington D.C. and C&O adventure, right here on video!
Saturday, October 13, 2018
The day got off to a late start. I purposely overslept and it was cold outside my hotel room. The meteorologists had it spot on for once. As predicted, a bout of cold weather had moved into Central Pennsylvania, dropping temperatures by at least 20 degrees Fahrenheit. This was a rude awakening, as just two days earlier, I'd been basking in the heat and humidity of C&O Canal Towpath trail. Thankfully, my habit of over-preparation paid off, as I had every conceivable combination of clothing packed somewhere in my vehicle. It's better to have it than want it!
I used Saturday morning to conduct a mental check of the clothes I would need for Sunday's race, which at some point was likely to turn into a personal Gran Fondo. Choice of two toasty base layers, check. Arm and knee warmers, check. Gloves, check. Hang on… missing something. I forgot to pack the chemical hand / feet warmers! Oxygen-activated warmer packs sound a bit dodgy, but they have been a lifesaver for my hands and feet in cold, and especially wet, climates.
My hotel was located just a mile or two from downtown Danville, Pennsylvania, necessitating a visit to Ski Valley Bike, Board, Ski and Skate to purchase the aforementioned hand / feet warmers.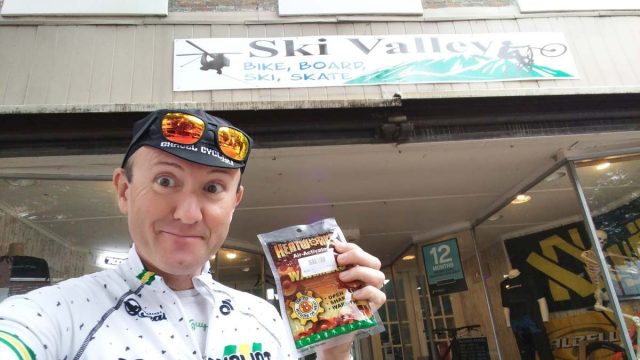 Luckily, they had several sets in stock from ski season earlier in the year. Many thanks to Bill for the conversation, and of course, the much-needed hand / feet warmers.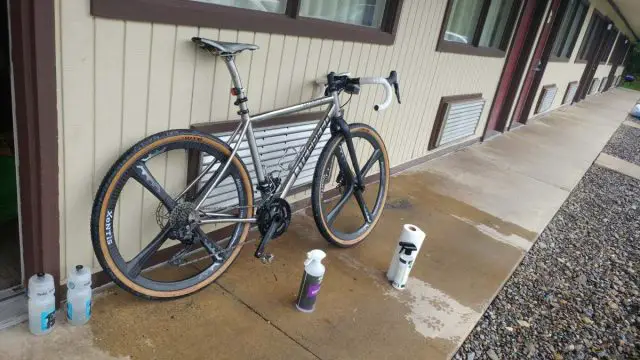 Now in a much better state of mind, I drove back to my hotel and cleaned and prepped my bike for Sunday's race, the Litespeed Ultimate G, a new to market gravel bike I happen to be reviewing at this time. Video review coming in the future…
Keeping in line with my modus operandi of over-preparation, I had brought along three pairs of wheels for the trip. It pays to have choices in wheels and tyres, right? For my planned pre-ride happening early afternoon, I thought I'd roll WTB's Resolute 650b x 42 tyre aboard the Xentis Kappa 2 wheelset. Not only is this a fab combination for just about any gravel road, they look oh so sharp. Afterward, I scurried over to nearby Lewisburg and parked in downtown, just a short ride from the Buffalo Valley mostly gravel rail trail. This trail constitutes the early neutral miles of the unPAved course, and the final nine miles from Mifflinburg back into town.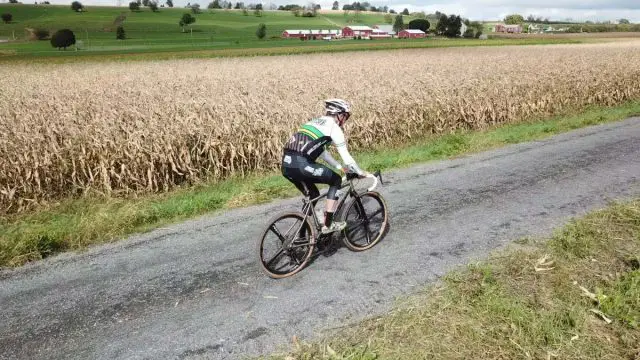 The wide open spaces either side of the rail trail between Mifflinburg and Lewisburg is the perfect place to catch a glimpse of area farms and once in a while, an Amish buggy on an errand. This was also drone territory, and where I captured some footage for my future review of the Litespeed bike, and to figure out which wheelset and tyre to run on race day. I was pretty happy in my mind with the WTB Resolute / Kappa 2 wheelset combination until I ran into Jay Petervary, studmuffin athlete extraordinaire. Jay was fresh off a win from the inaugural Silk Road race in Krygistan and is a guy who knows a lot of about training, equipment, tyres and clothing. Do yourself a favor, check out this video I shot with Jay and his bike.
Jay's bike was shod with relatively narrow 700c x 35mm tyres, but they are a solid choice based on everything I had seen during my May 2018 pre-ride of unPAved. Figuring a little extra speed on the mostly hard pack surfaces would be a good thing, I decided to roll a different wheel and tyre combination for race day, more on that later. Next, ride back to downtown and Hufnagle Park for packet pickup, meet and greet.
Dave Pryor, the lad behind unPAved, had his registration crew running like a well-oiled machine. I had drawn number 47, the fifteenth prime number and apparently quite lucky, if you're a fan of Star Trek: The Next Generation. Thank you to Dana for this useful tidbit of information 🙂 By the time I'd concluded socializing, it was about 5:30pm and time for some much-needed food and rest. Because I'd pre-ridden some of the unPAved course in May, I was excused by promoter Dave from attending the mandatory rider's meeting. It wasn't a case of not wanting to attend, rather it was a case of being so tired from travel, I needed the extra rest. Always make a point to attend such meetings, they contain valuable information that can affect the outcome of your race.
Sunday, October 14, 2018 – Race Day
On this morning, the meteorologists had gotten the forecast slightly wrong, but in everyone's favor. Brilliant! The predicted low 30's Fahrenheit temperatures were a milder 41 Fahrenheit, or about five degrees Celcius for the low. Not toasty, but nothing to moan about. Those hand / feet warmers I nabbed the day before would not be seeing use. Predicted high temperature was 52 Fahrenheit, or 11 degrees Celcius. Primo conditions for some primo Pennsylvania gravel roads!
People often ask me about layering and such for these temperatures and general riding / racing. I always err on the side of cool, meaning, I dress to feel cool / cold at the start, but not shivering, and ideally, warm up to operating temperature once a few miles have rolled beneath my wheels.
unPAved dress code as follows:
Barring my gloves, all of my comfy clothing is supplied by Champion System. Many thanks to Mr Ben Woodbury!
The Miller Center for Recreation and Wellness was the host location for the race. Located not far from downtown Lewisburg, the facilities offer ample parking, food, bathrooms and if you're a member, an excellent gymnasium and much more. Full distance race start was set for about 7:10am, and I arrived early to minimize stress.
unPAved is one of those races that provides a drop bag service for riders in the Full (120 miles) and Plenty (90 miles) distances. I cannot emphasize enough how advantageous this is for riders. At many races I've appeared at, promoters do their best to provide nutrition and hydration options that agree with all. But, nothing beats what you prepare for yourself, because ideally, you know it works for you.
Inside my drop bag, arguably the heaviest at the race, was as follows: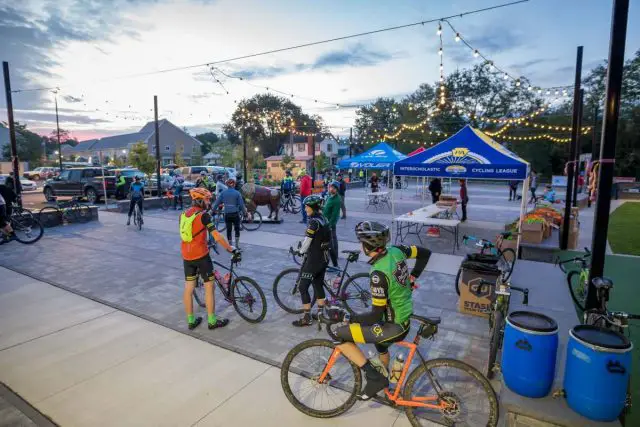 I mulled around a bit before race start, continuing to socialize and generally calm my nerves. Despite appearing at a ton over gravel races during my illustrious "career", I still suffer from a smidge of pre-race anxiety, which always settles down once I start rolling. Mostly, it stems from the mental checks related to the bike, in the hope I haven't forgotten anything.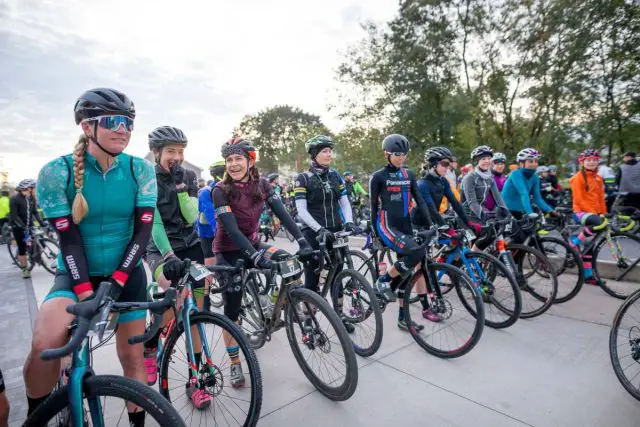 At about 7:05am, I made my way to the start line, attempted to film the front row as I always do – temporary camera fail – d'oh! – then settled in amongst the front row or two and waited for 7:10am to tick over.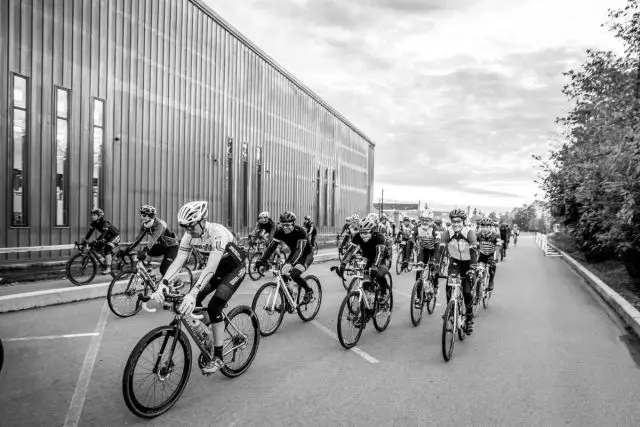 The race got rolling in a very controlled manner, no pushing and no shoving. Without doubt, the most relaxed start for 2018!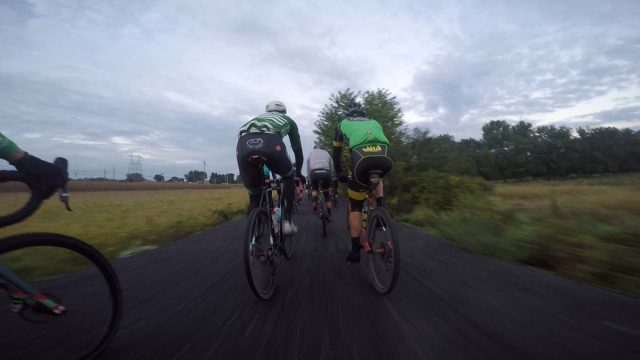 The first five miles or thereabouts were under neutral on the Buffalo Valley rail trail. Again, no pushing, shoving or lame attempts to move up positions under neutral. unPAved was turning out to be my favourite race of 2018.
The party began when the 150 starters of the Full 120-mile distance right turned onto the first official road of the course, Beaver Run Road followed immediately by a left onto Strickler Road.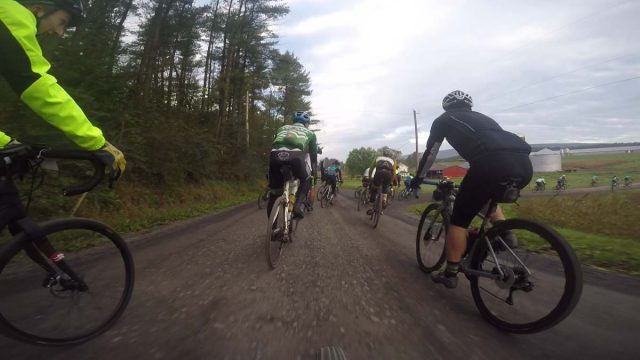 There was no massive lift in pace or crazy attacks. One bloke rolled up the road for a pee in the woods, but the front group stuck well together at a solid tempo over the rolling hills of the early miles of the course.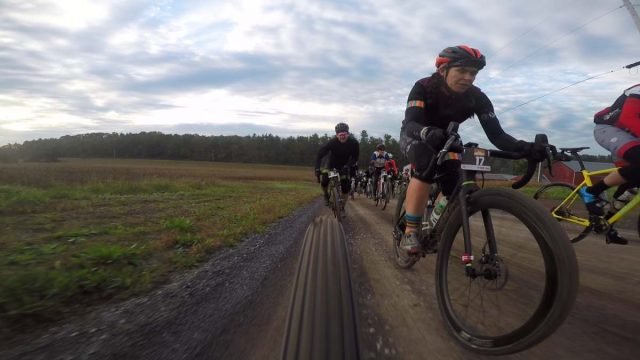 Mind you, their pleasant tempo wasn't so pleasant for me, and I caught myself fading from near the front to mid-pack to back of the pack several times.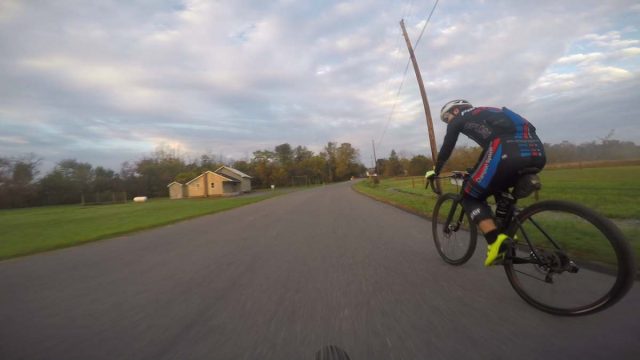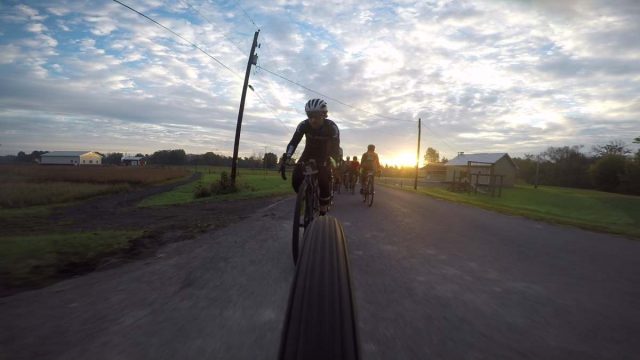 Each time, I managed to catch back on without too much trouble, and even rolled at the head of the field for a moment or two, if only to capture a good scene or two for the upcoming race video.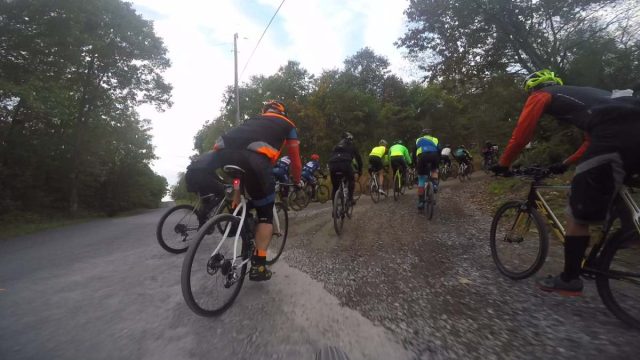 Splitting the bunch into pieces wasn't a climb, but rather the first of one or two gnarly roads. Locals will correct me, but I think the road is named Old Shingle Road? Either way, this road has everything.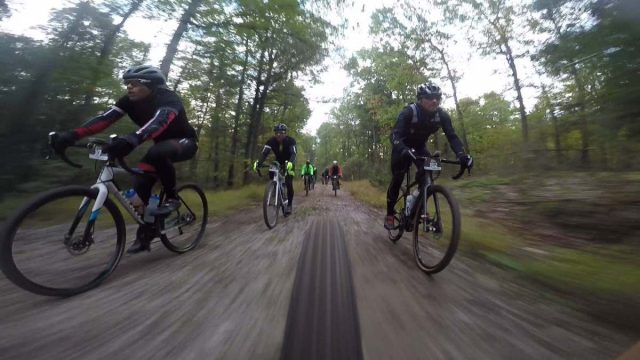 Gravel, rocks, mud, sludge and 150 riders all trying to jam their way down this narrow thoroughfare. I renamed it Paris Roubaix Road (read more about Paris Roubaix here).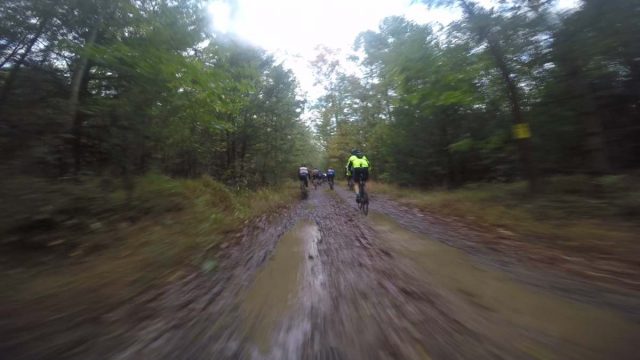 From the May pre-ride, I recalled some gnarly rocks at the crown of this road, so I made a point to avoid the center where possible, avoid sitting close to riders ahead, and do my best to pick a good line.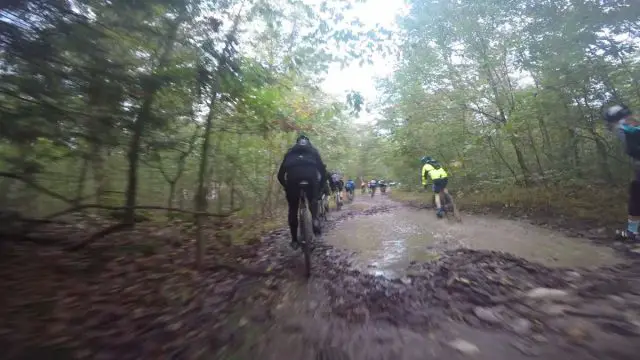 Paris Roubaix road leads to the first serious gradient of the race at about 20kms, or 12.5 miles. It didn't take long for me to determine where my place was in the unPAved pecking order. Soon, I was gracefully ejected from the front group but riding my own controlled tempo in the company of a few others.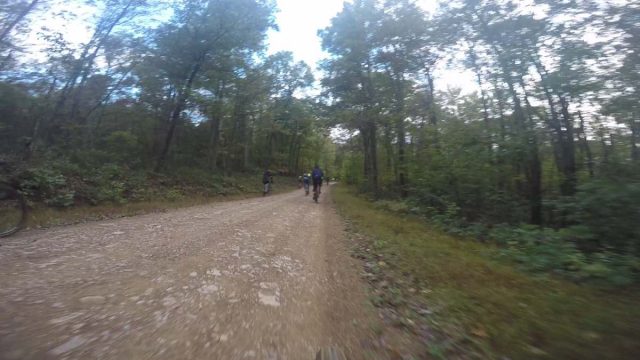 Whilst I possessed some tribal knowledge at unPAved, there was a lot I didn't know, and conserving energy to make the finish line without cracking is how I ride. My Litespeed Ultimate G review gravel bike was performing admirably. I'd put it through the wringer a few days earlier on the C&O trail. The Praxis Zayante 2x / double crankset with 48/32 chainrings was perfect for the course, especially paired with an 11-32 cassette. The stock cassette on the Litespeed was a Shimano Ultegra 11-34 unit, and one I hoped I wouldn't regret swapping out later. I did end up swapping wheels, to a more traditional offering in the form of Boyd Cycling's 44mm carbon tubeless hoops, fitted with the venerable Panaracer Gravelking SK in 700c x 35mm. Mounted to Boyd's wheels, the GK's measured about 38mm. Providing my puncture protection is Orange Seal Endurance Formula sealant.
It should be noted there was another Florida-based rider at the race, Michael, a long-time friend who nowadays resides somewhere in South Florida. There was also a semi-recent transplant from Florida accompanying Michael, whose name is Daniel. I happen to know him pretty well too. These days, Daniel resides somewhere not far from Lewisburg, although I forget the name of the town. Daniel could have done Michael a favor, or Michael should have watched my unPAved preview, as he was woefully over geared for unPAved.
JOM: "Michael, what's your lowest gear?"
Michael: "36 x 28".
JOM: "Ruh roh, you may experience some issues".
Michael's Facebook status the day before the race, "We are going to get a beating tomorrow. Some things never change."
Michael's Strava post-race, "unPAved 120. I will never ride in Pennsylvania again". Wrong gearing for sure.

Michael is likely joking of course, because there is some beauty in suffering a bit, but suffering in Central Pennsylvania is all good, because look at the surrounds! Off-the-chart scenery, blazing fast descents, hard climbs, what's not to love! Definitely my favourite race for 2018.
Now, you'll have to forgive me because I don't recall every sequence of events at the race. I rode on and off with a few people – G'day to Dan Manges, promoter of the Quick and the Dead race in Confluence, Pennsylvania, who I rode with for a good amount before he dropped me somewhere around aid station #2.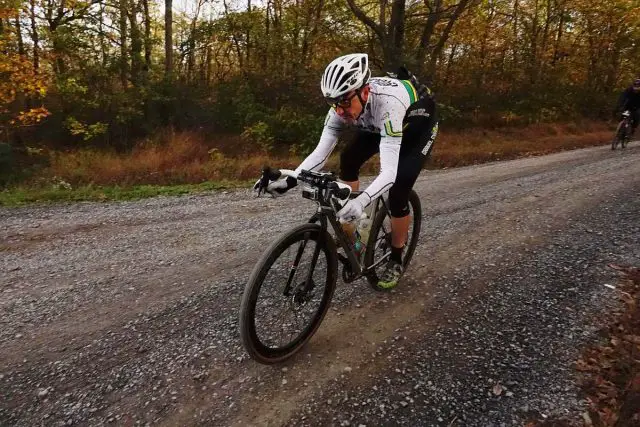 Climb, climb, climb. Crest the top, then bomb the descent as fast and as safely as possible. There were at least nine climbs of note along the Full 120-mile course, but there were plenty of roller hills and punchy climbs to satisfy even the most ardent of climbers.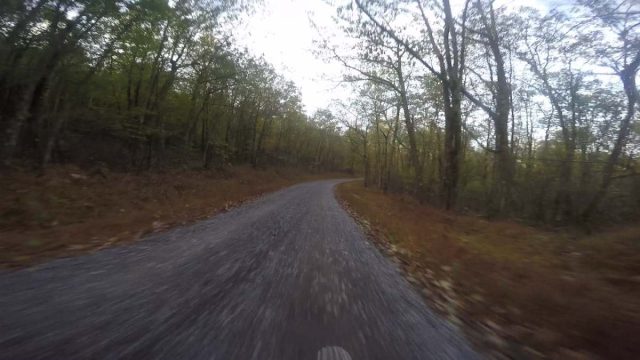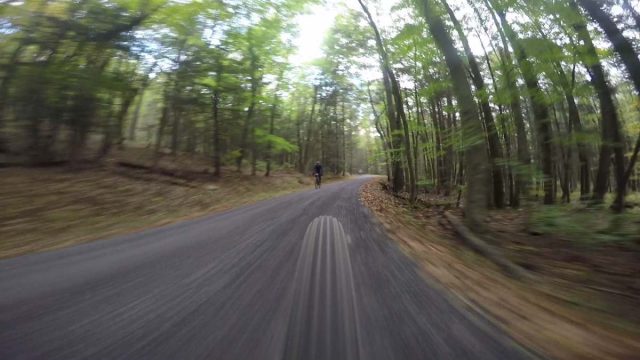 Those flatter roads in between the climbs were a good chance for this Florida-based lad to pedal a solid tempo, and make up for time lost during ascents.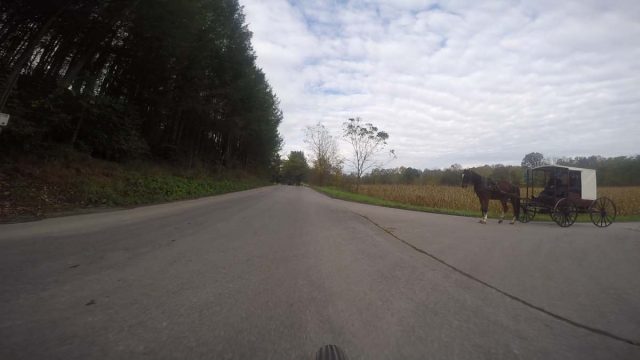 The town of Woodward came into view, situated along what is likely the longest paved section of the full unPAved course.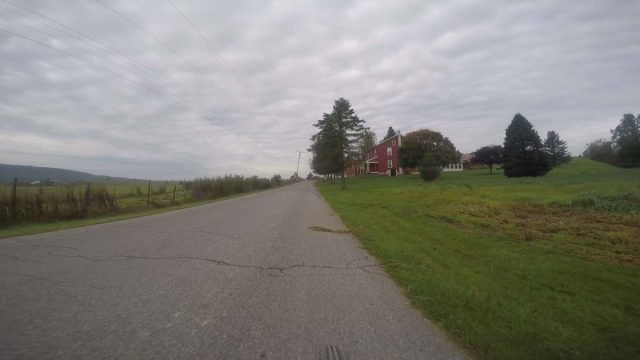 Even the paved roads around here are so so nice! Pine Creek Road took the riders away from Woodward and towards the steep gravel climb of "Ingleby Road-Gravel". I kid you not, that's how Google maps names this road.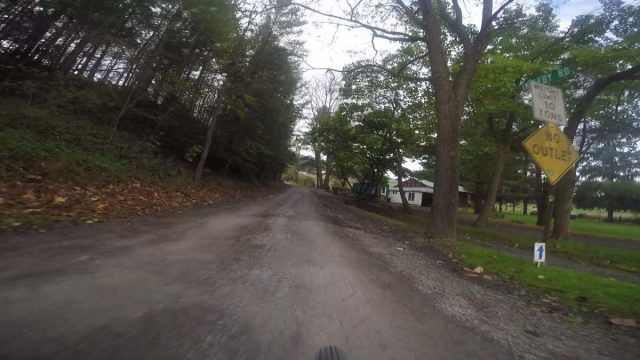 The description was spot on, but at the base of the climb was a sign that read "No Outlet". I thought to myself, this must have something to do with Mike Kuhn, who has intimate knowledge of this area, and likely threw in some dodgy single track for all of us to enjoy!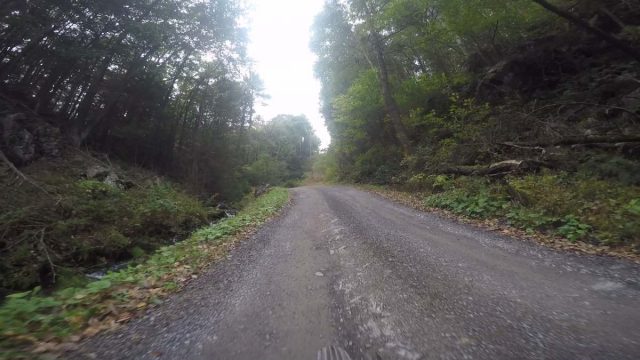 Ingleby Road was bloody steep in places, but on one side was a flowing creek, a nice distraction from any discomfort in one's legs. It was on this climb that I yearned for a slightly lower 32 x 34 gear, but my one to one ratio, 32 x 32 low gear was very adequate. The steep ascent was followed immediately by a steep descent, which was a total blast.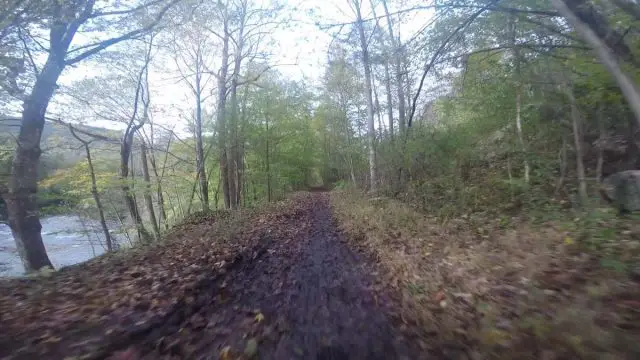 A right turn at the bottom placed contestants onto an MTB trail, that was formerly a railway line. It was non-technical albeit a bit wet and muddy in places.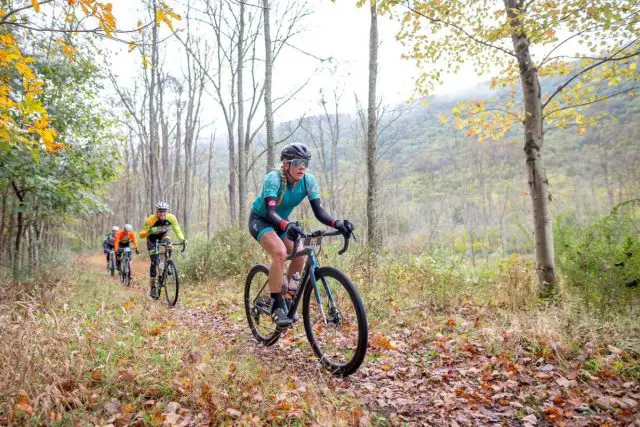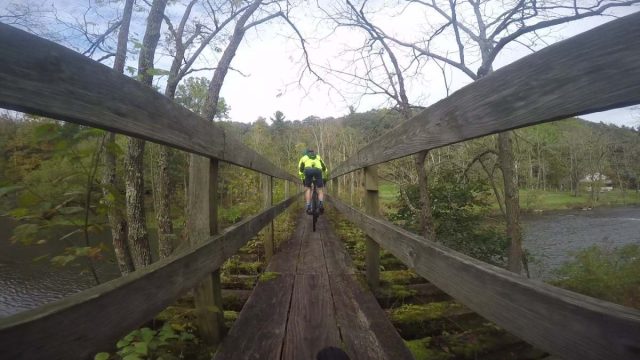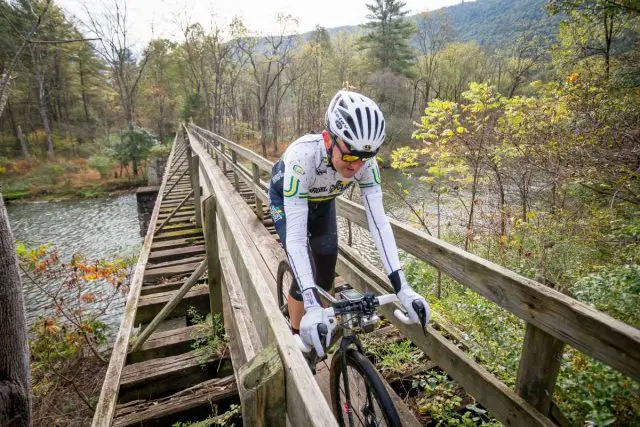 In turn, this madness lead to a narrow wooden bridge, that spanned Penn's Creek. At this location came the first aid station of the Full course, and the opportunity to rehydrate with beer… or other fluids.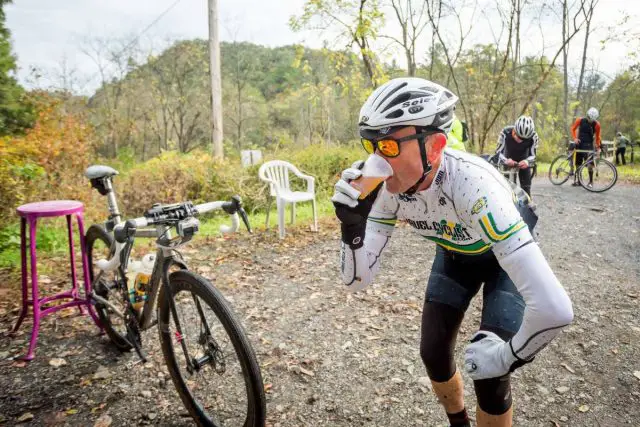 Following my usual pattern of behavior, I downed the milder of the ales on offer, produced by Happy Valley Brewing Company or Elk Creek Cafe + Aleworks.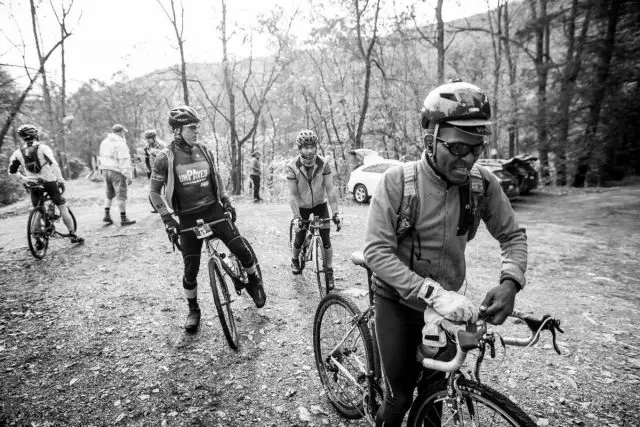 Drinking the beer enabled me to take the shortcut through the former railway tunnel, which in reality wasn't much of a shortcut. Not consuming the beer meant you had to ride the long way around the tunnel.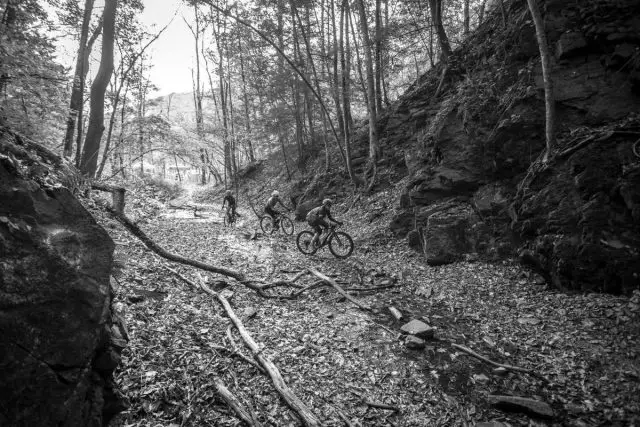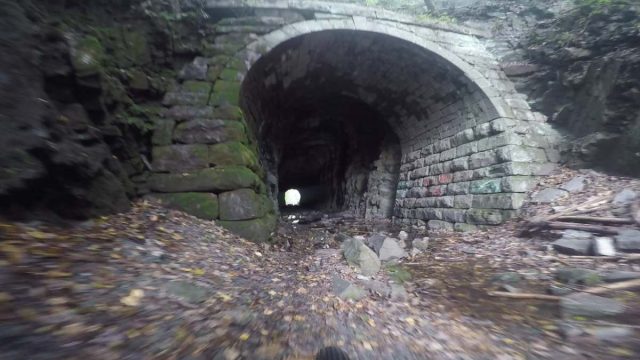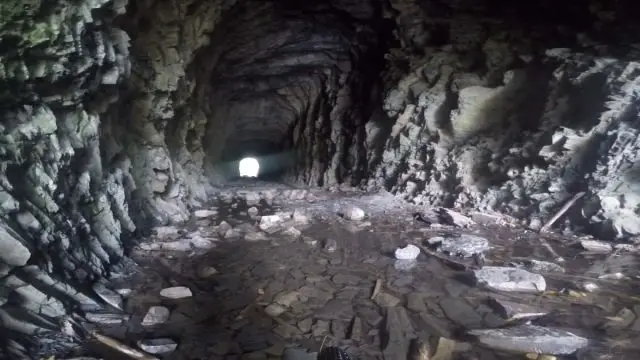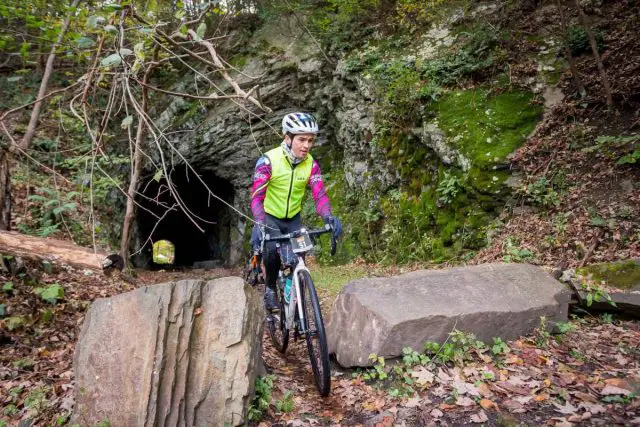 The railway tunnel exited onto Tunnel Road (aptly named), and it wasn't long before I passed the outskirts of Coburn, Pennsylvania, which signified the commencement of the next climb. This climb wasn't too savage or long, joining with Pine Swamp Road at the summit. The road fell away fast, eventually intersecting with Poe Paddy Drive, which made a beeline for Poe Paddy State Park, the location of Aid Station #2 / Aid Station #4. This is where our drop bags were located. I took my sweet time to tuck into my drop bag, downing a Coke and food before continuing onward.
This is where the Plenty and Full routes differ. The 90-mile Plenty route turns for home in a northeasterly direction, whilst the 120-mile Full route adds a 30-mile loop with four tough climbs, one of which included what I can best describe as a rock garden.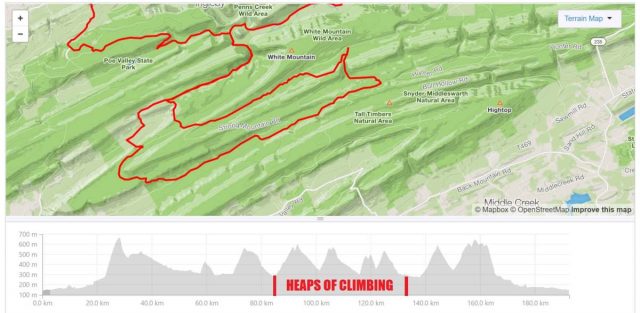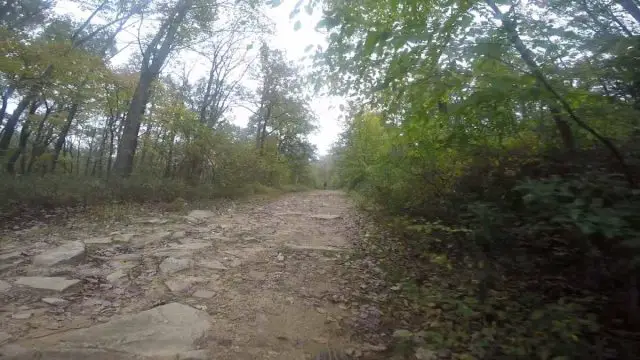 In terms of how rock gardens go, it was of mild difficulty, but climbing and picking slow, deliberate lines on 700c x 35mm tyres whilst trying to maintain traction on the grade was taxing. It couldn't get any worse, right?
How wrong I was!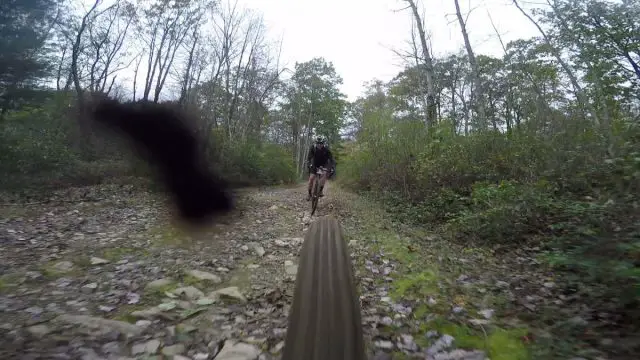 Now, I'm not complaining here, as I enjoy a challenge. Descending this rocky road was challenging on a bike shod with 700c x 35mm tyres, and it was at that moment I yearned for a wider tyre, just like the Resolute 650b x 42mm's (which measure about 45mm depending on wheelset) I had on the bike a day earlier. D'oh! This would also be a fabulous road for a drop bar MTB, and a proving ground for anyone keen to test some gravel type suspension. Anyone aboard a Cannondale Slate had a nice time.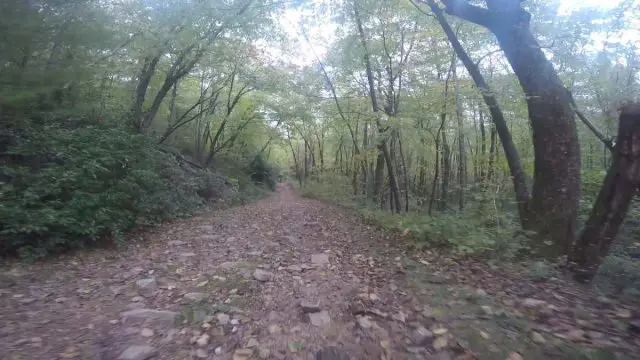 Those riding bikes shod with bigger tyres or better skills, bombed this descent. Me, not so much. At the time, I preferred to ride gingerly to avoid the risk of a puncture, versus saving 30 seconds which in the scheme of things on my unPAved Gran Fondo, is absolutely nothing. Once the rock garden descent / hanging my arse off the back of the bike, braking on and off and cramping up my hands and shoulders was over, I set about the rest of the extra credit loop.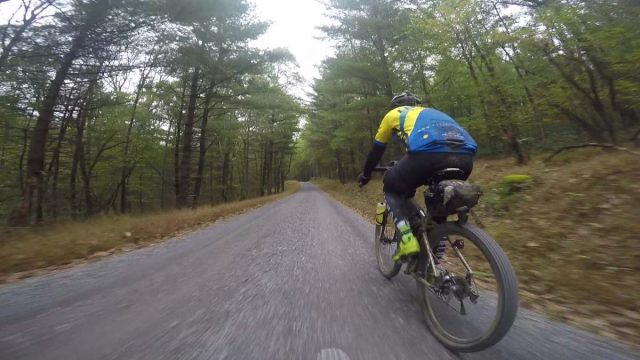 Above and below is Lincoln, who I rode a good chunk of the extra credit loop with. His bigger tyres crushed on the rock garden, and were very handy on all of the descents. Still kicking myself for not riding wider tyres… 40mm to 45mm, a good choice for the Full course at unPAved.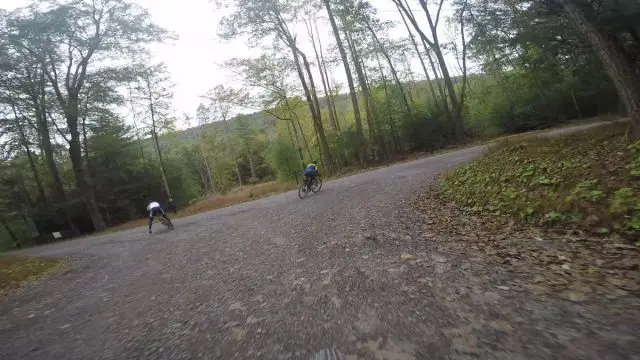 Above is a scene where the rider on the left got the wrong line into the corner, and crashed, but mostly in the softer stuff by the edge of the gravel road. Thankfully he came out in a pretty good state.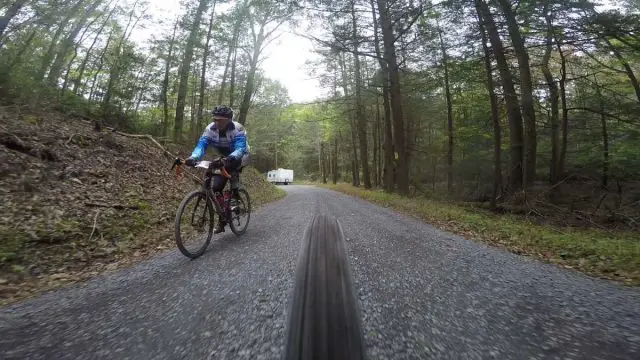 I don't recall his name but here he is pictured above, still chugging along despite crashing.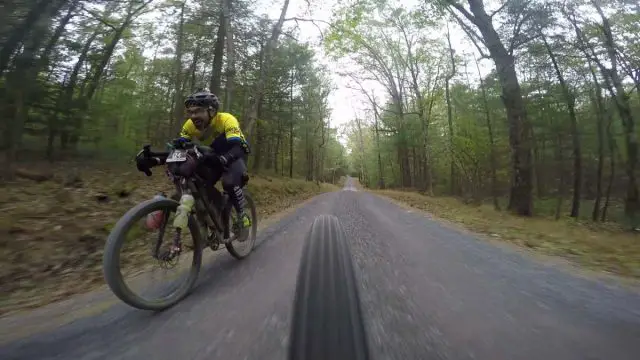 Above, flying down a descent with Lincoln. His bike was laden with bottles which wasn't so aero, but the extra weight came in handy when descending.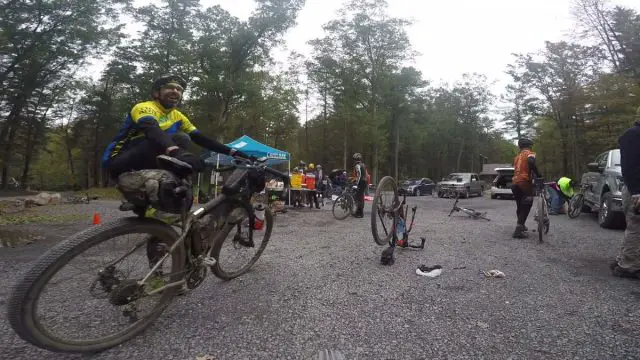 Lincoln and I rolled into Poe Paddy State Park for the second time, where I tucked into my drop bag again, lubed up the chain, and made reasonable haste for the remaining 38ish miles / 61kms to the finish line.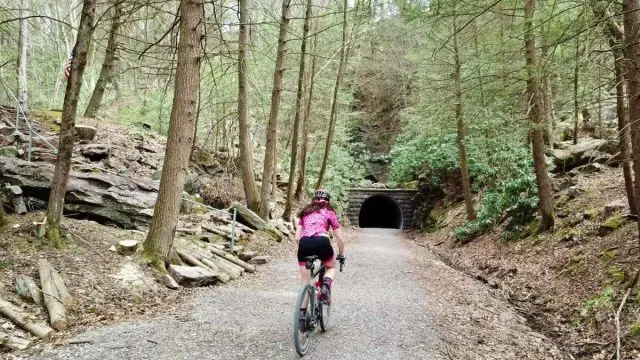 Pictured above is Selene Yeager aka The Fit Chick, entering the railway tunnel riders rode through, not long after their visit to Poe Paddy State Park. I took the above photo in May 2018 during the unPAved event preview.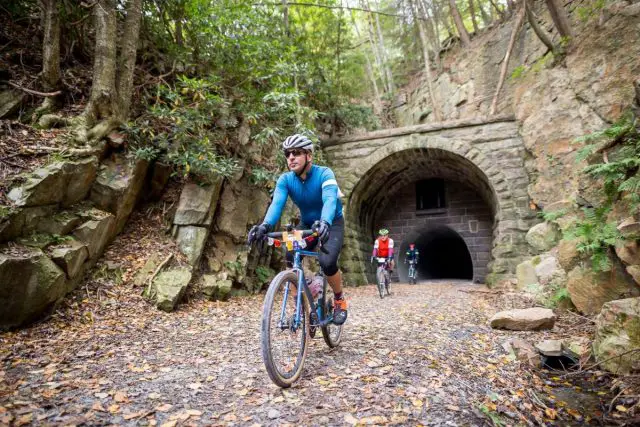 The rest of the route is not easy. A nice downhill grade after the tunnel, formerly a railway line, parallels Penn's Creek and takes riders to the base of a tough climb. Cresting that climb leads to a fast descent, and almost immediately to another climb.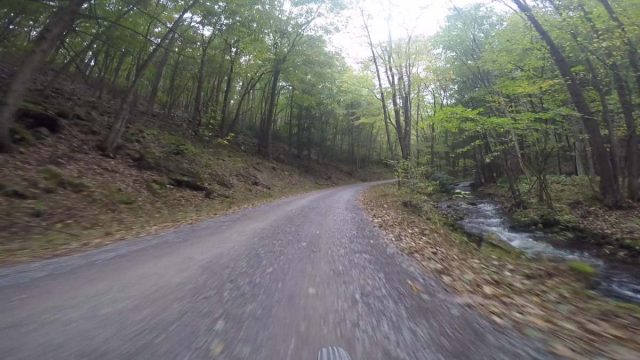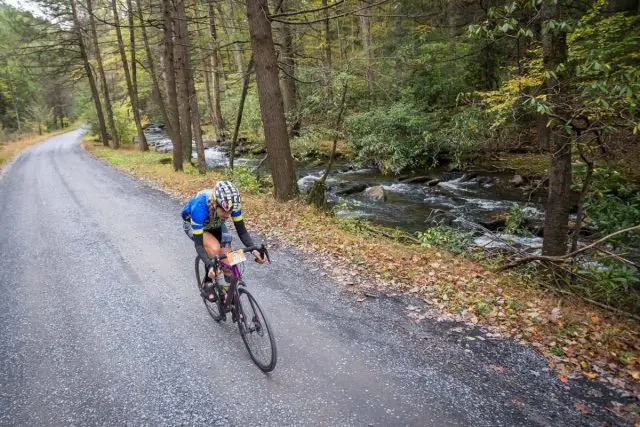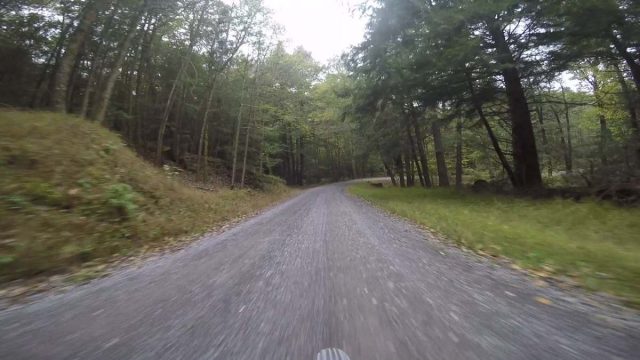 The final climb, whose name I don't know (names like big f'er came to mind) never really seemed to end. With 100 miles / 160kms in one's legs at this point, you could say I was pretty knackered, aka tired. I had the company on and off of Joyce Gearhart, but unfortunately, due to multiple camera issues during the day, I lost a few good minutes of footage 🙁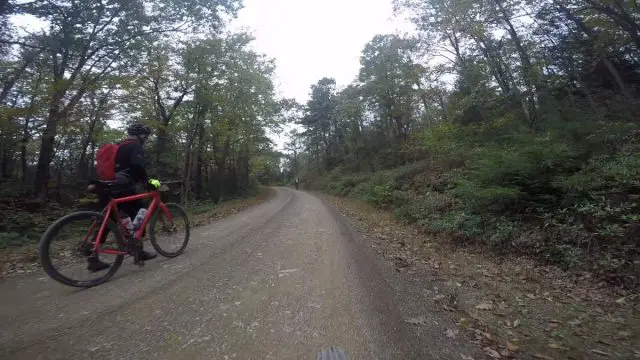 Atop the final climb was an aid station with beer, but I was spot on with hydration – beer is sort of hydrating! Errr… but I was on a mission to finish unPAved before 5pm / 17:00 hours rolled around.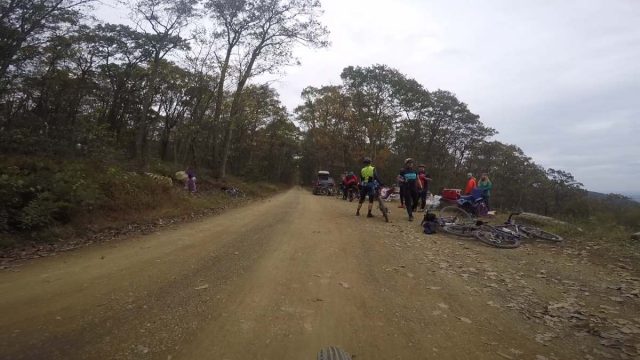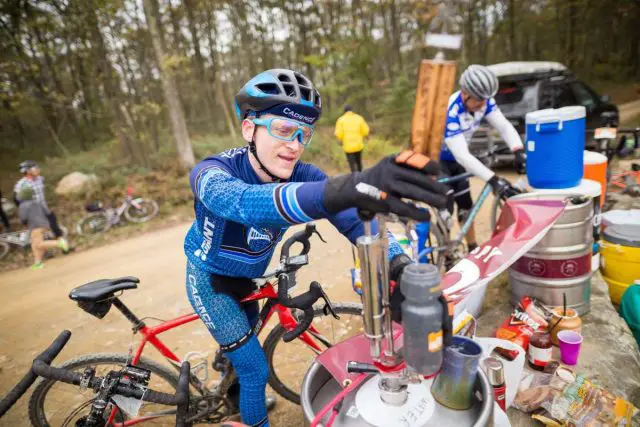 After a quick Hi! to everyone as I passed Aid Station #5, I pressed on with the business of going as fast as safely possible down the final mountain. Sadly, I experienced another camera issue on this descent, so it won't be featuring in the coming video for unPAved.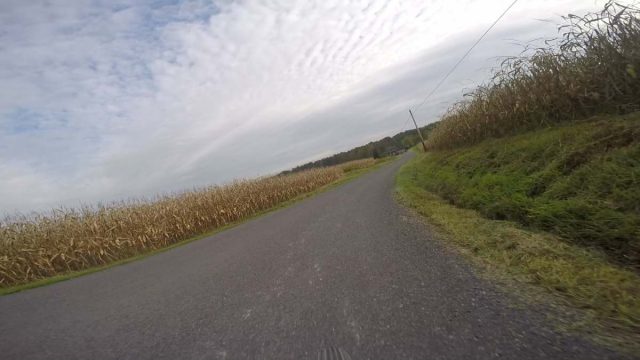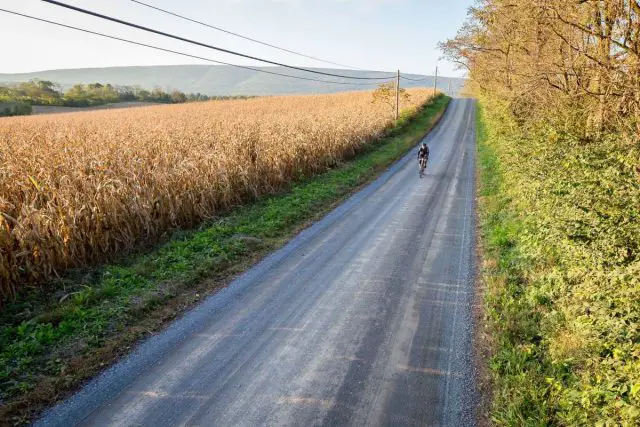 All that remained was several roller hills into Mifflinburg, and nine flat miles of the Buffalo Valley rail trail into Lewisburg and the finish line.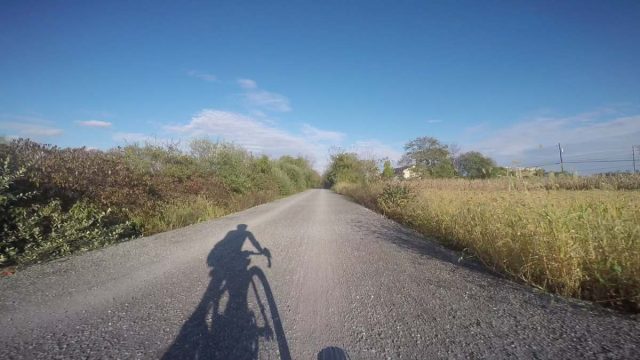 Everyone associates Florida with being flat as a pancake. That isn't entirely true, but compared to unPAved, that statement definitely rings true. I was on some flatter terrain, confident I would finish unPAved before 5pm.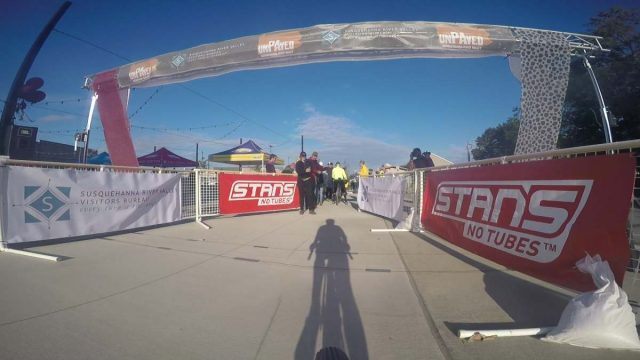 According to my humble Garmin 1030 unit (I need to post a review of this marvel), I rolled across the finish line at about 4:50pm / 16:50 in a time of 9:35:27 – that includes stops, farting around with cameras, peeing in the woods, etc. Despite the fact I don't upload to Strava too often, you can check out my effort from unPAved, HERE.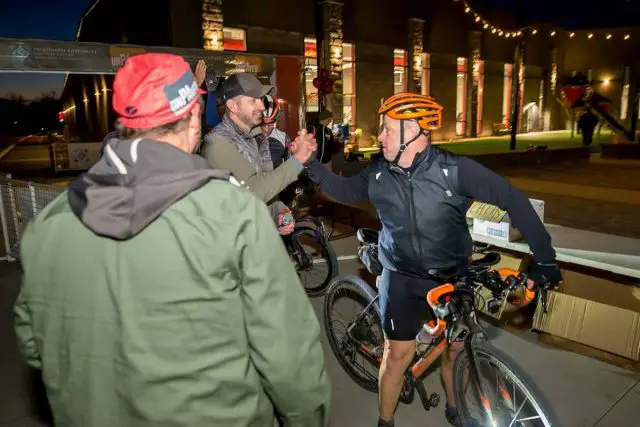 Thank You's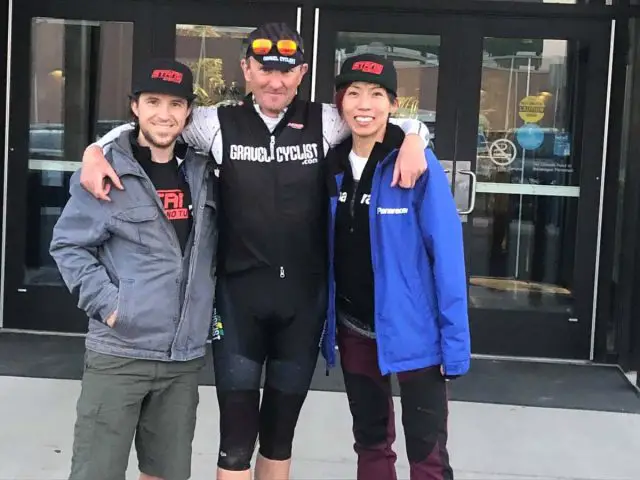 Check out the results, photos and more at https://unpavedpennsylvania.com
Coming next from unPAved is the Race Video. Watch this space.
Thanks for reading!
JOM
P.S. You should definitely do this race.