Chamois Cream is one of those topics people don't like to talk about. Likely because the application process involves a pre-ride lathering of a viscous-like substance onto strategic points of one's nether regions, designed to act as a protective and friction eliminating barrier between skin and bicycle clothing. Some cyclists swear by it and some never use it. If you fall into the former category, one rule applies to its application – never make eye contact with anyone during the cream application process – this is the definition of an awkward moment

Moving along… generally, most creams contain anti-bacterial properties to help resist the build-up of bacteria and ultimately, the development of saddle sores. In some cases, these sores can lead to an abscess, something that may require a doctor's visit to address. Certainly less than pleasant.
A Little about Buckler Handcrafted Skincare
Buckler's Founder, Jon Mason, came up with the idea for an embrocation* product, after a cold and wet ride around the East Bay Hills of San Francisco. Entering a local market in search of food and thinking about failed embrocation, a jaunt through the health and beauty aisle sparked the idea to produce his own. After much experimentation, some good and some bad, Jon discovered a formula and set about founding Buckler Skincare in 2011. Since that time, Jon has expanded his range to include various embrocation formulas, as well as chamois cream.
* cream or oil applied to the legs to help warm muscles.
Buckler Handcrafted Skincare's Crème Fraîche chamois cream certainly falls towards the higher end of the spectrum for price and ingredients, but is the extra expense worth it?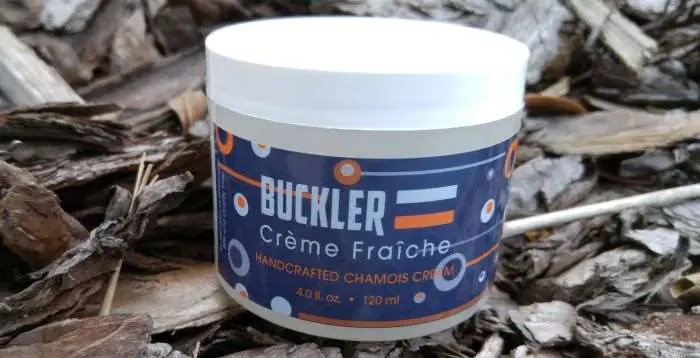 Ingredients:
Water.
Sunflower Oil.
Behentrimonium Methosulfate (compound used in conditioners, shampoos and lotions to impart a slippery feel).
Cetearyl Alchohol (emulsifier, gives texture to a product).
Butylene Glycol (thins gels and creams making them easier to use).
Grapeseed Oil.
Cocoa Butter.
Glycerine (carries effective ingredients into the skin, where their beneficial effects will be utilized.
Rice Bran Oil.
Calendula Oil (cooling and soothing, effective remedy for dry and damaged skin).
Stearic Acid (best known for the "pearly" and "waxy" feel that it adds to body care products, which ultimately has a cooling effect when applied to the skin.
Panthenol (form of vitamin B5, used as a moisturizer and lubricating compound).
Menthol Crystals (helps to prevent skin irritation, commonly used in balms).
Propylene Glycol (a synthetic liquid substance that absorbs water).
Diazolidinyl Urea (a preservative largely in cosmetic products).
Butylcarbamat (a water-soluble preservative).
Tea Tree Oil.
Peppermint.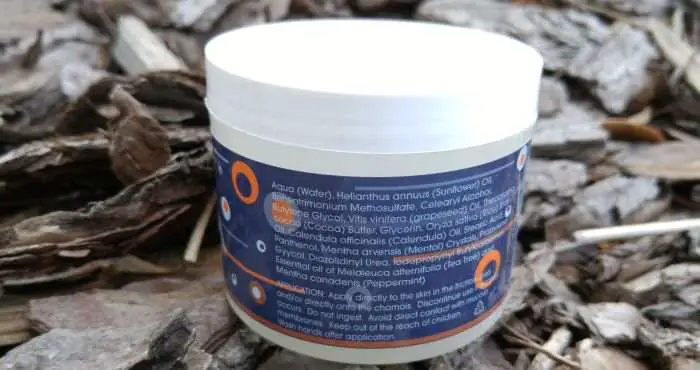 Jon's formulation is designed to hold up and perform its task as advertised. The cream's ingredients protect and nourish the skin, some of which have been suggested to feature anti fungal/bacterial properties, with oils that are rich in vitamin E and a vegetable butter that is moisturizing.
But How Does it Ride?
I will spare you the finer details of my chamois application process, but I prefer the method of applying the product directly to my skin. Some cyclists prefer to apply directly to the chamois in their bib shorts / shorts. Typically, I applied a small amount of the cream, not much bigger than a pea, unless I knew I was in for a big mileage day.
The product features a pleasing scent and light tingle once applied to the skin – quite a nice sensation and one to put you in a good mood for your upcoming ride 🙂 I tested the product exclusively during the months of January 2016 in Australia (riding a lot) and February 2016 in the US of A (not riding as much).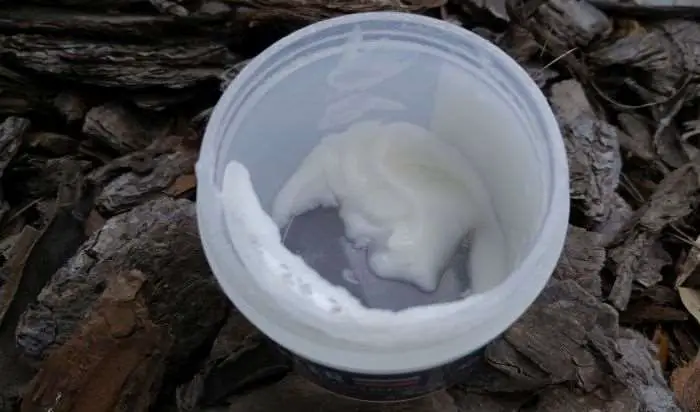 Stating the obvious, chamois cream has only one purpose – to provide comfort during a bicycle ride and prevent rash and irritation. Buckler Handcrafted Skincare's Crème Fraîche chamois cream did that and more, exceeding my expectations. Touted as having anti-friction protection for roughly two hours, I was riding four hours or longer using less of the Buckler cream to achieve the same protection, versus other creams I have tried in the past. As stated earlier, I would apply a little more if I had a bigger ride planned. Regardless of ride length, my thoughts were focused on riding my bike, and not thinking about saddle and chamois friction. Granted, the biggest factor in comfort for most cyclists is their choice of saddle, fit on the bike and choice of shorts. But, a good chamois cream can certainly help with overall comfort, and Buckler's Crème Fraîche chamois cream is one such product. I rode friction free sans irritation.
Priced at $US 18.95 for a four fluid ounce container's worth of Crème Fraîche chamois cream, it isn't cheap, but is priced competitively with every other high quality chamois creams on the market today. Know you are buying a handcrafted skincare product housed in BPA free containers while at the same time supporting a small USA-based business!
Thanks to Buckler Handcrafted Skinscare for this product sample. In no way was Gravel Cyclist compensated monetarily for providing this review.