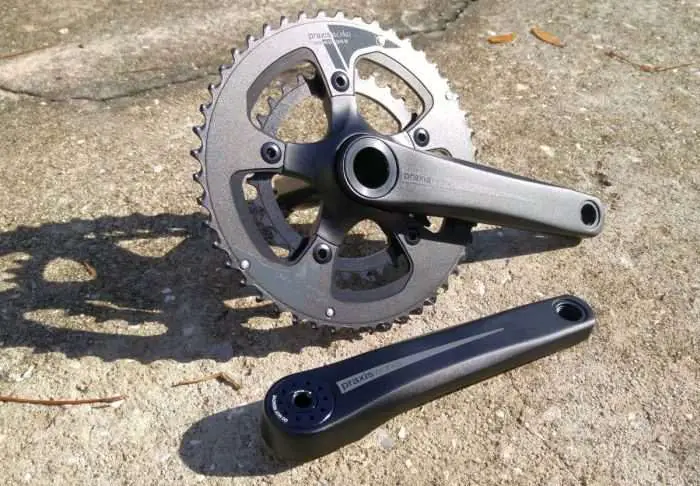 David Earle, a veteran in the bicycle industry, figured 2007 was the right time to branch out and begin working on something he'd been involved with for years; the development of drivetrain components. Praxis Works was born. Prior to 2007, David was a member of the original Bontrager Cycles, a Senior Design Engineer at Specialized and later, Director of Engineering at Santa Cruz Bicycles. There are countless other projects David was involved with, but the list is too extensive for this article.
David's goal with Praxis Works was to create a unique brand that specialized in design and fabrication of exceptionally designed drivetrain components that offer performance and great value. To accomplish this, Praxis Works works closely with Dragontech Manufacturing in Taiwan. Dragontech has over 50 years of experience with metal forming technology, in addition to an in-house engineering team and testing facilities.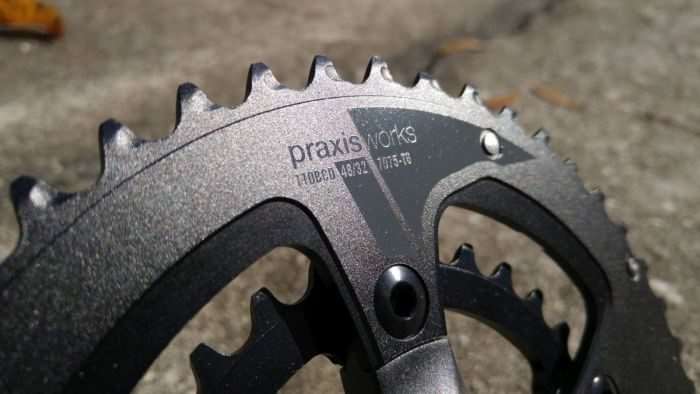 Praxis Works have gained a reputation for solid products such as chainrings and bottom brackets. Not long ago, Praxis turned their attention to cranksets. The Zayante M30 crankset, named after a famous redwood covered road in Santa Cruz County, California, is one of their more recent offerings and one I've been reviewing during the past couple of months.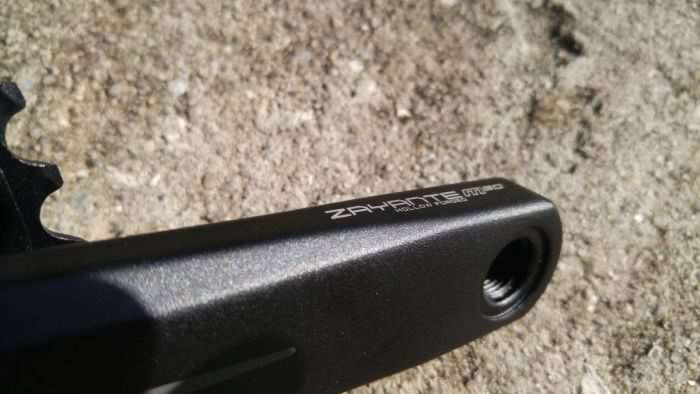 The Praxis Zayante M30 is a hollow forged 110BCD (bolt circle diameter) crankset that features a 30mm aluminium spindle and Praxis cold forged chainrings. The Zayante M30 crankset can be installed into any frame with Praxis' M30 bottom bracket, provided the frame supports BSA (English thread), BB86, BB30, PF30 or is a Specialized OSBB road frame.
Available chainrings are 48/32, 50/34 and 52/36 with 1X available in 40T and 42T. Available crank lengths are 165mm, 170mm, 172.5mm and 175mm.
Praxis believes the Zayante crankset represents a "a huge amount of technology in a 'Comp' level package".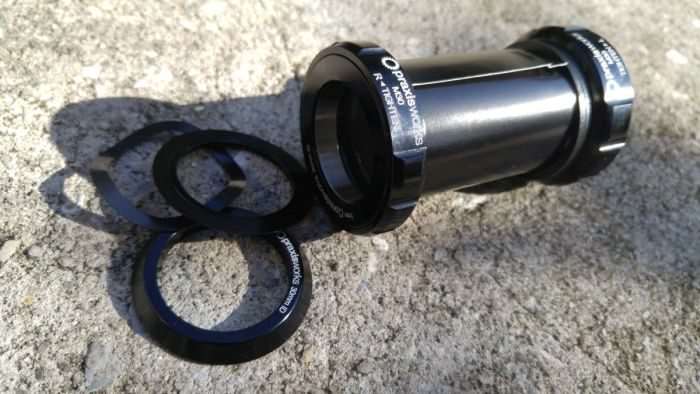 Pictured above, the Praxis M30 bottom bracket. Bearings on the M30 measure 30mm ID (inside diameter) for the drive side, and 28mm ID for the non-drive side.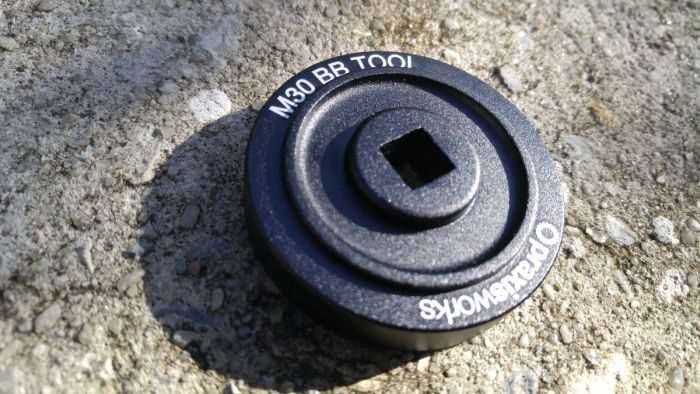 Accompanying the bottom bracket is the required installation tool.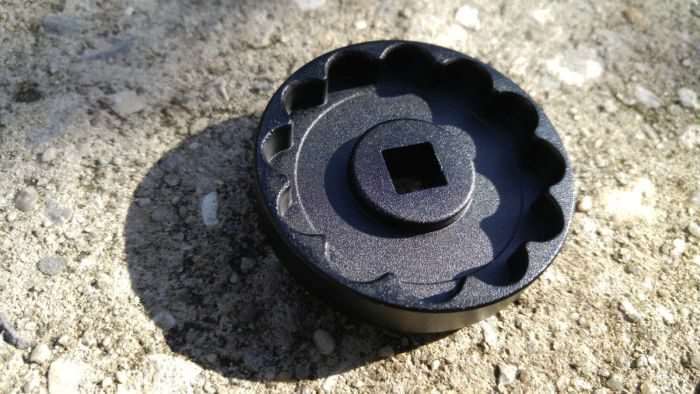 For this review, I selected the Zayante M30 crankset in 172.5mm, fitted with Praxis micro compact 48 / 32 chainrings.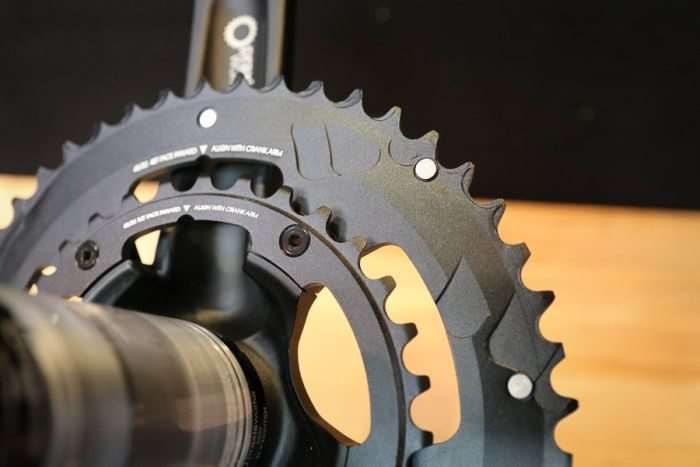 You may be thinking, how does a 32T small chainring fit onto the inboard position of a 110BCD crankset?
The Praxis Works micro compact spider utilizes two tricks – the spider has a small shelf machined onto the tip of each arm. This allows the chainring to sit lower and provide clearance for the chain to ride smoothly over the teeth. The other trick – the chainring bolts thread into the inner chainring versus using a threaded nut.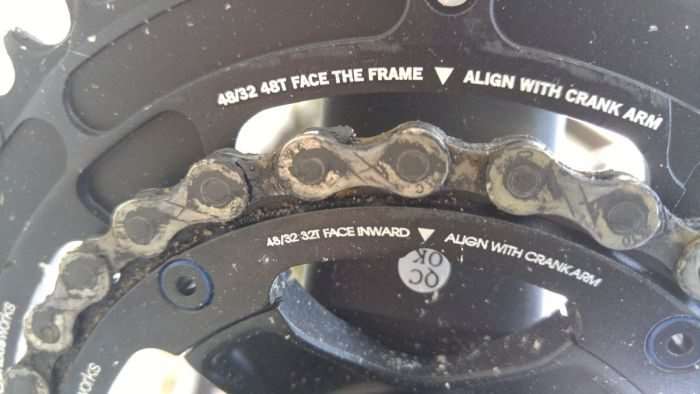 The good news is the Praxis Zayante micro compact spider will accept standard 110BCD chainrings, but the 32T inner ring will only work on the Praxis Zayante micro compact spider. The spider is also compatible with other Praxis cranks that feature removable spiders, but only with those labeled as Praxis, and not the earlier generation Turn cranks.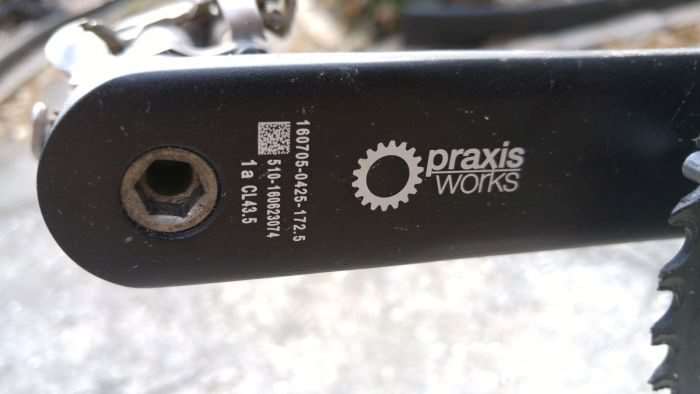 The 48 / 32 chainrings make a great addition to a road bike where low gearing is needed. In my case, I was interested in the crank's application for gravel cycling. I've attended many gravel rides and races over the years, and there have been times and climbs when I desired a chainring smaller than a regular 34T inner.
Weights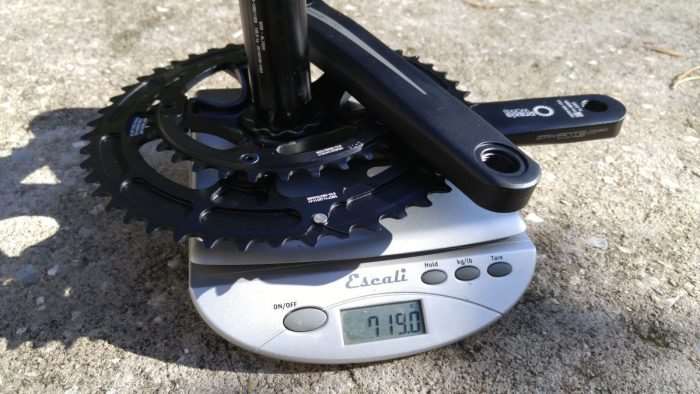 On the scale, the Praxis Zayante weighs in at 719  grams, which is a little over the advertised weight of 712 grams +/- with 172.5mm arms and 50/34 chainrings.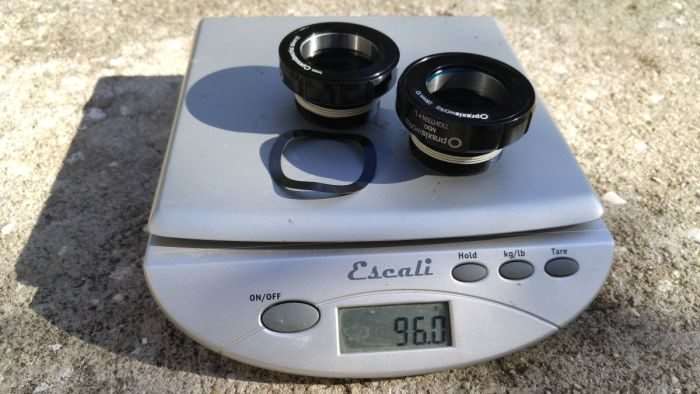 The English threaded M30 bottom bracket weighs in at 96 grams complete with 2 x 2mm bearing seals (for standard road cranks), wave washer, and a single ply of plumber's tape applied to the threads.
Crank and Bottom Bracket Installation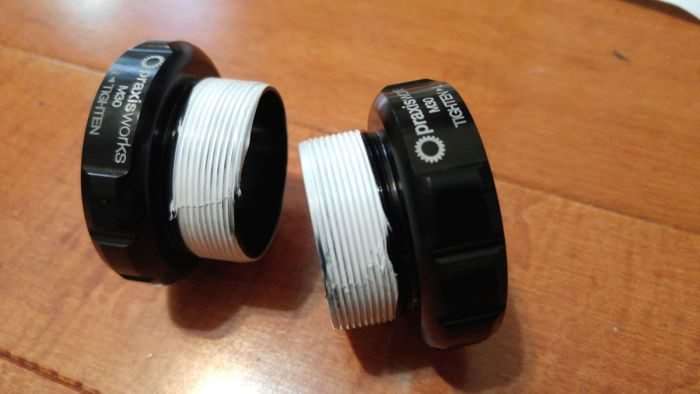 For experienced bicycle mechanics, home or professional, installation of the Praxis M30 bottom bracket is a relative breeze. I always apply one ply of plumber's tape anytime to the cup threads whenever I install a threaded bottom bracket – your method may vary. I find this step negates the potential of a creaking bottom bracket.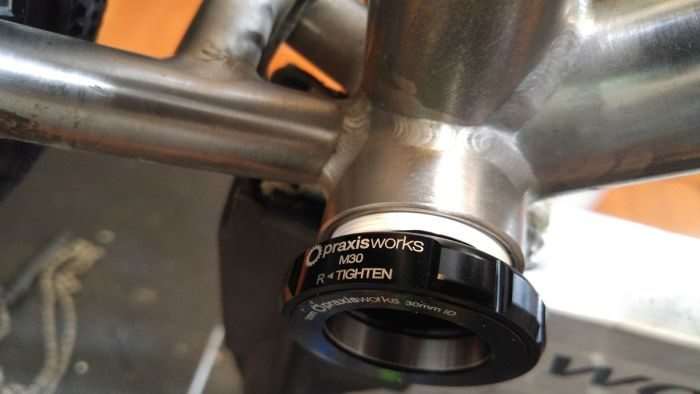 Before installing the M30's cups into an older Litespeed titanium cyclocross bike, a machine that nowadays serves duty on gravel roads, I applied a liberal coating of grease to the clean bottom bracket threads.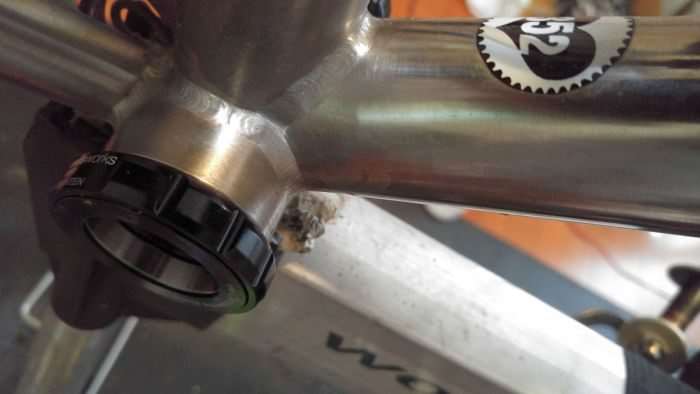 Using the Praxis M30 bottom bracket tool and a 3/8″ socket wrench (not pictured), tighten down each cup to 40 newton-meters of torque.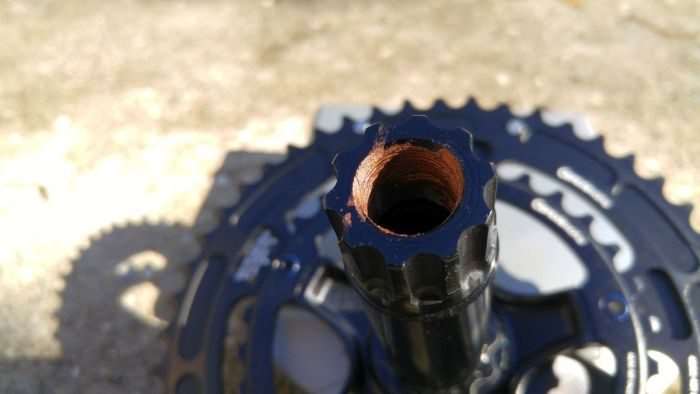 Finally, slide the drive side 30mm wave washer onto the crank spindle, followed by the 30mm ID drive-side bearing seal. Grease the crank spindle and push through the bottom bracket. Slide the 28mm ID non-drive side bearing seal onto the spindle followed by the non-drive side crank arm.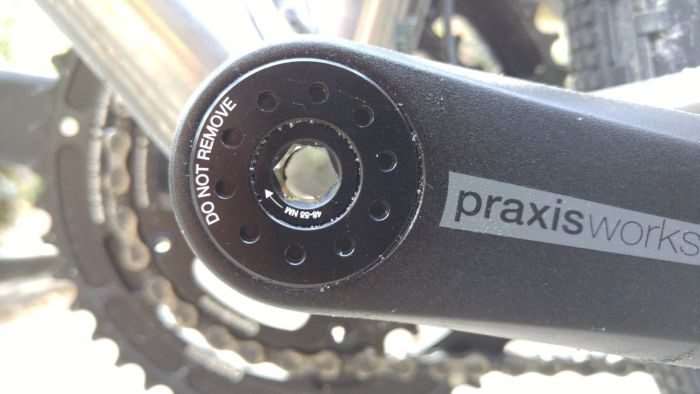 An 8mm hex torque wrench is needed to tighten the non-drive crank arm bolt to 48Nm – 52Nm. Once installed, the crank should turn freely. In the case of my install, the crank spun freely with very little resistance.
Riding the Zayante M30 Crankset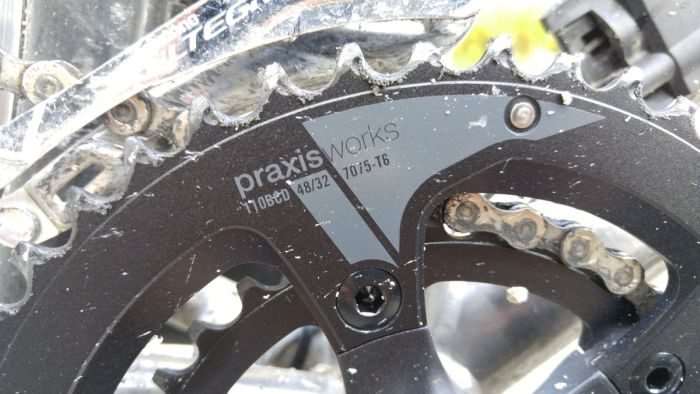 The Zayante M30 crank and chainrings are compatible with Shimano 10/11, Campagnolo 10/11 and SRAM 10/11 drivetrains. Mentioned earlier, I installed the crank onto an older Litespeed titanium cyclocross frame. The bike is fitted with Shimano's first generation Ultegra Di2 drivetrain (6700 series), which is a 10-speed system. Chain is a KMC X10 10-speed unit.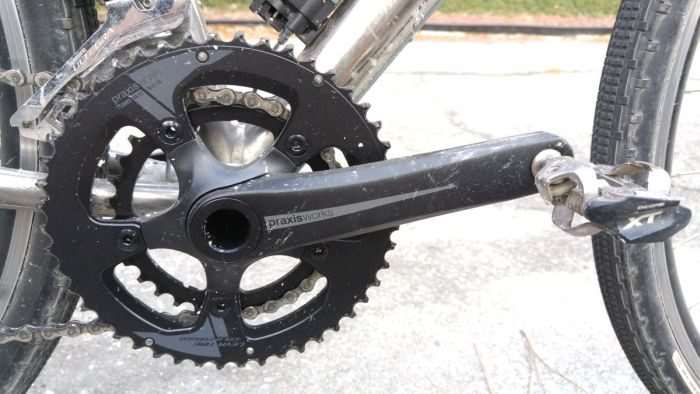 To say the chainrings shift effortlessly between each other is an understatement. The virtues of any of Shimano's electronic front derailleurs are well proven, but the performance of Praxis chainrings is on par with Shimano's OEM units. On the workstand, zero hesitation upshifting from the 32T small ring to the 48T big ring and vice versa. In the real world, I never shift the front derailleur under serious pedaling load, but even under moderate load out on the road, the upshifts were perfect. For downshifts, I soft pedaled as I usually do with no chain drop issues. I'd expect similar shifting performance from a well adjusted mechanical front derailleur.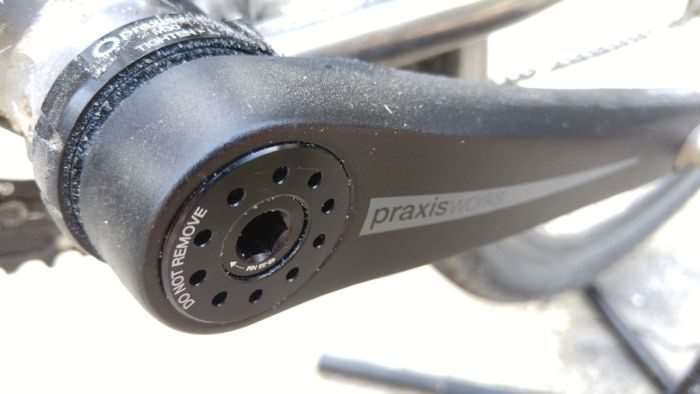 I have no way of measuring crank stiffness, deflection or any other statistics that would indicate I was flexing the cranks under pedaling load. However, there was no perceptible loss of energy during my pedaling efforts, no matter if I tried my best to hammer out of the saddle, or remain seated on a tough climb. Suffice to say, I felt all of my power was being transmitted to the rear wheel.
The 32T inner chainring is brilliant. Paired with an 11-32 cassette on the rear wheel, the one to one ratio of the 32 x 32 gear is perfect for scaling nasty, steep gravel climbs. There's plenty of paved climbs where this low gearing would come in handy; the Taiwan KOM Challenge springs to mind.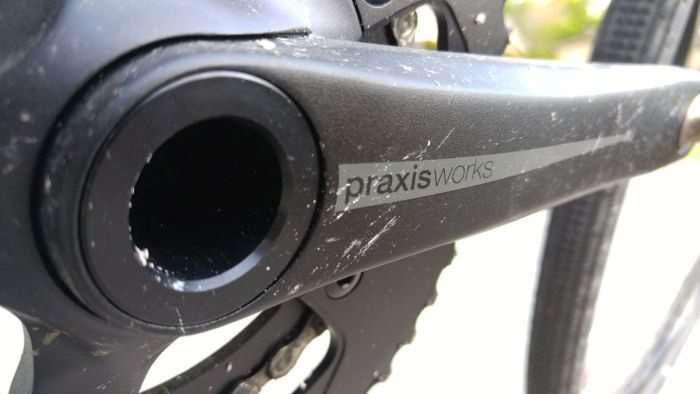 On the pavement, the 48T chainring is well suited to a route with plenty of climbing – the 48T ring is conducive to a rider staying on the bigger chainring for longer, but isn't so small that the reduced ratio is completely useless on flatter roads. The maximum gear ratio of 48 x 11 will see a rider spun out on a long paved descent, but this will probably be a moot point for most riders. Tuck, get aero and freewheel!
Onto gravel, the 48T chainring is a great alternative to the traditional 50T ring that adorns the OEM cranksets of many gravel bikes. Even powerhouse riders who prefer pushing bigger gears will reap the benefit of the slightly smaller 48T chainring. To be honest, I prefer a 46T big chainring for gravel use, but this is no reflection on the Praxis Zayante M30 crankset. Praxis have wisely chosen chainrings that cater well to road and gravel cyclists. Thanks to the Zayante's compatibility with the 110BCD standard, a replacement chainring could easily be sourced if so desired.
Summary
With hollow forged aluminium crank arms and a high level of perceived stiffness, the Praxis Zayante M30 crankset and matching M30 bottom bracket are worthy of consideration for those riders seeking lower gears, but sans the huge price tag.
The Zayante M30 is reasonably lightweight, plays well with the big three drivetrain players and includes a two year warranty from the original date of purchase.
Priced at $US 240.00 for the crankset and $US 45.00 for the M30 bottom bracket, the Praxis Zayante M30 crankset is a great buy!