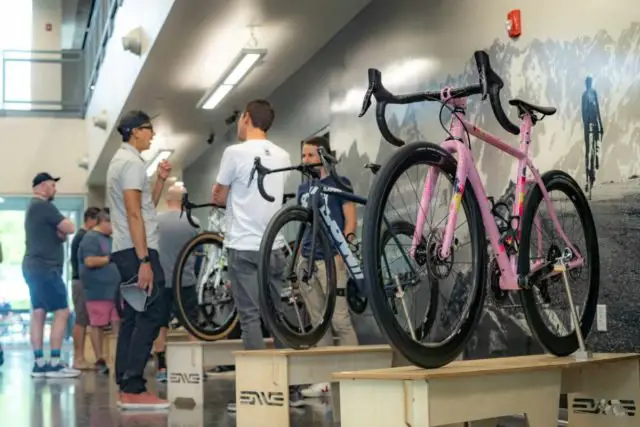 "The ENVE Grodeo was held on June 25th and 26th of 2021 and featured the Builder Round-Up open house on Friday where more than 30 of the most renowned custom builders displayed their latest works of art." – ENVE
"Few opportunities exist to meet the builders of such exquisite handcrafted bicycles, and we're opening our doors so you can help us celebrate their artistry. We'll be serving up a good time with live music, food, drink, and the opportunity to test your skills on ENVE's Ogden Trackline Gravel TT."
The video below is a presentation of twelve steel and aluminium drop-bar bikes from the Builder Round-Up / Grodeo event. Photos of many of these bikes can be seen further down this post, including Saltair Cycles (unfortunately due to illness, the latter bike did not make the video). All photos by the lens guru himself, Ian Matteson of ENVE.
The builders in this video include:
ENVE – ENVE Grodeo & Builder Round-Up
Weis Manufacturing
"The Hammer Gravel SL is Weis' carbon fiber and aluminum Gravel bike with big clearances for 700×45 / 650×2.1 tires. This is a purpose-built machine that will make you want to go fast on flats, punch up climbs or take on technical descents. Take a closer look to see the details from CNC dropouts to custom thru-axles and their experimental paint schemes."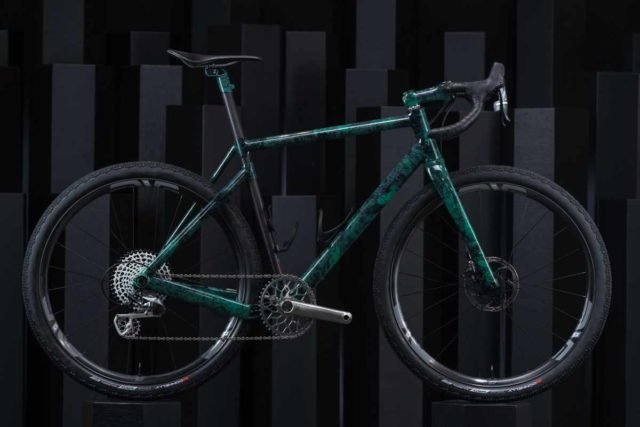 Mariposa Bicycles
"Founded in 1969, Mariposa continues to be a family-run business specializing in lugged and fillet brazed steel frames. The building technique hasn't changed over the years, but the materials are now available for a lighter, better riding frame. This show bike is designed for lightweight, adventure bike-packing. Using Columbus tubing, it's made for long rides or multi-day trips with a Dynamo hub to run lights and charge devices. In addition, it features an ENVE Adventure Fork, AG25 wheels, and can accommodate fenders. "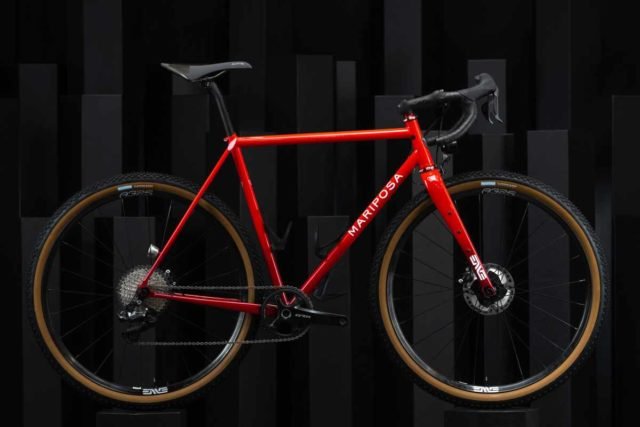 Scarab Cycles
"Scarab's All-Road bike, Apüna, which means path in *wayúu, was designed around a road platform but with big fat tire capacity. It features oval steel tubing and an ENVE AR fork, creating a solid and reactive platform, keeping the unrivaled compliance of steel tubes. The new JUNGLA paint scheme is to show the natural abundance in a powerful way. Jungla is an interpretation of the density, diversity, and deepness of the Chocoan Jungle."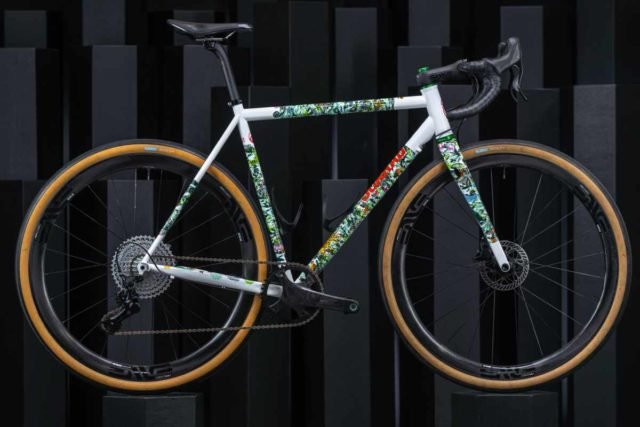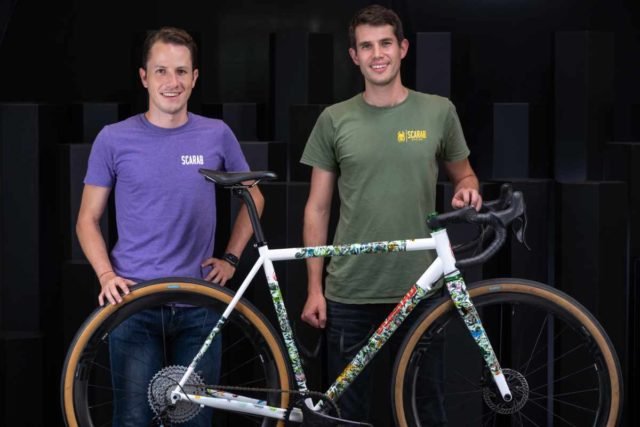 Sklar Bikes
"Specializing in dirt-focused titanium and steel bikes, Sklar offers both fully customized bicycles and three non-custom geometry, built-to-order models. This bike joins the Sweet Spot trail hardtail and PBJ touring bike as the Super Something – a versatile gravel and light touring bike that can be set up with gears, single-speed, big tires or small, drop bars or risers. A true all-arounder. "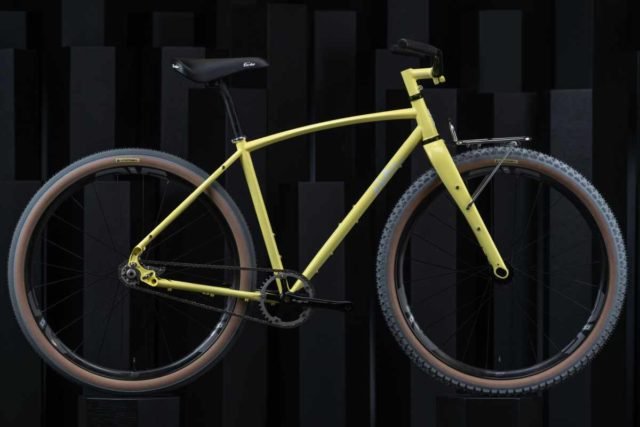 Spooky Cycle Works
"The ROVR is a race-inspired gravel bike that will take you beyond the ordinary. An entirely new platform with wide tire capability designed with versatility in mind. Whether it's smooth gravel or seat dropper single track the ROVR will get you places. The continued development of wide groupset innovations has inspired us to utilize the 73mm bottom bracket as a new frame standard. Through extensive testing we've found this configuration ideal for achieving pure gravel adventure needs and overall function without compromising performance."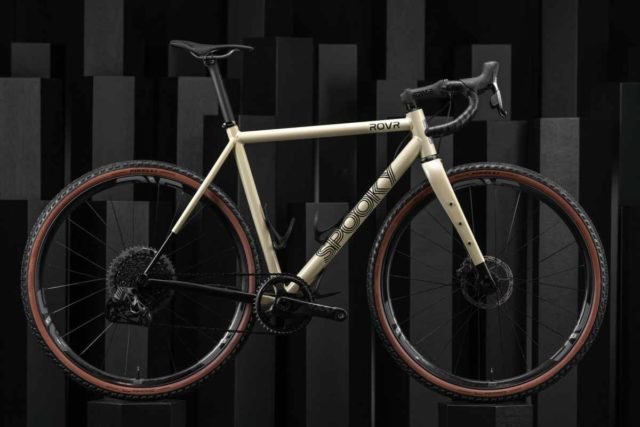 Rock Lobster
"What started as a hobby in 1978 became a full-time job after a decade of figuring out how to build a great frame. This is the latest team CX bike- the "World Cup"- not a hypothetical name, a bike just like this was ridden in the UCI races in France, Belgium, Spain, and the Netherlands, including several world cup venues. "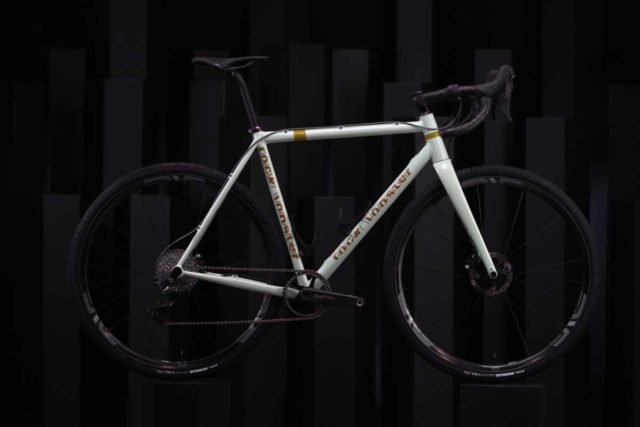 Speedvagen
"This Custom Speedvagen Rugged Road is the personal bike of Erika, SV's customer service expert. Featuring their brand new 2021 Surprise Me paint scheme and signature fit philosophy."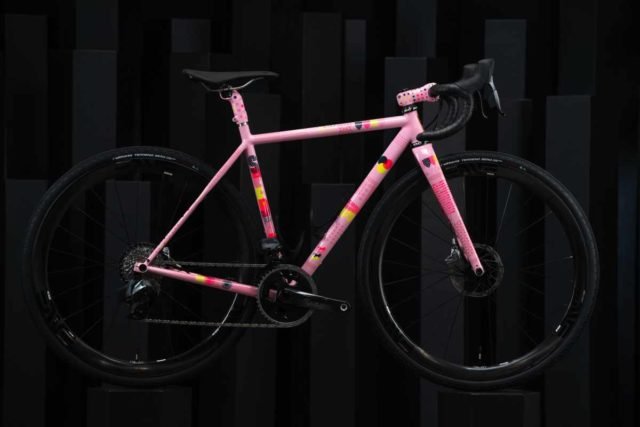 Tomii Cycles
"Nao Tomii crafts handmade, custom-built frames from his Tomii Cycles workshop in Austin, Texas. His experience comes from fine art and sculpting. "Sculptures that I can custom build as a beautiful bicycle for my customers is always my number one goal" The process is spiritual, Nao says, adding, "To build bikes, I have to be happy.""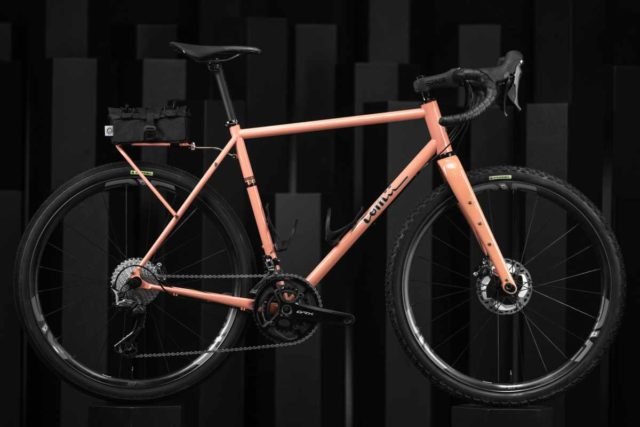 Falconer Cycles
"Cameron Falconer takes a straightforward, utilitarian approach to his TIG welded steel frames. This particular build is a coaster brake dirt road roller inspired by 1890's pneumatic tire safety bikes. The front rack is the most unique part of the build and is made from two pieces of titanium sheet metal and designed to carry a sleeping bag."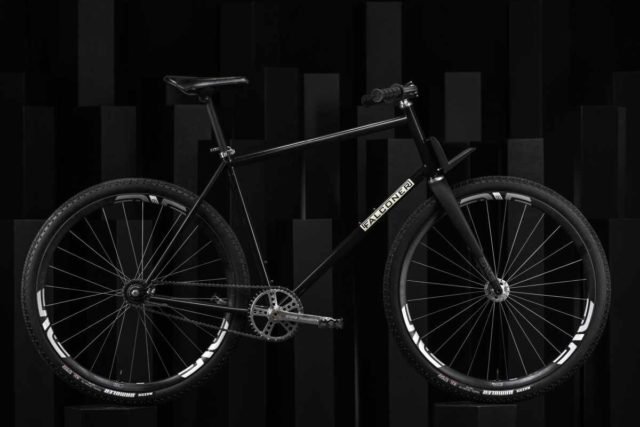 Low Bicycles
"Aluminum specialist Andrew Low brings the MK Disc Road, which is available in 11 sizes. The San Francisco-based builder brings race performance to his aluminum frames through thoughtful shaping to achieve the ride quality and aesthetics that distinguish Low Bicycles."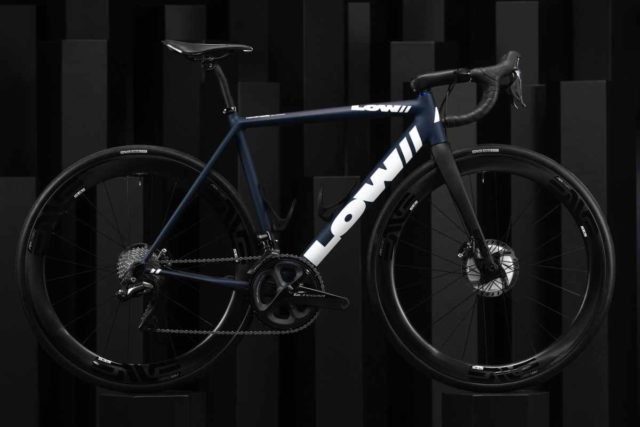 Pine Cycles
"Launched at the 2021 Builder Round-Up, the Rasa from Pine Cycles is one of the most versatile bikes of the show and can accommodate a range of wheel and tire sizes, in addition to single-speed or geared configurations. Additionally, the steel frames are available in stock sizes."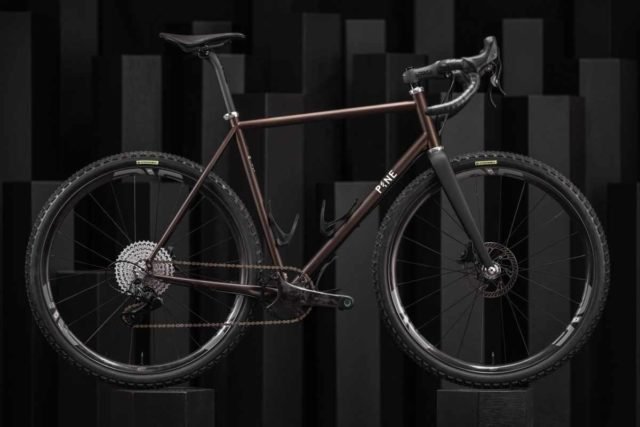 English Cycles
"Rob English is an innovator, and after 14 years as a builder, he is renowned for his unique designs. This aero road bike is no exception and goes for a sleek look, but rather than going for full front-end wire and hosing integration, Rob created a semi-integrated design using a downtube re-configured for the head tube. The rest of the frame's tubing is custom-butted in-house to achieve the sought-after ride characteristics and weight goals."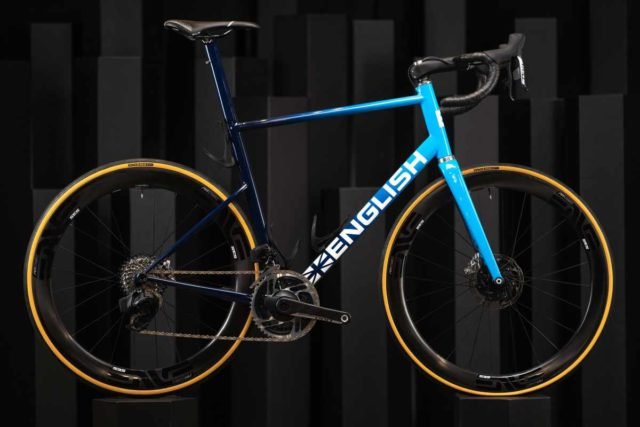 Saltair Cycles
"Just down the street from ENVE is SaltAir and their workshop specializing in fillet brazed steel frames that are modern in function and timeless in their styling. The midnight plum finish gives it an entirely different look when the sun hits it just right." – Saltair Cycles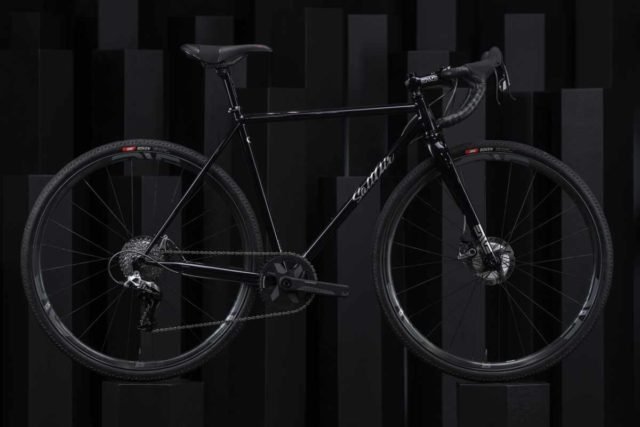 Support Gravel Cyclist:
Buy Me a Coffee – https://www.buymeacoffee.com/gravelcyclist
OR
Patreon – https://www.patreon.com/gravelcyclist
Links of Interest:
Don't forget to Like the Gravel Cyclist Facebook page, follow G.C. on Instagram, and subscribe to our Youtube Channel. We are also on Twitter!