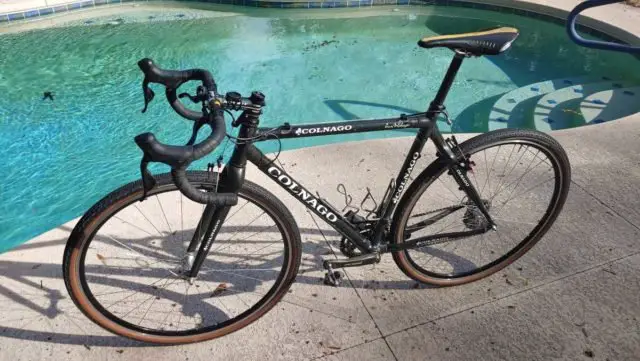 By popular request, this video covers another bike belonging to JOM of Gravel cyclist. This is a circa 2005 Colnago C50 cyclocross bike, a bike that preceded the creation of "gravel bikes" by many years. Cyclocross bikes may be a little twitchier and have not so relaxed geometry versus their modern-day gravel bike brethren, but they are still more than capable machines for riding the gravelly roads less traveled.
Colnago C50 CX Bike Video
Acquired as a frame and fork around 2011, this bike was built to tackle "Roubaix" type races that were popular in some parts of the Southeastern USA. Hosted by the now-defunct promotion, Pirate Race Productions, Boone Roubaix, Tom Dula's Revenge, and Darby Roubaix, best suited a road or cyclocross bike shod with 28mm tyres. This bike would also have been the perfect machine for that other Roubaix race that is still alive and well, Rouge Roubaix in St. Francisville, Louisiana.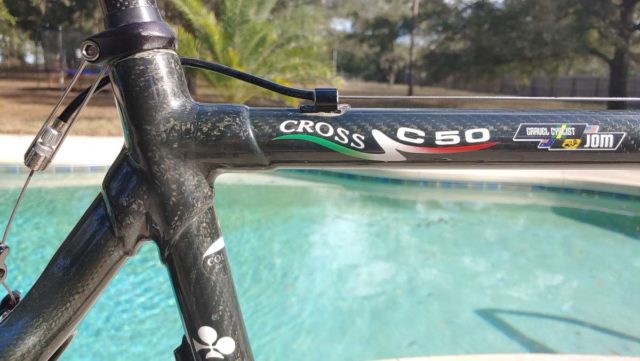 The Colnago C50 cyclocross frame was built to be "softer" than its pavement-oriented counterpart, but stiff enough to not be a noodle. The frame and fork offer a comfortable ride albeit with limitations on tyre clearance. Remember, a variant of this C50 cyclocross bike was raced at the top level of UCI professional cyclocross by none other than Sven Nys, and therefore, had to abide by UCI's rules on bike design. Nowadays, Sven is retired and represents Trek's lineup of bikes.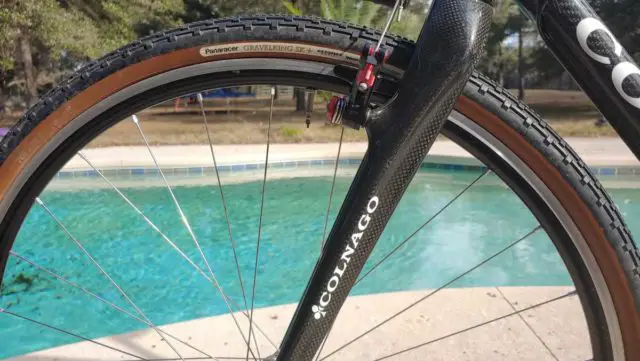 Sven's personal bikes were often different from production variants with different carbon layups and so on, but tyre clearance is decent considering the UCI's rule of a maximum of 33mm of tyre width, and the frame can accommodate a 38mm tyre with clearance for mud, sans issues. However, the underlying issue with wider tyres on this bike is brake clearance when wheels are installed onto the bike.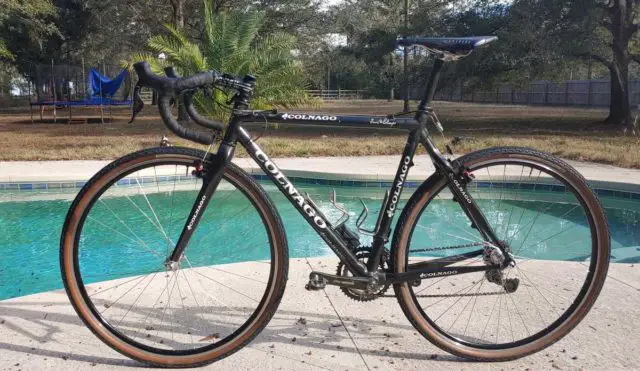 The front wheel with a 35mm tyre fitted just clears the Avid Shorty Ultimate brake pads when you fit the wheels. However, the rear wheel with a 35mm tyre requires removal or temporary adjustment of one brake pad, or the tyre deflated, to allow it to squeeze between the brake pads, even in the fully open position. A tad inconvenient.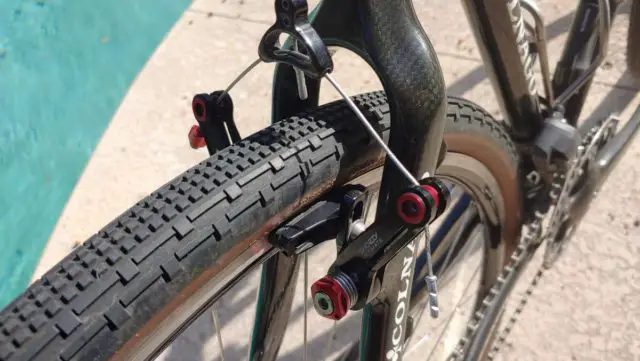 The groupset on this bike could be considered a "Shimagnolo" drivetrain, meaning it is a mix of Shimano and Campagnolo components. At the time this bike was built, Shimano's 46 tooth chainrings were difficult to acquire, and Campagnolo didn't produce such a ratio. Because this bike began life as a full Campagnolo Record bike, JOM decided to modify a Shimano compatible FSA 46 tooth chainring with his trusty dremel tool, to work with the 112mm BCD (bolt circle diameter) of the Campagnolo Square Taper Compact Crankset. In other words, enlarge the one offset hole of Campy's standard, with some additional flattening out, to cleanly fit the FSA chainring.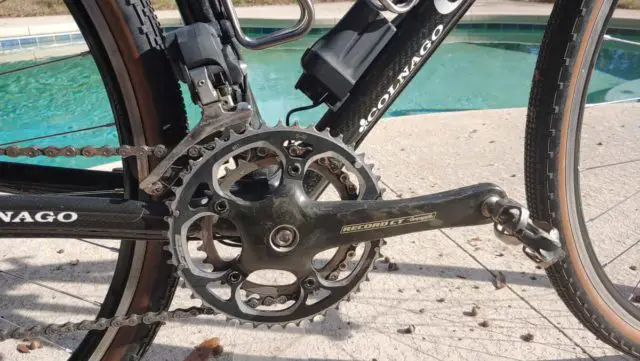 DuraAce Di2 was well recognized as being advantageous for use as a groupset for use on mixed-surface roads, and this bike was quickly adapted to run the Di2. DuraAce 7970 was Shimano's first Di2 system, and utilizes a wiring system that is completely different from every Di2 system that would follow it. More details can be gleaned from the video featured above.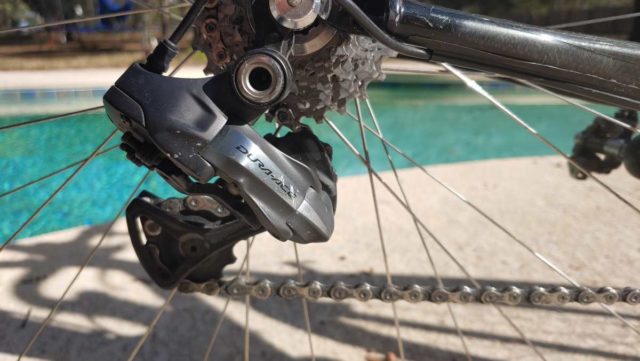 Specifications
Frame: Colnago C50 Cyclocross
Fork: Colnago Cyclocross, All-Carbon
Headset: Cane Creek 110 Series 1 1/8″
Stem: Ritchey WCS 110mm
Handlebar: Kestrel EMS Pro SL 40cm, 26mm
Handlebar Tape: Fizik
Brakes: Avid Shorty Ultimate
Brake Rotors: N/A
Brake / Shift Levers: Shimano DuraAce Di2 Non-Hydraulic, 7970 Series
Front Derailleur: Shimano DuraAce Di2 7970 10-Speed
Rear Derailleur: Shimano DuraAce Di2 7970 10-Speed
Cassette: SRAM PG1070 10-Speed 12-25
Chain: KMC X10
Crankset: Campagnolo Record Square Taper Compact, 172.5mm, 46/34 Chainrings. 46 tooth chainring is a modified FSA chainring.
Bottom Bracket: Campagnolo Record Square Taper, 102mm
Pedals: Shimano XTR 9000
Wheelset: Stan's No Tube Alpha 340 Rims, DuraAce 7700 9-Speed era hubs, 32 DT Revolution Spokes Front & Rear (Competition Spokes on the Drive Side Rear), Alloy Nipples, Brass on Drive Side
Saddle: Fizik Arione Titanium Rails
Seatpost: Campagnolo Record 27.2mm x 250mm
Bottle Cages: Silca Sicuro Titanium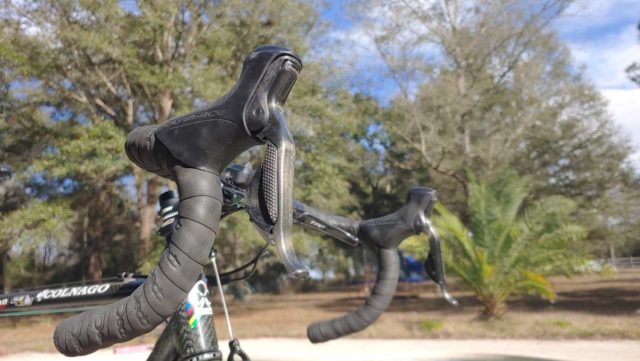 Additional Photos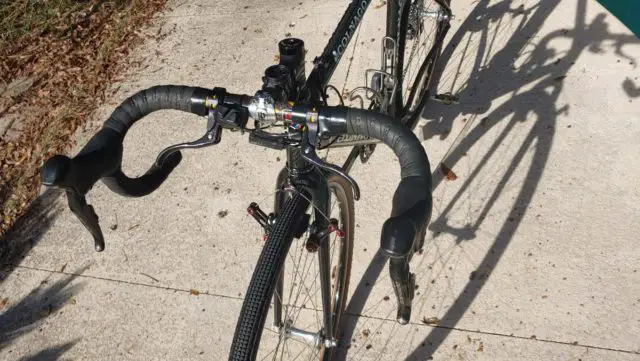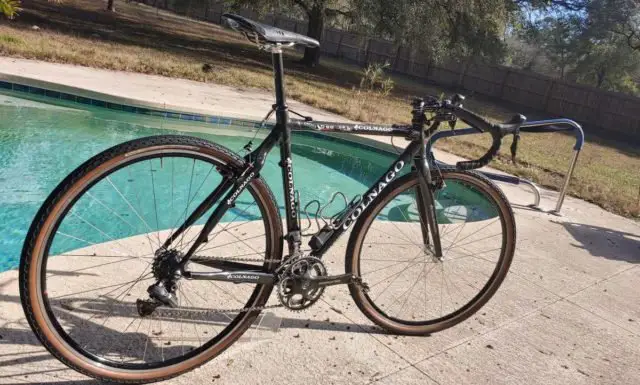 Support Gravel Cyclist:
Buy Me a Coffee – https://www.buymeacoffee.com/gravelcyclist
OR
Patreon – https://www.patreon.com/gravelcyclist
Links of Interest:
Don't forget to Like the Gravel Cyclist Facebook page, follow G.C. on Instagram, and subscribe to our Youtube Channel. We are also on Twitter!