The world of component groups for cycling, particularly for gravel bikes, mostly revolves around two companies, SRAM and Shimano. Both companies are giants in the bicycle industry, their influence upon bikes, ergonomics, standards, usability, functionality and more reaches far and wide.
But there are at least two more complete drivetrain manufacturers in the marketplace. One would be the oldest complete drivetrain manufacturer in the world, Campagnolo, and a recent addition for a complete groupset manufacturer, Full Speed Ahead, aka FSA.
There are a few smaller companies who could potentially make this article, but I'm covering complete groupsets only; this means drop-bar shifters, cranks, disc brakes, derailleurs and so on.
Let's kick the list off with the lesser-known of all these options, Full Speed Ahead.
FSA K-Force WE Disc Brake
You may not know it, FSA released a complete drivetrain approximately two years ago, known as K-Force WE.
"FSA presents its first drivetrain: after years of study and development, K-Force WE is ready to ride. K-Force WE is a high-tech electronic groupset with an elegant design. A unique product that will make you change the way you ride your bike. Long battery life, different size levers and wireless technology at the shifters for smooth, quiet and precise shifting".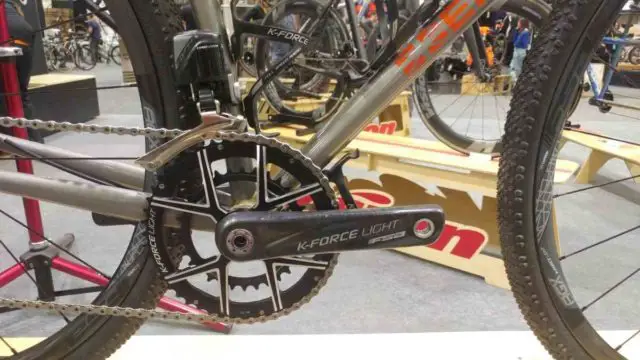 Availability has been the biggest hurdle with FSA WE, particularly the disc brake versions, which have mostly been seen on NAHBS display bikes and little else. I've been eagerly awaiting an FSA WE disc brake groupset for review, but in the meantime, I have procured a mostly complete rim brake version of the groupset barring a few important components; namely the rear derailleur, derailleur / battery connector wires and battery charger. Effectively, quite useless until those parts are obtained… watch this space.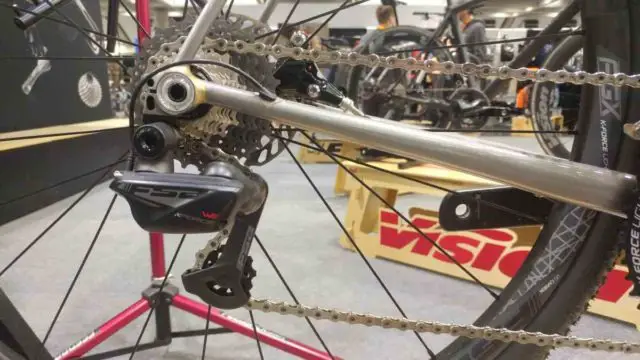 Thus, the jury is out on this groupset but the facts are:
Electronic 11-speed, semi-wireless system. That means, the battery (which resides in the seatpost) connects physically with a wire to the front and rear derailleurs. The shifters wirelessly communicate with the derailleurs and are powered by CR2032 coin cell batteries.
2x only – The brains of the FSA WE unit are contained in the front derailleur. This may change in the future?
The rear derailleur does not have a clutch at this time.
Long battery life, likely akin to Shimano Di2.
Campagnolo Mechanical Disc Brake Groupsets
Campagnolo has stepped up their game. No longer known for the most stylish groupsets currently available on the market today, they do offer legitimate disc brake options for mechanical and electronic drivetrains. For EPS, Campagnolo's electronic drivetrain, the disc brake version is only available in Super Record EPS, and the chainring options are all geared towards road. Additionally, Super Record EPS is a wee bit pricey and I couldn't see myself ever getting it covered in crud!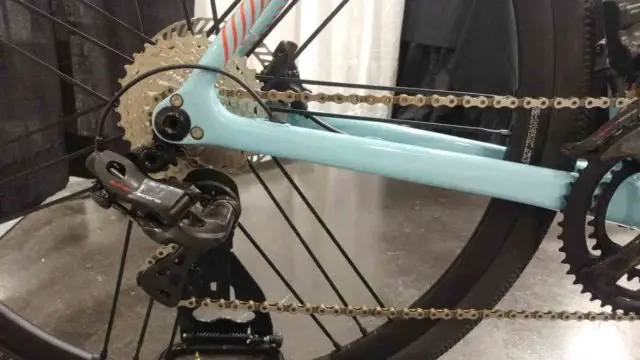 Campagnolo offers Super Record, Record, Chorus and Potenza. All of these groups are 2 x 12-speed groupsets with the exception of Potenza, which is 11-speed.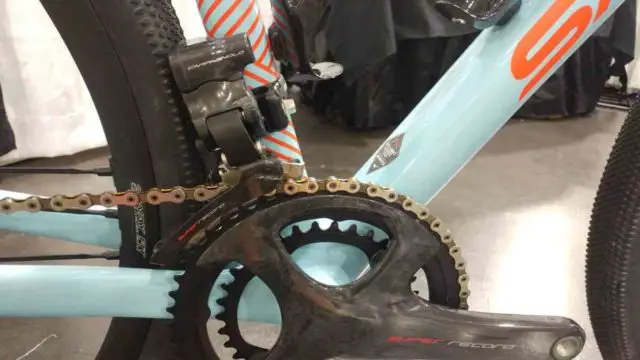 Super Record, Record and Potenza are being dropped from this article because their chainring tooth counts are all geared for road use. That leaves Campagnolo Chorus 12-speed. That is a shame with Potenza because an aluminium groupset generally lends itself better to the rigors of gravel cycling. The Potenza 50/34 chainrings may be fine for some riders, but honestly, most of us prefer 48T, 46T, or lower options for 2x drivetrains.
Campagnolo Chorus 2x 12-Speed:
"New Chorus DB 12-speed groupset: the Campagnolo product that combines racing performance with the needs of Endurance."
"Designed for unforgettable outings where the entire day is spent in the saddle, the specific combinations of the Chorus 2×12 make it a versatile, simple and high-performance groupset, however it's used: from Granfondo rides to adventurous Sunday spins to quick blasts on the bike after work."
Campagnolo Chorus 2x 12-Speed – The Good:
12-speed, more cogs are good!
Chorus offers a carbon crankset with 48/32 gearing, but only in 172.5mm
Excellent cassette options – 11-29 (11-12-13-14-15-16-17-19-21-23-26-29), 11-32 (11-12-13-14-15-16-17-19-22-25-28-32) and 11-34 (11-12-13-14-15-16-17-19-22-25-29-34)
The final three cogs of the 11-34 are 25-29-34 and are pieced together as one unit. This part can be purchased separately, and can also be used to convert your 11-32 to 11-34
Stylish and looks good even when dirty
I love the functionality of Campagnolo's mechanical gearshifting, but it isn't for everyone. However, the up and downshifts use distinctly different levers / buttons, so there is no chance of pushing the wrong one
Campagnolo Chorus 2x 12-Speed – The Bad:
2x only, no 1x option, sorry people. Not a bad thing in my opinion as 1x isn't really my bag. I cite annoying cassette gaps and so on 🙂 I doubt we'll see 1x from Campagnolo unless they first make a push for 1x road bikes
Chorus crankset with 48/32 gearing is 172.5mm only
No clutch option at this time. Maybe never?
Campagnolo Potenza with a 46/30 or 48/32 crankset would make for a great option, especially paired with a Chorus 11-34 cassette
Cassettes are expensive, much like everything Campagnolo, and they require their own cassette body. However, Campagnolo has been an innovator in the road market; the first company to produce 10-Speed, 11-Speed and 12-Speed.
Shimano Mechanical Disc Brake Groupsets
Shimano produces a range of groupsets at various price points for most budgets. However, this article will focus on the groupsets that are geared towards gravel, or are most commonly spec'd on gravel bikes. In this case, that would be Shimano's latest and greatest groupset designed specifically for gravel cycling, GRX, and Ultegra with the RX rear derailleur. Shimano 105 and Tiagra, etc, are generally spec'd on lower priced bikes, but are being left from the article in the interest of keeping this article somewhat short.
Shimano GRX 1x and 2x 11-Speed:
"Following a multi-year global market study, product testing and development process, Shimano introduce the world's first dedicated gravel component line: SHIMANO GRX. New for the 2020 model year, the SHIMANO GRX 800 series offers 1×11 and 2×11 drivetrains – with mechanical and Di2 electronic options – that allow riders to tailor their mixed surface riding experience and Explore Beyond."
Shimano also offer a 10-Speed GRX option, but 11-Speed is the focus here.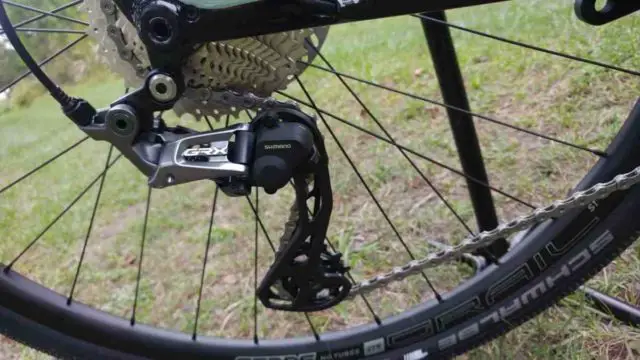 Shimano GRX Mechanical 1x and 2x 11-Speed – The Good:
11-Speed, cassettes are mostly affordable and can be interchanged among the entire Shimano range. The 1x cassettes that I like to think of as reconstituted MTB cassettes from the XT and XTR range, will fit onto a 10-Speed Shimano body… that tells me Shimano could get away with 12-Speed on their current 11-Speed cassette bodies, provided the first position cog is large enough to avoid touching the hub.
Shimano did their homework with 2x gearing. 48/31 on the 2x covers just about every base and road surface I can think of. Like to ride your gravel bike on the road with roadie tyres? 48T is plenty big enough to do that and hang with a group ride. 48T isn't that big that it is useless on gravel. The 31T small chainring is sublime, offering micro-compact gearing especially when paired with Shimano's 11-32 and 11-34 cassettes.
Shimano's 1x gearing is mostly an extension of their MTB cassettes but there are multiple chainrings to choose from to make most 1x people happy.
Excellent cassette options for 2x – R8000 11-32 (11-12-13-14-16-18-20-22-25-28-32T) and HG-800 11-34 (11-13-15-17-19-21-23-25-27-30-34). Granted, there are some less than desirable gaps on the 11-34, but this cassette is pure gold when there is plenty of climbing on tap.
GRX clutch derailleur gets the job done in all weather, and the derailleur works nicely in good weather sans the clutch. Some resistance when the clutch is in operation is a small trade-off for stellar mud performance.
The GRX 2x derailleur will shift all the way up to a 40T cog, but Shimano doesn't recommend anything beyond a 34T cog. However, I have proved 40T works on the GRX Di2 2x derailleur, which shares the same length cage as the mechanical version.
Shimano's brake / shifter ergonomics are so good.
Shifting is almost on par with Di2 provided new housings and cables are present.
Crosstop brake lever option is superb, provides riders with another hand and braking position from the tops of the handlebar.
Braking is improved with the higher pivot point of the GRX shifter lever, and less of that "hyperspace" feeling… meaning, the brake pads make contact with the rotor sooner, with less movement of the brake lever.
On GRX 1x, the left shifter can be configured to trigger a dropper seatpost.
I may have a review of the GRX 11-speed 1x or 2x mechanical system coming in the future?
Shimano GRX Mechanical 1x and 2x 11-Speed – The Bad:
Honestly, it is difficult for me to think of anything negative about the GRX mechanical groupset, but…
46/30 chainrings should be an option at the 11-Speed level for GRX. I'm hoping we'll see that released in 2020?
An 11-36 cassette (SRAM makes one, the PG-1170 and it works with GRX). Shimano's 31T x 34T gear is low and a really nice option, but if you've ridden in the mountains of Georgia, North Carolina, or West Virginia, I've never heard anyone wishing for bigger gears on super steep climbs. The 11-36 would be even nicer.
1x folks will be remiss there is 12-Speed for Shimano XTR but not for GRX. A 12th cog can make a difference on 1x.
Low on the style points register, but this stuff just plain works.
Shimano Ultegra RX Mechanical 2x 11-Speed:
"With an integrated chain stabilizer mechanism, the ULTEGRA RX derailleur provides a quieter experience and shifting security and precision on mixed terrain. For rides on smooth surfaces, the derailleur features and ON/OFF switch for the chain tensioner."
Ultegra has always been a road groupset, and until the recent release of GRX, it was the go-to groupset for most gravel bikes priced around or greater than $US 3,000. Shimano did themselves no favors by adding the clutch option with the RX derailleur, as this only made the groupset even more versatile. Some people question the point of GRX when Ultegra RX is still available on the market. Having ridden both extensively, they each have their place.
Shimano Ultegra RX Mechanical 2x 11-Speed – The Good:
11-speed, cassettes are affordable and can be interchanged among the entire Shimano range.
Ultegra is a road groupset, so the gearing is optimized for road with 53/39, 52/36, 50/34 but the lesser-known cyclocross option, 46/36, provides options.
46/36 is the pick of the Ultegra line-up for chainrings on gravel, as the 36T small chainring can easily and cheaply be replaced with a 34T ring from Shimano. Alternatively, there is a third-party option made by Wickwerks, that allows you to install a 33T small chainring onto an R8000 series crankset. This is my Ultegra go-to setup circa 2019, and exactly what I used during my review of the Moots Routt 45.
The same excellent cassette options for GRX work with the Ultegra RX rear derailleur. Additionally, the RX derailleur will also shift to a 40T cog. Don't believe me? I tested Dura-Ace Di2 9150 which has a shorter cage successfully with an 11-40 cassette.
The Ultegra RX clutch derailleur gets the job done in all weather, same as with the GRX derailleur. Here is the Ultegra RX Di2 derailleur at work in a muddy edition of the Red Hills Ride to Fight Diabetes in Georgia, USA.
Ultegra's mechanical shifting is almost on par with Di2 with new cables installed.
Shimano Ultegra RX Mechanical 2x 11-Speed – The Bad:
Chainring options are not optimized for gravel, but many gravel bikes still spec'ing Ultegra RX are utilizing third party crank options by companies such as Easton and Praxis.
Ultegra 2x 11-Speed is yesterday's news for road, perception may be that a new bike spec'd with Ultegra RX 11-Speed is substantially lesser in performance than one with GRX, which itself is an 11-Speed system.
There isn't much else bad to say about Ultegra, it is simply that good… almost on par with Dura-Ace but a little more weight.
Shimano Electronic Disc Brake Groupsets
I've always thought highly of electronic shifting ever since Mavic brought their 8-Speed Zap system to market around 1993 (my Zap gruppos still work!), and later, the admittedly dodgy wireless version of Zap, Mektronic 9-Speed. Call me a Shimano fanboy, in my opinion, Shimano has set the benchmark for electronic shifting with Di2. Do you need it? No. Does it work better than mechanical shifting in the foulest of weather? Yes. Will it ruin your life if you ever ride it? Yes! It is so good, Jay Petervary rides GRX Di2 exclusively, and most of us know he pushes his body and bike to extremes…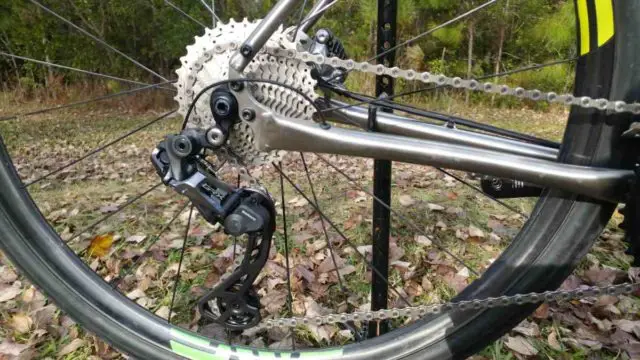 I've been riding Di2 since the original 10-Speed Dura-Ace 7970 groupset was released around 2009. Every version of Di2 has proven bombproof reliable, and these people who make stupid claims about the battery dying during a ride don't understand how simple it is to check the battery level. In the case of 2x, place the chain onto the small chainring, then hold down the small chainring button and whala! Battery status light will display on Junction Box A.
This brings us to Shimano's electronic groupsets that are relevant on gravel; Shimano GRX Di2 and Ultegra RX Di2.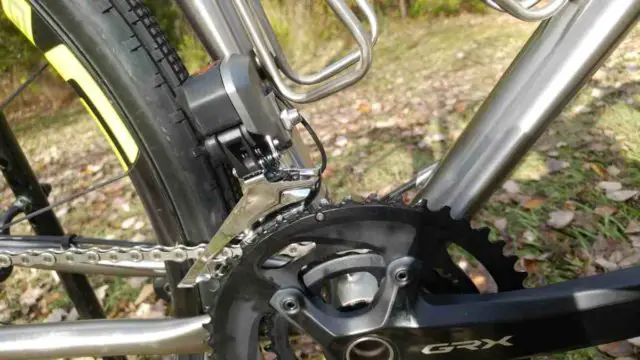 Shimano GRX Di2 1x and 2x 11-Speed:
The same cranks and brakes as Shimano GRX mechanical, and that's where the similarities end. Electronic front and rear derailleurs for GRX Di2, battery, wiring, junction boxes and the option of additional shifters for climbing, etc.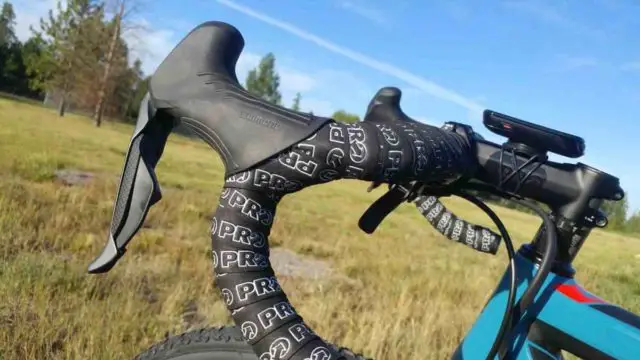 Shimano GRX Di2 1x and 2x 11-Speed – The Good:
The same positives of mechanical Shimano GRX apply to Di2, except the shifting is even better.
Di2 can save a rider's energy. Just think, an average rider will execute somewhere between 3,000 and 4,000 gear shifts for a 200-mile gravel race such as Dirty Kanza. With Di2, a button push executes a gear shift. With mechanical, more energy is used, particularly during upshifts on the rear derailleur, and shifting to the big chainring assuming a 2x system. Need further Di2 intel? Di2Stats.com is home to all of the Di2 shifting data you could ever wish for.
Excellent battery life.
Plenty of customizing options for shifting. Multi-shift, synchro, semi-synchro and so on.
Easy adjustments of the system on the fly. One can place the bike into adjustment mode from Junction Box A, and tweak derailleur alignment, etc, whilst still riding.
The same higher pivot point for the brake lever crosses over to Di2.
Climbing shifters, etc, rule!
I am reviewing GRX Di2 2x long-term with the crosstop levers, watch this space!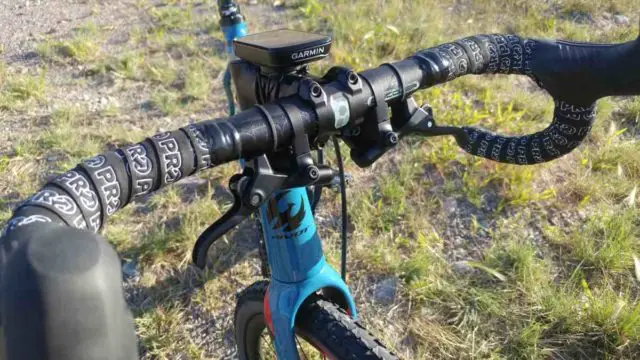 Shimano GRX Di2 2x 11-Speed – The Bad:
How do you find anything wrong with Shimano GRX Di2?
Nitpicking… if you set up your own bike, running the Di2 wiring can be a painful process, but it is set and forget. A moot point if you ask me.
Wireless access to Di2 for firmware and configuration using the EW-WU111 module is flaky.
The same minor gripes about 46/30 chainrings and 11-36 cassettes apply to GRX Di2.
Some people complain Di2 isn't wireless. I understand that point, but to me, wireless has only two advantages; a travel bike such as the Ritchey Breakaway CX, and initial system setup.
The groupset doesn't win style points if that's your thing.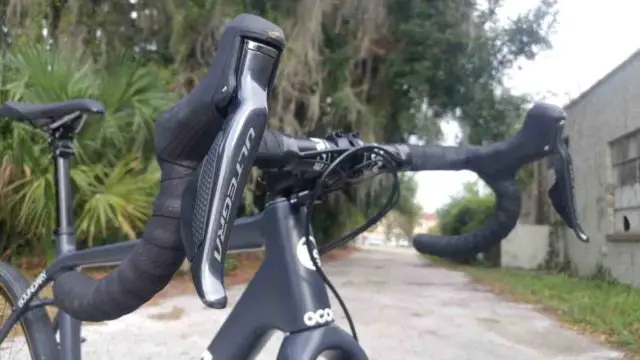 Shimano Ultegra RX Di2 2x 11-Speed – The Good:
The same positive points of GRX Di2 apply to Ultegra RX Di2.
Road groupset but adapts well to gravel – see my review of the Ocoee Boundary.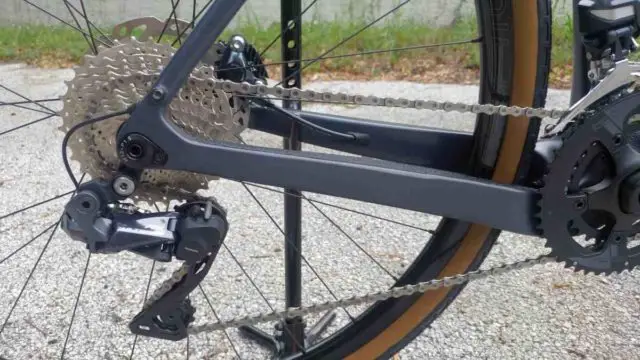 Shimano Ultegra RX Di2 2x 11-Speed – The Bad:
Not as relevant now that GRX Di2 is on the market.
Gearing is mostly optimized for road, but read my earlier points about the 46/36T chainring pairing.
SRAM Mechanical Disc Brake Groupsets
SRAM produces a range of groupsets at various price points for most budgets. Like Shimano earlier, this article will focus on the groupsets that are geared towards gravel, or are most commonly spec'd on gravel bikes. In this case, that would be SRAM's Force, Rival and Apex groupsets… but the 1x versions.
I hear you asking, why aren't the 2x versions of these SRAM groupsets receiving any love? Based on my observations of SRAM spec'd bikes over the years, unless I've missed it, every single SRAM-equipped gravel bike is 1x. In fact, I questioned a SRAM engineer at the final Las Vegas Interbike show, about the issue of SRAM eTap version one (the 11-speed version), not having enough clearance between the front derailleur battery and the rear tyre. His answer? Gravel is 1x, the front derailleur isn't needed. Err… OK then.
With that said, SRAM offers the following crankset options for 2x if you are so inclined; 46/36 for Force 2x, 46/34 for SRAM Rival (S-390 crankset) and 46/34, and 48/34 for Apex.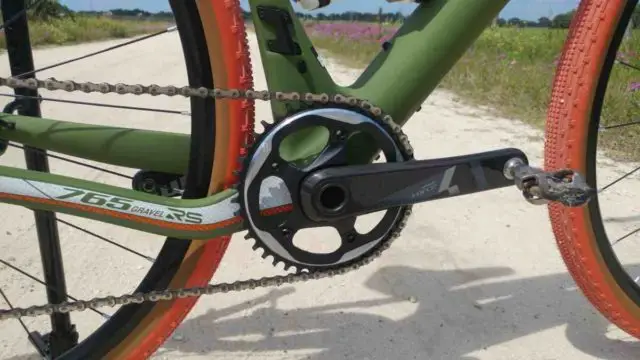 SRAM Force Mechanical 1x 11-Speed – The Good:
11-Speed, PG1170 cassettes are affordable and compatible with Shimano's 11-Speed cassette body. However, for a wider range of gears, you'll need something like the XG-1175 cassette which has a range of 10T-42T and relies on SRAM's XD driver.
Good cassette ratios with PG1170, particularly the 11-32 (11,12,13,14,15,17,19,22,25,28,32) and the 11-36 (11,12,13,15,17,19,22,25,28,32,36) – the gaps aren't terrible, but remember, the smallest chainring on Force 1x without going third party is 38T.
The first component manufacturer to feature a derailleur with an integrated clutch.
Shift / brake levers are comfy in the hand.
The first component manufacturer to utilize the functionality of a shifter ordinarily designed for shifting a front derailleur, and reconstitute it to trigger a dropper seatpost.
A lot of people poo poo SRAM's brakes (they use DOT fluid), but I've found their feel and performance to be excellent. Plenty of power and modulation, and their feel is reminiscent to me of a really tight set of rim brake calipers. Almost instant pad on rotor once you depress the brake lever, something I really like.
Flat-bar shifter option.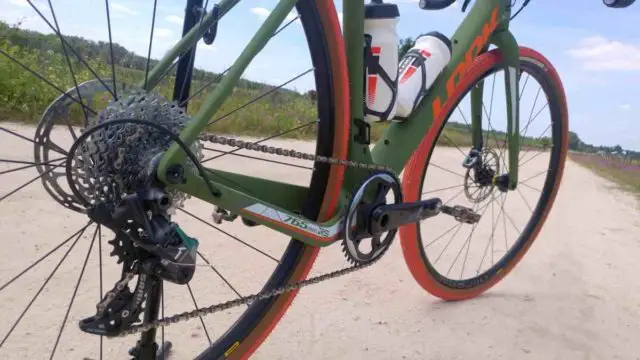 SRAM Force Mechanical 1x 11-Speed – The Bad:
Honestly, SRAM is just killing themselves not pushing 2x as an option for OEM (original equipment manufacturer) on gravel bikes. Their thought that 1x is for gravel is just plain silly to me. People want options. I don't like 1x too much, but some people love it. Give riders what they want, versus forcing options down their throat.
Double-tap shifting feels clunky to me. With practice, you can avoid over-shifting back up the cassette, but the one shift paddle on SRAM is a single point of failure in my mind. I've never liked this design.
DOT brake fluid should be for cars, not bicycles. Mineral oil is where it's at.
SRAM Rival Mechanical 1x 11-Speed – The Good:
All of the good points from SRAM Force Mechanical apply here.
Technology has trickled down from Force, Red, etc, but you pay less money, an example is the 10-42T PG1130 cassette.
11-32T cassette option (11,12,13,14,15,17,19,22,25,28,32)
SRAM Rival Mechanical 1x 11-Speed – The Bad:
Only two cassette options worth mentioning, the rest are more road-oriented.
The 11-32T cassette is great for a 2x crank, but paired to a SRAM Force 1x crankset with the smallest chainring option being 38T, this is less than optimal.
SRAM Apex Mechanical 1x 11-Speed – The Good:
All of the good points from SRAM Force Mechanical apply here.
Technology has trickled down from Force, Red, etc.
Attractive pricing.
SRAM Apex Mechanical 1x 11-Speed – The Bad:
No Apex specific cassette options, which isn't necessarily a bad thing.
SRAM eTap AXS (Electronic) Disc Brake Groupsets
"Road riders are going beyond where we've ever gone before. We're going further and faster. And when the road stops, we keep going. One thing hasn't changed: We want to push those boundaries without any distractions. Exploring new limits has never been easier. SRAM RED and Force eTap AXS™—Simply Beyond."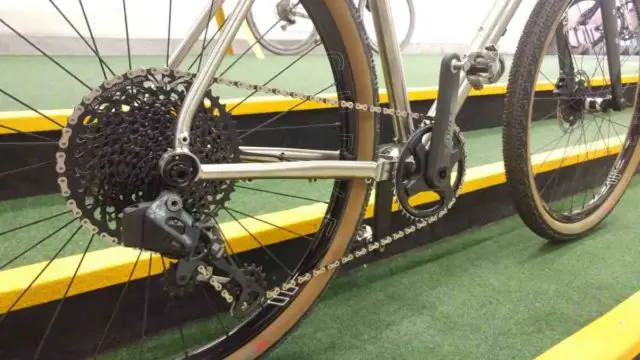 SRAM eTap AXS is arguably the most intuitive of all the electronic groupsets available on the market. Rather than configure their electronic shifters to mimic an electronic version of a mechanical shifter, SRAM relies on a simple concept; left side shifter button – shift the derailleur left to an easier gear, right side shifter button – shift the derailleur right to a harder gear. For 2x, pressing both shifter buttons simultaneously triggers a front derailleur shift, up or down, depending on its current position. You can do other clever stuff such as trigger an AXS compatible wireless seatpost.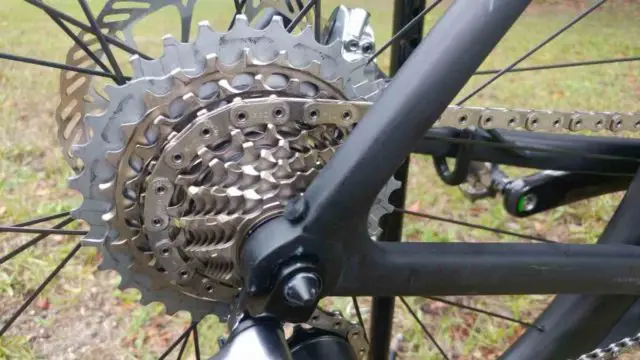 SRAM's eTap design may have come into existence to get around an electronic shifter patent?, but no matter the case, eTap is super easy to use. I have detailed posts about the SRAM Red AXS system here, and the SRAM Force AXS system here, (Force AXS review here) so I won't go into super detail, but crack on with the good and bad of both systems.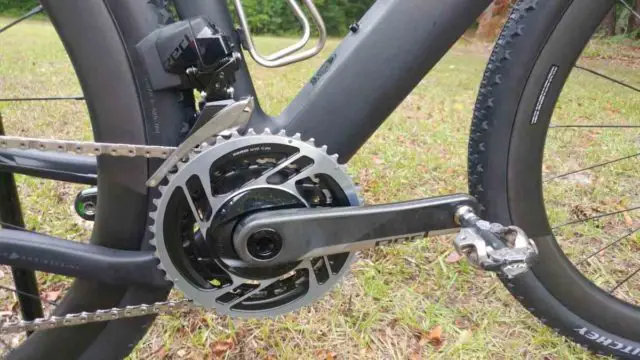 SRAM Red AXS eTap 1x and 2x 12-Speed – The Good:
12-Speed, who doesn't love another cog!
Super easy shifting, speed is improved over the original 11-Speed eTap.
Tons of customizing options with the AXS phone app.
The easiest electronic system for the initial setup. No wires to run, and easy to adjust the rear derailleur whilst still riding.
Fluid clutch works well in mud and saves weight and complexity versus a true mechanical clutch.
Cassettes are incredibly easy to install as they are one piece.
1x "Mullet" build is easy to do with a SRAM Eagle AXS 12-Speed derailleur.
Blip shifters provide additional places to shift gears, love it!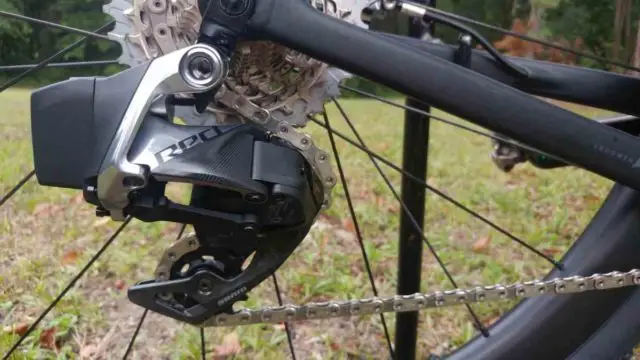 SRAM Red AXS eTap 1x and 2x 12-Speed – The Bad:
Expensive!
SRAM's X-Range gearing technology is great for road bikes, but falls short on gravel
2x 46/33 gearing on the crankset is OK, but 46/31 or 46/30 options would be better.
The 10-33 cassette is an absolute work of engineering art, but the 10T cog is mostly a waste of time on gravel. SRAM, please produce an 11-36T 12-Speed cassette, this would greatly help the 46/33 chainring pairing. Additionally, the cassettes are far too expensive, so a smart consumer would substitute for Force level come replacement time.
1x 36T chainring is too big when paired with the 10-33 cassette.
Derailleur battery life falls short versus Campagnolo, Shimano and FSA.
Four batteries to worry about – front (2x) and rear derailleur, and shifter batteries. Admittedly, the shifter batteries last forever. My original 11-Speed batteries from over two years ago are still going strong! However, carrying a spare derailleur battery is highly recommended (they are very small).
Potential front derailleur clearance issues between the tyre and would-be mud still exist.
XDR cassette driver is yet another standard for wheels.
"Mullet" build 1x may have 500% range with the Eagle 10-50T cassette, but its highly annoying gaps are amplified at this level.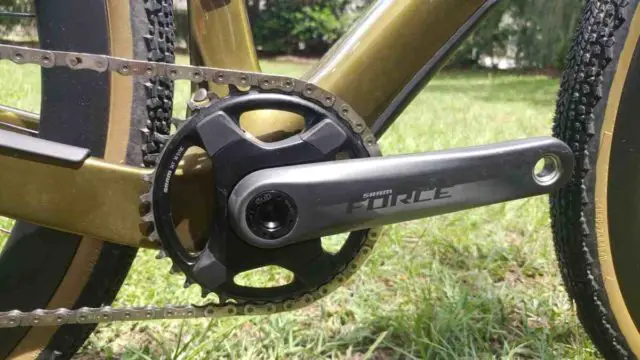 SRAM Force AXS eTap 1x and 2x 12-Speed – The Good:
All of the positives of Red AXS eTap apply.
Considerably less costly than Red. Unless you're into saving a small amount of weight, Force AXS eTap is a winner.
Cassettes are somewhat affordable.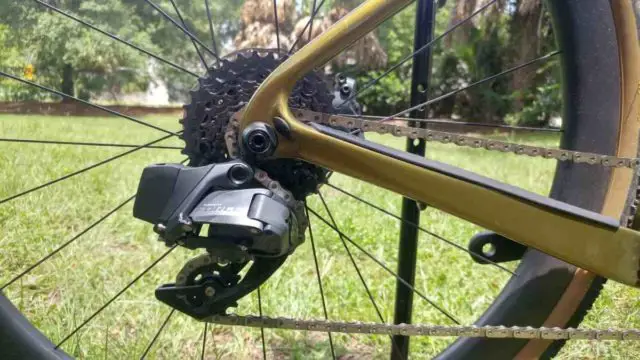 SRAM Force AXS eTap 1x and 2x 12-Speed – The Bad:
The same negatives from Red AXS eTap apply barring the Force level cassettes.
If you're into the game of replacing individual cogs, that isn't possible of any of SRAM's one-piece cassettes.
Summary
Hopefully you found this article useful on my take of what's good and bad about the current groupset offerings I consider relevant for gravel bikes. Helpful feedback is welcomed, thanks for reading!