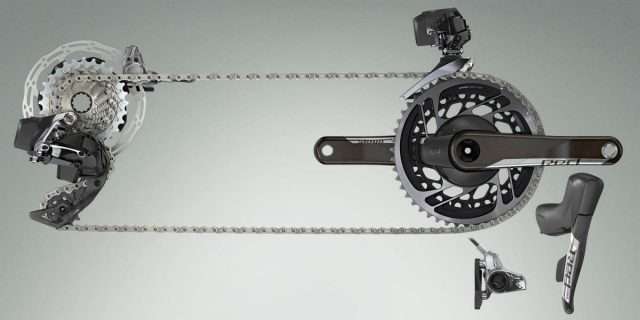 "Road riders are going beyond where we've ever gone before. We're going further and faster. And when the road stops, we keep going. One thing hasn't changed: We want to push those boundaries without any distractions."
"So we made eTap AXS™ for today's riders. The result: an intuitive, high-performance groupset that means you can focus on what's most important—your ride." – SRAM
SRAM RED eTap AXS is available February 2019.
Always in the Right Gear
"Road bikes are faster and more capable than ever, and riders are expanding what's possible with drop bar bikes. X-Range™ offers wider range, more useful and smoother gear progression, as well as smarter shift settings—enabled by AXS™."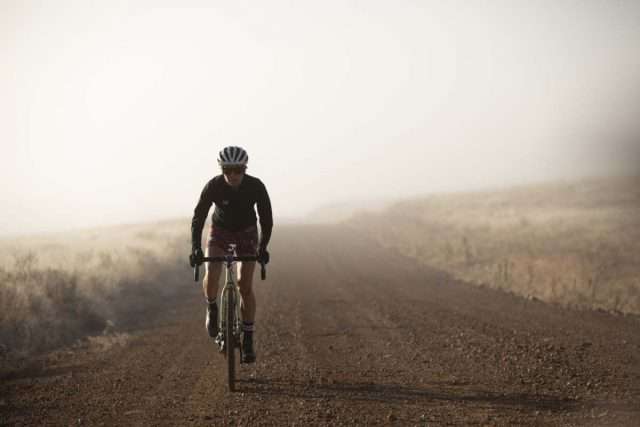 Quiet, Secure and Smooth
"On tarmac or gravel, 1x or 2x, eTap AXS™ gives a quiet, secure, and smooth ride. Thanks to Orbit™ chain management and a unique Flattop™ chain, you'll ride more confidently and efficiently than ever—no matter the terrain."
Easily Personalized
"Control. Personalize. Monitor. AXS™—SRAM's new bike component integration system—takes eTap wireless shifting to the next level. The SRAM AXS™ app allows riders to see battery status, change component behavior, personalize controls, get maintenance reminders, and update firmware."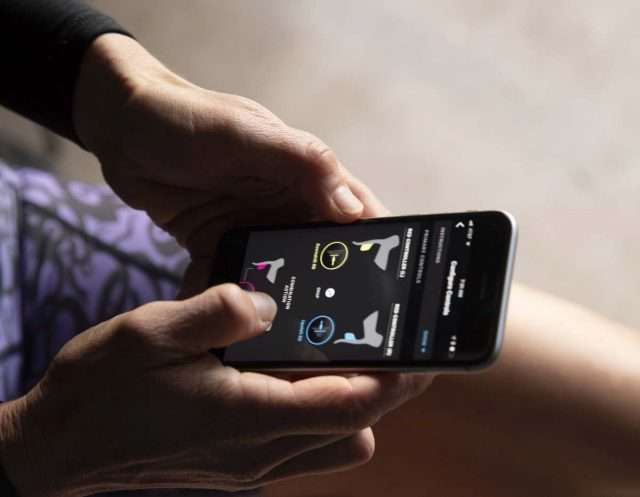 Video Overview
More Tech Details
Before everyone gets excited, there is some bad new. None of the new eTap 12-speed AXS components are compatible with the original 11-speed version of eTap. Pretty much everything has changed in the shifting components; new electronics, an additional cog, a new chain and derailleur geometry. However, there is one significant improvement that will delight gravel cyclist types, more on that later in this article.
SRAM 12-speed eTap Terminology
AXS is the nomenclature SRAM have devised to describe this latest version of eTap. Anything branded with AXS is compatible with similarly branded parts across the brand.
AXS App, aka the software on your phone to customize the system, including helpful metrics such as the remaining battery power, number of shifts, etc.
FlatTop, the name for SRAM's 12-speed chain. Narrower, and claimed to be stronger, quieter with improved durability.
Orbit Chain Management, aka a newly-designed fluid clutch-like mechanism in the rear derailleur.
X-Range is SRAM's new gearing concept, more on that below.
XDR, aka the road-going version of SRAM's XD driver.
Chainrings and Gear Ratios
SRAM have been doing their homework in this department, regardless if you're a fan of 1x or 2x. Granted, the gaps of 1x are always going to be unpleasant for some, but they become a little less noticeable with the addition of a 12th cog.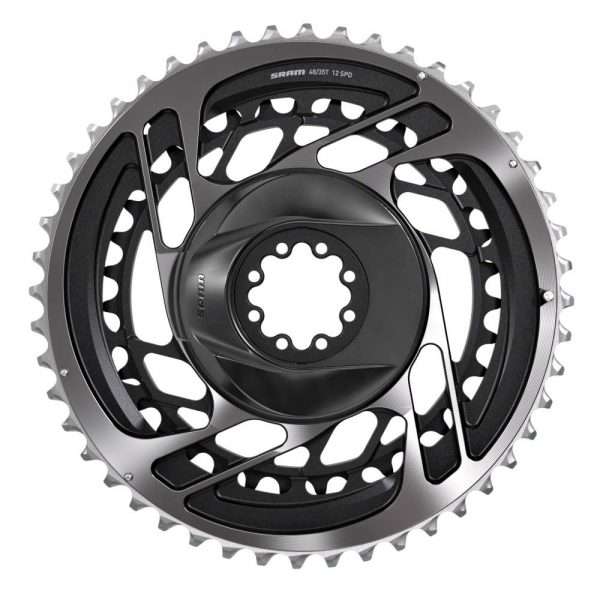 First up is the venerable double chainring. Love it or hate it, they are still a valid choice for gravel cyclists. (our part two survey results confirm this, coming soon I promise!) SRAM have upped the ante significantly with the quality of their direct-mount, one-piece chainrings. I've yet to see these in person, but the press release images of the goodies look quite the part. There are six chainring and cassette combinations on offer, which are designed to be paired together for optimal performance.
The traditional roadie type chainrings and cassettes:
53/39 with 11-25 cassette
52/36 with 11-28 cassette
50/34 with 11-32 cassette

Then there is the "X-Range", that maintains a 13-tooth difference between the big and small chainrings. Those combinations are more gravel friendly, as follows:
50/37 with 10-26 cassette
48/35 with 10-28 cassette
46/33 with 10-33 cassette
The following chart provided by SRAM explains the gearing a little better.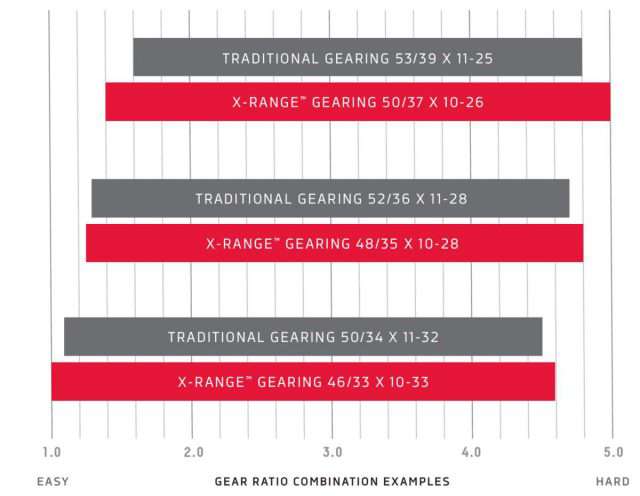 Furthermore, the next chart details the increased number of one-tooth jumps on SRAM eTap AXS 12-speed versus some of the more standard 11-speed cassettes currently on the market. Much as I love the standard ratio 11-speed 11-32 cassette when riding solo, the gaps in that cassette are annoying when suffering on a fast gravel group ride!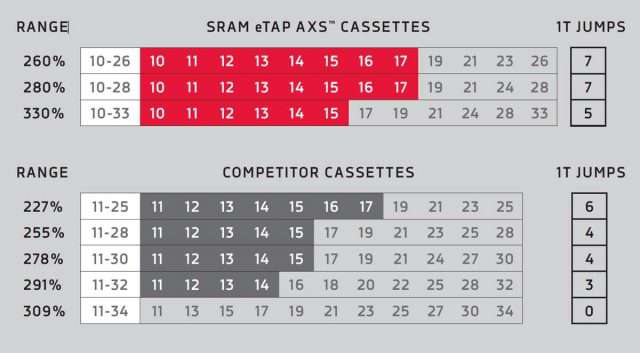 As a safety measure for accidental chain pickup to the big chainring, there is a firmware block to prevent you from riding the small chainring and the 10-tooth cog at the same time.
Cranksets
SRAM RED's 12-speed cranks are available in 1x, 2x and aero variants. Of interest, the aero time trial chainrings are 1x only, namely 48T and 50T. Seems a segment of the triathlon market is good with ditching the front derailleur as well.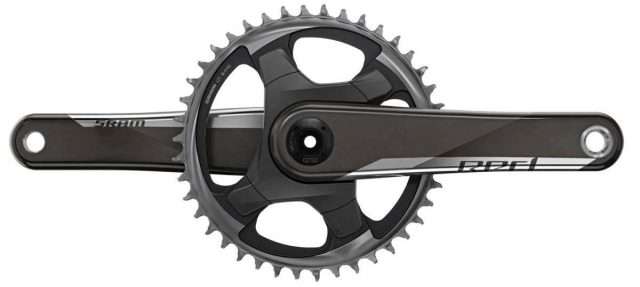 For the 1x crowd, SRAM will offer 36 to 50 tooth counts in two tooth, even number increments. The 1x tooth profile on these cranks is borrowed from the company's X-Sync mountain bike tech, designed to improved chain retention.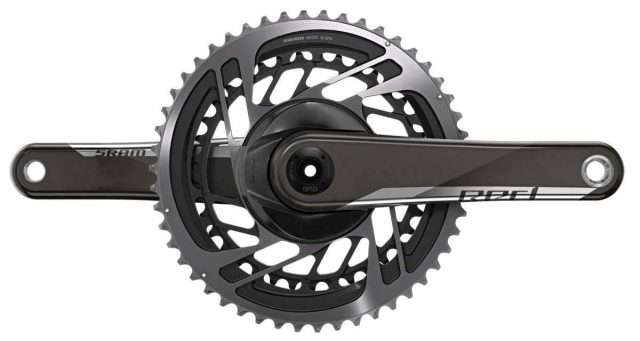 Above, the swanky looking SRAM RED 12-speed crank with one-piece machined 2x chainrings.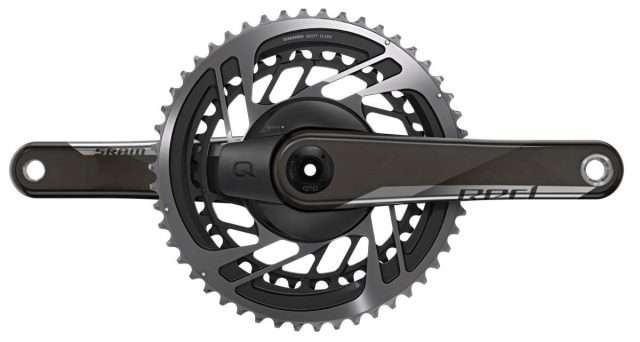 If you're a power meter user, SRAM and Quarq (a member of the SRAM family) have got you covered, with their neatly integrated power measurement system.
SRAM 12-speed X-Range Cassette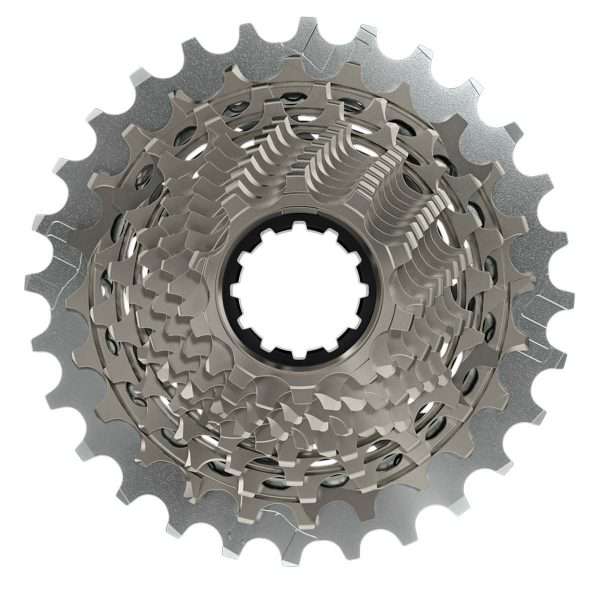 The X-Range cassettes fit 12 cogs into the space of 11, and the new XDR system for mounting is partly responsible.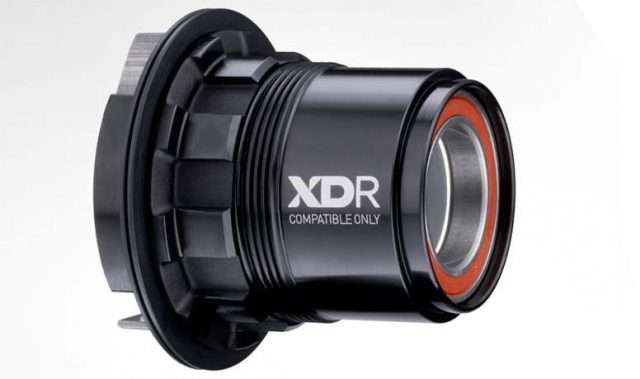 The cassette is a smidge wider than its 11-speed equivalent, but because the final 10-tooth cog is so small, there is a little more wiggle room near the rear dropout. Naturally, clearance is on a bike by bike basis.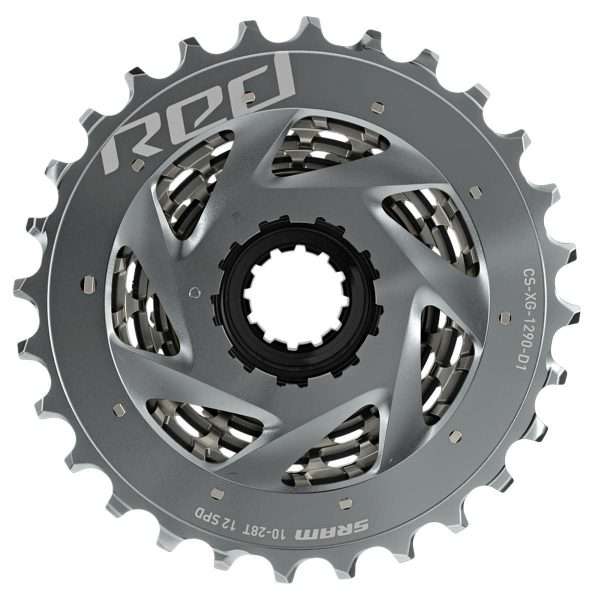 The new one-piece cassette is machined from steel as with the 11-speed RED cassette, although the cogs are thinner. SRAM claims the 12-speed cassette is just as durable and strong as the 11-speed version.
12-speed FlatTop Chain

Being thinner, the new chain would seemingly lose strength. However, extra material is added at the top of each chain plate which gives the chain its unique look, versus the usual number eight shape we are all used to seeing. Claimed weight is spot on with 11-speed chains. Enhancing durability is the chain's hard chrome finish treatment, claimed to reduce wear by at least 50%. This should greatly benefit the system's cassettes and chainrings as well.
12-speed eTap AXS Shifters
Slightly slower shifting speed versus a wired electronic system has long been a complaint of the original eTap. After riding the original eTap system for two years, I eventually noticed the slower shifts.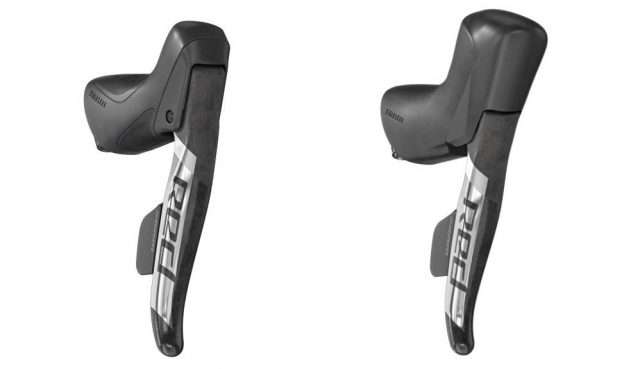 The shifters have been updated with improved electronics, claimed to execute one's shift inputs markedly faster. The lever hood shapes for rim and disc brakes remain the same, but with changes to shift paddle shape and size, etc. The location of the CR2032 battery has been shifted to the top of the lever, another solid improvement.
SRAM RED eTap AXS Front Derailleur
Tyre clearance between the front derailleur's battery has been a huge issue on the original 11-speed eTap, and I've complained about it multiple times to SRAM at trade shows (but I've always been nice about it).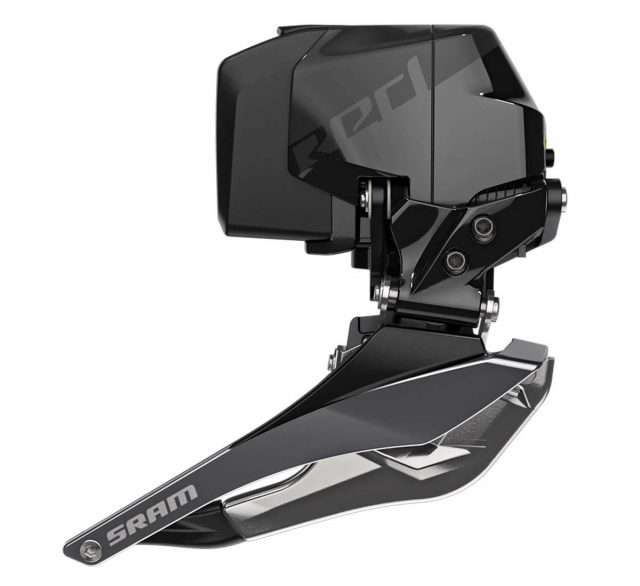 The battery of the new front derailleur doesn't sit quite as inboard as the original, providing an additional 2.5mm of clearance. SRAM state the front derailleur plays nicely with a 700c x 42mm tyre and 415mm chainstays.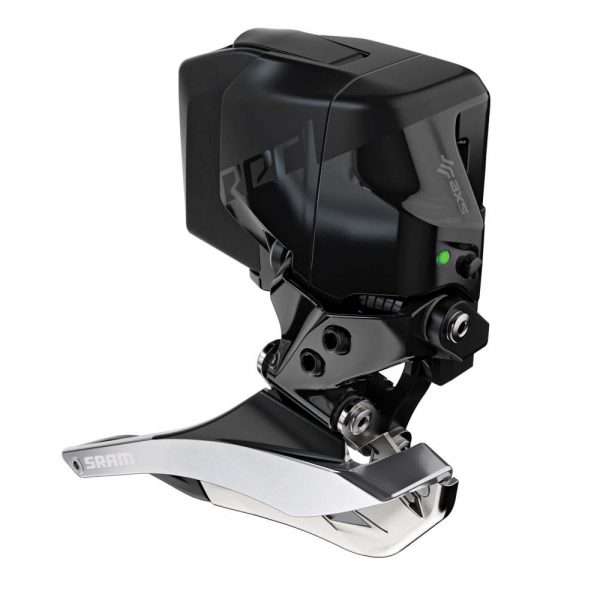 Considering a ton of bikes feature 420mm to 425mm chainstays, this is a nice improvement. Kudos SRAM for listening to input from the editor of this article and visitors to GravelCyclist.com! Additionally, improved electronics including the motor units ensure shifts are faster than ever.
SRAM RED eTap AXS Rear Derailleur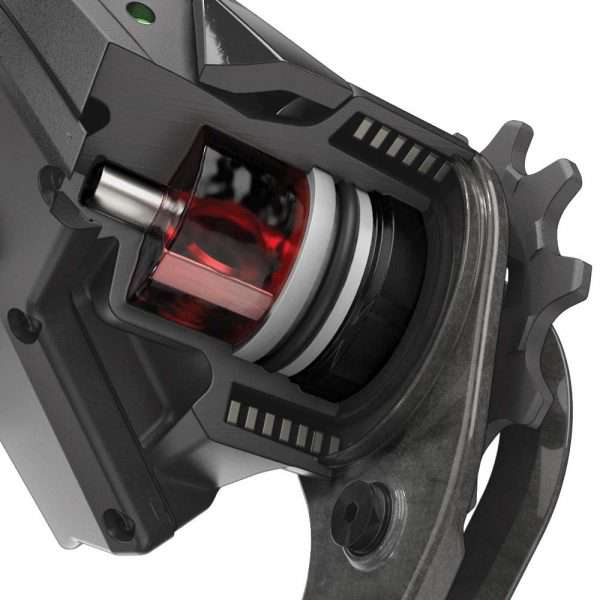 Another area of the groupset that sees a massive improvement is the rear derailleur. Known as "Orbit", the eTap AXS rear derailleur features a fluid damper, that serves the place of a clutch, but without resorting to a mechanical clutch. In reality, the derailleur features a speed sensitive damping system.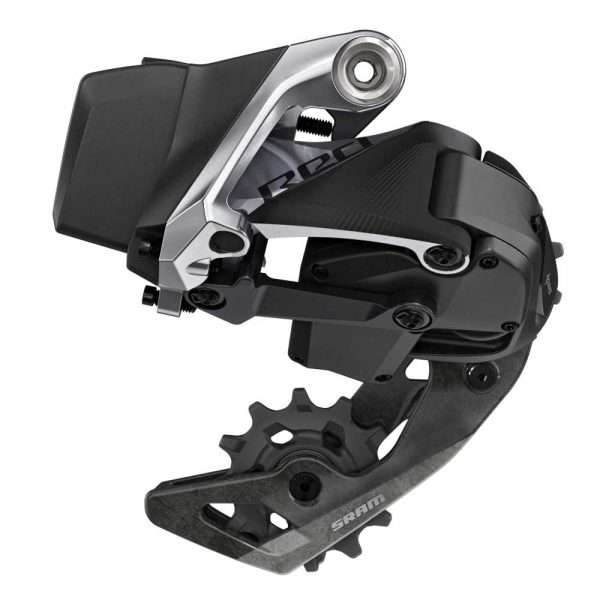 How does the fluid damping work? Inside the fluid compartment, the forces of resistance are at work. There is a vane / aka paddle that moves through the fluid as the derailleur cage is moved forward. A bump would ordinarily cause the chain to jump and pull the derailleur cage forward. But, the resistance of the vane against the fluid prevents that from happening. Very tricky.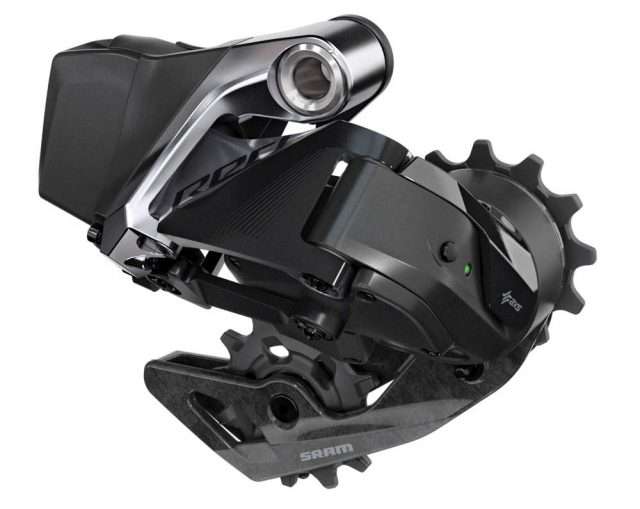 There is just one model of the derailleur available at the moment, and it is more a mid-cage design. The derailleur is compatible with 1x and 2x, and SRAM claims shifting on 1x is a tiny bit faster, as the rear derailleur forgoes the need to check against front derailleur positioning.
Blip Buttons aka Satellite Shifters
Unfortunately, I have no images available of the Blip Buttons, but I understand they remain the same as the originals. Thus, they keep their less than pleasing tactile feel. With all of the improvements elsewhere in the eTap system, SRAM can be granted a pass on this one

On the positive, the ports for the Blip Buttons on the shifters have undergone some improvements. They are no longer just switches that are tied to the shift levers. Shifting tasks can still be assigned, but other gadgets can be integrated. Think dropper seatpost, perhaps computer integration (similar to what Shimano does with Garmin / Di2 and changing screens).
Hydraulic Brake Calipers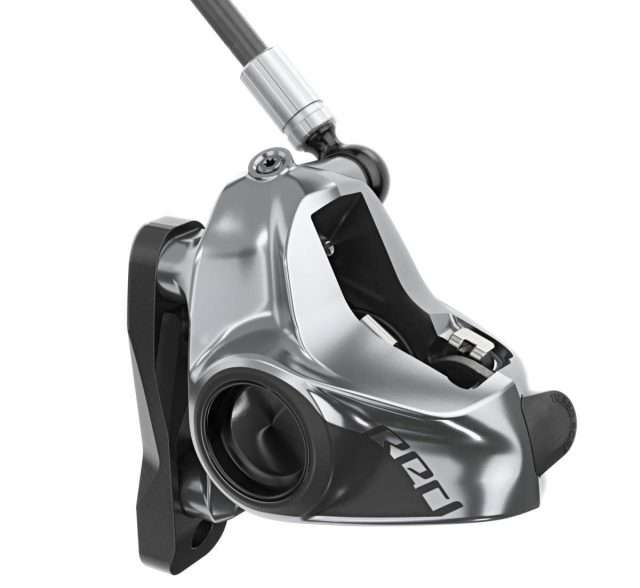 The brake calipers receive some minor cosmetic tweaks, which in my opinion, are a nice improvement over the original SRAM RED hydraulic brake calipers. Very svelte.
The SRAM AXS Phone App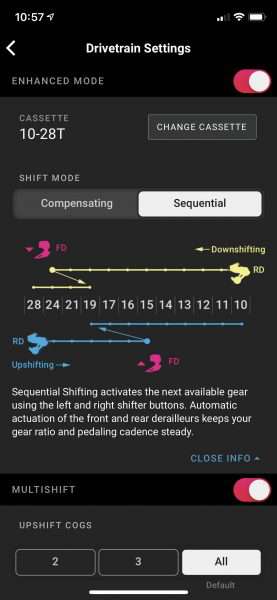 Let it be known that you do not need to use the AXS app in order to ride SRAM eTAP AXS. Rather, it is there to configure and enhance your riding experience. I won't go into great detail here, but there is an "Enhanced Mode" available, that provides two versions of auto-shifting, Sequential and Compensating.
The Sequential mode will automatically shift the front derailleur as you shift gears on the cassette. Think the next biggest or smallest gear in inches and optimizing one's cadence at the same time.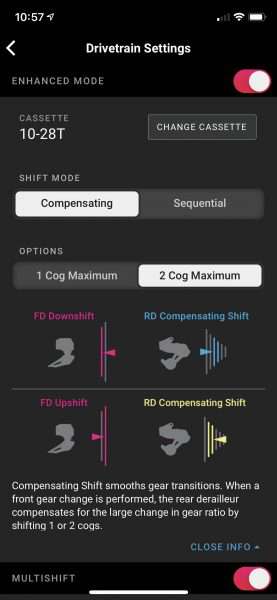 The Compensating mode is actuated when the front derailleur is shifted; the rear derailleur will automatically shift one to two shifts in the appropriate direction to help maintain a nice pedaling cadence.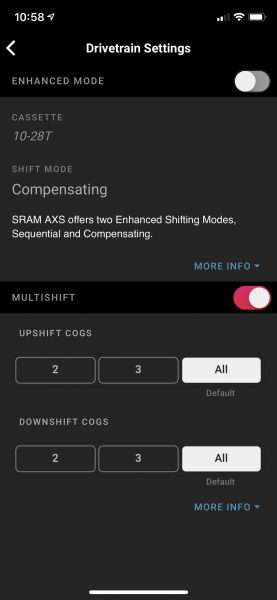 Both shift settings require you to specify the cassette and chainring combinations inside the app for optimal performance.
As the images above indicate, the app allows you to configure multi-shift (hold down the paddle to fire off multiple shifts), and individual assignment of shifter paddles, etc. The other S company has been at this a while with their electonic shifting system, so it's pleasing to see SRAM have upped their game for the newest version of eTap.
Hurry up and take my money!
SRAM RED eTap AXS is available now, although it may be a while before you see it trickle through to your local bike shop. SRAM have partnered with several bike brands fitting the groupset as OEM, and I expect a gravel bike or two may make that list. Price on the HRD aka disc brake version of SRAM RED eTap AXS groupset is $US 3,648 – it isn't cheap.
SRAM is releasing a lower-tier Force version of eTap AXS in April of 2019, likely to coincide with the Sea Otter show in Monterey, California? I'll be attending that show, so watch this space!
My next question is… how long before the other S company releases their version of 12-speed, mechanical or electronic, and will FSA follow suit with their rarely seen WE system? As we know, Campagnolo were first to the 12-speed party and have mechanical and electronic versions of their drivetrains available now. I just hope 11-speed cassettes (ditto for 10-speed) stick around for a bit longer!