The Georgia Gravel Grinduro, aka the 3G, was a new event for 2018, and set in the Appalachian mountains of Georgia. When people think of Georgia, they usually associate the state with peaches, Peachtree Street (if you're in Atlanta), and Atlanta itself, a former host to the Olympic games in 1996. But mountains?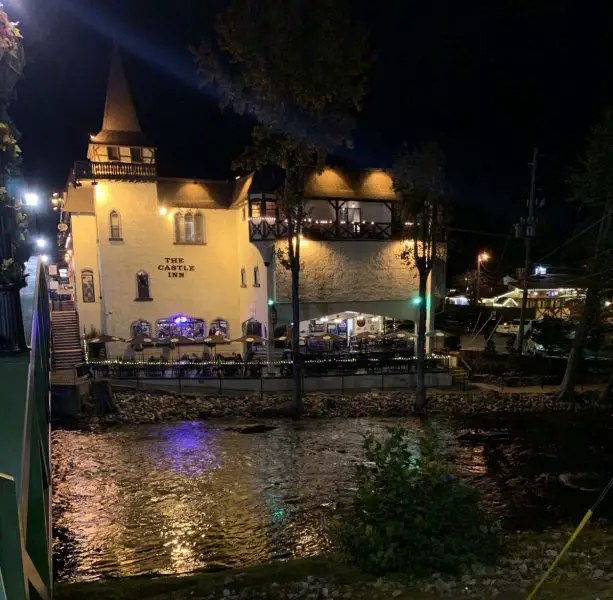 Helen, Georgia is located about 90ish miles northeast of Atlanta. The town is a replica of a Bavarian alpine town, and a popular spot for weekend visitors from Atlanta, particularly around the month of October.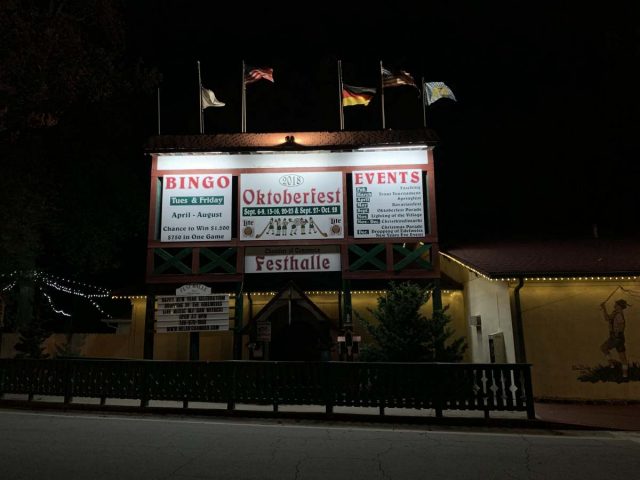 The small town hosts its own Oktoberfest, and is also popular among the leaf peepers… those folks who enjoy viewing the autumn / fall colours of the leaves in the area.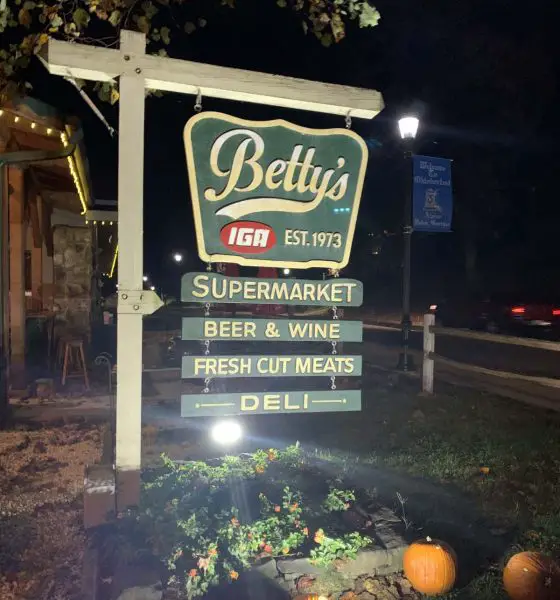 Taking in this beauty from a car is a rather so-so experience (unless you're in a sports car or convertible) when compared to the saddle of a bicycle. And that's what happened on Saturday, November 3, 2018 in Helen, Georgia. Organized by Mr Tim Molyneaux of Topview Sports, Tim's promotional company has historically been involved with road cycling. Considering Tim relocated to the Georgia mountains a couple of years ago, it was logical he should promote such an event to showcase this area of the world. On tap for rider's consideration were three routes:
Scramble – 28 miles with about 3,500 feet of climbing.
Radical – 62 miles with about 6,400 feet of climbing.
Grinduro – 108 miles with about 10,500 feet of climbing.
Now, It is important to remember that all good cyclists have an equally set of good excuses for lacklustre performances. That's where my race report comes in! Following much travel and antics related to my recent C&O Towpath canal and unPAved experiences (race video from there coming soon!), I'd taken a couple of weeks off the bike. That meant, it was highly likely my form was a bit down, my legs would be totally knackered and I hadn't made any mental preparation for the race. Do you think that stopped me from attending? No effin way!
Helen, Georgia is about six hours in the car from my USA home base of Gainesville, Florida. Once my regular gig had finished for the day on Friday, I made haste for Helen in a Toyota Prius packed with 1 x Litespeed Ultimate G gravel review bike, spare wheels, too many clothes, too much food, etc. In other words, a normal trip where I always have too much stuff accompanying me. Better to have it than want it, right? I'd be rooming with one of my mates from the Orlandoish area of Florida, Mr Chris Tricoli, better known as the jersey-less dude who rode with me recently in Gainesville… but I digress.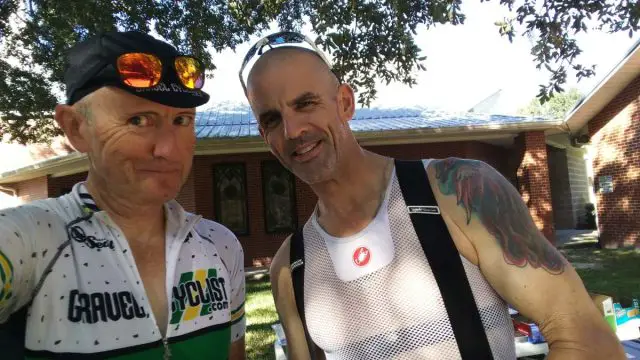 Chris was signed up for the full monty 108-mile distance, whilst I was opting for the lesser but still difficult, Radical route. Tim the promoter did warn people – all three distances are difficult and not for beginners… he is not kidding around.
After a solid night of sleep sharing Chris' accommodations of choice just 300 metres from the start line – sheer brilliance there Chris! – I rolled out the door. Riding 300 metres was a brutal affair, but that was overshadowed by the exuberance of the riders present, and the weather forecast. It was cold at the start, about 39 degrees Fahrenheit, but the forecast high of about 61 degrees Fahrenheit with nary a cloud in the sky – absolute perfection. I made my usual rounds about the start / finish line, socializing and such. Joey, one of the volunteers and local with expert "tribal knowledge", noted my tyre choice.
"Hey JOM, I see you ignored my advice for tyres…" said Joey.
I stupidly replied, "well, I have the wider WTB Resolute tyres sitting on my Xentis wheels, but they're back in the room. I was thinking, yeah, these roads are probably just like the Dahlonega area, so 700c x 38 will probably be fine".
Joey replied, "loose, that's what the conditions are, loose".
"Ruh roh", I thought to myself.
I spent the next minutes wondering then if these Georgia roads would be a repeat of some of the dodgy stuff I encountered in one or two spots in Pennsylvania? Well, not much I can do about it now… race was about to start.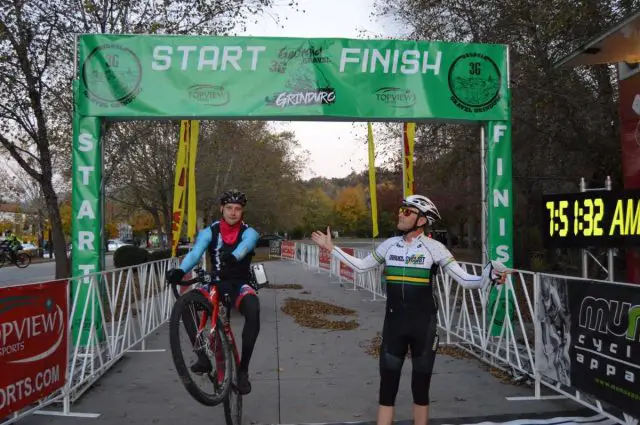 After a rider's meeting, some additional tomfoolery with my good mate, Mr Justin Pfaff, aka Pfaff Junior, the group rolled en masse out of Helen, Georgia and onto the course. A neutral pace was observed and like most gravel races I've attended, there was banter and zero pushing and shoving. Joey and another volunteer led the group out of town on motorcycles, and onto the first sector of dirt and gravel, which would officially kick things off.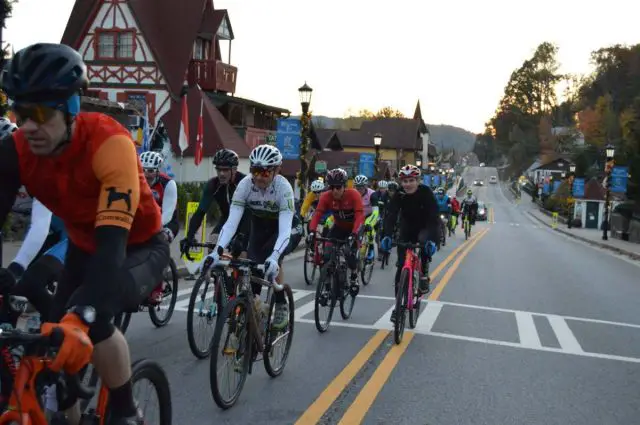 The first sector headed up a punchy little climb, which quickly separated the serious contenders from those hoping to make it over in one piece. I found my place quickly, meaning I was ejected from the front group but in the company of several small groups of riders. Despite coming off a sort of period of rest, my legs felt OK, not great, but nowhere near any sort of peak form. It should be noted I'm not renowned as a top-flight climber.
This first climb was short, and the descent was very fast. Despite having zero tribal knowledge, I scooted to the bottom quickly and safely, ending the descent with a sharp left-hand hairpin turn. You'll have to wait and see the coming race video for this action. The front group of about 25 or so riders was just ahead, but riding a very hard tempo. Pfaff Junior, also coming off a period of rest, was caught briefly in no man's land between the groups before my group scooped him up. Junior had indicated was going to ride with me for the 60 mile distance; I was super happy to have Justin for company. Despite the fact his worst riding form is akin to my best riding form, he's a good lad… he's happy to ride with slower riders such as yours truly… even if he has to wait on the climbs.
The next feat of endurance on the course is a little mountain known as Unicoi Gap. If you've ridden on the road in this neck of the woods, this climb features in the Six Gap Century. However, the 3G was taking the fun way to the summit. The front group was well out of sight now, and even on the foot of the Unicoi gap gravelly climb, riders were scattered all over the place.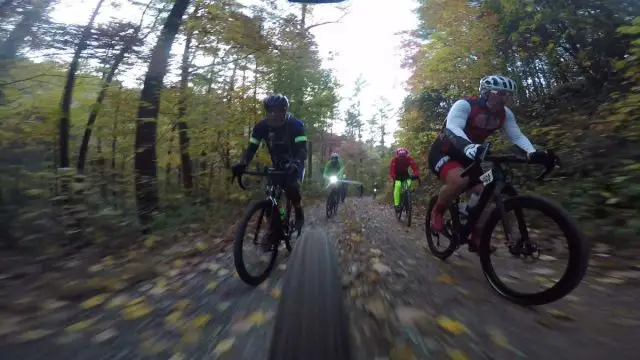 Joey the volunteer was right about the course conditions. Loose stones here and there, which weren't causing trouble, but could cause trouble if you tried to ride out of the saddle on some of the steeper grades. It was around this point in time I realized I'd chosen poorly with my gear and tyre selections. Whilst my 700c x 38mm wide Panaracer Gravelking SK tyres were coping, a wider tyre would have been better. As for my gears, I was riding a Praxis Zayante crankset with 48/32 chainrings and an 11-32 Shimano 11-speed cassette. I was wishing for the 11-34 cassette that cames stock on the Litespeed bike I was aboard. D'oh!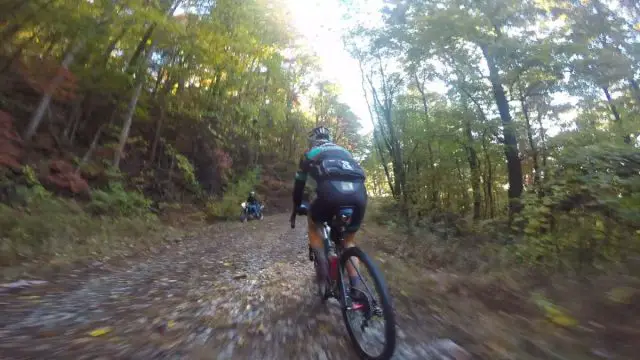 I chugged up the climb, most of it in a one to one, 32 x 32 gear. Notably, I was passed by Carey Lowery, crushing the Grinduro 108-mile distance and the only lady in that field. If you've met Carey, you can usually see her dancing away on the pedals anytime a course goes uphill… and away to the women's win. Carey was at least nice enough to say Hi!, before she rode me off her wheel.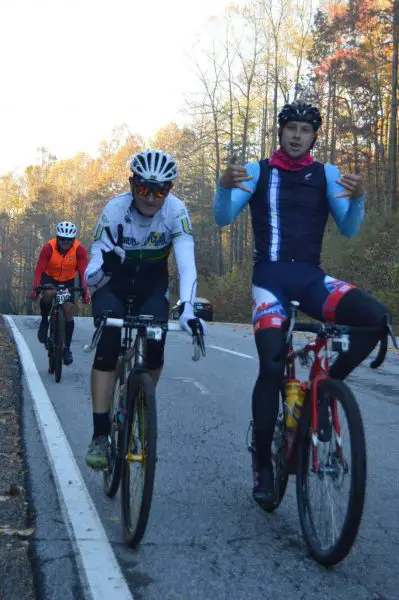 Pfaff Junior was kind enough to wait for me towards the top of the climb, and we crested Unicoi Gap together, on the paved section of the course. The summit was the location of aid station #1, where we took our sweet time in the cold temperatures to enjoy some delicious home-made cookies and other fine treats.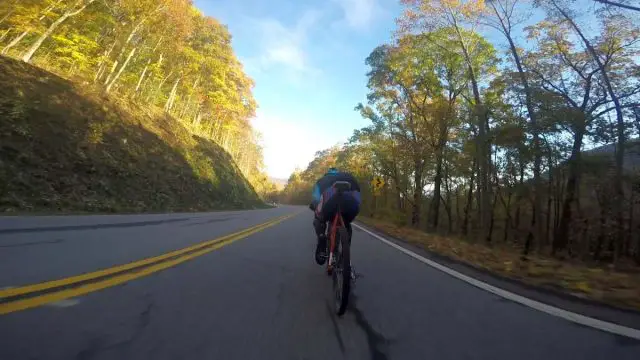 The paved descent off Unicoi was flat out fast and Pfaff Junior held a clinic in descending skills. I'm a good descender, but Junior is another level.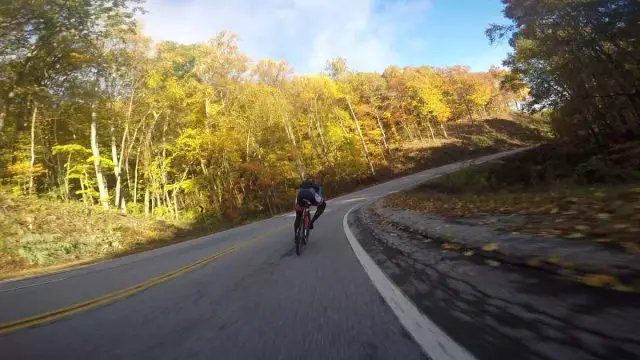 I haven't ridden this descent in a long time, and between Junior's lines and his tuck position, he'd gapped me significantly by the bottom… it also helps that he's 21yo and fearless.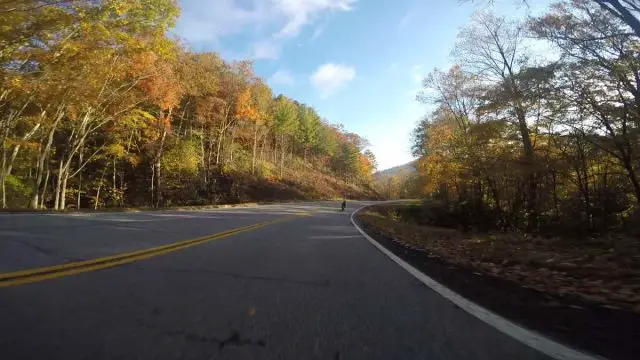 We regrouped and chugged towards the next sector of gravel.
The next sector of dirt and gravel roads would again feature a climb, although its name I do not know. Rocky bastard is one name that comes to mind, but regardless, it was scenic and quite spectacular.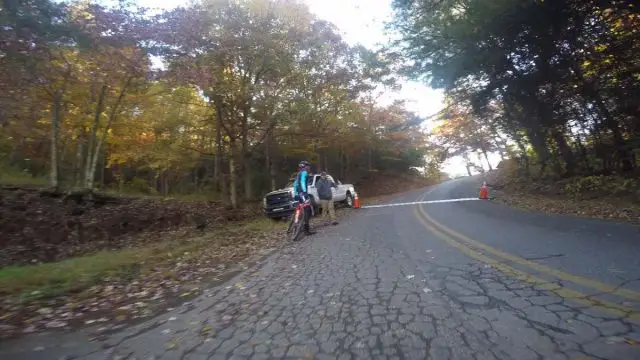 The fun began on the pavement at the bottom, which was kicked off by a timing mat. Tim the promoter had a KOM / QOM competition going on, hence the Grinduro format behind the name. Tim's competition takes all aspects of mountainous gravel riding into account, in that his timed sector records the climb and descent, because a good climber should also be capable of descending. As for me, I descend well and that's about it.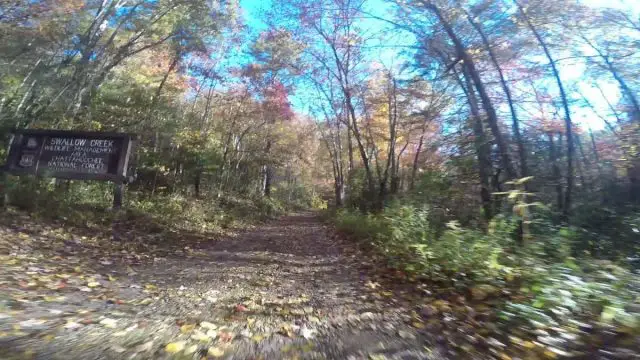 And so the climb began, and it was immediately obvious I'd screwed up my wheel and tyre choices for the second time. Whilst I didn't have too many issues on the first climb, this one was markedly rockier, and not making matters helpful was the fact the rocks were covered by fallen leaves. There were some seriously steep grades all the way to the top of this climb, some measuring in the 16% to 18% range. I cannot speak for the front-runners, but in the mid-pack attack group, there was much walking and pushing of bikes.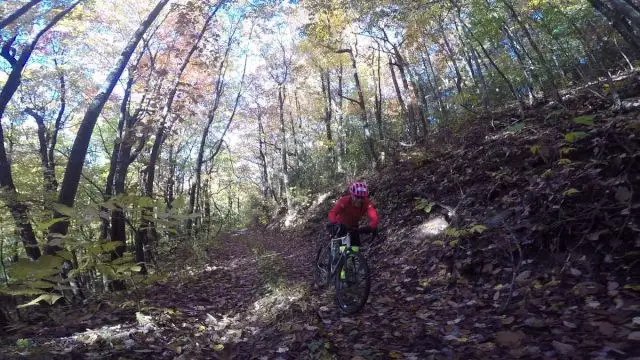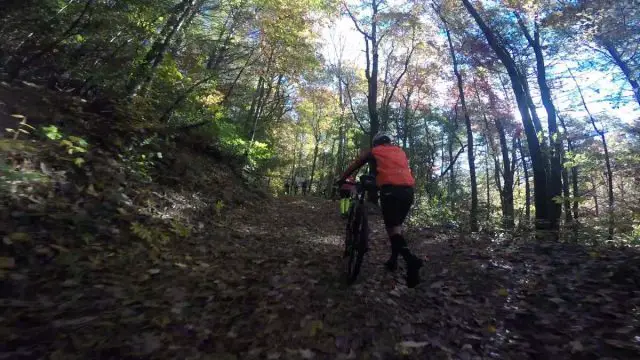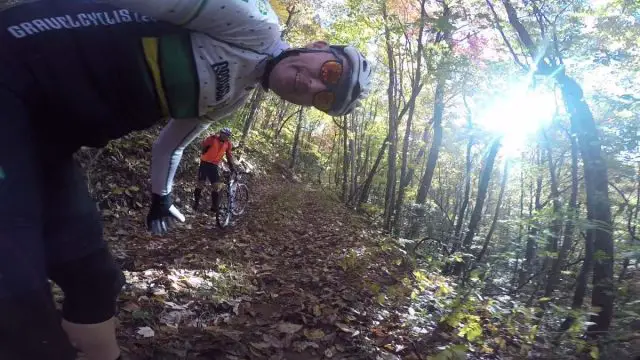 I like a good excuse for walk-a-bout, so I didn't mind getting off and hoofing it whilst admiring the beautiful fall colours of the leaves.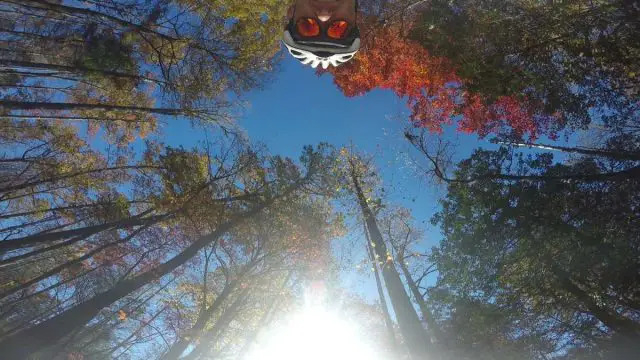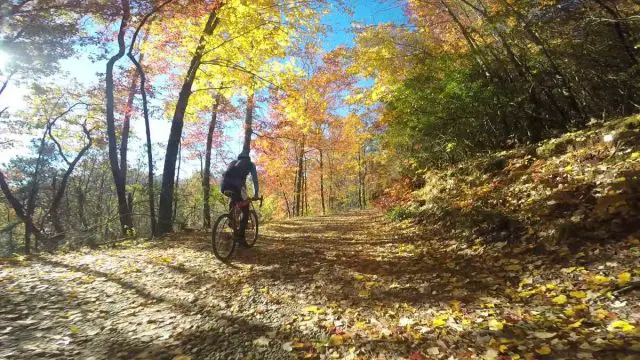 What goes up must go down, and Pfaff Junior, after waiting for me again at strategic points of the climb, led the way down the descent. I had fitted his bike with an older GoPro camera, but it refused to work (nobody likes coming out of retirement), so there will be no descending footage or screen captures of my descending prowess.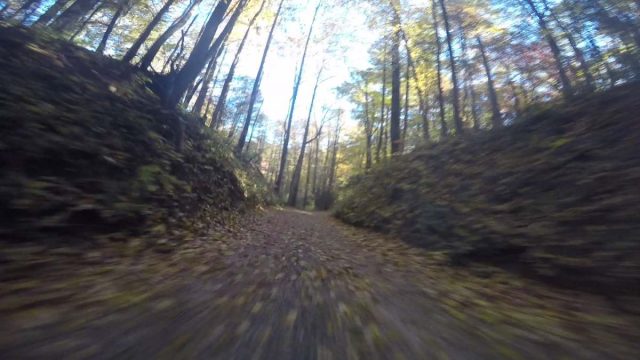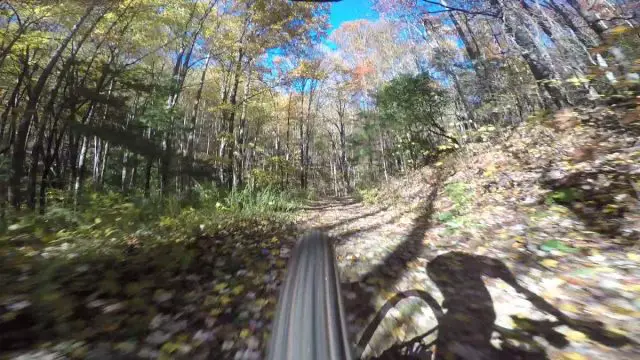 Rather, you'll have to put up imagining me trying to keep Pfaff Junior in view, as he bombed the crap out of the descent. It was rough, fast and a hell of a lot of fun (the coming video shows it well) and NOT a course for beginners. Had I ridden this course some ten years ago, I would have been grumpy poo poo pants but experience counts for a lot! Relax, pulse brake, let the bike float down the mountain as best you can. A mountain bike would have been superb on this descent, but in gravel, you make do.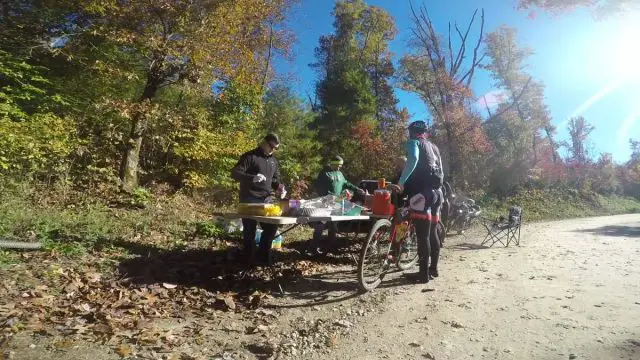 At the bottom on Wildcat Road was the second aid station. Pfaff Junior and I later learned we'd placed in the top 15 for the timed sector for KOM #1 which was surprising, considering how much he'd waited around for me whilst I rode the bike, walked the bike or stood around filming people falling over. I attribute our somewhat decent time to the pace we maintained on the descent. My mate K-Dogg would not have approved this madness.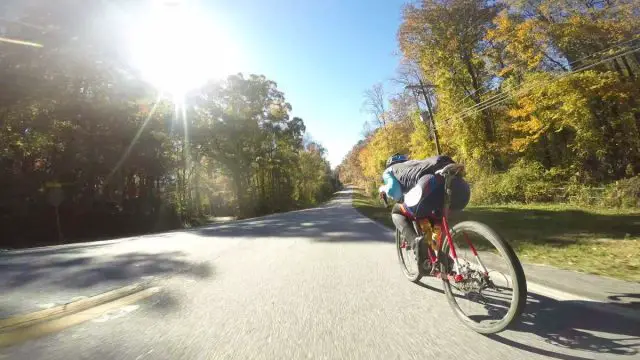 I seldom take the easier way out, not that the Radical distance of the 3G was easy, but I was glad for once not to be riding the full monty distance of 108 miles. Citing my book of excuses, it has been a long year, and 60ish miles was just perfect. With the two big climbs out of the way, all that remained was about 30 miles / 50 kilometres of lumpy riding back into Helen, Georgia. Check out the course profile image from my Strava upload and you'll see what I mean.

Pfaff Junior and I made the collective decision to enter the unofficial "gran fondo" of the 3G immediately, and rode as easy as we could for the remainder of the course.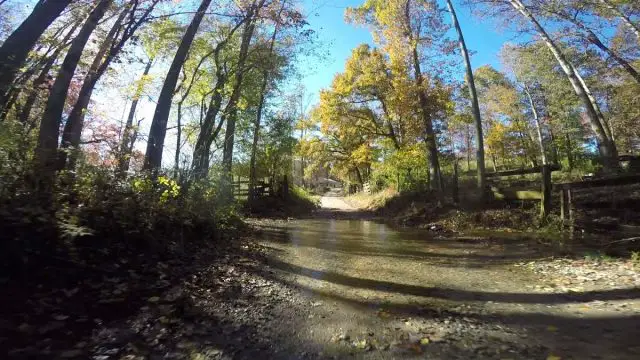 His legs were smashed, mine were knackered and the Gu caffeine in my gels just wasn't doing the trick. I lost count of the number of beautiful dirt roads, amazing scenery and steep punchy climbs. One in particular, somewhere around 43 miles / 70kms into the course was a cheeky little bugger. Its surface was hard packed, but its gradient was most displeasing, hovering between 15% to 16% most of the way to the summit. Once again I had deep regrets for my poor gearing choices.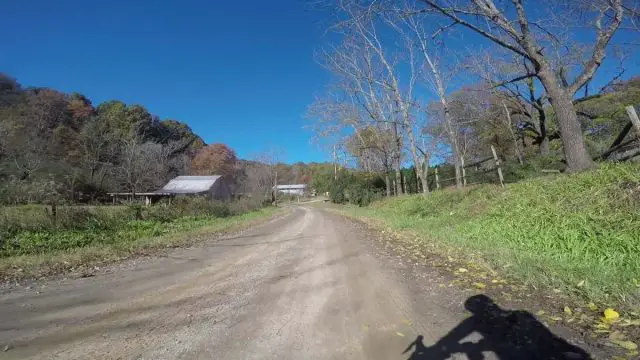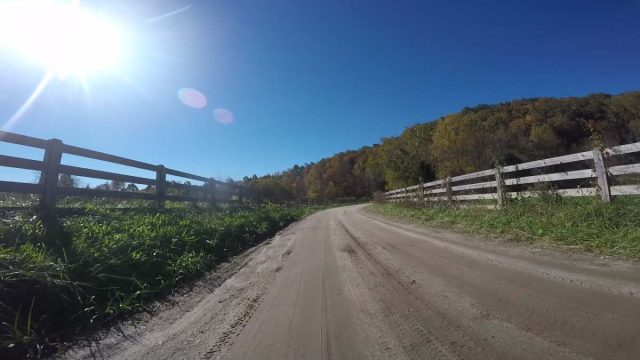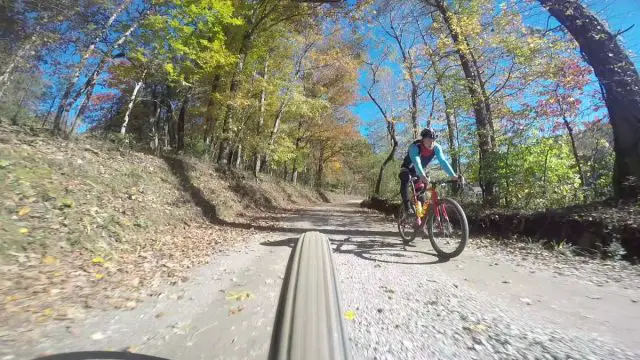 This climb and others featured in the second timed segment of the day, but as we were in "gran fondo" mode, we paid the timing no heed.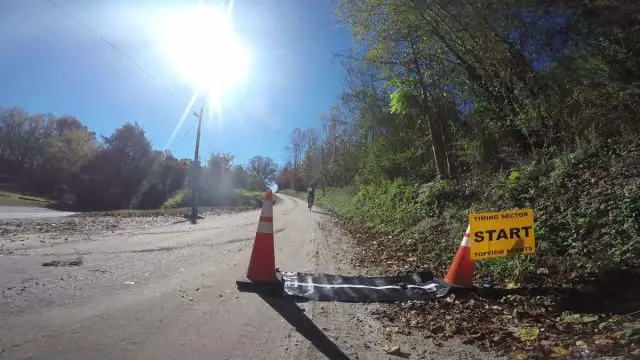 Stooging around at the end of the timed segment and stuffing our faces didn't help our cause for a speedy time.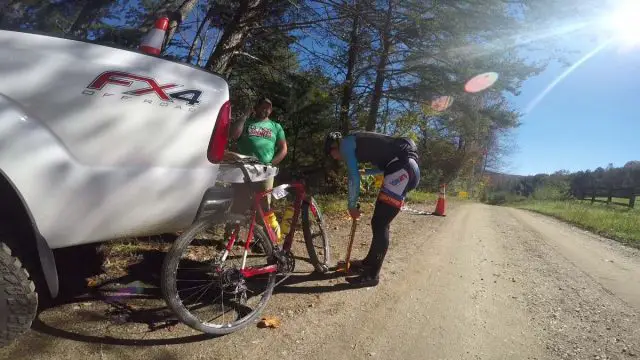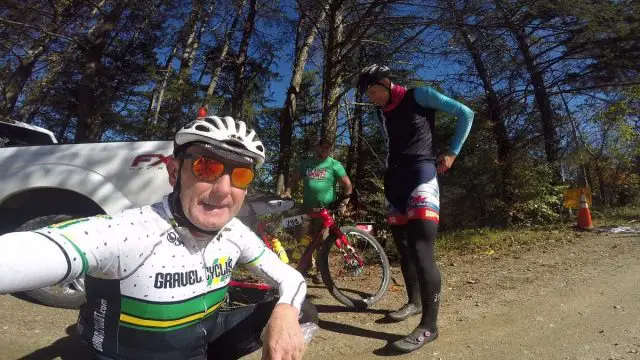 Towards the final miles of the course, I became separated from Pfaff Junior, as in he dropped me, and rode into the finish alone. No matter, it was a superb day on the bike!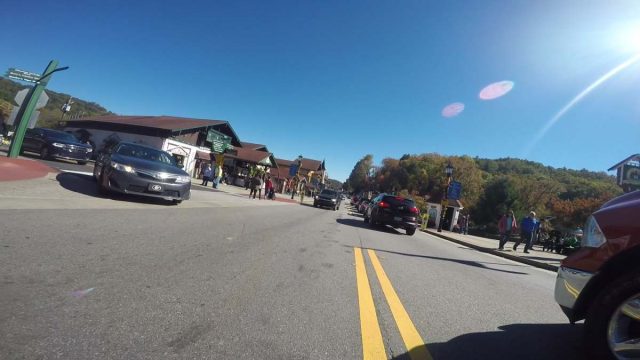 This may have been the inaugural edition of the Georgia Gravel Grinduro, but this is a must-do race should you find yourself looking for an early November challenge. The event was professionally run by Tim and his crew and the venue, simply off-the-chart for scenery and convenience… as in, heaps of accommodations and things to do close by!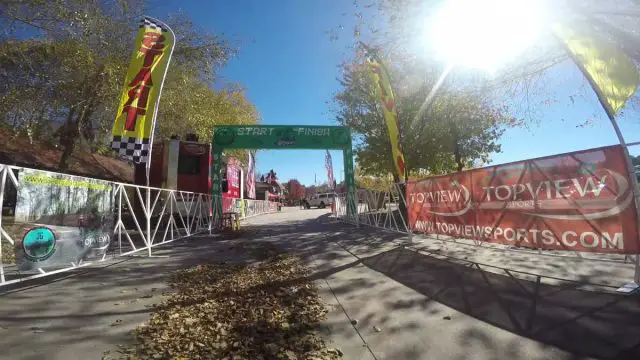 Add the Georgia Gravel Grinduro, aka the 3G, to your 2019 calendar. I plan on returning.
Coming soon… the race video, watch this space!
Thanks for reading.
JOM