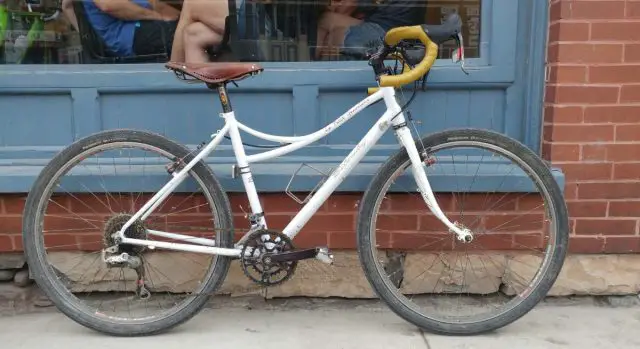 'Stephen Bilenky has been in the bike industry for 44 years. He began frame building in 1983, when he started brazing bikes together in the basement of his repair shop. Thirty years on, Bilenky Cycle Works has moved above ground to North Philadelphia with a full-time staff of six. We have won numerous awards and acclaims, including rave reviews in Bicycling Magazine, Bicycle Guide, Tandem Magazine, Bicycle Quarterly and more. We won Best Road Bike (2010), Best Lugged Bike (2011), and Best Lugged Frame (2013) at NAHBS." – Bilenky.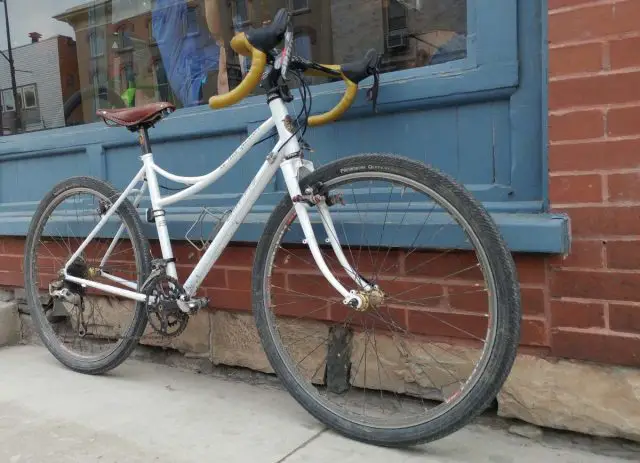 "Since 2010,  we've organized the annual Philly Bike Expo,  bringing together makers and enthusiasts from around the country for a weekend-long celebration of everything bicycle.  From 2006 to 2014 we hosted the world's only Junkyard Cyclocross, where riders braved a course through our neighboring junkyard – over cars, through toxic puddles and around broken glass.  Although wildly popular, it turned our hair grey(er) every year."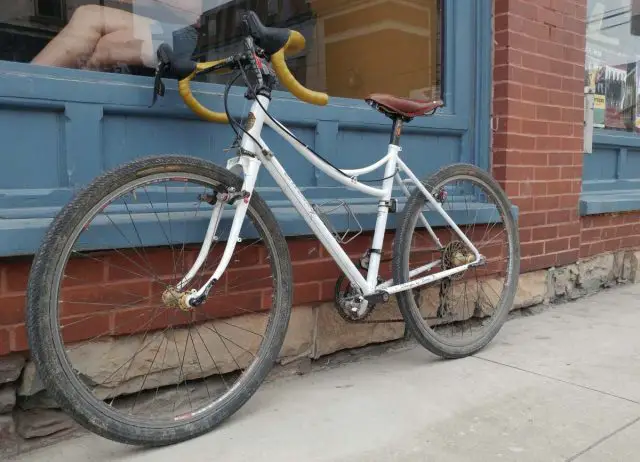 "Bilenky Cycle Works is more than just a shop. It's an enduring institution that is committed to enhancing the world of cycling, one handbuilt frame at a time."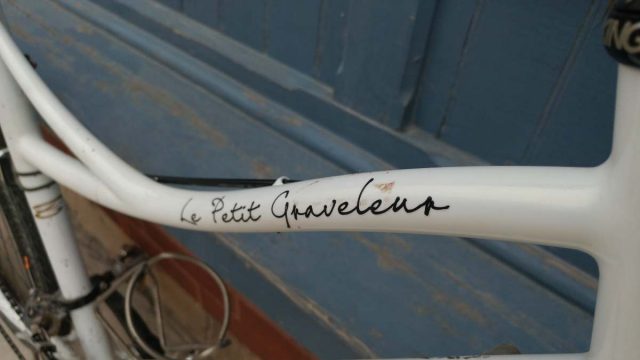 This example of Stephen Bilenky's custom handiwork is known as "Le Petit Graveleur" and belongs to his daughter and coordinator for the Philly Bike Expo, Bina Bilenky.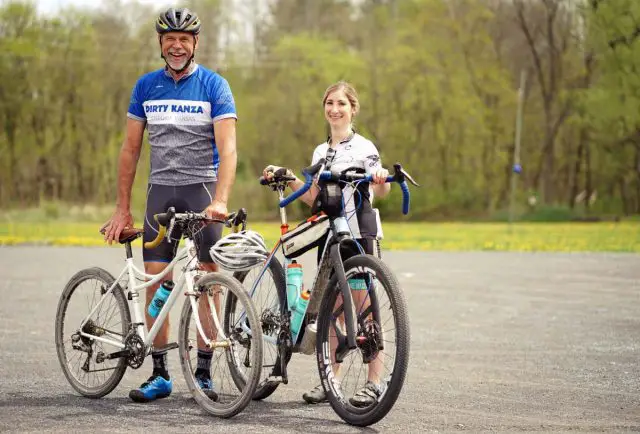 Pictured above is Bina Bilenky and Jim Cummins (promoter of the Dirty Kanza gravel race), posing with each other's respective bike

Follow this link for the inside scoop on Jim's Salsa Cutthroat.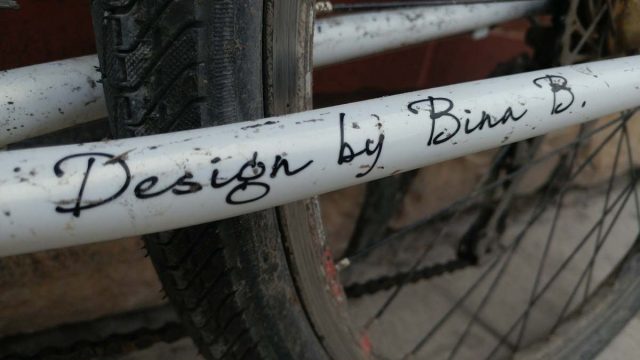 Above, frame design by Bina herself. In a nutshell, "Le Petit Graveleur" is an all-road bicycle built for the rigors of the continent of Africa.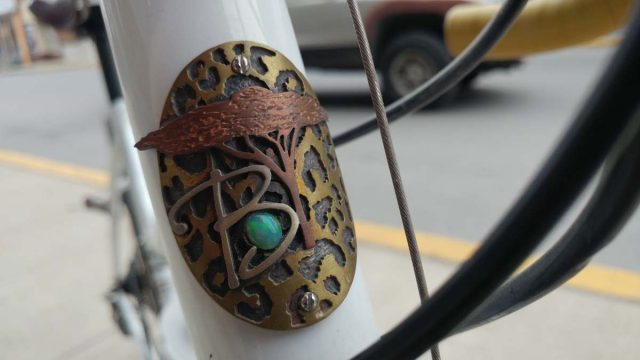 Above, the jewel in the crown of this bike is its head badge; African inspired with mixed metal leopard spots, an Acacia tree and a North Ethiopian opal which Bina picked out herself. This beautiful piece was made by Jen Green of Head Badges.
Starting at the front of Bina's bike are SRAM Red 10-speed mechanical brake / shift levers.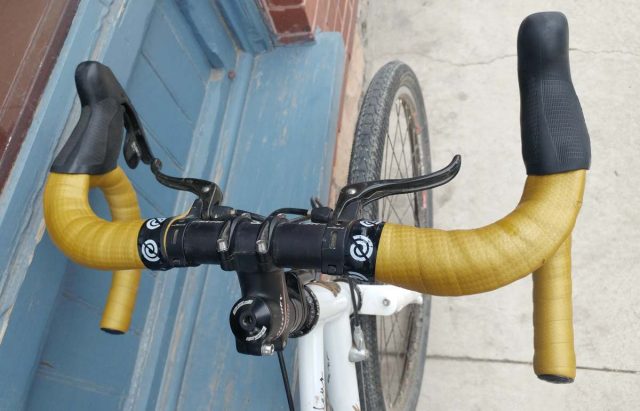 TRP cross-top levers take a little extra room on the handlebars, but provide an additional braking position, which comes in handy if you're the sort of cyclist who loves to ride the tops of the handlebars.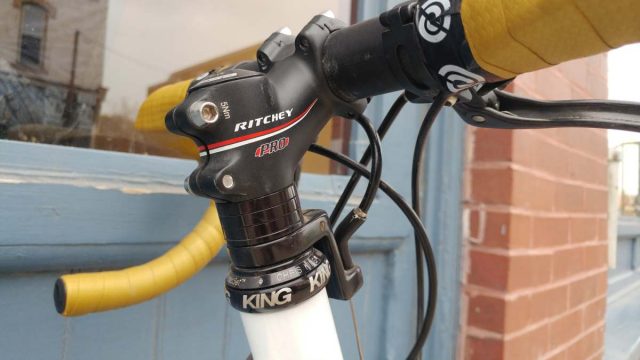 Bina is a petite lady, and her stem reflects that. Beneath the Ritchey Pro stem, cable hanger for the cantilever brakes and a Chris King external cup headset.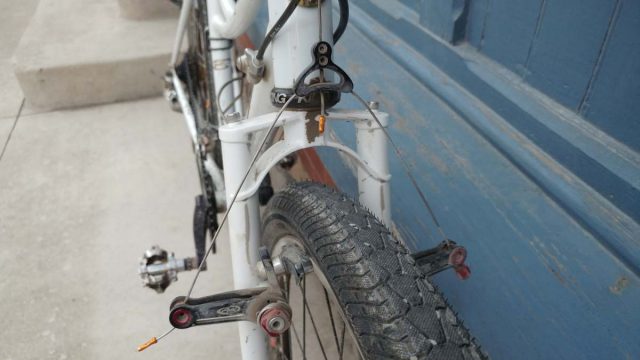 Above, the Avid Shorty Ultimate, one of the best and most adjustable cantilever brakes going. Bina has her front brake set in the wide stance, which provides more rim to brake pad clearance, but less braking power.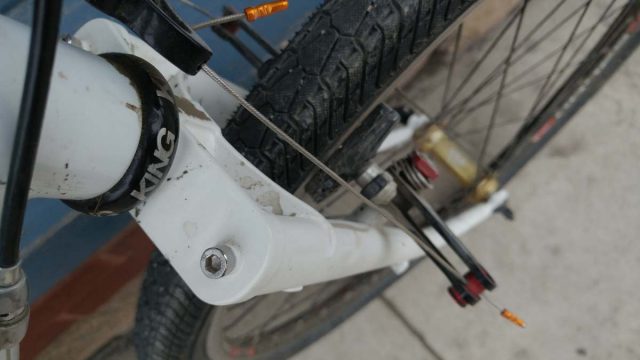 Steel is real, and so is the fork, an absolute work of art.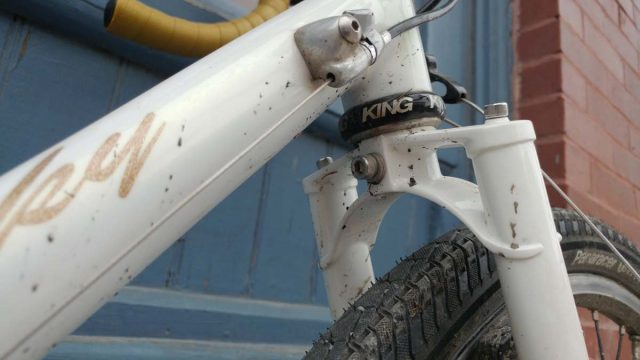 The fork features plenty of attachment points for fenders, etc.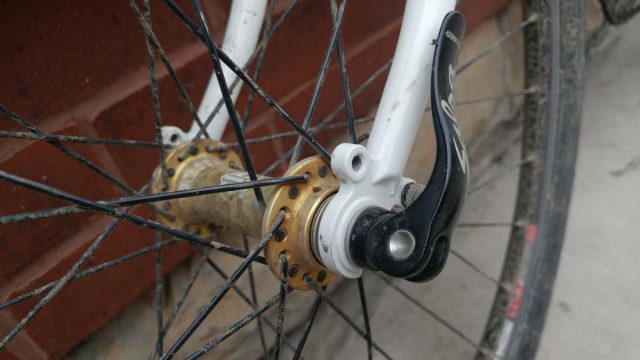 More attachment options at the bottom of the fork.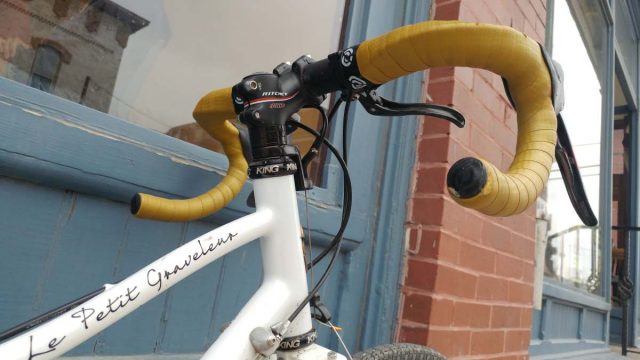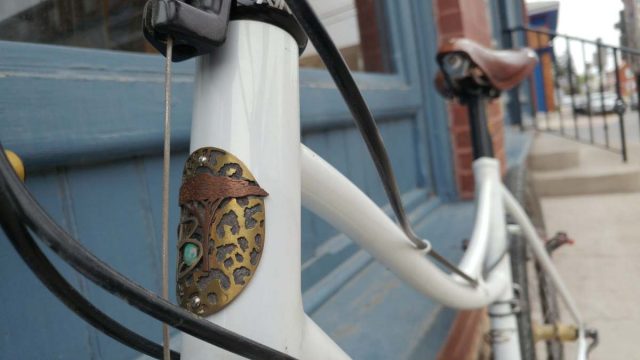 The top tube of Bina's bike, shown further up this article, measures just 7/8″ in diameter, which bucks the trend of oversized tubing. That aids with comfort, and the curve of the top tube increases standover height.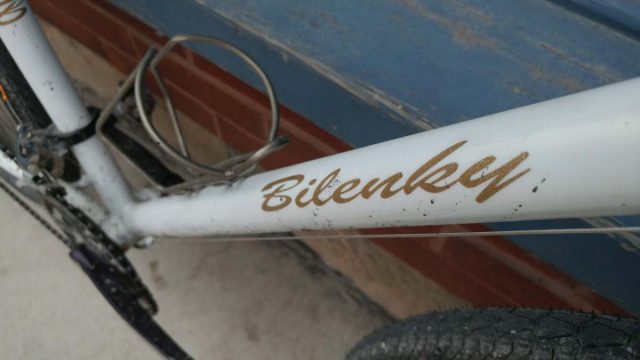 The downtube features True Temper tubing with an ovalized profile, which promotes strength and lower weight. Stephen Bilenky purposely built this frame with comfort and strength in mind.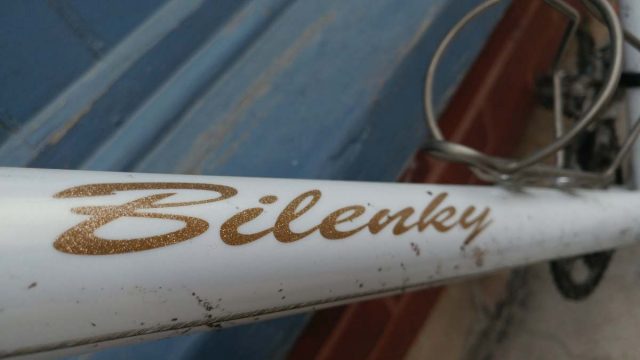 Above, glittering gold.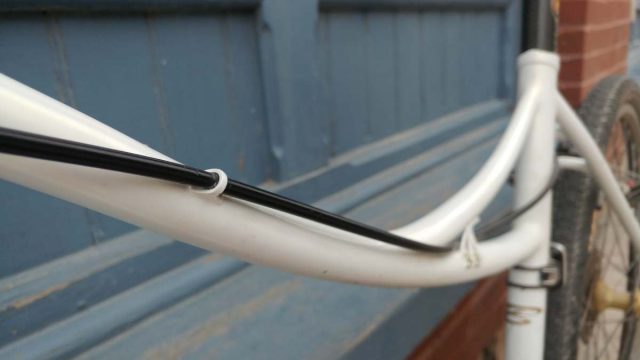 Above, you won't see this sort of cable housing routing on your average production bicycle. Functional and beautiful.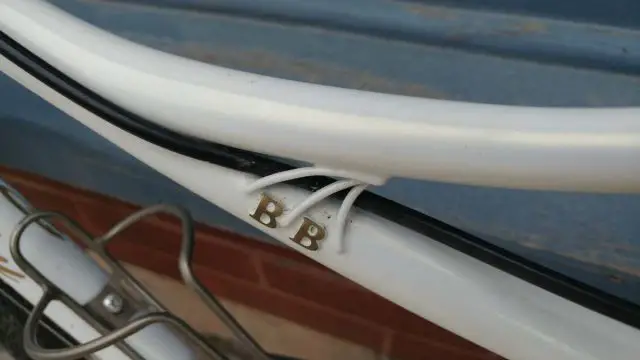 Above and below, Bina's initials and an elegant cable housing guide.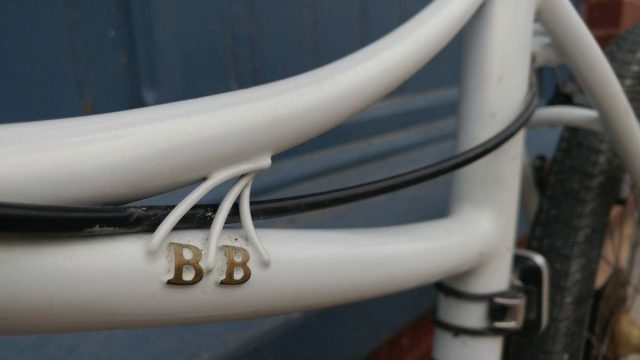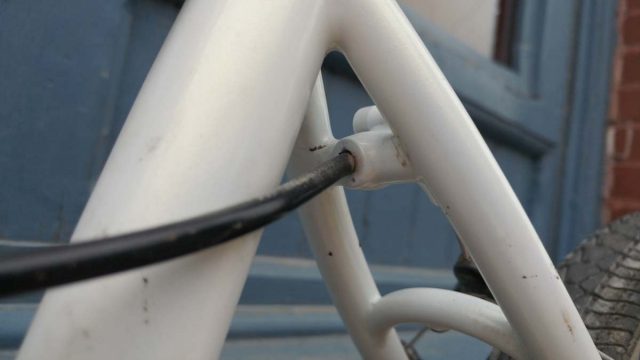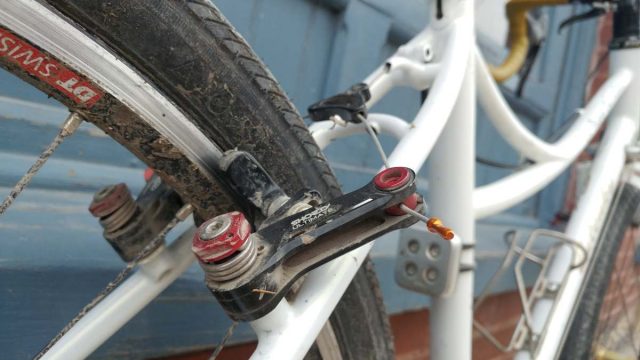 Cantilever brakes may have become a bit passe' circa 2018, but the Avid Shorty Ultimate brake offers a ton of power. Don't believe me? Check out my 2017 Crusher in the Tushar race video. 'Twas raced aboard my Ritchey Breakaway CX gravel travel bike with these exact brakes.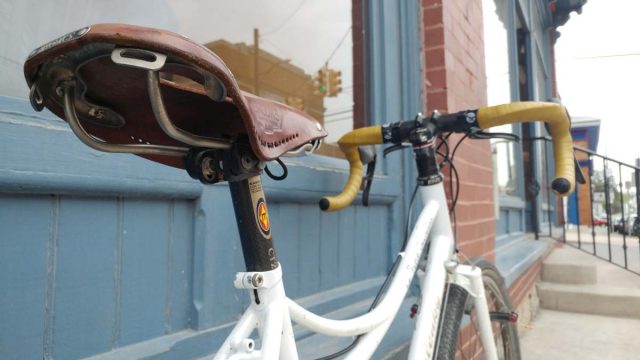 Another view of that uber cool top tube. Bina's Brooks B17 narrow saddle perches upon an older Easton CT2 carbon seatpost.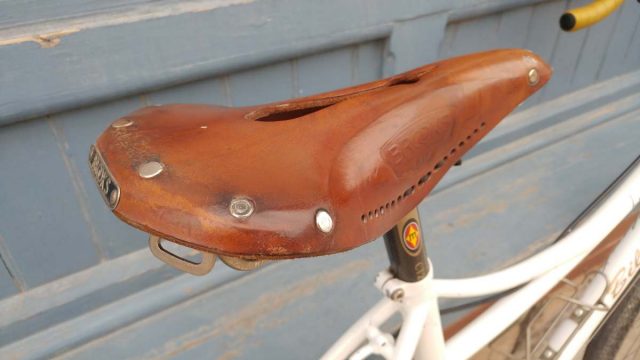 Brooks saddles take time and effort to wear in, but once that has happened, their owners swear by their extreme comfort.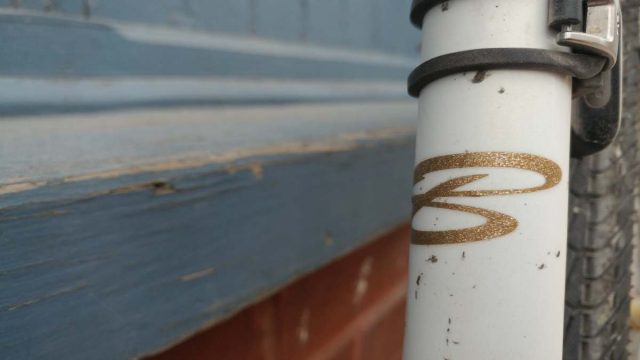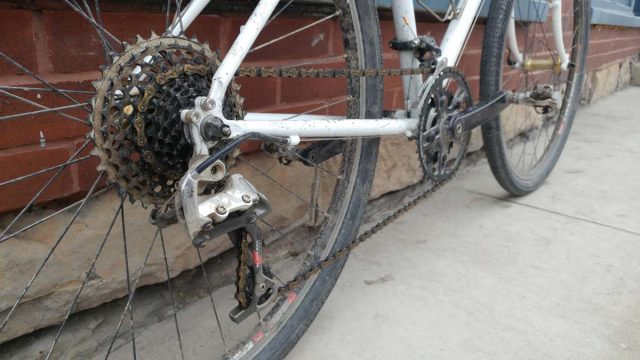 Not everyone is riding a 1x / single chainring these days. Granted, Bina's bike was built around 2014 when1x was less prevalent, but her 10-speed 2x / double chainring drivetrain is still very relevant, and uber handy for climbing steep grades.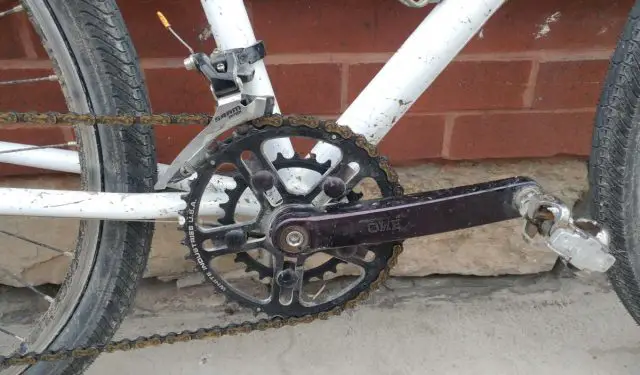 White Industries VBC (variable bolt circle) crankset (check out our review of the MR30 version here) with a 42T big ring, and without counting, likely a 28T small chainring. Such is the flexible nature of the VBC design. A SRAM Apex front derailleur handles the chore of shifting between chainrings.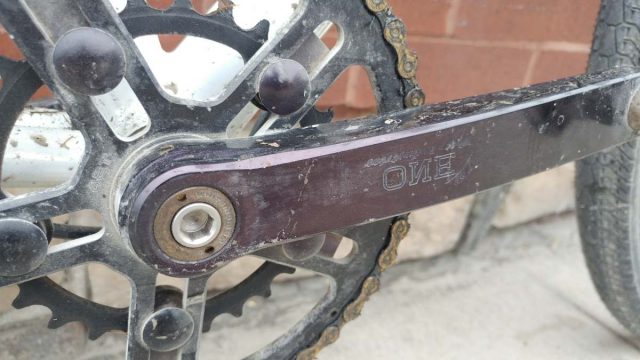 Bina's VBC crankset is the square taper variety.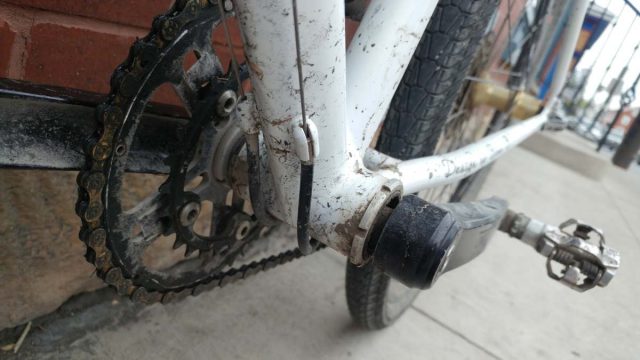 Bina's bike doesn't sit around looking pretty all day. She joined the media crew for Day 2 of the unPAved preview starting near Lewisburg, Pennsylvania. Be sure to watch Gravel Cyclist for Part 2 soon, and video preview! Link to Part One.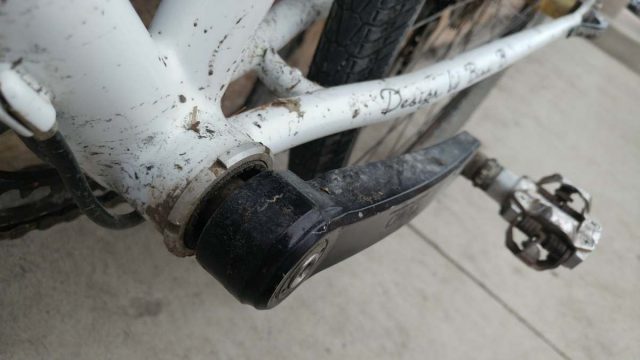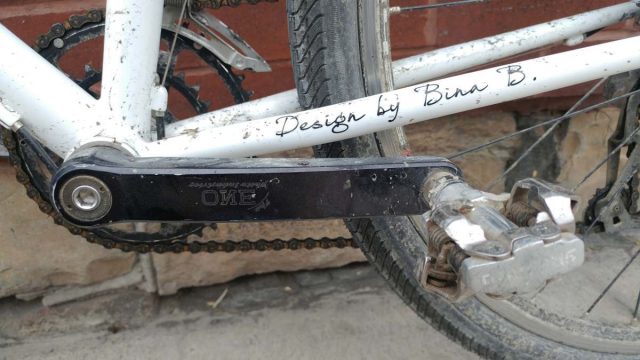 Bina's pedals have seen a decent amount of miles. Bina was part of the support crew for the Tour D'Afrique, a 12,000 kilometre (7,500 miles) cycling odyssey along much of the African continent, all aboard her Graveleur bike.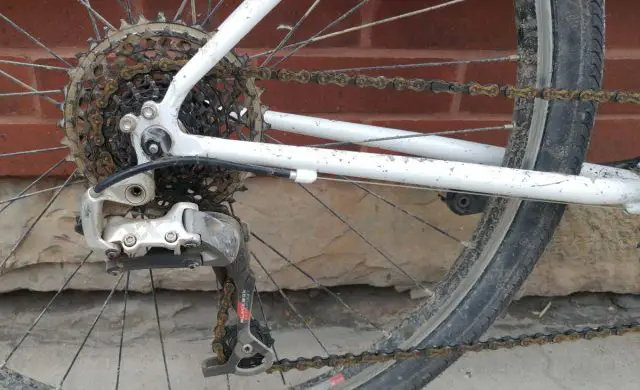 The 10-speed SRAM XX rear derailleur is designed for mountain bike use, but it is equally at home on a gravel bike. It can shift up to a 36 tooth rear cog and features ceramic bearing pulleys.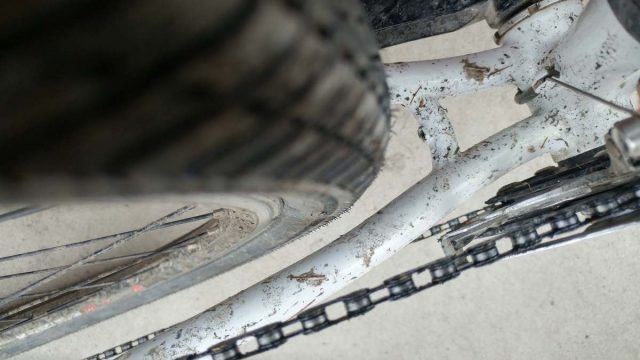 The "Le Petit Graveleur" will clear 2″ wide tyres, although these wheels are a little different.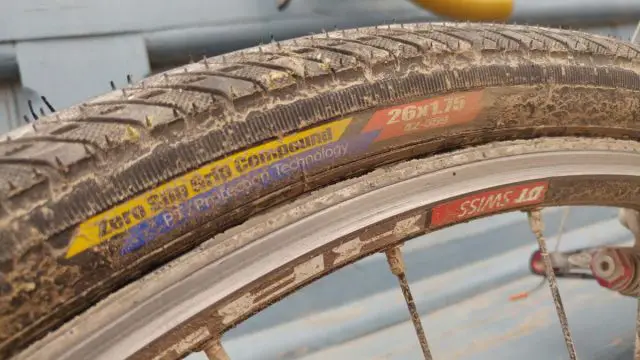 650b / 27.5″ is running amok on gravel bikes these days, but a petite lady may need something a little more appropriate. Hence, Bina's machine rolls on 26″ wheels.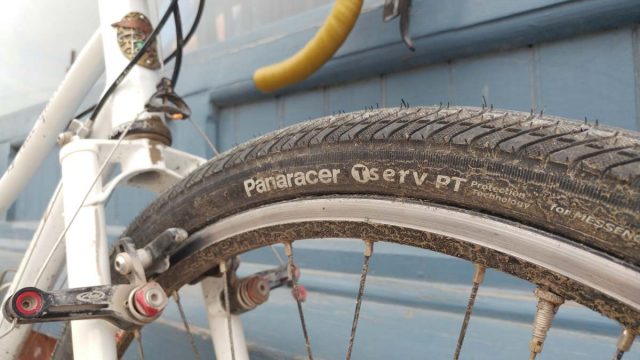 Panaracer are known for their Gravelking SK tyre, but the TServ is a favorite among bicycle messengers and commuters, and rides like a champ on hard pack dirt and gravel roads.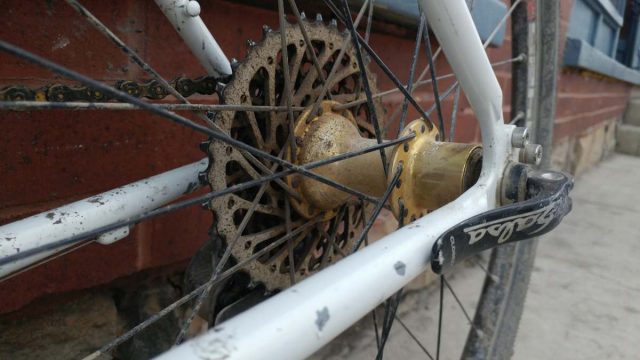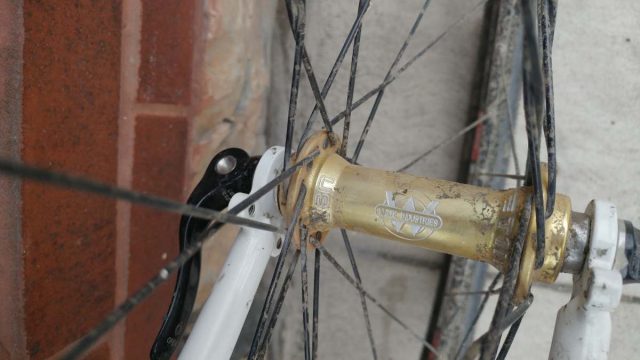 Keeping it in the White Industries family, gold White Industries hubs for a regular 9mm quick release.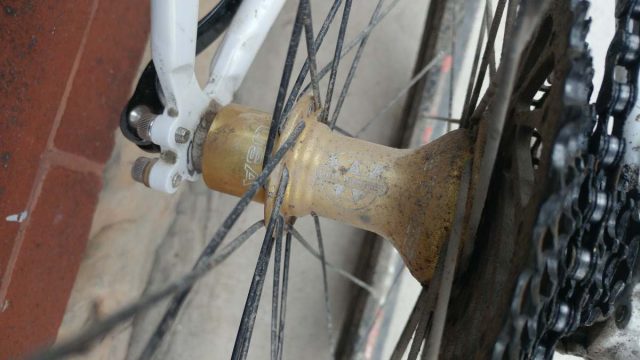 More of the same on the rear wheel, and 130mm rear spacing.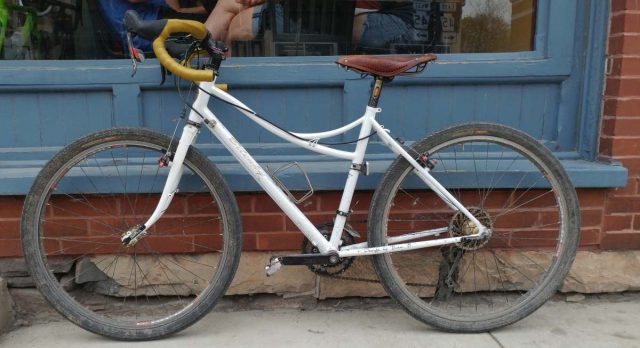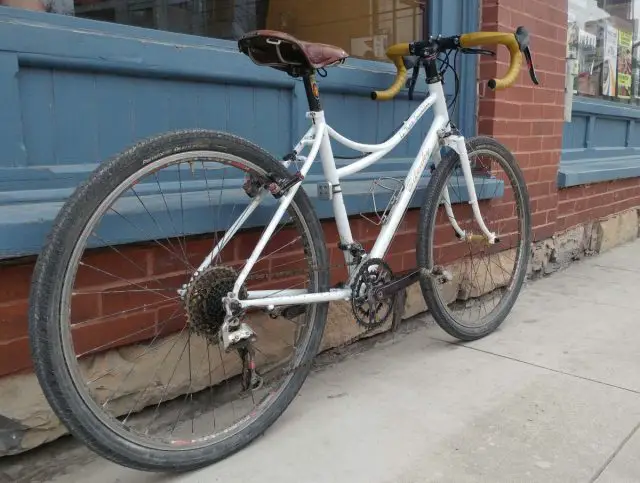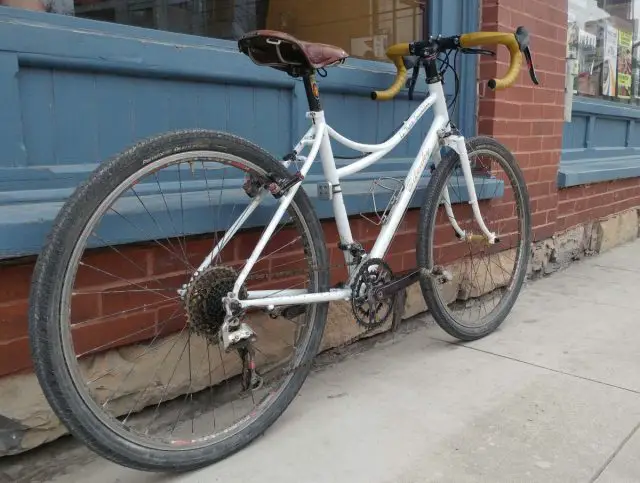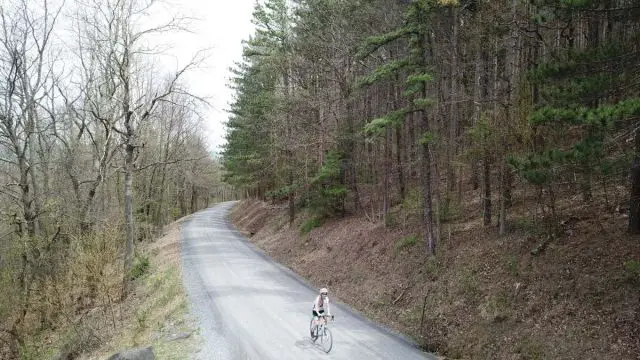 Bina Bilenky's "Le Petit Graveleur" Custom Adventure Bike
Frame: Bilenky Cycle Works Steel, Custom.
Fork: Bilenky Cycle Works.
Headset: Chris King.
Stem: Ritchey Pro.
Handlebar: Ritchey Pro with TRP cross-top brake levers.
Bar Tape: Unknown.
Brakes: Avid Shorty Ultimate Cantilever.
Brake Rotors: N/A.
Brake / Shift Levers: SRAM Red 2 x 10-speed.
Front Derailleur: SRAM Apex 10-speed.
Rear Derailleur: SRAM XX 10-speed.
Cassette: SRAM XX 11-36 10-speed.
Chain: SRAM PC-1070 10-speed.
Crankset: White Industries VBC with 42/28 chainrings.
Bottom Bracket: White Industries square taper.
Pedals: Shimano.
Wheelset: DT Swiss rims on White Industries hubs.
Tires: Panaracer TServ 26″ x 1.75″.
Saddle: Brooks B17 narrow.
Seatpost: Easton CT2 carbon.
Bottle Cages: Unknown.