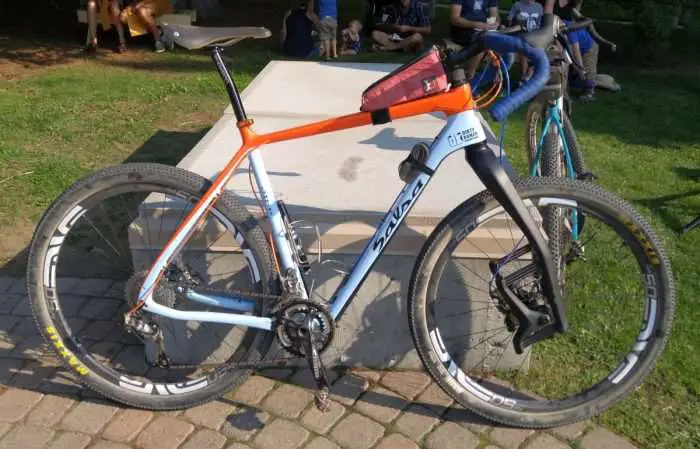 About Salsa Cycles
Salsa Cycles was founded around 1981 / 1982 by Ross Shafer. Before selling the company in 1997 to Quality Bicycle Products, Ross and his brand manufactured custom-made steel mountain bikes. His desire to build frames came about in 1976 after his sighting of a Wizard branded bicycle, built by Brian Baylis. Later in that same year, he assembled his first frame, albeit with a suitable amount of frustration. Frame number two soon followed, a vast improvement over his first effort.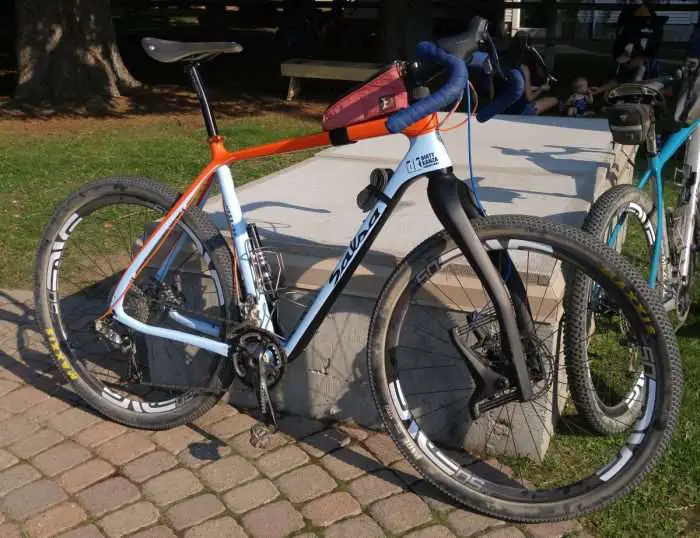 In 1979, Ross took a road trip to Santana's frame building shop in Claremont, California. Two weeks later, he was appointed as manager of Santana's frame building department. There he learned about business acumen, managing people and frame building.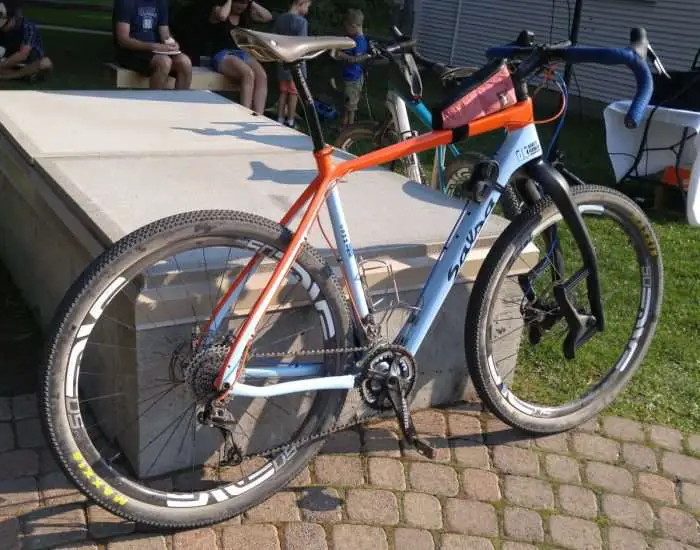 Later, partnered with a couple of friends, Ross and Salsa's first offering was an item that was relatively easy to make in production runs – stems. Three models were initially offered – all of them sold like hotcakes. Salsa even drew the attention of some of Peter Gabriel's band members, who ordered custom frames. But frames and stems weren't all that the company sold – Pinatas were a popular item!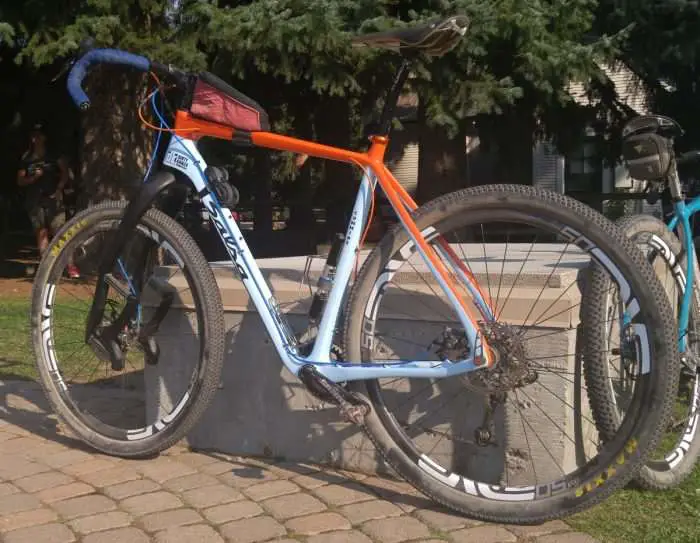 Finally, Salsa's pepper logo came about as an idea from Ross' days as a bicycle shop employee. All it took was a daily intake of a bag of chips dipped into a mixture of cottage cheese and Pace picante sauce. Genius!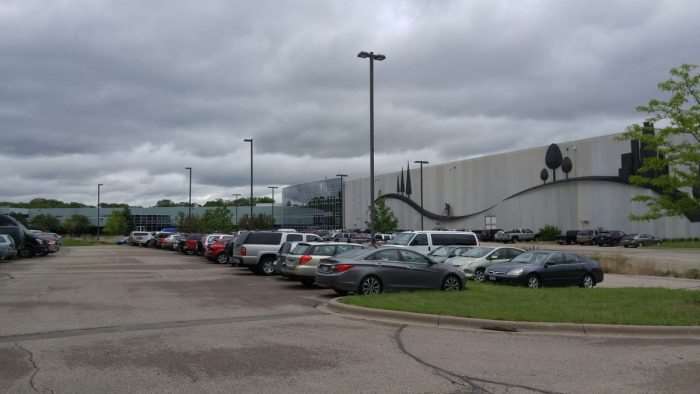 Nowadays, Salsa Cycles is one of the brands that make up QBP's portfolio. Based out of Bloomington, Minnesota, the company continues to offer steel frames but carbon fiber is also in the mix.
Salsa Cutthroat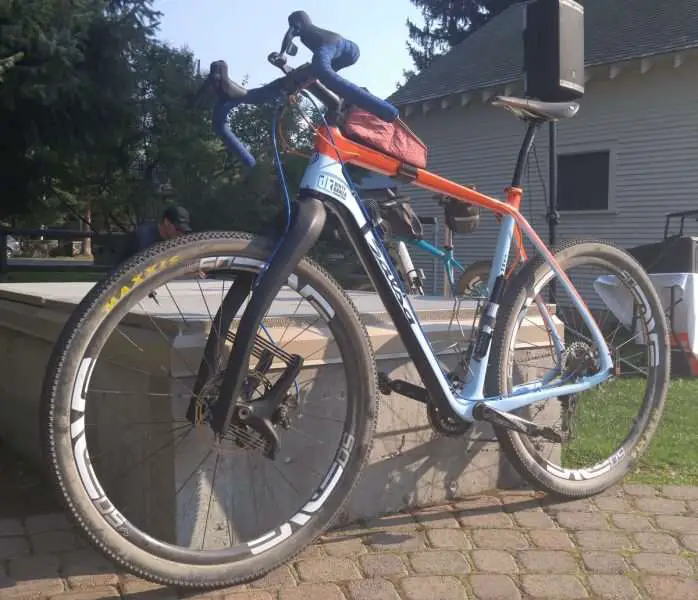 "In our family of drop-bar mountain bikes, Cutthroat is the one that was born to run. Cutthroat brings speed to the mixed surface, ultra-endurance bikepacking race scene. Every feature was evaluated and designed to obliterate long-distance cycling route and event records. An evolutionary leap forward from the Fargo, Cutthroat is all about speed and comfort; full carbon, Class 5 Vibration Reduction System, and racing-inspired geometry make for a quick bike that won't leave you pummeled as you ride alongside a rising moon."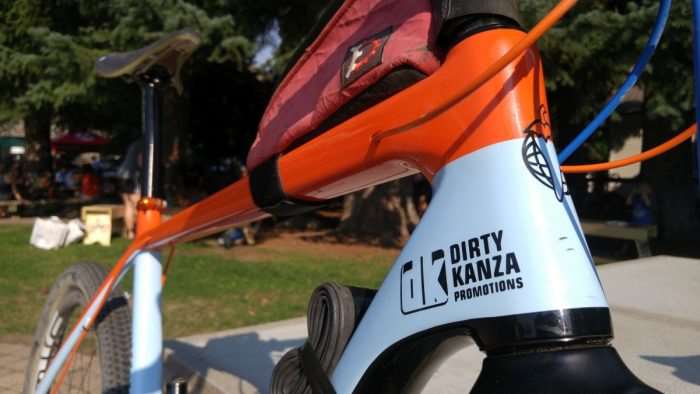 This example of the Salsa Cutthroat belongs to Jim Cummins. If the name sounds familiar, that's because Jim is the founder of Dirty Kanza, arguably the world's biggest and best-known gravel bike race. Jim was an attendee at the recent inaugural Queen's Stage Race, part of Rebecca's Private Idaho. His appearance provided me an opportunity to photograph his bike and related setup.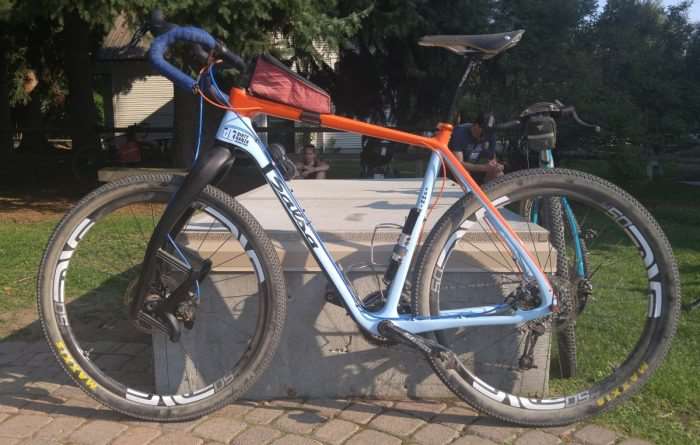 If the pictures aren't a clue, Jim is a rather tall fellow. He rides the largest Cutthroat available, size XL, with an effective top tube of 60cm.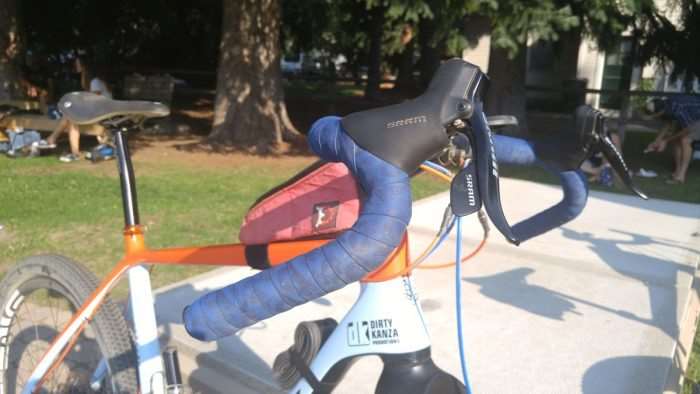 Beginning at the front of the bike, Jim relies on a mix of SRAM components. Brake / shifter levers are SRAM's Apex 10-speed units.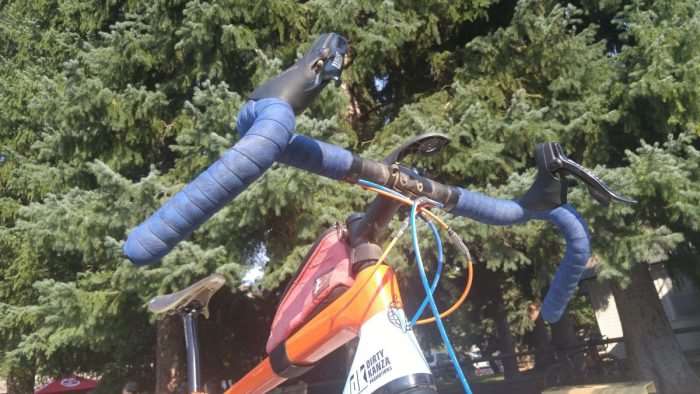 Salsa's Woodchipper handlebar is the company's off-road drop handlebar. This type of handlebar doesn't suit every rider, but works well for those seeking a multitude of hand positions while maintaining a relatively shallow drop. Drop is 110mm with 80mm of reach and a 26° flare angle.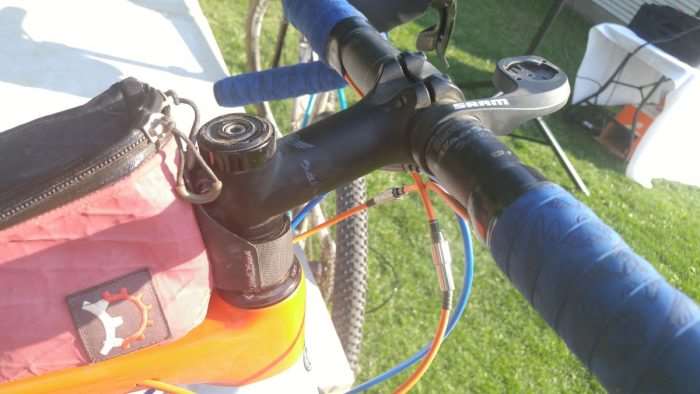 Above, the Salsa stem is flanked by Revelate Design's Gas Tank bag. Jim's computer mounts to an out-front SRAM mount.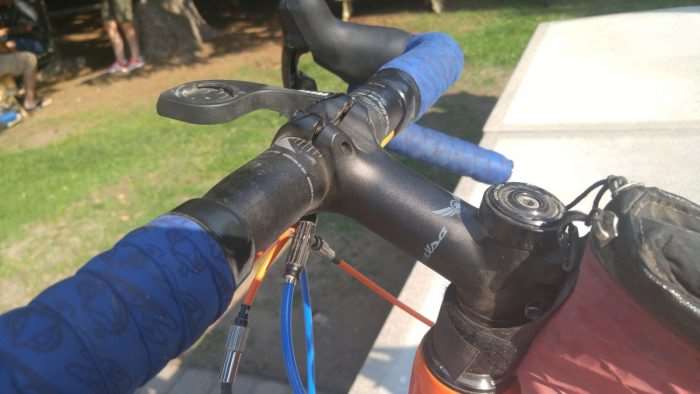 Note the color coordinated orange and blue cable housings.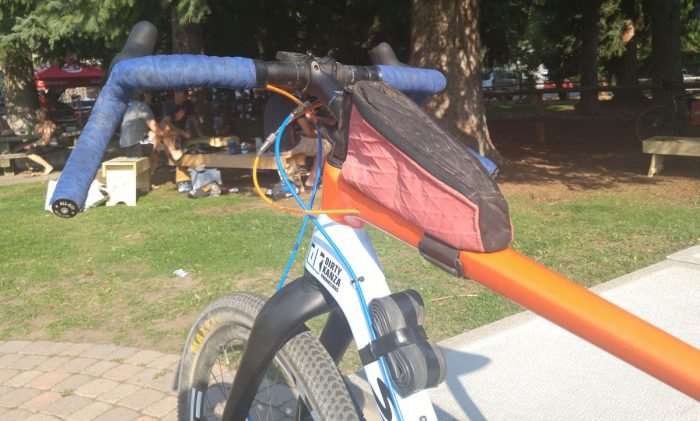 Above, this photo angle provides a good idea of the Woodchipper's flare at the drops.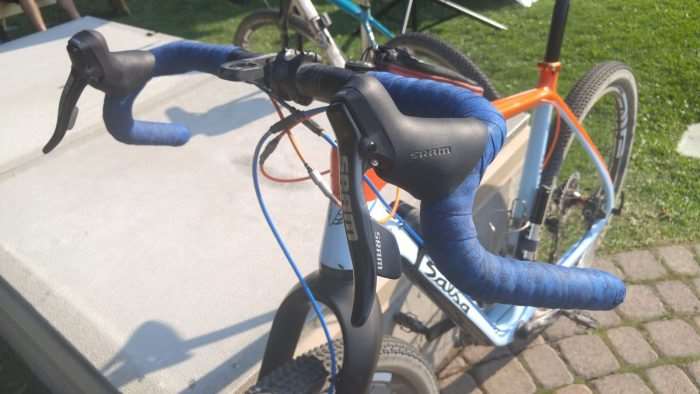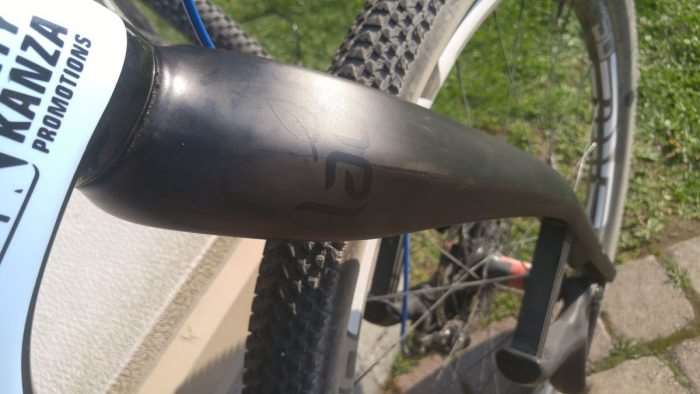 The Lauf Trail Racer Boost fork on Jim's Cutthroat isn't exactly easy to miss. This unique fork design isn't for every rider, but it does take the edge off the gravel road less traveled.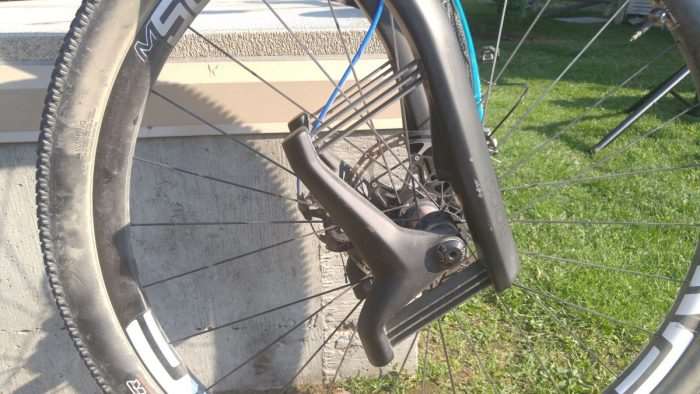 Check out our review of the Lauf Grit fork, HERE – similar to Jim's fork but not sprung as stiff.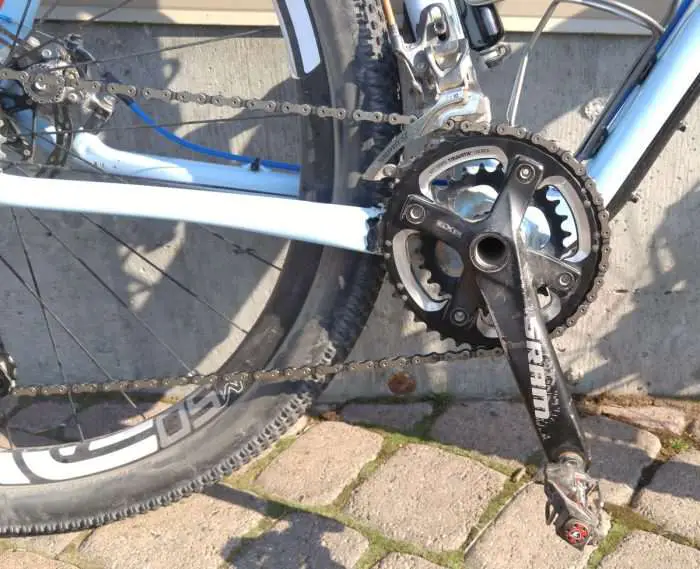 Single chainring drivetrains are making inroads into the world of gravel cycling, but not everyone is jumping on the bandwagon. With an appropriate pair of chainrings and cassette, you can have a drivetrain with a massive spread of gearing options but sans the gearing gaps sometimes associated with 1x specific cassettes.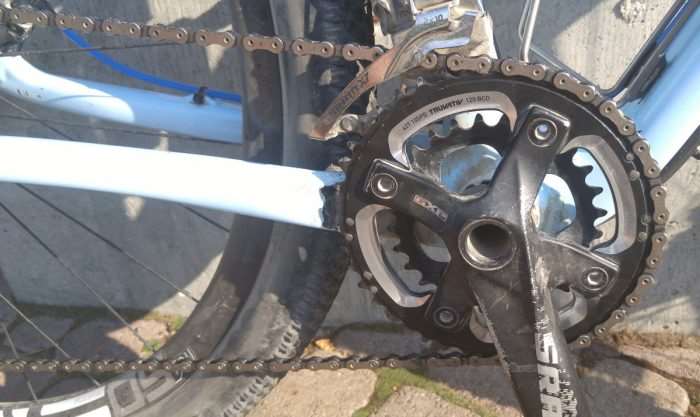 Above, Jim's 10-speed SRAM GXP crank is fitted with 42 / 28 chainrings.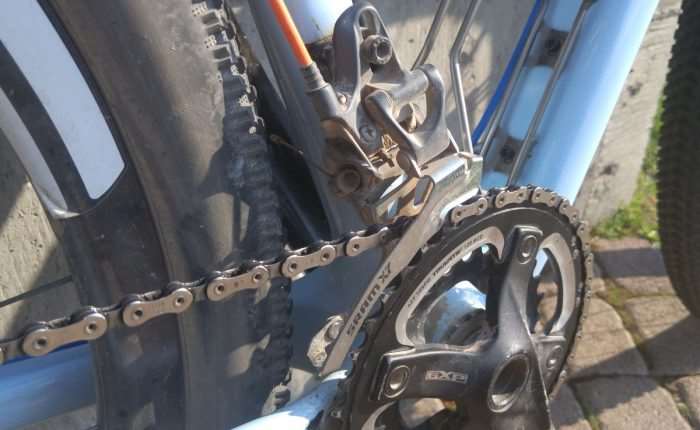 A SRAM X7 front derailleur handles the duty of shifting between chainrings.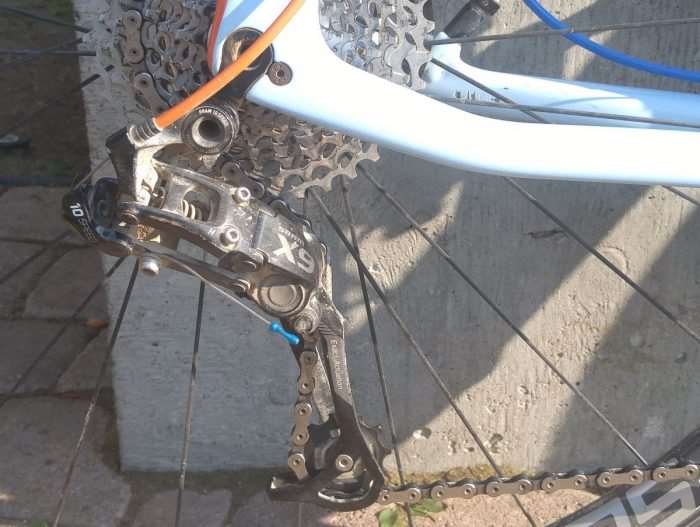 Above, SRAM's X9 10-speed derailleur is fitted with SRAM's roller bearing clutch technology.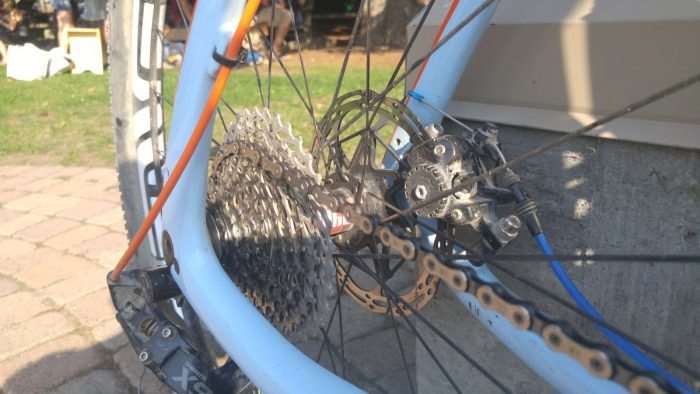 The SRAM PG1070 10-speed 11-36 cassette provides a great spread of available gear ratios, especially when paired with a double chainring up front.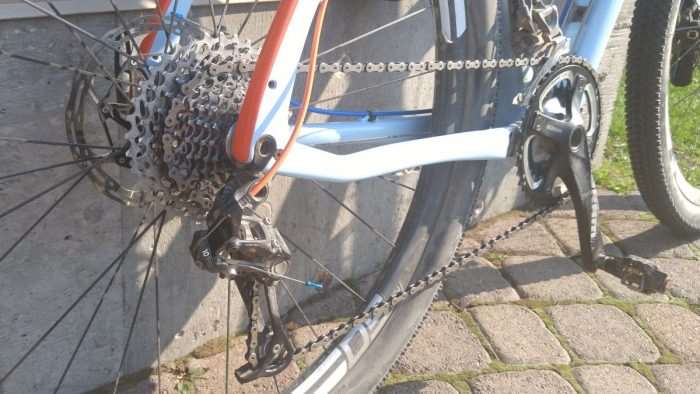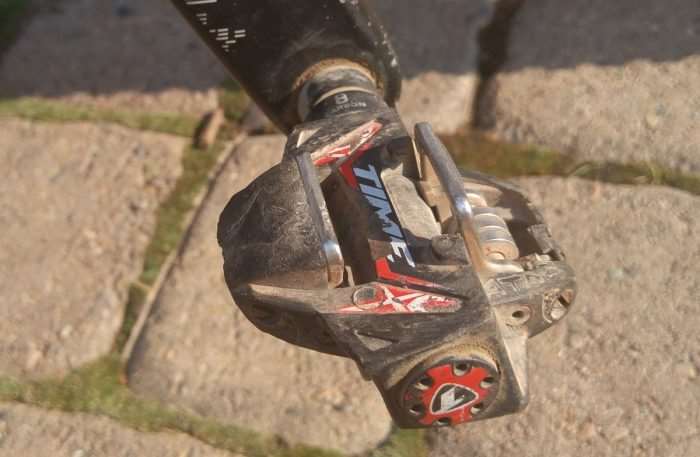 A rare sight on a mountain or gravel bike – Time's XC pedal.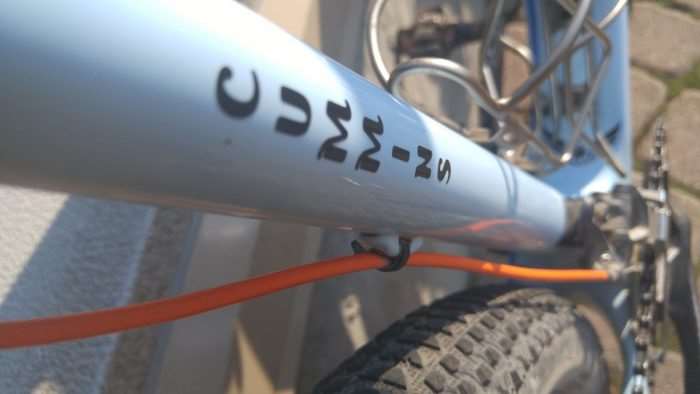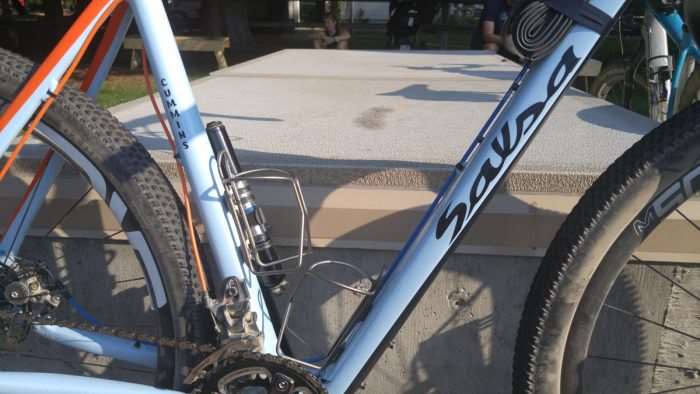 Salsa places the frame's bottle cage mounts (there are three in total on the size XL frame), nice and low. There is nothing more frustrating than ejecting bottles on a rough and tumble dirt and gravel road. This leaves plenty of room along the inside of the downtube for other items.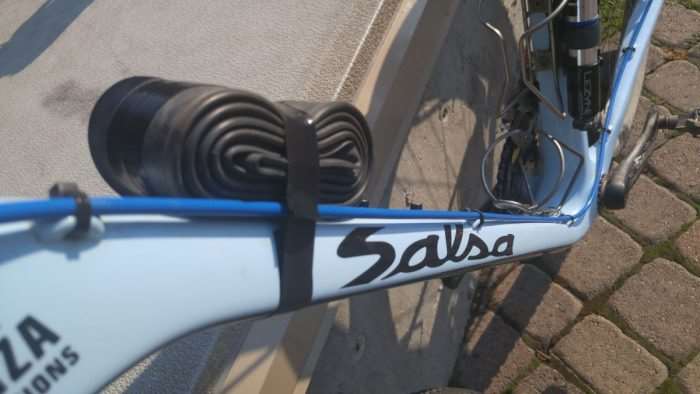 The available real estate on the Cutthroat's downtube is a good spot for stashing an extra tube.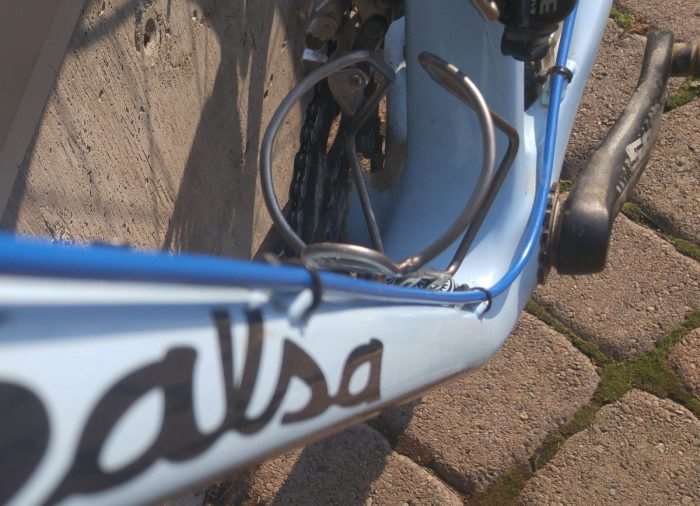 Salsa chooses to run the rear brake externally, down the length of the inside left downtube.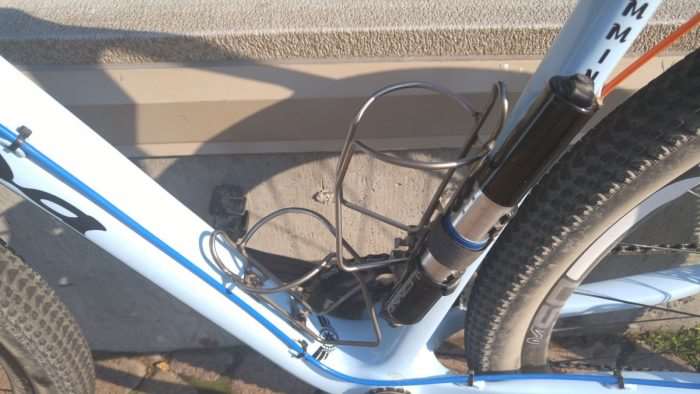 Mr Cummins is wise in carrying a pump on his Cutthroat. A contingency plan cannot be overlooked in the world of gravel cycling, racing, bikepacking or otherwise. CO2 cartridges don't always perform as expected!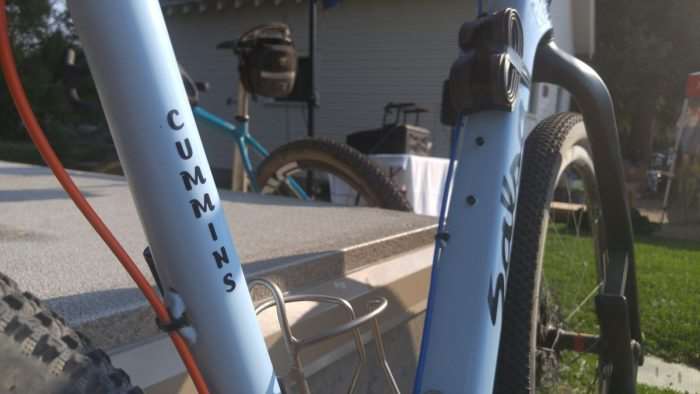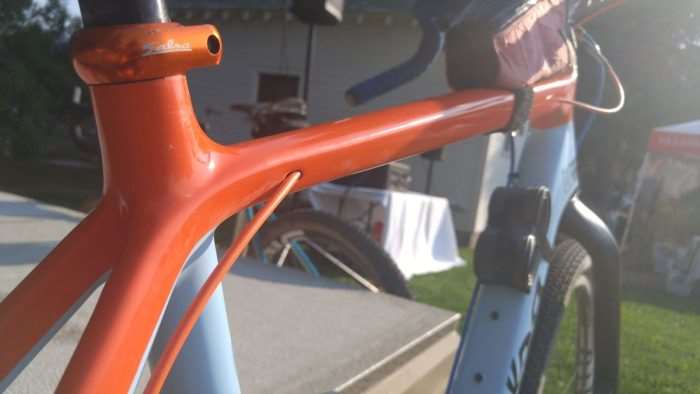 Front and rear derailleur cables are routed internally through the bike's top tube.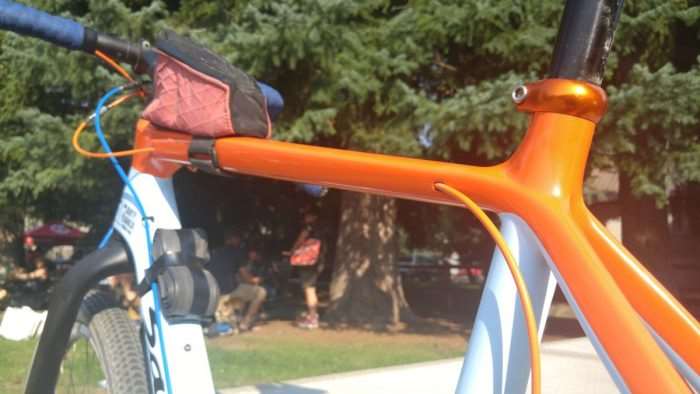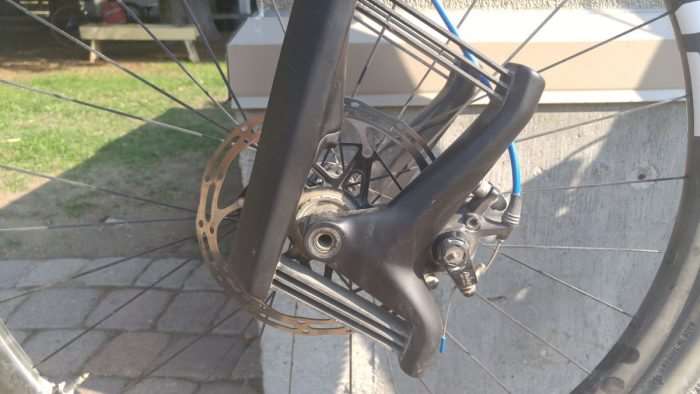 Mechanical disc braking for Jim in the form of the Avid BB7 brake. This single-piston caliper is simple to setup, adjust and is a proven performer. Its stopping power certainly isn't up to snuff with hydraulic brakes, but they get the job done.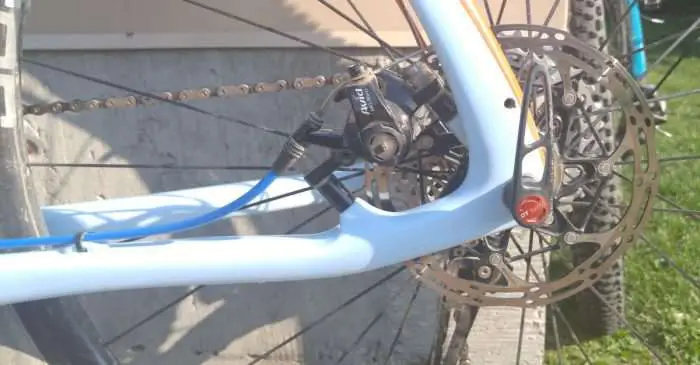 Flat-mount disc brakes are the latest standard but post-mount is far from dead. SRAM's CenterLine X rotors are a two-piece design. The center is aluminium with a steel braking track. The rotors are compatible with Shimano's centerlock standard. Jim chooses 160mm rotors for front and rear.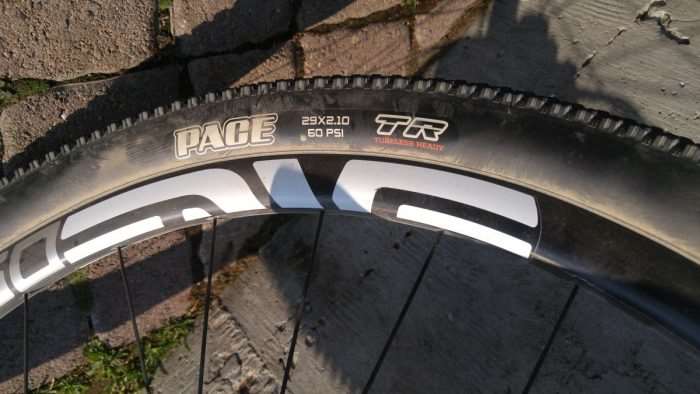 Above, Enve's M Series 50 wheelset is designed for the rigors of cross-country MTB and gravel. The rims measure 28mm deep, 27mm wide and 21mm internally.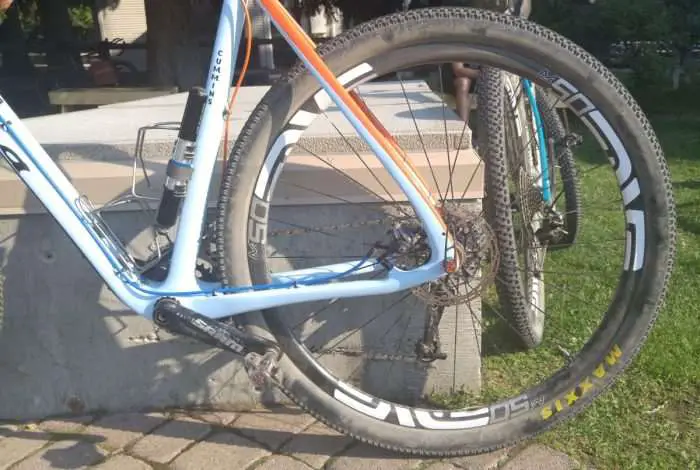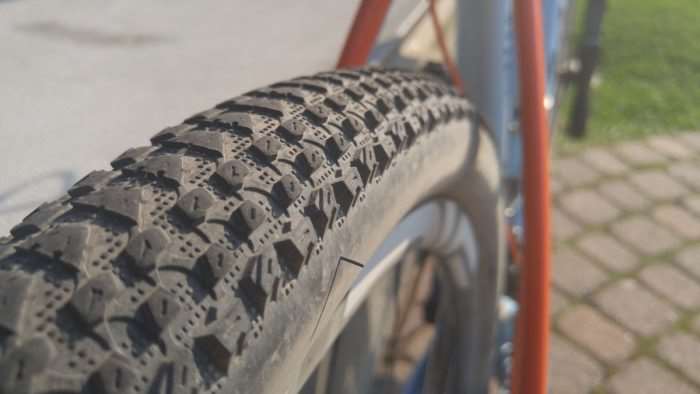 Maxxis Pace tubeless ready tyres measure 29″ x 2.1″. Inflated to an appropriate pressure, the wider casings offer plenty of cush. Hidden from view is Orange Seal sealant.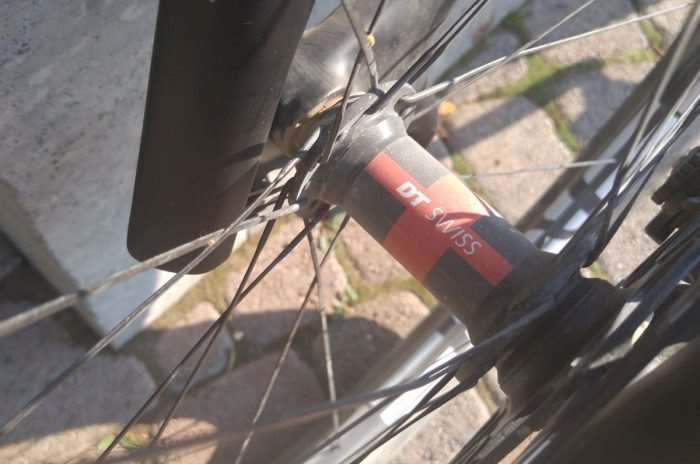 DT Swiss 240CL (centerlock) hubs are at the heart of Enve's M50 wheelset.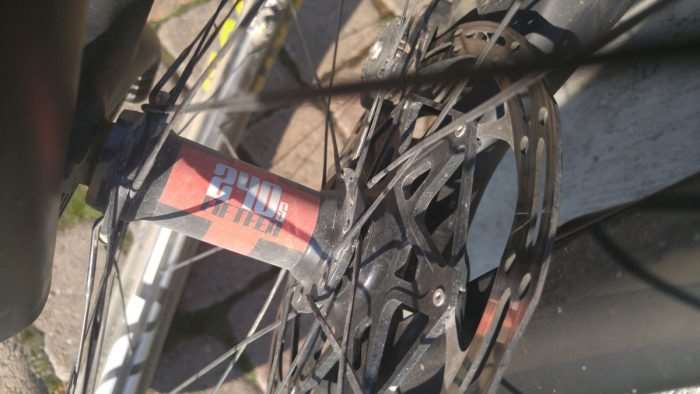 28 spokes front and rear. Keen eyed observers will note that Enve's wheel nipples are internal. Some question the mindset behind internalized spoke nipples as truing them requires removal of the tyre and rim strip. However, Enve has a very solid track record of reliability, meaning you don't hear of too many issues with wheels constantly going out of true.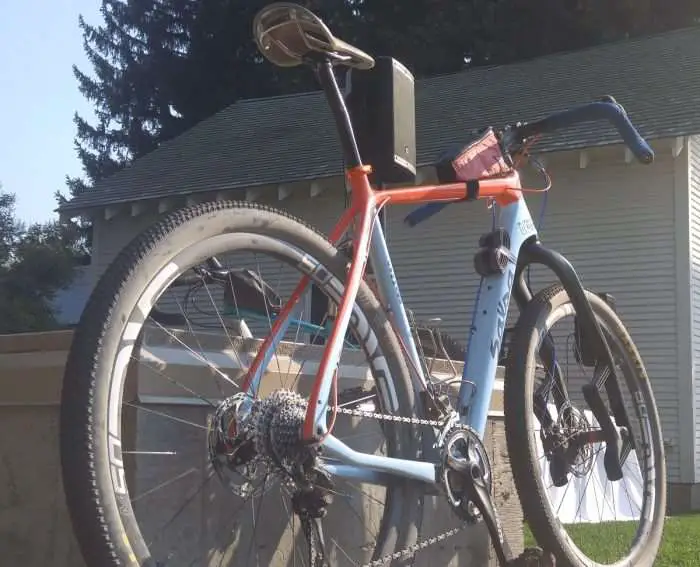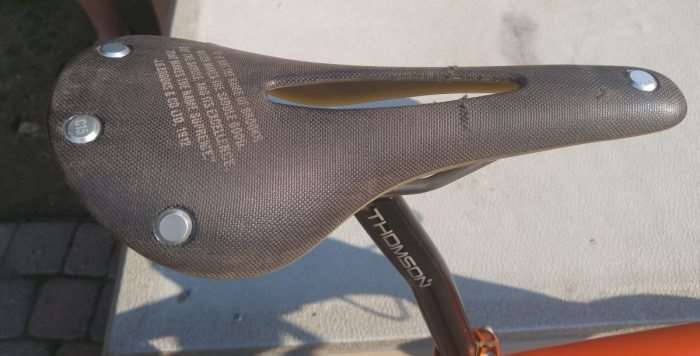 The Brooks Cambium C15 Carved saddle shares the same narrower shape as the existing Cambium C15, but with an ergonomic cut-out to provide relief from discomfort in the perineal area. This is an especially important issue for some riders, particularly on lengthy gravel rides.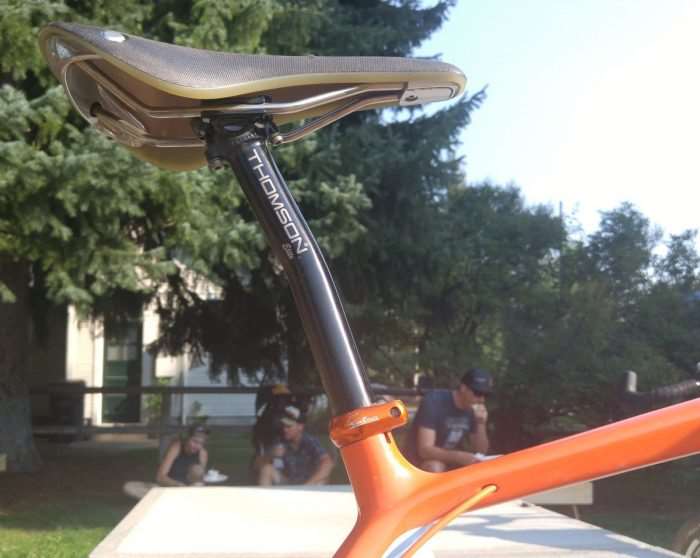 Thomson Elite seatposts are renown for their strength and reasonable weight. Jim has chosen the setback model. All of Thomson's products are manufactured in Macon, Georgia.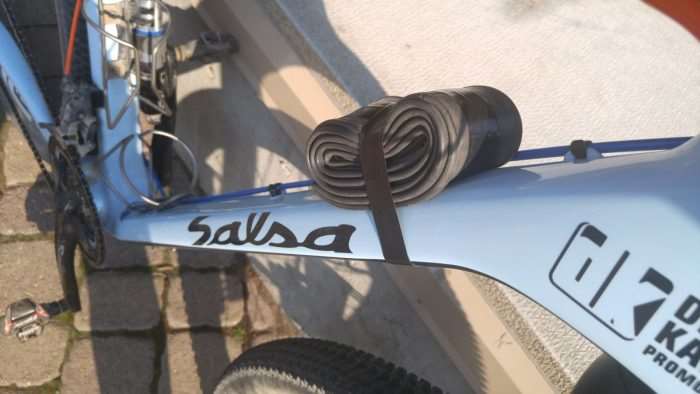 Jim Cummin's Salsa Cutthroat:
Frame: Salsa Cutthroat, size X-Large.
Fork: Lauf Trail Racer Boost.
Headset: Cane Creek 40.
Stem: Salsa.
Handlebar: Salsa Woodchipper.
Bar Tape: Salsa.
Brakes: Avid BB7 mechanical disc.
Brake Rotors: SRAM CenterLine X.
Brake / Shift Levers: SRAM Apex10-speed.
Front Derailleur: SRAM X-7 10-speed.
Rear Derailleur: SRAM X9 10-speed.
Cassette: SRAM PG1070 10-speed 11-36.
Chain: SRAM PC1070.
Crankset: SRAM GXP 10-speed with 42/28 chainrings.
Bottom Bracket: SRAM.
Pedals: Time XC.
Wheelset: Enve M50 carbon, tubeless ready.
Tires: Maxxis Pace 29″ x 2.1″.
Saddle: Brooks Cambium C15 carved.
Seatpost: Thomson Elite, setback.
Bottle Cages: Salsa stainless steel.
If you own a unique gravel bike you'd like to see featured on Gravel Cyclist, please contact us.