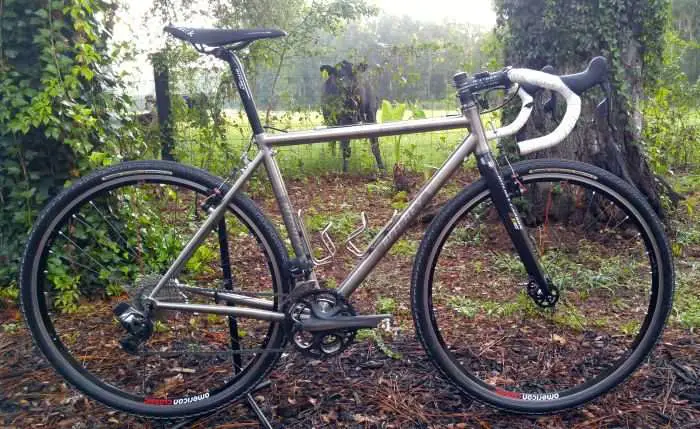 Tom Ritchey is a man who has been around cycling a long time. In the company of fellows like Joe Breeze, Charlie Kelly, Gary Fisher and a few others, these guys pretty much invented mountain biking. Tom continued to be an innovator, producing his well known line of mountain bikes through the 1980's along with 90's classics such the P21.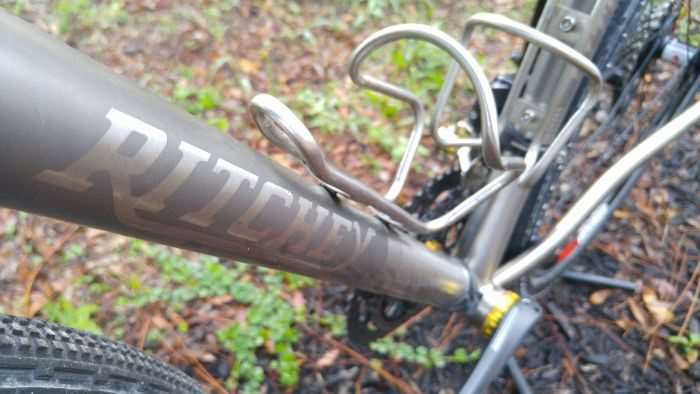 Nowadays, the Ritchey name is seen adorned on framesets and a full line of components and wheelsets. The Breakaway bike, available in road, cyclocross, mountain bike and tandem!, are Tom Ritchey's ingenious but simple solution to traveling with a bicycle. The frame breaks in half – and fits into a regular sized suitcase, helping avoid the exorbitant fees that are typically associated with flying a full-size bike. You can read more about JOM's steel Breakway and the process for packing, etc, in Part One and Part Two – incidentally, JOM's steel Breakaway frameset (with new fork) is now for sale. Interested parties, please inquire!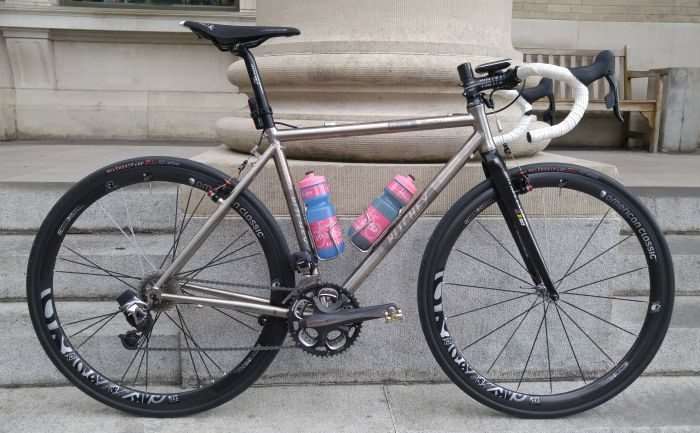 The Titanium Breakaway was formerly the flagship model in the Ritchey range – available in road and cyclocross variants, the frame is significantly lighter than its steel brethren, handy for keeping the weight of one's bike and overall suitcase weight down.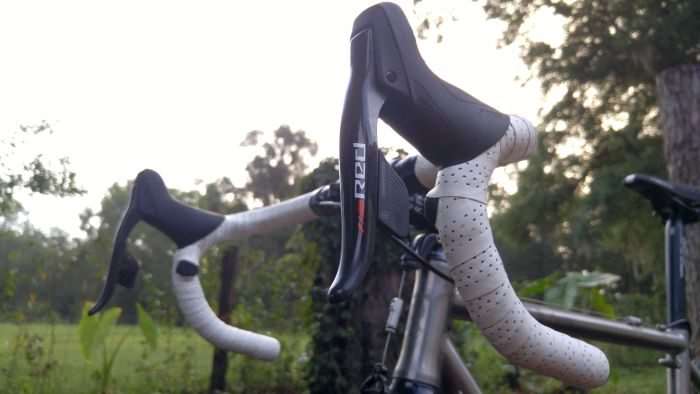 Unfortunately, Ritchey is no longer producing Titanium Breakways of any kind. Rather, they are concentrating on steel and carbon for their current designs – JOM's Ti Breakway CX is possibly the last 54cm model to leave the factory. However, for those still seeking the quality ride of a Breakaway-like Titanium frame, newcomer NDVR Cycle is producing an all-Titanium adventure bike (with technology licensed from Ritchey) that features disc brakes… JOM got a brief ride on one of the early prototypes… they are looking good… we may be reviewing one in the future.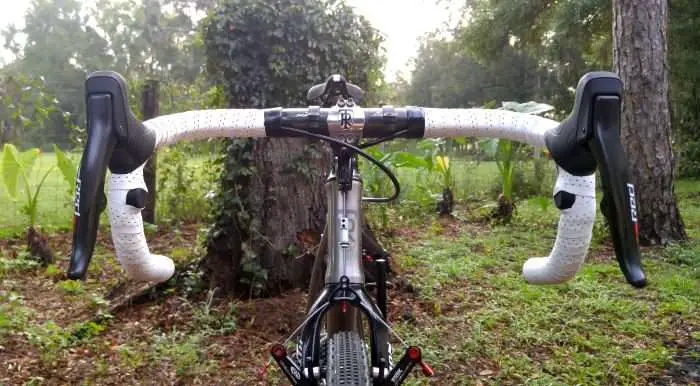 The Breakway in these images is the latest build belonging to JOM of the Gravel Cyclist crew. Equipped with SRAM's innovative wireless gear shifting system, eTap (see Part One of our review here), it is possibly the ultimate gravel travel bike – at least in the opinion of JOM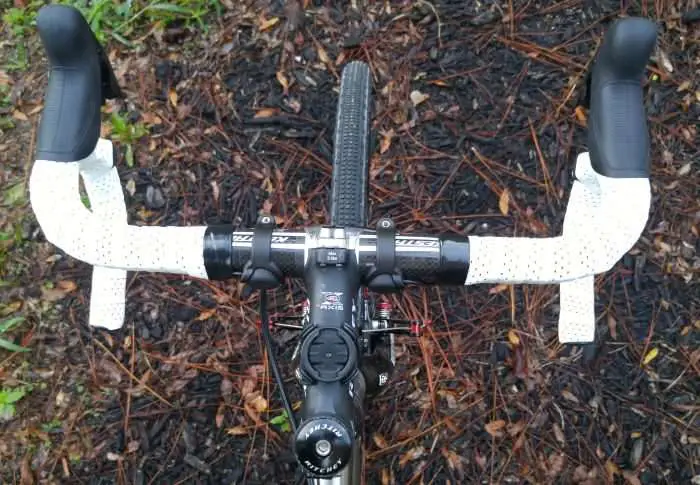 On this bike, only the front and rear brake cables require splitting before packing into the travel case. SRAM eTap solves the problem of running cables inside the frame – drilling Titanium is not a fun process and is harsh on drill bits – and eTap keeps one's bike looking very clean.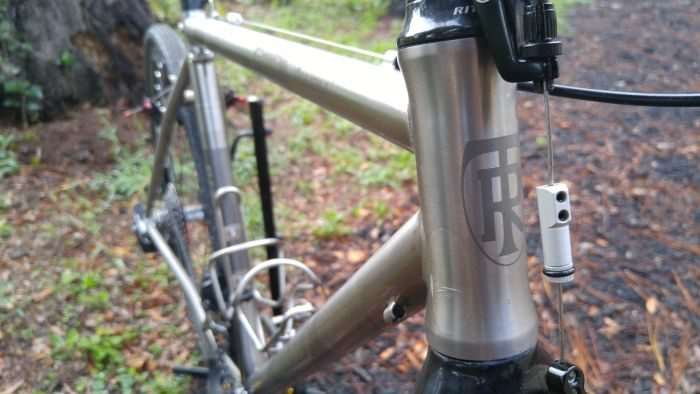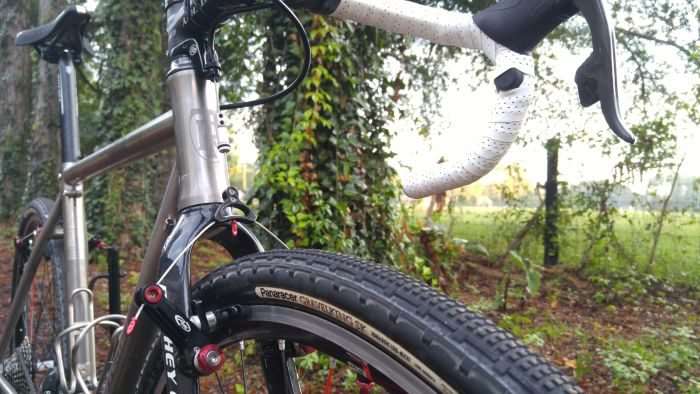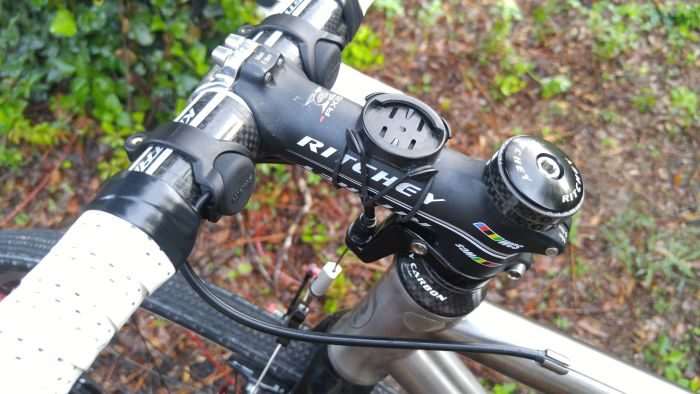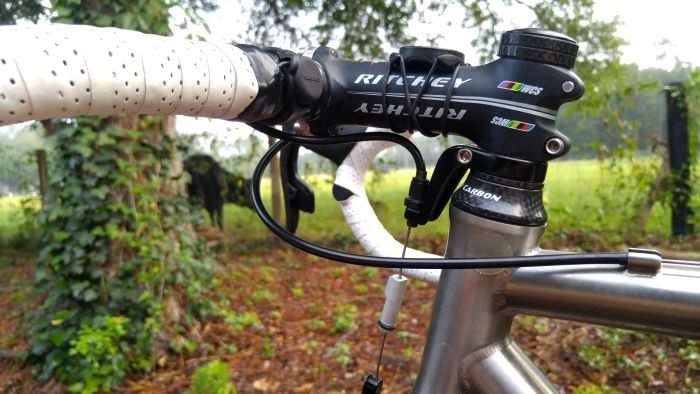 Despite there being a lot happening on this handlebar, it looks reasonably uncluttered. Come race day, JOM will fit a GoPro camera and paired remote for the handlebar. Then, things become a little tight.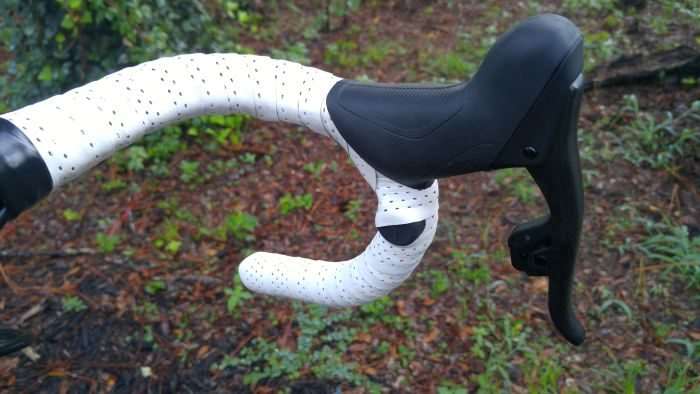 SRAM's Blip shifters feature prominently on this bike; a huge advantage with electronic shifting is the ability to run additional shifters. JOM is a huge proponent of these gear systems, having adopted Di2 since the day it was introduced over six years ago… and Mavic Mektronic and Mavic Zap… circa 1994 for Zap. Admittedly, Shimano does a much better design job with their climbing and sprint shifters, but considering this is eTap V1, we remain optimistic SRAM will improve their system in the next release.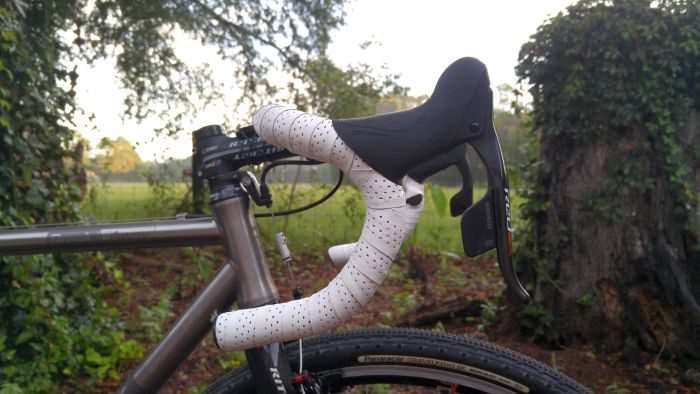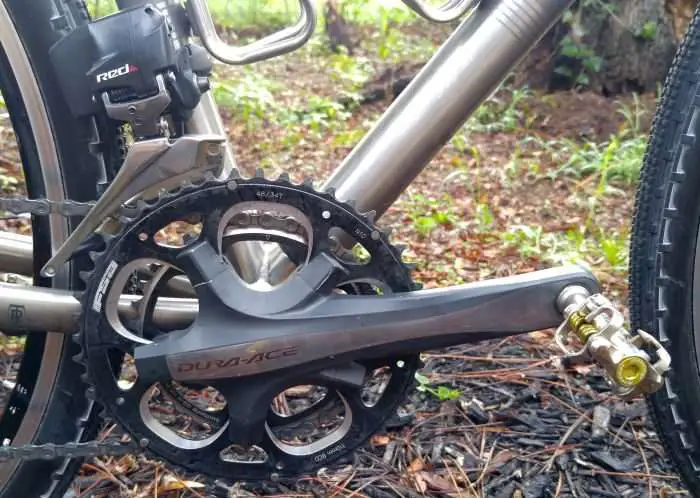 JOM utitilizes a hybrid drivetrain of sorts – Shimano Dura-Ace 7900 series compact crankset with an FSA 48 tooth big ring and Shimano Dura-Ace 34 tooth small chainring. The SRAM eTap front derailleur and its associated battery leave a 4mm gap between the Panaracer Gravelking 700c x 35mm tyre (which measure 38mm fitted to American Classic's Hurricane wheelset) which is a point of concern. That issue aside, shifting is absolutely perfect on this older 10-speed crankset – and no derailleur rub anywhere on the chain. Setup with SRAM's Yaw type derailleurs is critical, so take your time and do it right.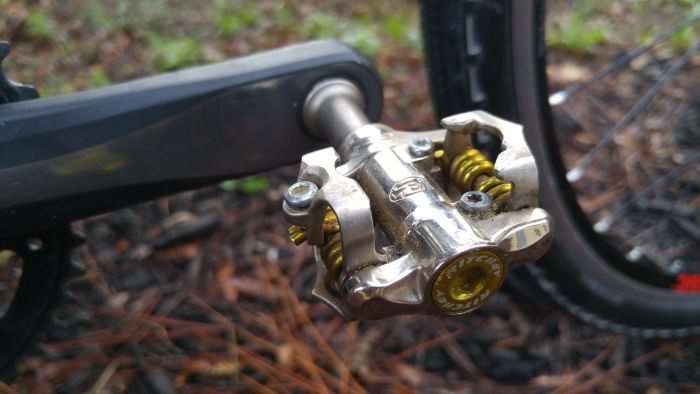 Naturally, Ritchey WCS pedals accompany a Ritchey Breakaway adorned with multiple Ritchey parts.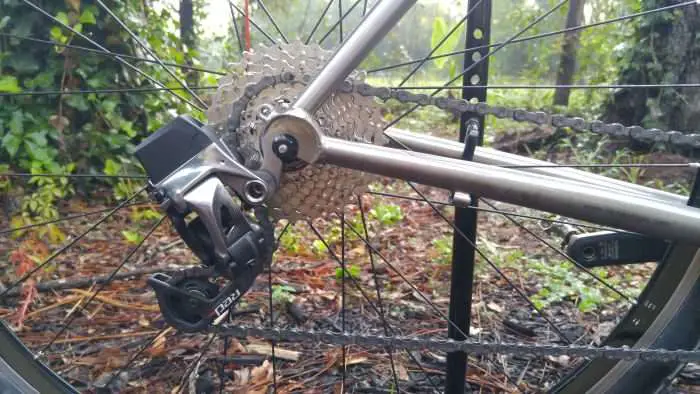 SRAM doesn't recommend this, but that is a Shimano Ultegra 11-32 cassette paired to the eTap rear derailleur in the photo above. It shifts perfectly with no complaints – SRAM recommends a maximum cog size of 28 teeth. If you decide to follow our example – do it at your own risk – and ensure the B-screw is turned all the way in (clockwise).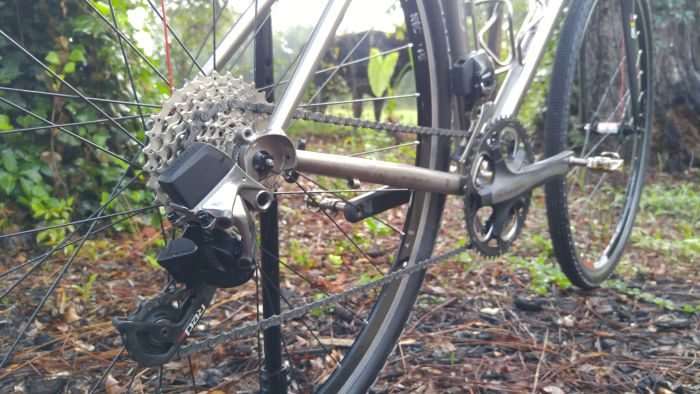 There is no sag in the chain – even on the 34 x 11 cog – indicating the chain is perfectly sized to this bike, helped by the extremely strong spring in the eTap rear derailleur.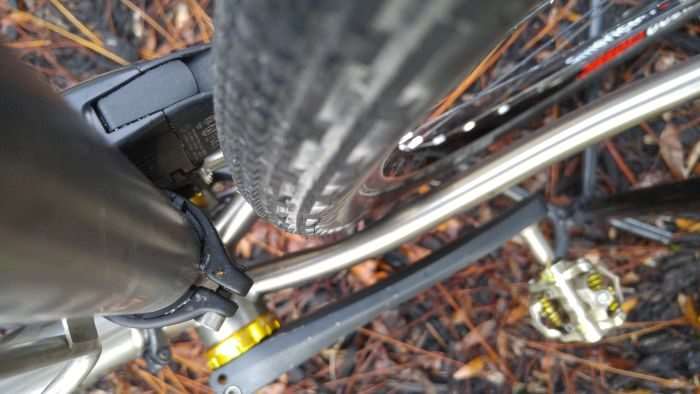 Tyre clearance on the Titanium Breakaway is a bit tight, but a 40mm tyre such as the Maxxis Rambler should fit without issue.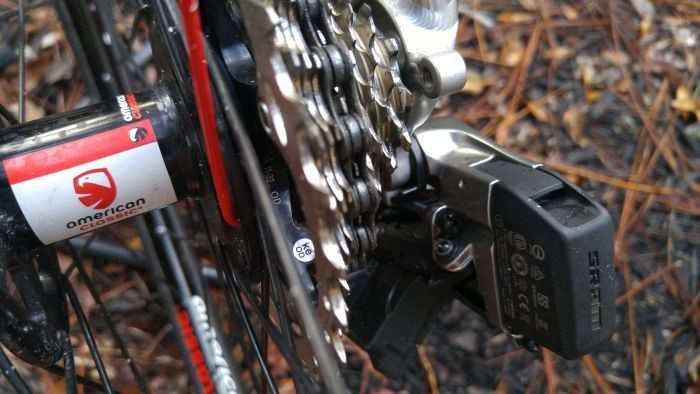 An older American Classic Hurricane wheelset serves for use on gravel roads. Recently upgraded to 11-speed, this Hurricane wheelset is perfect for gravel travel.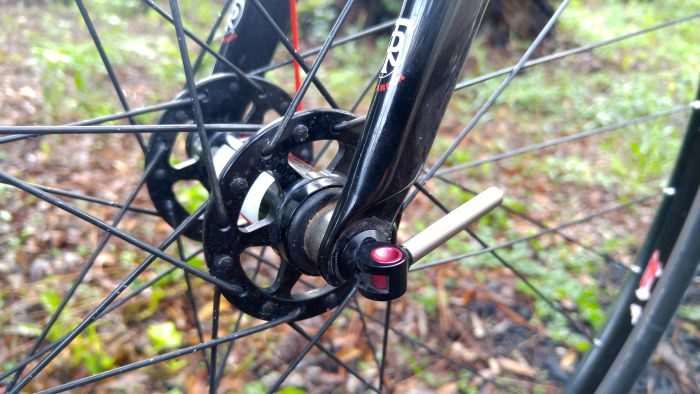 Featuring no proprietary spokes, all of American Classic's wheelsets utilize simple parts and strong, reliable spoking patterns. If you break a spoke, a replacement is available at your local bike shop! This is extremely important when traveling with your bike.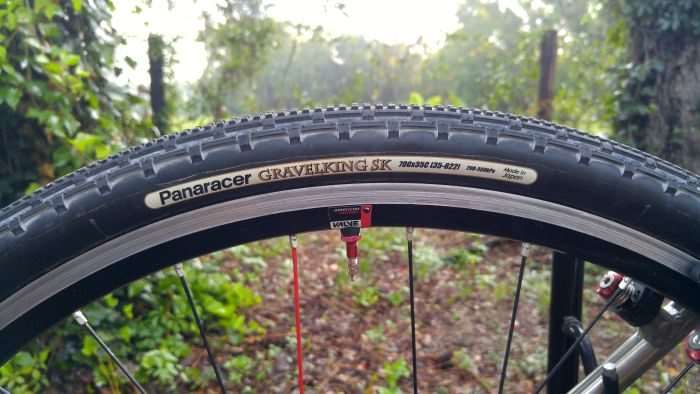 The Panaracer Gravelking SK in 700c x 35mm. This fast, tubeless gravel tyre will be the rubber on JOM's wheels during his quest to safely navigate the 2016 Gravel Worlds race in Lincoln, Nebraska. We'll be posting our review of this fabulous tyre – the 40mm and 35mm versions, soon.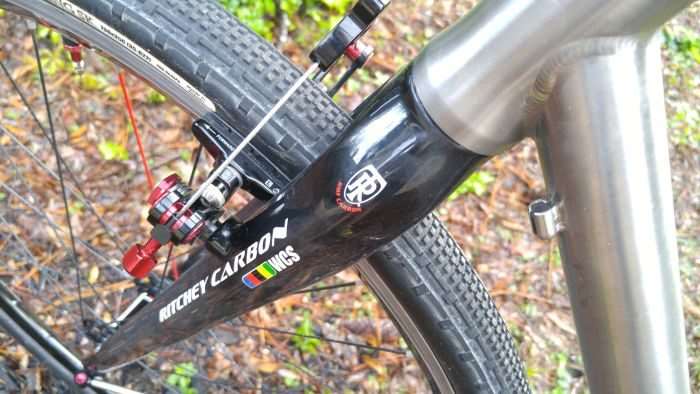 The final generation of the Ritchey Titanium Breakway CX features a slightly curved, all-carbon WCS fork. However, JOM prefers the look of the company's straight blade, 1 1/8″ all carbon cross fork and substituted accordingly.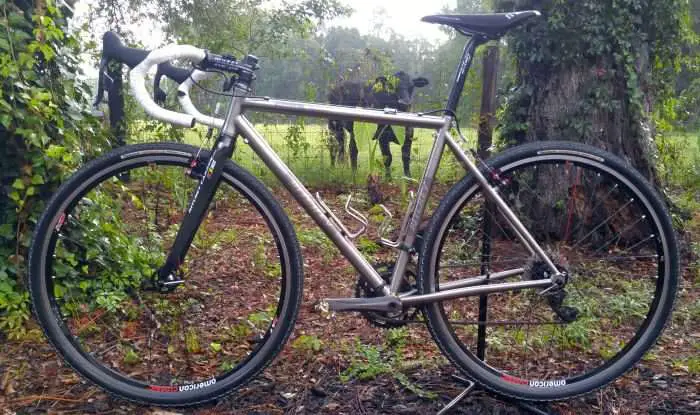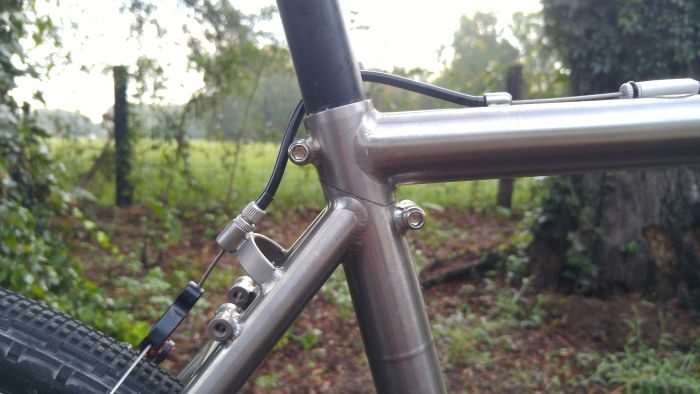 At the seat tube / seatpost / top tube junction, the frame splits just above the weld for the rear chainstays. The seatpost holds the two halves of the bike together at the top, and is securely held together by two M6 steel bolts. JOM has ridden a lot of miles on his steel Breakaway without issue.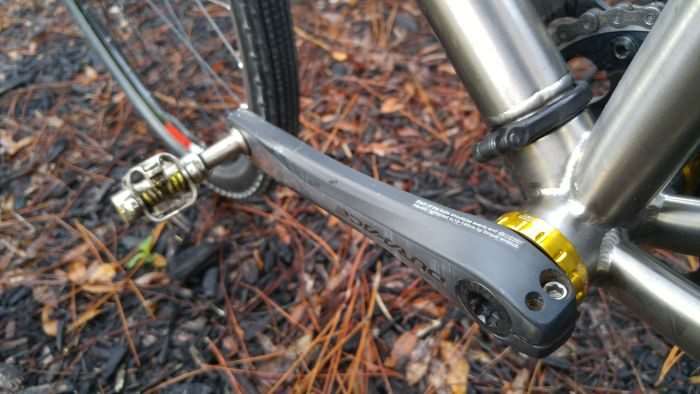 The beefy Ritchey clamp holds the bottom end of the bike together. The Titanium Breakway CX features a sleeve that interfaces with the front half of the frame – a very secure connection sans creaks or groans. The gold cups of the Hawk Racing bottom bracket match up nicely with the springs of the Ritchey WCS pedals – purely coincidental 🙂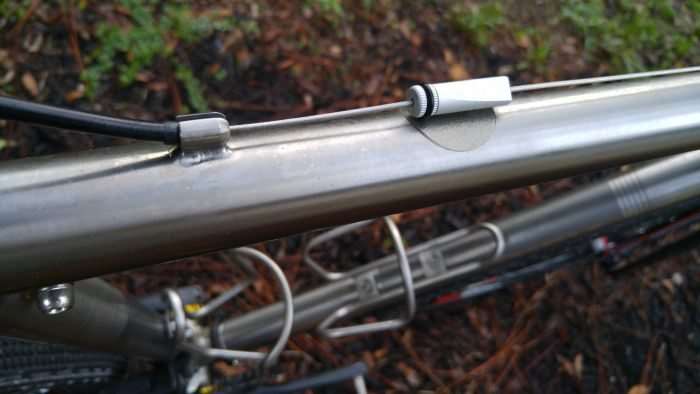 The secondary cable break point on the Ritchey Breakaway Titanium CX – JOM would prefer it if the cables were routed more to the bottom and side of the top tube as with his older steel model, but Ritchey's cable splitters have no impact on brake performance.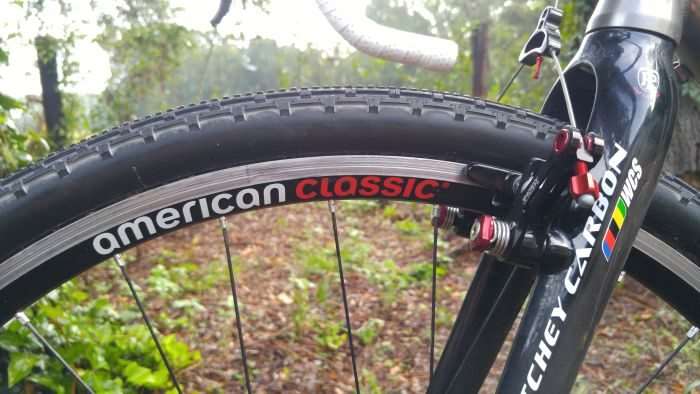 Another view of the American Classic Hurricane wheelset and Avid's awesome Shorty Ultimate cantilever brakes.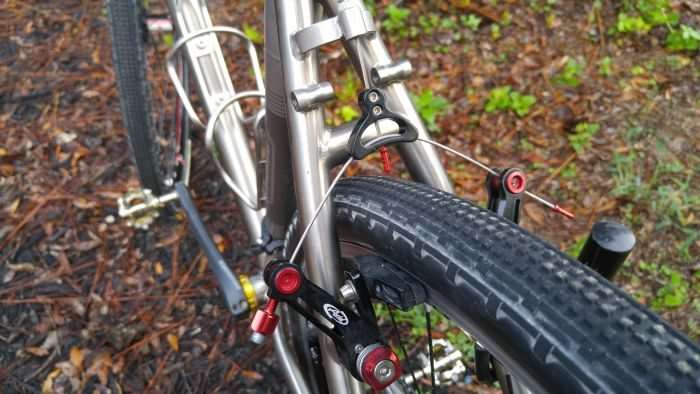 The Ritchey Breakaway Titanium CX features rear mounting points for fenders – and hidden by the brake – Titanium cantilever studs – a really nice touch!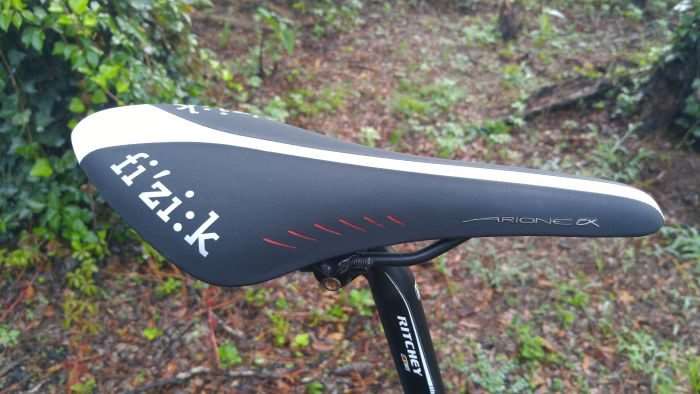 The Fi'zi:k Arione is JOM's go to saddle for every situation.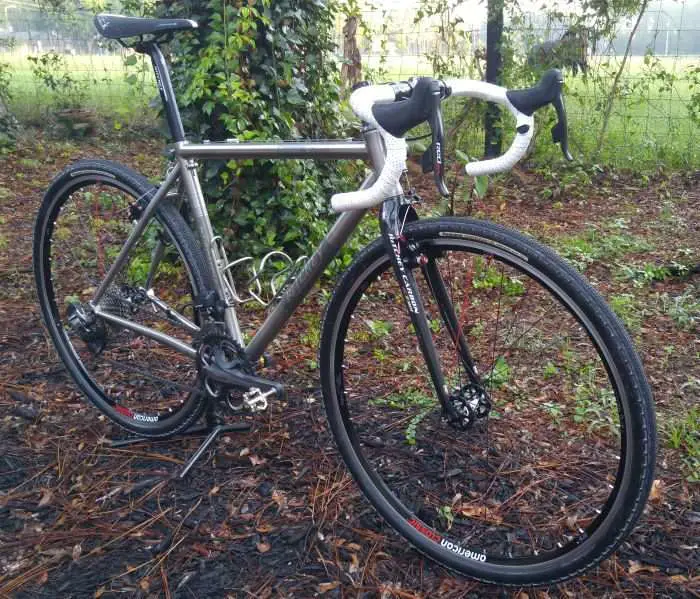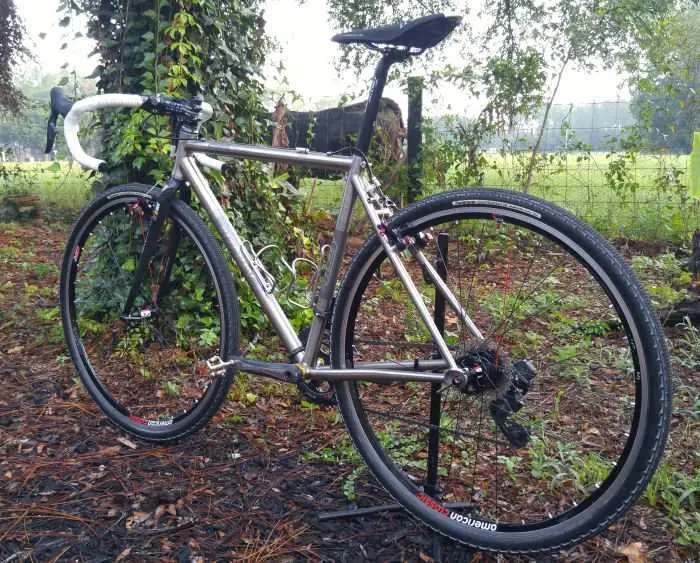 Frame: Ritchey Breakway Titanium CX, size 54cm.
Fork: Ritchey WCS CX all-carbon 1 1/8″ straight blade fork for cantilever brakes, fitted with Problem Solvers hanger.
Headset: Ritchey WCS 1 1/8″ integrated drop-in bearings.
Stem: Ritchey WCS 4-Axis 110mm, 31.8mm clamp.
Handlebar: Kestrel EMS OS 31.8mm, all-carbon, 40cm centre to centre.
Handlebar Tape: Fi'zi:k.
Front Brake: Avid Shorty Ultimate cantilever.
Rear Brake: Avid Shorty Ultimate cantilever.
Shift / Brake Shift levers: SRAM eTap for mechanical brakes.
Front Derailleur: SRAM eTap 11-speed.
Rear Derailleur: SRAM eTap 11-speed.
Cassette: Shimano Ultegra 6800 series 11-32 11-speed.
Chain: Shimano Ultegra 11-speed with KMC master link.
Crankset: Shimano Dura-Ace 7900 series, 170mm fitted with FSA 48 tooth big chainring, Dura-Ace 34 tooth small chainring.
Bottom Bracket: Hawk Racing, English thread.
Pedals: Ritchey WCS MTB.
Wheelset: American Classic Hurricane 700c configured tubeless, fitted with M2Racer Ti skewers.
Front Tyre: Panaracer Gravelking SK 700c x 35mm with Orange Seal Endurance Formula sealant.
Rear Tyre: Panaracer Gravelking SK 700c x 35mm with Orange Seal Endurance Formula sealant.
Saddle: Fi'zi:k Arione.
Seatpost: Ritchey WCS single bolt 27.2mm x 350mm.
Bottle Cages: King Cage Titanium.
Computer: Garmin 800 (when mounted).
Bike weight – 18.3lbs fitted with the above-listed components, minus the Garmin computer.