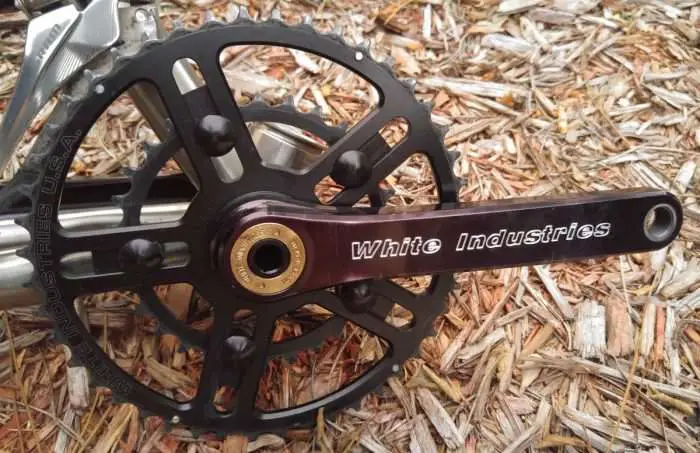 "We are one of the few remaining bicycle component manufacturers who continue to manufacture our goods here in the USA.  We are proud that we can say of our components: Made in the USA. Our team works together as a family on all aspects of the business from engineering to machining, from assembly to the sales and support of the components we produce.  We are located in Petaluma, California located in Sonoma County.  We take pride in the components we produce, in the quality that we put forth, and the customer service that we offer to you. "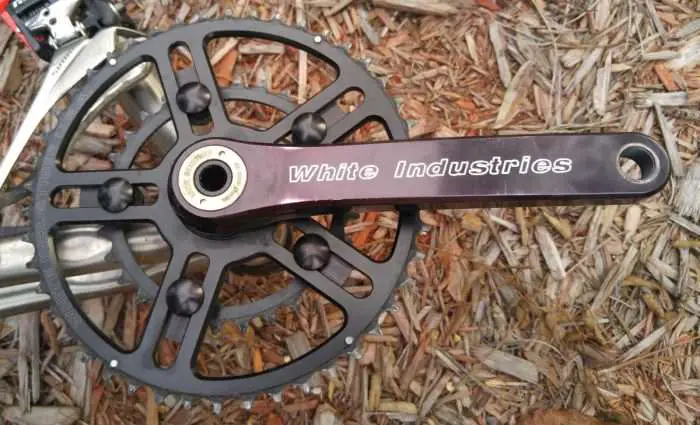 White Industries MR30 Crankset – Technical Details
MR30 cranks come in three flavors:
M30 Mountain.
G30 Gravel / Adventure.
R30 Road.
"For a long time square taper was king, but in recent years the development of new axle standards have redefined crank and drivetrain standards. We, at White Industries, answer this change by offering the MR30 cranksets."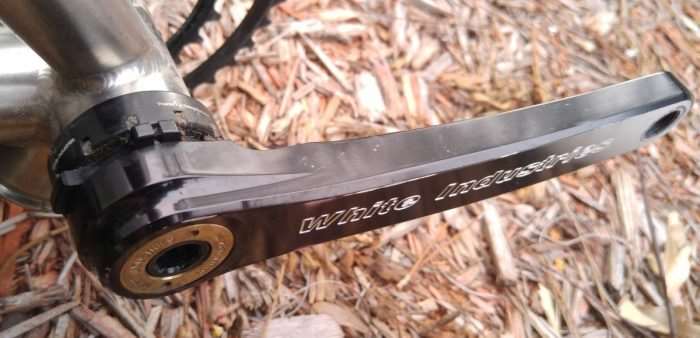 "The G30 is our adventure gravel crankset. The crank arms are designed to give you the spacing for wider tires while the narrow aluminum 30mm spindle allows you to keep a tight streamlined chain line. This crank is built around a 68/86mm bottom bracket and available in both the TSR 1x narrow wide and VBC 2X drive train configurations.  BSA, T47, or Press Fit 30 compatible, available in either black anodized or silver polished with the option of colored extractor bolts."
Gravel Cyclist is all about gravel, but this review is centered around the R30 road crankset, as the crankset was destined for installation on JOM's Ritchey Breakaway CX gravel travel bike. Additionally, JOM prefers a narrow Q-factor, and the R30's measure 157.2mm, whereas the G30 gravel crank measures 171mm.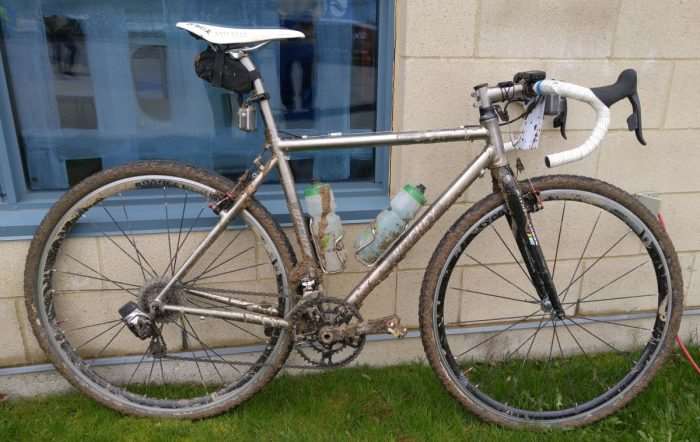 "The R30 is our do it all road crank using our long-standing VBC, variable bolt circle, design. The VBC system is built around a 68/86mm bottom bracket and allows you to customize your 2x ring configuration by being able to mix and match your inner and outer ring to create the ultimate gearing suitable for whatever ratio you desire."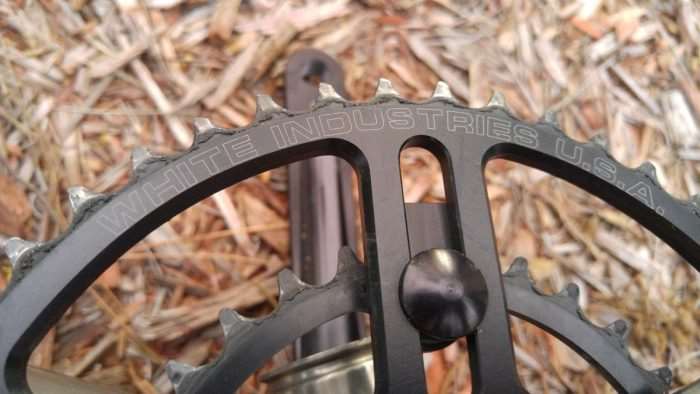 Everything else about the R30 is identical to the G30 crankset in terms of 1x and 2x compatibility, and the same bottom bracket systems.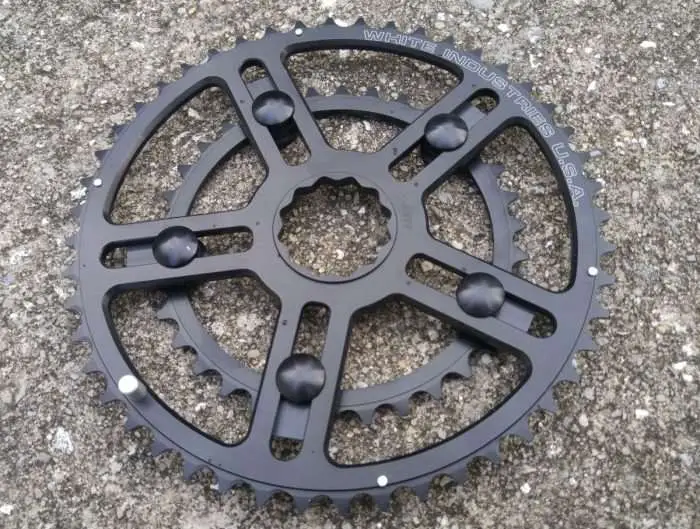 "VBC is an acronym for Variable Bolt Circle. The beauty of VBC rings is they allow you to set up various tooth configurations to get the gear ratio you desire."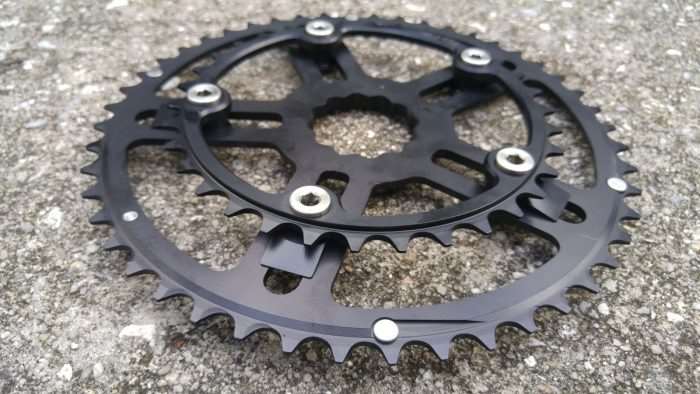 "The outer ring is designed with a slotted section and the inner five bolt ring is self-centering allowing more options when compared to traditional crank designs with set bolt circle requirements."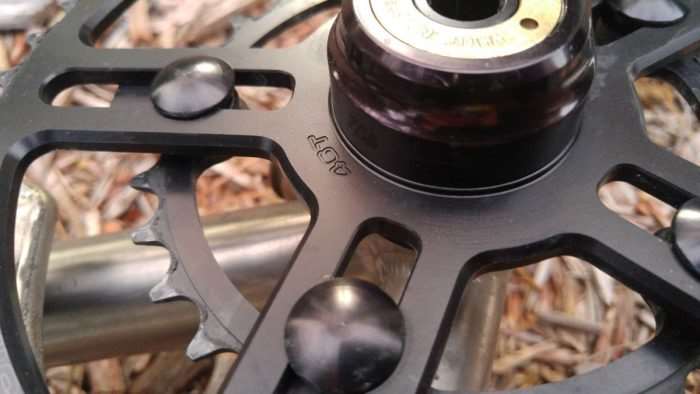 White Industries recommend at least a ten tooth difference between the outer gear and the inner gear and a maximum of 24 teeth. Thus, you can configure extremely low gear ratios for dirt and gravel use – or whatever you desire – the VBC chainrings are compatible with 9, 10 and 11-speed drivetrains. Available chainrings are 24 – 38 for the inner ring in even increments and 38 – 52 for the outer, again in even increments.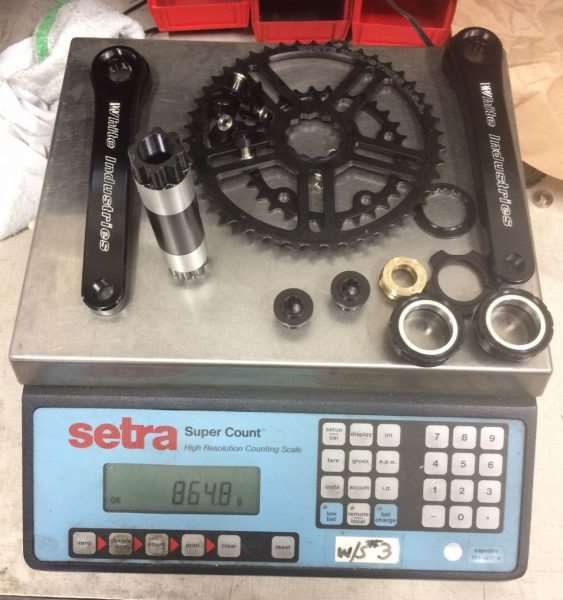 The review sample with everything to provide a functional crankset and bottom bracket system tipped the scales at 864.8 grams.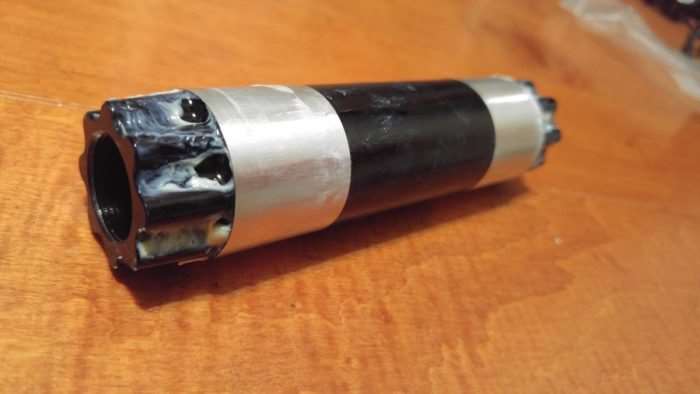 Our test bike utilizes a BSA / English thread 68mm bottom bracket. We chose the White Industries BSA bottom bracket with its oversized 30mm spindle, a perfect match for the R30 crankset. We chose the Stainless Steel bearing set, but White Industries offers a ceramic bearing upgrade at a premium – $US 250.00 versus $US 100.00 for Stainless Steel.
Bottom Bracket and Crankset Installation
To install the White Industries 30mm bottom bracket, you'll need a Park Tool BBT-79 installation tool.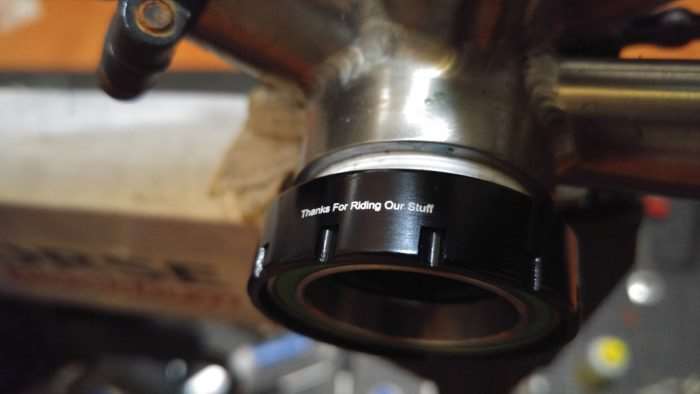 In the case of this installation, an English threaded bottom bracket shell, ensure the shell is clean before applying a suitable amount of grease to the shell threads. In the case of my test bike, a titanium frameset, I applied a liberal slathering of anti-sieze compound in addition to a very thin layer of teflon tape (optional).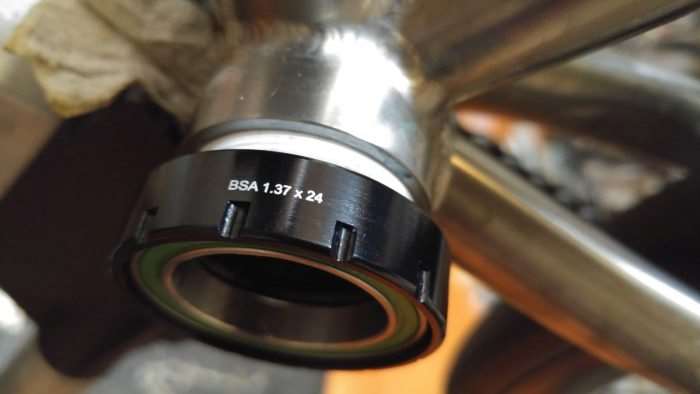 I didn't have the cup torque specifications available at the time of installation, but I tightened down both cups ensuring a snug fit and no chance of the cups backing out under normal pedaling load. For press-fit bottom brackets, you'll have to follow a wee bit different procedure.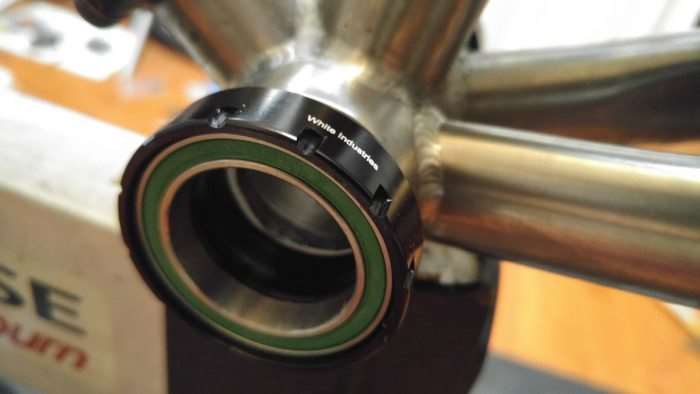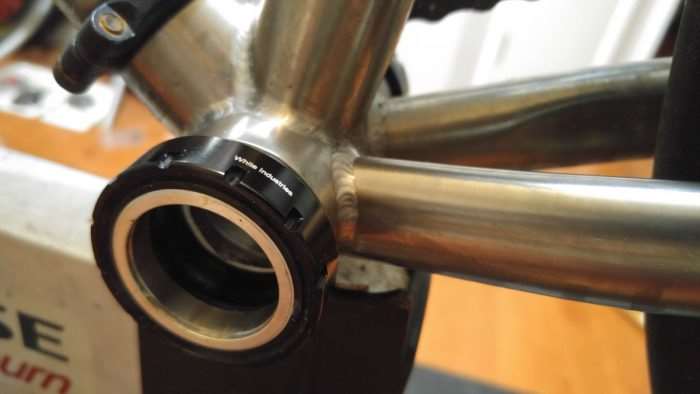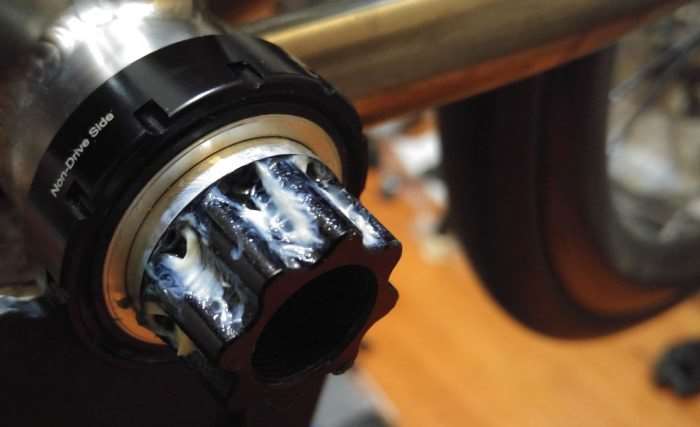 Install the bottom bracket spindle, ensuring you apply plenty of grease to the known contact points. The easiest method of installation is to mate the spindle to the non-drive side crank arm, and slide the spindle through from the non-drive side.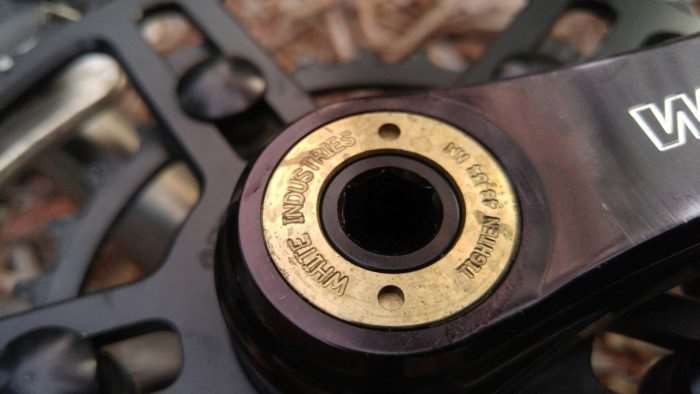 Install each crankarm and tighten the self-extracting bolt on each side to appropriate torque. The recommended torque is 48-54nm but if you don't have a torque wrench, that will be about as tight as you can go with a full-length 10mm allen key. This advice came directly from Alex of White Industries.

With the crank arms installed, the final step it to thread the adjustment ring (resides on the non-drive side) towards the frame until the bottom bracket spindle no longer slides back and forth. Ideally, there will be little to no side to side play and the crank arms should spin freely. If the crank does not spin freely, slowly thread the ring away from the frame until the crank spins freely. Once in the optimal position, tighten the small bolt in the adjustment ring with a 1.5mm allen key.
Swapping out Chainrings
The really nice thing about this crankset design is the relative ease of swapping out chainring sets. With that said, I ordered the R30 crankset with a 46/30 ring set installed, and a 48/34 ring set as a spare if I decided to go a little bigger. Thus far, this crankset has remained at one with my gravel travel bike and the 46/30 ring set has stayed, but swapping to the 48/34 as one module is pretty simple to do.

To install or remove the big chainring from the crank – this process applies to 1x or 2X chainrings – you'll need the Park Tool BBT-22 or BBT-32 – see above photo for an example of the procedure. When tightening, the lockring holding the chainring in place should be torqued to 40 Nm.
How does the White Industries R30 crankset perform?
Perfect is the word. It has been ridden extensively on training rides and at these events for 11 months:
During this time, the crankset has been paired with a SRAM eTap drivetrain and Shimano Ultegra 6800 series 11-32 cassettes.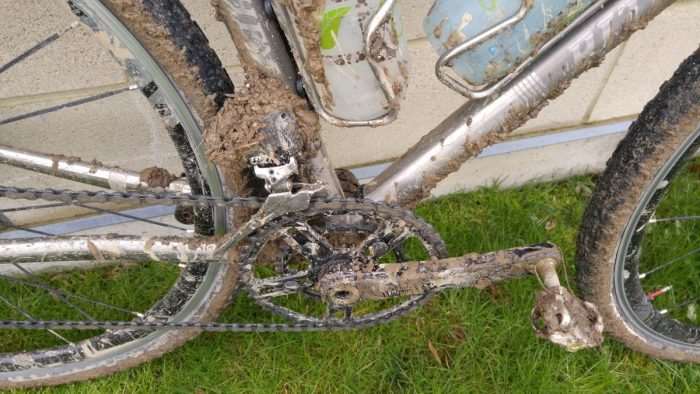 Not once has the crankset missed a shift. The earlier mentioned events include mud, sludge, well-groomed gravel, rocky gravel, heavy rain, desert-like conditions, single track, creek crossings and smooth pavement. Even under load, shifts are perfect from the small chainring to the big chainring. Shifts in the opposite direction are equally as flawless, although I soft pedal through when dropping rings.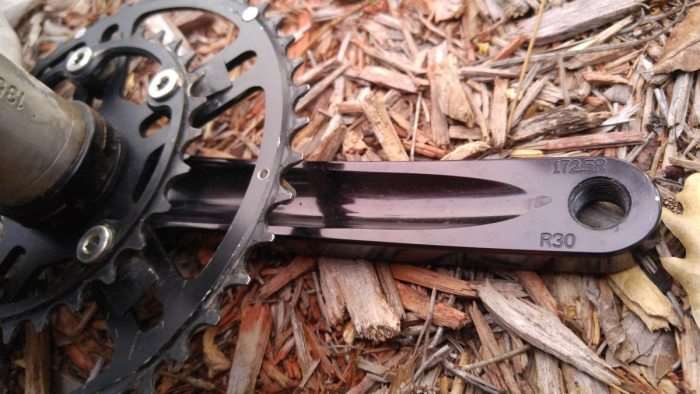 I cannot vouch for 1x / single chainring performance, but the 46/30 sub-compact chainring pairing is superb. Combined with an 11-32 cassette, you can scale virtually any climb, seated, sans the large gaps often associated with a cassette designed for a 1x drivetrain. And, no creaking or groaning. Brilliant!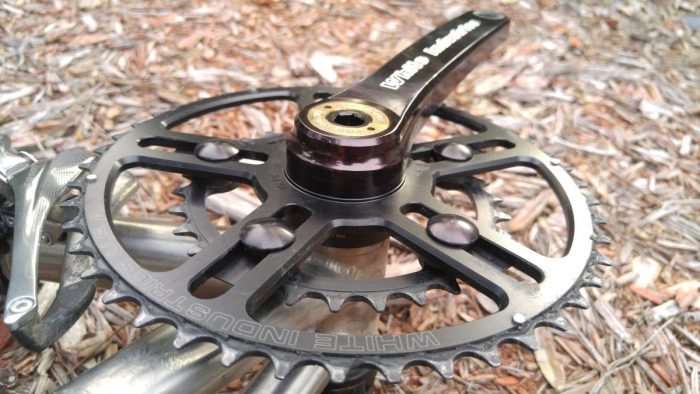 But, this review isn't about the virtues of 1x versus 2x – but feel free to check out our video on that topic.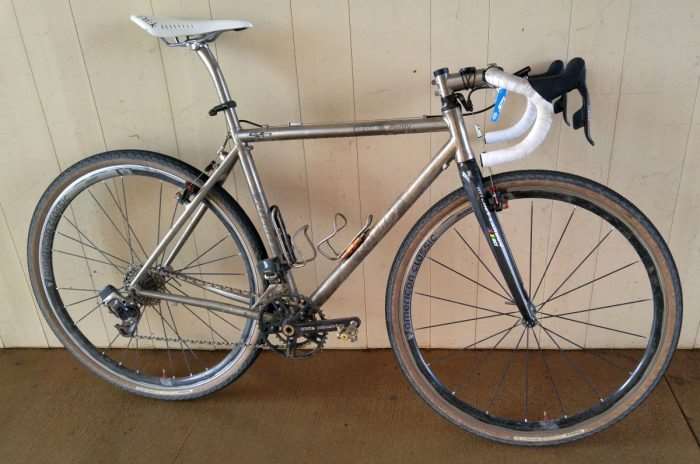 I have some small quibbles with the R30 crankset but they are very minor:
Even at a Q-factor of 157.2mm for the R30 crankset, it is about 10mm more than Shimano's Ultegra 6700 / 6800 series of cranksets. For people who have sensitive knees, this could be a point of concern. As for me, I barely noticed the additional 5mm either side.
After a period of heavy use, the black anodizing can fade. The crankset is also available in polished silver, which completely avoids this problem.
Regular service is needed on the bottom bracket, but this would apply to any bottom bracket, especially considering what I have put this crankset through in 2017. Paris to Ancaster was a bit messy, but the Almanzo 100 was a 7+ hour rainfest on sticky and gritty gravel roads. For maintenance, I was diligent about removing the bearing seals and applying fresh grease after every nasty ride or race. However, after nearly a year of use, it is time for the bearings to be replaced!
Summary
If you are looking for a crankset option that caters to lower gears with almost no limitations on chainring sizes for a 1x or 2x configuration, it is difficult to go past the White Industries R30 crankset. Performance is absolutely superb in even the nastiest of conditions.
At $US 300.00 for the crank arms and spindle, $US 100.00 for a bottom bracket and chainings ranging anywhere from $50 – $90 each, the costs soon add up, but pricing is on par with similar offerings on the market.
Finally, if you like supporting companies who design and manufacture their products in the USA – along with a long history of solid design principles and excellent customer service, do yourself a favor and check out the entire lineup of White Industries products. You will not be disappointed.