In Part One, I detailed my trip to Italy and in Part Two, the pre-rides of some of the course, in video format. There is also plenty of retro bike goodness to see in the Bikes of L'Eroica (Part One) and Bikes of L'Eroica (Part Two) – more coming. Without further ado…
Part Three – Event Day – The White Roads of Tuscany
October 2nd, 2016 – All week long, the weather leading up to the big event on Sunday had been simply amazing. High temperatures in the mid 20's Celcius / 70's Fahrenheit with nary a drop of humidity in the air and clear blue skies. The gravel roads were dry and dusty, but with much experience on gravel and many miles beneath my wheels throughout various parts of the world, I had no concerns and was ready for 2016 L'Eroica!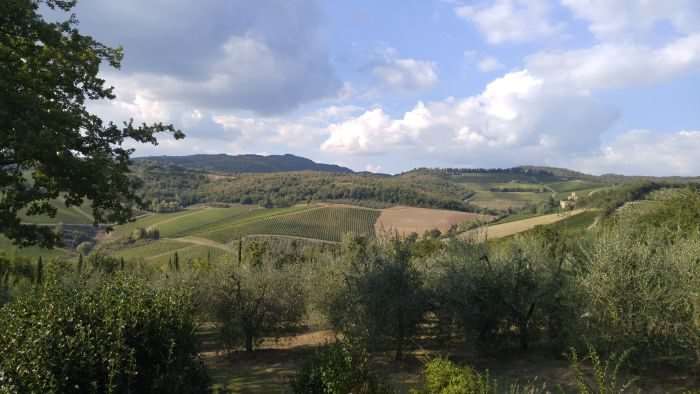 My travel companions for this trip, Mr and Mrs K-Dogg, had cautiously eyed the weather for Sunday. The forecast called for rain late on Saturday afternoon, leading to heavy rain in the evening and possibly into the early morning hours of Sunday. Considering the 209 kilometre version of L'Eroica was slated to start between 5am – 7am, it was possible wet gravel roads could affect proceedings? In light of our history at gravel events, rain seemed to the norm so it was a case of history repeating itself…
2:30am Wake Up
Yes, 2:30am. Absolutely ludicrous and the earliest time I have ever woken for a cycling event! Why so early? The Doggs and I were keen to get a start towards the front of L'Eroica, namely to avoid any hassles related to the clog factor on the early gravel climbs. Climbing steep gravel climbs is challenging at the best of times, but in toe strap pedals and very unfamiliar shoes, this would be a test… and 7,000 cyclists had shown up to the 2016 L'Eroica to contest the various distances!
Between 8pm and 2:30am, I probably slept about two hours. Watching part of A Sunday in Hell – the 1976 Paris Roubaix didn't help any, but I was thankful I slept very well the evening before, which in my mind is the night that matters. Still, it was rest of some kind and I woke, feeling somewhat rested. I'll spare you readers the personal details, but my body was very uncooperative at this hour, and consuming breakfast is all it would tolerate.
The weather man's predictions were correct. Heavy rain had fallen throughout the night. While our group had gained a little "tribal knowledge" courtesy of our pre-rides, we had no clue what condition the gravel roads would be in. And, we were riding on older road bikes, circa 1987 in my case, shod with Clement LGG 700c x 28mm tyres – optimal for the conditions? Temperatures were pleasantly cool in the low 60's Fahrenheit, with cloudy skies and fog present.
4:15am Line Up
Mrs K-Dogg drove us to a nice parking location on the outskirts of Gaiole in Chanti, the home town of L'Eroica. With retro cycling kits donned, we rolled down the steep hill and into the start area for the ride. This area also happened to be the main part of the town proper. L'Eroica is akin to cosplay for cyclists in so many ways – many of the attending riders put a huge amount of effort into bike and clothing preparations. Wool jerseys and shorts were prevalent, as were ladies and gents adorned in classy outfits relevant to the time period they were representing.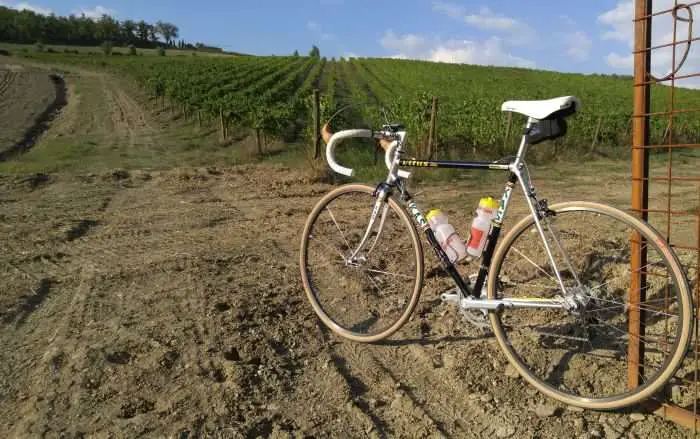 I was flying the Sean Kelly flag, riding a mostly correct 1987 Vitus 979 with Mavic groupset (featuring the bike soon) and reproduction KAS jersey (thanks for the loan K-Dogg!). I opted for modern, plain black shorts (Endura Pro SL) that were very low key in appearance, and the classic Adidas 3-stripe Eddy Merckx shoes (lucky to find these in my size).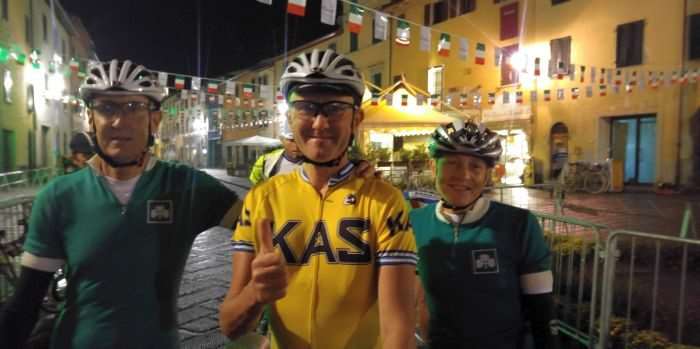 Our trio exchanged pleasantries among the growing throng of assembled riders. Within earshot were Italians, Germans and a Canadian fellow… and counting Mr and Mrs K-Dogg, two Americanos and yours truly, an Australiano.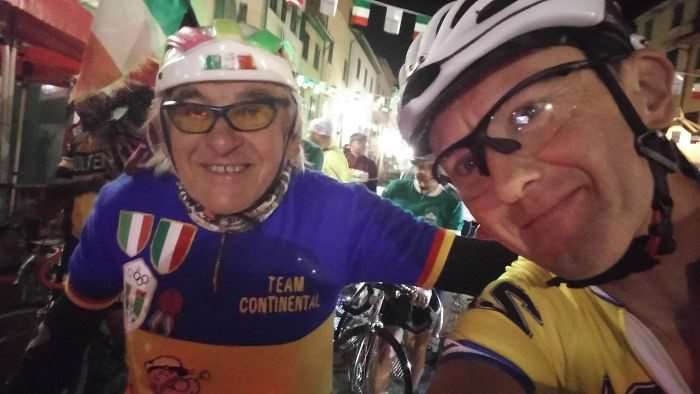 Our early start had placed us in good position for a clean start, and at about 4:55am, the organizers rolled us forward towards a set of guard rails, siphoning us into lines so that every rider could have their event passport stamped and signed.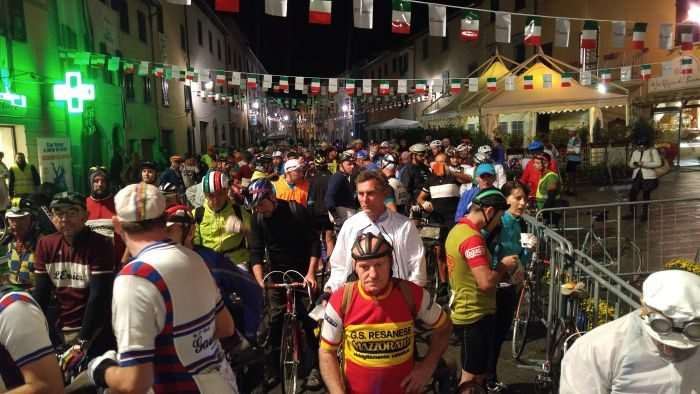 I got off to a great start and quickly latched onto the rear of the front group. Judging from the group's speed, it was obvious they were riding with a fast time in mind. My intent was to hang with them as long as possible but avoid going into the red. As it was 5:00am in the morning, it was dark and would continue to be that way until at least 7am. Mr and Mrs K-Dogg were riding a slower tempo for 2016 L'Eroica, and promised to stick together.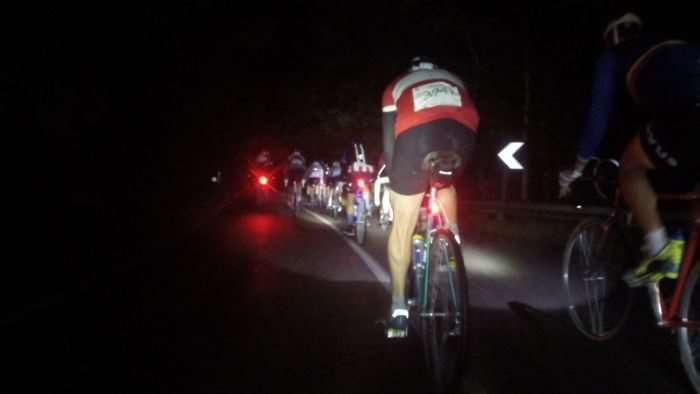 The roads were damp and fog hung in the air, but the rain had ceased. The fog made things a little humid, but considering what could have happened with the weather, the temperature was perfect and the riding tempo warmed my body quickly, saving the need for vests or arm warmers.
A split in the front group happened on the early part of the first climb of the day, approximately four miles / 6.5 kilometres into the event – the Madonna Brolio da Bivio Brolio. I "sat up" and joined the newly-formed second group that contained about 12 riders, all of whom I believe were locals to the area. Everyone around me was very strong, all with shaven legs and high sock tan lines – a good sign these lads ride a lot. But more important than this was their knowledge of the area. My 700 lumen front light was sufficient to guide my way through the darkness, but having to forgo glancing down at my Garmin for guidance by following their wheels, eased my mind considerably.
Castillo de Brolio and the outskirts of Siena
Built in the 11th century, this castle is simply stunning. It overlooks vineyards and the hills of the area not far from Gaiole in Chanti.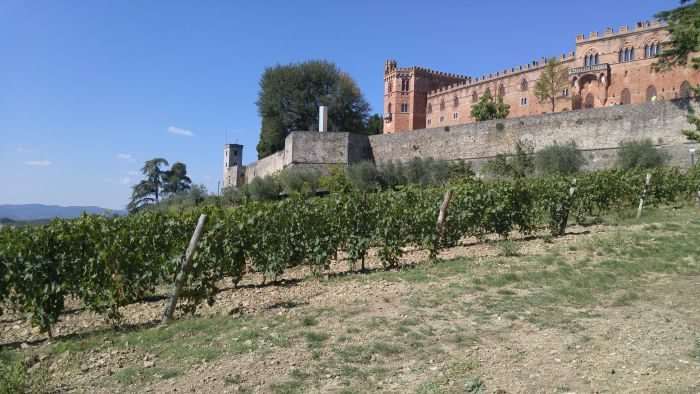 The dirt and gravel road towards the top of Madonna Brolio da Bivio Brolio that leads to the summit and runs parallel to the Castle of Brolio (Castillo de Brolio), was lit with candles along the way.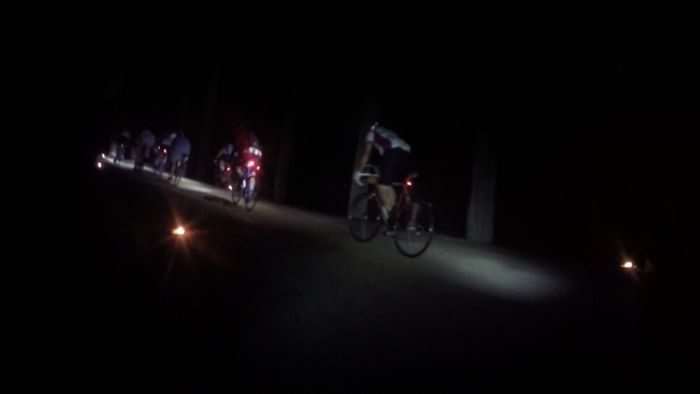 Riding my own tempo but just off the back of the second group, I was able to enjoy this marvelous experience in between heavy breathing and hard pedaling. I crested the summit with the second group and began the descent, mostly on gravel, from Brolio towards the small town of Pianella.
The tricky nature of this and following descents kept the pace in the second group steady. There were no attacks, just sweet tempo riding and an easing of the pace every time we crested a serious hill. I learned most of these lads were trying to stick together and ride as a group, which was working out perfectly for me.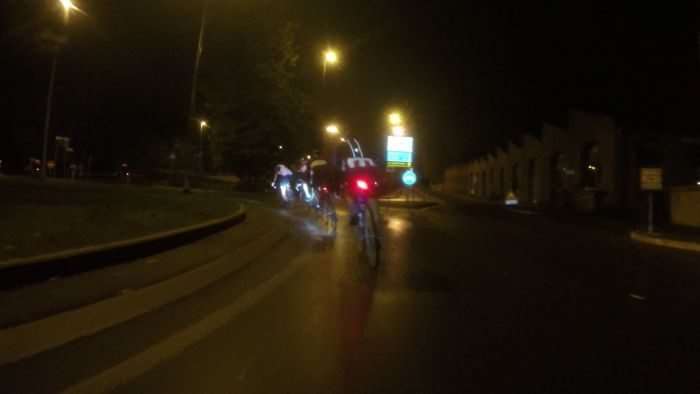 We rolled through the outskirts of Siena, and after a tight and confusing turn through a roundabout that had us almost double back on ourselves, we continued towards the first assigned rest stop in the small town of Radi.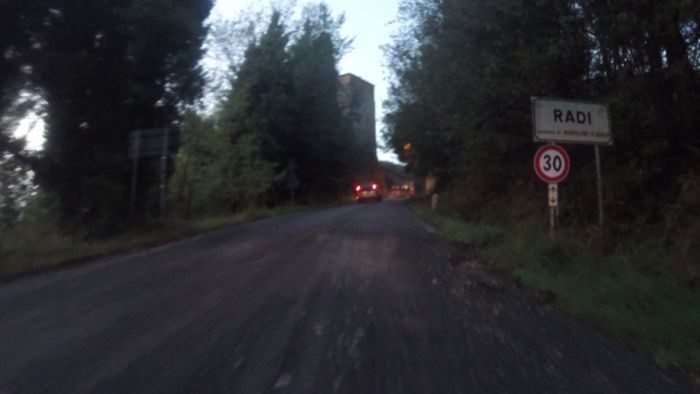 Among the first cyclists to roll into Radi, all of us received a warm welcome. I was carrying plenty of food on my person – 6 x Larabars, 9 x Gu gels and water bottles supplemented with Gu's drink tabs. However, the food at the rest stop was simply to die for and it was time to indulge. Gourmet, locally made food for all diets – fresh fruit, cheese, thinly sliced meat on bread, tarts, jam and nutella spread onto bread were just a few of the delights on offer… along with tea, Chianti wine and water.
Checkpoint #1 – Murlo
The 209 kilometre route consists of seven checkpoints, or nine if you include the start and finish. At each of these checkpoints you must receive a stamp from the organizers, signifying you have passed through. Murlo came just a few kilometres after the rest stop in Radi. Unfortunately, I left my friendly group of Italians behind, and was now riding solo. Murlo was also the sight of the first checkpoint.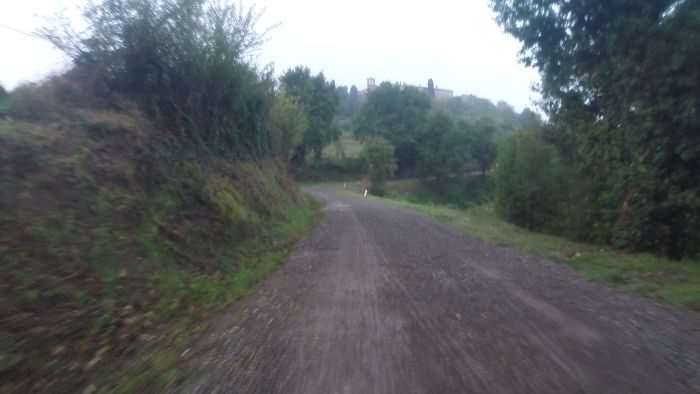 To reach the checkpoint, I had to climb a very steep gravel climb, in the neighborhood of 15% – 18%. The surface was very loose and like many others, I was forced to quickly exit from my pedals towards the summit, and walk the bike towards the top.
A short queue of riders was at the checkpoint ahead of me, but it didn't take long before I received my first official stamp in my L'Eroica passport, along with the time I had ridden through.
Wrong Turn then Back on Course
Between Murlo and the outskirts of the town of Buonconvento, I missed a turn. I was following the organizer's GPS file, but it turned out their file was from the 2014 course, and not 2016. Luckily, I had ridden this section of course during my pre-ride, and figured out what to do in order to get back onto the proper course. As a bonus I added at least two to three additional miles / five or six kilometres!
Not long after I resumed forward progress, the very steep paved climb up to the small town of Bibbiano had to be climbed. Easily over 10% average gradient with the main pitches at 15%+, even with my relatively low gear of 38 x 28, I simply crawled up this hill. Riding compact cranksets and ultra-low gearing during gravel races has completely spoiled me. My legs weren't enjoying this slow-going cadence.
Castiglion del Bosco and Moltalcino
Mostly on gravel, this section was among the toughest of the 209 kilometre L'Eroica course. The climb begins relatively innocently as you ride between cypress trees that line the road, with a view of the golf course to the right.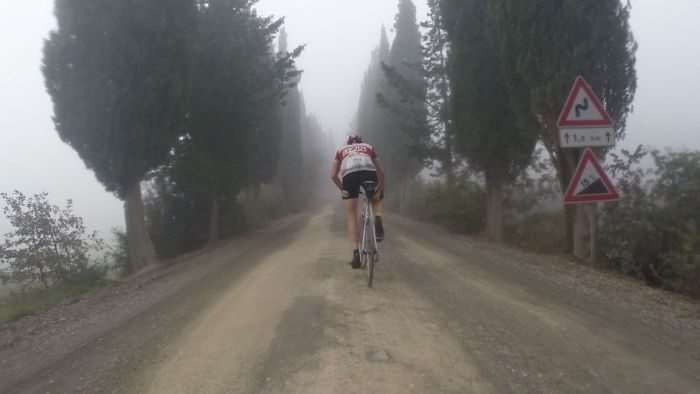 But that is where the niceties of this climb end. Soon it ramped up to 15+% on the gravel road, and maintained its steep pitches for almost five kilometres / three miles. Groups of riders that entered together were simply shattered to pieces by this climb. Quickly, the air became still around me, its silence only broken by the sound of gravel crunching beneath my 28mm wide tyres and heavy, controlled breathing.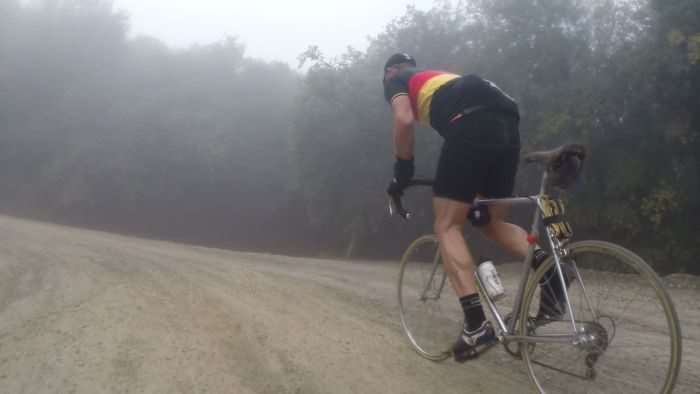 I stayed seated for the duration of this climb. Some riders were in and out of the saddle like yo-yo's, stretching their legs and shifting their weight. I was fearful of losing traction and stuck to my slow and tiresome seated tempo.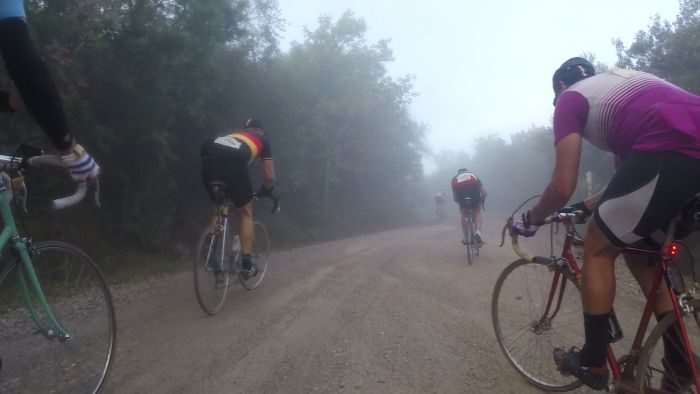 I'd ridden this sector of the course in pre-ride, and at least remembered how long the suffering would last. Someone on Strava (which I use only for gravel rides) named this segment as "EVIL. No other word" – they are spot on.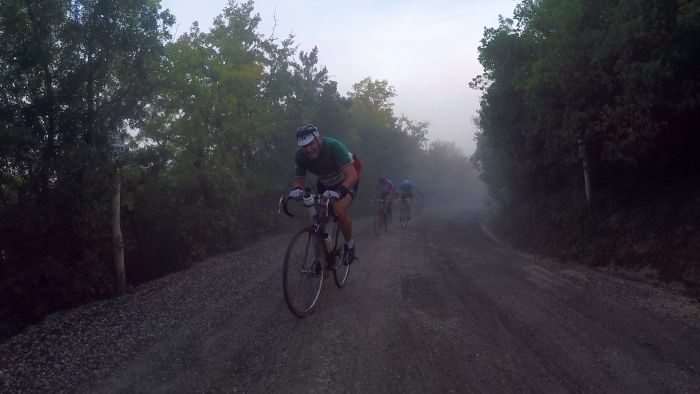 It took me one hour and one second to complete this segment, at an average speed of 9mph / 14.4km/hr.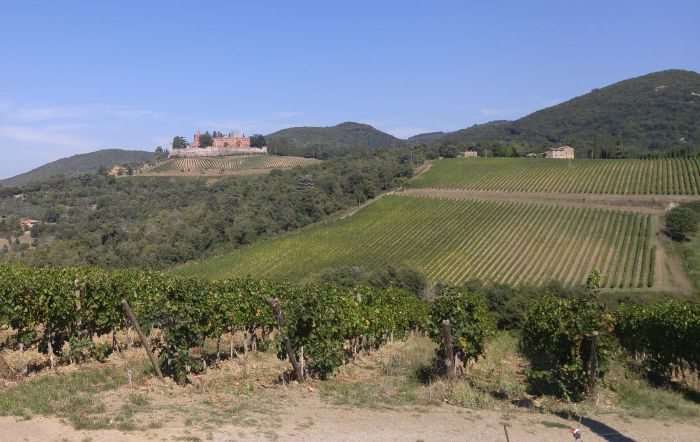 Towards the summit of the climb, riders were treated to stunning views of the town of Montalcino. The town also signified the end of our suffering for now, and a fast, paved descent would lead towards the next rest stop and checkpoint.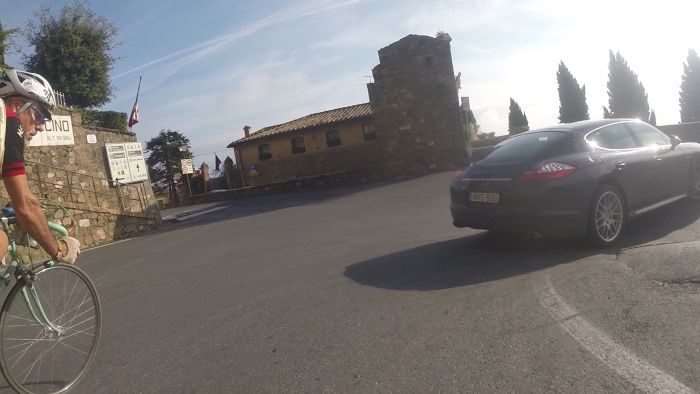 Anyone who is a regular visitor to this site knows how much I love descending – it is the reward for my less than stellar climbing abilities. In the company of the fellow pictured above, we bombed the descent out of Montalcino. A bloke driving a four-door Porsche made the wise decision to pull off to the side of the road to allow us to pass, as we blasted on by.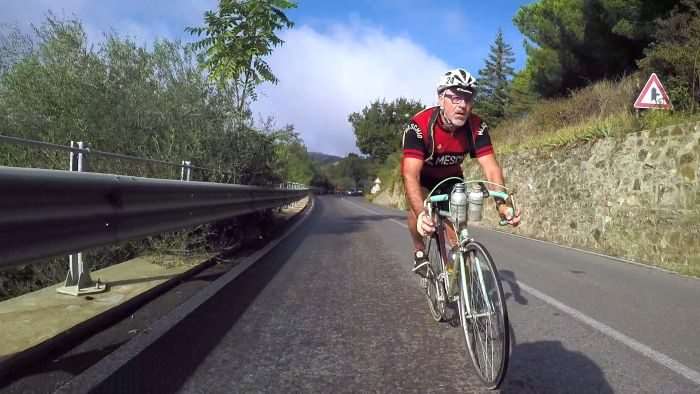 Beautiful sweeping corners and nice road surfaces made this descent an absolute pleasure to ride. As the road straightened out, we swapped turns back and forth to maintain our speed.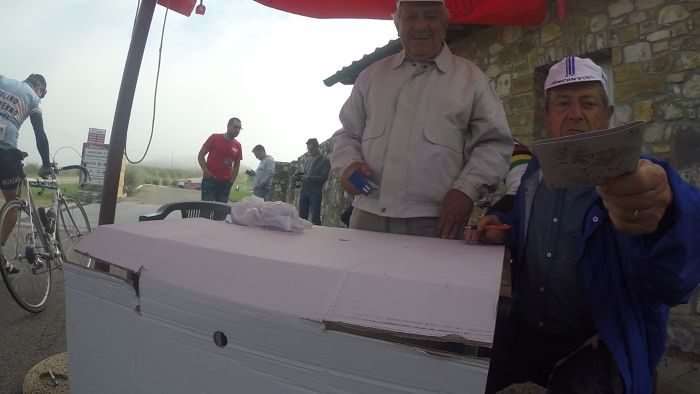 We rolled safely into the next checkpoint and food stop at Cantina di Montalcino. The food at this stop was again out of this world. Nothing personal against organizers of every road century ride I have ever done in my life – there were no processed snacks or Gatorade anywhere in sight.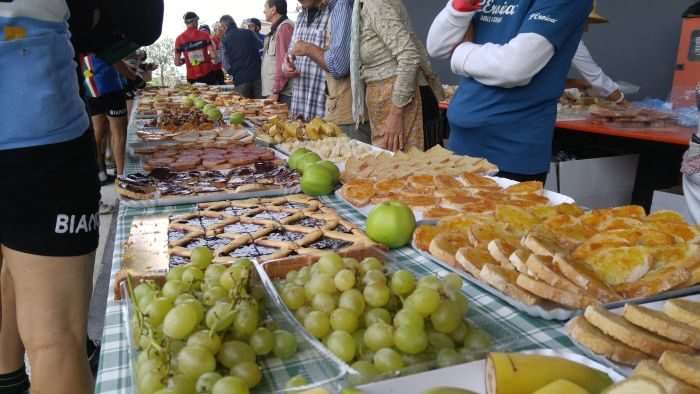 Befitting the occasion, I indulged in a glass of Chianti wine, and gave thought to the lucky residents who call this beautiful area of the world home.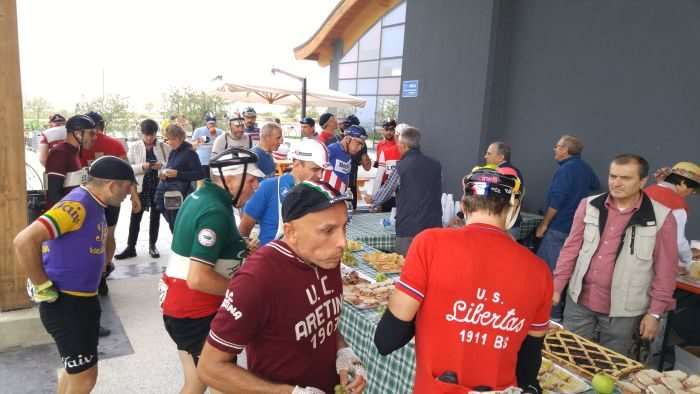 The Mud Road
Despite the heavy overnight rain, every gravel road had thus far been in excellent condition. There was virtually no standing water to be seen, suggesting the area has excellent drainage.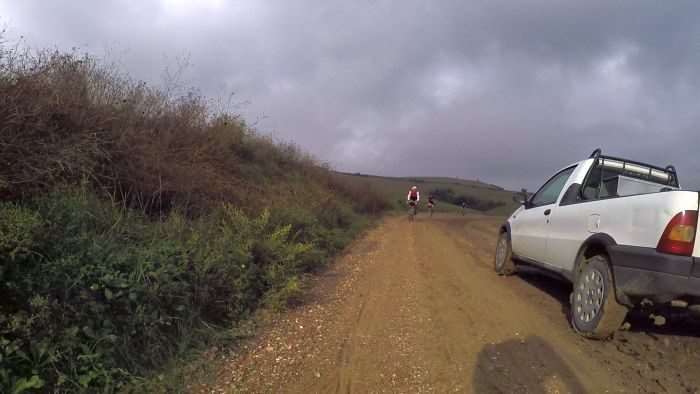 In an area I believe is called Comunita Incontro, was a sticky mud road that passed between rolling hills and open fields.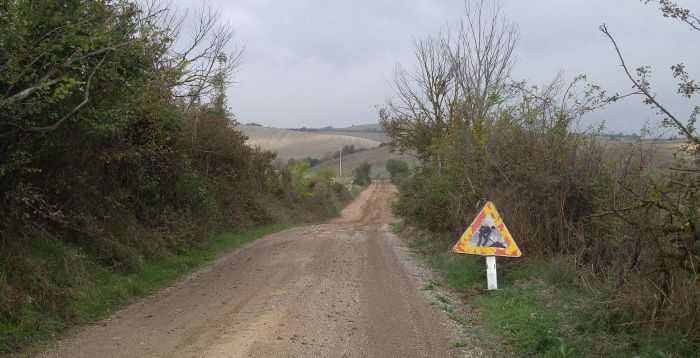 The tyre clearance between the chainstays of my Vitus 979 was pretty tight with 28mm tyres fitted, and it didn't take long before mud began building and packing up not at the stays, but among the front and rear brakes.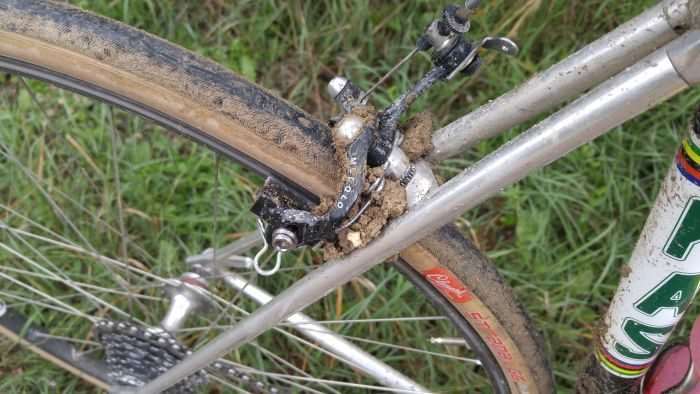 My speed fell and loud, scraping noises eminated from the brakes, as gravel in the mud whistled on the tread pattern of my Clement LGG tyres.
Clearly this would not do – I would have to stop and clear out the bike. I loosened my left toestrap pedal in preparation for a dismount. The bike, now creeping slowly under my wilting power, was almost halted. Then, at a speed of about three miles an hour / five km/hr, my front wheel sunk into a deeper patch of mud, killing my momentum. I fell over onto my right side, crashing my knee and hip into the ground. D'oh! I laid there for a moment, my right shoe firmly strapped into my pedal, assessing the extent of my injuries. Only a skinned up knee, a bit of blood and light bruising, no worries! After releasing myself from the bike, I dusted myself off, cleared out the brakes and continued along my merry way.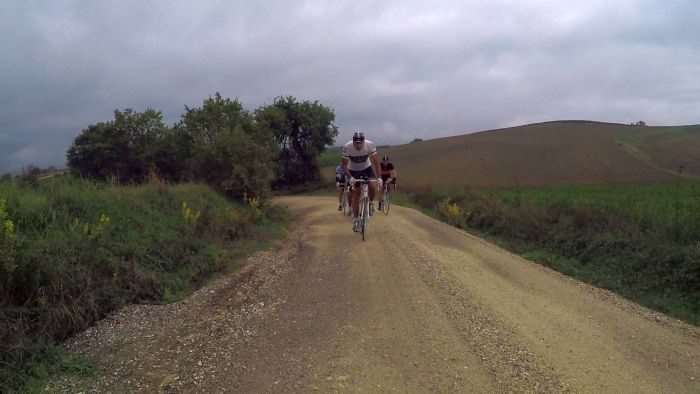 Checkpoint #3 – Torrenieri?
Unless I misred the cue sheets, the third checkpoint was supposed to be in the town of Torrenieri. Situating the checkpoint here would be unusual, as it was awfully close to the one I had just visited. As I entered the town, I rolled past a young local girl, who was pointing to indicate I turn left and onto the proper course.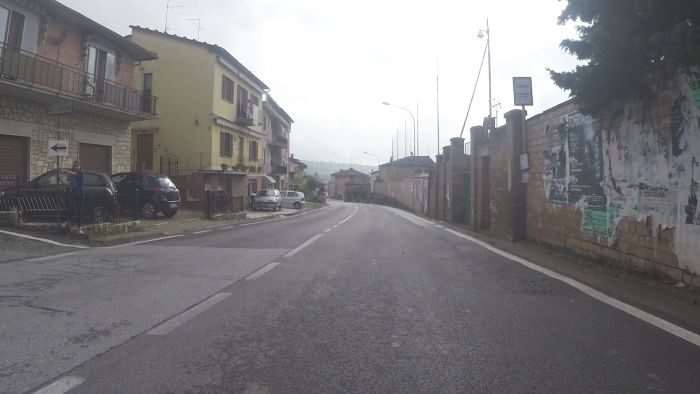 I completely missed the left turn sign, instead choosing to follow the Garmin GPS plot, only to find a road closed to traffic. Wrong course, again.
I about-faced, said a quick "Grazie" to the young lady I passed earlier, and turned onto the revised course. I made a mental note to follow the L'Eroica signs from here on, and ignore my Garmin course plot. I reached the edge of town but without spotting a single checkpoint. Huh? Maybe I had missed it? I about-faced again, and rode backwards, drawing confused looks from other riders as I did so. My knowledge of Italiano with an Australiano accent is limited, and I received a shrug from each passing rider as I yelled out "Dove e il controllo?" After turning around one final time in the direction of what would be the proper course, a friendly expatriate American, Kevin, told me there was no control in the town and not worry. "No way they'd steer an Aussie off course!" he said. Comforting words 🙂
Lucignano d'Asso
Between the town of Torrenieri and Lucignano d' Asso, I rode in the company of Kevin and his friend from Norway. This was Kevin's fourth? L'Eroica and the first for the Norwegian fellow… ditto for me.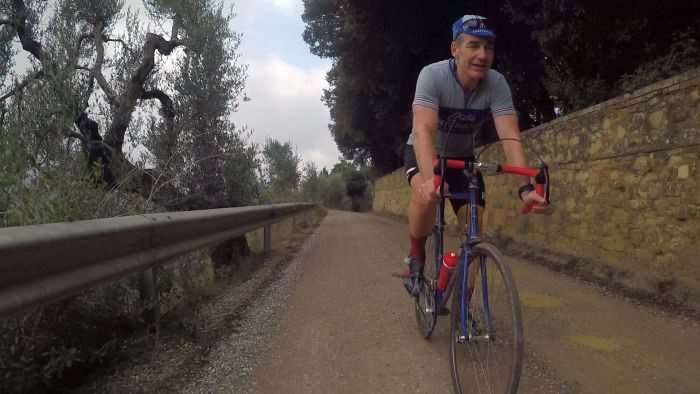 As we rode along, Kevin shared stories of his experiences living abroad in Europe over the past 25 years. We had an expatriate bonding moment – I've been away from my native homeland of Australia for coming up on 19 years. The company was appreciated, and we rolled into the third checkpoint together. Three checkpoints down!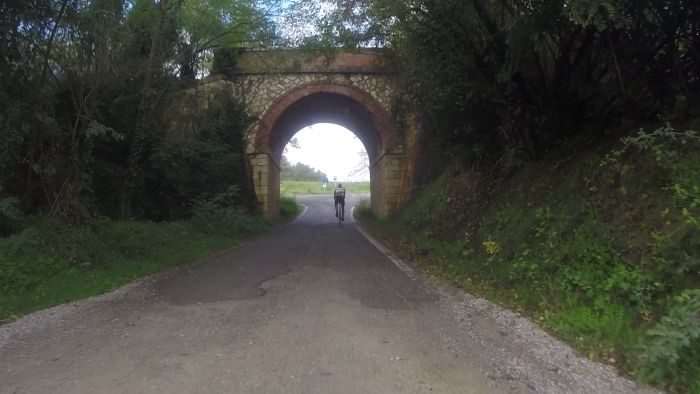 Pieve a Salti
About 120 something kilometres into the ride was Pieve a Salti, site of the fourth checkpoint. I was feeling pretty fatigued at this point, but pleased to spot several riders who I had ridden with earlier in the day.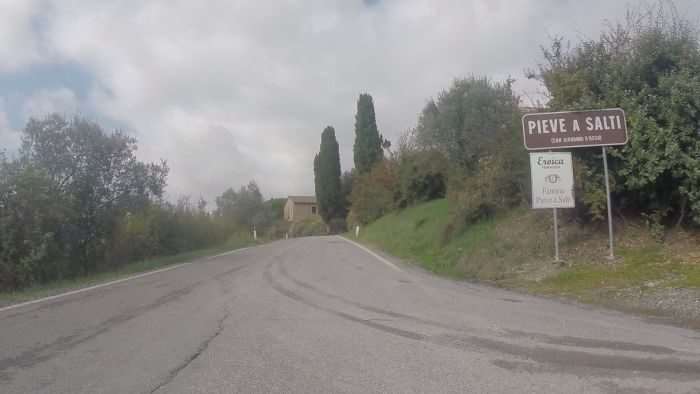 It was comforting to know they were riding as slow as me, or taking their sweet time at the rest stops?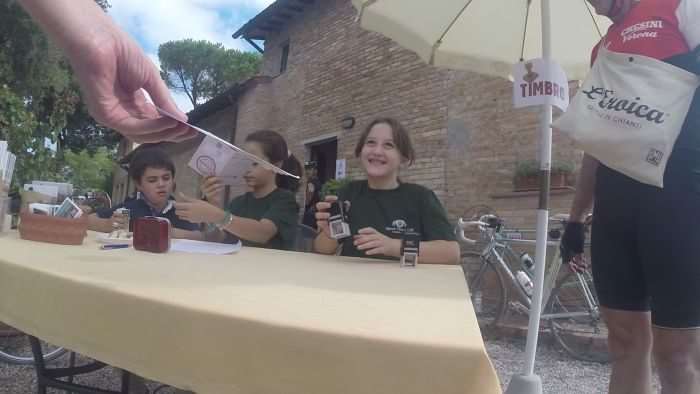 Either way, who could blame them?! This stop had some wonderful freshly squeezed orange juice – I downed four cups of nature's best sugar drink, some pastries, and a caffeine-loaded Gu gel. My feet were feeling rather sore at that moment, no doubt attributed to how hard I had locked down my pedal toestraps. Ouch.
Asciano
Shortly after the last stop at Pieve a Salti came the town of Buonconvento. Earlier in the day, we had skirted the edge of this town.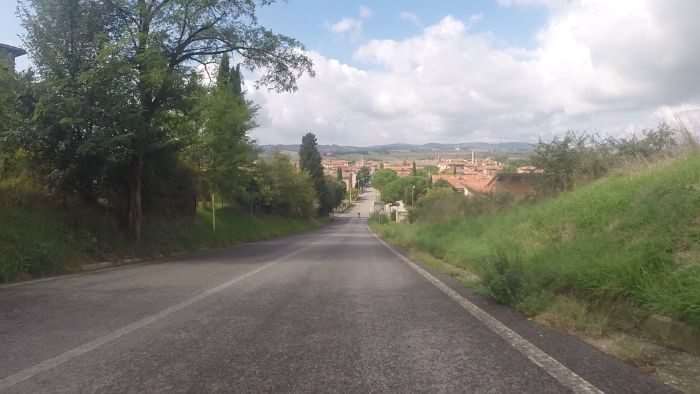 The 209 kilometre L'Eroica route traverses the northern side of the town, but with several twists and turns, is very easy to stray off course. Having learned my lesson earlier in the day, I paid close attention to L'Eroica signage as I rolled through town.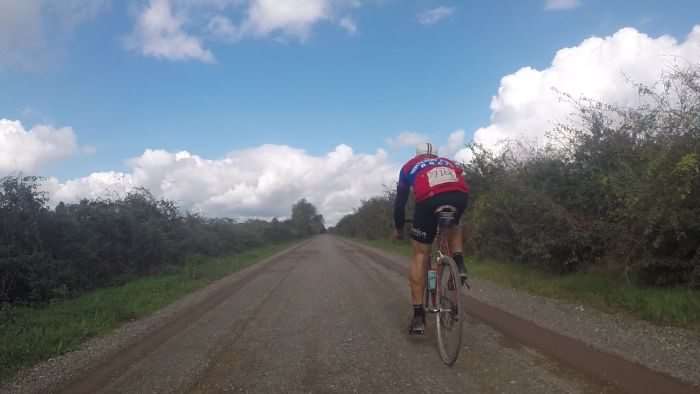 I linked up with #7618, an Italian gentleman who I spent the next hour or so with, swapping turns into the wind along this flatter part of the course. The caffeine and orange juice I had consumed earlier was really kicking in – I felt A-M-A-Z-I-N-G – to quote my good friend K-Dogg!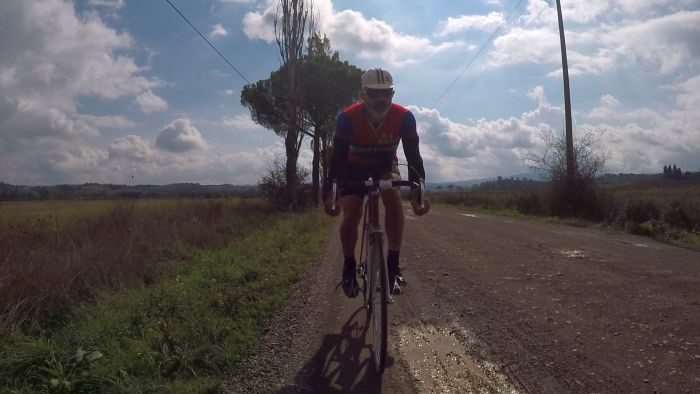 However, #7618 suggested I ride "piano" a little. That could only mean there was a lot more climbing on pavement or dirt to come.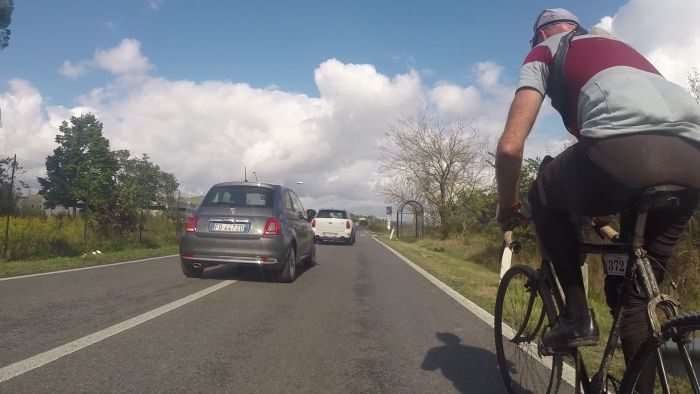 A short while later, on cue, the climbing began at around 147 kilometres / 91 miles into the ride. The paved climb was relatively gentle, and this was one of the first areas of the course where I recall spotting riders from the shorter 135 kilometre L'Eroica course.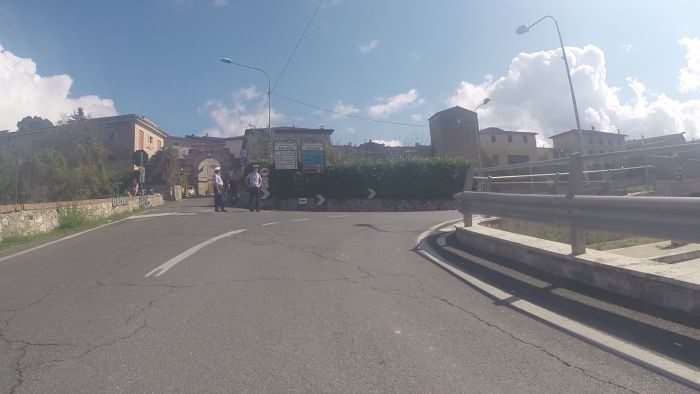 Rolling into Asciano initially caused me some confusion. As I approached the town from the northern side, I could see groups of riders congregating from the 135 / 209 kilometre routes as I peeked down the side streets. Was I off course again? Was this the site of the next rest stop and fifth checkpoint? I followed a German fellow, equally confused, until we spotted a left turn sign which lead into Asciano proper, and the much-needed food stop and checkpoint.
Much food was consumed!
Monte Sante Marie and Castelnuevo Berardenga
I believe the gravel hills that followed the town of Asciano are known as Monte Sante Marie; they can only be described as heinous. On a proper gravel bike and a clear road, they wouldn't give a rider too much trouble with a 34 x 32 low gear. However, on retro road bikes fitted with 42 x 28 low gears or higher (my low gear was 38 x 28), the task of ascending these hills became a little more difficult.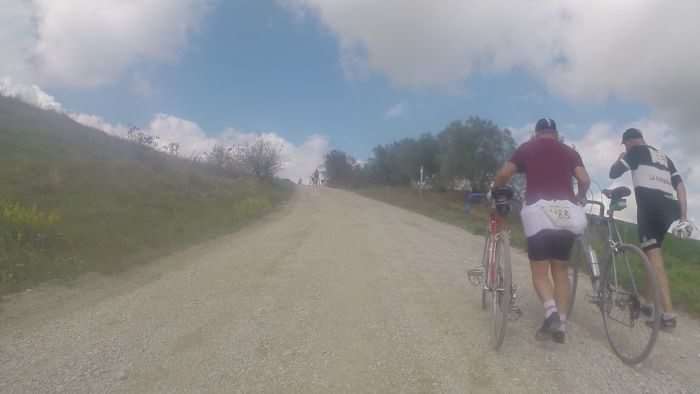 Adding to the difficulty of these climbs was the throng of riders from the 135 and 209 kilometre routes, walking slowly all over the climbs, sometimes taking many of the good lines for climbing away – what I call the clog factor.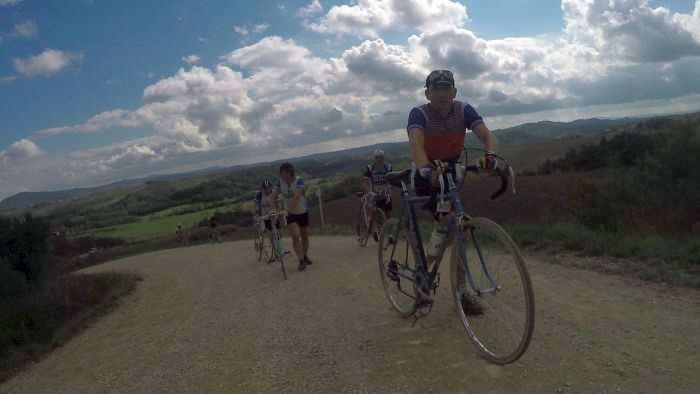 Riding toe strap pedals requires a certain commitment. Once you commit to climbing an 18% gradient on gravel, there is no going back. Your forward momentum is barely faster than walking speed, and you have little to no time to exit from your pedals, assuming you need to bail out in a hurry. Thus, I muscled my Australiano rear end up every one of these steep bergs barring one – when I did lose the perfect line, but had just enough time to loosen the strap on my left pedal, and quickly exit. Then I too became part of the clog factor, joining the throng of riders walking up that particular climb.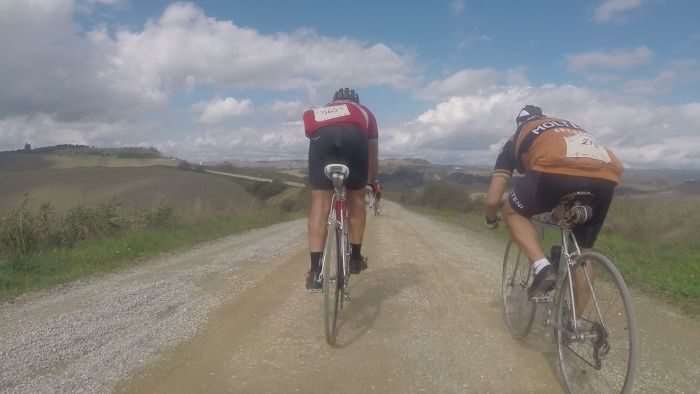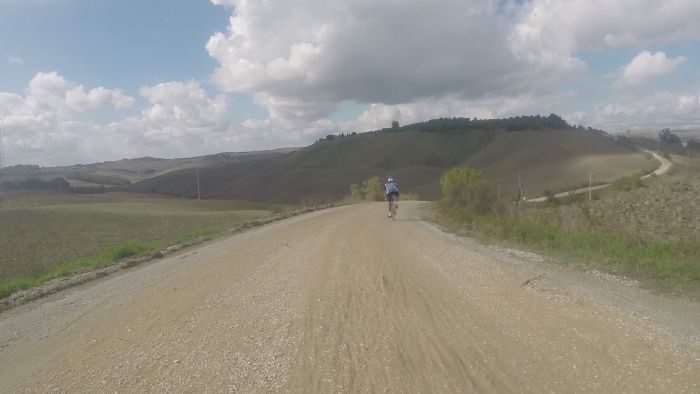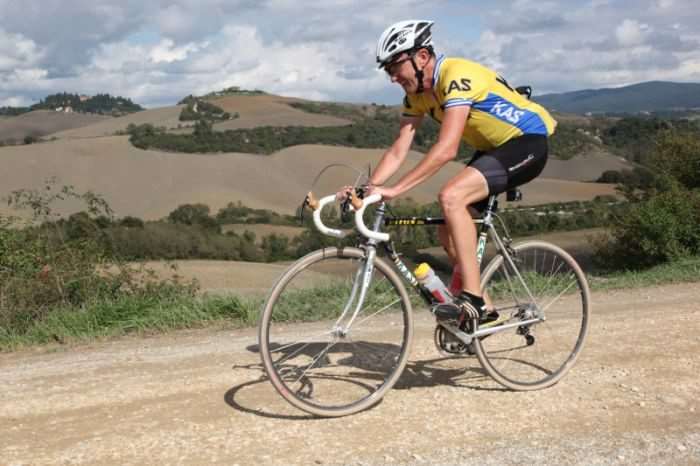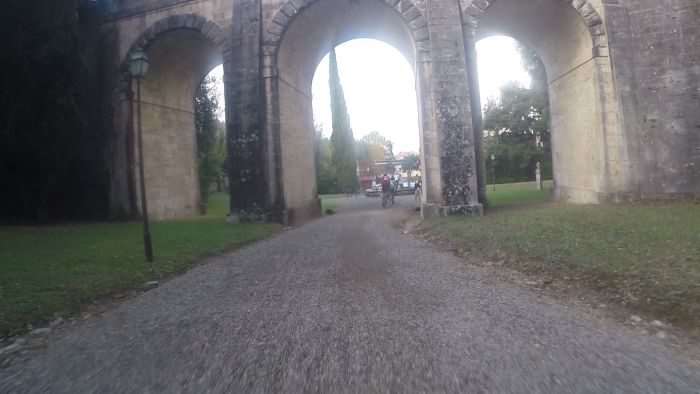 It took me just over one hour and twenty minutes to complete the sector from Asciano to Castelnuevo Berardenga, the site of the sixth checkpoint. The route passed through gates leading into a garden of a beautiful villa, and into the town square. This town was the last chance for food – despite being a little lost and adding about seven miles / 10 kilometres to my journey, I was hoping to make it to the Arrivo (finishing line) in Gaiole in Chanti by 4:30pm – 4:45pm. I hydrated, downed some more of the lovely gourmet food and set off for the final checkpoint.
Vagliagli
Vagliagli, site of the final checkpoint, dates back to the 12th century. Like other towns in the Chianti region, it is known for its natural beauty; and in the case of Vagliagli, a grape harvest festival in late September. The town name means "Valley of Garlics", and is represented on the town's coat of arms by a hand holding a bunch of garlic

Before the town could be reached, there was yet another tough climb that rose about 250 metres / 800 feet in the space of 12 kilometres / seven miles. For the most part, this gradient was reasonably gentle.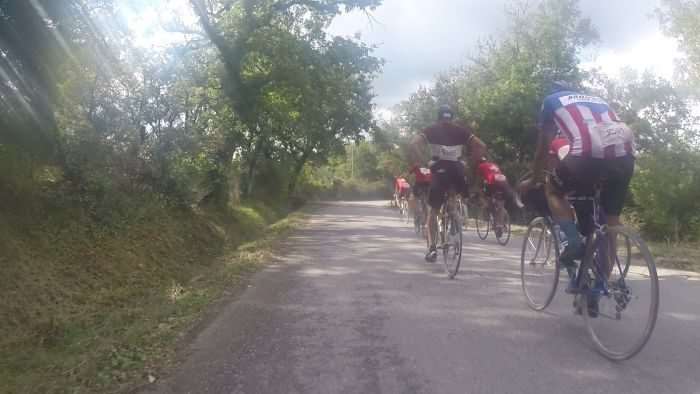 Along this stretch of road I reunited with the group of Italian lads I rode with during the first 50 kilometres of L'Eroica in the early hours. They were rolling an easier tempo than I, nursing one of their group along who was feeling the effort of the ride.
The final checkpoint in Vagliagli was located near the town's public water faucet – I am no expert on this area, but I assume these public town water supplies draw from an aqua fir? Either way, the water was clean; I refilled my bottles and received the final checkpoint stamp in my L'Eroica passport. Next stop, the Arrivo in Gaiole in Chianti some 20 kilometres / 13 miles away.
The Home Stretch
A steep descent on a white gravel road greeted riders as they left Vagliagli. I descended cautiously – I had ridden aggressively on many of the descents, but I was taking no changes this close to the end. Many of the gravel roads we had ridden today feature in the professional bike race, Strade Bianche – meaning White Roads in Italian.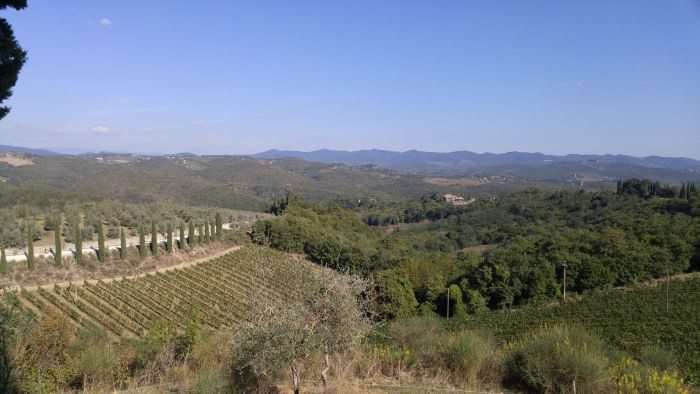 The second to last sector of white gravel roads was well packed from the overnight rains, but still had plenty of steep climbs in store for riders, and some tricky and potholed descents. The key to riding these descents well is to relax as best as possible on the bike, but at the same time brake only when necessary. Unfortunately, these older braking components simply don't have the power of modern bicycle rim brakes, and braking from the drops is the best way to slow one's speed – more leverage.
With every pothole I hit, my big toes rang in pain. The front half of my feet had gone numb several times during the ride, attributed to the side effects of riding toe strap pedals. I later learned from my good friend Dr. Pain, a rider who began cycling during the 1970's, that it was customary to frequently adjust the tension of one's toe straps, according to the terrain encountered. Clearly I have a lot to learn.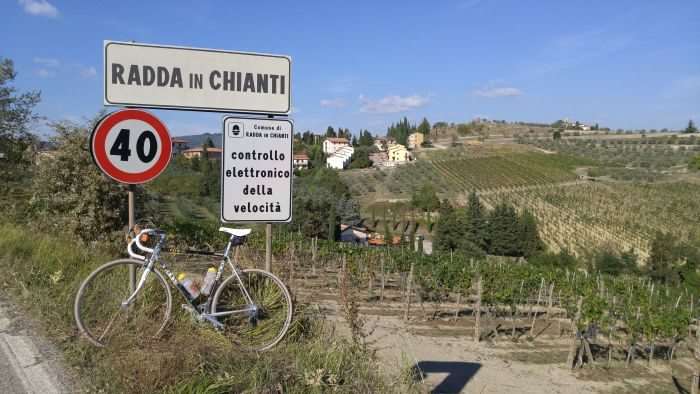 Radda in Chianti, the town very close to my accommodations, came and went, but not before yet another climb was scaled. My Garmin 800 device measured just over 4,000 metres of climbing / 13,000 feet for the entire course. This was no easy ride. I safely descended to the base of the final climb out of Radda in Chanti, and climbed once again to meet with the final dirt and gravel sector of the 2016 L'Eroica.
I knew this sector of road well, having pre-ridden a few days before. The final five kilometres / three miles were all downhill. I safely reached Gaiole in Chianti, and rode into a huge crowd of locals, families and riders from all of the routes (46 km, 75km, 115km, 135km and 209km – or 221km in my case).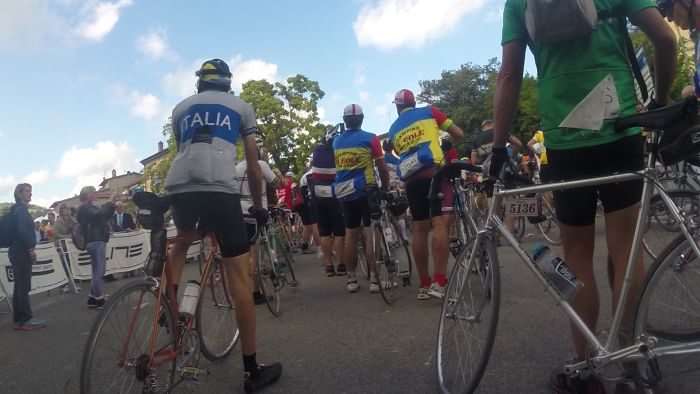 It took at least 10 minutes before I was able to siphon myself into the line for the 209 kilometre route.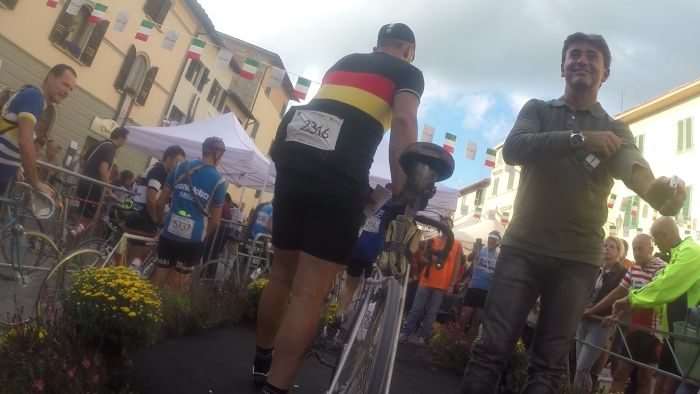 Finished!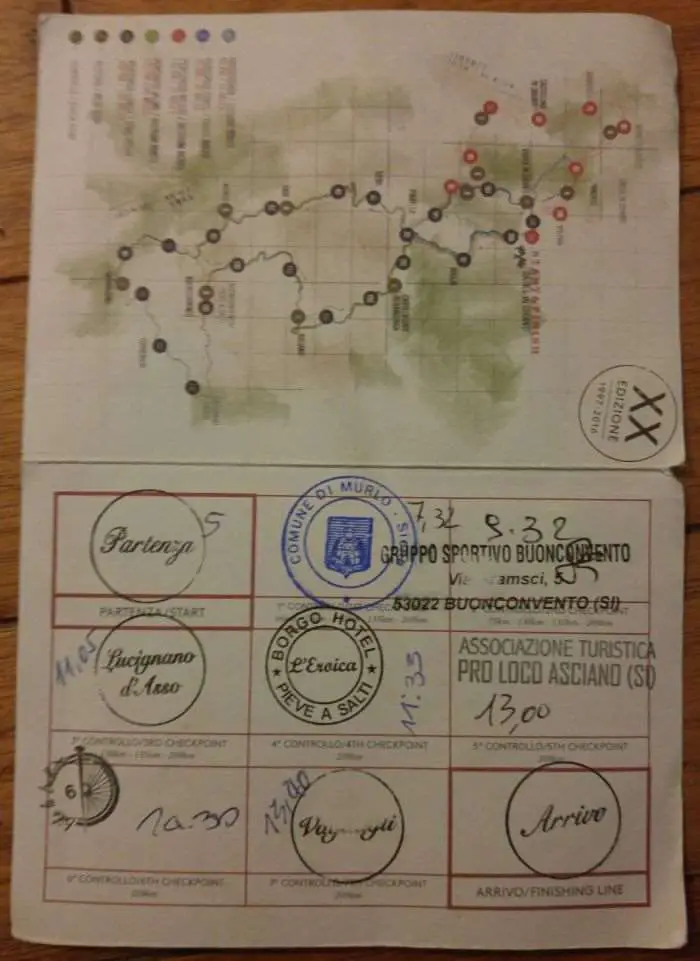 The organizers stamped my passport for the final time, took a photograph and awarded me with a special bottle of wine, reserved only for the finishers of the 209 kilometre route.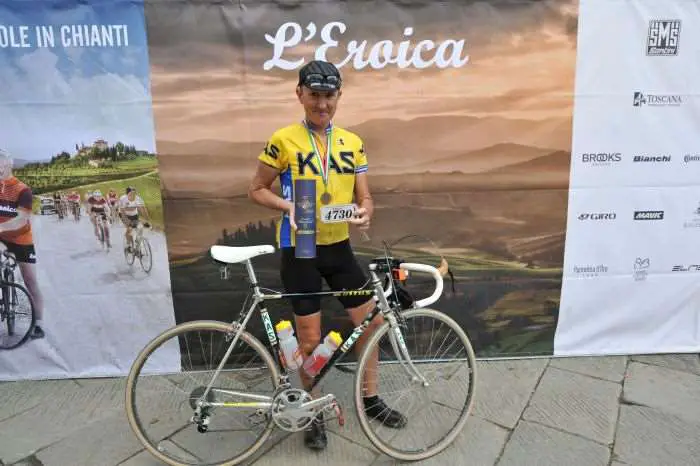 Without sounding dramatic, this was the best cycling experience of my life. My friend K-Dogg echoed those sentiments two years earlier when he finished L'Eroica for the first time. Speaking of K-Dogg and his lady, Mrs K-Dogg, they were enjoying riding a relaxed pace, taking in the scenery and rest stops versus riding for a faster time. In the end, it turned out that Mrs K-Dogg was the first woman to finish the 209 kilometre route of L'Eroica! She was duly announced as the "Prima Donna" aka First Lady, by the crowds and organizers when she rolled in. Fantastic effort!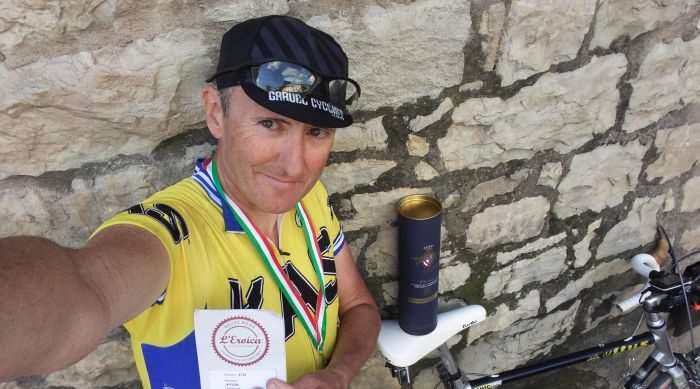 If you love gravel cycling, you must do L'Eroica. I've ridden several epic rides over the years, but L'Eroica far and away eclipsed all of them. 7,000 riders – Italy – Tuscany – Amazing scenery – Amazing food – A professionally organized event – While not 100% gravel, I feel L'Eroica is one of the premier gravel events – on retro road bikes.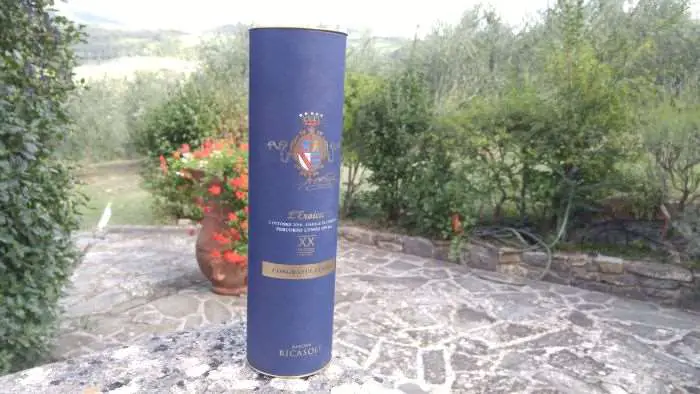 I hope to return to L'Eroica and do it all over again sometime in the future.
Thank you to:
The event organizers and communities of Tuscany in the Province in Siena.
My friends at Clement Cycling for supplying the tyres for my machine – Strada LGG's, skin wall, 700c x 28mm wide.
Michael McAleer and David Lowe of Bikes and More for building my wheels and sorting out my headset issue.
Strava
For those so inclined, my Strava data from 2016 L'Eroica.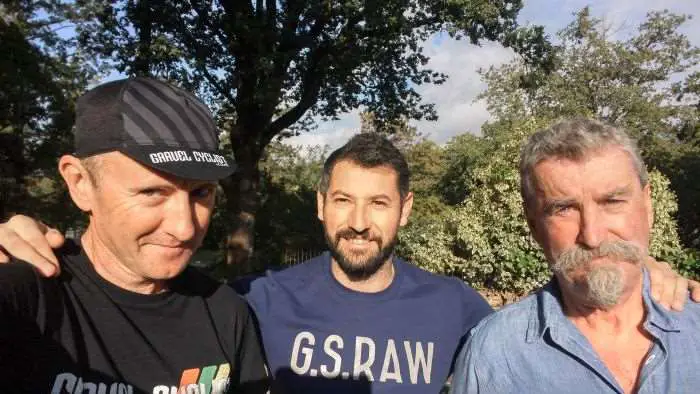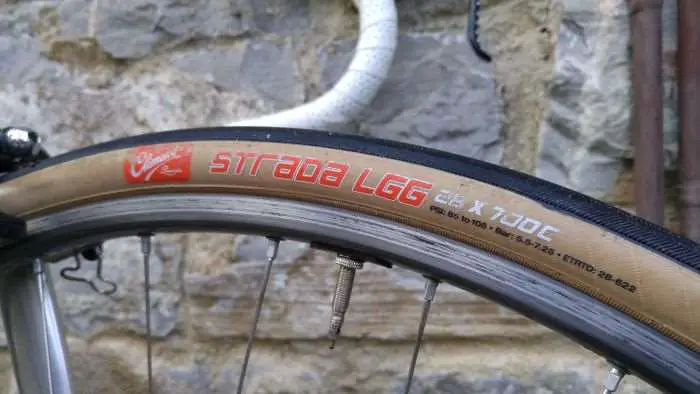 The Gravel Cyclist 2016 L'Eroica Event Video
Thanks for reading!