Gravel Cyclist presents one of the most epic ride reports ever.
This is K-Dogg's story about the L'Eroica ride.  Update 10/18/2014 – K-Dogg's Ride Video.
The Heros: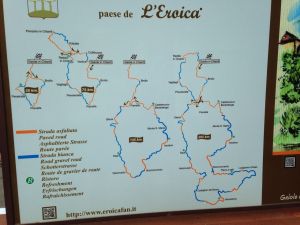 "An exercise in environmental sustainability to safeguard the white roads or strada biancha of Tuscany."
Most entry money (30 Euros) goes toward making sure these sacred roads that have been raced for a century or more are preserved in their original unpaved condition to ensure our link to the heroic bike racers and their equipment from a pastera.
Sunday, October 5th, 2014, 5,500 of us hero worshipers lined up in the cold and dark to honor past racers by emulating their struggle best we could on similar bikes, components and kit.
The Rules (for the 135km and 201km events):
Your bike must be made in 1987 or earlier – preferably earlier.
Your bike frame and fork must be 100% steel (excepting pre 1987 Vitus or Elan aluminum frames) with components from that era.
Your bike must have downtube shifters with cables outside the handlebars or tape.
No cantilever or disk brakes. No clipless pedals-only pedals with toe straps and cages.
Helmets are optional. Repeat – helmets are optional. Very few wore them. Many wore old leather hairnets to make their wives feel better.
We both wore modern helmets. We both felt better.
What we wore:
Mrs. Dogg wore the lovely orange Cycle Logic/Bike Works kit designed by Paul Messal circa 2012.   It was hard enough for her to agree to ride "junk bikes with useless brakes and suicidal pedals."  She refused to dress up in comicon-like bike costumes and do adult "cosplay" in public.  This however didn't deter the Dogg and 5,500 other cyclists from donning the antique kit of our heros.  The Dogg enthusiastically sported the bright yellow kit of Sean Kelly's 70's sponsor KAS – a maker of fizzy soda drinks.
What we rode: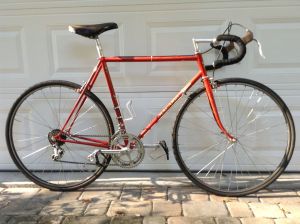 K-Dogg rode a 56cm red 1975 Spanish built "Macario – a little know frame ridden by the Spanish National team and a few grand tour stage winners.  Although very few attendees knew the brand at least two remarked on the attractive frame font. That's something I guess.  My Macario was purchased from and lovingly brought to life by Ryan Aulton of Pleasant Cyclery of Gainesville.  He has a great collection of vintage bikes but like a museum curator is loath to actually sell one.  Components were an eclectic mix of Campy, Suntour and GB.  Wheels were 36 spoked Mafix G4 rims.  Suicide pedals were Atoms.
Chain ring 52/42. Six speed cog 14 to 28.  Weight with bottle cages and pedals – 23lbs.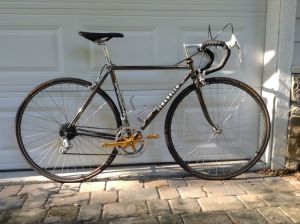 Mrs. Dogg rode a stunningly beautiful smoked chrome 50 cm 1982 Pinarello Montello, lovingly assembled by J.D. at Bike Works of Gainesville.  Components were mostly Campy. Wheels were Mafic G4 36 spokes.  pecial thanks to J.D. for loaning us his rare gold anodized Shimano 1982 crank set that added bling to beauty and turned many heads at L' Eroica.  Weight was 19 lbs.
What the Garmin said:
We rode "the Percorsi Lungo" or long course of 205k miles.  Time on bike 11 hours.  Time at the 6 rest stops (and medical tent for the Dogg's boo boos.) 45 minutes.  Elevation climbed – 13,300 feet.
Food and liquid consumed each:
Water – 10 bottles.  Food-ish – 5 Clif bars, 1 Powerbar, 1 pack Clif shot bloks, 3 vanilla Gu's, 2 double shot Gu's and 2 ibuprofen.  No wine, no prosciutto and definitely not that wheat soup concoction boiling in cast iron pots over campfires.
The start:
4:15 a.m.  The alarm goes off in our 15th century castle hotel room. We stagger down the dark stone steps sucking on caffeine gus.  No time for coffee and tea. Nothing is open this early in Castellina in Chianti or Italy for that matter.  We slip into our pre-crammed  Fiat 800 clown car and drive 25km of twisty miles to the start in Gaiole in Chianti.  It is 43 degrees fahrenheit and the stars are spectacular.
Thirty minutes later we slip the Fiat into the last slot left in town and begin the usual ritual of donning the "must have" warm clothes followed by "I can't possibly carry all this crap when it warms up!"   Teeth chattering, we coast down to sign-in right at the official start time of 5:00am.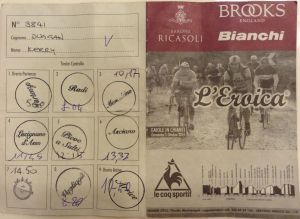 You can leave as late as 7:00am, but if you want to start with the safer, faster guys, you must line up at 4:20am.  As we slotted into the piazza, we discovered that at least 1,000 people ahead of us were in the know.  Luckily it was not a mass start, just a slow funneling of cold but excited cyclists down to two lines with stern Italian officials who take a hard look at your bike and lights then stamp your passport and launch you out into the pitch black.  With 1,000 lights ahead and 1,000 lights behind it's more like an artificial twilight but also like a conveyor belt.  There is little moving up for 4 miles when the hills start.
At 10km comes the first strada biancha at Castello Di Brolio.  Ground level torches line the Cypress tree tunnel as you climb the 15% half mile double track to the hill top castle.  Eerily beautiful but tense we are all struggling side to side and wheel to wheel on slippery steep gravel.  If one stops we all stop.  Soon we crest the hill and begin a similar slippery descent.  Many pull over to remove sweaty clothes.  You pray nobody biffs.  Then a big fat guy biffs in front of Mrs. Dogg.  She too tips over but pops back up none the worst.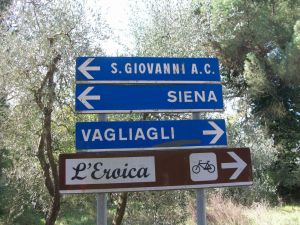 An hour later a very welcome sun climbed the hilly treeless horizon.  A soft and warm golden glow painted a landscape of freshly turned soil and the sinuous road we had yet to ride.  Clusters of club jerseys stopped for group shots, relieved their tense backs and ducked behind shrubs for further relief.  Blinkies and lights were either dead or extinguished.  Pavement turned to dirt and then back to pavement.  Very little traffic.  Lots of breathtaking scenery.  Olive groves, vineyards bent heavy with purple grape clusters and unfamiliar crops you could only guess at.  Lines of sentinel Cypress trees accented every hilltop villa we struggled up and through.
Eventually we skirted the edge of Siena, then were stopped at the two horse town of Radi, for our second "ristoro e controllo" or check point with refreshments.  Refreshments consisted of prosciutto, cheese, grapes, bread and wine.  Wine apparently is "what's for breakfast" in these parts and was consumed eagerly by the boisterous crowds after only 48km of riding.  After a quick passport stamp we capped our water bottles and rolled on.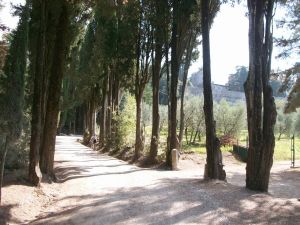 At the 80k mark we started the 5km, 20% gravel climb up to the resort town of Montalcino.  For about half an hour we
churned our cranks in the 42 X 28 granny gear.  Turning about 30 revs I set my own pace, and left behind dozens of
riders and also, as per our agreement, Mrs. Dogg.  Topping out after the worst of it and feeling heroic, I threw it into the 52 on a slight downhill then immediately slid over the bars.  Bouncing over sharp gravel, I gouged open my left hip, calf and shoulder.  My bike was fine but my poor jersey and shorts were torn and leaking red stuff.  Sorry Sean!  Climbing back on, I came upon two other cyclists palpating their hips and dusting off –  victims of the same treacherous spot.
Mrs. Dogg caught up with me in the Montalcino medical tent, pantomiming exactly where the two nice ladies could scrub and where they shouldn't.  Being in the medical profession herself, Mrs. Dogg gave me a cursory glance then clattered off to find the signora's room.
Feet don't fail me now!
120km to go.  The next section up to Buonconvento was the hardest, steepest, and sketchiest gravel section of all.  There were countless one kilometer barren hills, whose 20+ percent gradients make riding more acrobatics than cycling.  Either you were about to pop a wheelie or your rear tire spins out and you fall over – all this while torquing your whole body in stow motion just to go 2 mph.  It was agony just to keep moving.
Out of every one hundred cyclists we rode past in this land of Mordor, only 3 were still on their bikes.  Hundreds walked while muttering at us –  particularly at Mrs. Dogg.  She rocked!   I would of cried in pride but the hills already had me weeping.
But, we persevered and finally emerged at Pieve A Salti for another stamping.  Then on to Asciano and Castelnuovo where we blessedly got a few miles of flat pavement or "asfaltata." Even asphault sounds romantic in Italian.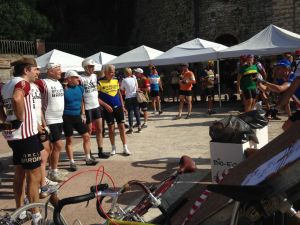 At a shortcut back to Gaiole near Pianella, I was directed off course by two policemen. Unfortunately I was 200 yards ahead of Mrs. Dogg and her pet Garmin.  She reluctantly was forced to chase me just after passing a large group of drunk, singing Italian riders. I didn't hear her yelling to come back.  They did… and got very quiet then started yelling my name and laughing.  I made a quick U-turn and we were back on course.  She later told me this group had hired a scooter to pull overweight buddies back to the group on hills.  What a great idea!
With 20km remaining and about 2,000′ of  gravel climbing left we struggled on – seeing fewer and fewer heroes on the 205km route.  We passed most of them in the throes of exhaustion.  Somehow we were feeling fine as long as we kept cramming food and water into the tank.
With 3 miles to go, Mrs. Dogg took the leash off the Dogg and I soloed in the last 3 miles.  She doesn't care for loud crowds and accolades so stopped short at the car.  The finishing lap in Gaiole was chaotic.  The course mixed us in with a cluster of cars as bad as Gator game day.  We were directed through a steel barrier, then back into the Piazza where we queued up with 500 other riders (from all 4 circuits).  We were all slowly being funneled back down to the final "Arrivo" stamp table, to prove we heroes did what we did.
For about 15 minutes I swapped Sean Kelly-isms with two dust smeared Irishmen, when I noticed there was a completely empty lane to my right that said "Arrivo 205km."  Yes, my mates insisted, that lane is for the true heroes from the LONG course.  So out of the crowd into the lonely lane, I clattered pushing my bike, helmet in hand, totally bewildered. Dozens of racers on my left cheered and slapped my back while hundreds of women and children on my right cheered and laughed pointing at Gumby riding on the bars as usual.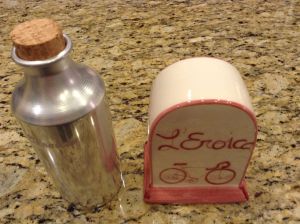 I was totally alone in the 100′ long chute of heroes.  Weird.  Obviously there were many, many riders ahead of me, but apparently many, many left to arriveo.  Then they directed me to stand on a 2′ high pedestal and took my picture.  Ten feet later a less stern official does the final stamp, shakes both my hands and hands me a fine bottle of Chianti Classico private label wine and a porcelain trophy.
As corny as it may sound, this day was probably the best ever on a bike.  It took forever to get here, forever to finish and forever to fly home but I will remember this day forever.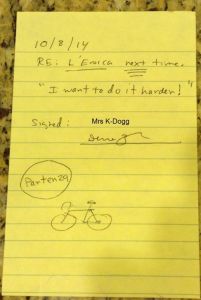 Even Mrs. Dogg eventually promised to be heroic again someday.  I know she will 'cause there is a signed documento on my fridge right now.  "We just have to do it faster / harder" she says.
K-Dogg
P.S. K-Dogg captured some video with his GoPro, JOM will be producing the video ASAP.