Dirty Kanza 200 returned for 2019 with all-new Northbound courses, a change in ownership, Garmin as title sponsor and a rider lottery to ensure a fairer selection process for would-be participants. At the helm of DK, there were no changes, with Gentleman Jim Cummins steering the ship, but with less stress and an abundance of resources provided by new owners, Life Time.
In the weeks leading up to the big day, June 1, 2019, riders from all over the planet, 2,700 of them in all, for every distance of Dirty Kanza, were busy making preparations. Riding the miles, big or small, preparing their bikes, making travel plans, coercing spouses, partners, friends or family members into joining them for the big day in Emporia, Kansas.
Joining me in the quest for 200 miles at the 2019 Dirty Kanza was my long-time friends and three-time veterans of the race, Mr and Mrs K-Dogg. Dogg Senior (he's 64yo now) won the 2016 DK200 for Men's 60+, so he doesn't have much to prove. But after a very bad day on the bike in 2018, he was looking to finish a little better whilst Mrs K-Dogg was out to avenge her abandonment in 2018. Yours truly was hoping to complete my fourth Dirty Kanza 200.
My Road to Dirty Kanza 2019
Sometimes the road isn't smooth with bumps along the way, similar to what you can expect at a gravel bike race. Much of my path involves this website, an entity that has forever changed my life. Gravel Cyclist was never founded with the idea of what it has become, today or in the future. Originally, the intent was an online repository for my silly ride reports, the odd video or two and so on. The site's visitor count and numbers for its related social media entities have grown significantly, making a big impact on the time I have available. I'm a passionate bloke, and whilst there are days where I question my motivation to keep Gravel Cyclist rolling along, I genuinely love sharing my experiences, pumping out press information about new bikes, events, updating the event calendar, reviewing products, etc. Gravel Cyclist has become a major source of information for a lot of riders, which is the primary reason I keep plugging away.
I don't share much of my personal life on the site, I generally keep that well segregated. Behind the scenes I spend most of the year in North Central Florida, where I work a legit 40-hour a week job, own a home and all that goes with it, have a great connection with my family who reside in Australia, and a girlfriend is very supportive of all that I do.
Juggling everything is difficult at times, sleep deprivation is a real thing and something I need to trim from my life. I never get enough sleep, as I put so much time and effort into the website along with everything I mentioned in the latter paragraph. This isn't an online pity party, I have no time for that rubbish, but the two months leading to 2019 Dirty Kanza could have gone better. Adversity is part of life, but how you deal with it is what makes the difference.
My training rides for the Dirty Kanza 200 hadn't gone as smoothly as years past. Mid-April saw a crash during a spirited training ride in North Central Florida, genuine suffering and doubts at the Fried Clay 200K in Georgia, and media duties at the Sea Otter Classic. Much as I love the tech side of gravel cycling, producing all of that video content from events such as Sea Otter as a one-man crew is draining.
May started off well, culminating in the high point of the month, riding the inaugural Wild Horse Gravel in De Beque, Colorado with the Roll Massif crew. Unfortunately, the positives of that were overshadowed by a turn for the worse in my private life. My dear mother took critically ill on the eve of May 8, 2019. She was rushed to intensive care, her kidneys were likely on their way to failure. They had been a recent source of trouble, but with her tenacious nature, one that has always inspired me to keep moving forward, I expected she would pull on through. Knowing all of this was going on so far away, I had a difficult time maintaining my composure at the Wild Horse Gravel event.
Returning to Florida from Colorado on May 12, I was on the cusp of booking a ticket for a flight to Adelaide, Australia (my original home), to spend a couple of weeks with mum. Sadly, life is cruel at times. Mum's health began a downhill slide the very next day; a massive heart attack which lead into a coma. Mum was now in Palliative care, which I believe is known as Hospice in the United States. It is difficult to write this piece without losing it emotionally and crying my eyes out. During this timeframe, I felt powerless to do anything. I was heartbroken, knowing I would never see her alive and in person again. Mum's life was drawing to a close. I relied on messages from my brother and father of her status and continued downhill slide. My last conversation with mum prior to hospitalisation some weeks prior was about something inane related to her computer. How I wish that conversation could have been different. She knew I loved her but if only I could have told her just one more time. Mum passed away on the morning of May 15, 2019, a few days after Mother's Day. I am still grieving her passing and trying to comprehend the loss my father is experiencing; the loss of his spouse and partner of 54 years.
My employer kindly granted three days of bereavement leave, the first of which I spent riding my bicycle all day long. The ride served as therapy and my final Dirty Kanza training ride. No matter how the 2019 DK200 would turn out, I would dedicate my effort to mum, and continue driving Gravel Cyclist in a forward direction with her in my thoughts. Mum will always be with me, and I'll draw on the good memories, despite being so far away for over 22 years. Being away from family has been the most difficult part of expatriate life.
Part One of the Perfect Storm
The month of May saw the Midwest USA drenched by never-ending rain, storms and tornadoes. Residents of areas affected by mother nature's rampage have experienced losses of life, property damage, and financial ruin in some cases. Agonizing over what tyre to use at Dirty Kanza when storms are in the forecast seems insignificant when you think about everything else that has transpired.
A week out from the race, the weather forecast around Emporia was questionable. The Gravel Cyclist website had a busy day on Monday before the race, visited countless times by people using search keywords such as "dirty kanza mud", "dirty kanza tires", etc. That Monday saw heavy rain continue to fall in the area, right up until the evening of Wednesday, May 29. Undoubtedly, most everyone was hoping the prediction of two bright and sunny days for Thursday and Friday would dry things out before race day. The weather forecast for race day, June 1, was another matter. The forecast hovered between 40% to 60% chance of showers and thunderstorms, possibly later in the day. With a forecast of uncertainty, it was prudent to make plans for a potentially wet and muddy race. I set about preparing a "Plan A" dry weather bike, and a "Plan B", muddy weather bike. I ultimately chose "Plan A".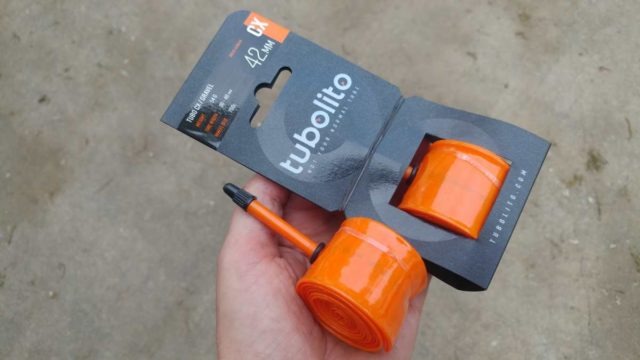 The lengthy drive to Emporia from Gainesville, Florida, takes somewhere in the neighborhood of 18 hours. The advantages to driving including packing a minivan to the gills with bikes, clothing and nutritional supplies, more than you could ever load onto a plane without paying for excess baggage fees. That's where it ends.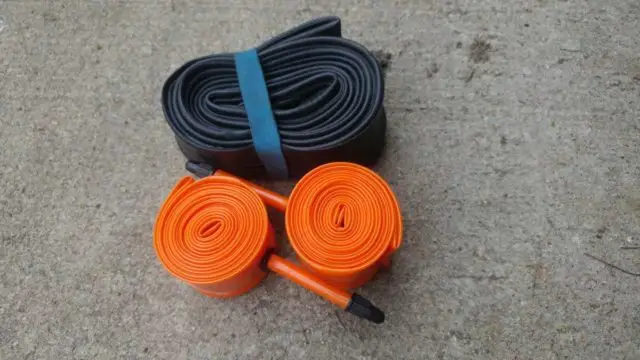 With the company of a friend, splitting the drive is a more enjoyable experience versus the mostly solo trips I've made to Emporia, Kansas in the past. 2019 was no exception, a long solo drive it was, split over two nine-hour stints.
Accommodations, NPR and the Dirty Kanza Expo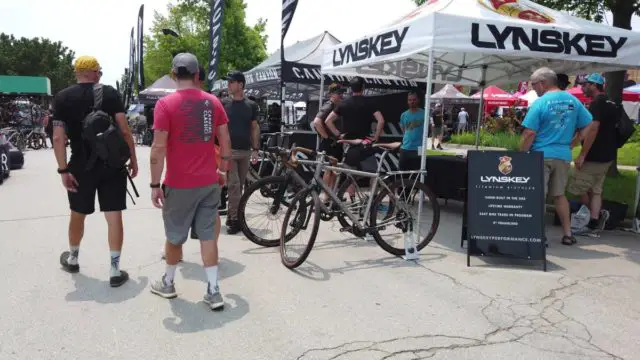 Historically, events such as Sea Otter and the missing for 2019, Interbike, were the places that manufacturers released new bikes and related products. Dirty Kanza has made such a huge impact, that its vendor expo has grown significantly with approximately 100 vendors on-site, and now a key event to release new product. Allied Cycle Works released their elevated chainstay Able gravel bike, whilst another prominent company joined them in a new bike release, although technically, I cannot talk about it here due to an embargo being in place.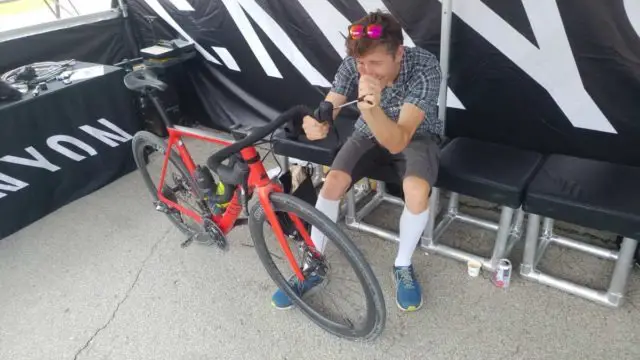 More on that bike at a later date, along with some other goodies I captured on camera. I also snagged some video of the DKXL racers departing for 350 miles of Kansas gravel fun at 3pm on Friday. DKXL is a next level adventure!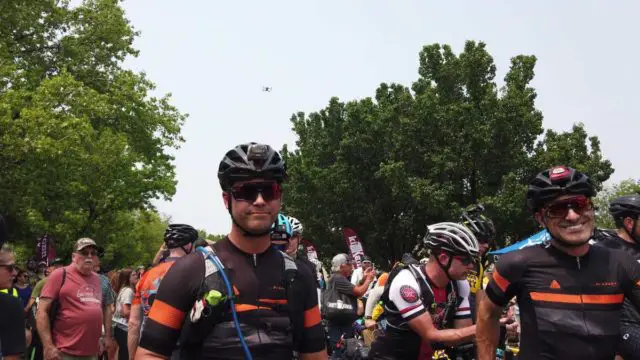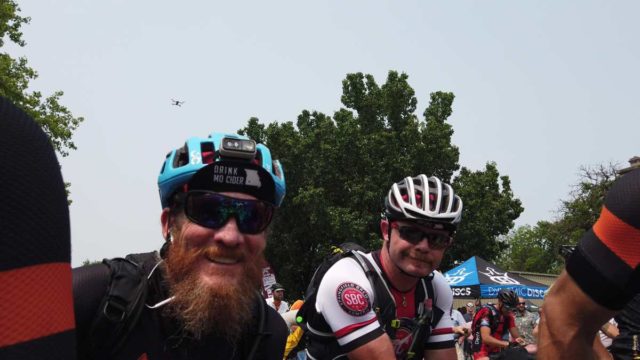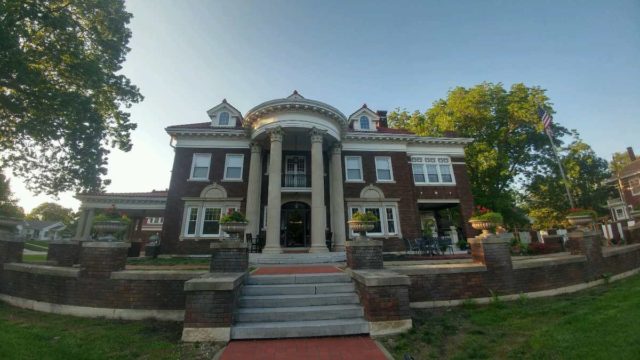 For 2019, I was sharing accommodations with Lyman Agency / ENVE Composites crew at the beautiful Gufler Mansion, located just a few blocks away from downtown Emporia. The historic mansion features over 10,000 feet of under-roof space and 10 Bed and Breakfast style bedrooms. Staying at the Gufler is a lovely experience made better by the hosts who live on the premises.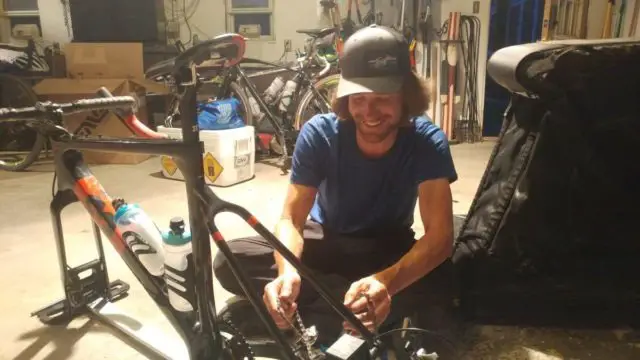 In addition to the ENVE crew, we were joined by a cast of ex-professional cyclists such as Neil Shirley (who now works for ENVE), Dave Zabriskie (Floyds of Leadville), and Christian Meier (The Service Course), Sarah Max (2nd place at the recent BWR), Ryan Steers (Giant Factory Off-Road Team), some fellow journalist types, and staff of Floyds of Leadville (sorry, I don't recall everybody's name).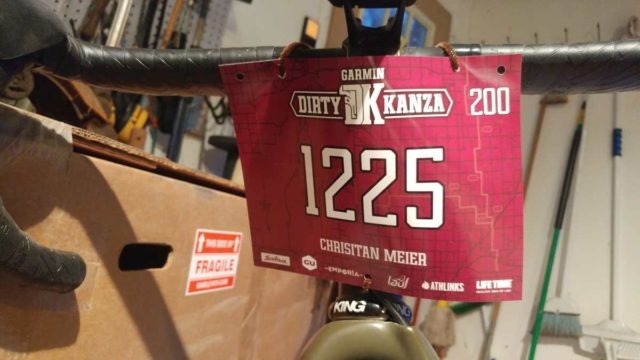 On Thursday morning, NPR (National Public Radio) correspondent and gravel cyclist, Jay Price, interviewed me for inclusion in an article about "Gravel Racing Lifts Rural Economies". You can hear the broadcast from that Friday's Here and Now Show, at this link.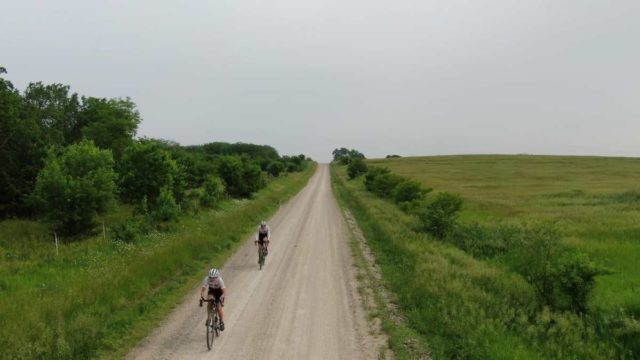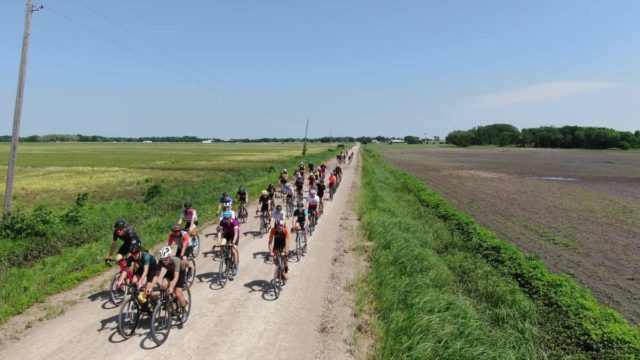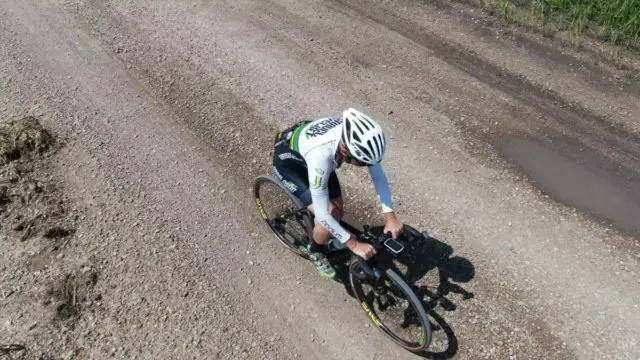 Part Two of the Perfect Storm – June 1, 2019, Dirty Kanza 200
Riders awoke to clear sunny skies with plenty of humidity in the air, and a high temperature of close to 90 degrees Fahrenheit / 32 degrees Celcius. I call North Central Florida home for much of the year, so these temperatures and humidity presented no great surprises. I was the last rider to leave the Gufler Mansion for the Dirty Kanza start line that morning, just a few blocks again. Naturally, obligatory final pre-race bike checks and visits to the facilities I probably shouldn't talk about had to be made.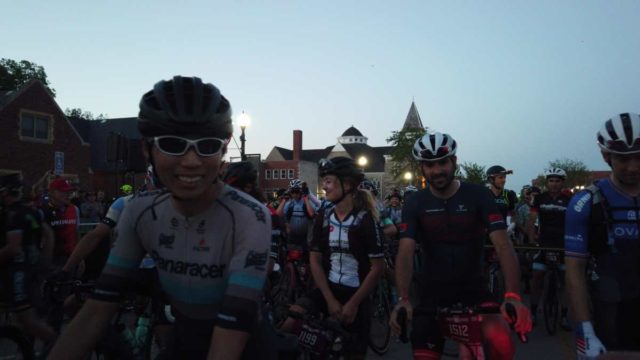 At my fourth appearance at Dirty Kanza, I am still in awe of the assembled mass of 1,200 riders for the 200-mile race. There is no other event in the world I can think of that replicates this huge experience.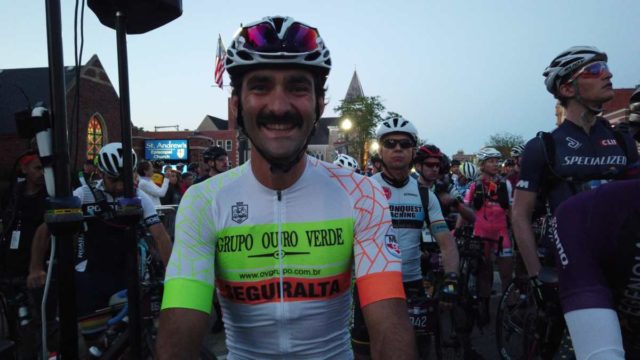 I snapped some video of the front row of call-up riders and other megastars, before settling in a couple of rows back, in the company of my 64yo teammate, K-Dogg.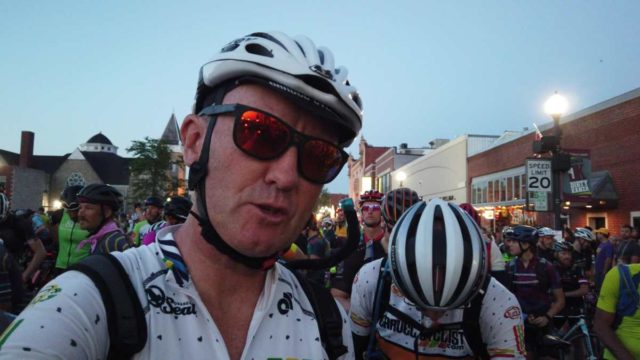 Following the pattern of years prior, I was being tracked live by SRAM Neutral Support courtesy of the Quarq Qollector device… I was hoping for a decent performance to keep the live audience entertained!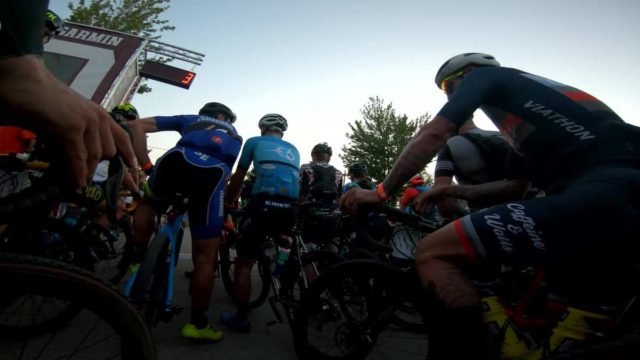 6:00am CST came about all too quickly, 3-2-1 and we were off. Shoes clipped into pedals, and the howl of over 1,000 gravel tyres on pavement let loose along Commercial Street, Emporia.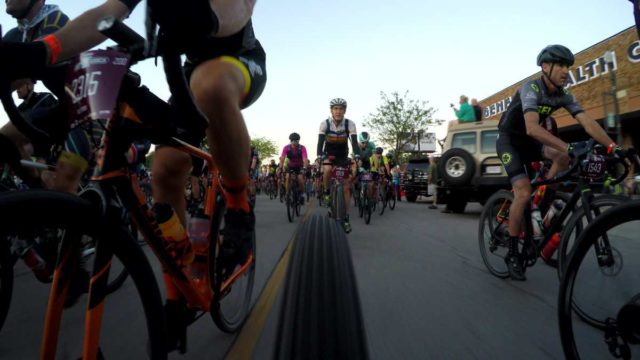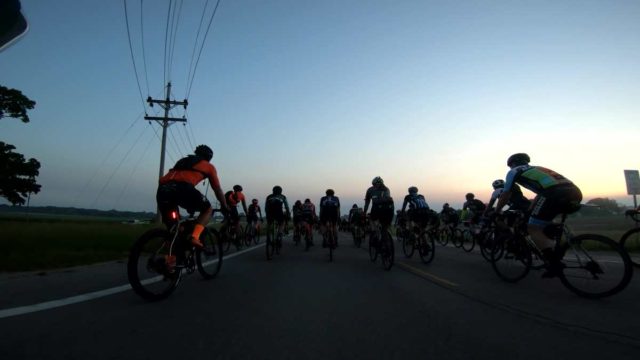 Riders shuffled forward under the "neutral" pace to position themselves for a favorable entry to the first of many miles of gravel. Yours truly, following my own well-established advice, drifted back to a favorable position, providing plenty of space in front to watch for potholes and errant chunks of gravel, in addition to a little more room for braking.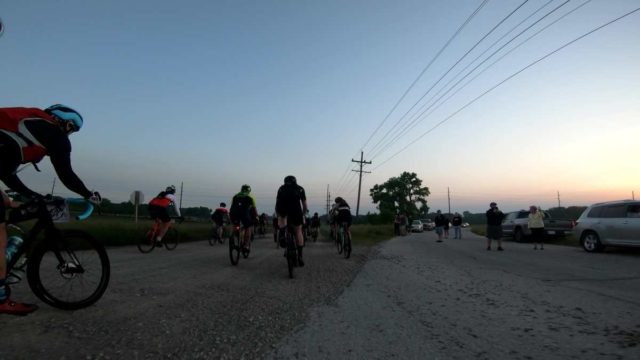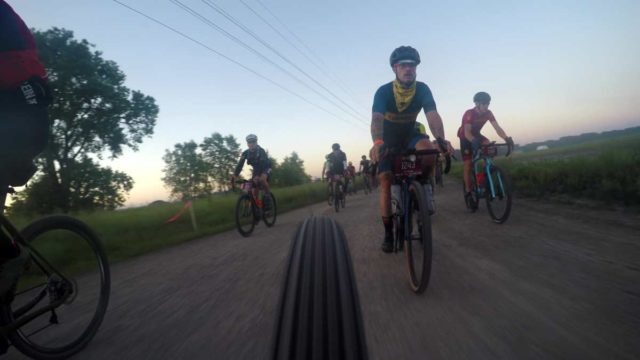 From my perspective, the pace was berzerk once we rolled onto the gravel, and it didn't take long before the 1,200 strong group of riders was completely stretched out.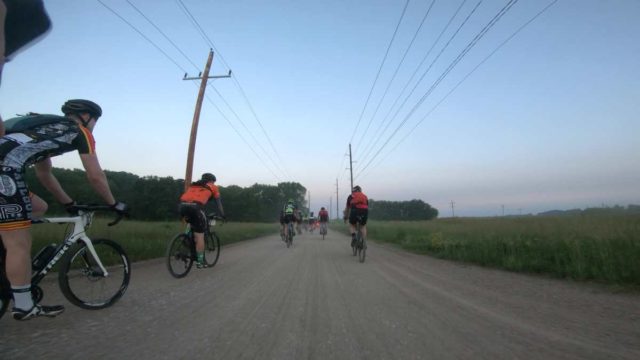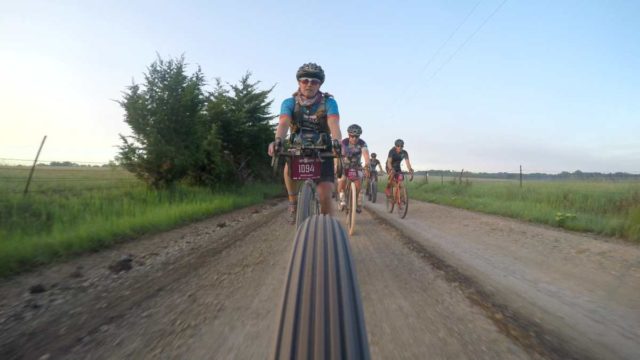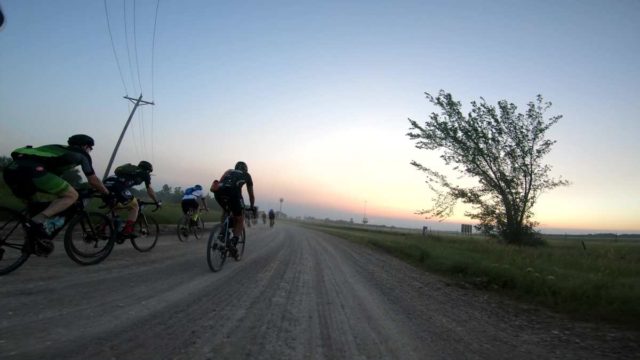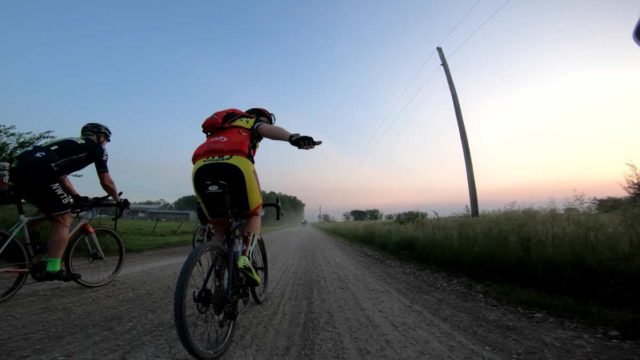 Initially, I was rolling along somewhere in the front 200 or so riders, but by the time 10 miles of gravel had rolled beneath my wheels, I'd been passed by at least another 400 riders, all keen to get themselves further up the road. I was in my own world, staying to the right of the road and out of harm's way, taking in the early morning sunrise above the Kansas Flint Hills.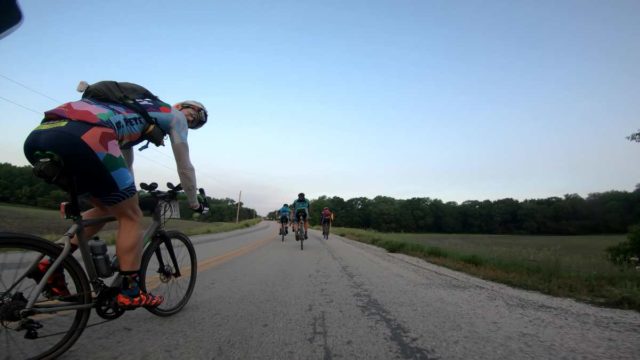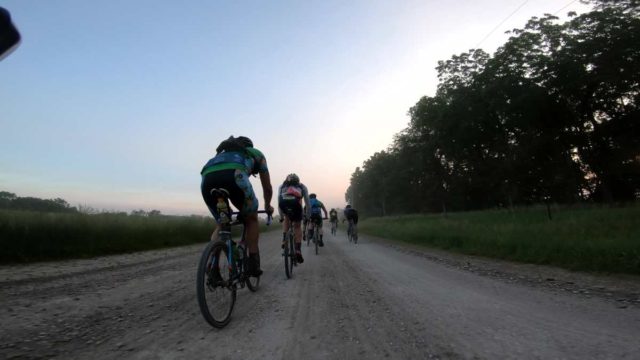 Something wasn't feeling right. I was perspiring more than I would usually expect, and my legs weren't terribly keen on maintaining my usual steady, but manageable tempo. The conversations I had with riders coming to and fro along the course were a good distraction, with many riders passing along kind and flattering comments about my work on the website. Hearing those words from people I've never met in my life was really nice.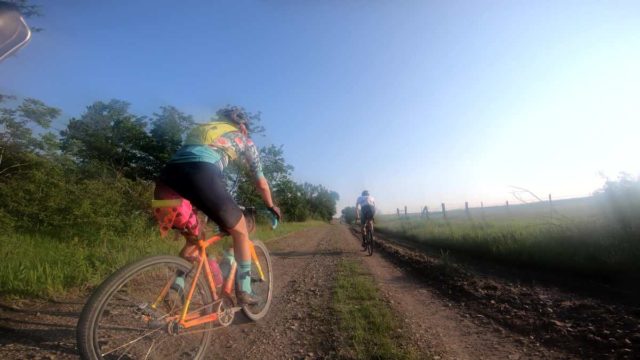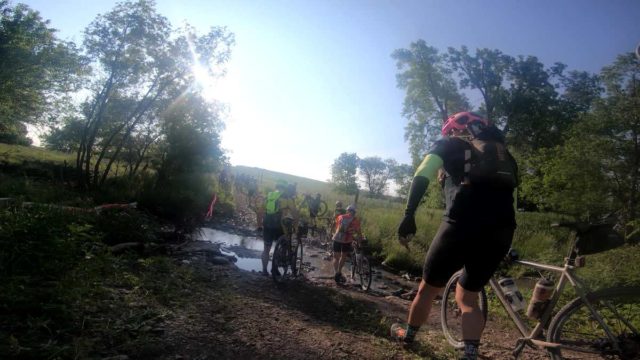 The format for the 2019 course was different from the past three editions, in that there were two checkpoints versus the usual three. This had mandated an adjustment in my training leading into the race, but one I had rehearsed reasonably well. However, my overall constitution hadn't improved any, in fact, I was feeling quite awful after just three hours of riding.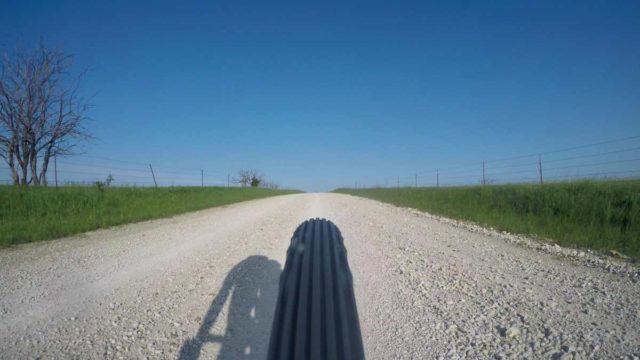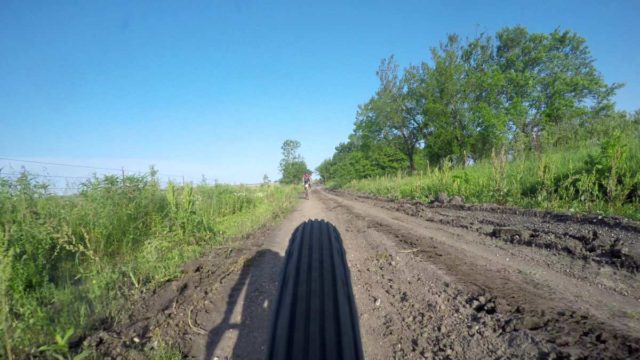 I experienced an untimely front wheel valve leak around this time, which came about after I lowered my front tyre pressure a smidge to help with comfort – pneumatic suspension is best. It seemed the sticky valve had backed out the core somewhat, resulting in a slow leak. It took two inflate attempts with my trusty Co2 inflator before I realized what the issue was. Running tubeless? Be sure to carry a valve core tool!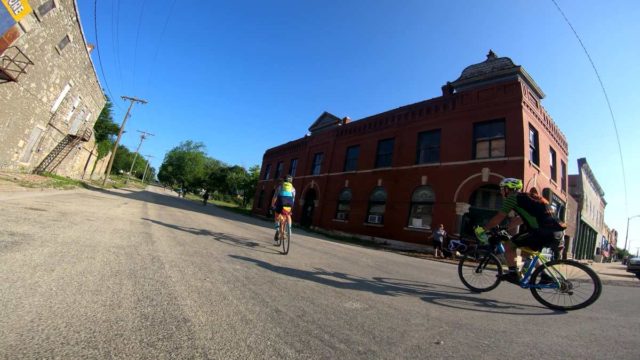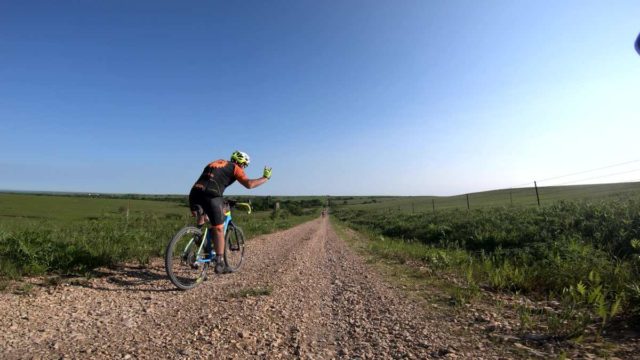 My solid food choices of Lara Bars in various flavors were of little appeal, but I did manage to consume at least two of them during the first 50 miles.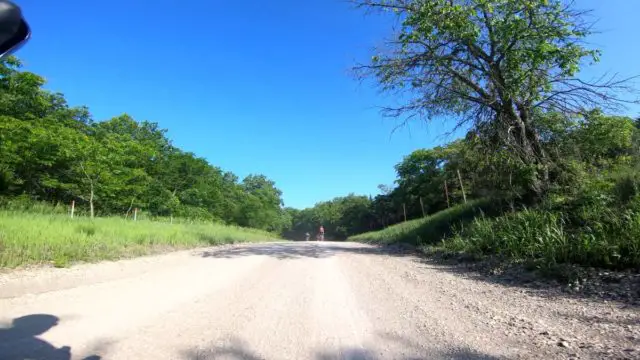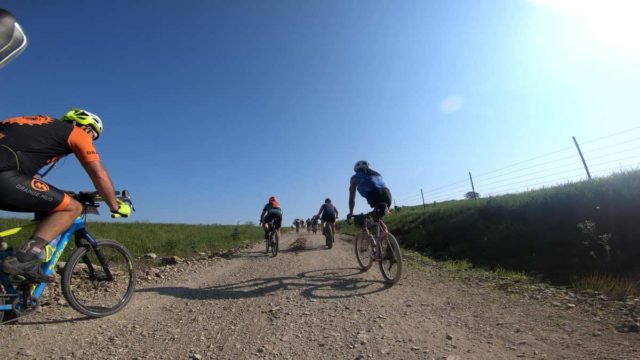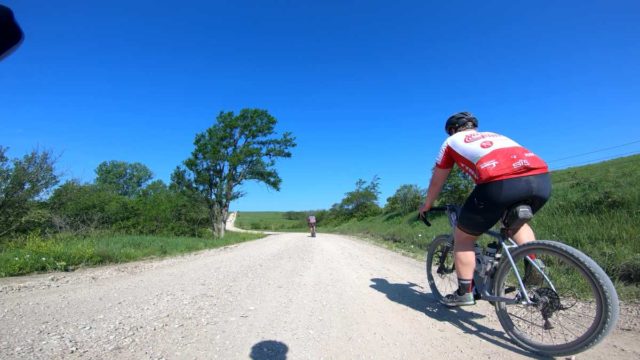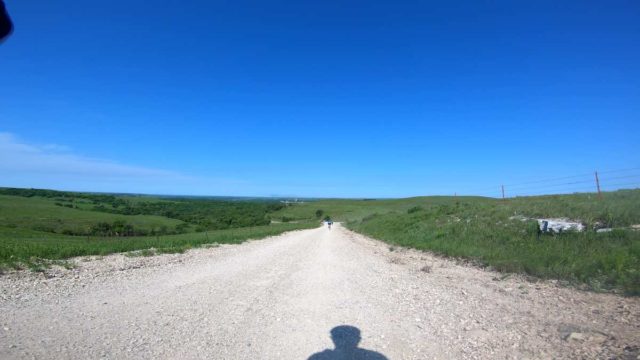 Around this time, I connected with a rider from the ENVE crew, Bo, who was also feeling the pinch at this early juncture. We stayed in close contact for the remaining 14 miles into Checkpoint One, located in the town of Alma.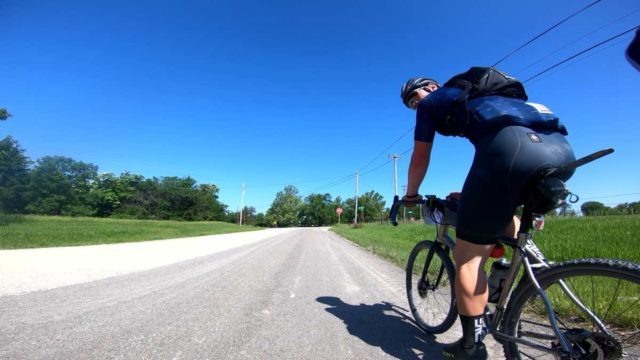 It turned out Bo and I were the last riders being crewed by ENVE / Floyds of Leadville to arrive at the Checkpoint. I took a spot in the shade on a lawn chair, whilst Richard of Floyds attended to lubing my bike's chain.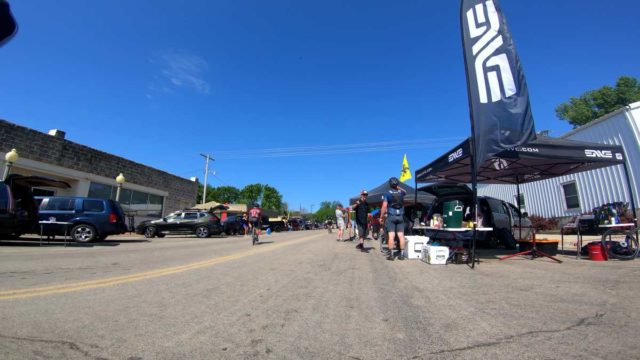 My cooler was once again my salvation and contained almost identical contents to the cooler I prepared for the 2018 race. Speaking with a good friend post-race who is better versed than I in the fine art of race nutrition, it was likely I was already dehydrated at this juncture, which in turn brought about the feeling of nausea. I've experienced this several times in long training rides, but there is usually a convenience store close at hand to rehydrate and so on. But this is Dirty Kanza, and things are different. I consumed pickle juice, Perrier water, a Mexican Coke (contains real sugar) and a Reed's Extra Strength Ginger Brew. I didn't know it at the time, but more than likely, all of these substances possibly amounted to nothing more than a gut bomb, which doesn't usually happen. Things were so different from my 2018 Dirty Kanza experience.
Bo and I left the Checkpoint together and made a determined effort to keep each other within sight. It turned out that Bo had been suffering from a nasty bout of Pneumonia just two weeks prior, something nobody needs at any time in their life. We pressed on towards the town of Alta Vista, home of the race's neutral water stop for 2019. This section of the 2019 200-mile course was hot, open, desolate and rocky. The organizers weren't playing around when they hinted at this being the most difficult course to date.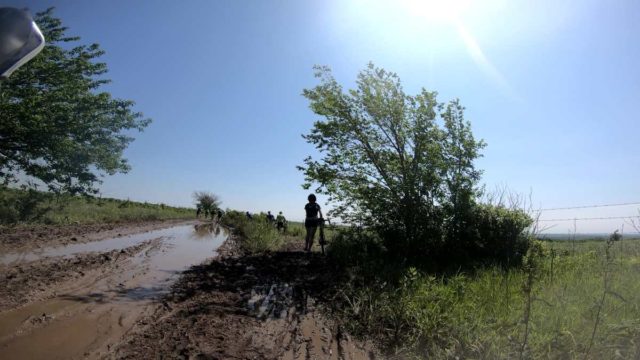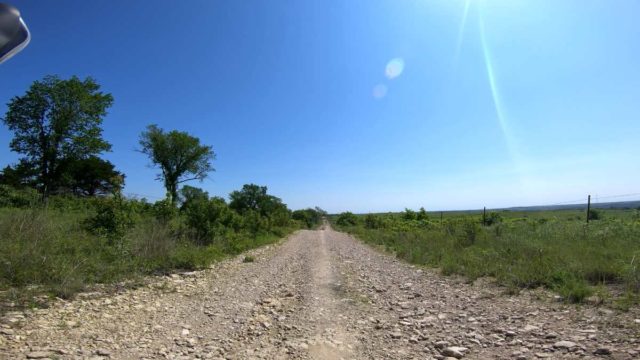 My stomach had gone from bad to worse. I forced myself to stop every thirty minutes or so, to force a gel down my throat chased by a dose of plain water. My hydration mix of choice, Gu's Roctane, was of no appeal to me at that moment in time. My pedaling had gone from a steady effort, to pedal, coast, pedal, coast. It seemed the wheels were falling off my campaign for the 2019 Dirty Kanza.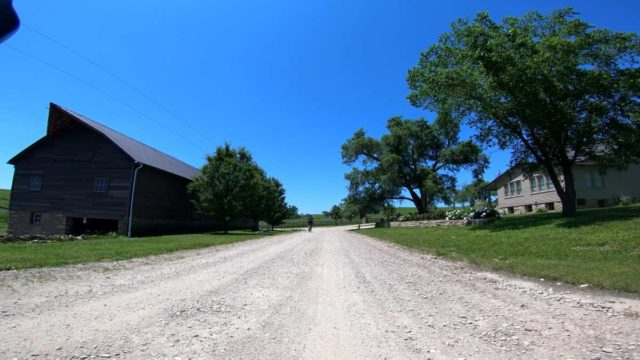 Approximately 85 miles into the course, I made the strategic decision to take a nap beneath a tree. Somewhere along the way, Bo and I had split up. I didn't film or photograph the napping scene but imagine a large tree with cooling shade, and plenty of soft and lush grass below. At least seven fellow gravel cyclists had the same idea. Historically, I've always thought that roadside naps were a bad idea, but I needed to get off my feet to cool down and recover a little. No records would be set today.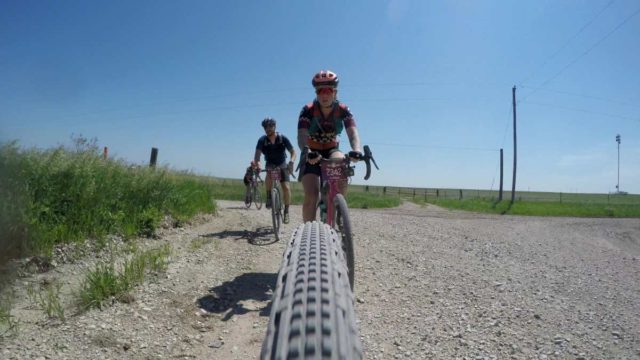 Some ten minutes passed before I remounted my trusty steed for the rumored neutral water stop I'd heard about near the town of Volland. But first, the challenge of Little Egypt Road lay in wait.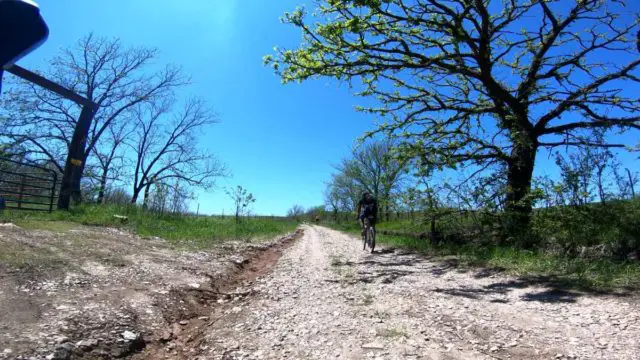 This road had been talked up during the lead-in to the race, claimed to possess traits such as baseball-sized chunks of gravel, a sketchy descent and more. To be honest, I've ridden roads in worse condition than Little Egypt, but it is a road to be treated with respect. The reports about baseball-sized rocks and gravel were true, but nothing worse than I'd encountered riding across railway ballast.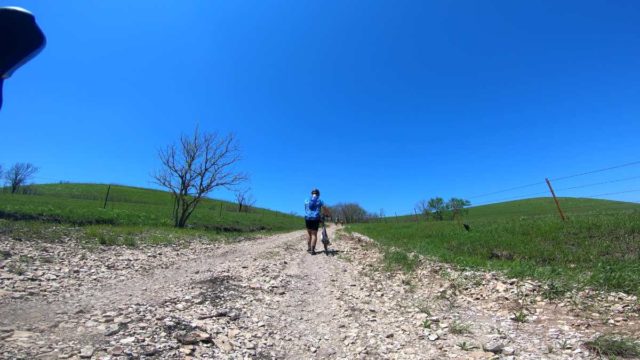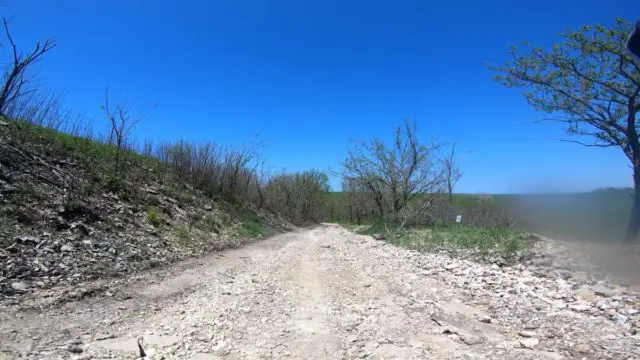 My one error during my A-Bike preparation was gearing. The 46/34 chainring pair was good, 46/30 would have been better, but a true one to one gear ratio or less for the biggest climbing cog would have been optimal.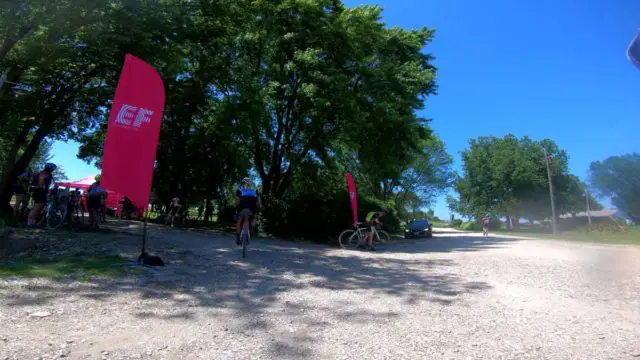 EF Education First needs a massive thank you from every rider who stopped 99 miles into the course. EF's neutral water stop and ice cold, wet bandanas were an amazing gesture and saved many a rider from a rough day and the perils of dehydration. I took water and a bandana around my neck and slept beneath the shade of nearby trees for at least 20 minutes. Doubts crept into my mind. Would I be capable of riding a further 102 miles to the finish?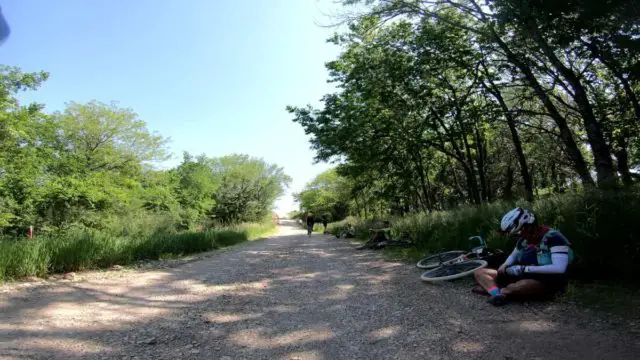 Bo appeared at the Checkpoint sometime during or after my dirt nap. He may have been there the entire time, I honestly don't know, but he was in a pretty bad state, possibly worse than my own. He announced he would ride a little over 100 miles before calling it a day. This news was disheartening, as I was hoping we could continue together, muddling our way along to Checkpoint two. Consuming gels had become a major chore in itself, nothing was of appeal, but I needed calories. Because my body was burning 30% to 40% of its energy cooling my skin, another 40 or so percent pedaling the bike, this didn't leave a lot remaining for food digestion. I suspect anything I did consume at this time sat in my stomach… I recall feeling bloated.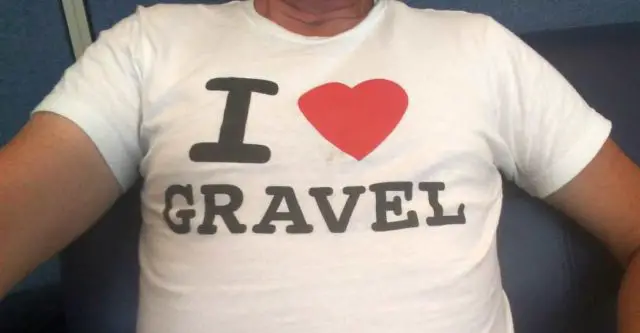 I love dirt and gravel roads, but I was so out of it, every bump was consuming energy I didn't have to burn. Bo and I kept sight of each other on and off for 20 miles, before I spotted him making for the roadside. I suspect this is the moment he called for a ride from the ENVE crew. In addition to his body meltdown, Bo's Di2 battery was running on critical and had shut down operation of the system to just the rear derailleur.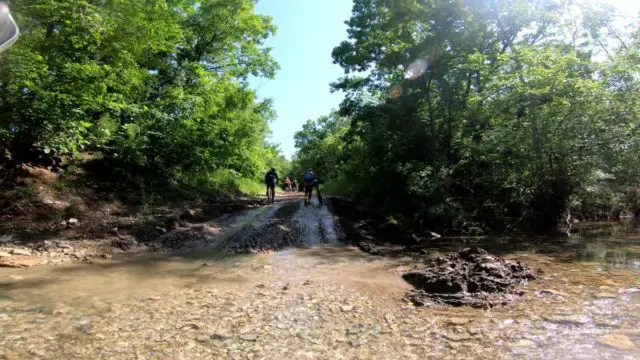 Remember people, it takes but a second to check your battery status… do it before every ride! Meanwhile, I pedal / coasted my way into the town of Alta Vista, home of the neutral water stop.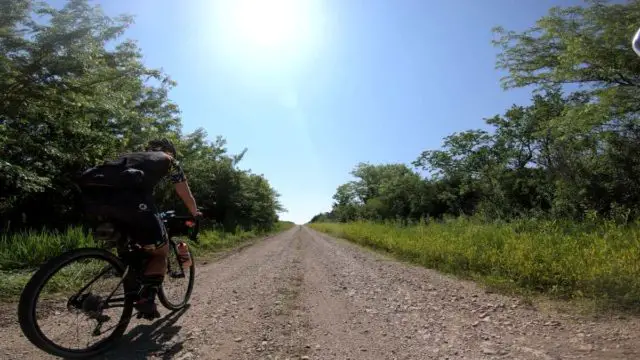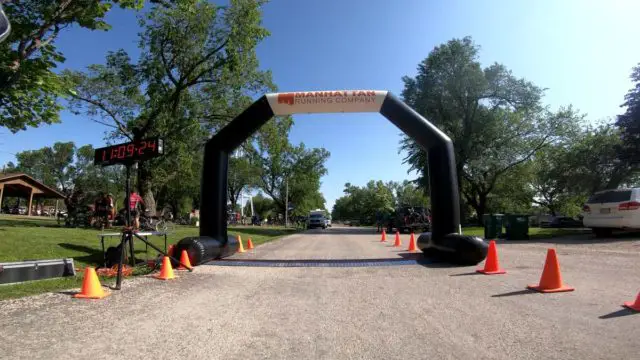 I need to interject here for a moment and thank every rider who spoke to me during this very dark time on the bike. I have never felt so much positivity and support from riders who know me from the website, or who had met me as a fellow rider for the first time. This is what gravel is truly about. Gravel isn't about the five percent of riders smashing it at the front. Apologies to those who may have seen me vomiting on at least two occasions, I tried to be discreet about it.
Within the town limits of Alta Vista between water refills, there was a glimmer of hope my stomach was feeling better. Perhaps I could finish the 2019 Dirty Kanza 200 after all? It would all depend on the amount of climbing between Alta Vista and Council Grove, the town hosting Checkpoint Two. As a reminder, Kansas is far from flat. Think of short, punchy climbs, anywhere from three to twelve percent, all-day long, and you get the picture.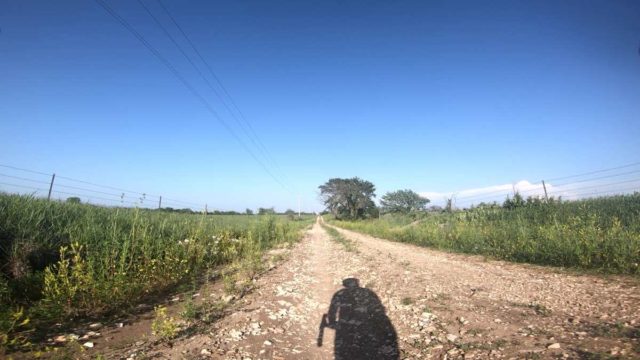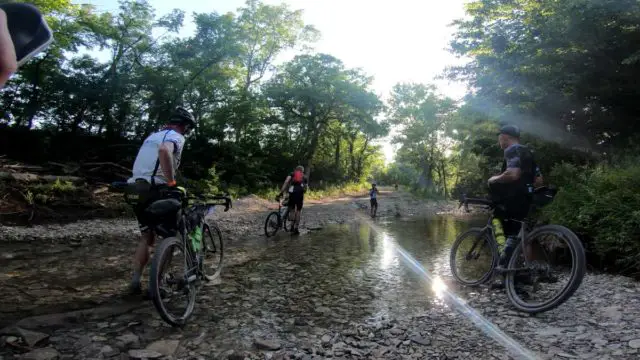 The hills started not long after departing Alta Vista, and for a while, about 133 miles into the course, the roads flattened out significantly, many heading along a somewhat downward slope. For a while there, I was riding well, but the wheels fell off again… energy levels were almost non-existent, and the motions of pedal / coast continued. My friends TJ and Jennifer, also making their base somewhere in Florida, rode past me as I was attending to gel consumption by the side of the road. They'd had their own set of difficulties, but looked to be well on the way to finishing their fifth Dirty Kanza 200!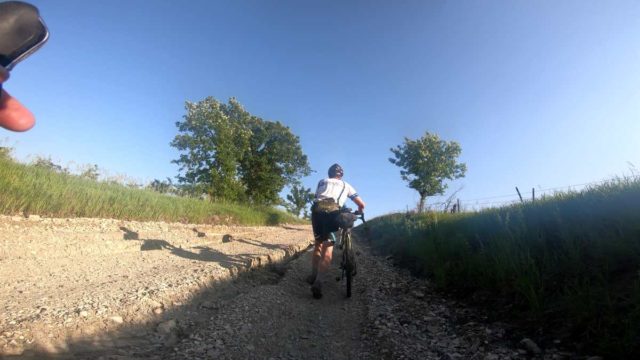 For me, a nasty set of hills within the final 10 miles / 16 kilometres made their presence felt. It was here that I regretted my gearing choice of 46/34 with an 11-32 cassette. Oops.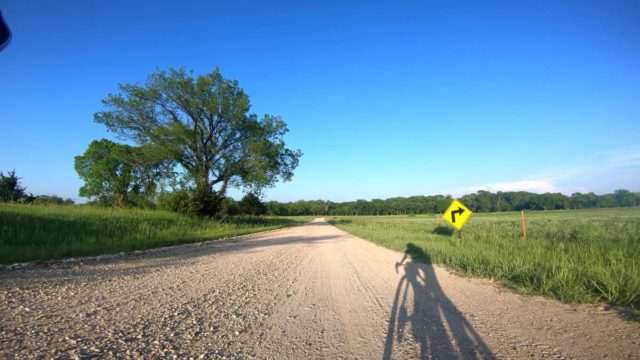 I walked myself and bike over the summit of at least three of these steep climbs. Off the bike for a moment or two, a lady whose name I don't recall from the Chamois Butter team chatted a while and took a selfie with me. If only my brain was functioning in order to film the moment, using my handy DJI Osmo Pocket camera with a built-in gimbal. Whether my conversational skills were coherent at the time is up for debate? In the dark place, I don't usually have much to say, sorry.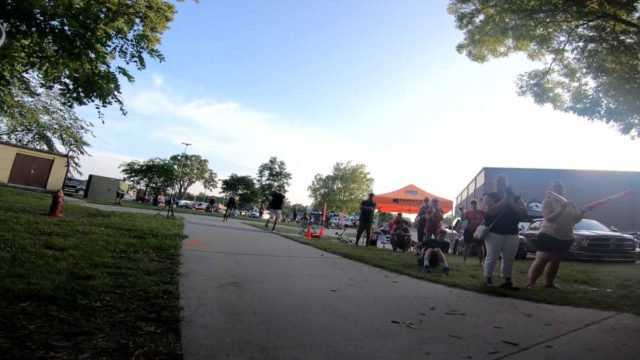 I rolled into Council Grove, Kansas with a running clock time of 13:55:37 – an absolute shocker of a day. Two years earlier, but on the Southern course, I knocked out a solid time of around 13:30 something. What a difference a bad day makes. Without doubt, I had never suffered this much on a bicycle going so slow, and all of it live for everyone to see on the Quarq Qollector website. AJ of the ENVE crew greeted me with my cooler and an update on the overall race as it pertained to the leaders.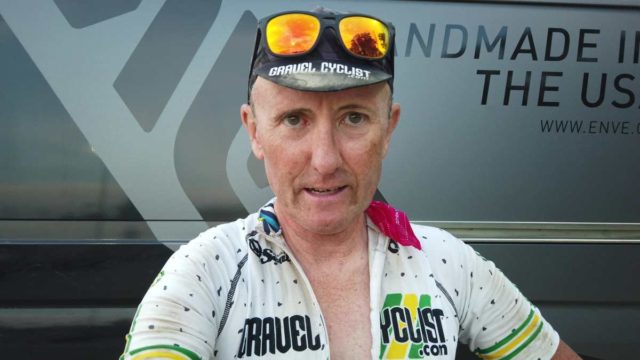 No manner of hydration or recovery during that short 30 minutes I spent in Council Grove, could bring me back from the dead. I was too far gone. I'd begun to shiver, and with 50 miles and a significant number of climbs to scale between mile 151 and mile 185, finishing the 2019 Dirty Kanza would be a painful, difficult task. My available lighting was not up to the job of at least four hours of riding, and my cognitive powers were barely functional. If I press on, I may finish, but at what cost? I could damage my internal organs, hurt myself in a crash and more. I called my girlfriend for some advice. Based on the tone of my voice and mono-syllable conversational skills, she recommended I abandon the race. In reality, I'd already made that decision but really wanted to hear it from her.
Just like that, my 2019 Dirty Kanza 200 campaign to finish four in a row came to an abrupt end. I'd be lying if I said I wasn't disappointed, but the decision to abandon was a good one and in the interest of my health and safety. Earlier, some fellow riders were surprised to see me suffering and so far back. I politely remind people reading this report. I'm a regular bloke, I'm not a superstar athlete and I too have bad days from time to time. Close to one-third of riders who started the 2019 Dirty Kanza 200 abandoned, with many notable riders on that list. I was happy to have ridden 150 miles. Massive kudos to all who finished the 2019 Dirty Kanza 200, it was the toughest edition I've attempted. To those who abandoned, don't beat yourself up about it. I haven't, live to ride another day, you can always try again next year!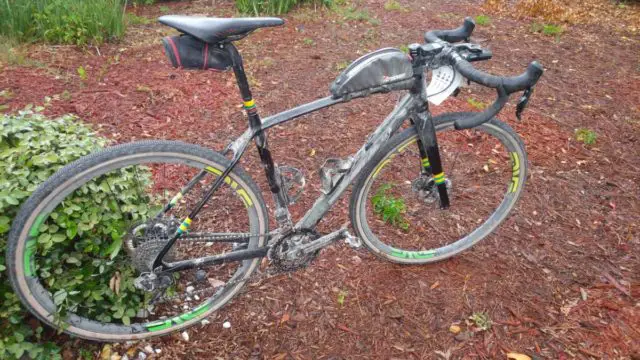 What's next? Some recovery time away from the bike, catching up on a ton of content from Dirty Kanza, and likely after some rest, appearances at some smaller gravel events / fun, solo rides.
As always, thank you for reading, my race video from Dirty Kanza 200 is coming soon.
For those so inclined, you can see my Strava data HERE (power measurement provided by Rotor Inpower).