That dark place.
"It's not the race! It's the PMS!" exclaimed my wife, Mrs. K-Dogg, to herself in the middle of nowhere. Sunset had come and gone. She was exhausted, alone and nauseated. "I was disappointed and frustrated at my slowness. I pulled over for a nature break and saw my headlight warning light was flashing. I had planned to make the sunset cutoff time of 8:45pm but still had hours to go. I thought I'd 'scienced the shit' out of this ride but here I was on the side of the road about to creep for miles in the dark!"
Mrs. K-Dogg is as tough as they come. She's an experienced equine veterinarian and is used to wrestling with 1200lb colicing horses, dangerous conditions and lack of sleep. But even she succumbed to "That Dark Place" – a place mentioned often this weekend (Michelle of Team Apex Multisport referenced it during her video interview with JOM).
Welcome to the hardest gravel race in America.
I suspect hundreds of people had similar experiences but had started out full of optimism. During his orientation Friday at the charming Granada Theater, race promoter supreme Jim Cummins breezily predicted, "records will be broken. These are the best conditions we have ever seen. We predict we will see some sub 4:00 pm finishes." I'll bet he wished he'd kept his mouth shut. Dirty Kanza 200 has a habit of unpleasantly surprising racers every year. As it turned out the best finish time ended up being two hours slower or about 6:00 pm. Three culprits: mud, heat and headwinds…. and of course, "That Dark Place."
Section One – Forty-Eight miles
So, full of sunny optimism, about 1,000 Dirty Kanza 200 starters lined up in the dark, curb to curb and about three blocks deep. Team Gravel Cyclist's JOM, K-Dogg and Mrs. K-Dogg had pre-ridden the first few miles and found the gravel totally dry and rideable even though there were reports of a very brief squall line during the night. At worst, we assured ourselves, it would just knock down some dust.
Boy were we wrong.
After a brief twilight rollout 1,000 keyed up athletes were let loose on the gravel and began to accelerate exponentially.
The race was on!
Then suddenly it wasn't.
In the first mile we hit long stretches of ditch to ditch pedal deep muddy water forcing the huge pack into long rumba lines seeking high ground or low mud. Our shoes were soaked and our faces spattered with agricultural runoff. Soon the roads got better and the sheet flow vanished.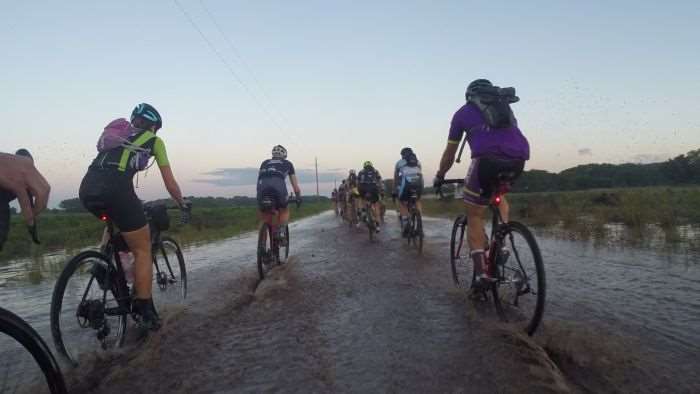 Cheery small talk began again when suddenly and inexplicably the front 100 people began yelling and jumping off their bikes. "Dismount! Dismount!" somebody yelled. The dreaded chunky peanut butter mud from last year was back with a vengeance. Frames jammed up and wheels froze. Pedals and cleats refused to cooperate. Chains broke. Derailleurs and hangers snapped off. In the span of 60 seconds the sidelines were clogged with 150 frustrated (and vocal) ex-participants whose race was now over. "Well, there goes my whole effin' race" boomed one racer.
Luckily my trusty Eldorado Monster CX bike has huge tire clearance so nothing clogged or broke. Hopping back on 100 feet later I was forced to teeter a bit while scraping handfuls of sticky mud from the tires (Teravail Cannonball, 38mm wide Dirty Kanza edition) and rode one-legged, pinky poking around in my pedals and cleats that refused to snap in.
Only 202 miles to go.
And suddenly everything changed…. the road became completely dry… the sun came out… a tailwind began and the terrain was now gorgeous! Big rolling, ridiculously green hills as far as the open grasslands would allow. About 60 riders had detached. I burned a few matches reeling in as many as I could but eventually settled into little clumps of chasers much younger and faster than my 61 year old arse. (Did I mention my age?).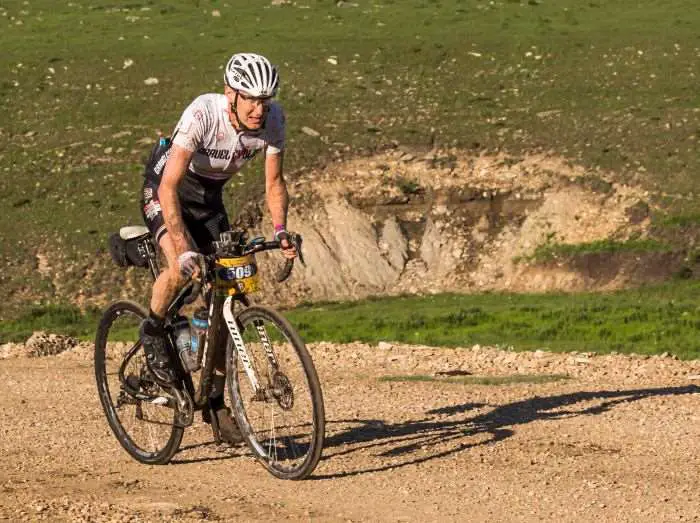 After an hour or so I was passed by Amanda Nauman and David Sheek. I tagged along with them long enough to film. "Smile, you're on Gravel Cyclist TV!" I said, trying to be funny.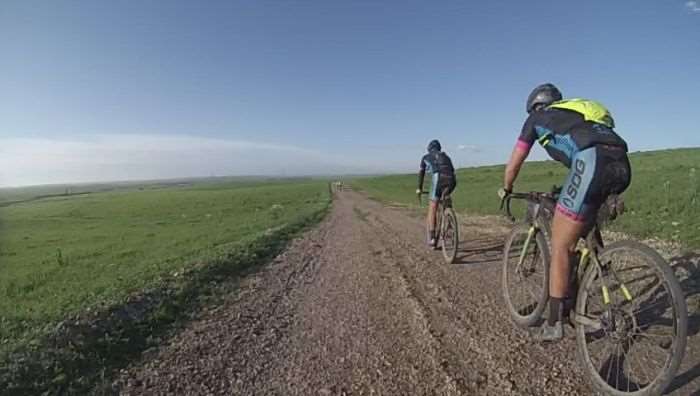 They were polite but all business. Why waste any energy talking to an old Fred. That's why they are champions. I took note and stopped trying to keep up.
I don't remember much more about that section except feeling good, being swept south by an awesome tailwind and endless hills bigger than anything in Florida. Eventually I stopped at the loud, clamoring Chamois Butt'r pit stop in Madison, Kansas for a five minute refill of anything in sight then back on the road to Eureka, Kansas.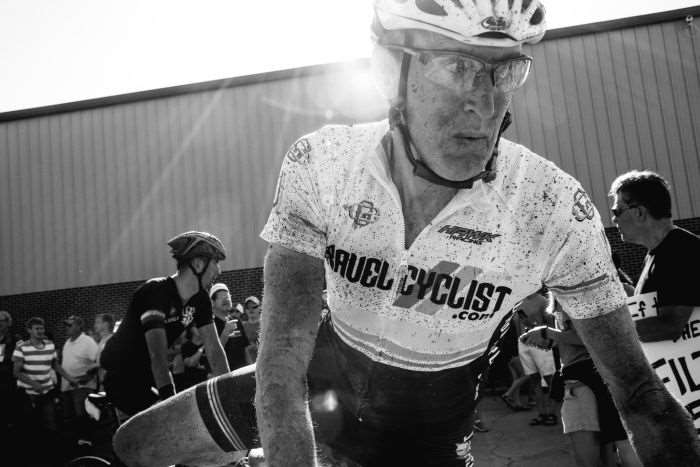 Photo by Sunshine Outdoor & Bike Shop.
The course backtracked a bit which freaked out the Garmin. After two bumpy reboots it finally behaved.
Section Two – 54.7 miles
I also don't remember much about sector two but it was similar to the first but longer. It was a vicious conveyor belt of steep hills (generated by an evil giant I imagined). There were several creek crossings that cheered my over-worked legs a bit. I SO wanted to stop, kneel down, and linger a while but I began to suspect the winds would be changing from friend to foe soon. My legs told me to slow down or they would go on strike and cramp. But I kept going hard reasoning I should make time whenever possible. Suddenly, near Lapland, the road turned briefly north into a 20 mph harbinger of what was to come.
That Dark Place began whispering in my ear.
Rolling into the Eureka stop (hours later) my calve muscles were starting to cramp so I lingered there a bit longer and accepted the ministrations of the wonderful Chamois Butt'r volunteers. I had run out of water half an hour earlier and was feeling a bit whiney, crabby and nitpicky. The volunteers were enthusiastic but had no idea how we all felt with ANOTHER 100 miles to go.
I nitpicked (internally) that the ideal rest stop would be to throw my bike on the ground, crawl to a shady spot, and assume the fetal position while volunteers put ice cold water in my bottles. A brave person would then make me get up and keep going. Instead, I stupidly stood in the sun, gagged down a gritty ProBar then washed it down with hot Gatorade from my bag.
Enthusiasm was rapidly draining away. I thought about quitting. Back home when cold or rainy I'd trick myself by agreeing not to ride but go ahead and put the bibs on. "OK, still not riding" but pull the jersey on anyway. Then the socks and shoes. "OK wussy man, you are all dressed – might as well ride now."
Stupid but it works.
So, all dressed, I went ahead and threw a leg over and teetered down the road through very loud crowds. I wondered why they so enthusiastically cheer us to keep suffering?  No idea. We really just want you to make us stop.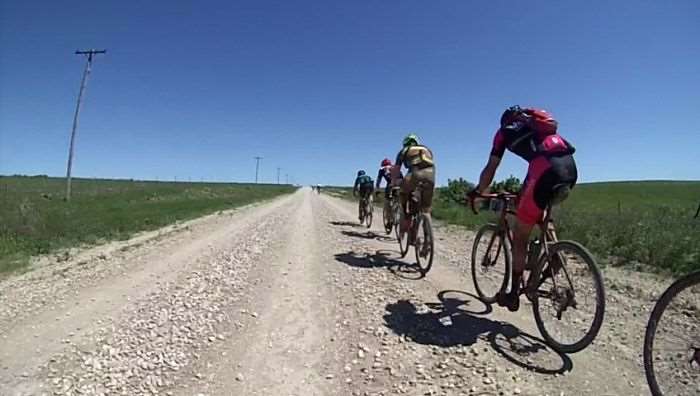 Leaving town I joined a tandem and four weary racers. We found a nice bumpy road and began a brutal four hour effort into the teeth of a hilly head wind. Destination: the last oasis in Madison, Kansas.
Section Three – 58.8 Miles of Man Cramps and Headwinds
I do remember lots of sector three because of a howling 20 mph headwind and all muscles below the waist began cramping in waves. Every few miles one muscle or another would seize up requiring a leg punch, position change or a crazy flailing leg dance. Standing up, sitting down, flaring the knees out, pointing the toes down or dropping the heels… nothing worked very well. To avoid That Dark Place and giving up, I promised to drop out if the cramps didn't vanish after the next two hills… then two more hills… then just two MORE hills. Miles and miles passed this way – some with cramps, some without.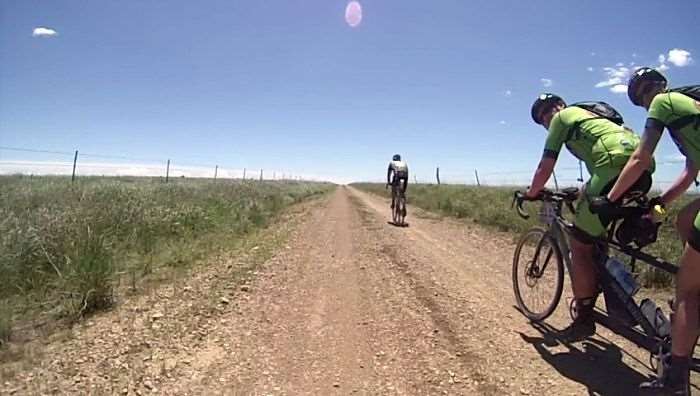 The wind was an absolute bitch. There were long stretches of eight mph. To keep from going crazy I learned to break the effort into bite size goals. Never look at the clock. The ride ends when it ends. Your legs can only do what they do. You are not going to die. As Yoda said "There is no try, only do." There are hundreds of nice people near you on the same road. This is not road cycling. Take a turn on the front when you can. Sit on when you have to. Babble to those around you or babble to yourself when alone. Live in the moment. See the Yin and Yang of the hills… for every uphill there is a restful descent on the other side.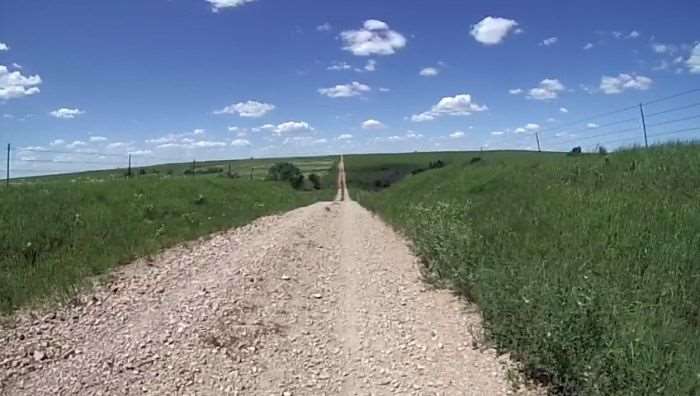 An hour from the final checkpoint at Madison most of our little group of the moment had run out of water. Conversation completely stopped. Occasionally we absorbed white-faced riders. "Can anybody spare some water?' they pleaded.  "Sorry dude, all of us are out too." we said. Some hopped on the train. Many faded off the back.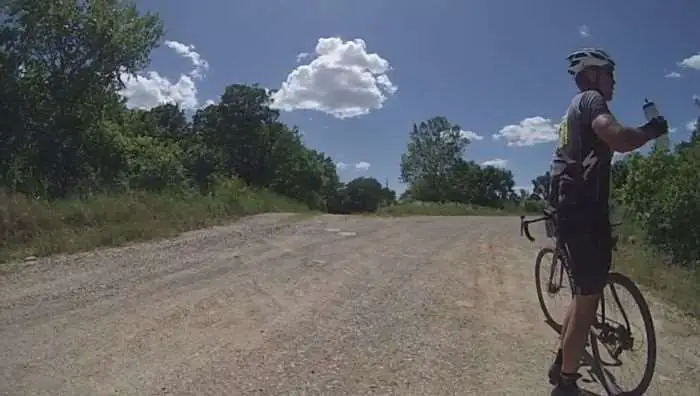 Finally in Madison a nice Chamois Butt'r lady put me in a chair and filled my bottles. She gave me a cold Dr. Pepper and offered a hot dog. Really?… maybe some other time. Three Dr. Peppers and two ProBars later it was time to go.
I had zero enthusiasm and 44.9 miles to go. The Wicked Wind of the North was still waiting and That Dark Place whispered "just stop"… it's OK! You don't have to suffer anymore. "You are, like, an old person. Take up water aerobics. People will understand."
I straddled the Eldorado, vacillating a long time, then remembered how far we had traveled and how much money we spent to do this muddy madness. Using mind tricks mentioned earlier; (I pulled on my mental bibs). Then I realized that JOM would surely finish and never, never, never let me forget it. (I pulled on my mental jersey). Finally I pictured the look of disappointment from Mrs. K-Dogg who would ride to dawn to finish if she had to. (Mental shoes and socks on) Here we go.
Sector Four – 44.9 miles and E.T. go home!
I don't really recall what garbage I ate in Madison but it made me nauseous. It may have been the three Dr. Peppers, two ProBars and two highly caffeinated Gu's…. hell, I may have eaten the hot dogs for all I can remember but the combo was toxic. Over the next several hours the urge to hurl on the bars at least diminished the leg cramps. For many, many miles the front wheel was fascinating. Nothing else was safe to focus on.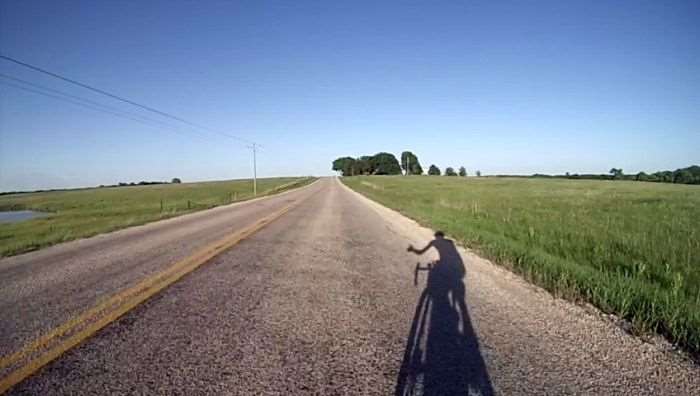 But eventually the hills and headwinds diminished. The headwind died down to a deliciously cool breeze. The legs completely stopped cramping. As the sun sank on the horizon friendly little groups of riders came and went.
I felt wonderful.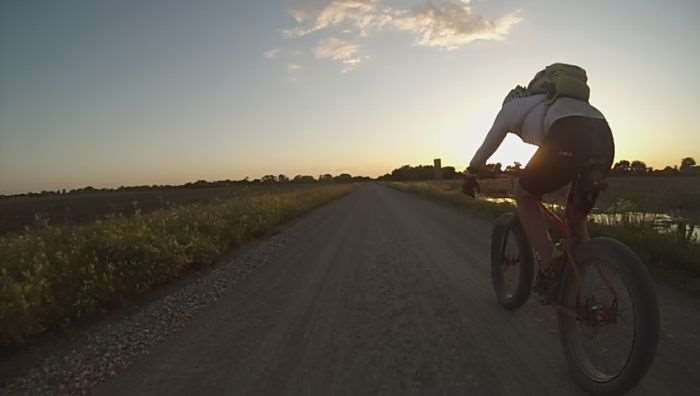 With 8 miles to go I was paced by a big guy (Bob?) on a Fatbike. He told me four women were ahead of us.
With two miles to go a fifth woman cruised by with a smile and a wave. I didn't chase on. I have no problem being "chicked" as they say. More power to them. I was almost home and gave a great sigh of relief.
The sun was almost below the horizon. Bob said if I hustled I might just make the Race the Sun cutoff.
And I did.
With 60 seconds to spare.
Dirty Kanza 200.
I had done it.
I was done.
Dogg Tired
P.S.
Mrs. K-Dogg came in a couple of hours later weary but happy. After self-diagnosing PMS masquerading as That Dark Place, she had hopped back on her bike, glommed on to some friendly riders and conquered the course.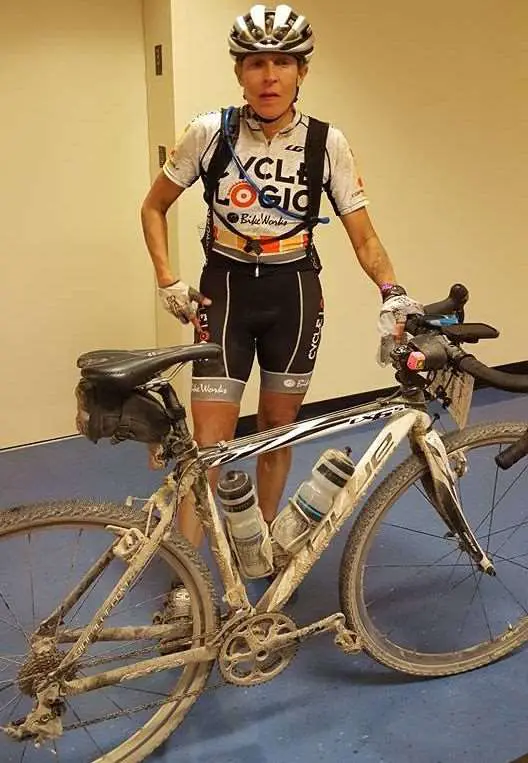 My takeaway is that though your body is hurting and weary, That Dark Place is really only in your head.
You just have to know your limit… and it's farther down the road than you think.