The Fried Clay 200k is… "a self-supported endurance gravel event that takes you through 124 miles of the Chattahoochee-Oconee National Forest. Expect 6,000 feet of climbing on some of the best gravel roads middle Georgia has to offer. The route combines the popular Red Clay Ramble and Fried Green Tomatoes routes with a few additions for a unique endurance experience. You will need a GPS or a smartphone with an app such as Gaia to navigate the route properly." – Pat Patterson, Promoter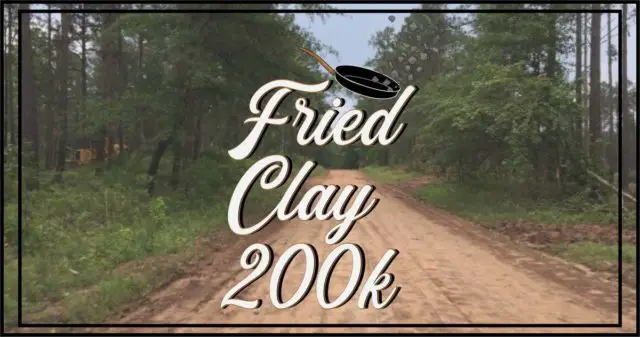 A little further down the event description, "Some riders will choose to race, while others will party pace it. If you chose to camp on the route, there will be marked primitive campsites on the route guide when it is complete."
Party Pace is my cup of tea, but I was on the "Finish the Event in a semi-decent time" pace. With that said, here's what I've been up to in the lead up to the Fried Clay 200k.
The Road to the Fried Clay 200k
This is likely going to sound like an excuse-fest, but the best cyclist always have the best excuses, am I right?! I'm the first to admit that I didn't take my preparation for this event very seriously. I signed up (thanks Pat!) thinking 200kms / 125 miles of Fried Clay, no worries, and put the event to the back of my mind. More on that later.
On March 2nd, 2019, I appeared at the Dirty Pecan event starting out of Monticello, Florida. I had plans to ride the 100-mile version of that event, but cut it short to 80 with my GC teammates, after a massive dousing of rain for much of the ride turned the entire course into a quagmire. Sadly, I simply haven't had time to knock out a ride report or video about that event, but it was challenging for all concerned. Riding in mud and sludgy roads takes considerably more effort than the usual gravelly type ride, and conditions were particularly brutal for one's bike… new bottom bracket bearings anyone?
Roll forward to March 11, 2019, and I was off for a week-long trip starting with the launch of a new gravel e-bike, the Yamaha Wabash in San Diego, California. Following immediately after was NAHBS (North American Handmade Bicycle Show) in Sacramento. If you've been watching the website, you will have seen some of the video content I captured at that show – there is still a ton more to appear!
Finally, the Gravel Cyclist website had outgrown its host – again – meaning the site was crawling to a halt with a ton of visitors and not enough techie infrastructure in the background to support it. I don't typically stress about things too much, but this event and the trouble-plagued migration to a new host that followed was quite unsettling. Hopefully, the new server location has propagated all over the WWW. Thanks to all of my readers for your patience and support!
Quick segue. The Gravel Cyclist website is my secondary pursuit (I do have a real job that pays the bills), and is supported financially through the wallet of yours truly, event and equipment advertisers relating to the gravel genre, and an ad network. Once in a while, the ad network may throw a clanger. It is supposed to be intelligent and adjust the experience for each user (you can close ads, etc, it may remember that), but once in a while, it has launched a pop-up ad. If you ever experience a pop-up, please screenshot it and contact GC with the details. Pop-up ads don't fly around here. Now, back to the story.
The Fried Clay 200k Experience
Firstly, I must thank Mr Benny Watson, a local legend around Eatonton, Georgia. Benny knows every nook and cranny of the area and was the gentleman who kindly informed and invited me to the event.
Once the business with my regular gig had concluded, I boarded the K-Dogg minivan for the trip from Gainesville, Florida, to Milledgeville, Georgia. There isn't much around Eatonton, including hotels, but joining me was the duo of Mr and Mrs K-Dogg in the van, and driving separately was our Ocala-based teammate and long-time friend, Rusty. I'll spare everyone the minute details of dinner and hotel check-in, but believe me when I say, my approach to this event was a bit more haphazard than usual (thanks insane schedule).
Because this ride / race was self-supported (most gravel races are), one would need to carry much of the day's foodstuffs on one's bike, or somewhere on one's body. I'd chosen both forms. A top tube bag was stuffed to the gills with Larabar and Bonkbreaker bars, and jersey pockets filled with an overstuffed Gu gel pack, some more bars, phone, a few tools, Gu hydration tabs and a spare key to the K-Dogg minivan. My Zefal Magnum water bottles were loaded with Gu's Roctane drink mix. Temperatures at 8am ride start were in the low 40's Fahrenheit, peaking to mid 60's later in the day. This is one of those days that would be a challenge to dress just right. Don't overdress, but enough clothing to stay warm during the early miles / kilometres. I may have gotten this a bit wrong…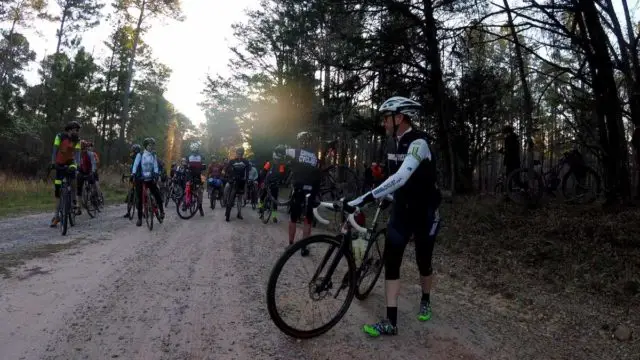 Around 8am, Pat Patterson, event promoter extraordinaire, kicked off the event and about 75ish riders headed off for an adventure of great length and plenty of hills. I've ridden the Red Clay Ramble a few times, which takes in some of the roads we would be traversing on this day. My tyre selection for the event, the venerable Panaracer Gravelking was good, although I'd neglected to install a pair measuring 700c x 38mm, or 700c x 43mm. Chalk that up to not enough time, and pi$$ poor planning on my part. Consequently, I was skating a bit here and there on the gravelly marbles aboard 700c x 35mm GK's.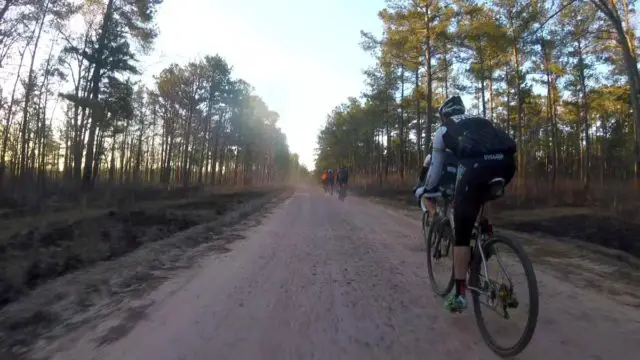 It became abundantly apparent that the front group of about 15 riders was keen to race flat out, whilst those in my immediate vicinity were content to ride a steady tempo. For the early miles, I was in the company of Jen C of Athens, Mr and Mrs K-Dogg, Rusty, Betty Jean of Monticello and a few others.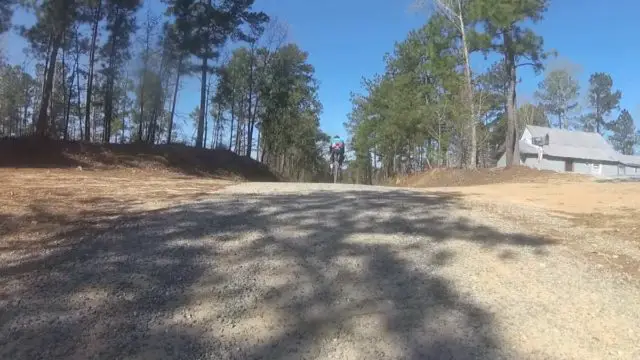 When the first of many steeper climbs began to make their presence felt, Rusty, Betty Jean and one or two other riders gently rolled away, up the road and out of sight. It was a long day, and I was riding my own glorious tempo, even if I was struggling on some of the steeper climbs… 34 x 32 wasn't cutting it for me, the high cadence bloke in me wasn't too happy about that gear selection. Mr and Mrs K-Dogg were now further behind, riding their own tempo.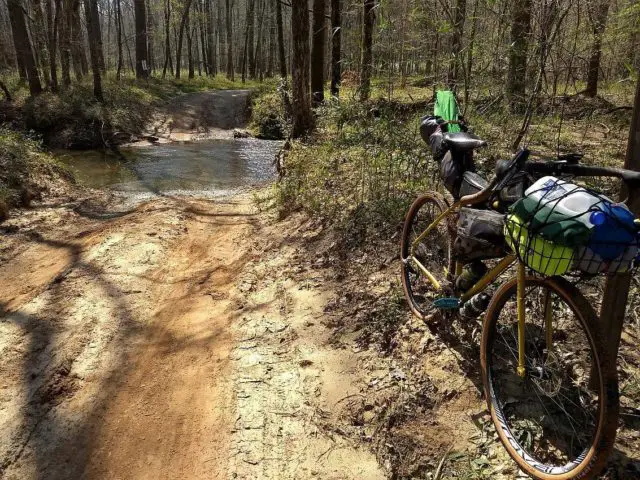 Approximately 41 miles / 67 kilometres into the course and some creek crossings later came the town of Juliette, Georgia, better known as the film location of the movie, Fried Green Tomatoes.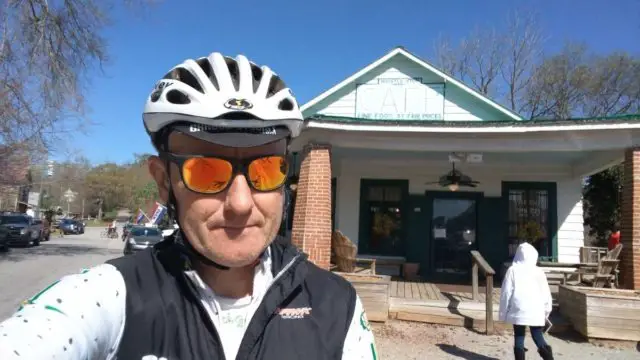 One of the promoter's requirements was a selfie photo in front of the Whistle Stop Cafe, which you can see above. You can consider this Checkpoint One. For a few miles before, I'd been in the company of a younger lad from Atlanta (forgot your name, sorry). We took the opportunity to refill our water bottles, reminisce about the challenging course up to this point, and the difficulties that lay ahead. It was going to be a long day, that included an eight-mile section of singletrack / horse trails. The earlier estimates I'd read on the event's Facebook page about the ride taking 11 to 12 hours were right on the money.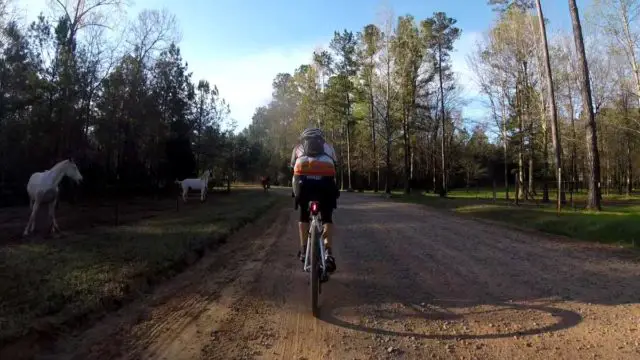 I departed Juliette solo feeling a tad fatigued, but my legs were in a good place to maintain my steady all-day tempo. This part of Georgia is far from flat, there be approximately 8,000 feet of elevation in 200 something kms. This meant the hills kept coming and coming. K-Dogg made a good analogy about this. Imagine a Giant with an endless conveyor belt of gravel roads and a lever that cranks out hills; he pulls a lever to crank out another hill, what a bastard. That Giant had been busy as eff around Eatonton, and K-Dogg has a disturbing imagination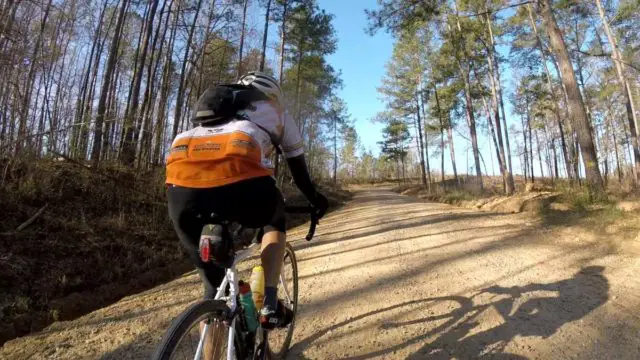 Somewhere between Juliette and the singletrack / horse trails, I encountered a trio of riders, a lady and two gents. I believe the lady's name was Katie, as for the two blokes, I remember one of them riding a Stinner gravel bike (the first time I'd actually seen one of these getting dirty!), who thought it was a good idea to try and mimic my Aussie accent. Imitation is the most sincere form of flattery, and it was kind of amusing the first couple of times, but after #5, not so much. Be yourself, dude! These facts aside, I yo-yo'd back and forth with these riders a lot.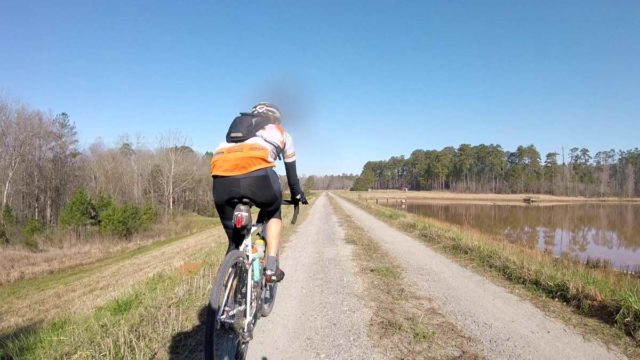 From memory, this section of the route featured several stream crossings, all of which I rode, courtesy of my finely honed, semi-dodgy skills. Unfortunately, this was a rare occasion that I was not filming the ride, as I'd made the amateur mistake of leaving my GoPro handlebar mount way back in Gainesville, Florida… d'oh! Thus, the photos you see in this article are courtesy of K-Dogg and Rusty.
Between all of this riding, I'd been dutifully chugging my hydration mix, eating solid food and noshing on my overloaded gel pack. Despite fatigue, my legs were still ready, willing and able, a good thing because my bike and I had just entered the single track / horse trails. One thing I need to mention here if you ever encounter a horse and rider on a trail or a remote gravel road. Approach with caution, slow down, if necessary, get off the bike. Speak to the horse, not all are comfortable with cyclists and what they may represent, so verbal communication can help. Nobody wants to see a rider thrown from a horse, and by stopping and being a good human, you'll make friends with the horse and the equine community.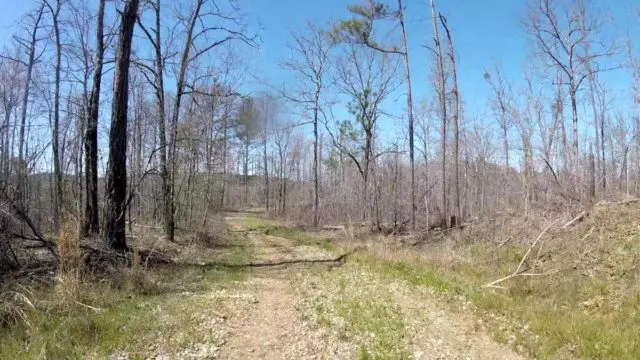 Considering the rain that had fallen in these parts of Georgia during the preceding weeks, the trails were in pretty decent shape. The muddy spots were still muddy, but not disgustingly so, and there was generally a good line through most spots.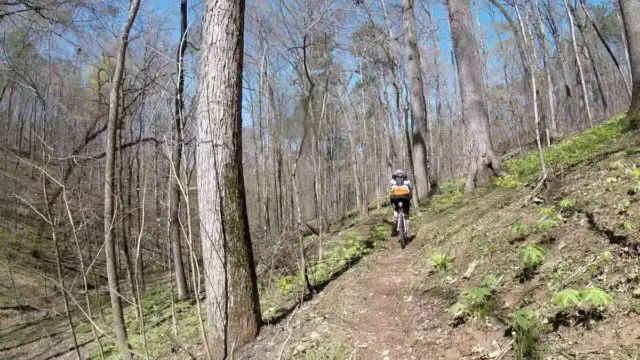 Admittedly, I had to walk some of the more techie sections of trail and singletrack, but it could have been worse. I'm not the biggest fan of gravel races where singletrack is added (each gravel ride / race has a unique aspect about it, Pat's is the singletrack), and this isn't the first time I've encountered such a race. Check out my ride video / report from Cedar Cross near Tebbetts, Missouri.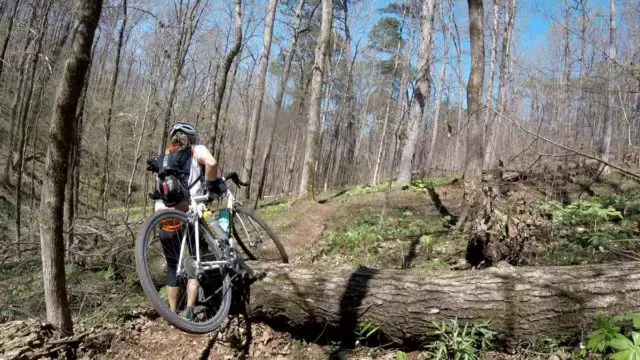 The worst of my not so stellar technique was hoofin' the #1 primo creek crossing of the route, somewhere around the middle of the eight-mile / 13km stretch of singletrack.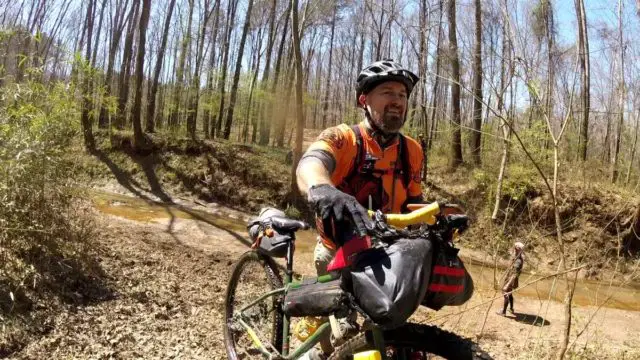 This is exactly where Pat and friends chose to hang out, undoubtedly the best vantage point to see riders royally messing up the crossing… myself included.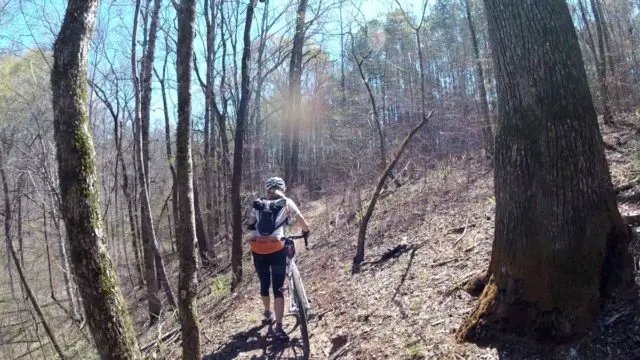 Safely across the crossing with about five miles still to ride, I slowly pressed on. My stomach was feeling a bit off for solid food at this time, so, I reached for my handy gel pack. "Huh? It's not in the usual pocket, maybe I stuffed it somewhere else?", I thought to myself. I stopped, unloaded my pockets and some of my clothing onto the ground, making a scene reminiscent of a temporary yard sale of stinky knick knacks. Generally, I ride quite well on liquidish hydration only. Unfortunately, it would seem my Gu gel pack had gone walkabout somewhere along the singletrack. Bollocks! With a dodgy stomach, the rest of the Fried Clay 200k was going to be an interesting, low-calorie experience.
Following the guidance of my faithful Garmin 1030 navigation device (I really need to post a review of this item and the Wahoo Elemnt I've been sitting on), I rode not so stylishly towards the end of the singletrack. That appeared somewhere around 60 miles / 95km into the course. This was going to be a very long day. At the end of the single track, I ran into the trio of riders I mentioned earlier. We exchanged greetings, but I did let my Aussie-impersonator friend know my thoughts of the singletrack at that time… let's say it was some colorful language only another Australian would appreciate… in my defense, I may have been a bit "hangry" at the time. Additionally, I must pass along a hearty thank you to the dude driving the white SUV from Loose Nuts Cycles. Thanks so much for passing forward some Red Bull and water refill! I certainly needed some wings.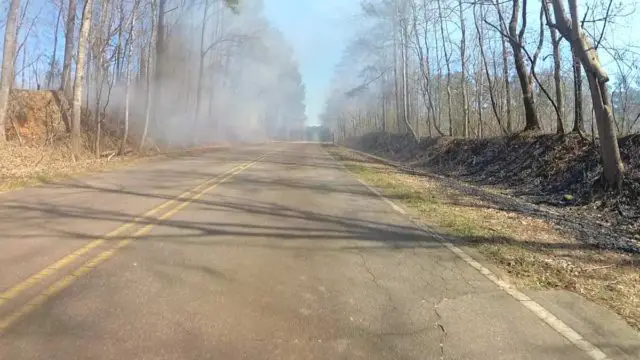 Some 26 miles / 42 kms remained until Checkpoint Two. I chugged along, trading places with the trio of riders mentioned earlier until my stomach had enough, when I was forced to dash into the woods for a while. Does a bear $hit in the woods? Well, it went something like that. Readers, I shall spare you of those details, but let's just say leaves aren't an optimal item for clean up. Ordinarily, a water bottle bidet does the trick, but when that bottle is filled with Gu tab mix, not so much. Feeling much relief after that experience, I continued chugging my water / Gu tab mix (there are not a lot of calories in those tabs) all the way into Checkpoint Two.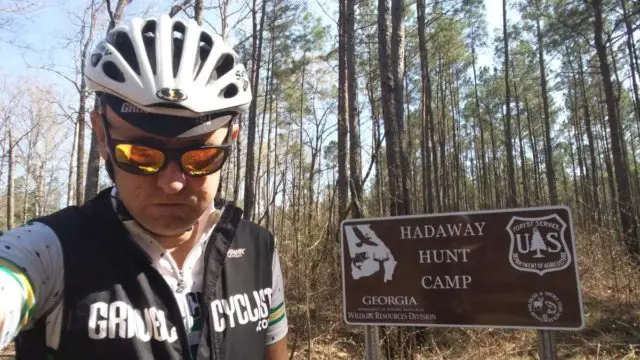 Checkpoint Two came around at approximately 4:10pm, some eight hours after the event start. I arrived just in time to see the trio of riders departing. Pat the promoter was kind enough to have a mega Coke / water stash at the Checkpoint, just what the doctor ordered. I took the required selfie, sat around a while, downed a Coke and pondered life. I gladly accepted the offer of a gel from a rider whose name I forget (thank you!), and stashed it away for later. Several riders slowly ambled into the Checkpoint, looking just as weary as I was feeling. Everyone was feeling the pinch. Convincing myself that 15 to 20 minutes was enough time to stooge around the Checkpoint / campsite, I remounted my steed and made onward for the final push.
Approximately one third / 46 miles / 75 kms remained until the finish line. The Coke had invigorated me, the mix of caffeine and sugar was doing wonders! I took the measure of pouring another Coke into my water bottle at the Checkpoint, mixing with Gu tab mix. Spicy! Now I pedaled with a renewed gusto, taking advantage of the temporary boost in performance from the latter chemical-laden goodness. I caught and passed the lad who offered up the gel from earlier and wished him well in his finish. I was feeling A-M-A-Z-I-N-G. At this pace, I would likely finish at around 7pm. Briliant!
But those feelings ended all too soon. The Coke hit had worn off, my Coke / Gu mix was depleted, I was down to one bottle, a loaner gel and an overall feeling of super fatigue and emptiness. The lad I had caught and passed earlier, caught and joined me for a while, and we exchanged our respective tales of woe. It turns out this was his first ever gravel event, typically he sticks to the road for the Brevet circuit. I understand this experience was an eye-opener for him.
And so it went. I'd ride a while, stop at the top of a hill, get off the bike and contemplate life. Each time I would say to myself, "I'm so effin destroyed, I have nothing… but quitting is permanent, so STFU and finish this thing." Finishing the Fried Clay 200K had turned into a huge mental game for me. Unable to keep solid food down and riding on almost zero calories, the rest of the ride was a test of my willpower. I have a small little event happening in June, namely my fourth ride at Dirty Kanza 200 (currently sitting at 3 for 3 finishes, wish me luck!), so quitting here would have left me in a very bad mental state for that race.
The unnamed rider and I kept going back and forth. He was experiencing his own set of struggles, namely with fatigue and a navigation device that was nearing the end of its battery charge. With five miles to go atop yet another hill, he'd taken to the side of the road to rest a little, and possibly coax some more life from his navigation aid. We exchanged a final word or two, and I bid him farewell, just five miles / eight kilometres to ride.
The roads in the final twenty or so miles were familiar territory to me, being part of the Red Clay Ramble route. I wasn't lighting the world on fire with my pace and I cursed every time I saw a hill come into view. Thankfully, the grades at this point of the route were of the gentler, kinder type, making for a nice respite from yet another front derailleur workout. I may have been experiencing a dodgy stomach and major off day, but my bike was spot on, happily slamming gears up and down. Thanks, Shimano Di2! Thanks, Panaracer tyres! Thanks, Orange Seal! Thanks, Lynskey PRO GR!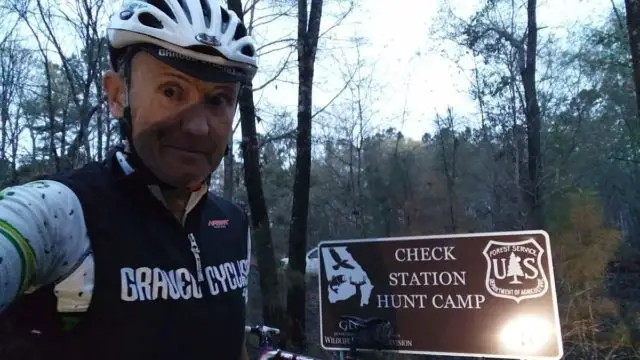 I rode into the start / finish area sometime around 19:56 / 7:56pm with LED headlight blaring away. I stopped for the required selfie and almost collapsed at the K-Dogg minivan.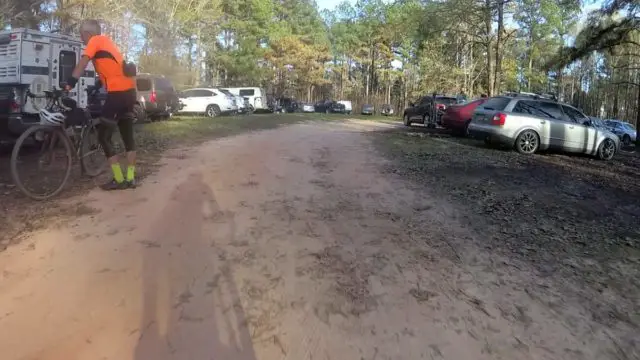 Mr and Mrs K-Dogg had ended their day early after a rough time in the singletrack. Singletrack isn't their thing, and their training is on a different path than mine at the moment, so their 95 miles was just right. My Fried Clay 200K ended up being 213km / 133 miles, so some good bonus value right there.
Destroyed is an understatement to describe my state of being at the finish of this event. Mr and Mrs K-Dogg are two of my closest friends. They loaded my bike into the car, all of my crap, and drove me to the nearest convenience store for bubbly water, ginger ale and potato chips. I was feeling very nauseous, but thankfully, didn't barf post-race. I have ridden and raced at many locations across the world, but this one of my hardest suffer efforts. I hadn't taken this race / ride seriously at all, and it completely wrecked me for at least two days. Am I glad I finished? Eff yes!! Would I do it again? Ask me after a little while has passed, I need to forget about the low-calorie dark place a while.
At the time of writing, I'm sitting in 13th place for results (results are final on April 1), a lucky number for some. Here's a link to my Strava Fried Clay 200k experience.
Thanks for reading!
JOM