A little about Gravel Bikes

A plethora of manufacturers are now producing "gravel bikes", taking advantage of this rapidly evolving genre of cycling. However, often the best bike setups are those born from improvisation, and not a stock bike purchased from your local dealer.
Realistically, you don't need to spend a lot of money to have a safe and reliable machine for gravel cycling / racing. We've seen gravel racing bikes vary wildly from a standard cyclocross bike, all the way to a single speed MTB, equipped with flat bars with integrated aero extensions.
Horses for Courses
This phrase stems from the fact that a racehorse performs best on a race course to which it is specifically suited. In gravel cycling, a bike setup for one event may be less than optimal for another. Roads and terrain in the Midwest of the United States are radically different from what you'll encounter in the mountains of West Virginia and North Carolina. Consequently, course-specific bike setups can vary.
In my experience, building a gravel bike isn't just about performance. Safety plays a huge factor. Whether descending a knarly rocky gravel road, or cruising along a narrow forest trail, the perfect bike for me always involves bigger tires (tyres), predictable handling characteristics and excellent brakes.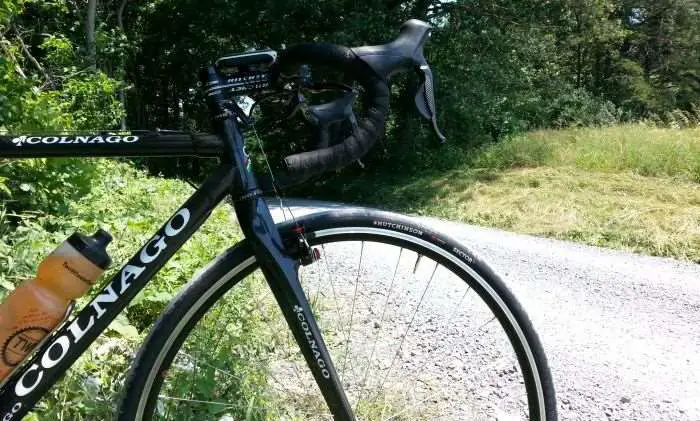 As alluded to earlier, such a bike doesn't necessarily exist on a dealer's showroom floor. Casting my mind back to my first UltraCX appearance (please pardon my then crappy video skills) at Three Peaks USA, I finished that race feeling I was astride a bike inadequately prepared for the job. You cannot put a price on confidence in your machine, or your own skills and abilities. What works for some riders, will not work for others. Some riders are perfectly at home on a narrow tyre cyclocross bike, others prefer a hard tail MTB.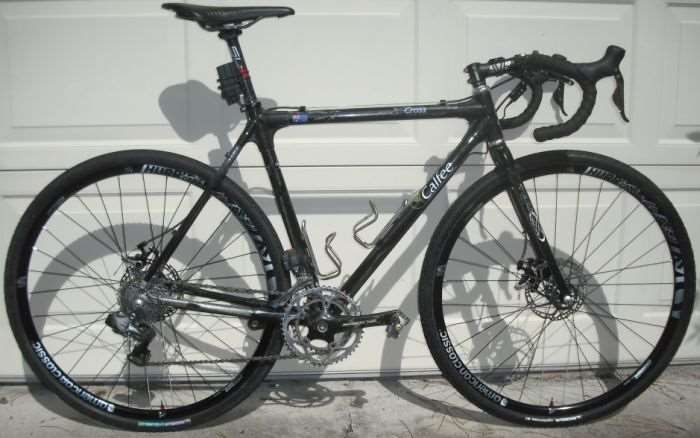 Without any further ado, here are Gravel Cyclist's tips for Gravel Bike setup:
The Bike
Firstly, dispel the notion you need a gravel specific bike to enjoy riding gravel roads. As alluded to in the first beginners article, Useful Pointers, run what you have. A cyclocross bike with clearance for 40mm tyres can be the perfect bike for gravel cycling. A gravel specific bike differs in that its wheelbase is generally longer, with slacker head tube angles and a slightly taller head tube. Generally, a gravel bike is built for comfort whilst traversing 100+ miles of gravel roads in a day. But those same goals can be accomplished with a well configured cyclocross bike.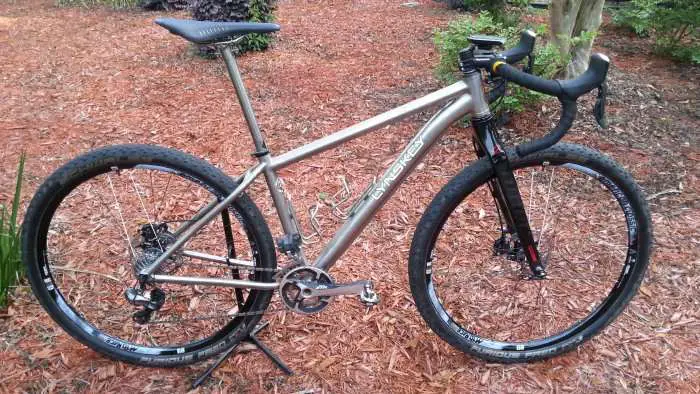 My favorite frame materials for such a bike are steel or titanium. I prefer those materials as they offer nice ride characteristics over bumpy surfaces, are durable enough to survive most crashes, while resisting the bangs and scrapes they'll invariably suffer from rocks striking the frame. Carbon fiber and aluminium frames can handle the job as well, but be wary of ultra light carbon framesets. Carbon doesn't compress well, and is known for shattering in the event of a sudden impact. Durability should be at the top of one's shopping list.
Whatever your frame choice, dual bottle cages are a necessity, along with a saddle bag that holds essential tools for coping with punctured tyres and other emergencies. More about Saddle Bags in our first article, Useful Pointers, under Tools and Spares.
Handlebar Positioning
Some riders prefer a bar position that may be up to an inch higher when compared to their road or cyclocross positions. For long distance events, comfort is paramount. An aggressive road type position will wreak mayhem on your neck and shoulders over the space of eight hours or more. Experiment, and figure out which is best for you before your event.
Bottle Cages
Cages receive their own section, as these are the most underrated and forgotten about item in all of cycling. I have lost count of the number of ejected bottles I have seen at races. What good is a fancy, lightweight bottle cage, if it can't perform its intended function! I highly recommend an aluminium, steel or titanium bottle cage. All of these materials can be bent a little, to further help with the grip of the cage against the bottle itself. Barring the Arundel Dave-O cage, carbon cages are best left at home. Gravel Cyclist highly recommends the King Cage Titanium cage, which we have reviewed in the past.
Wheels and Tyres
The most critical component choices of all. Tyre pressure, rolling and puncture resistance are factors to consider. Dirt, gravel, limerock and sandy roads are unpredictable at the best of times. The condition of such roads is determined by weather and local or county maintenance (if any), and can change in a matter of minutes.
Tyre choices like bikes, should be determined by the course. If I was forced to choose only one tyre, it would be the Clement X'Plor MSO 40mm, with the 120tpi casing. This tyre features a low profile tread which is fast rolling, handles well on turns, ensuring safe and predictable handling. While not recommended to be configured tubeless, it works perfectly well in this capacity. In my experience and dependent on body weight (I'm about 155lbs), I run this tyre at 38psi front, 40psi rear.
Another excellent tyre choice for Monster CX type applications, is the 1.8″ 29'er Specialized Renegade. The tyre is fast rolling, and grips well on hardpack surfaces. It performs well in loose gravel, although stick within your comfort zone; you can lose traction on tight turns, or steep climbs if ascending out of the saddle. Also available in 1.95″ and tubeless compatible out of the box, the Renegade is a light tyre that wears well and is loved by the Gravel Cyclist crew.
For Roubaix type events where the roads are hardpack, and loose gravel at a minimum, the Gravel Cyclist crew recommends the tubeless Hutchinson Sector 28mm tyre. There are rumors this tyre will be released in a 32mm width sometime soon – exciting news! Also recommended, is Panaracer's tubeless road offerings, which we are currently testing.
Wheels – We favor handbuilt, high spoke count, tubeless compatible wheels that use non-proprietary spokes and nipples. We recommend wheels that can be serviced easily, using spokes that can be sourced from a local shop in the event of a breakage. If your frame has sufficient clearance, 29'er wheelsets with wider rim beds offer an excellent platform for mounting tyres sans tubes. The wider rim bed and bead hook effectively give the tyre a free mm or two of width, while providing for a larger contact patch on the road, and the ability to run lower tyre pressures. Remember, durability and serviceability are key, and should overshadow ultra lightweight.
For pre-built wheels, American Classic's Race 29'er wheelset is a huge favorite among the Gravel Cyclist crew. They are the closest you'll find to a high spoke count, reliable, hand built wheelset.
Gearing
See our earlier reference to Horses for Courses. With a gravel / cyclocross bike, it is hard to go wrong choosing a crankset with 50/34 – 48/34 or 46/34 chainrings. The choice you make is dependent upon pedaling style, amount of ascending, etc. Remember, taller tyres negate what is ordinarily a lower gear. In layman's terms, this means a 34×23 gear on a 700c  x 23mm tyre, becomes harder to push if the same gear is used with a 700c x 40mm tyre.
A 12-28 cassette is a good choice for most riding, but I always pack a 12-32 cassette for serious climbing. SRAM is now offering an excellent 11 speed 11-36 cassette, which provides a huge spread of gears for double chainrings, but opens up the possibility of a single chainring drivetrain, should that be your thing. SRAM is making other developments in the 1 x 11 drivetrain category, at the time of writing.
Alternatively, there is Monster CX gearing. We at Gravel Cyclist love our front and rear derailleurs!
Brakes
The latest hubbub in cycling at the time of writing is disc brakes on road bikes. They've been available for several years on cyclocross bikes, and are standard equipment on today's gravel bikes.
Mechanical Disc brakes – Simple to configure, easy to adjust and not necessarily prone to overheating issues that are sometimes associated with hydraulic disc brakes. The negatives are power is lacking compared to hydraulic brakes, and they are not self adjusting. Additionally, because of their mechanical nature, they could be prone to sticking in extreme mud – see Southern Cross 2015. However, a well configured set of mechanical disc brakes will serve most riders well. TRP's Spyre and Spyre SLC are recommended, and feature dual sided actuation – both pads provide even and precise clamping force.
Hydraulic Disc Brakes – Can be messy to configure, with setup best left to your local bike shop. Generally, most brands are set and forget, but they may require periodical bleeding / changing of the fluid, just as you would do with your automobile. However, the small negatives are outweighed by their positives. One finger braking operation with plenty of power, and excellent modulation.
Don't shortcut or look to save weight on brake rotors. Bigger is better. At minimum, Gravel Cyclist recommends 160mm front and rear rotors, with ALL six rotor bolts in place *, assuming your wheels are equipped in this manner. Center lock hubs, make sure your lockring is tightened down.
Brake pad compounds. For disc brakes, there are generally two; organic and sintered metallic. Most disc brake sets whip with organic pads. Organic work the best in all conditions, providing excellent bite. However, in mud and sludge, they wear fast. Historically, riders have been stranded in longer races when their pads were completely worn.
Sintered metallic pads are much longer lasting in the mud, but they do not offer as much bite as an organic pad set, which can be disconcerting. Whatever your choice, it is wise to carry a spare set of brake pads, and be well practiced with changing them during a race.
* – JOM being a former weight weenie, was guilty of running three rotor bolts vs six bolts on a rear wheel a few years ago… the weight savings aren't worth it… tsk tsk.
Finally, there is the venerable cantilever brake. An older bike, with a well configured set of cantilever brakes, such as Avid's excellent Shorty Ultimate, or TRP's Mini-V brake offer excellent power and modulation, sans the complications of disc brakes. Remember, the rim is the biggest brake rotor of all! Additionally, this type of brake offers good performance in muddy conditions, which can wreak havoc upon miniscule disc brake pads.
We are always open to feedback and suggestions from our readers!