The American Classic Race 29'er wheelset has been reviewed countless times before.  Where this review differs, is the genre of racing and cycling for which this wheelset has been used.  For over 15 months, the American Classic Race 29'er wheelset has been part of my Ultra CX / Monster CX arsenal.
At the time of this article (October 23, 2014), the wheels have been raced at (my race video links below):
… to name a few.  There is also the countless training miles (link to the velcro tyre training ride) where the wheels have been spared no mercy.
Having spent this much time on the wheels, you can consider this a long term wheelset review.
Inside the Box
Despite owning two pairs of these wheels, I (JOM) didn't think to take photos of the goodies when I originally opened the boxes.  But rest assured, the wheels came safely packed in a lovely wheelbox, complete with American Classic's spanky red valves, quick releases, cassette spacer, tubeless tape pre-installed, catalog, and a nice sticker.
Quick releases supplied will depend on your chosen hub configuration.  In my case, my Monster CX rig requires a 15mm thru axle on the front wheel, and a regular 9mm quick release on the rear.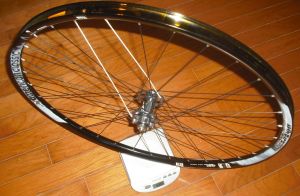 The Important Stuff
Everyone loves light wheels.
Wheel weights (with American Classic tubeless tape installed).  Front wheel – 688.5 grams, rear wheel – 803.5 grams, making for a total of 1492 grams.  Catalog weight on these wheels is 1459 grams, but axle choice and tape installation will affect that weight.  Regardless, a sub 1500 gram aluminum (aluminium) MTB wheelset, with 32 *regular* spokes, and tubeless tape installed is impressive stuff.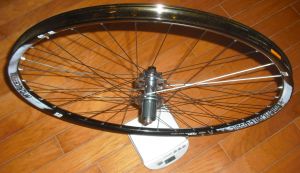 Regular spokes – there are no proprietary, rocket science, custom spokes with these wheels.  All of the spokes are a regular J-Bend, mated to an American Classic alloy nipple.  Should one break a spoke, a regular J-Bend spoke, available from any local bike shop, will have you up and running quickly.  American Classic also stocks spare spokes.
Six bolt rotor mount – again, no worries here, six bolt rotors are virtually the standard for disc brake wheelsets.
Tire Installation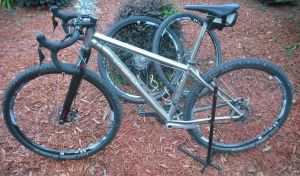 Installation of tires was a piece of cake.  I won't go into details about the tires I currently use, but suffice to say, both pairs mounted easily with a compressor.  Both wheelsets are configured tubeless.
Why two sets of these wheels?
I'm a bit of a nut when it comes to bike preparation for an event.  Leaving very little to chance, each set of my American Classic 29'er Race wheels is fitted with a different type of tire.  One set is geared towards knarlier terrain Ultra CX events, and the other, for those of a more gentler nature.  Each rear wheel is also fitted with a different cassette, again dependent on terrain.
How do they Ride?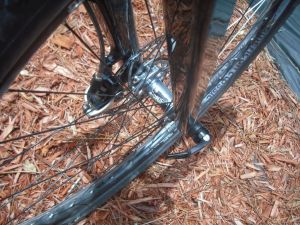 Fabulous is the word.  As stated earlier, sub 1500 gram MTB wheels are a delight.  But, when the wheels are paired with a custom built drop bar mountain bike frame and a fast set of tyres, the bike's performance is significantly increased.
Firstly, there is the acceleration factor.  The wheels with the right tyre combination have the bike feeling snappy.  Granted, a drop bar MTB Monster CX rig isn't going to be as snappy as a regular CX bike, but these wheels give the rider a massive edge.  Because of the wider rims, and the ability to run fast MTB tyres, a good rider on a Monster CX rig can blitz tricky gravel descents, which normally leave a CX bike floundering.
On regular hardpack and paved surfaces, these wheels feel just like a fast set of road wheels.  In fact, one of the local Gainesville guys, Dr Pain, has successfully hung with and attacked multiple times, one of the A level group rides, riding his Monster CX rig and the American Classic 29'er Race wheels.
Ascending – Because the wheels are light, the wheels are barely noticeable, a good thing.  In or out the saddle, they climb well.
Descending – Don't let the high spoke count fool you.  I had the wheels up to 47mph at Iron Cross XII this year on a paved descent, and into the high 30's on some of the gravel descents.  I don't even think about the wheels, that is how much confidence I have in them, and my chosen tyre combination.
Long Term Performance
For 15 months, these wheels have remained true, with zero broken spokes.  The wheels have been submerged in water, mud and sludge multiple times.  Yet, the wheel bearings remain smooth and trouble free.  The wheels have been hammered on dirt and gravel descents.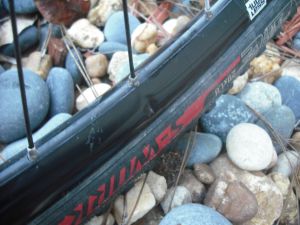 One of my rims has been dented on the sidewall and top of the rim, but this minor damage has not affected the wheelset, or tubeless performance in any way.  I suspect the damage was caused by an errant rock, crushed by yours truly as I was bombing a descent sometime during 2013 / 2014.  Overall, the wheels have been maintenance free, and a pleasure to ride.
My impressions of these wheels has been so positive, that at least four other cyclists in Gainesville, Florida with an affliction for gravel / limerock / dirt riding, are now riding these wheels.  Three of these cyclists are running the wheels on their CX bikes (for gravel racing), such is their improved performance over stock CX wheelsets.  Pricing is very competitive.
Overall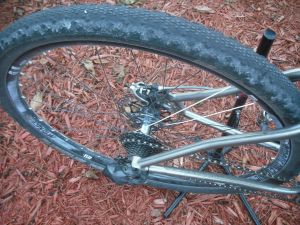 Gravel Cyclist doesn't have a points or review ranking system.  If we did, these wheels would score very highly.  These wheels are MORE than just MTB wheels for rolling around in the woods.  They are an awesome upgrade for a gravel grinder type bicycle… or a cross bike.
Consider dropping by American Classic's Website, or calling the friendly sales staff at their USA office.
Thanks for reading!
Note: In no way was Gravel Cyclist bribed for this review.  Both wheelsets were bought and paid for by JOM.