Lynskey Monster Cross Bike

A little about Lynskey, courtesy of the company's website:
"We built our first titanium bike in 1984, but have been working with titanium long before at Bill Lynskey's machine and weld shop. Bill Lynskey specialized in custom metal fabrication. He machined and fabricated exotic metals for all kinds of industries including aerospace, chemical, and defense."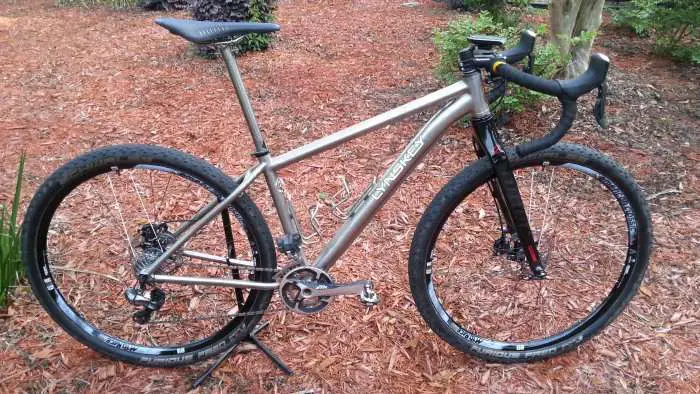 "A knee injury left Bill's son, David, looking for a new way to exercise. He integrated his geometry and design skills and crafted a frame from scraps of titanium tubing. Brother Chris pitched in and welded the tubes to form the frame. Soon after, David took his new frame to a bike show in southern California where people marveled at the lightweight and responsiveness of the bike. It was here that the first Litespeed bike was introduced. With a little help from Roy Wallack at Bicycle Guide Magazine, word began to spread quickly and almost reached a point of mayhem, as "there's another guy on the phone asking for a bike." As a family, we took the hint and began the production of titanium bicycle frames. Litespeed grew for the following 13 years and shortly after Bill (the father) passed away we sold the business in 1999."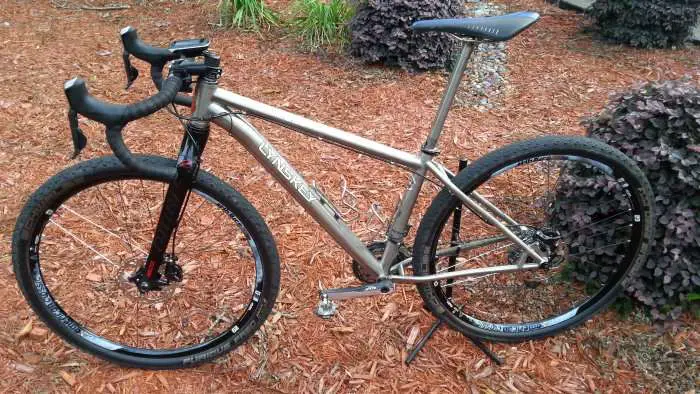 January 1, 2006, the Lynskey family reopened for business as Lynskey Performance Designs. You can read more about the company history HERE.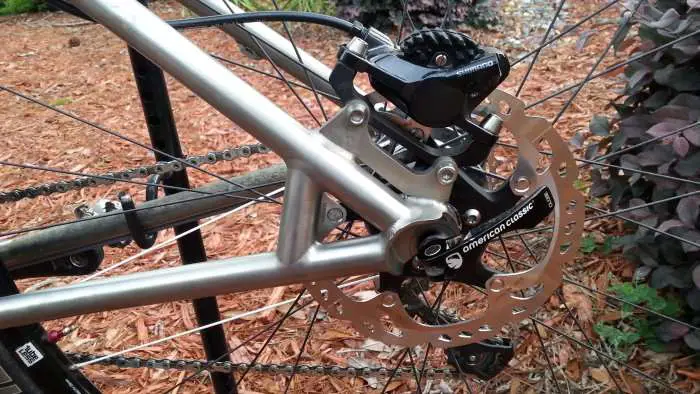 This Lynskey is one of JOM's rigs and has been featured in an earlier Gravel Cyclist article, "What the Heck is a Monster Cross Bike?" However, the bike has changed vastly since that posting, undergoing a rebuild due to component issues sustained during the 2015 Southern Cross Race.
JOM's Lynskey Monster Cross Bike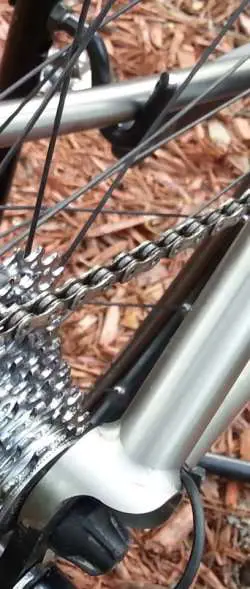 Frame: Lynskey M290 29'er, Titanium 3/2.5 construction.
Fork: Niner RDO 29er, thru axle.
Headset: Cane Creek 1 1/8 to 1 1/4″.
Seatpost: Brand X titanium post, zero setback with beer can shim to prevent slippage. Shimano Di2 battery is housed inside.
Saddle: Fizik Arione.
Wheelset: American Classic Race 29'er – read the Gravel Cyclist review HERE.
Tyres: Specialized Renegade 1.8″ or Schwalbe Furious Fred 2.0″, configured tubeless.
Handlebars: Kestrel EMS, 42cm centre to centre.
Stem: Syntace Flat Force, 66mm.
Shifters: Shimano R785 Di2 Hydraulic Road.
Derailleurs: Shimano Ultegra Di2 6770 front, Ultegra 6870 11 speed mid cage rear – you CAN mix and match 10 and 11 speed parts with the right firmware.
Crankset: Shimano XTR M970 with 42 / 28 chainrings.
Bottom Bracket: Hawk Racing external – read the Gravel Cyclist review HERE.
Pedals: Shimano XTR.
Cassette: SRAM 1170 11-26 or 11-36 11 speed.
Brakes: Shimano BR-RS785 Hydraulic calipers with Shimano XT 160mm Ice-Tech Rotors.
Bottle Cages: King Cage Titanium.
More about the bike:

The bike was converted to 11 speed, purely for the option of running SRAM's 1170 11-36 11 speed cassette. Previously, JOM was running an 11-32 10 speed cassette, but the 36 tooth cog is a nice addition for seated climbing when the going gets steep. Expect a review of this cassette soon.
The 11 speed conversion was simple with only three parts needed – 1 x Ultegra 6870 Di2 11 speed rear derailleur, 1 x 11 speed cassette and 1 x 11 speed chain. Thankfully, the wheels were 11 speed compatible.
Shimano's latest Hydraulic road shifters are fantastic. They have a little more lever stroke to establish pad contact vs a mechanical brake, assuming you like your brakes tight, but they offer gobs of power. In stock form, Shimano's Di2 hydraulic levers don't offer an auxiliary shifter port. However, since this posting first appeared, I have since installed Shimano's EW90 5 port Junction box (resides below the stem), and a climbing shifter.
JOM's much loved cross top brake levers are not on this bike, but with the additional power of hydraulic braking, comfortable one finger braking is possible from the hoods or the drops.
Photos – Click a thumbnail image to see full size (hosted by Flickr).
[alpine-phototile-for-flickr src="set" uid="126879102@N04″ sid="72157651821126702″ imgl="flickr" style="gallery" row="7″ grwidth="800″ grheight="600″ size="240″ num="14″ shadow="1″ highlight="1″ curve="1″ align="center" max="100″]