Fred is Furious
When I (JOM) built my Monster CX'er machine, I desired a tire (tyre) that wasn't heavy on the centre knobbies, offered uber low rolling resistance, was somewhat lightweight, and could be configured tubeless.  Not your average trail tyre.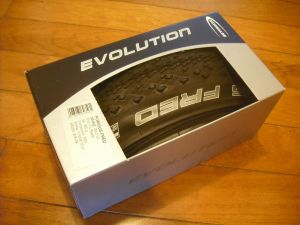 Does such a tyre exist?  Who would make a 29'er tyre that would work for gravel grinding, etc?  There is the Specialized Renegade (my goto tyre for knarlier, chunky gravel races), but that's a little too knobby for hard pack surfaces and pavement (bitumen if you're from Oz).
After I ran an informal poll on Facebook well over a year ago (thanks dudes who chimed in), the Furious Fred TLR 29'er tyre (TLR meaning it's tubeless ready) reared its head.
With nothing to lose, I had my mate Martin at the Super Cool Bike Shop score me a lovely deal on a pair of the Freds in 29'er x 2.0″ TLR variant.
What's the Ride Like?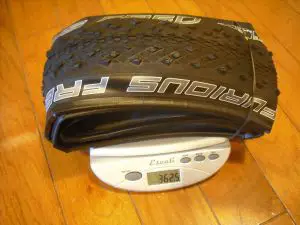 Before you can ride, you must mount.  Before you mount, you must weigh.  Tyre weights have averaged between 352 grams to 362 grams.  AND THIS IS FOR A 29'ER 2.0″ TYRE!  Whoa.
Mounting the Freds is a simple affair, made a whole lot easier with a mate's compressor (thanks Dr Pain).  The sidewalls are thin, but in under one minute, with a bit of "pancaking" the sealant, and other silly techniques to seal the tyre, they were ready to ride.  The tyres are mounted aboard American Classic's sweet Race 29'er wheelset; read my review of those wheels HERE.
I inflated the front tyre to 30psi, and the rear to 32psi.  With my body weight between 150 and 155lbs, this tyre pressure has been PERFECT for hardpack, limerock and paved surfaces.
Sublime
That is the one word I use to describe them.  They are FAST.  With the right gearing and rider, a bike equipped with these tyres could hang on a hard roadie ride, no worries.  On long descents, I have blown past CX bikes at UltraCX type events on them; they are smoking fast.
Furious Freds perform best on surfaces like hardpack dirt, limerock and not so chunky gravel.  They are super fast in sand, even when it gets deep.  CX bikes will be floundering behind you.  With the right wheels, these tyres are almost an unfair advantage.
Because of their low weight, I wouldn't risk running these tyres on some of the roads I've ridden in North Carolina, West Virginia, i.e. big, chunky gravel, rocks and crap.  I definitely wouldn't recommend them for regular trail riding… stick a regular MTB tyre if that's your thing.
Long Term Use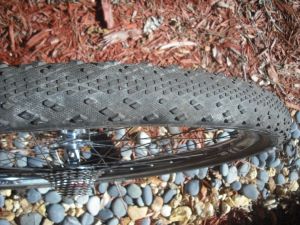 Without jinxing myself here, I've put a lot of race and training miles on these tyres, and they haven't shown very much wear, and have been 100% trouble free.  Periodic topping up of sealant is the only maintenance I have performed.
My mate Dr Pain on the other hand, had a Fred fail near the bead / sidewall, after about 500 or so miles on the tyre.  He's also punctured the replacement a couple of times, which the sealant didn't fix, at least when the tyre was left overnight.  A tubeless tyre patch corrected this issue.
Overall Verdict
The Schwalbe Furious Fred 29'er TLR is a bit pricey at $55 – $65 depending on where you look.  This isn't a tyre for true MTB use, but this review and website isn't about that.  For hardpack, sand, limerock and pavement, this IS the perfect tyre for crushing on a Monster CX bike… or MTB.
This tyre may fit in the front fork of a regular CX bike, depending on clearance.  Unless you have at least 2.0″ of clearance between the rear stays, this tyre isn't for you.
Note: In no way was Gravel Cyclist bribed for this review.  All tires (tyres) were bought and paid for by JOM.
Schwalbe Furious Fred Tyre – 29'er x 2″
Click the image to BUY from Amazon.