What defines the "Ultimate Carbon Gravel Bike"? Good looks? Performance? Lightweight? There are so many variables. What one person considers to be the "Ultimate" bike of any kind, may not equate to the same in the requirements or opinion of another rider.
My list of requirements, in no particular order, is relatively simple. The bike should possess the following qualities:
Big tyre clearance. I don't just mean for 700c x 40mm. I mean for something in the neighborhood of 29'er / 700c x 2″. Why? Sure, not everyone needs to ride a 29'er / 700c x 1.8″ tyre, but it's nice to have the option, and, for mud clearance. Pop on a set of Panaracer Gravelking Mud tyres in 700c x 35mm, and I could have gobs of room between any mud pack and the wheels / tyres.
Decently lightweight. Not weight weenie light, but somewhere around the 18lbs / 8kg mark.
Two chainrings. Sorry single chainring / 1x crowd, I don't like to compromise when the technology is available for super reliable front shifting. Why compromise with just one chainring and a wide ratio cassette, when I can have it all and a fantastic selection of available gears.
Strength and reliability, including a mix or parts that are lightish, but very strong. No crazy wheels with proprietary spokes, but a wheelset that could be repaired by a local shop in the event of a broken spoke.
Great handling, especially on gnarly terrain or hairy descents.
Comfortable ride but with enough stiffness in the frame to route my diminutive levels of power to the drivetrain, sans loss.
Thru-axles front and rear, preferably 15mm on the front (provides more options from the world of 650b mountain bikes).
Reasonably affordable.
In the video below, you can see my interpretation (as at December of 2017) of the "Ultimate Carbon Gravel Bike".
Photos and Editorial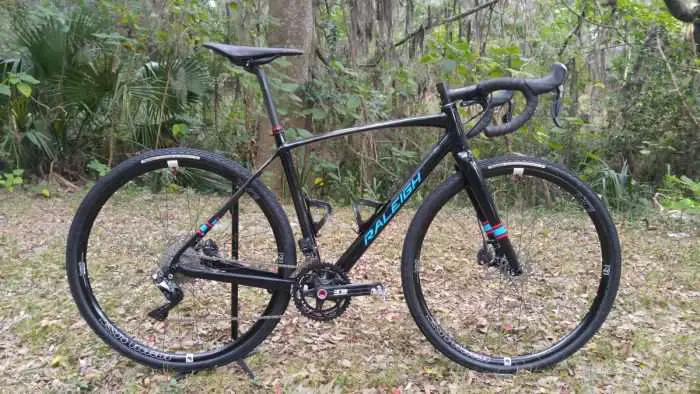 Raleigh Bicycles is one of the oldest names in cycling. Founded in 1885 in Raleigh Street, Nottingham, England, a lot has changed about the company since that time; major changes in ownership along with developments in bicycle design, materials, production and manufacturing methods.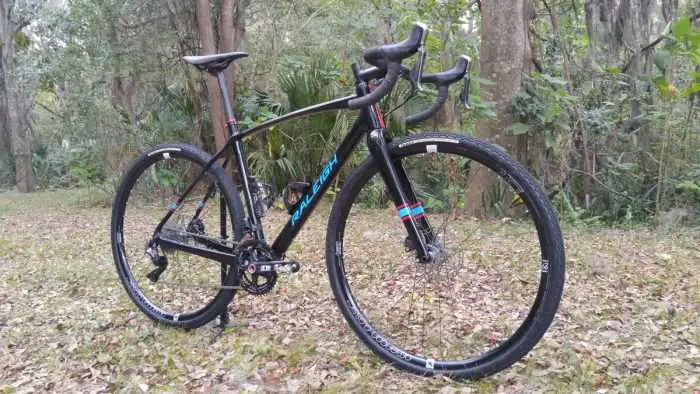 Raleigh is not a name typically associated with the performance aspect of cycling, but the company has sponsored athletes such as Robert Marion and his American Classic Cyclocross team. The company also produces products for the "All Road" segment of the market, aka the gravel cycling market, with the release of bikes such as the Willard, Tamland and Roker.
The Roker is an absolute gem that is not marketed well and hence, disregarded.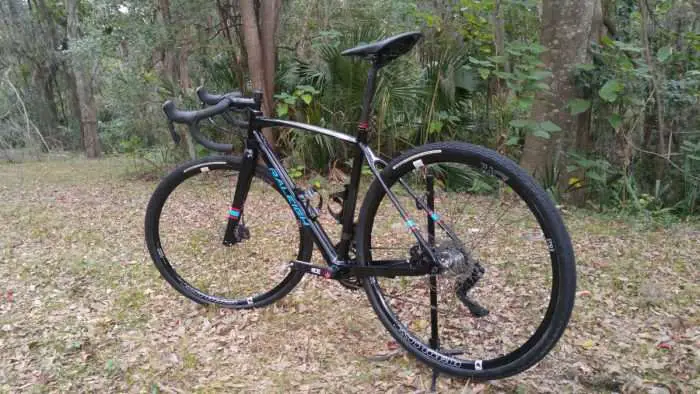 I first became aware of the Raleigh Roker in 2015 / 2016, courtesy of my friend Robert Marion. Additional research led me to believe the Roker was the perfect bike to meet all of my requirements, except that I was unable to purchase the frame and fork by themselves. You read that right – purchase. Granted, I was offered a superb deal on the Roker Sport model, but I had to purchase a complete bike, which I later stripped and rebuilt with parts of my own choosing.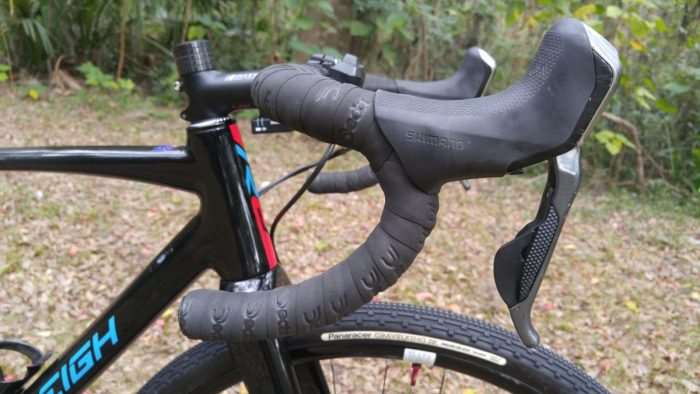 Starting at the front end, I chose Ritchey's WCS EVO Curve carbon handlebar. I love the shape of this bar, and it's low weight and strength make it a solid choice. And being carbon, there is no potential for galvanic corrosion.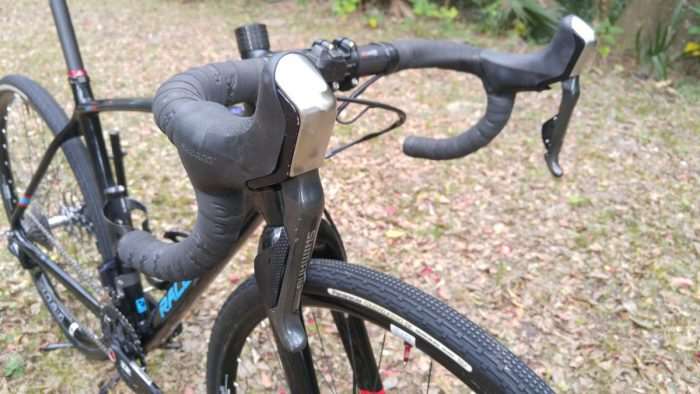 Shimano's ST-R785 Di2 hydraulic brake / electronic shift brake levers handle the chores of shifting and braking. Sure, I could have gone lighter and chosen the latest 9150 series Dura-Ace Di2 hydraulic / electronic shifters, but I wanted to re-use some parts I already had, and keep the costs reasonable.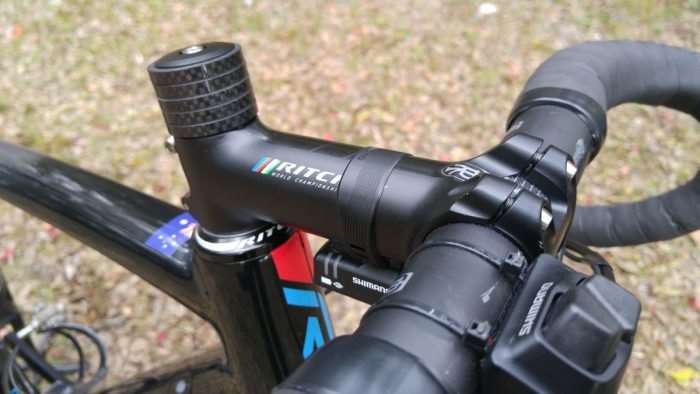 Hard to go wrong with a Ritchey WCS stem. Bombproof. I optimized it further with a titanium bolt kit. In fact, every bolt on this Raleigh Roker has been substituted for titanium – lighter and no rust!
Also, note the Shimano Di2 climbing switch. I purposely mount it reverse, so I can easily press the buttons with my right thumb as my hands relax on top of the bars.
And, please pardon the steerer tube, I will cut it at some point in the future!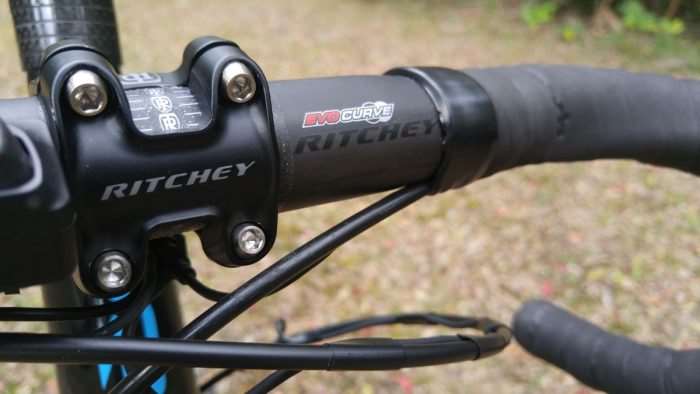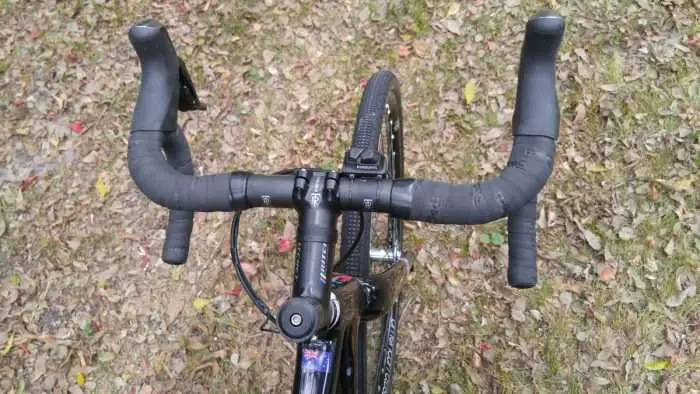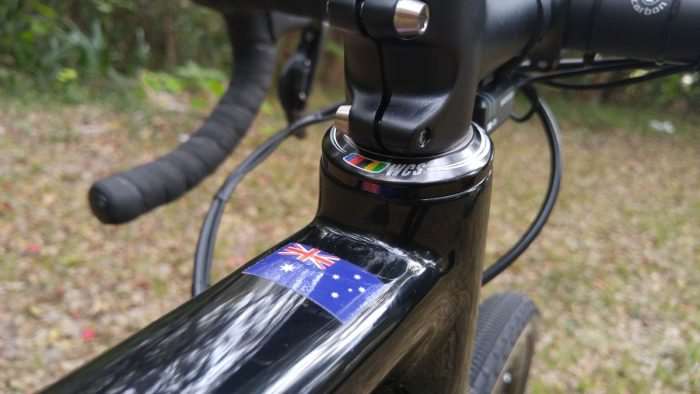 Slamming a stem isn't for everybody, but it is my preferred method of bike fit. Cool looks aside?, I've always favored a shorter headtube. That and top tube length are the two measurements I scrutinize when looking at a bike's geometry. Remember, bike fit is personal. What works for me, may not work for you.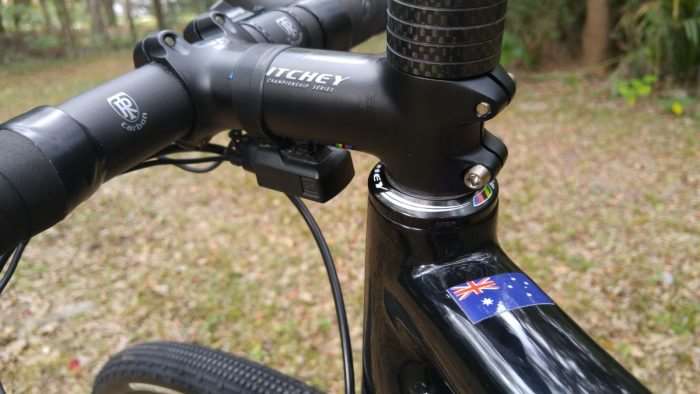 Shimano offers the EW-RS910 handlebar Di2 junction box (resides inside the handlebar), but that requires a compatible handlebar with a suitable port. I prefer to keep my junction box external for easy access.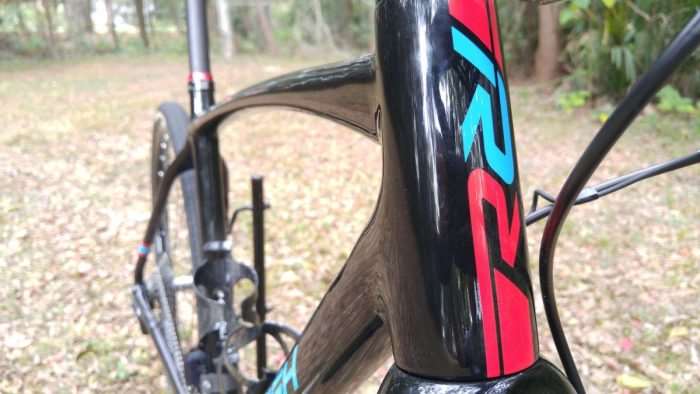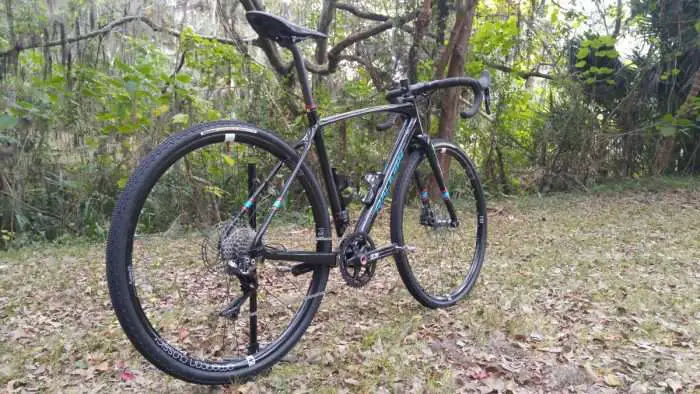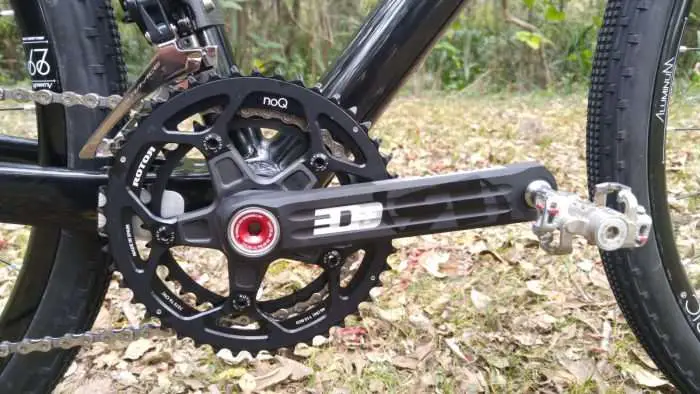 You cannot put the power to the pedals so to speak, without an appropriate crankset. I've chosen the Rotor Bike Components 3D+ crankset for this project. I'll be providing a full review of this made-in-Spain product in the near future, but in the meantime, rest assured it offers flexible gear options and low weight. Rotor's machine work is simply stunning.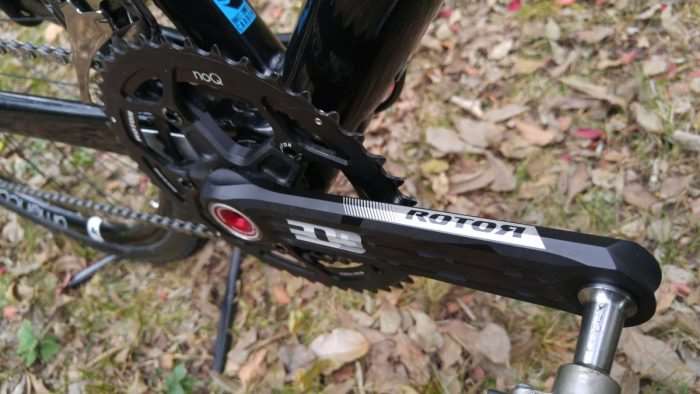 Should one desire a power meter, Rotor offers an upgrade for this crankset. It can be retrofitted at a later date.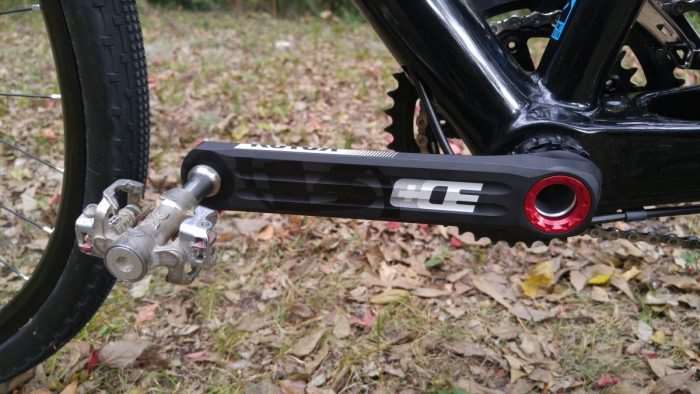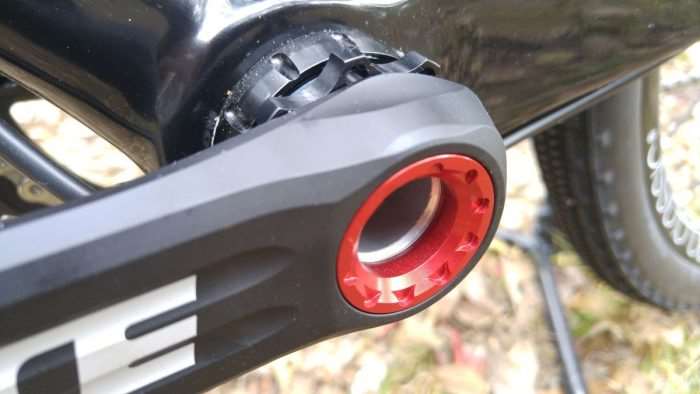 Rotor's 30mm bottom bracket spindle is huge and stiff. I'll cover all of those details in the review of the crank at a later date. However, a 30mm crank spindle did pose a problem for this Raleigh Roker.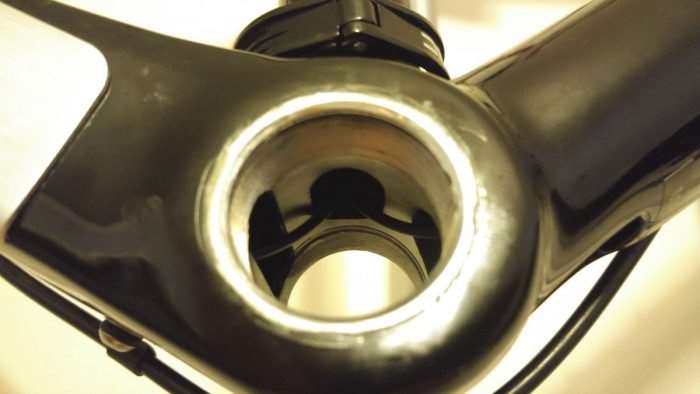 Raleigh designed these bikes around Shimano's 24mm bottom bracket axle, which allowed for plenty of room for internalized Di2 wiring. However, the 30mm bottom bracket spindle took up all of the room inside the bottom bracket shell – think axle rubbing on Di2 wires. Thus, I had to improvise a solution.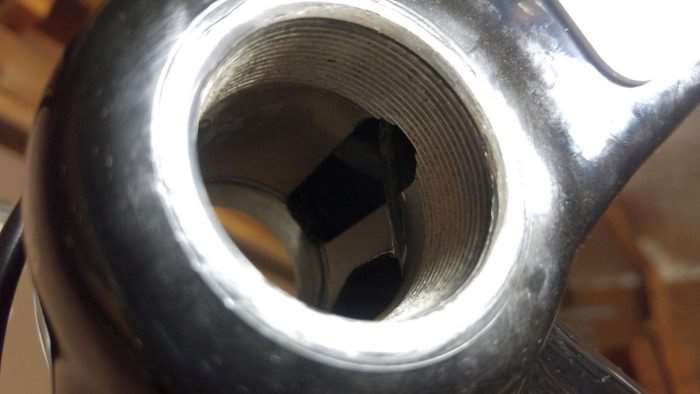 With the help of my good friend Dr. Pain, we cut a narrow slot or two into the aluminium bottom bracket shell, in order to tuck away the Di2 cables.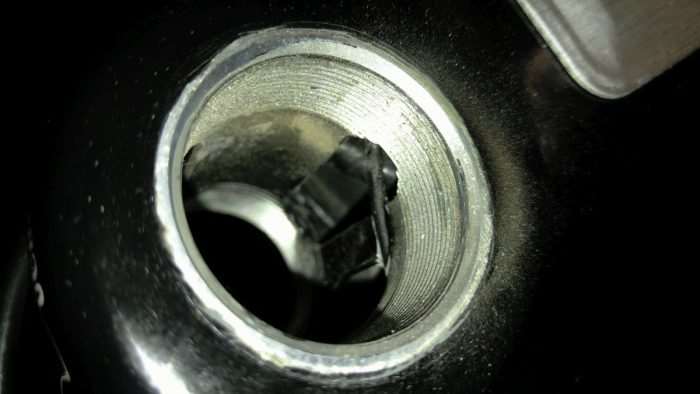 We may? have voided our warranty doing this, but this modification has not harmed the integrity of the bike in any way.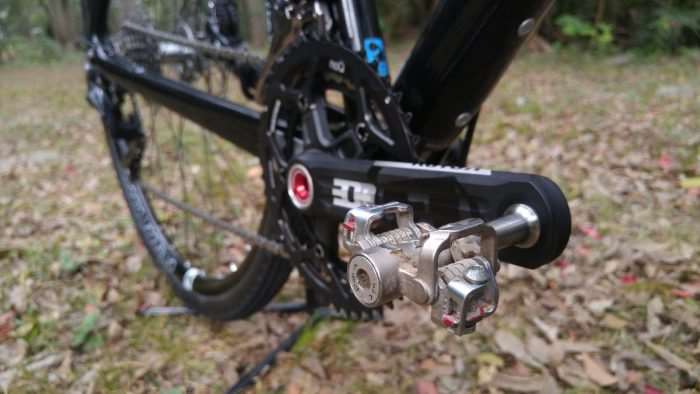 For pedals, I've chosen the Xpedo M-Force 8 titanium model, a pedal I have reviewed earlier. This pedal is also the choice of Robert Marion, cyclocross racer extraordinaire!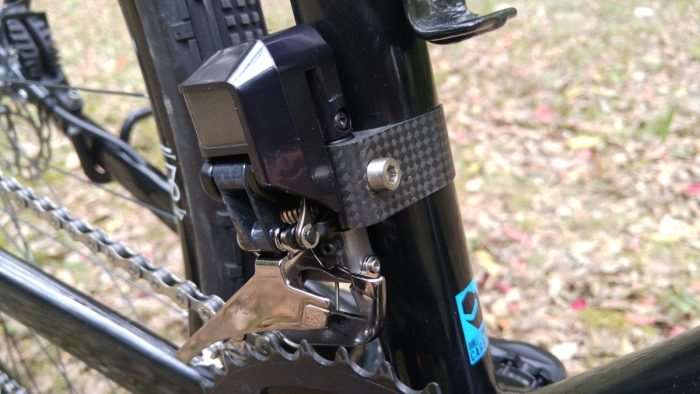 Shimano's Di2 shifting is superb – particuarly with the front derailleur. Somehow, Shimano lightened up the Dura-Ace 9150 Di2 derailleurs considerably, a nice bonus. Do you need Dura-Ace? No. The lower-tier Di2 Ultegra units offer the same shifting performance but a little more weight and a lot less price.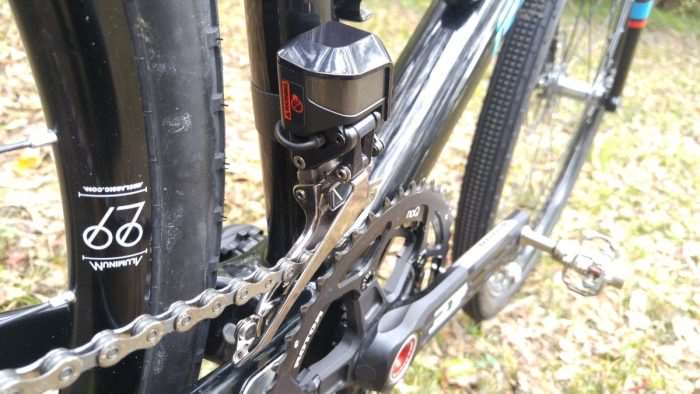 The original plan for this Raleigh Roker was to fit it with Shimano's XTR Di2 system. However, that front derailleur is designed for a 73mm wide MTB bottom bracket. On most road / gravel frames, whose bottom brackets are 68mm wide, the XTR Di2 front derailleur cannot move far enough left to avoid contact with the chain. Thus, I chose Dura-Ace.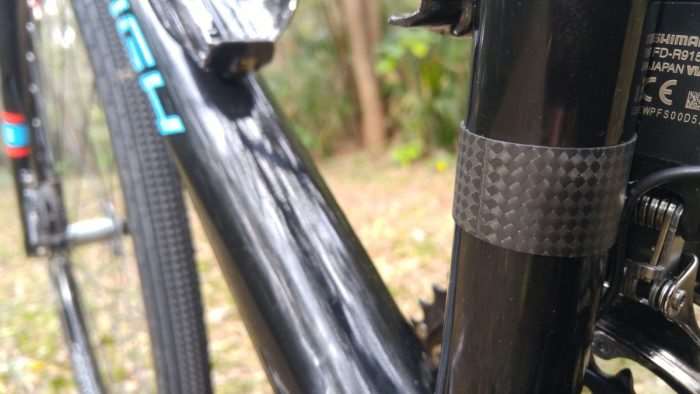 Further weight has been cut thanks to a Parlee carbon front derailleur clamp.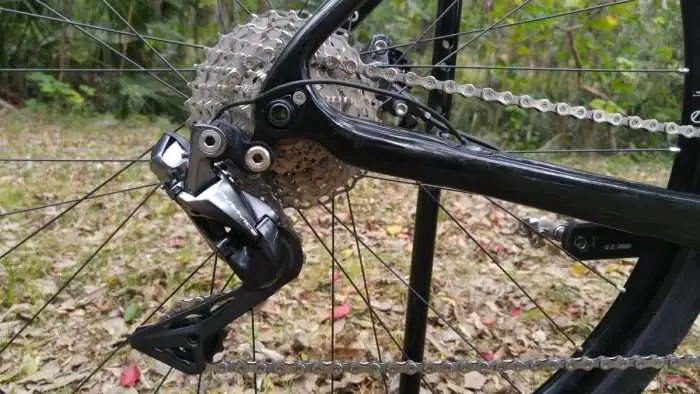 What it lacks in a clutch, the Dura-Ace Di2 9150 rear derailleur adds in gear range. According to Shimano, the latest Dura-Ace Di2 9150 / Shimano Ultegra 8050 rear derailleurs can shift to a 30 tooth cog at maximum. If you check out my video proving otherwise, you'll see it easily shifts to a 36 tooth cog. Superb!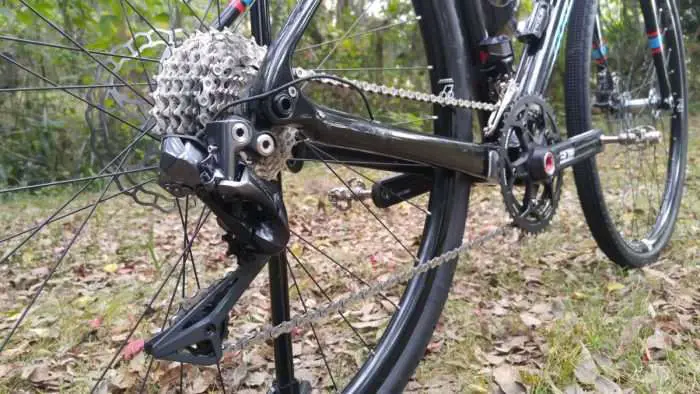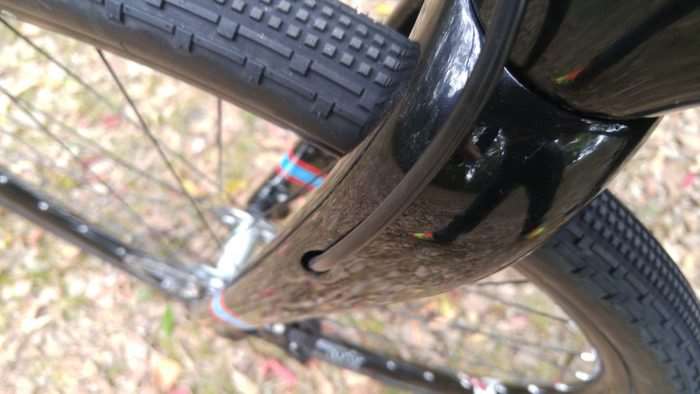 All cables and housing are internalized on the Raleigh Roker.
Post-mounting of brakes isn't the latest standard, but it is proven and it works. Brakes are Shimano's R785 post mount units, paired with 160mm Ashima Ai2 rotors front and rear. I used these rotors at the 2017 Dirty Kanza 200, but I would switch to something with a little more surface area, especially if a lot of climbing and descending was involved. A modified Rockshox thru-axle (retapped to increase thread length) keeps the front wheel mated to the fork.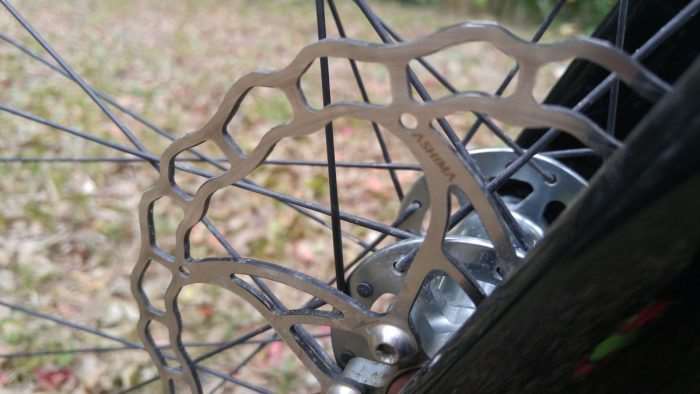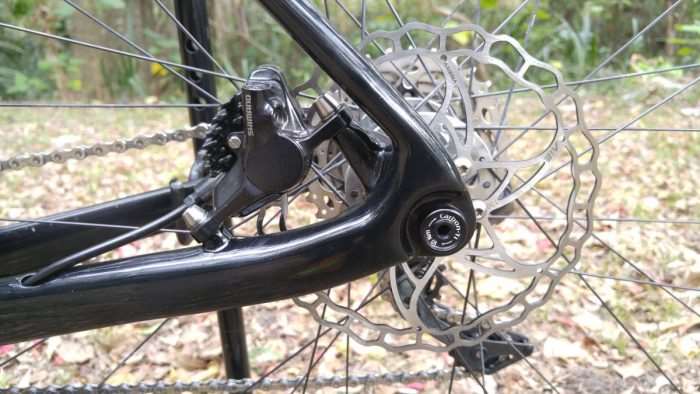 Saving weight is one thing, but safely dissipating heat with functioning brakes is another. A very expensive Carbon-Ti thru-axle holds the rear wheel in place.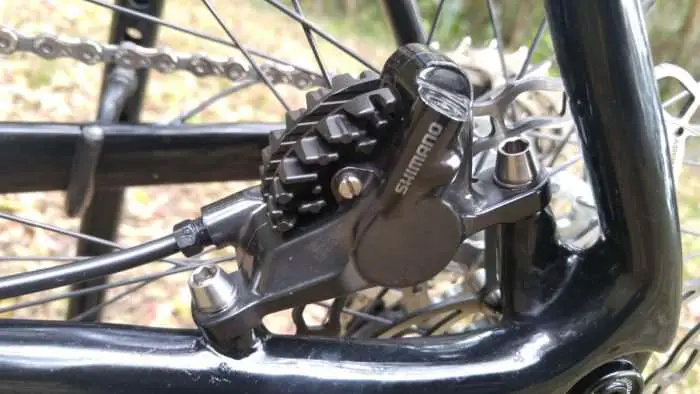 Above, stock fixing bolts substituted for titanium.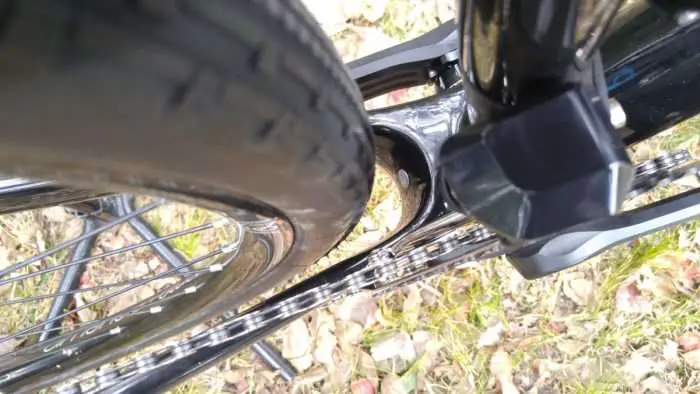 A heap of tyre clearance! Other manufacturers, take note!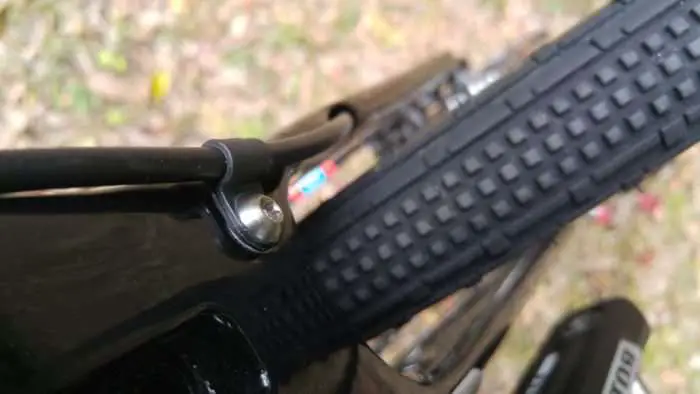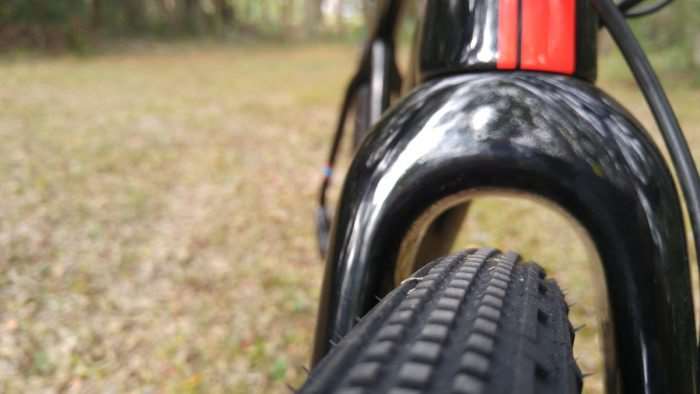 Schwalbe's Furious Fred tyre in 29'er x 2.0″ fits beneath this fork with room to move.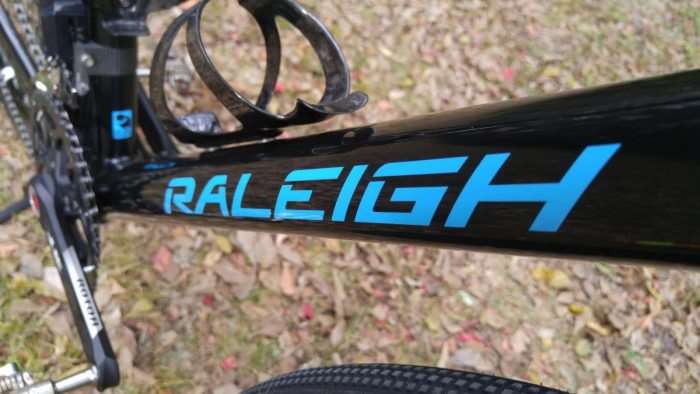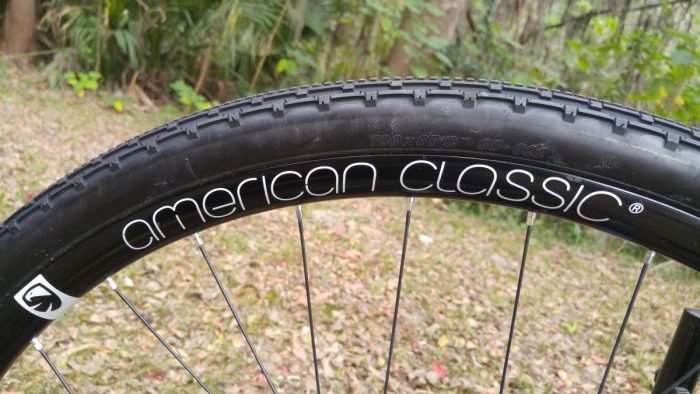 American Classic's Race 29'er wheelset is a staple among the members of Team Gravel Cyclist.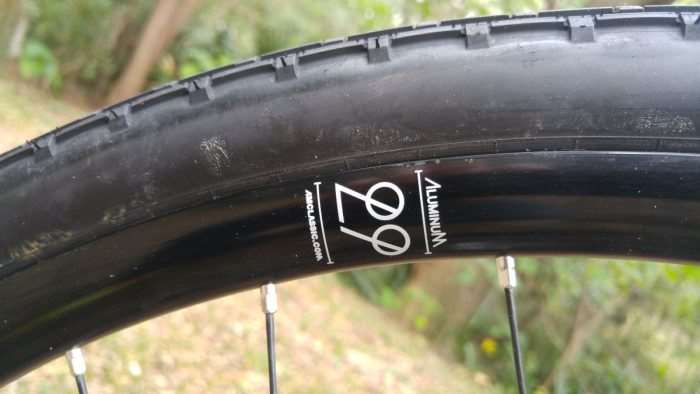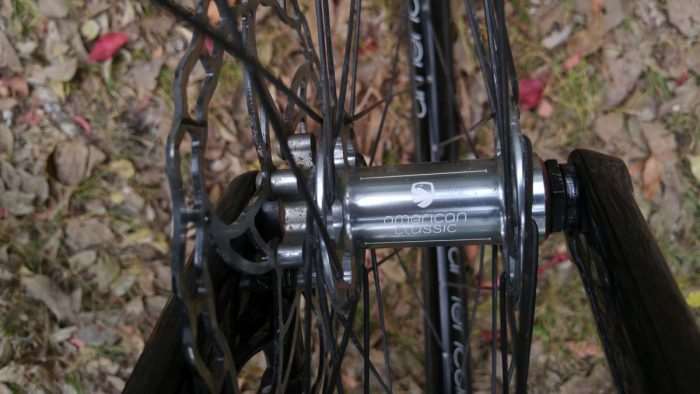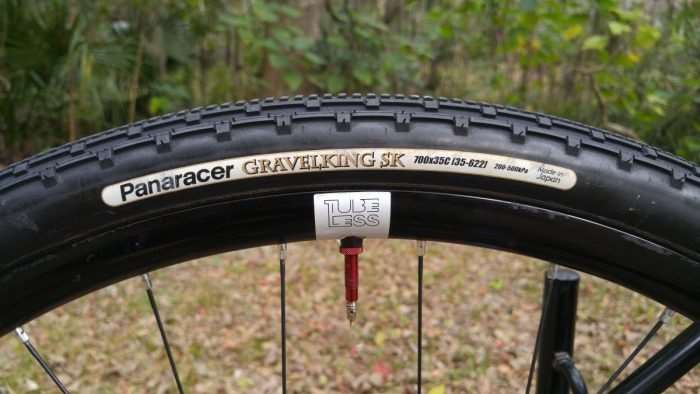 Above, the Panaracer Gravelking SK tubeless tyre is one of the best all-around tyres available on the market today.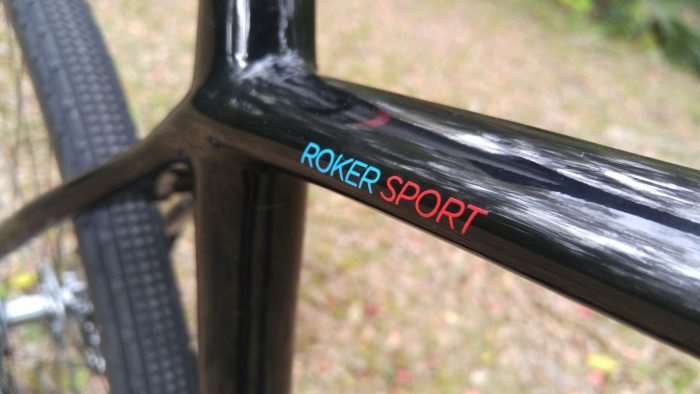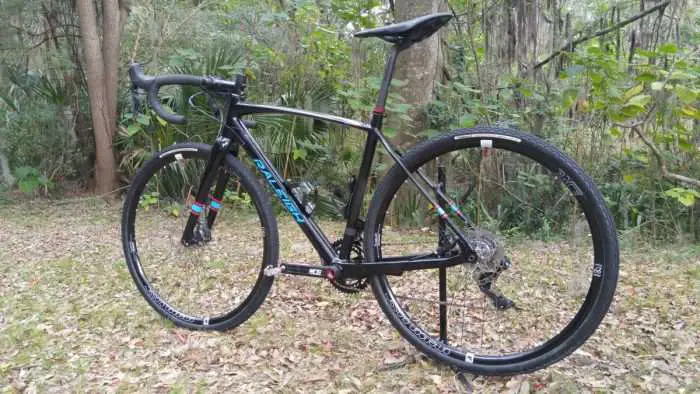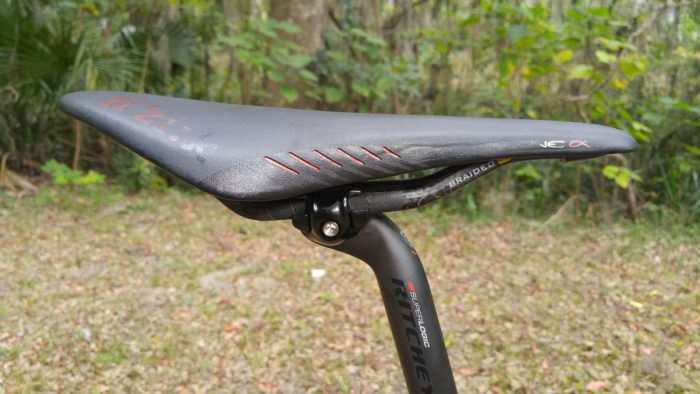 Above, Ritchey's Superlogic carbon seatpost is one of their primo offerings. With an over-sized clamp for the carbon rails of the Arione CX saddle, this is a relatively lightweight and reliable combination.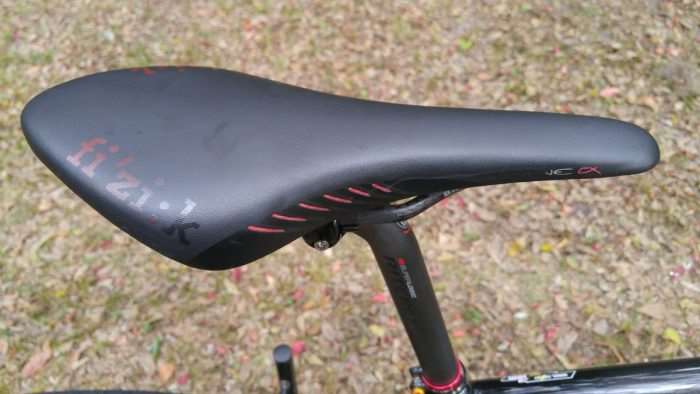 This particular Arione saddle has been around the block a few times.
Above, a KCNC seatpost clamp with aluminum bolt / clamping mechanism has proven to be a solid bit of gear. The KCNC seatpost grip (in red) prevents seatpost slippage.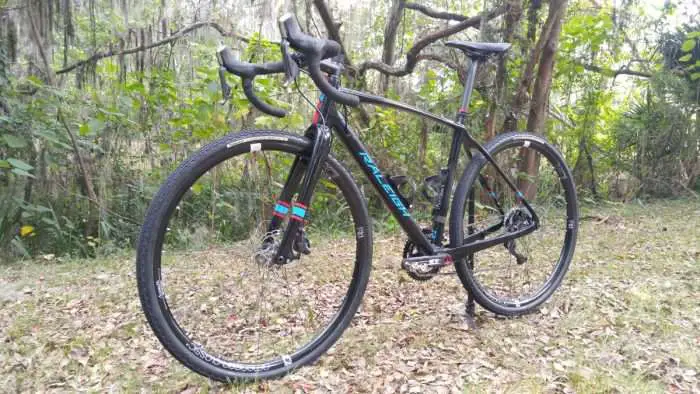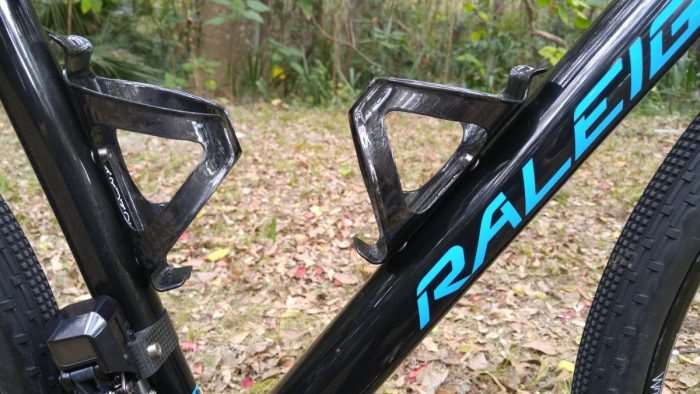 Above, Arundel Dave-O bottle cages are light and retain their bottles. Tested at the 2016 Dirty Kanza 200 by yours truly.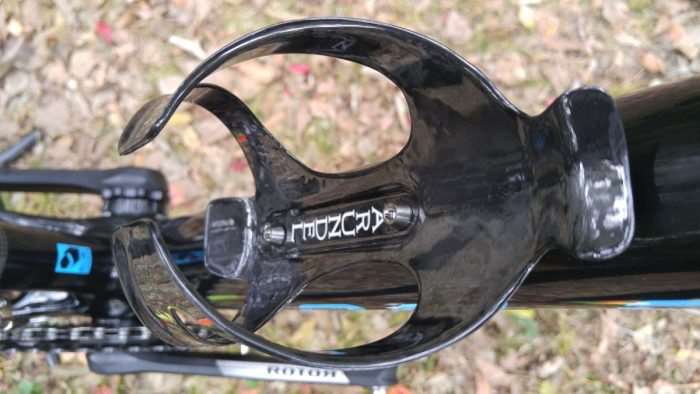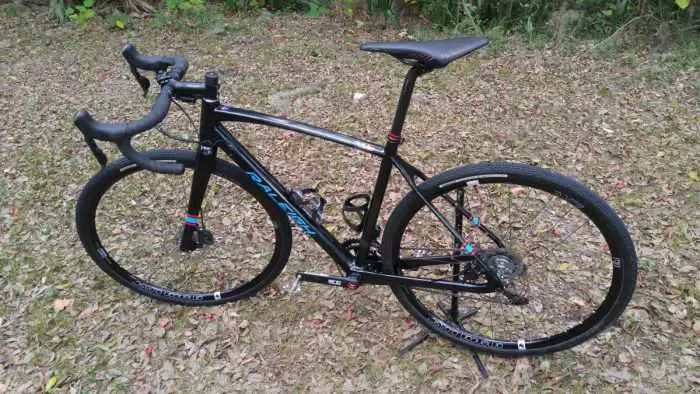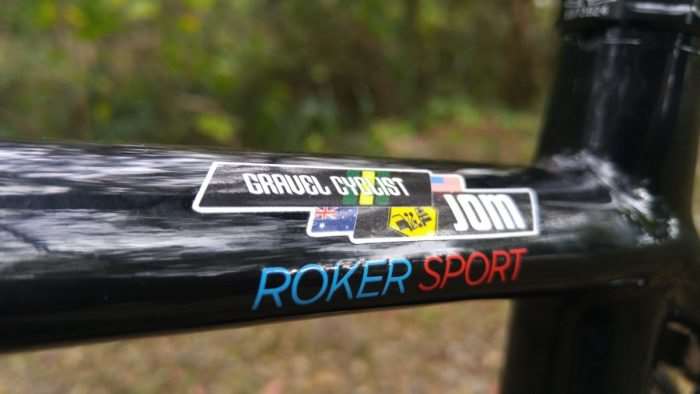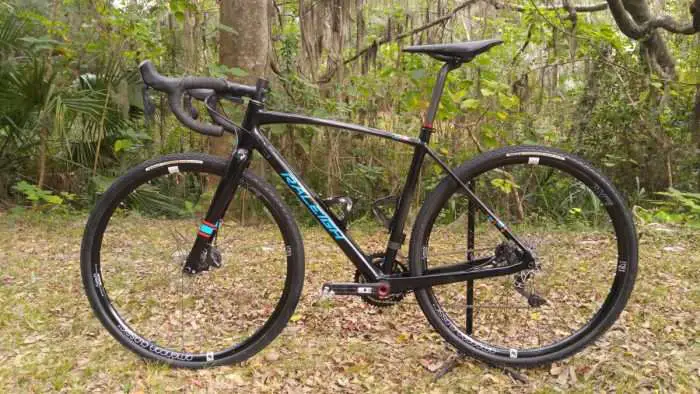 JOM's interpretation of the "Ultimate Carbon Gravel Bike":
Frame: Raleigh Roker, size medium.
Fork: Raleigh tapered all-carbon. Hidden from view is an Extralite 8 gram expander.
Headset: Ritchey WCS Integrated.
Stem: Ritchey WCS 220 with titanium bolts.
Handlebar: Ritchey WCS Evo Curve carbon, 40cm center to center.
Bar Tape: Deda.
Brakes: Shimano R785 hydraulic calipers.
Brake Rotors: Ashima Ai2 160mm or Shimano XTR RT99 (with centerlock adapter or a different wheelset).
Brake / Shift Levers: Shimano ST-R785 Di2 electronic / hydraulic 11-speed.
Front Derailleur: Shimano Dura-Ace 9150.
Rear Derailleur: Shimano Dura-Ace 9150 11-speed.
Cassette: Shimano Ultegra 11-32 11-speed.
Chain: Shimano Dura-Ace CN-9000.
Crankset: Rotor 3D+ with 46 / 34 chainrings.
Bottom Bracket: Rotor 30mm suitable for English thread.
Pedals: Xpedo M-Force 8 titanium.
Wheelset: American Classic Race 29'er. Carbon-Ti thru-bolt rear, modified Rockshox thru-bolt on the front.
Tires: Panracer Gravelking SK 700c x 35mm in the photos, but WTB Resolute and Panaracer Gravelking Mud are among my choices.
Saddle: Fizik Arione CX with carbon rails.
Seatpost: Ritchey Superlogic 27.2mm x 350mm.
Bottle Cages: Arundel Dave-O.
Thank you to American Classic, Rotor Bike Components, Panaracer, Orange Seal Cycling, Fairwheel Bikes, Ritchey Design and Raleigh Bicycles for their support of this project.
If you own a unique gravel bike you'd like to see featured on Gravel Cyclist, please contact us.