Over 800 respondents took our recent "How do you Roll on Gravel" survey. Many thanks to everyone who participated.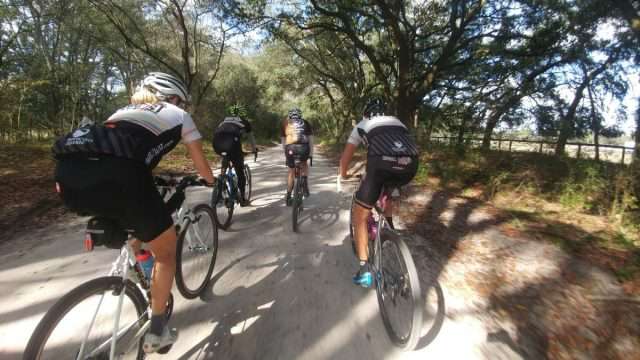 The survey questions for Part Two were as follows:
Do you own a Gravel specific bike?
What influenced your decision to buy such a bike?
How much did you spend on a gravel bike?
Tyres and wheels: 650b or 700c?
Tyres and wheels: Tubeless?
Tyres and wheels: Tyre width?
Drivetrain: 1x, 2x, 3x or Single speed?
Drivetrain: Electronic or Mechanical?
Brakes: Disc, cantilever or roadie caliper?
Flared handlebars or regular drop type handlebar?
Do Aerobars belong on a gravel bike?
Do you think about weight Versus aerodynamics relating to the bike and / or tyres Versus position / comfort?
Do you use navigational aids such as a Garmin, Wahoo, etc?
Home mechanic or local bike shop?
Do you mail order or use a local bike shop for purchases of bikes and components (or a combination of both)?
Survey Results – Charts (click a chart to see them full size)
  
Do you own a gravel specific bike?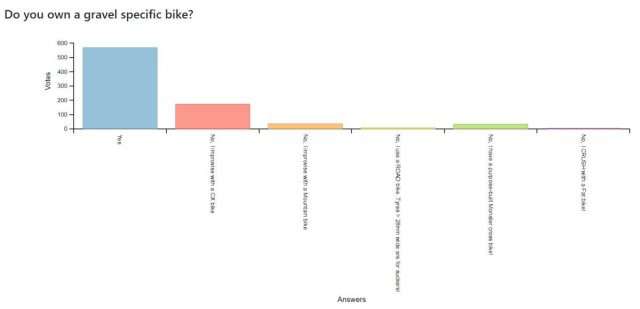 What influenced your decision to buy such a bike?
Of 823 respondents, 568 of you own a gravel specific bike, which accounts for about 70% of respondents. That's a strong number indicating people are spending money on purpose-built machines. With that said, cyclocross bikes are still popular, with 172 respondents choosing to improvise. 36 respondents use a mountain bike, whilst nine claims to use a road bike. Finally, five respondents crush gravel roads on a fat bike!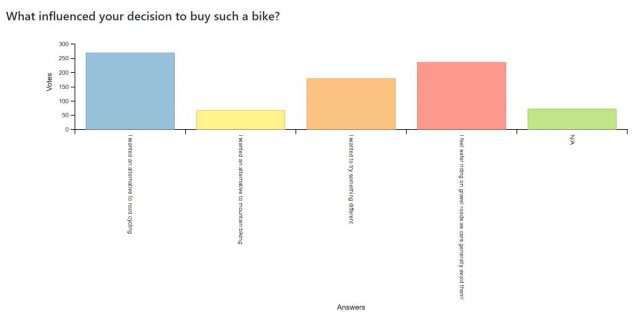 Not surprisingly, 269 of the 823 respondents wanted an alternative to road cycling. That correlates strongly with the second highest result in this question, in that 236 respondents feel that riding on gravel roads is a safer alternative, especially because there are far less cars to worry about. 67 respondents wanted a change from mountain biking, whilst 179 simply wanted to try something different. Finally, 72 felt this question was not applicable to them.
How much did you spend on a gravel bike?

Bang in the middle of these monetary values for gravel bikes was the sweet spot, $3,000 to $4,999. That sort of money will get you a really nice machine, typically equipped with a second-tier groupset from the likes of SRAM or Shimano, and towards the upper end of that response, you'll find bikes with electronic shifting, etc.
The monetary ranges of $1,000 to $1,999 and $2,000 to $2,999 were a near dead heat with over 200 respondents each, whilst another 86 weren't afraid to spend anywhere from $5,000 to $7,499. Budget bikes had a strong result with over 60 respondents. On that subject, we have a review in the works for a $599 gravel bike, namely the entry-level Poseidon X (that isn't so entry level). Finally, 20+ riders spent $7,500 to $9,999 (yikes!) and seven of you spared no expense at all, dropping over $10,000!
Tyres and wheels: 650b or 700c?

700c is still the dominant wheel size in gravel, but 110 respondents own a pair of 650b and 700c wheels. A small portion, about 7% of respondents, solely ride 650b wheels. I predict we'll see dual ownership of both wheel sizes increase in 2019, especially as we see increases in 650b wheel and tyre choices.
Tyres and wheels: Tubeless?

Tubeless tyre technology accounted for over two-thirds of wheel setups, but there are still plenty of riders playing holdout on traditional tubed setups. There are drawbacks with both systems, but I would be very interested to hear from some of the riders who prefer tubes in 2019.
Tyres and wheels: Tyre width?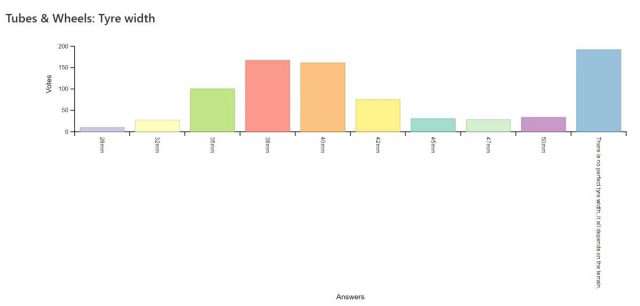 38mm and 40mm wide tyres were the big winners here, but not surprisingly, the biggest number of respondents felt there is no perfect tyre width, it all depends on the terrain. I agree wholeheartedly with that answer.
The rest of the answers; 10 riders prefer 28mm tyres, so this response could be tied into the road bike crew from earlier above. 32mm saw 27 votes, whilst 35mm had a solid response at 100. 35mm is one of my favorite sizes, especially on a wider rim which normally guarantees two to three millimetres of free width! 75 like 42mm wide tyres, 30 for 45mm, 28 for 47mm (a popular 650b size) and 33 for the big daddy here, 50mm / 2″.
Drivetrain: 1x, 2x, 3x or single speed?

Despite the opinion of rumoured experts and choices of OEM product managers at big-name cycling companies, 2x / double chainring drivetrains are very alive and well. Those 511 respondents account for almost two-thirds of the answers to this question. With that said, 1x / single chainring drivetrains had a very solid response at 270 votes. 29 respondents prefer a triple, whilst the single speeders accounted for a small portion at just 13. Single speed definitely isn't for everyone!
Drivetrain: Electronic or Mechanical?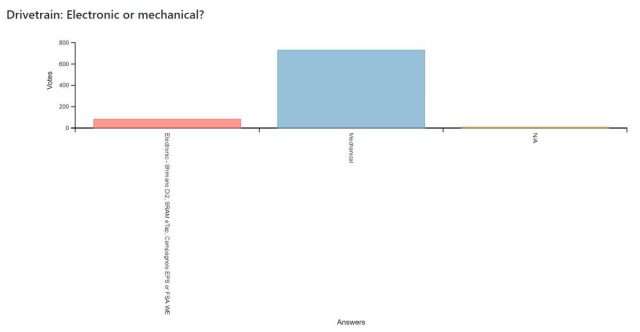 Mechanical drivetrains were far and away the #1 response. I believe electronic shifting is still perceived as a risky proposition for gravel cycling use, which is a misconception in my opinion. Sure, there are anywhere from one to four individual batteries (depending on the system) that all need charging at some point. But as my reviews of SRAM's original eTap proved, barring physical damage, electronic derailleurs are tough, resilient and work well in all weather. SRAM's new 12-speed AXS eTap groupset has arrived, and the company is making a hard push into gravel with their new googies.
Brakes?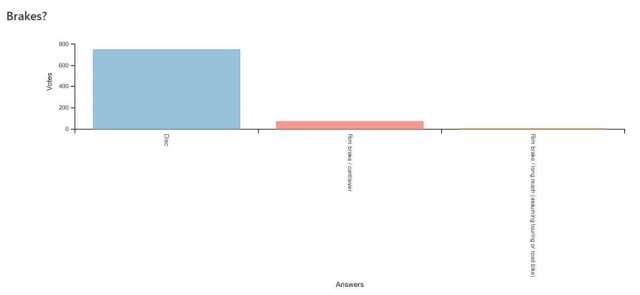 No surprises here, disc brakes are the most popular choice. Perhaps in a later survey, we'll see disc brakes completely eclipse the older rim brake technology by an even larger margin? Finally, six respondents are comfortable using long-reach rim brake calipers.
Flared handlebars or regular drop type handlebars?

Regular drop type handlebars are still the number one choice, but by a slender margin. Flared drop bars have markedly increased in popularity in just a few years. I predict we'll see these charts flip in a future survey.
Do aerobars belong on a gravel bike?

This question is one that has drawn much controversy the past. Almost two-thirds of you believe aero bars have no place on a gravel bike, a result I expected. During my travels, I've noticed that Midwest USA is a hotspot for aero bar usage. I attribute that to the wide and open gravel roads that are prolific in this part of the USA, as in, conducive to aero bar usage. Remember, aero bars aren't always about speed, but an alternative hand position and comfort.
Weight vs aero vs position / comfort, etc?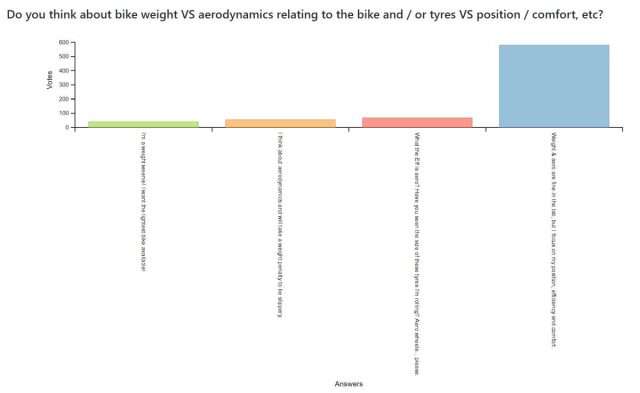 The overwhelming number of respondents to this question focus on their position, efficiency and comfort. For the other respondents, almost 40 are weight weenies (remember, the lighter the bike, the lighter the wallet), 50+ are prepared to take a hit on bike weight to be a little more aero, and 67 stated… "WTF is aero, have you seen the size of these tyres I'm rolling!"

Navigational aids?

Not surprisingly, computers with navigation have increased in popularity and account for a huge number of respondents to this question. However, 155 respondents are using cue sheets, following the wheels of those with navigational devices

or winging it.
Home mechanic, local bike shop or both?

This question had some surprising results. In particular, I was surprised by the number of home mechanics out there. Almost 300 wrench on their own bikes, whilst just over 400 do a mix of home wrenching / patronizing their local bike shop. 129 respondents solely use their local bike shop for repairs.
Mail order, buy from a local shop or a mix?

For the final question, another surprising result, as I expected more respondents to solely mail order components and bikes etc (89 respondents). However, 575 respondents mix it up with mail order and purchasing from their local shop, whereas 159 respondents solely buy from their local shop.
Link to Survey Results in Part One – Part Three