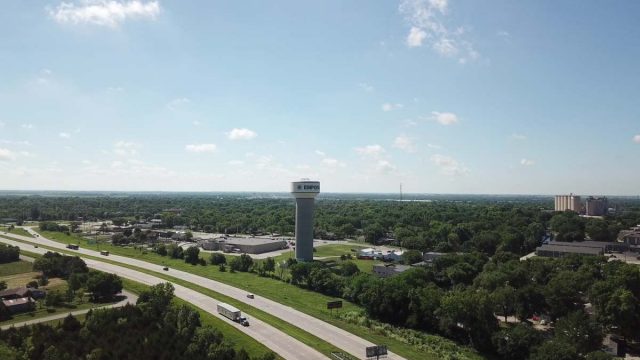 Thirteen years ago, you could have mistaken Emporia, Kansas as a nondescript town in the Midwest. The sort of town you'd you speed past on nearby Interstate 35, unless you stopped for a gasoline refill. The Dirty Kanza gravel bike race has changed all of that. What started in 2006 with just 34 riders, has grown to an event that for 2018, had 2,700 riders milling about town and across the Flint Hills outside of Emporia. In fact, in 2015, Jim Cummins, founder of the race, accepted the Governor's Tourism Award on behalf of his staff, in recognition of the race's impact on tourism in Kansas. Without a doubt, Dirty Kanza is the world's most famous gravel race.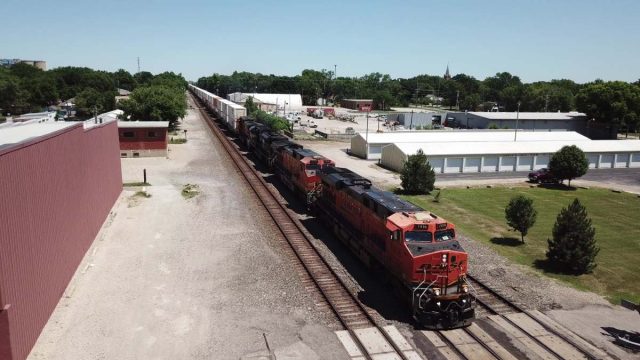 Dirty Kanza brings riders from near and far. There were at least two Australians present if you count yours truly, an expatriate who nowadays makes a life in Gainesville, Florida, and I know of at least one British rider who made the trip "across the pond".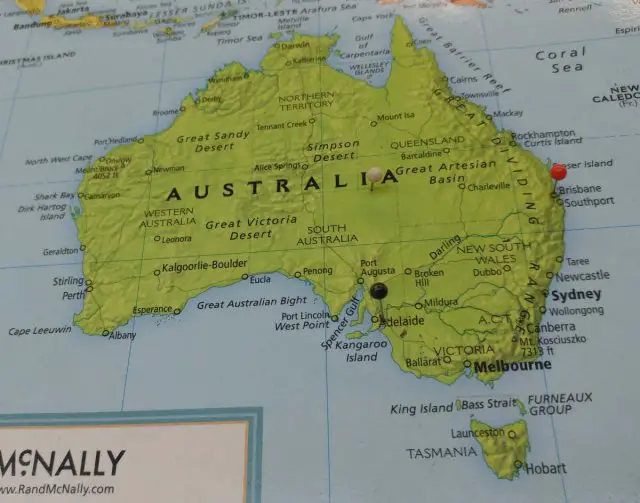 That would be Paul Errington, promoter of the UK's premier gravel event, The Dirty Reiver. Regardless of where riders hailed from, they were there to experience the magic of the Flint Hills of Kansas, and push themselves across the various race distances on offer. Arguably, most riders were in town for the 100 or 200-mile distances, but a few riders dipped their toes into the local Emporia gravel, riding the 25 or 50-mile races. New for 2018 was the DKXL, an invitational only, 350-mile pilot event for 34 hand-picked riders. Not an event to be bluffed.
May 29, 2018 – The Journey to Emporia, Kansas
My typical journey involves driving a loaner minivan from Gainesville, Florida to Emporia, Kansas, a distance of about 1,200 miles. Inside the minivan are four gravel bikes, tools, spare wheels, spare tyres, batteries, phones, a drone camera, food… to name a few items. Two of those bikes and the minivan belong to the duo of Mr and Mrs K-Dogg, my teammates for the event. I always carry along a spare bike in the event something untoward should happen during a pre-ride.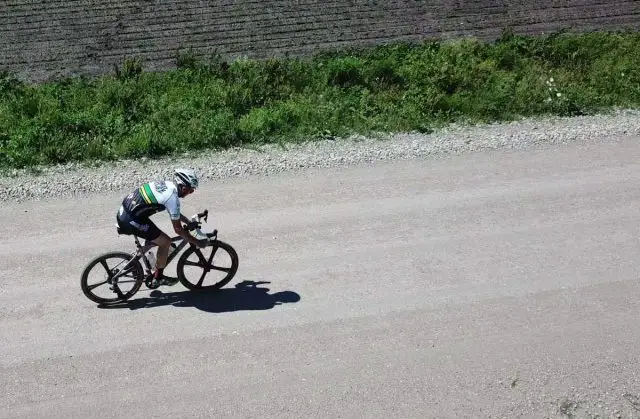 For 2018, the spare bike would be my Raleigh Roker, and the race bike, my Lynskey PRO GR. For wheels, I would be riding Enve's new G23 gravel wheelset (under review) on race day, but pre-rides would be aboard the Xentis Kappa 2 650b wheelset (not your usual wheelset and also under review).
Splitting from my regular gig late on Tuesday afternoon, I made haste via the back-road route to Birmingham, Alabama. It should be noted there is a ton of fabulous gravel riding in Alabama! Sadly, I had no time to ride on Wednesday morning, and continued my journey towards Kansas City / Olathe, Kansas. Why Kansas City / Olathe? Olate I hear you ask?  Olathe is an outlying city of Kansas City and home to Garmin International, makers of fine cycling navigational computers such as the 520, 1030, etc. For 2018, Garmin is the title sponsor of Dirty Kanza. As for me, I had received an invitation for a behind the scenes tour inside Garmin's facility. Because of the confidential nature of Garmin's development work and the fact I saw new products not yet on the market, I had to sign a Non-Disclosure Agreement. That means no photos, no videos and no words about my experience within Garmin headquarters. I will say this; if you are ever invited to tour inside Garmin, do it! As a side note, I am reviewing the Garmin 1030 + extended battery, the new 520 Plus and the Varia taillight.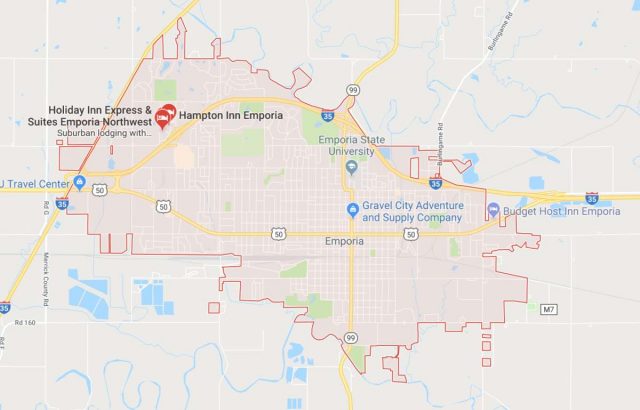 Mid-Thursday afternoon, I arrived in Emporia! I headed to Gravel City Adventure and Supply Company, the host shop for Dirty Kanza, and as luck would have it, it's conveniently marked on Google's map (either Google knows my browsing habits well, or this is clever geo-marketing on the part of the shop). Much socializing broke out, and I did manage an interview with Adam Blake, shop manager… look for that interview to appear soon on the Gravel Cyclist website / YouTube channel.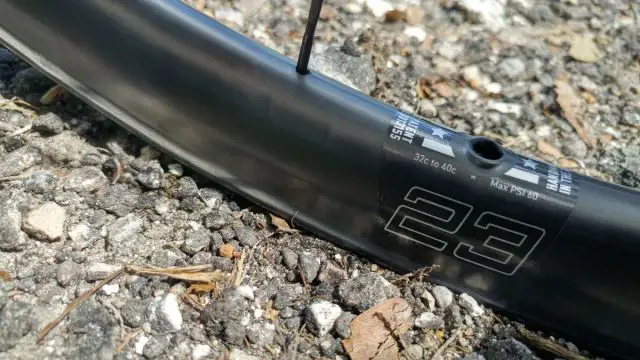 The remainder of Thursday was capped off with a shakedown ride with Mr and Mrs K-Dogg, culminating in a media-only presentation of Enve's new G23 wheelset at the Gufler Mansion in Emporia, Kansas. A very full day!
Friday June 1, 2018 – All Things Gravel Expo
For 2018, the organizers of Dirty Kanza had kicked the expo up a notch. Formerly a small affair in the side street next to the Granada Theatre, the expo had grown to approximately 50 vendors, and was a veritable who's who of gravel bicycles and related equipment. Four titanium frame builders were in attendance; Litespeed, Lynskey, Moots and Why Cycle, along with big names synonymous with carbon and aluminium; Salsa, Niner, Cannondale and others.
But before the expo officially kicked off at 10am, a huge and casual bike ride broke out, namely the Gu Stroopwaffel Coffee Ride. Well over three hundred riders assembled in downtown Emporia for a fun bike ride that would cover some paved roads, and a small selection of gravel roads close to town. Definitely a fun time to socialize with riders and shake one's legs out in preparation for Saturday's race!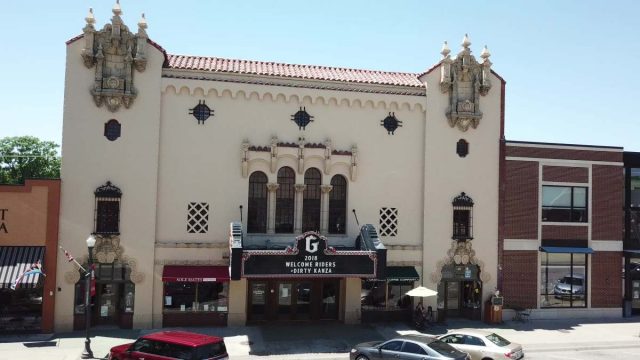 Post Stroopwaffel ride, I rode a few bonus miles, namely to capture some drone footage for the Dirty Kanza 200 video I'm working on, packet pickup and interview with the local radio station. The expo kicked off proper at around 10am on Friday morning, but I didn't arrive until about midday, just in time for the heat of the day. And hot it was, well into the 90's Fahrenheit / 30's Celcius with humidity and wind abound. By late afternoon, conditions were borderline sweltering, but this did not dissuade vendors or those coming to see their wares. I downed at least four litres of water and other hydrating substances during the day, but it likely wasn't enough, nor was the time standing around ideal preparation for Saturday's race. Excuses.
Linked in the YouTube video above is Episode 24 of BikeRumor's Friday Yard Sale, one that features an appearance by yours truly and Watts Dixon, single-speeder extraordinaire at the All Things Gravel Expo If you want to view the good stuff straight away :), forward to 5:05 and 9:53 respectively. We talk exclusively about Salsa Cycle's Chase the Chaise (#chasethechaise) and JOM's alternative hashtag for the Chaise, #howmanyarses
Capping off the day; securing a tracking device (the Qollector) from the good people at SRAM / Quarq (thank you Mike Spilker!), picking up a pair of customized Industry Nine's new Ultralite CX 235 TRA wheels for review, a mad rush to secure an alternative crew to support me at the race (many thanks to Jeff and Michelle Young) and preparing my cooler / on-bike cameras, etc.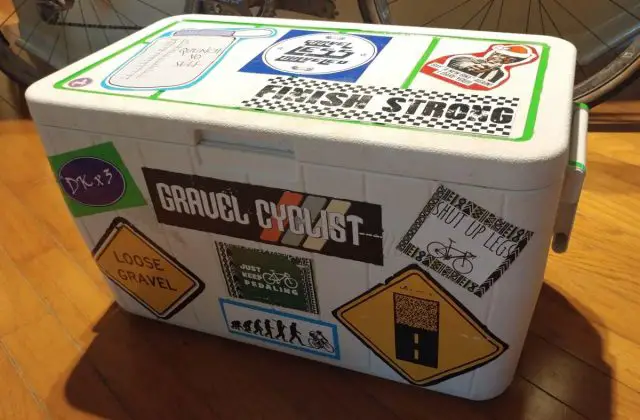 Somewhere in between all of this madness, I squeezed in a meal at the Emporia State University campus, my temporary home whilst in Emporia.
Saturday June 2, 2018 – Dirty Kanza 200 – Emporia, Kansas
For me, sleeping the night before any big ride or race is difficult. This year's edition of Dirty Kanza 200 was no exception, but this race would start out a little differently. I woke at 2 am for a visit to the restroom facilities, and thought it a good idea to check the weather on my phone. On Friday, a local mentioned there was a 36% to 43% chance (some strange fractions right there… I would round up) of storms and rain around 4 am – 6 am on race morning. I honestly thought there was zero percent chance of the 2018 edition turning into a repeat of my 2016 race, when a 3 am downpour ruined the bikes and day of about 150 riders around seven miles into the race. You can check out my 2016 DK200 video here for that action.
Unfortunately, I didn't think at the time to grab a screen capture, but imagine a massive storm bearing directly upon Emporia, Kansas. The weather website imagery was complete with nasty looking red and yellow patches, which always indicate lightning. On the positive, the storm appeared to be moving quickly, so it was possible it wouldn't lay down the sort of deluge we experienced two years earlier. I dismissed the notion of swapping my Enve wheels for my backup pair, shod with Panaracer Gravelking GK Mud tyres and went back to sleep.
Those two hours of sleep went by all too fast. Barely awake, I joined my teammates, Mr and Mrs K-Dogg, sauntering about in a caffeine-less daze for a solid breakfast, once again on ESU's campus. I do love staying in the ESU dormitories!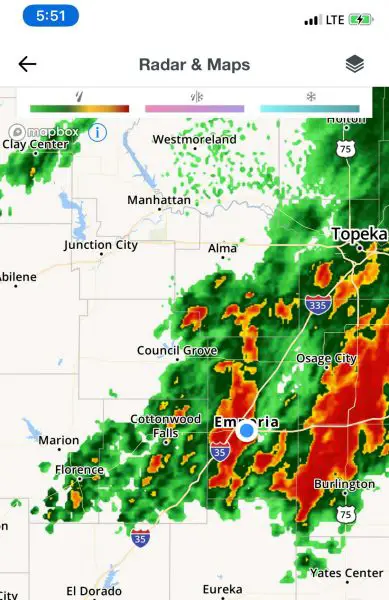 A weather check showed the storm was virtually on top of us, and would be passing through Emporia bang on around the scheduled start time of 6 am Central Standard Time. Conversations at breakfast gave mention to the storm, but most riders were more concerned with having a good race and surviving through the heat of the day. For one final time, I agonized briefly over my tyre selection, and decided to stick with my original wheel and tyre choice. For the 2018 Dirty Kanza 200, I would be riding the Enve G23 wheelset as mentioned earlier, and the well-proven Panaracer Gravelking SK tyre in 700c x 38mm with Orange Seal Endurance Formula inside.. at 32psi / 35psi respectively, in case you were wondering.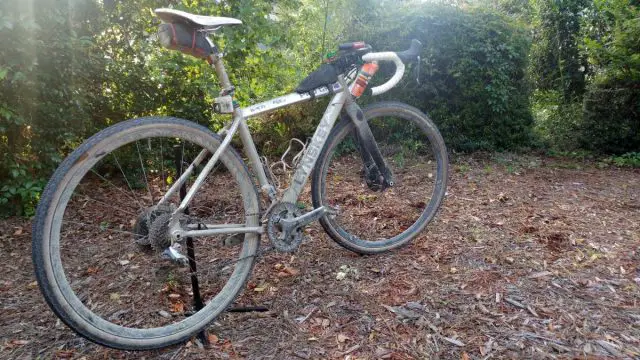 I err on the side of lightweight for my Dirty Kanza 200 attempts. On my handlebars was a camera mount with GoPro Hero 4 suspended beneath, two GoPro camera remotes, a Di2 shifter switch and a Cateye LED light. On the top tube, a very small aero-like bag by Jandd which held 3 x Larabars and a small container of Dumonde Tech original formula lubrication. My saddlebag held a spare tube, 2 x Co2 cartridges, tyre lever, chain tool, Co2 inflator and Wolf Tooth Master Link Combo Pliers. Beneath the saddle bag, 1 x GoPro Hero 4 rear facing camera and Knog tailight. In my jersey pockets, 1 x Platypus 500ml foldable bottle, mobile phone, 2 x Larabars, 1 x spare tube, 2 x Gu Energy Chews and 1 x Gu Energy Flask loaded with Roctane Gu. Finally, under my short grippers, 4 x individual Gu gels, two for each leg.
To be expected, the elevators at the ESU dorms were completely jammed with gravel cyclist types making a mass exodus for downtown Emporia and the start line. Mr and Mrs K-Dogg and I took the cyclocross approach and hoofed it down four flights of stairs. Outside, the wind was blowing hard, and the sky, covered a smattering of dark rain clouds. "This could be a tough day," I thought to myself. It was too early to psychologically mind eff myself by overthinking what could or might happen.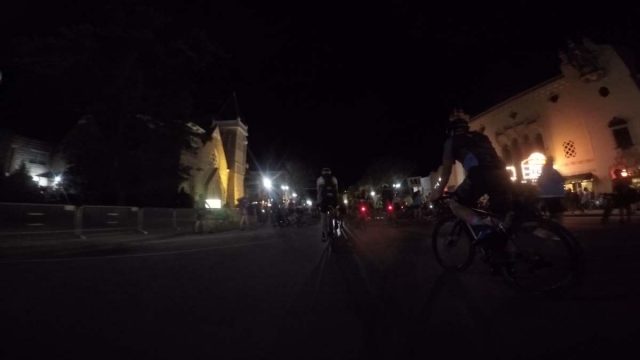 The first drops of rain fell against my face as I approached the finish line. Lightning could be seen in the distance, those weather predictions of 43% rain were turning out to be 100% spot on. Bollocks! Would the organizers delay the race start? It didn't take long for word to get around. The race start had been pushed back by 30 minutes. Hats off to Jim Cummins and his crew of volunteers, rider safety is their number one priority! The rain was falling steadily now, a good time to find shelter from the worst of it. I scurried off to the Lyon County History Center for shelter, and a little bit more time in the bathroom… pre-race nerves and all that. The weather app on my phone confirmed the storm was moving fast, a good sign the early miles of Dirty Kanza 200 for 2018 wouldn't be a total mudfest!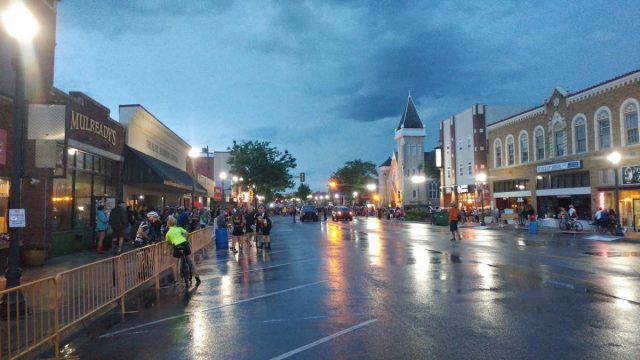 At 6:15am, I headed to the race and front row, and did my usual filming of the lads and ladies who fancied their chances of riding a fast time.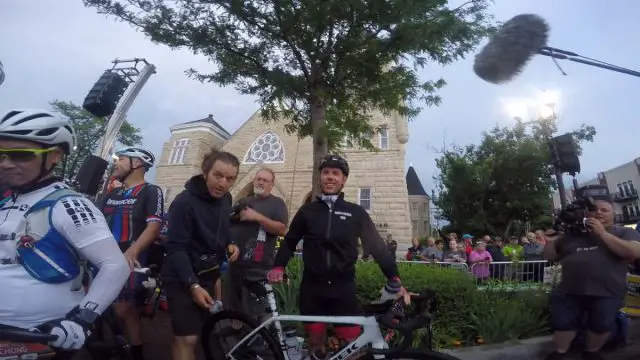 Rider callups followed soon after, the most notable being Sven Nys (two-time world cyclocross champion to name a few of his accomplishments) and Jens Voigt (17-time Tour de France finisher and general all-around nice bloke and badass).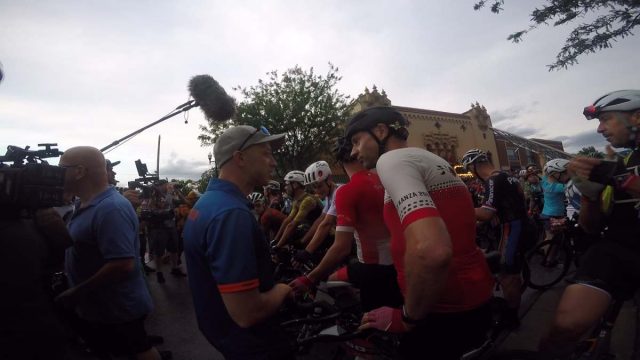 I positioned myself in the front row on the far left (for the purposes of filming… naturally), to the left of Jens Voigt. I'm fortunate to have ridden with Jens before he retired (link to one of my old videos from my old channel), so I made sure to ask him about Dirty Kanza.
JOM: "G'day Jens, what the eff are you doing at Dirty Kanza?"
Jens: "You must be Australian".
JOM: "Indeed".
Jens: "I'm going through an early mid-life crisis, I had to check out this gravel thing and I understand this is the hardest race".
JOM: "Bloody hell mate, you chose well. Good luck!"
Some five seconds later, the countdown from 10 to one began. GoPro cameras flicked to on, time to race the 2018 Dirty Kanza 200!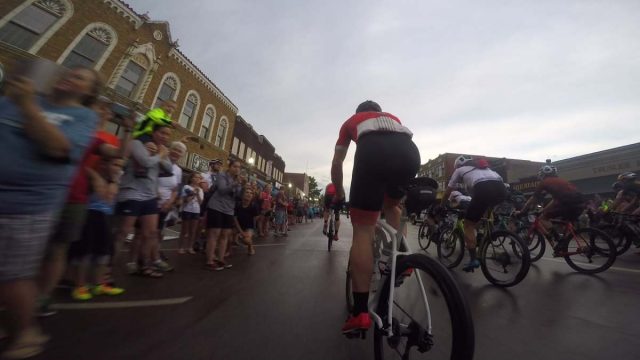 Jens made a lightning start (probably due to all of those breakaways he initiated during his time as a pro), joined quickly by Sven Nys on his wheel. I was on Sven's wheel for about three seconds, before I deemed myself most unworthy of being at the pointy end of this group. I allowed myself to quietly slip further back inside the gravel peloton. The race was "neutral" until the first gravel sector, and we ticked along holding about 23mph – 25mph (35km/hr to 40km/hr).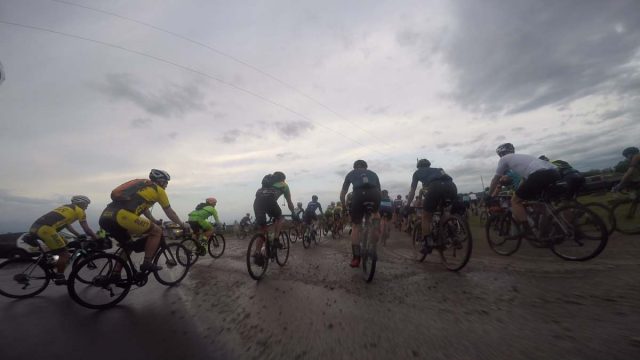 The group rolled onto the first of many sectors of gravel, but without the usual sense of urgency as with the 2017 race. The early gravel roads had received a dousing, but not to the magnitude that it would cause a repeat of 2016's "derailleur-geddon". The pace was slower than my prior two DK200's and some mud was present, but more noticeable was the feeling of nervousness in the air.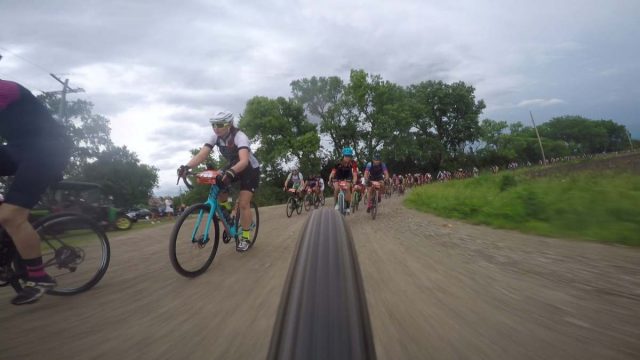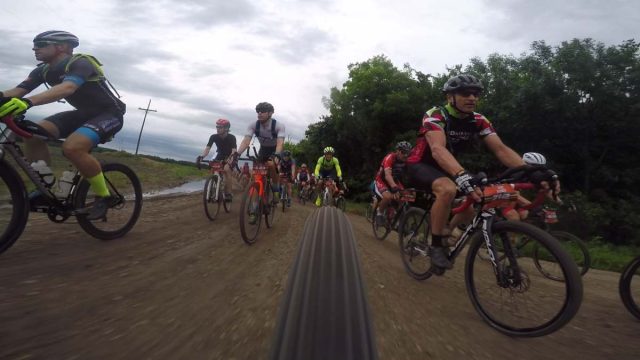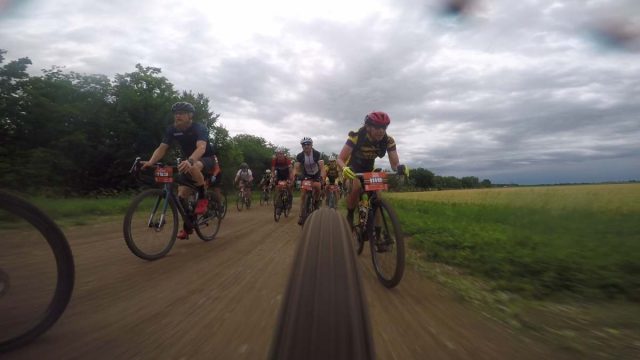 There were several moments of panic braking as the leading riders sped out of the early corners, whilst those behind felt the accordion effect, and used their brakes accordingly. Hiding around the tail of the first 100 riders or so, I avoided trouble but did capture a crash on camera.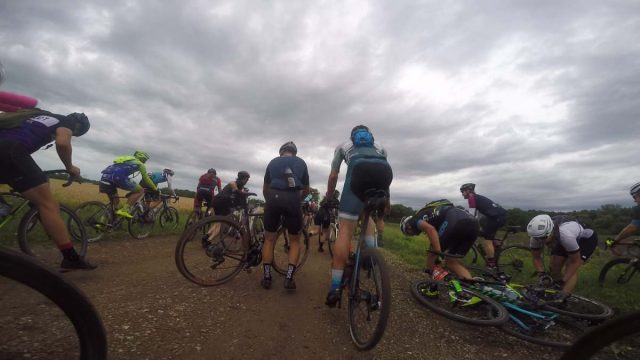 Thankfully, nobody appeared to have been hurt, although several bikes were tangled and laying on the ground.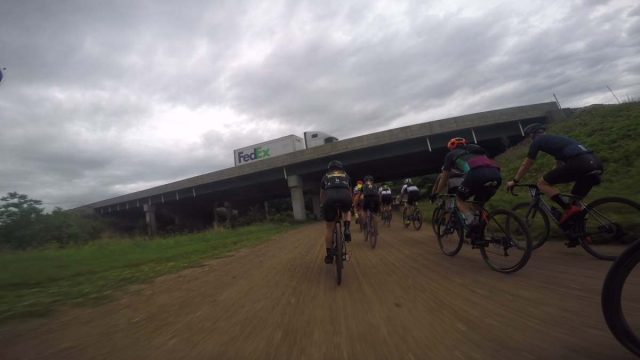 Grind, brake, grind, brake. Eventually, the herd split up, as in I was dropped from the front group and began tapping out my own tempo. Dirty Kanza is about riding your speed, either alone or with a group – at least if you don't want to go into the red zone and have a decent prospect of finishing.
My legs felt terrible. Terrible like they were tired and grouchy. All of that driving and standing around in the heat on Friday hadn't helped. I tried not to think about the 2017 edition of Dirty Kanza, where the wind was nil, the sun was mostly hidden and I punched out a respectable finish time. This edition of Dirty Kanza would be about riding more conservatively than usual, in the hope I would recover and begin feeling better later on.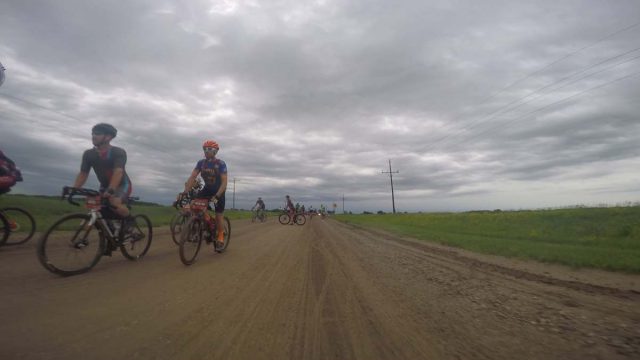 The organizers had thought of everything. Around 10 miles into the course, we were diverted a short while, mostly to avoid the dreaded B-road that lingers around the 12-mile marker. In 2015, this was a quagmire and resulted in many miles of mud-hike-a-bike and broken bikes / dreams.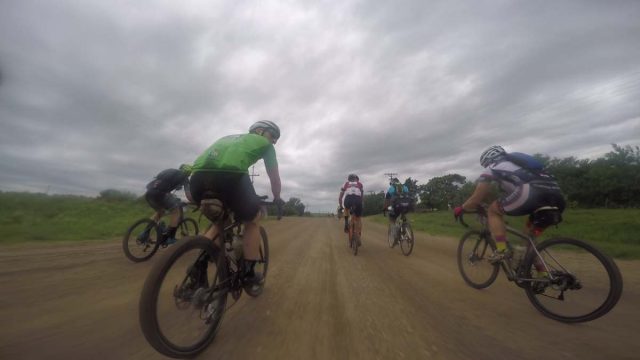 Not long after, my mate and local gravel hero, Jeff Young aka "Jeffy", whose wife was crewing for us, caught me. He was riding an impressive tempo, made more impressive by the fact he hadn't put in a lot of training before this year's race. Another friend, Bobby Thompson, otherwise known as the "Casual Cyclist", caught and passed me, but only after a friendly greeting.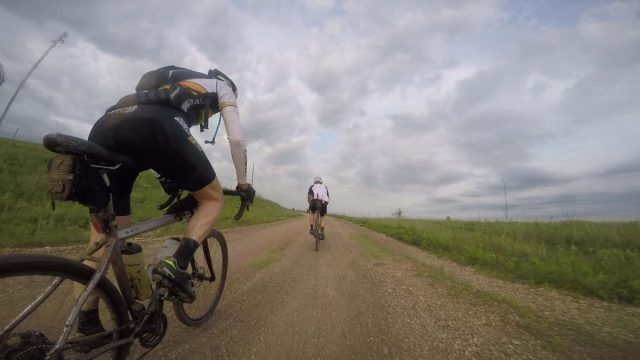 Grind along and grind some more. These early miles weren't feeling great. Somewhere between the crunching of gravel beneath my tyres and the wind sailing past my ears, I heard a familiar "Oi!" My 63yo teammate and winner of the 60+ age group in 2016 for DK200, had caught me. He admitted his legs were angry and upset, but his malady lifted my spirits. Now I had someone I could ride with at near the same tempo.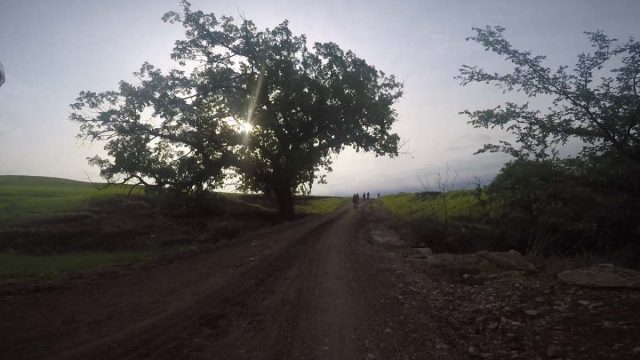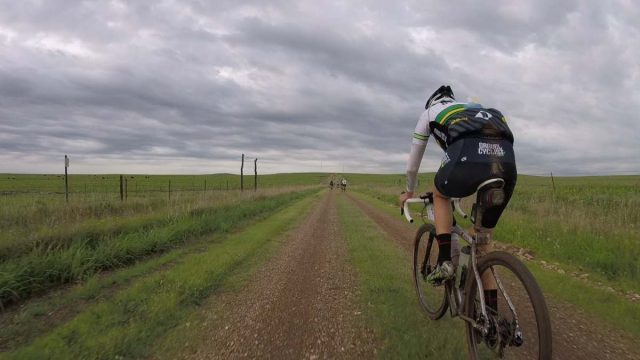 And so it went, K-Dogg and I took turns riding on the front of our two-man team time trial on the climbs and flatter roads, although I would always lead proceedings on the descents.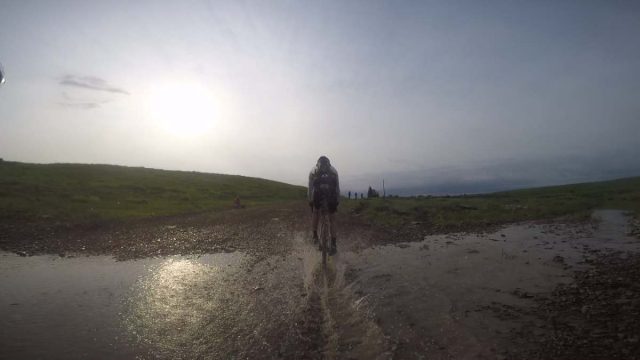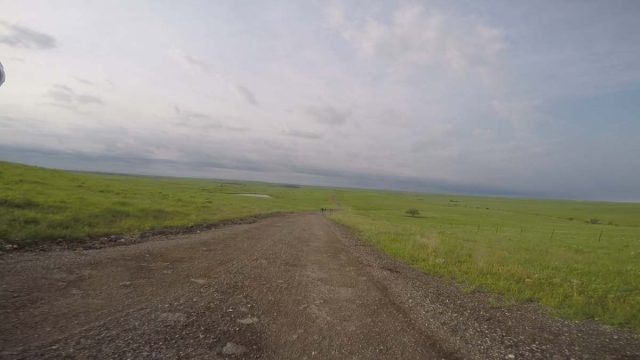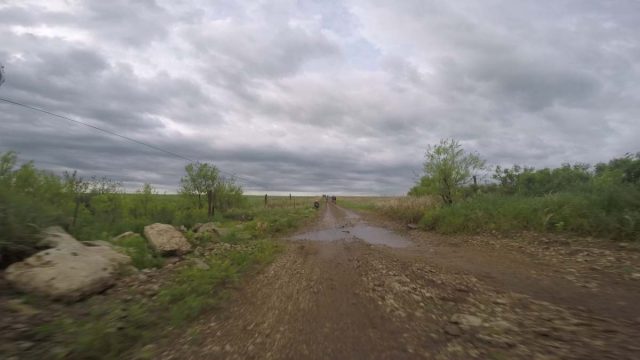 At some point we came upon Sven Nys, in the middle of a puncture fix, but surrounded by blokes with cameras and boom microphones (I may have some footage of this, but it was missing at the time of this article). No pressure there Sven! Turns out that Sven punctured another two times, and ultimately retired due to stomach issues. The gravel of Dirty Kanza respects nobody, even former cyclocross world champions.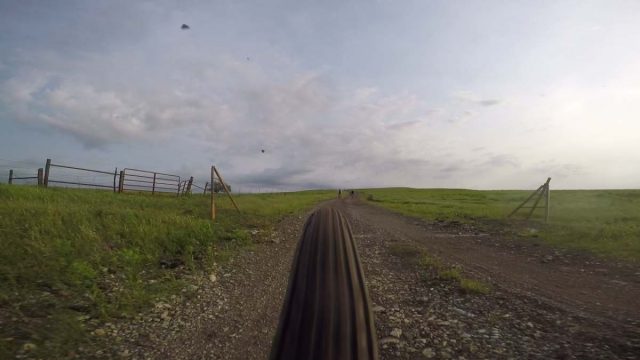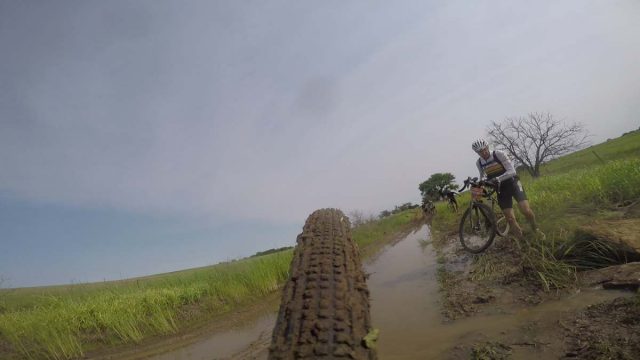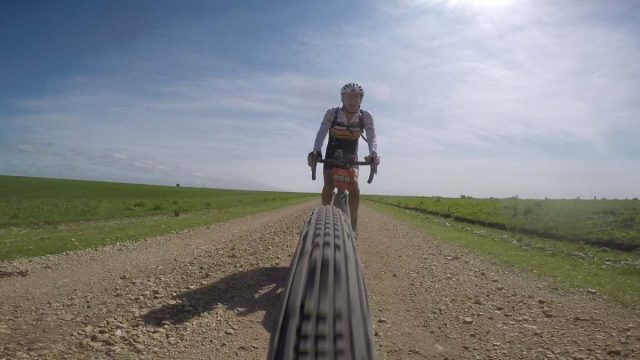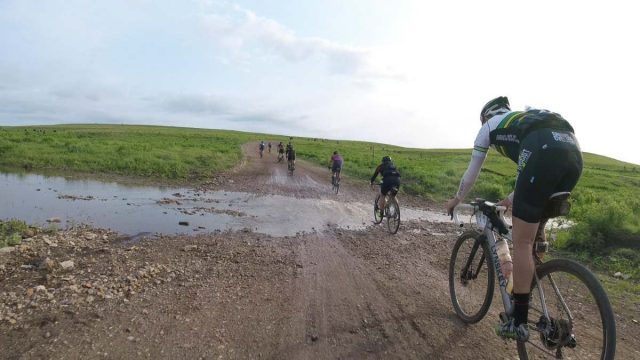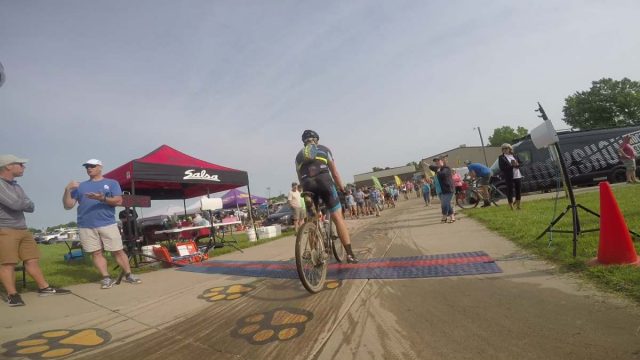 We rolled through the cattle pens, up Texaco Hill and through the first checkpoint into the town of Madison, Kansas in a time of 2:56:34. The time was almost 15 minutes slower than 2017, but considering how I felt, I was pretty happy.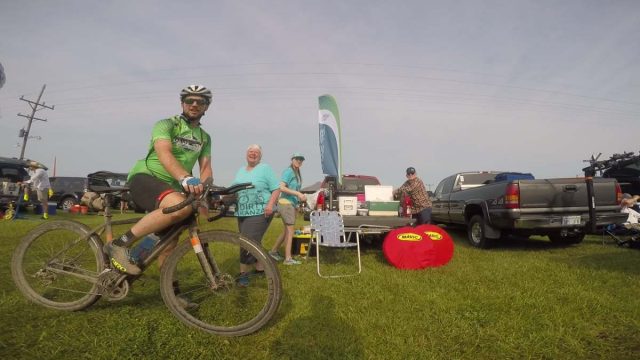 At the checkpoint, I caught Jeff Young just as he was leaving the company of his wife and crew members. I deftly reloaded my bike with fresh bottles, Gu gels, Larabars and got rolling. My timing was impeccable, as K-Dogg had just left his crew zone (he was part of the crew-for-hire area), and joined me on our journey to checkpoint two and Eureka, Kansas!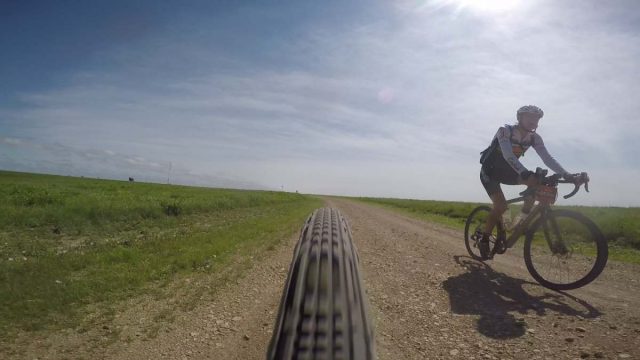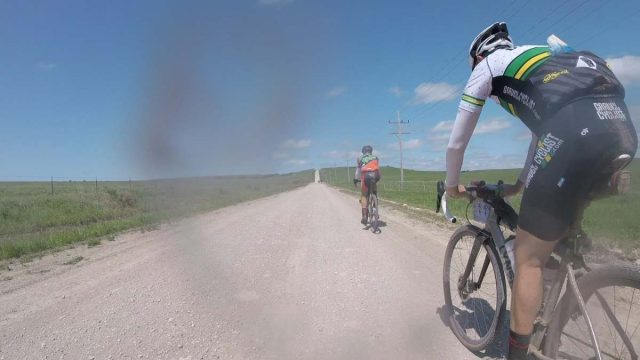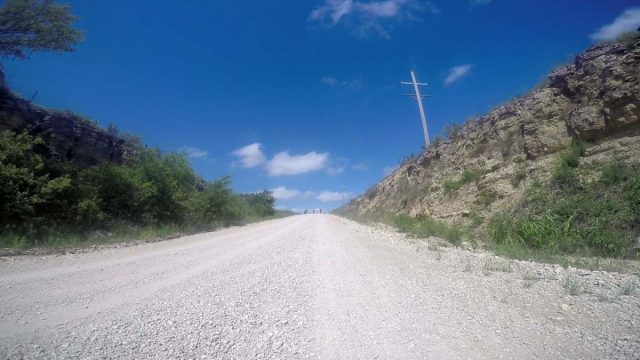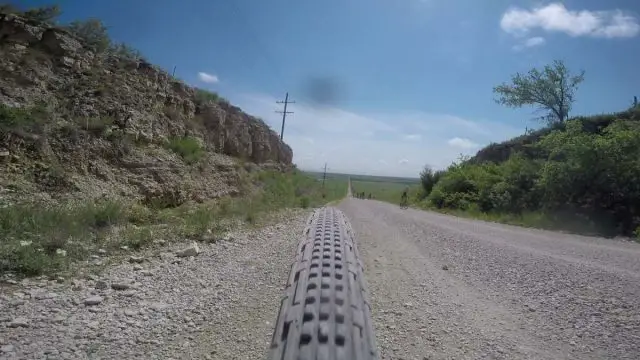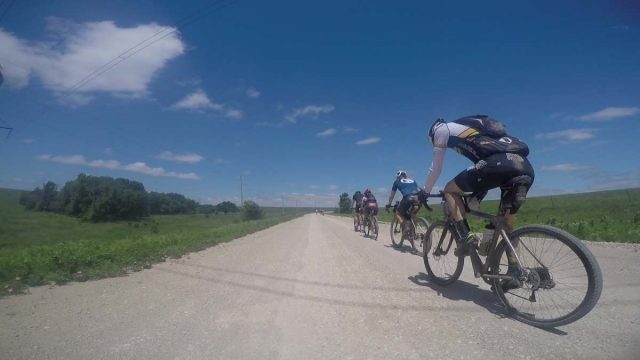 Between checkpoint one and two, we could relax a little more, as there weren't as many big chunky rocks which could possibly cut up a tyre. Or at least I thought so. Somewhere around mile 76 / km 91 whilst navigating a decently tricky descent, I heard an "Oi!" from a little behind me. "Flat" yelled K-Dogg. "Fiddlesticks", I thought to myself. K-Dogg's seemingly impervious Teravail Cannonball 700c x 38mm tyres had taken a hit in a big way. The rear tyre had a sizeable sidewall cut which no amount of sealant could fix. We set about removing the wheel, the valve core and remaining sealant from the tyre, and installed a boot made from duct tape. It wasn't pretty or elegant but it worked. Onward!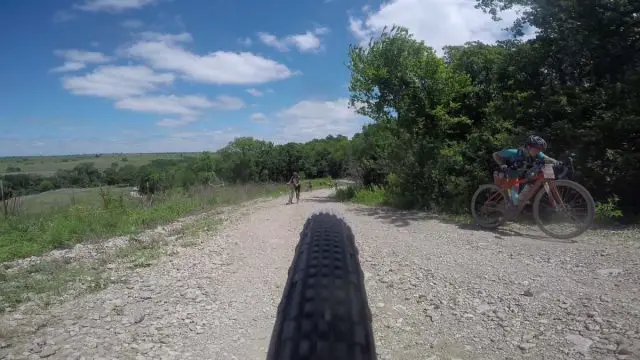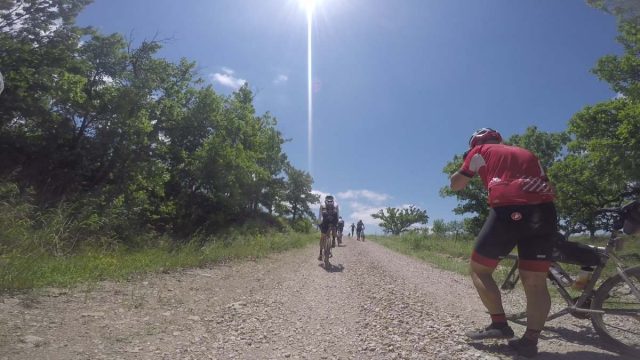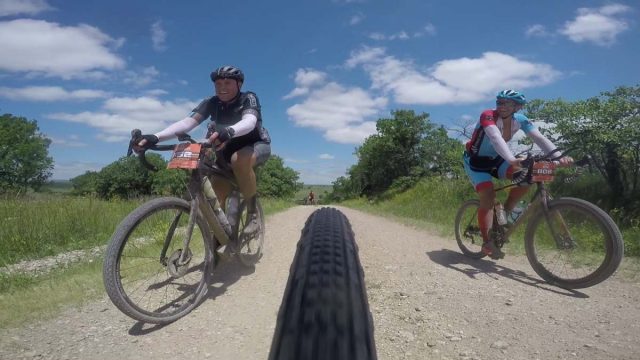 We scaled the climb known locally as "The Be-Yotch", renowned for its steepness and loose surface. "The Be-Yotch" didn't disappoint. I scaled it well riding my micro-compact gears – 46/30 front absoluteBLACK chainrings and an 11-32 cassette – that 30 x 32 low gear was bliss… as I rolled past those walking. Sorry…
We rolled into Eureka at just before 1pm, some 37 minutes slower than 2017. No great surprises there. It was here that K-Dogg and I would separate in the melee of checkpoint two. He set about replacing his knackered tyre with a spare he'd packed into his drop bag, whilst I took a short break to sit down, relax and refuel. My usual formula of Mexican Coke (real sugar inside), followed by a Ginger Ale, chased by pickle juice was working a charm.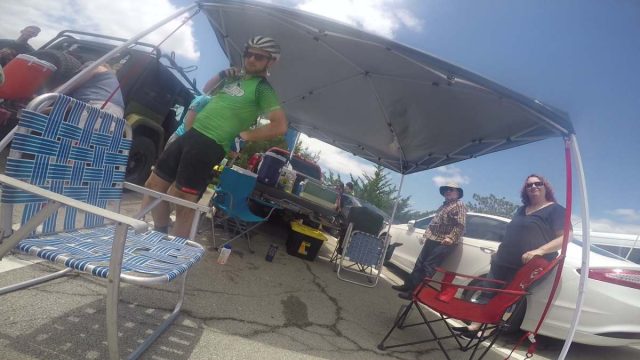 I'd felt one or two queasy stomach moments around mile 85, but I was dealing well with the heat and felt well hydrated. I had learned a valuable lesson some three weeks earlier, when a hydration disaster in training saw me crack, but somehow recover, to finish my 174-mile training ride that day. I had no plans to repeat the same mistake on race day. It was also at this checkpoint that I took a vintage Camelbak onboard, namely 1 x Camelbak Razor capable of holding 72 ounces / two litres of water. K-Dogg was nowhere to be found, so I assumed he had left the checkpoint before me.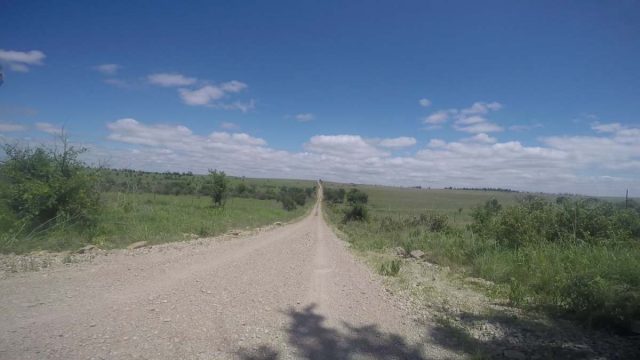 Onward to checkpoint three, the toughest and longest leg of the race. Historically, this section of the course has always put me into trouble. I visited my "dark place" during this sector in 2016 and 2017, and expected it to be monumentally bad, considering everyone at the 2018 Dirty Kanza 200 would be riding into a full-on block headwind anytime the route turned north. There was no secret about the headwind, every weather forecast had given it a mention, and it had been a subject of discussion at the All Things Gravel Expo on Friday. I'd ridden more conservative than normal during the first half – thanks dodgy legs – but I was about to reap the reward.
Turning north for the first time proper at mile 122 / km 196, I said under my breath, "the $hit's about to hit the fan". The riders closest to me went backwards, whilst somehow I was still maintaining a decent forward motion, at least when the road wasn't a killer steep hill.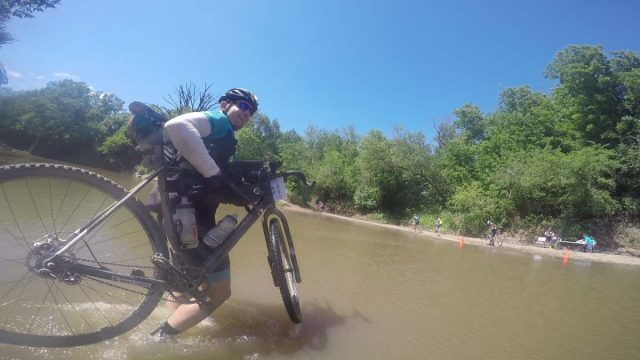 I wasn't breaking any world records, but the efforts of my solo training rides were finally paying off.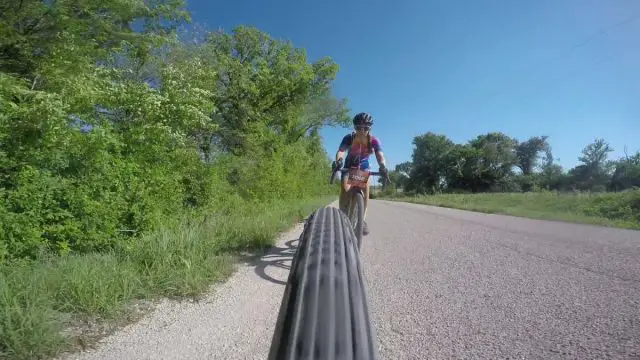 At some point between checkpoint two and three, I caught and passed my friend and contributor to the Gravel Cyclist website, Adrienne. She was riding well, and always has a smile on her face, even if she's dealing with a rough patch of riding.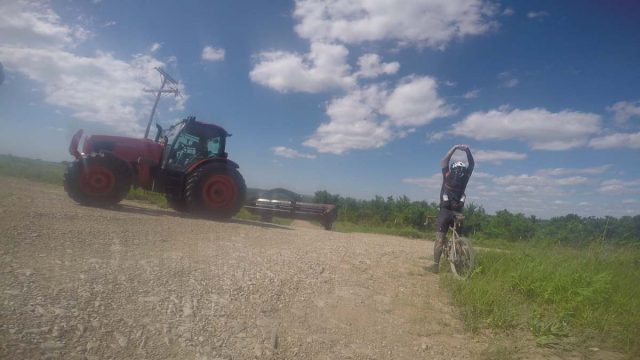 My pace wasn't sustainable for all 63ish miles back into Madison, Kansas, and I decided to back it down a notch to something more sensible and manageable. Towards the summit of one the steeper than usual hills along this sector (sorry, I don't know if this hill is named?), I felt a muscle cramp start to set in. This is never a good sign! Thankfully, I was cognizant in my thinking to pack a Hotshot for this segment. If you've never heard of Hotshot, it is an amazing substance that is scientifically proven to kill muscle cramps almost immediately. I can vouch for this product, it works! The muscle cramp was gone and I was able to resume my ride into the blasting wind.
Approximately 27 miles south of Madison, I stopped at the summit of one of the endless steep hills to catch a view, down some fluids, and reflect a moment or two. I was tired, but not done. My friend Adrienne caught me as life momentarily passed by, which marked a good moment to resume my forward motion. For a good portion of the remaining leg into Madison, Adrienne and I fought the winds together, swapping turns on the front.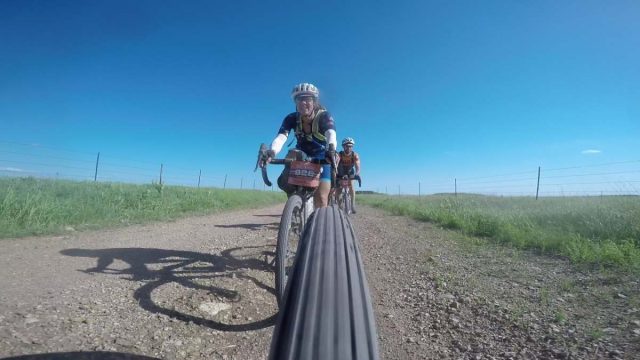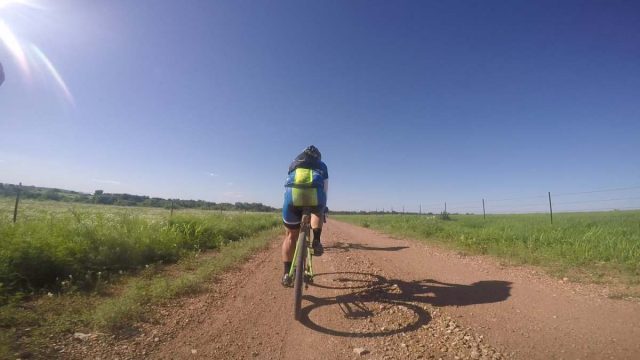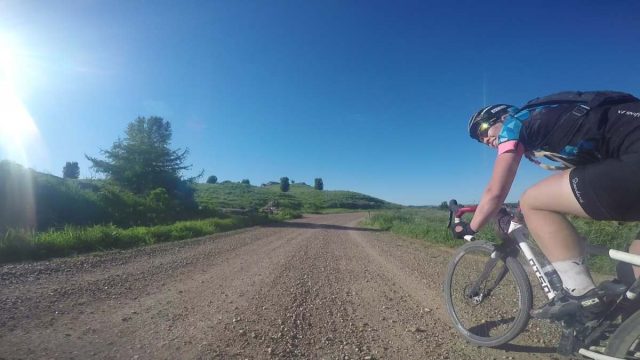 Later, we joined #828, Courtney, and #838, Jennifer (riding the women's single speed category) and somewhere a little later, #474, Risa. I was in the company of some very strong ladies! Risa and I lost contact somewhere with Courtney, Jennifer and Adrienne (if I've got this sequence of events wrong, please forgive me), choosing to forge ahead into Madison at a slightly higher pace. We crossed the timing mat in a time of 11:50:09, an hour and a quarter slower than 2017. I bid Risa farewell and headed to my support crew.
I relaxed more than usual at this stop, blowing at least 15 minutes, downing fluids. and recovering. Not counting the odd Gu chew I had consumed to this point, this year's Dirty Kanza 200 was once again an all-liquid affair. Mind you, I could have totally murdered a bag of salt and vinegar potato chips, which I will definitely include in my stash for 2019!
Almost 25 minutes later, Jeff Young rolled into sight, just as I was about to leave. "K-Dogg's not far behind, and he might be mad at you", said Jeff. K-Dogg and I becoming separated wasn't part of the plan, and there was no ill intent on my part. I found him in the crew-for-hire area, sitting on the grass, shoes off, looking slightly disheveled. It had a been a tough third sector for K-Dogg. He was determined to finish the race, despite digging a very deep hole for himself. He took a further 15 minutes to down some food and rehydrate some. To be completely honest, he looked pretty rough and I was skeptical about his chances of finishing. Thus, he would need my help to shepherd him home. It was time to play the good teammate.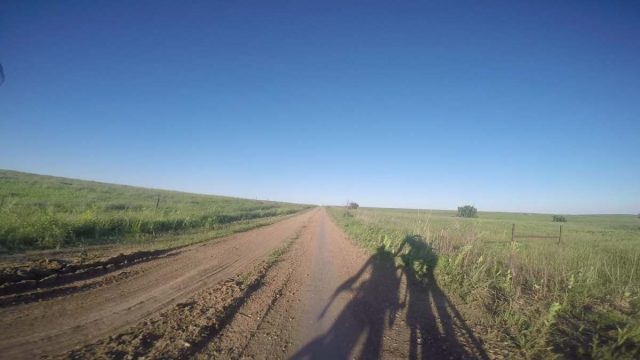 I'm going to spare readers many of the details of the almost five-hour journey from Madison back into Emporia. It was slow going and I'll admit, frustrating at times. K-Dogg was completely drained of energy and a veritable disaster on the bike. There were times he was hallucinating about items related to his bike, or other randomness about our surroundings. It was scary.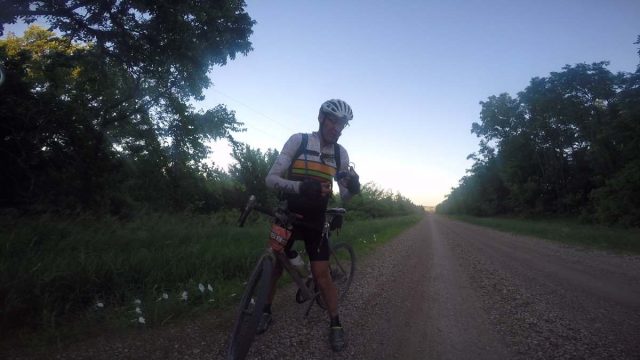 I didn't know it at the time, but he was suffering from Hyponatremia – "This causes your body to lose electrolytes, such as sodium, and also increases ADH levels. Drinking excessive amounts of water can cause low sodium by overwhelming the kidneys' ability to excrete water." Less than an ideal situation for cycling of any kind.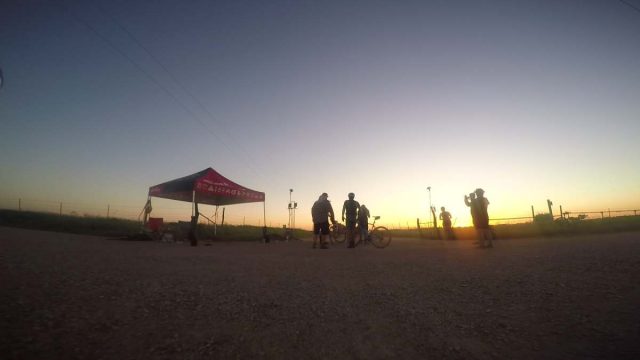 At 180 miles into the race, and just after one of the worst B-roads along the course, came the highlight of our journey between Madison and Emporia; our stop at Salsa Bicycle's "Chase the Chaise".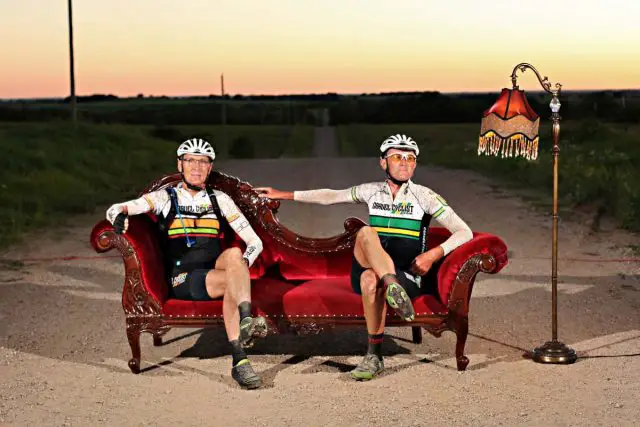 Despite K-Dogg being in the worst possible shape, he classed it up with me and posed for a suitably elegant photograph on the gravel hills of Kansas. The only thing missing was a glass of port, a cigar and a newspaper 🙂
We stopped at least another four times between the Chaise and the finish line. K-Dogg scared me but at the same time, blew me away by his resolve to finish the race. Several times I threatened to call an ambulance if he didn't pull himself together (my bedside manners are pretty ordinary), but each time, he asked for a moment of rest, before continuing.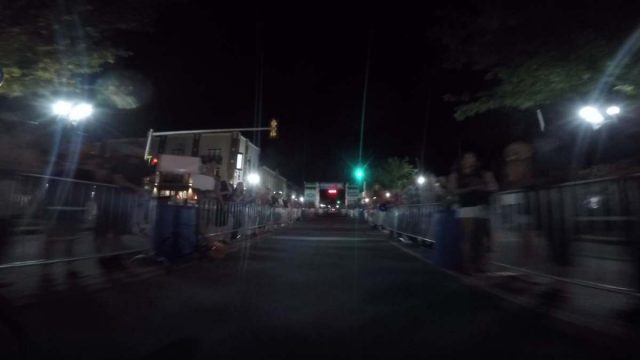 After much struggle, we crossed the finish line together in a time of 16:39:11. Considering how rough our day had been, I was glad we had finished at all, least together. But we weren't alone. There were many DNF's and I rode past so many riders during the later part of the day, parked by the roadside, taking a nap or a long moment of rest.
Dirty Kanza is arguably one of the most difficult gravel races on the planet. It is not a race to underestimate or undertrain for. Careful planning, a metered effort and much respect must be given to this challenging course.
Will I return? Yes! I'm now at 3 for 3 at Dirty Kanza 200 with a goal of at least 5 for 5 in mind.
Thank You's
Michelle Young and immediate family for supporting me during my 2018 Dirty Kanza 200.
Jim Cummins and his massive crew of staff / volunteers. Thank you so much for hosting this amazing event.
Emporia, Madison and Eureka, Kansas and surrounding communities. This is the only race in the world where I see an entire community come together to support riders for an amazing experience on the bike.
SRAM / Quarq for tracking me with the Qollector!
Gu Energy for my nutrition products.
My fellow Gravel Cyclists! I received so many kind and positive words about my work on the Gravel Cyclist website. That really means a lot to me. I put my heart, soul and endless late hours into the Gravel Cyclist website which is effectively my second job (I really do have a day job as well); I am a passionate guy and absolutely love sharing my rides, races, reviews, ramblings and everything else that goes along with this website and its related social media entities, with you all.
My sponsors; Champion Systems clothing. Riding big miles / kms is one thing, but big miles / kms in comfort is another. Thank you to Ben Woodbury and the team at Champion Systems for supporting me! Orange Seal Cycling – I don't want to jinx myself, but this product has saved me on at least two occasions, and I have no plans to ever stop using it at future Dirty Kanza's, or elsewhere for that matter. Thank you John.
Laura, for the kind and thoughtful gift of the cooler I used at the race! Decorated with care and filled with some Mexican Cokes for race day, and Coopers Pale Ale for post-race. Blown away by this gesture.
My bike! My Lynskey PRO GR (now a personal bike) with review wheels by Enve, never missed a beat all day and was fitted with the perfect gearing for me. Likewise on my Panaracer Gravelking SK tyres filled with Orange Seal, perfect! Incidentally, I rode absoluteBLACK's 46/30 ovalized chainring pair at Dirty Kanza, expect a review to appear soon.
Thanks for reading, the 2018 Dirty Kanza 200 race video from Gravel Cyclist is coming soon!
JOM aka Jayson