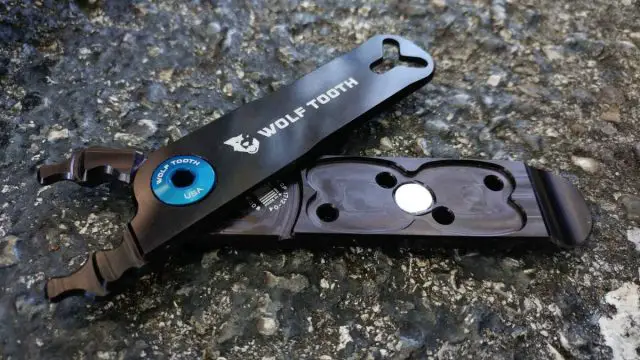 Wolf Tooth has a history of innovative product design. From the original Roadlink, to the B-RAD System, the staff at Wolf Tooth think outside of the box. This is in part due to the fact that Wolf Tooth's staff are dedicated, hardcore cyclists, with backgrounds in engineering, always on the lookout for products to make their bikes faster, lighter and more reliable. But sometimes, you have to take matters in hand so to speak, and design and manufacture your own products, with an emphasis on function, performance and reliability.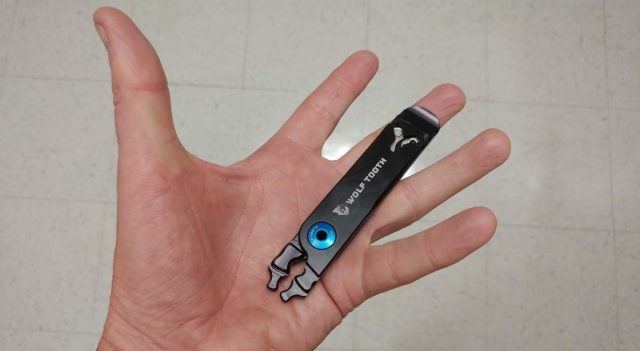 The latest example of Wolf Tooth's design handiwork is the Pack Pliers tool. Designed as a multi-tool to provide functionality not typically found in your everyday multi-tool, it does that and more.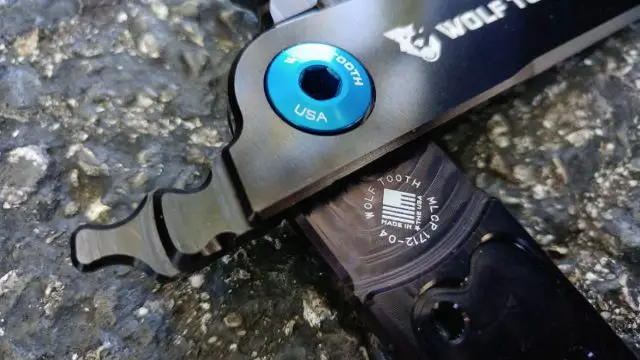 Designed and manufactured in Minneapolis, Minnesota, the Pack Pliers feature 7075-T6 aluminium construction, which is anodized and laser marked with Wolf Tooth's distinctive logo. Two color choices exist, black or red, and a choice of bolt color on the black version.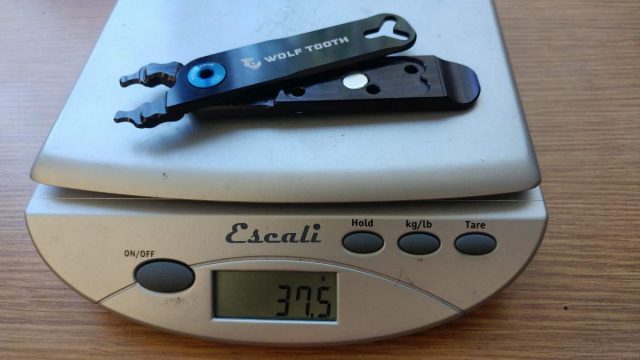 All of this tool handiness is touted as weighing 38 grams, but on the Gravel Cyclist scale, they weighed half a gram lighter than spec. Kudos to Wolf Tooth for not fudging the numbers!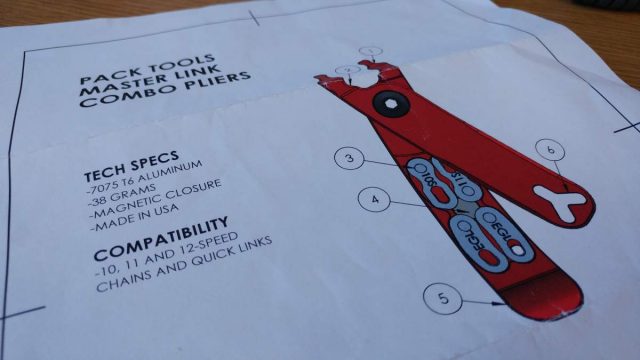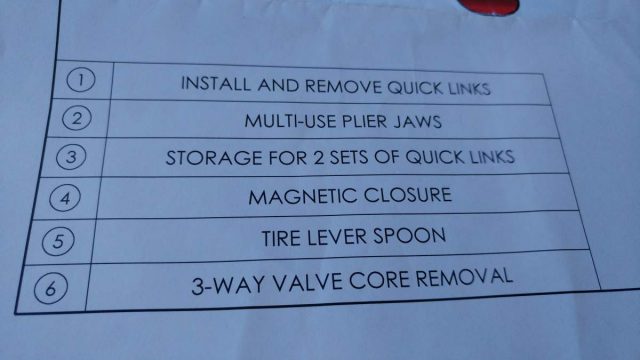 Pictured above, the Pack Pliers serve to:
Install and remove quick links.
Multi-use plier jaws.
Storage for two sets of quick links.
Magnetic closure.
Tyre (tire) lever spoon.
Three-way valve core removal.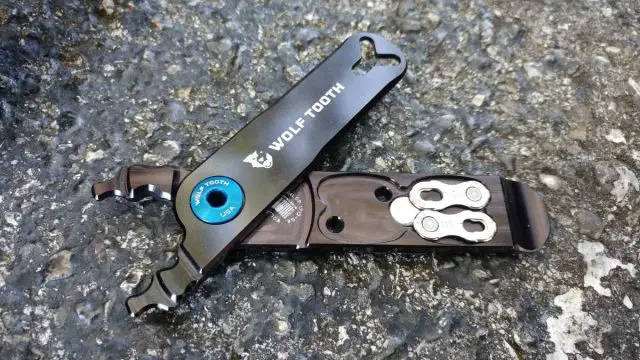 Master links for 9, 10, 11 and 12-speed are compatible with the Pack Pliers storage area, for chain brands such as SRAM PowerLock, Shimano Quick-Link, KMC Missing Link and similar master links.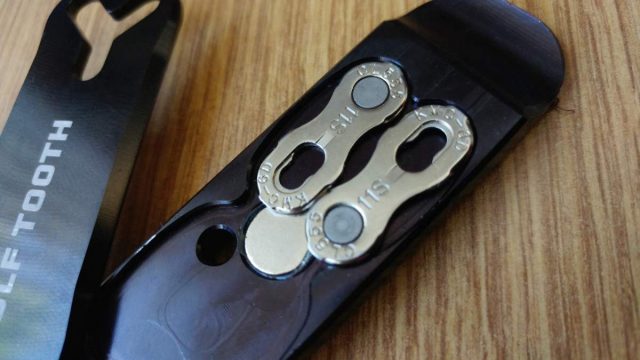 Pictured above, the magnetic closure snaps the two halves of the Pack Pliers together, and keeps one's Master links securely in place.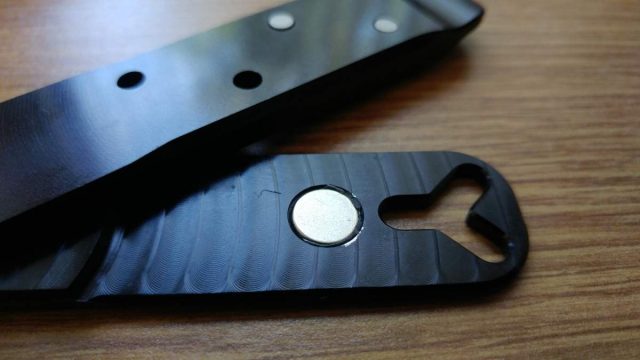 Functions of the Wolf Tooth Pack Pliers Tool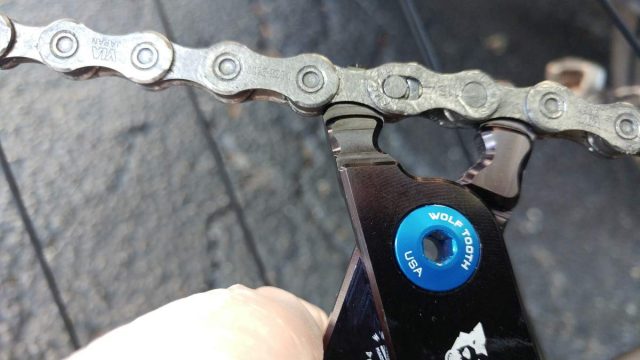 The first part of the Pack Plier's functionality test, is to break open a chain's master link. In some parts, I'm known as a bit of a scofflaw, meaning I do wild and crazy things such as mixing a Shimano chain with a KMC Master link. Ruh roh! That would be the setup pictured above.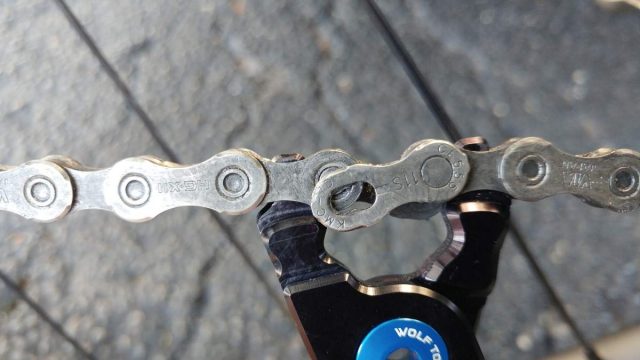 The Wolf Tooth Pack Pliers do not have as much leverage as Park Tool's wonderful MLP-1.2 Master Link Pliers, but they are a whole lot more compact, lighter and handier to tote around in a saddle bag or jersey pocket. Due to the tool's lack of leverage, you will need to put a little effort into popping open a chain Master link.
The sharp leading edges of the Pack Pliers do dig into one's bare hand as you squeeze the tool's halves together, but as most of you undoubtedly wear gloves, whereas I generally do not (except when uber cold), this issue shouldn't pose a problem to potential owners of this tool. The Pack Pliers work doubly well to join and close a chain Master link.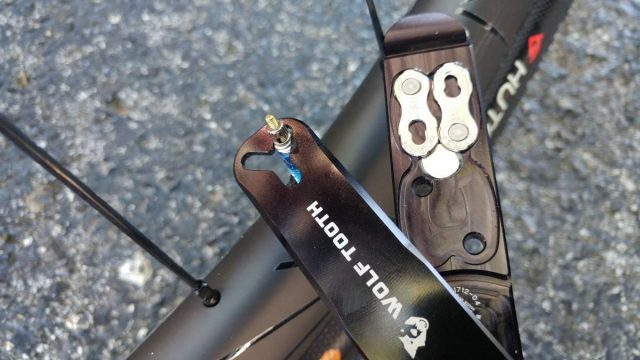 Pictured above, the Pack Pliers work nicely as a valve core removal and installation tool.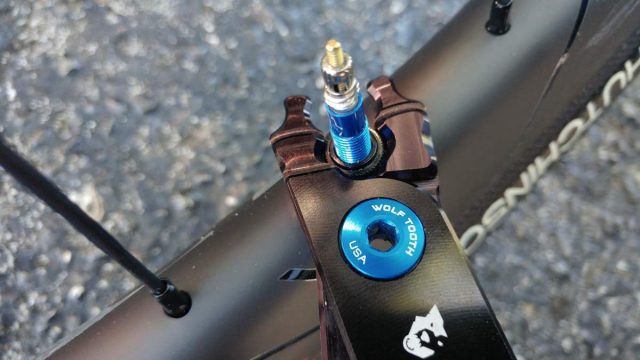 A tubeless valve core is only as good as the locknut that holds the valve in place. The Pack Pliers maintain a firm grip on a valve locknut, to tighten or loosen.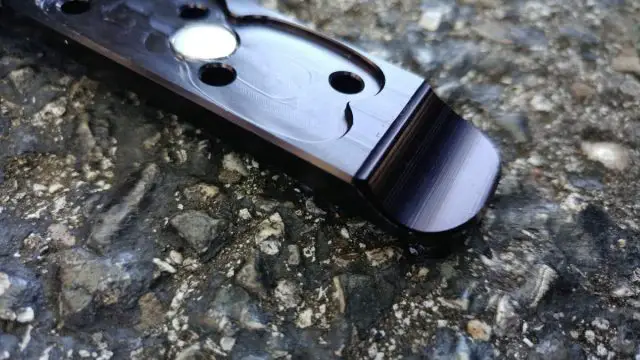 And finally, the integrated tyre lever. Wolf Tooth warn against using this part of the Pack Pliers on carbon rims. To be honest, I'd eschew using this part of the tool on aluminium rims as well. Why? I've seen evidence of damage to rims from metal tyre levers in the past, so I'd choose a softer option. Pedro's Tire Levers, my preferred tyre lever option.
Conclusion
Measuring just 116mm x 20mm x 9mm and a paltry 37.5ish grams, the Wolf Tooth Pack Pliers will fit into a jersey pocket, or most decent sized saddle bags. Narrow bicycle chains of the 9, 10, 11 and 12-speed variety can break under heavy load, and the introduction of dirt, mud and grime from the surrounding gravel, trail or sludge environment can further weaken a chain.
In my opinion, a chain tool is a must-have for one's field toolkit, but add to that, Wolf Tooth's Pack Pliers. There was a time when chain Master links were easy to break, almost by hand. Now, that isn't really the case. With this tool, you can open / close master links, and conquer tubeless valves and their related lock nuts. Ever tried unscrewing a stuck lock nut with cold, wet hands?
Priced at $US 29.95, this USA-made tool won't break the bank, but it may save your day!