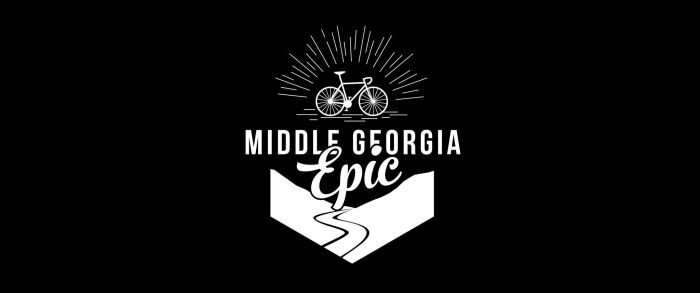 "The Middle Georgia Epic is the longest multi-surface road race in Georgia, offering 100km and 200km distances for racers to choose from. The race starts and finishes at the charming Blue Goose, Georgia's only bike hostel, in Irwinton. Each route consists of gently rolling country roads, with approximately half the route paved, the other half a mix of gravel, sand, dirt, and clay. The variety of surfaces along the route make bike/tire choice an interesting challenge. Skinnier tires are faster on the pavement, but will struggle on loose/soft surfaces. The race will be held rain or shine, so keep that in mind when choosing equipment!"
The Gravel Cyclist crew of JOM, K-Dogg, Rusty and long-time friend and associate, Lambert – aka the Belgian Diesel – decided to make the trip for the inaugural Middle Georgia Epic (MGE), held on Saturday, February 18, 2017.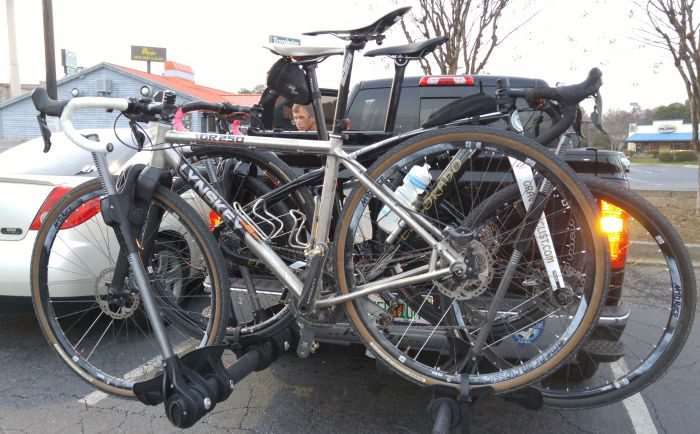 After our respective work days ended on late Friday afternoon, everyone piled into the Diesel's sweet Chevrolet Silverado crew cab pickup truck with gear, clothing and four bikes. I took the precautionary measure of bringing along another pair of wheels, shod with Panaracer's Gravelking Mud tyres, just in case. In the week leading up to the race, the Weather.com folks predicted the possibility of rainfall at 50%. Those rain chances lowered to 20% by event day – now, whether Weather.com would be spot on with their forecast was another matter? 20%, that's pretty low, right? No worries!
Packet pickup was held at Southern Wheelworks, a first class wheelbuilding operation run by Mr Dustin Gaddis – Dustin also happens to be the promoter of the MGE. Be sure to check out Dustin's articles here on Gravel Cyclist about handbuilt wheels optimized for gravel – Part 1 and Part II. After a bit of conversation and gloating over the wheels hanging about Dustin's shop, the crew and I frequented a food establishment just down the road. Cue a massive chowfest at Chipotle (thanks to Rusty for the secret menu item tip!) followed by dessert calories at Baskin Robins. Not the best calories, but with 125 miles / 200 kilometres to ride, we all had an excuse to stuff ourselves.
A little more goodness had come our way in the form of some cancellations at the Blue Goose hostel. With the race starting right out the front of the hostel, this was the perfect spot to spend race eve! Just an FYI, as soon as the 2018 MGE date is announced, I'm booking a room, so don't even think about swiping my spot! Staying in a hostel type arrangement was a first for me, but it was fab mingling with fellow gravel cyclists as they trickled in during the evening. It should be said that K-Dogg and I were sharing an upstairs suite, so we weren't privy to the bunk bed arrangements downstairs. However, we were also sharing a Queen size bed… it's a good thing he's married to Mrs K-Dogg

 All jokes aside, great accommodations – thank you Blue Goose and staff!
Race Day
The race was scheduled to start at 7:15am – as we were already onsite, we didn't need to wake up uber early. I didn't sleep so well – not due to the company, but rather a back injury sustained during a late 2016 crash that is taking its very sweet time to heal. Ironically, on the bike, it gives me no trouble. Sleeping, that's another matter.
K-Dogg and I shuffled about the room around 5:30am, peering at our computers / phones to check on the weather forecast. 20% chance of rain – no worries – that means zero chance, so we're good to go!
After the obligatory breakfast of coffee-meal – my name for black coffee and oatmeal combined – yum! – and visits to the facilities, I was ready to roll. Next step, load the rear jersey pockets with food for the ride. Because the current configuration for my rear-facing GoPro camera kills any chance I have of carrying a saddle bag and spares, I need to tote that bollocks in my rear pockets as well – it gets a bit squeezy. Load Gu gel flask, 4 x individual gels (into bib short grippers, 2 on each leg), Gu chews, Gu drink tabs (for the bottle refills at the checkpoint) and some Lara Bars into the pockets. Water bottles on the bike were loaded with Gu's regular drink mix in Lemon Tea – IMHO, the best flavor.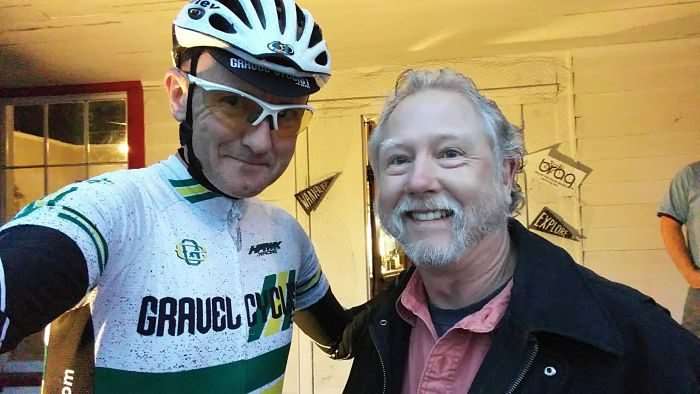 I lined up downstairs with my fellow gravel cyclists for the race start, but only after some conversation, a bit of video and naturally, a selfie with the Mayor of Irwinton.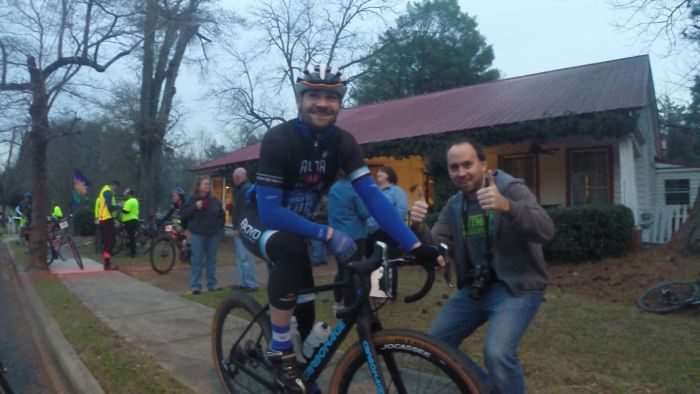 Normally, I'm not the type of bloke who ascribes to selfies – I am more into taking photos of scenery and bike selfies than internet affirmation that I've ridden somewhere by jamming my face into a pic. Moving on… 🙂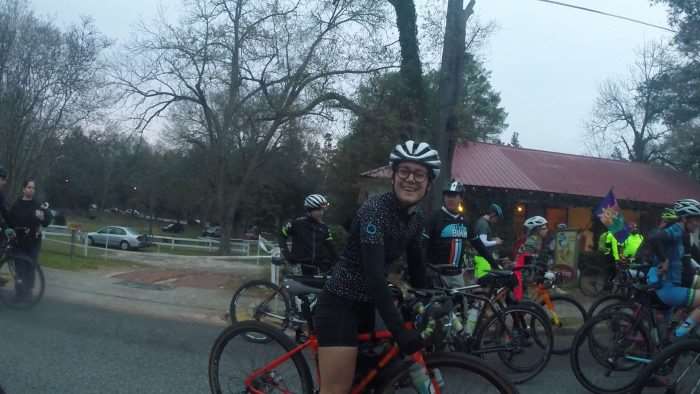 The race kicked off promptly at 7:15am, escorted out of town by the Sheriff of Irwinton. Skies were cloudy and the temperatures hovered around 50 degrees Fahrenheit. According to Dustin the promoter, 94 riders had lined up for both distances. I looked around my group, and recognized several riders who I'd raced with in the past.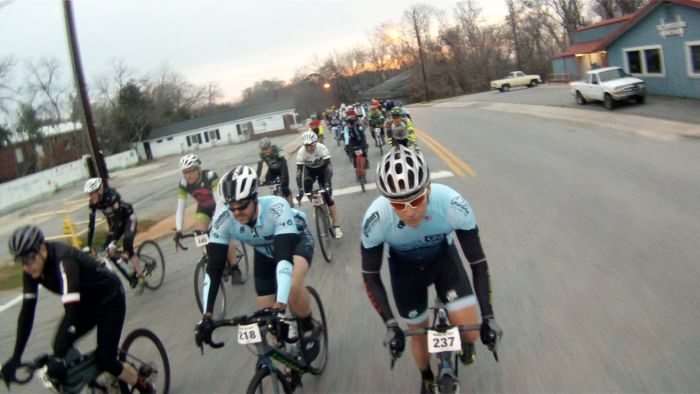 Most notable was Jeff Clayton and Cal Till of the Georgia Neurosurgical Institute Team – these lads had five riders in the group, and would probably be the ones causing the damage. As for me, I was hoping to get through this race as best as possible. I had no aspirations for victory, but was using it as training for some future events, Dirty Kanza 200 being one of them.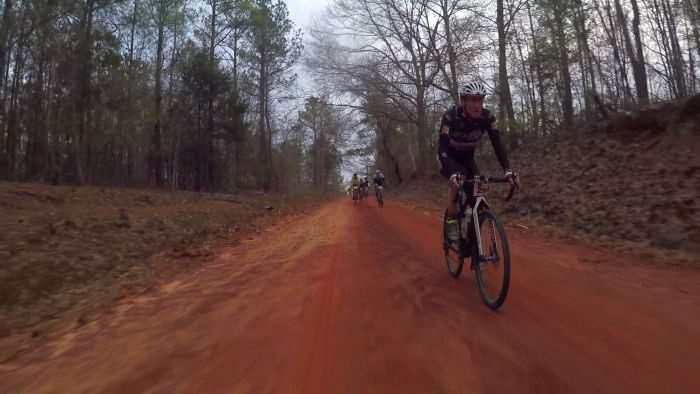 My teammate K-Dogg cited the same excuse – remember, good cyclists always have a set of equally good excuses – thus, we decided we'd try and avoid going into the red zone, and hide on the back of the main group and only contribute to the pace making if absolutely necessary – or shamed into it 🙂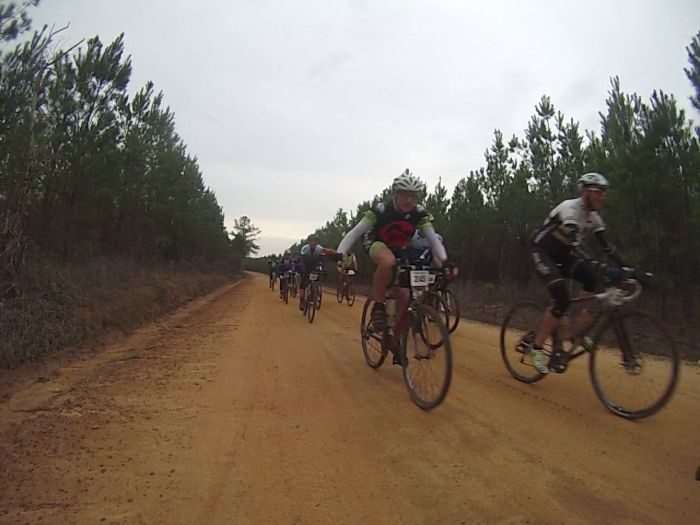 Considering the beat downs I'd received at the Mudcrutch Gravel TTT and the Doc Hollywood Invitational the weekend prior (video coming for that event soon), my top end form was pretty sub-par, but at least I was showing signs of improvement.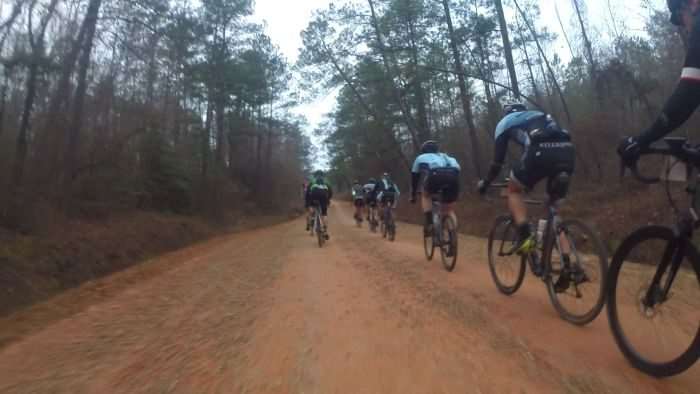 I could ride all day averaging 16mph / 25km/hr on gravel, but nobody in the front group was averaging this speed at the MGE. D'oh!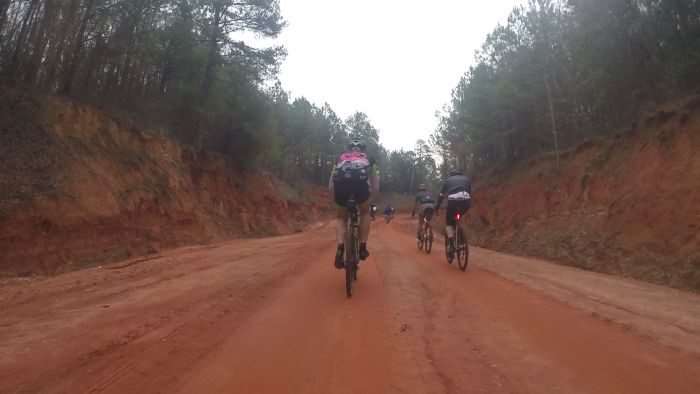 The first 12 miles of the course featured plenty of rolling hills. Most were reasonably pleasant in gradient, but a few crept up close to 10% or a little more. Sticking to our game plan, K-Dogg and I floated between the rear of the bunch and off the back of the bunch.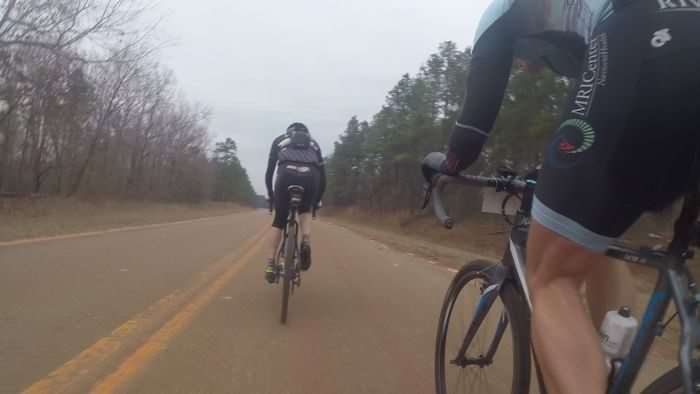 A few times we had to chase back on with gusto – we probably should have made the effort to stick with the group and gone a little into the red, versus going into the red chasing back on. Errr.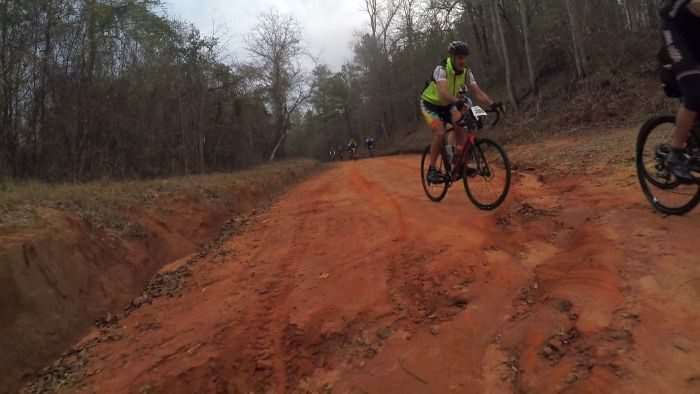 Things began settling down once the worst of the hills had been traversed. There were a couple of tricky spots early on, namely some nasty ruts which caused a temporary split or two in the group, but generally, the 16 or so riders in the front group were rolling along well.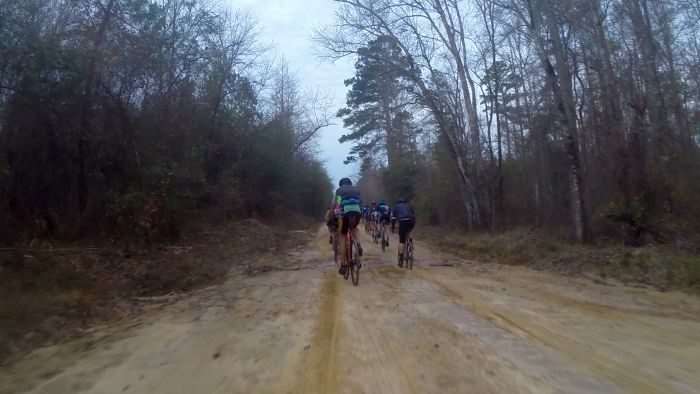 Our associate – aka frenemy – the Belgian Diesel of 352 Racing was hanging out towards the front of the group. He was pretty easy to spot in his brightly colored team kit, while K-Dogg and I continued to skulk around the back.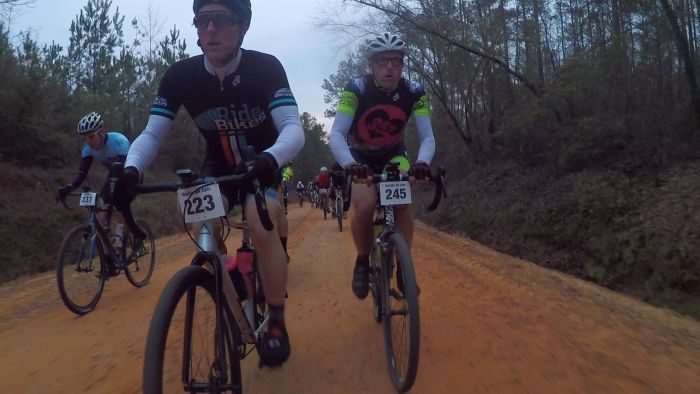 Unfortunately, Gravel Cyclist teammate, Rusty, had been dropped. I won't go into great detail, but Rusty is on the comeback trail. He was involved in a horrific hit and run accident on his bicycle last year – followed a little time later by another bad crash. To be honest, I was amazed to see him on the start line – bravo Rusty!
Sandpit of Doom
I'd heard rumblings throughout the group there was a tricky sandy section about 25 miles into the course. I didn't pay much attention to that until I was at the back of the group with K-Dogg and a few other blokes, as deep and loose sand rolled beneath my wheels. Cue flailing around in the sandpit. The Gravel Cyclist crew has plenty of sand experience which is a good thing, provided you're at the front and can pick your line. But, when you're towards the back and behind guys who have no sand experience (nothing personal lads), it gets a bit tricky.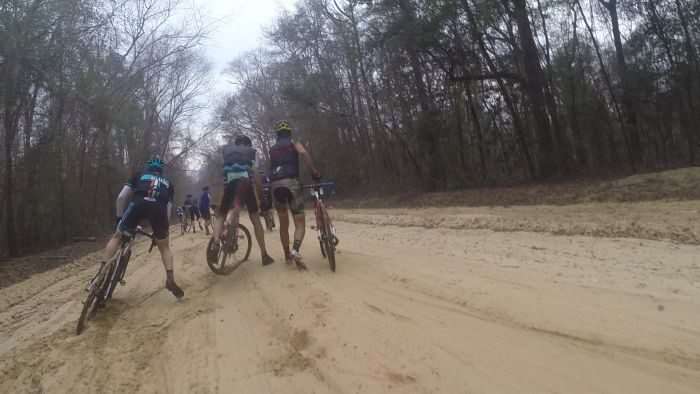 My line was blocked multiple times, forcing me to stop, mostly to avoid falling over. I moved quickly and deftly to get rolling again on my lowest gear – high cadence is the key to riding in sand – once you're bogged down on a gear, it's game over.
Once I got rolling again, I had no trouble navigating the rest of the sand pit. Trouble was, the bunch was now split in two. The front group contained those with sand skills and tribal knowledge of its location, while the second group had those who were sans skills or clueless (in my case). The Diesel made the front split while K-Dogg and I found ourselves with the second group and a gap of at least 30 seconds to close. Trying to instill a sense of calm in the group, I advised everyone to work together and don't panic – the only way to close down a gap – nice and steady.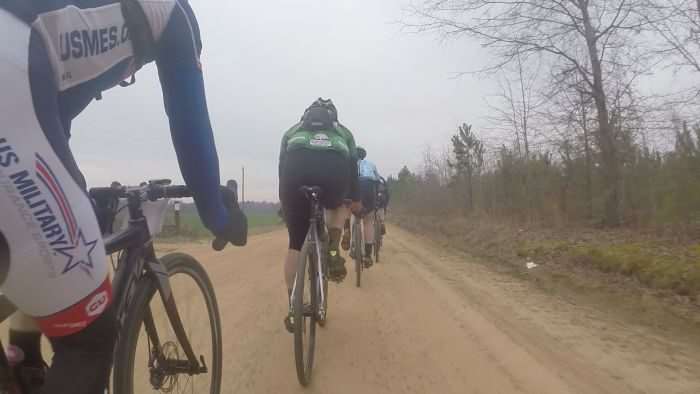 Our secondary group worked well together, everyone pulling even and strong turns, to quickly close the gap as we entered the Georgia town of Montrose. Not long after as relative calm ensued, the group called a mass "nature break", the second of the day.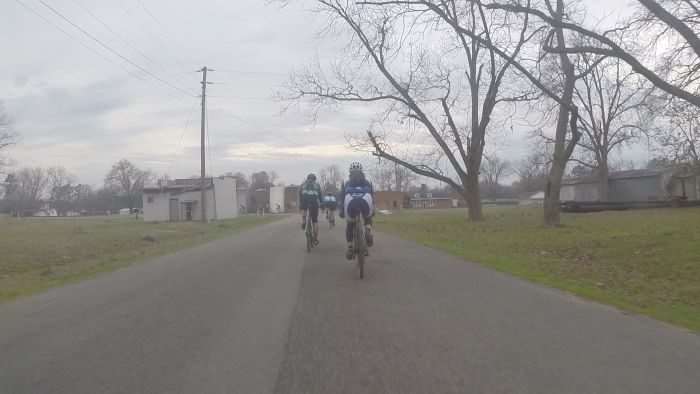 The best part about these "nature breaks", everyone toed the line. No jerks using the "nature break" as an opportunity to attack, but a group of gentlemen gravel cyclists, out for a tough race but who also knew a few things about cycling etiquette.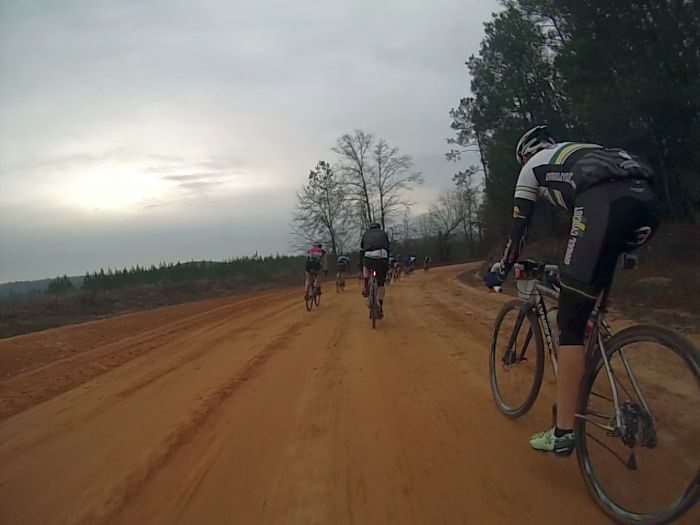 The lads on the Georgia Neurosurgical Institute Team continued to work hard, along with the Diesel and others whose names I don't know.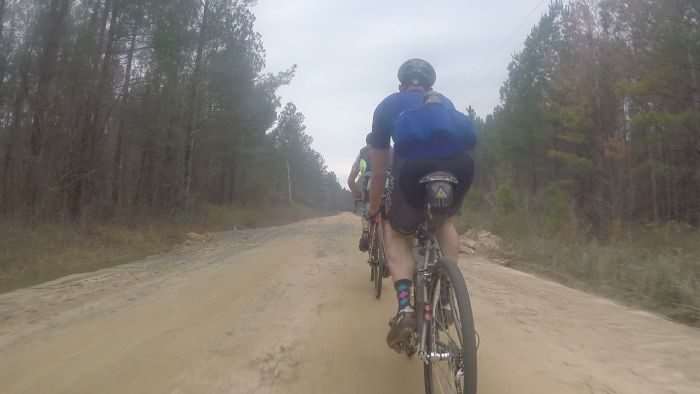 The bloke wearing the blue jersey – you are one strong rider – kudos to the work you did in the group… by this time, I was showing my face at the front once in a while.
Eastman, Georgia
The approximate half way point of Eastman, Georgia, marked the location of the 200km's race single checkpoint, where all riders in the 200km event would stop for food and indicate their presence at the checkpoint with the friendly volunteers.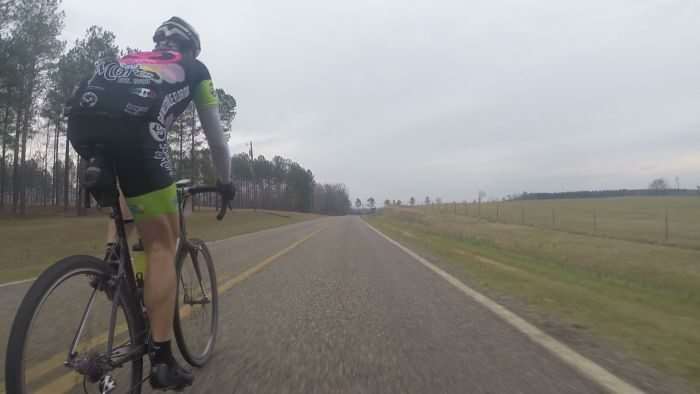 Sometimes I get things wrong. When I was asked, "hey JOM, how far to go until the checkpoint? ", to which I replied, "about nine kilometres / six miles", it was a misread of my Garmin's screen. Oops. It wasn't until we were a little off course, with one half of the group taking an adjacent side street in Eastman and the correct course, and those following me, off course… along with my ETA to the checkpoint, which was totally wrong. Remember, I'm an Australian bloke visiting Georgia riding on unfamiliar roads! Thankfully, we figured it out quickly, U-turned, and entered the checkpoint.
Lee Henson, leader of the single speed category, gave everyone an informal hurry up, as he indicated he was rolling out of the checkpoint early, just to shake his legs loose. Nobody trusted him, and a panic ensued among the group to get out of the checkpoint ASAP with refilled bottles, jersey pockets and stomachs.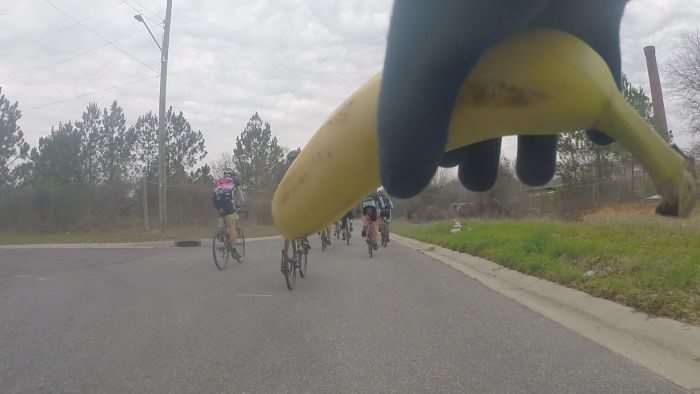 I remember smashing a Larabar into my face in-between breaths – I was one of the last riders to rejoin the group. Incidentally, at 106 kilometres / 66 miles into the course, I had consumed only one bottle of fluid on the bike, and not a whole lot of food. This was definitely a mistake, typically I am well on top of my hydration and food needs. Err…
The Shenanigans Begin
It didn't take long before those who were feeling good in the group, began testing their legs. My legs began feeling very dodgy about 10 miles before the checkpoint, but I did a grand job of hiding my issues. But with the pace being lifted regularly, it would only be a matter of time before my suspect top end form was exposed.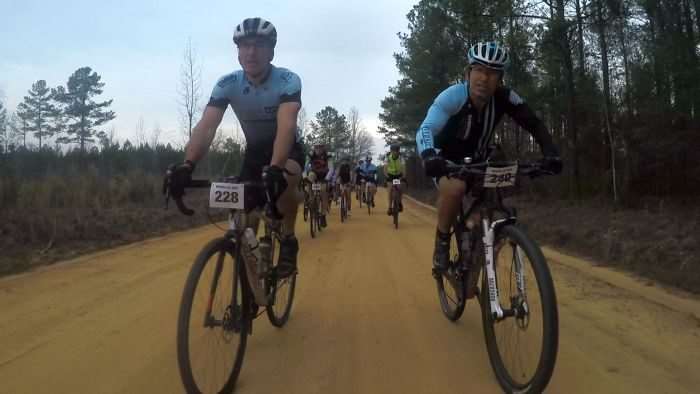 I recall doing the "fat man" fade at least three times. That is, ride towards the front of the group, and slowly fade to the rear as everyone crests the hill. A good tactic, especially if you hide your pain face.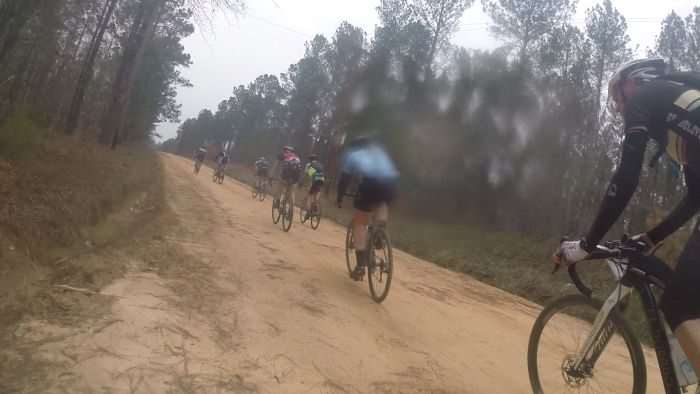 What I didn't expect was the move made by Jeff Clayton and the Belgian Diesel… they gently rolled away from the group about 75 miles into the race, gained a 15 second lead, and dangled just ahead. I thought to myself, "brilliant!" The group will keep them in sight, and I'll get a continued respite in the caboose. Not so. Someone in the group decided this was a dangerous move, and fired up a hard chase on a short descent – descending is the one thing I am quite good at, but I couldn't turn the pedals fast enough to keep on the wheel of the last rider. Bollocks! Cracked! Lee Henson, Single Speeder extraordinaire was also dangling off the back, but managed to reconnect by the time the group turned right onto Bowman Road. His problem wasn't lack of form, rather, it was lack of gears.
Now that I was alone, my thoughts turned to holding a strong enough tempo to avoid being caught by riders behind me – easier said than done. As I crawled along Bellflower Road, I spotted a rider ahead in no man's land – between the front group and yours truly, who was also in no man's land. I figured it was teammate K-Dogg, who was maybe keeping to his vow of "using this race as training". But I would see the bloke ahead was not slowing, and he would never look behind. I should have known better that K-Dogg would hang in until the bitter end… can't fault him for that… I would have done the same thing if the legs, heart and lungs were willing. I did my best to keep the mystery rider in sight and not totally implode.
Monty, driver of the race's only support vehicle, drove alongside briefly to provide words of encouragement. I still had about 40 miles to ride back to Irwinton, solo. I so wanted to abandon the race right then and jump into Monty's Subaru. I hadn't eaten enough and the legs were pretty dead. Before he drove away, Monty said, "a little rainfall is coming". More grit and grime? No worries.
Rain and Georgia Red Clay
I reunited with Lee the Single Speeder about 87 miles into the course. Monty had relayed to him I was close behind, so Lee took the opportunity for a "nature break", and slowed for me to catch him.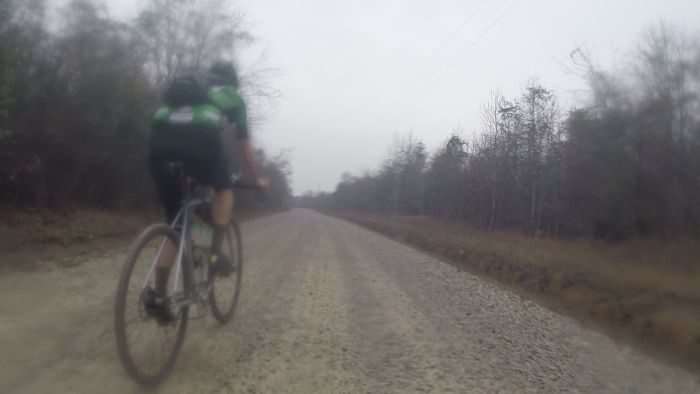 Lee was feeling good and I was feeling rough. We rode side by side for a while – mostly I huffed, puffed, mumbled under my breath and cursed a lot, extolling the virtues of my crappy form. I was a liability to Lee and not up to the task of helping him. I took the excuse of my own "nature break" and watched Lee ride away.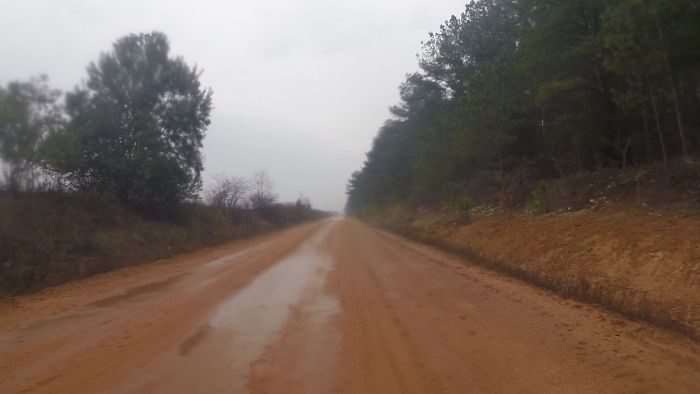 Then the rain began falling in earnest. The hard pack roads were in nice shape with some good gravel coverage on the road surface – initially, conditions weren't so messy. However, the clay roads for which parts of this area are known, began to moisten and soften up, thus becoming quite sticky. If you've ever ridden a mountain or gravel bike in wet conditions in the parts of Georgia where the red clay roads make their home, you'll know what a mess this can become. Cue one of my race videos from a very wet edition of Southern Cross near Dahlonega, Georgia.
The miles / kilometres began ticking down, but conditions were worsening. I stopped briefly to lubricate my chain, no longer could I stand its tortured cries. My disc brake rotors were equally unhappy, pinging and tinging at the crud that was thrown at them.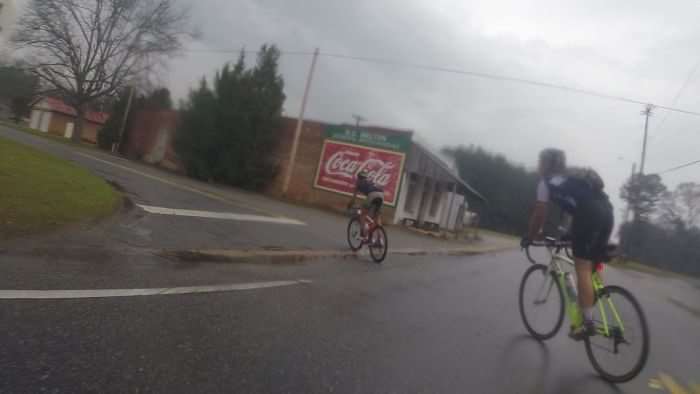 I briefly rode with rider #250 and another bloke, but I was so cracked, I had to let them go not long after passing through Allentown, Georgia. On the positive, just 20 miles / 32 kilometres to go!
On the corner of Coley-Williams Road and Tarpley Road, the proverbial $hit hit the fan. This intersection featured a tight, 270 degree uphill corner. Conditions had become nasty, the Georgia Red Clay roads were transformed into slick peanut butter, making the going very tough. This uphill corner was the only spot on the course I had to walk, but I used the opportunity to stop and lubricate my drivetrain one final time. My hands were frozen and the dexterity in my fingers was lost, turning a 30 second task into something that took several minutes. I was forced to use both hands to squeeze the chain lube bottle, carefully lubing as many links of the chain as I could.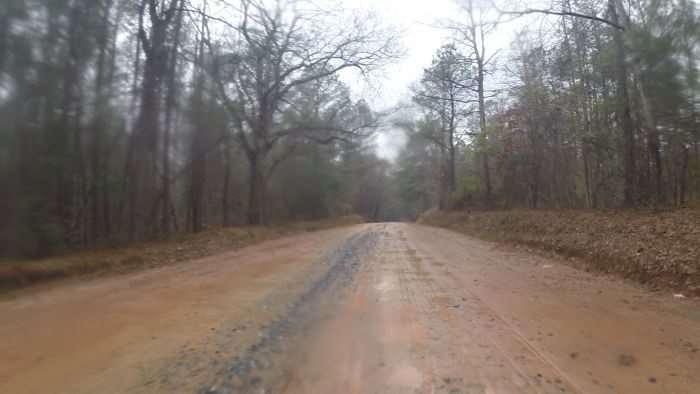 After remounting my steed, I carefully picked my lines through the sticky mud. I could see the tracks of those riders ahead of me, and was able to identify the tread patterns of at least three riders based on the tyres they were riding. This is the side effect of too much time spent writing tyre reviews! The tread patterns indicated that K-Dogg, the Diesel and Jeff Clayton were ahead and moving.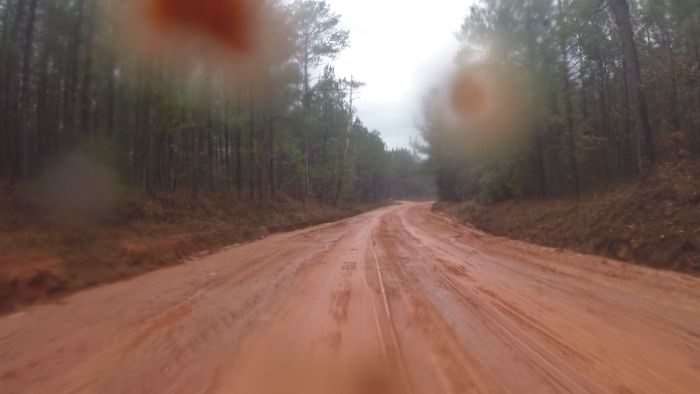 It was evident that Jeff was doing the best, based on the tracks of his tread patterns. The others, not so much. I was astride the latest review bike at Gravel Cyclist HQ, the Lynskey GR250 titanium gravel bike. I am not going to spoil the review, but this bike has serious tyre clearance – yes – a manufacturer who finally has it right! My Panaracer Gravelking SK tyres are fantastic in most conditions, but in Georgia red clay, not so much (nothing personal Panaracer). The tread packed up with mud to form a mud retread, which would have looked comedic to passers by. Because of the Lynskey's massive tyre clearance, I experienced absolutely no mud clogging issues with the bike and was able to ride unfettered, albeit slowly, through the red clay quagmire. This would have been a sweet time to swap to the second wheelset I had… just a shame it was at the Blue Goose hostel, shod with Panaracer's mud tyre. Team car anyone!?
Like everyone before and behind me, I trudged along the final 20 miles of the course, picking careful lines while being covered in crap. When you get this dirty, you just don't care. My chain continued complaining, and I hoped the Di2 rear derailleur would survive the red clay torture without being ripped apart. Chain quibbles aside, my bike was performing well – if you haven't ridden it already, Di2 is simply amazing – it works in all manner of good and bad weather.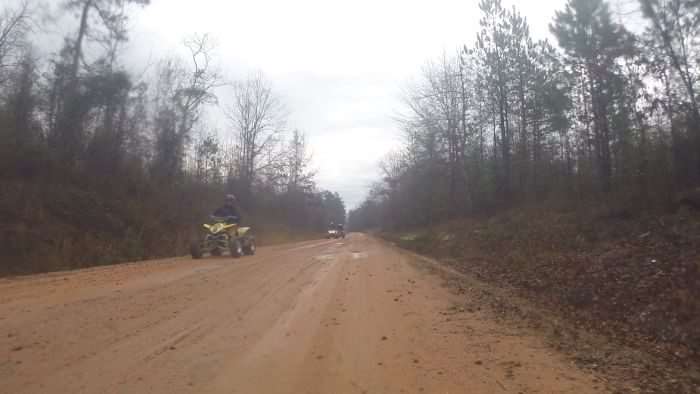 The final dirt and gravel road was in bad shape, just like every other non-paved road that preceded it in the rain, but nothing was going to stop this lad from finishing the race in one piece! I continued cursing under my breath at every hill I encountered, even the final paved climb into downtown Irwinton.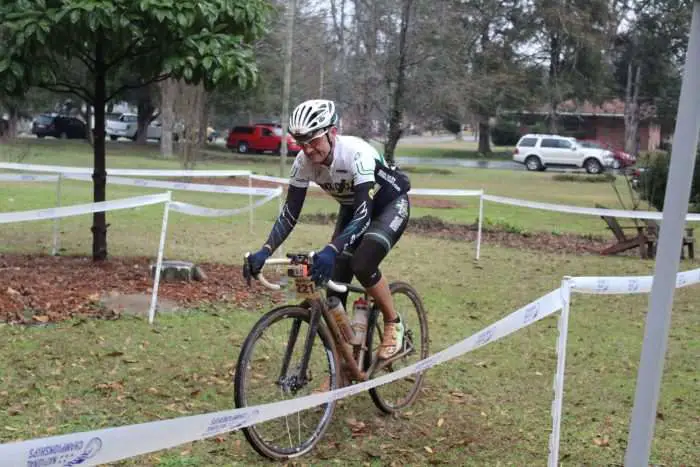 Finished! I'd met my race goal, which was to make it half way with the front group, then cruise on home. And cruise I did, across the finish line at least, good enough for 9th place in the Men's 40+ category.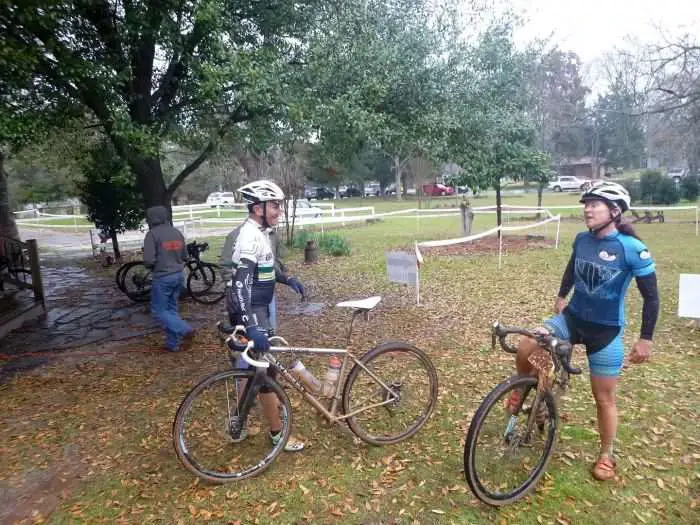 Good friend Anne Moore of BikeLaw / one half of the team that is the Hellhole Gravel Grind, followed me to the finish just under two minutes later. I've been "chicked" many times in the past – remember lads, it isn't about genitalia, it's about power to weight and lady gravel cyclists are a very strong bunch. Let the egos go. With that said, I was pleased to finish ahead of Anne, else I would never have heard the end of it!

– I have to wonder how her hubby, Chris, felt about the day's proceedings. He was well beaten by his lovely wife… ruh roh!
BTW readers, Anne is in training for the 2017 Race Across America as part of a four person team. Anne, what the heck is wrong with you?!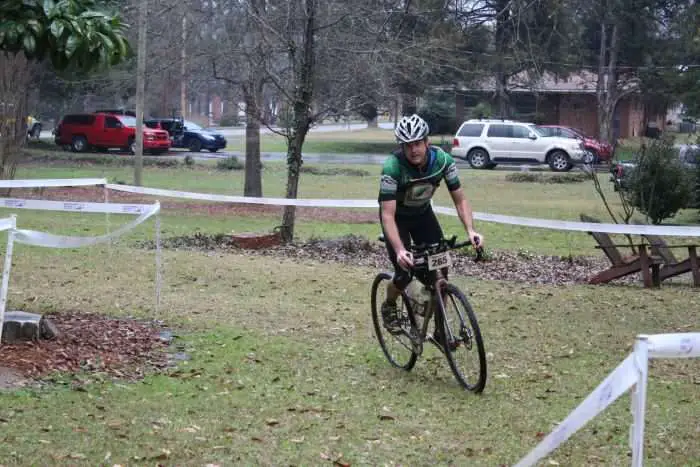 Congratulations to all of the riders who participated in the 2017 edition of the Middle Georgia Epic. I don't like to use the word "epic" to describe an event, but on this day, it certainly was.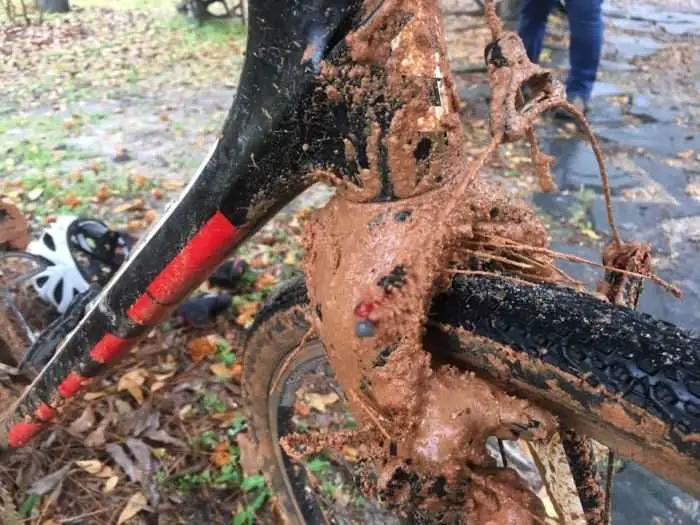 Anyone who finished under these conditions deserved a medal. On the positive, I made many new friends and hope to see some of you at future events, this year or beyond.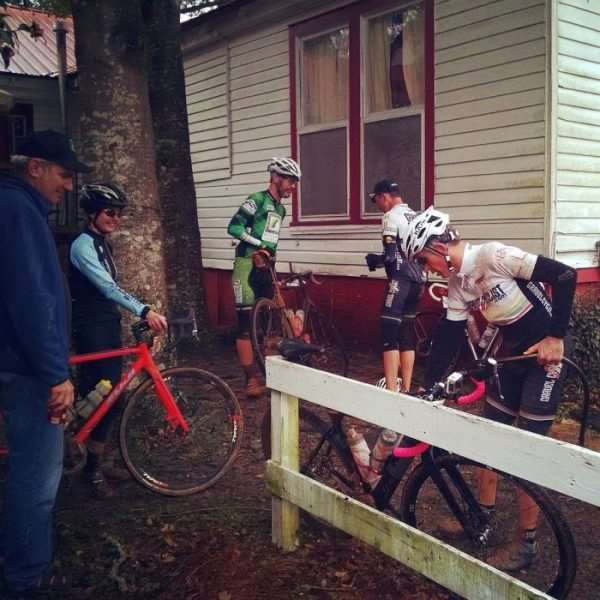 I especially want to pass along my congratulations to teammate Rusty. He finished not far behind me. Considering his long path to recovery, in my mind, he did the ride of the day. Chapeau!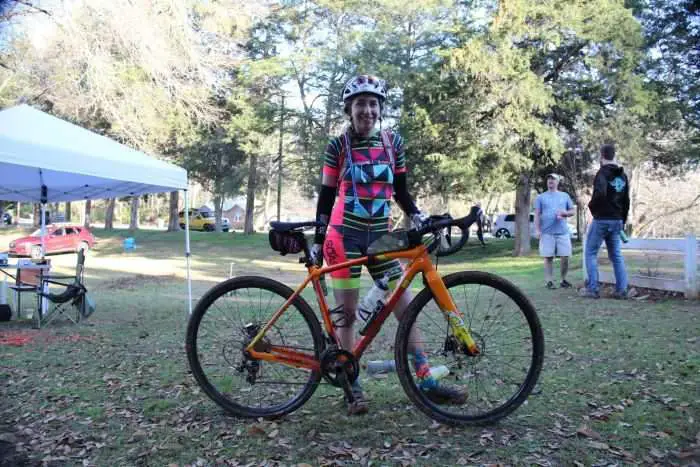 Finally, thank you to Dustin Gaddis, event promoter and wheelbuilder extraordinaire, his team of volunteers and the staff at the Blue Goose. The conditions were challenging for everyone – it isn't pleasant thinking about muddy cyclists trampling through your hostel, but the staff were very friendly and helpful, especially as they doled out the much appreciated post ride food. Nothing better than a delicious hot meal after a tough and soggy race.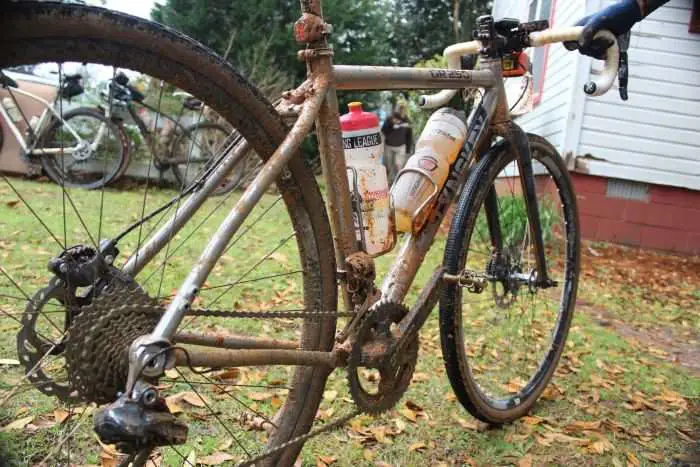 Event video coming soon.
Thanks for reading!