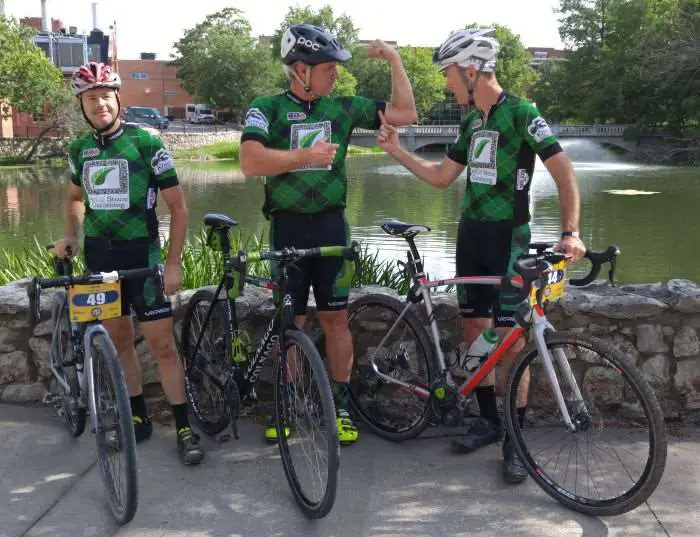 There is something inspiring about the sound a White Industries freewheel makes when coasting at speed, especially if it is spun onto a White Industries ENO hub surrounded by a finely tensioned rear wheel. I had just such a wheel bolted into an 853 steel cyclocross frame, where the freewheel ratchet seemed to reverberate with the steel in a warm symphonic richness. The sound is aggressive in an organic way as well, fitting to the landscape I had built the bike to tackle, almost like a metallic rattlesnake. Modern and classic elements coming together into a rugged, yet lightweight, endurance gravel race bike with one single gear is a beautifully elegant thing, or so I thought.
Unfortunately, my current situation was entirely devoid of that special sound, because I was smack in the middle of the second half of Dirty Kanza 2016 covered in sweat, salt, mud, and gravel dust. I had 131-miles behind me and 75-miles left to go. There was no coasting. There was no crisp freewheel whir to give my geeky bike brain goosebumps. My romantic musings fancying myself conquering the vast rolling beauty of the Kansas Flint Hills had long since evaporated. Wind, only the sound of a howling headwind remained, roaring in my ears and flattening the tall prairie grass lining the gravel road. The pedaling was incessant. There was no coasting. The road was a 1-2% grade, straight with only an occasional 90-degree turn.
Jim Cummins, Dirty Kanza race director, had probably designed this year's course to provide a relative tailwind for most of the final 75-miles. The only problem is the prevailing winds were blowing at about 180 degrees from the standard direction for Emporia, Kansas. I thought, "well, if you are seeking brutality in a bicycle race, Dirty Kanza never disappoints does it?"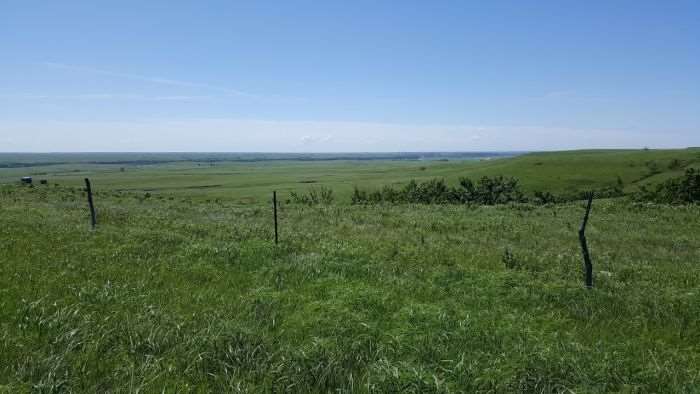 Almost 70-miles earlier I had crested the longest climb of the day, dubbed "Texaco Hill", setting a PR with ease. The views are stunning and the sense of vastness makes you feel small. It is open and rocky tall grass prairie with more hills and gulches than you can imagine. It appears as fine rolling velvet as far as you can see. I had been riding with my "Art Of Stone" teammate Craig, who is very competitive in endurance mountain bikes races riding single speed back in Georgia. Craig had questioned my choice of running one gear, but I had been burned with a broken derailleur immediately after the first 3-mile mud slog in last year's 2015 DK200, a DNF just 15-miles into the race. Craig reached the summit of Texaco Hill first and unclipped to take a panoramic photograph. I noticed a perfectly framed valley to the east and wanted to stop for a photo, but couldn't make myself do it.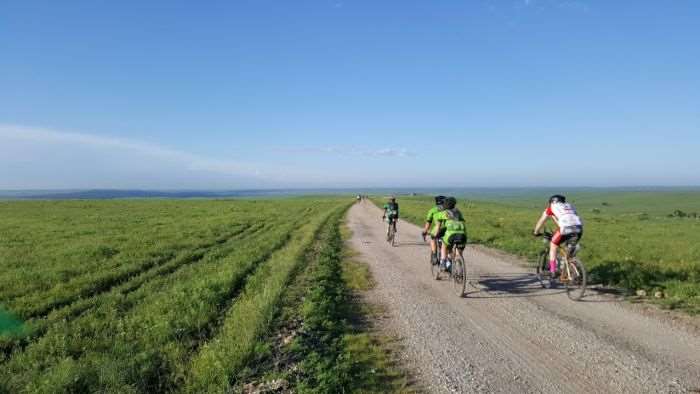 Craig and I made it south to the second checkpoint in Eureka at 102-miles, assisted by a burgeoning wind out of the north. It had gotten hot and all my fluid was gone. I was able to carry 120-ounces of hydration at a time (about 8 lbs. of water) and I sweated every ounce right back out before each checkpoint. In Eureka we were greeted with a jubilant "Oi!" and joined by the Gravel Cyclist JOM himself. After a 19-minute support stop, Craig and I rolled out together with JOM not far behind. I had noticed two other single speed bikes hanging in workstands and a text from my wife confirmed I had crossed the second timing mat in 8th place. A hope began to stir in the depths of my mind, but I kept it there and didn't dare speak of it. Craig helped majorly by pulling on the flats and downhills at a speed that would have been difficult for me solo, and we were all able to stay together until about 115-miles. Unfortunately his race would soon succumb to the heat.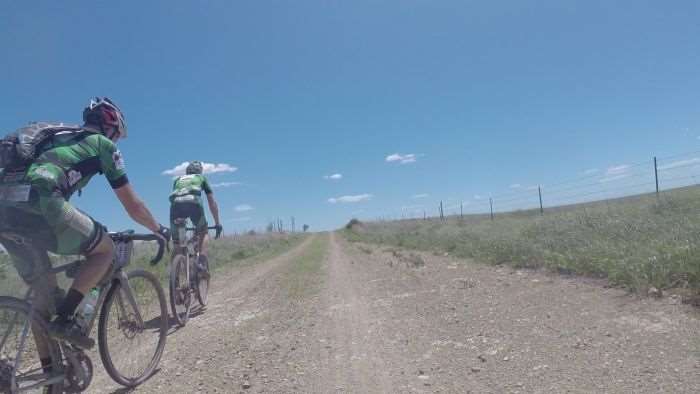 Single speeds are buckets of fun in short doses. You get to rocket over climbs being forced to turn over the gear and generally hooliganizing anyone unfortunate enough to ride with you. Then you get to coast and recover on the down hills. However, the endurance experience on a single gear changes dramatically once you reach the point of muscle and liver glycogen depletion. For me this usually occurs 4-hours into a moderate effort ride – give or take. Up until that time I typically cannot process very much carbohydrate due to a medical condition (Type I Diabetes). On a geared bike you can simply shift down when the top end power begins to fade. With just one gear you simply must find the power to pedal at or near the same speed as before. If you have not perfectly selected the gear ratio to your capabilities and the terrain, your day is only going to get worse the longer it lasts. It will not be a trip to the Zen spa of single speed Utopia, where quadriceps are massive and mustaches are perfectly trimmed. The rattlesnake in your freewheel will strike your Achilles tendon and you will go home.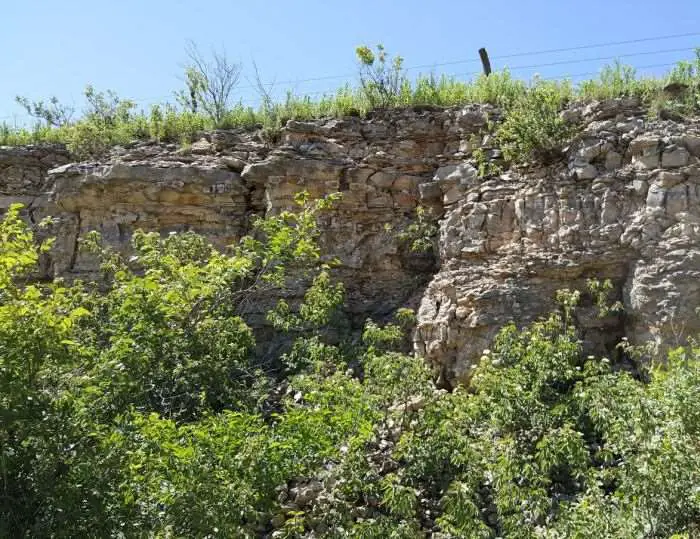 Fighting dehydration nine hours into a race with but one gear, you have to live between the margins of cramping from applying too much power and slowing to a stop from allowing your cadence to drop too much to apply any power at all. The longer you ride the narrower those margins become, until you are living in a mental prison of cadence and power governance. Your ability to spin up a smooth circle at 130rpm on a downhill to hold another racer's wheel becomes a bobbing mess as well. High speed muscle timing goes south and the pressure on your hands and triceps begins to sting once the cantilever force of pedaling drops. It is self imposed solitary confinement. My cell block was a 44-tooth chainring with a 19-tooth freewheel and the dimensions somehow fit my capabilities, I suppose.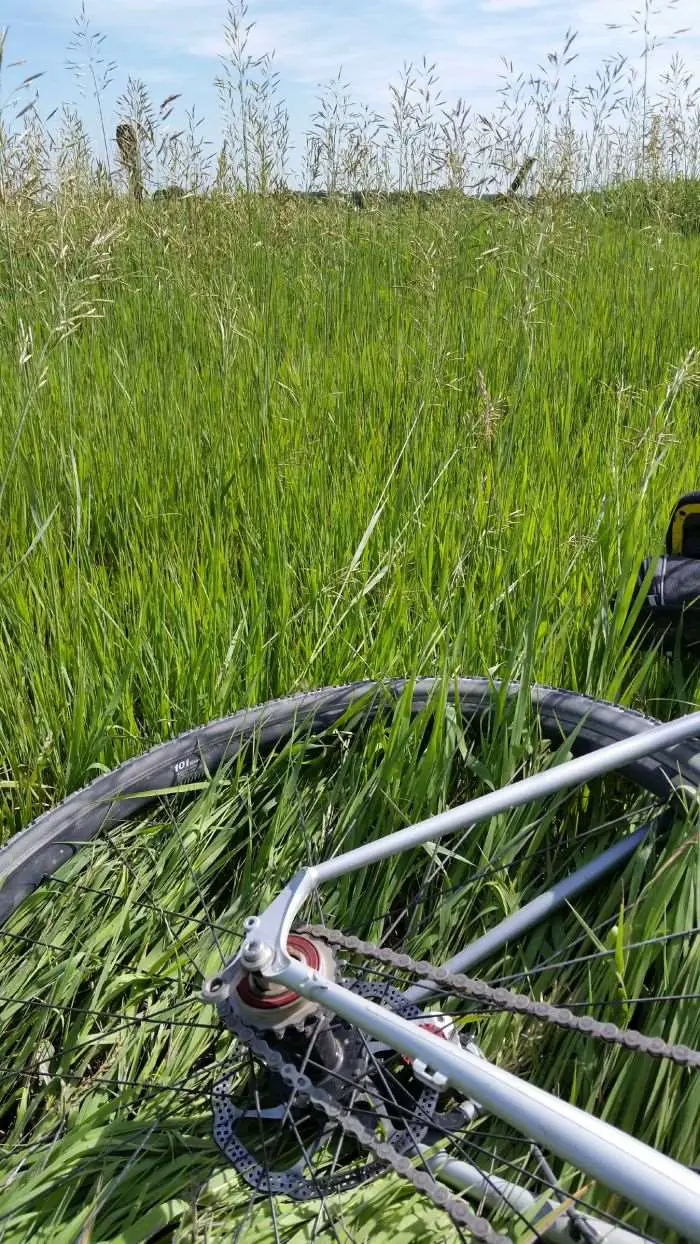 Yep, I was in my solitary confinement: 131-miles into Dirty Kanza, mile after mile of dead straight road ever so slightly rolling uphill into a 20 mph gale. I could see no other racers. I could not coast. My Garmin said I would be on this road for 3.3-miles then make another 90-degree turn, taking me to the next turn back into the headwind. The verdant green hummocks of the Flint Hills were gorgeous in the afternoon sun. I tried to look around. I tried to enjoy the grandeur, but I just felt angry. I glanced at my Garmin again thinking I must have gone at least 3-miles by now. The Garmin jeered back, showing I had only made it half a mile farther. Why am I doing this? Why am I here? What decisions had I made in life that had lead me to this point of unnecessary testing? Cresting another rise after another long 2% drag, all I could see was another bright green hill sliced by the same crunchy silver line of gravel I was still on. Why was there another hill?
143-miles and I'm struggling to push the bike up a steep rocky grade to the crest of yet another infernal hill. At the top an overly friendly rancher dressed in navy blue is handing me a bottle of cold water and there are a number of other racers off their bikes sitting… staring. Directly behind the rancher I catch the eye of another single speeder, long hair and helmet off, burning a hole through me with his gaze into the empty blue sky behind. A hawk screech echoes across the valley below and I think I hear the musical hook from the movie 'The Good, The Bad, And The Ugly'. I gulped the bottle of water, banged my foot back into the pedal and blasted the downhill as fast as I could. Riding forest service roads in the hills and dales of the North Georgia Mountains teaches you to float the downhills and carry speed up the next rise, seeking the smoothest lines with (ironically) the least gravel. I kept the power level up for about two miles before I finally glanced rearward at a turn. I was alone. The grind continued.
Still in the third leg all I could think about was getting to that last checkpoint. 5-miles out I phoned team captain Jason (who had been doing an amazing job running support for myself, Craig, and JOM) to let him know I was coming in hot and that I wanted to be out quickly. Finally I was there and Jason yelled me down. I grabbed a handful of brakes and he snatched the bike from me to lube the chain and switch bottles. Jason had soaked a hand towel in ice cold water. It went around my neck and over my head. I scrubbed my face of the dust and mud. That towel felt magical! (Sorry if you got the same towel after me JOM!)
I just knew when I left the last checkpoint in Madison that I would 'smell the barn' and float to the finish on adrenaline. By my count I was in 5th place. Hightailing it out of Madison I checked my texts. I was actually in 6th place, 4-minutes in arrears of 5th. My count was off somehow and it was a mental gut punch. For a minute I wanted to give up the hunt and just finish. Before the start I would have been happy with simply completing this thing, but I knew that DK podiums went 5 deep and I was so close! I struggled with the motivation to suffer more in this contrived battle that is bicycle racing. I struggled with the concept that overcoming a challenge such as this was really just narcissistic pseudo heroics. That's when you come to the conclusion that you do it for yourself, for the enjoyment of learning where your limit is. I still felt OK to push on the pedals, to get aero for a bit then sit up and stretch my aching neck. Your body begins to feel comfortable in the uncomfortable metronomic monotony of turning that single gear over. The pedaling becomes mental white noise.
Finally, around 180-miles, I could sense the winds dropping off as the evening approached. The terrain flattened out heading north toward Emporia and turning that gear got a little easier. Except for numerous riders sleeping here and there in the tall roadside grass, I hadn't seen another person for many miles, and I wanted to be done. 195-miles in and the sun was setting amongst the trees to my left. The 'smell of the barn' wafting over cattle herds was drawing me to the finish! It had gotten quiet as the cool dusk slowly blanketed the countryside. I turned onto familiar roads I had pre-ridden two days earlier accompanied only by the gritty swish-swish of my tires on smooth gravel.
Out from the I-35 tunnel, I made it to the Emporia State University (ESU) campus. There was one last hill then a downhill dropping to Wooster Lake centered on ESU. I coasted… and heard my freewheel. THERE WAS THAT SOUND! It was ever so slightly muffled with less of a clear ring to it. Maybe it was the dust and mud caked to the frame and wheels. I coasted and savored the ratchet sound one more time coming up to the traffic light that would lead me onto Commercial Street and into the cacophony that was the multi-block long finishing chute party of the DK200.
Cowbells, cheering, shouting, and a loud PA system announcing my name. Kids wanting high fives and a swirling blur of lights and banners. I was done. I had done it on one gear. Jim Cummins and I briefly spoke as he shook my grime soaked glove. A photographer blasted me with his flash and someone shoved a "finisher's" pint glass containing a coveted "200" sticker into my hand. A lady guided me left to exit the finishing canopy. Then the release came. My body could stop. My brain could cease its calculations. Suddenly, I could barely stand up.
I signed my name to the finisher's banner and soft pedaled the half mile back to my accommodations where I dug out my phone. It had been buzzing and ringing incessantly. My incredible wife, who had sacrificed so much for me to chase this race, had texted me. I WAS FIFTH PLACE IN SINGLE SPEED! I was almost a whole hour behind fourth. Which meant somehow through it all – I was going to get to climb up on a big stage, gingerly step onto a podium box in front of 1,000 people, and shake the hands of four really fast, real actual single speeders at the awards ceremony the next morning!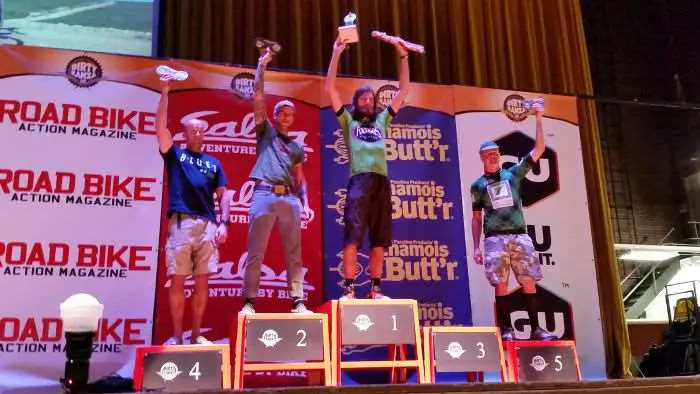 Now sitting here writing this I'm thinking, "a White Industries freewheel makes a really nice sound when coasting… but they are also super reliable for the times in between when you have to pedal for a little bit. Maybe I'll keep mine after all!"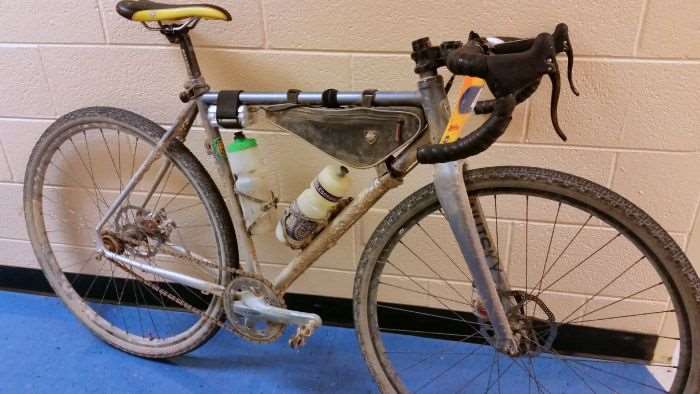 Bike info:
All City Macho King 853 with a Whiskey No. 7 fork.
Rear wheel: White Industries ENO Eccentric hub, 2.0/1.8 spokes, brass nipples, American Classic 101 rim.
Front wheel: American Classic Disc hub, 2.0/1.8 spokes, brass nipples, American Classic 101 rim.
Tires: Clement X'Plor MSO 120tpi 700c x 40mm with 3 ounces of Orange Seal per tire. Note: I got a small cut in the rear sidewall at about 110 miles. The Orange Seal took care of it within 60-seconds. I am sold!