This is a guest post from Dustin Gaddis of Southern Wheelworks. Dustin is the owner of Southern Wheelworks, a custom wheelbuilding shop. For readers who prefer a handbuilt, custom wheelset, Dustin provides an overview of the things you should think about when purchasing a custom disc brake wheelset for a gravel bike – along with details of some of the more popular components available.
---
Modern dirt road, gravel, adventure and all-road bikes – or whatever you want to call them – are hugely popular. They blend some of the off-pavement capabilities of mountain bikes with the riding position and speed of a road bike. I've used mine to ride singletrack on a Wednesday night and do the group road ride on Thursday night without changing a thing on the bike!
When it comes to picking wheels for these bikes, the myriad of options gets a little confusing and a tad overwhelming. Gravel bikes use components and technology from both mountain and road bikes, and when coupled with the ever changing landscape of drivetrain and axle standards, things become muddied. I hope my guest post will provide a road map to choosing the best components for you and your gravel cycling needs.
In this article, I cover rims, spokes and nipples.
Rims
Just a few years ago, options for disc brake specific road rims were few. Nowadays, the options are many but which rim is right for you?
In the early days of "gravel" bikes, bikes were commonly built with mountain bike rims, but this wasn't always the best solution. Using a 29'er mountain bike rim not designed for higher pressures, particularly if it were paired with a road specific tire, could lead to blowouts and the potential to physically split the rim. Granted, tires intended for gravel are generally run at lower pressures, but we all know that some folks use their wheelsets for double duty – gravel riding one day with wider and lower pressure tires, and narrow road tires running higher pressure the next day.
Thankfully, a handful of 700c rims now exist for use with narrow high pressure road tires and wider gravel tires, at lower pressures; Stan's NoTubes Grail, Pacenti SL25, HED Belgium Plus and Velocity Aileron all come to mind. Many of the DT Swiss MTB rims are rated for higher pressures with smaller tires, see this chart for details. An additional benefit of using a road rim is more options for spoke count – a lot of MTB rims are only available in a 32 hole count.
Then there is the 650B wheel size, which is an old standard that has since found new life. A 650B wheel measures about 27.5″ when measured from edge to edge of the tire. It is considered an in-between size, falling between 26″ and 29″, or aka 29'er / 700c. 650B is still a bit of an odd bird on the gravel scene, and good tire choices are limited, but that may change in the future. Bikes such as the Open Cycle U.P. and Cannondale Slate are proof that manufacturers are keeping an open mind about this wheel size. Generally, if you're looking to build a 650B wheelset, an MTB rim in that size will work well – current 650B tire options tend towards wider and lower pressure.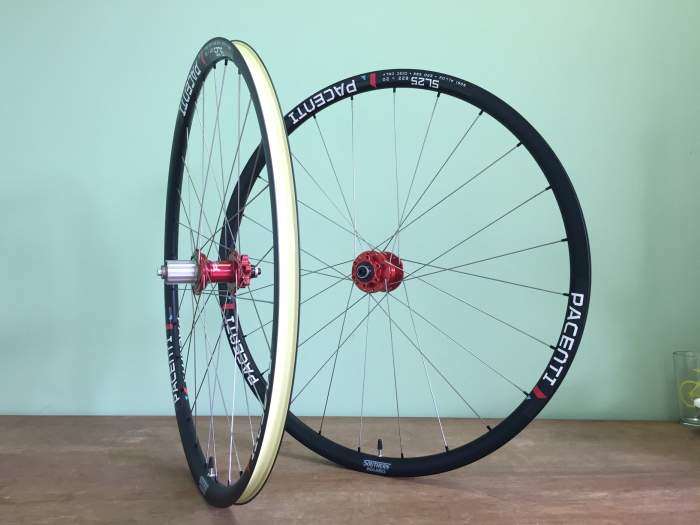 When picking the rim for your custom wheel build, you need to balance the various attributes and qualities – what is most important to you, and how you'll be using the wheels. Factors include rider weight, wheel strength, stiffness, durability, rim material, aerodynamics, rim width, tubeless capability and what tires and pressures you plan to use.
Weight, strength, stiffness, durability and cost!, generally go hand-in-hand. It can be a balancing act; making gains in one area generally lends to a trade-off elsewhere. As an example, an aluminum rim cannot become wider and lighter while becoming stronger and more durable at the same time. It's also important to keep in mind that strength and stiffness are not one and the same. Stiffness – how much something deflects under a given load. Strength – how much force can it take before failure.
Case in point, a rim that is deep and wide. In order to keep the weight down, the rim walls must be thinner, but the trade-off is strength and durability. Thinner walled rims are more likely to be dented should you bottom them out on a root / rock / pothole, and they are more likely to develop cracks around the spoke holes over time.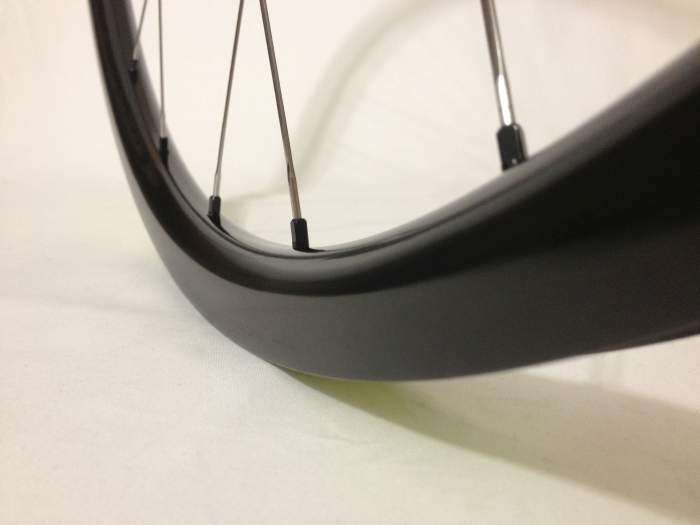 If manufactured appropriately, carbon fiber rims can be constructed to be deeper and wider, and approach or equal the weight of similar profile aluminum rim. But the trade-off comes at the wallet. Aluminum rims are typically priced between $US90 – $150 per rim, whereas prices of name brand carbon rims start at around $US450 per rim. ENVE's made-in-the-USA rims start around $US 1,000 per rim!
Are carbon rims worth the price increase compared to an aluminum rim for gravel riding?
For traditional road bikes, carbon fiber rims allow for deeper and more aerodynamic wheels without a huge weight penalty. For mountain bike wheels, carbon fiber rims are significantly stiffer and stronger with little to no weight penalty. These factors ring true for gravel bikes, but their significance is debatable. At typical gravel cycling speeds, aerodynamics are less of a concern than at paved road speeds – although 3T's new Exploro gravel bike – "go slow faster", prompts riders to think otherwise. Stiffness in a wheelset is great, but most gravel riders aren't railing berms and blasting off-camber root mats like MTB riders, so… how much stiffness do you really need?
One of the main benefits of carbon rims for gravel use, assuming you purchase a gravel oriented rim, is durability against impact damage and cracking at the spoke holes. A quality and sometimes overbuilt carbon rim can shrug off impacts that would typically destroy an aluminum rim – this has been well proven at Paris Roubaix with pro teams racing on wheels made by Zipp and American Classic. Spoke beds are thick and durable with several manufacturers choosing to mold spoke holes in, versus drilling. Carbon rims can be lighter and stiffer at the same time. Since your disc brake gravel bike isn't pouring heat into your rims under braking as it would on a rim-brake road or CX bike, you don't have to worry about melting rims coming down a long and sketchy descent.
But be careful; many road-oriented carbon rims have thin sidewalls in the interest of keeping weight low. Those sidewalls can easily flex. Squeeze the sidewall of a lightweight carbon rim with your fingers and you'll see what I'm talking about. Those thinner sidewalls are certainly fine for road cycling, but are potentially susceptible to damage from flying gravel – it only takes the right chunk of rock to damage and potentially ruin a rim if struck at just the right angle.
At the time of writing, carbon fiber, disc brake specific rim options are still few and far between. Alternatively, a rim-brake carbon rim could be built into a disc brake wheelset, but most riders don't want the aesthetics of a visible brake track or the narrower rim bed typically associated with a road rim. Not ideal for gravel!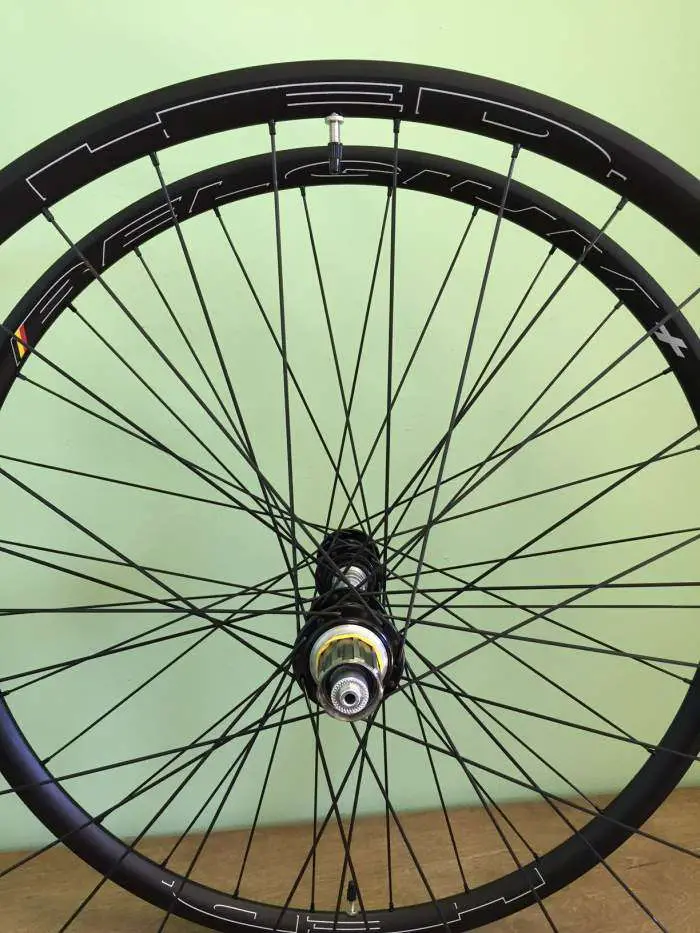 Rim Width
Is a popular topic these days. Wider rims open the tires up for more volume and better sidewall support, and allow for lower tire pressures for a smoother ride with improved traction and comfort. But how wide is too wide? Not that long ago road and CX rims had a 15mm inner width. Nowadays, there are options for as wide as 25mm inner rim width for gravel bikes.
When it comes to width, as with everything else on a wheelset, you have to find the right balance for you. With width comes weight and other factors to consider; as rim width increases, tire sidewalls are pushed further out, less protected by the tread and hence vulnerable to cuts. In my opinion, 21mm inside rim is about as wide as you want to go for a wheel intended for gravel use. That gives a good tire profile and volume across a wide range of road and gravel tire sizes, without totally exposing the sidewalls and keeping weight reasonable.
Aerodynamics
Are typically not a big concern for gravel riders. However, if your rides include a lot of pavement, or your wheels do double duty when fitted with road tires for the local Tuesday Worlds ride, then aerodynamics may be something to think about.
Tubeless
Many pavement-going cyclists are slow to adapt to the idea of a tubeless tire. I fell in love with mountain bike long before I purchased a road bike, so I am sold on the concept. For dirt and gravel road use, the benefits of tubeless are hard to argue against. Since gravel and dirt road tires are inflated to lower pressures than their road bike brethren, tubeless sealant does a much better job of plugging holes. Even if you've never used tubeless, I recommend selecting tubeless-ready rims for your next wheelset. These rims can be setup for tubes if needed, while keeping the tubeless option.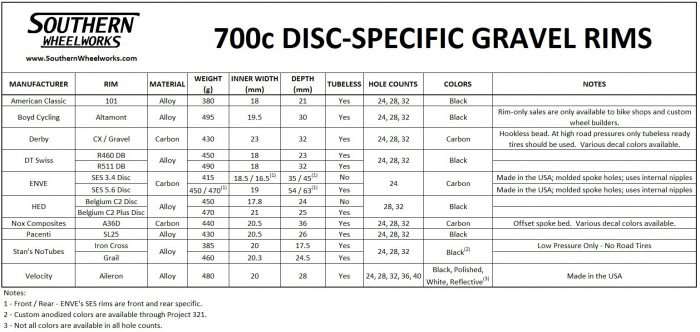 Tubulars
I'll be honest – I think they're a bad idea for gravel cycling. For CX racing, they make sense; you can run very low pressures without the worries of burping a tire when cornering hard. Should you puncture a tire, tubular tires don't squirm around as much and can be ridden flat in a jam – and a pit bike or spare wheels are usually not far away… unless you're on the other side of the course!
For dirt and gravel road riding, there is no need for railing corners super hard for 45 minutes at a time, and there is no support just a lap away. Gravel cycling is about self sufficiency and reliability. Should a tubeless tire flat, you install a spare tube and continue the ride. With a tubular you have the option of tubeless sealant (i.e. Vittoria Pit Stop), but if that doesn't fix the flat, the whole tire needs to be changed – meaning you need to carry an extra tire. What if you flat a second time? Tubulars are a bad idea for gravel.
Spokes and Nipples
Are key components of a custom wheel build, and another area to fine tune weight and stiffness. Yet, they are typically the least understood of all wheel components by the average rider. What spoke should you choose? How many? What lacing pattern? This could be discussed all day, and opinions and preferences may differ, but I'll explain my methodology.
Let's cover the basics first. Quality spokes for custom wheel builds are made from stainless steel. As spokes get thinner, they get lighter and lose stiffness. The stiffness of a spoke is directly related to it's cross sectional area, regardless of shape. In other words, bladed spokes and round spokes with the same cross sectional area have the same stiffness. Strength is of no concern – even the lightest spoke is more than strong enough – spokes are not the weak link in the wheel.
Spokes break from either impact damage or fatigue, and fatigue can be caused by poor wheel build quality. Bladed spokes offer a slight aero advantage, but cost a good bit more. If the bladed section is too wide, it will not fit through the spoke holes in the hub flange, and you don't see too many people manually slotting hubs these days. In fact, the warranty of most hubs is voided the moment you slot the first spoke hole.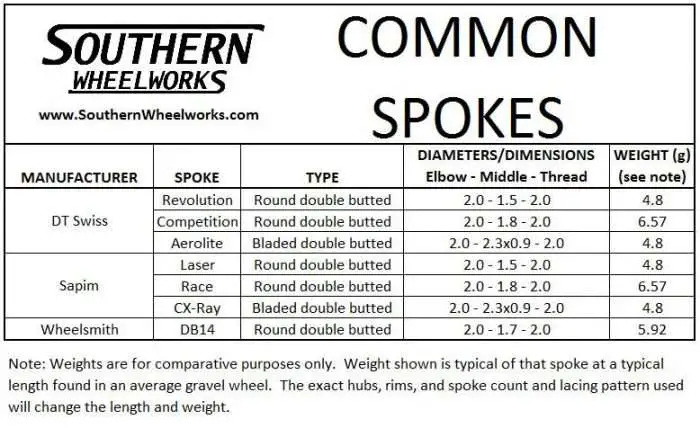 As for how many spokes and exactly what type you should use, that will depend on your weight, riding style, and the rest of the build. Heavier riders need more spokes than lighter riders. More aggressive riders, especially those who like hitting singletrack on their gravel bike, will benefit from either more spokes or heavier / stiffer spokes. Heavier and stiffer rims will allow for a lower spoke count than lighter and more flexible rims. It's all a balancing act, remember?
For what it's worth, I weigh approximately 170lbs and use a 24 / 28 spoke count on my gravel wheels with Stan's NoTubes Grail rims. My road wheels use Nox Composites A36D carbon rims and have a 24 / 24 spoke count. Both wheels use the same White Industries CLD hubs.
For disc wheels, you are pretty much limited to 24 spokes on the low end. I build a good amount of 24 spoke front wheels, but I very rarely build a 24 spoke rear, unless I'm using a stiff carbon rim. In my experience, 24 spoke rear wheels have a bad habit of eventually cracking the rim.
For lacing patterns, I do a cross pattern on both sides of both wheels for disc brake builds – radial lacing on disc wheels is a fashion choice in my opinion, and less than optimal for performance or durability. I typically do as many crosses as possible before the spokes overlap the head of their neighboring spoke. This puts the spoke more tangent to the hub flange so it can better transmit torque, reducing spoke fatigue and increasing lifespan. 32 spoke and most 28 spoke wheels get three-cross lacing, while 24 spoke gets two-cross. 36 spokes and higher is typically four-cross.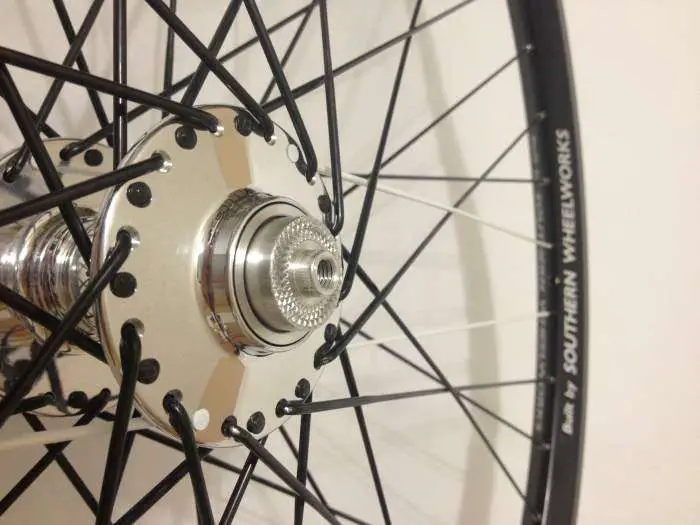 For nipples, you have to be concerned with material and length – and you need the right diameter to match the threads on your spokes. You'll almost certainly need 14 gauge (2.0mm) nipples, but there are also 15 gauge (1.8mm) nipples available. Aluminum nipples are available in lots of colors, are one third the weight of brass, but they're not as strong and are more susceptible to corrosion from salt. If you live on the coast or ride salted roads in the winter, definitely choose brass nipples.
When choosing aluminum nipples, it's critical to have the right spoke length – if the spokes are too short the head of the nipples will eventually break apart. With that said, I use aluminum nipples on the majority of my builds. If quality aluminum nipples are chosen, the wheels built correctly and spoke lengths dialed in, aluminum nipples can be almost as reliable as brass. But, brass nipples are more forgiving of sloppy spoke lengths.
Generally speaking, you will be using 12mm or 14mm (if using Sapim) long nipples – there is no reason to use longer. If you use something other than these two, make sure you understand the implications of spoke length!
That's it for Part I. Part II, we'll get into hubs!
Thanks for reading, feel free to post questions in the comments section below.
Dustin