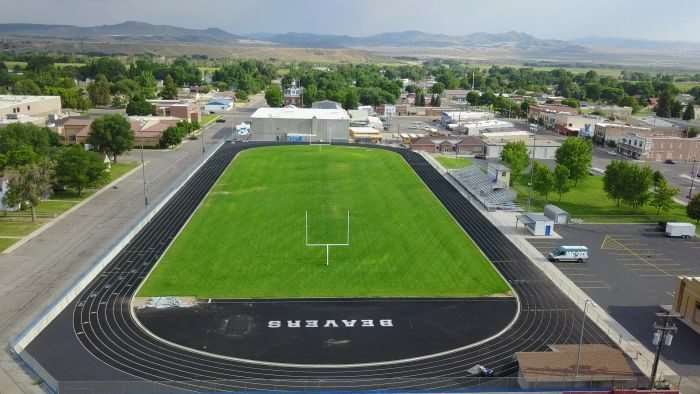 Crusher in the Tushar – "uniquely-formatted race begins in historic downtown Beaver, the birthplace of  famed outlaw "Butch Cassidy" and finishes at Utah's newest ski and Summer resort, Eagle Point. Featuring a near even split of tarmac and dirt/gravel sectors, it affords riders the opportunity to explore the stunning back country of Utah's little-known Tushar Mountains and Fishlake National Forest."
Sounds pretty amazing, right?! But if you're like me, you may be thinking, what is a Tushar?
"The Tushars are among Utah's tallest mountain ranges, housing several peaks over 12,000 feet in elevation and featuring Utah's highest road at an elevation of 11,500 feet. Straddling Beaver and Piute Counties and nestled in the expansive Fishlake National Forest, The Tushars possess stunning vistas, palpable solitude and nearly unlimited opportunities for unconfined recreation."
I refrain from using the overused cliche', "bucket list" in this article, but the Crusher has been in this gravel cyclist's sights for several years. Fortunately, I received a personal invitation to the 2017 edition from Mr Burke Swindlehurst, founder and promoter of the race. If Burke's name sounds familiar, that's because Burke is a now retired professional cyclist, who made his mark at races such as the Tour of Utah; an event renown for its scenery, altitude and climbing.
Crusher in the Tushar isn't an event for flatlanders who reside in Gainesville, Florida most of the year. I enjoy a challenge, and figured at the very least I would relish in the beauty of the area, suffer in the altitude, and make some new friends along the way. Joining me on the odyssey to Crusher would be my friends and Gravel Cyclist teammates, Mr and Mrs K-Dogg, also year round residents of Gainesville, Florida. K-Dogg is a seasoned amateur cyclist, winner of the Men's 60+ category at the 2016 Dirty Kanza 200. He's also a pretty handy climber, despite living at sea level most of the year.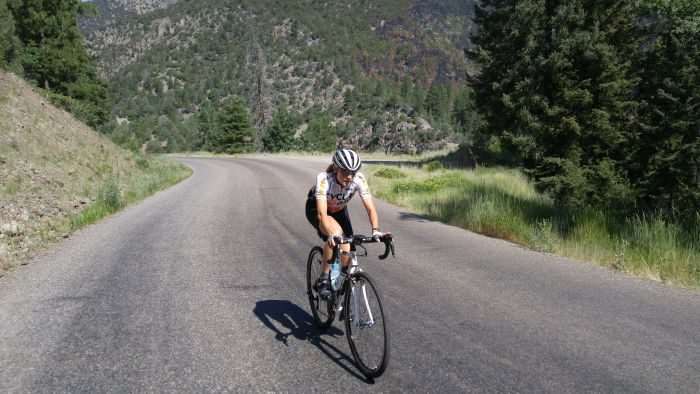 His wife, Mrs K-Dogg, is pretty swift on a bike too, and recently took 4th place in the Women's 50+ category at Dirty Kanza 200. As for me, my talents mostly extend to riding in the middle of the pack, getting dropped on a half decent climb and musings / video productions on GravelCyclist.com

Wednesday 7/5/2017
Utah isn't close to Florida, and while I enjoy driving and making stops along the way, Crusher in the Tushar would be a fly-to event. After spending three quarters of Wednesday at my regular gig, I made the drive from Gainesville, Florida to Orlando, Florida, namely to board a flight with Southwest Airlines. Definitely one of the better airlines in the United States, and one that doesn't fleece its customers with ridiculous fees and other nonsense.
Accompanying me on the trip would be a suitcase containing clothing, shoes, spare parts, a Bontrager TLR Flash Charger pump (review coming soon), an S&S hardshell case specifically designed for carrying bicycles such as the Ritchey Breakaway, but similar in dimension to a regular suitcase – meaning, no bike fee$ – a backpack containing my drone camera and other stuff, and finally, my laptop. I don't exactly travel light.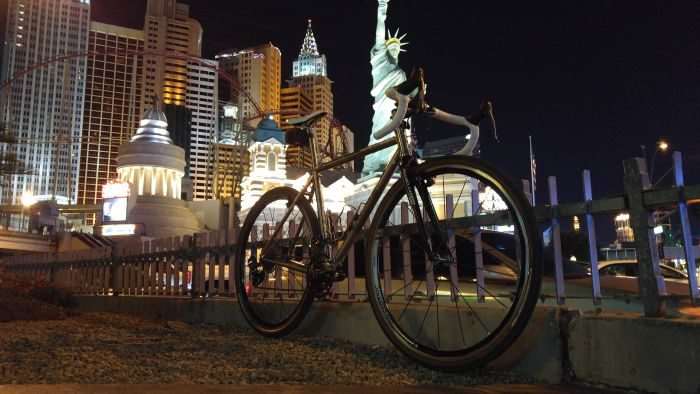 Four and a half hours after takeoff, I landed in Las Vegas, Nevada, where I would spend the night before heading north into Utah next morning. Before I could sleep, my venerable "gravel travel bike", the Ritchey Breakaway Ti CX rig would need to be unpacked and assembled. The link doesn't represent the bike's current form, but you get the picture.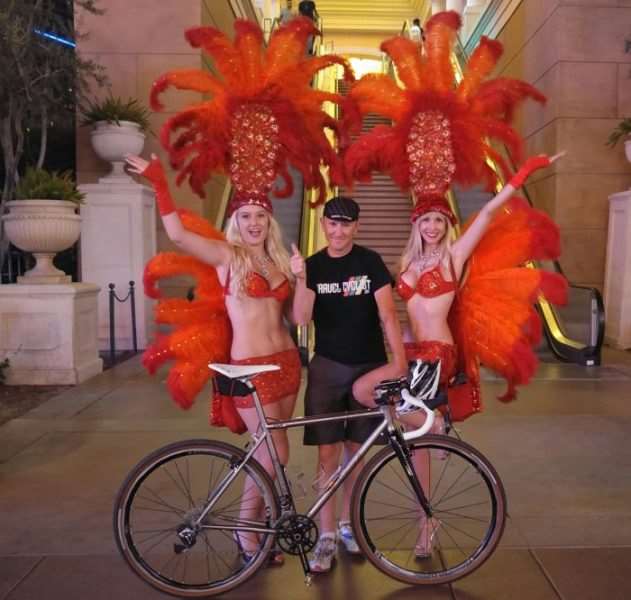 A pre-ride was in order to shake the bike out, and what better place for that to happen – on and around the Las Vegas strip at 11:30pm Pacific time! Thankfully, the strip was relatively quiet, and the bike performed as expected.
Thursday 7/6/2017
My body was still on East Coast USA time, so waking after only four hours of sleep seemed pretty normal. I'll spare readers the details of that morning's breakfast, but it wasn't healthy and a bunch of caffeine was involved. Between my ultimate destination of Beaver, Utah, home to the Crusher in the Tushar lay a treasure in the National Parks system, Zion National Park. Thanks so much to my friend Robin for bringing this to my attention!
Las Vegas was already baking like an oven at 7:30am – approximately 103F / 39.5C. The forecast high temperature in Zion was somewhere around 111F / 43.8C – toasty. Not really a day to be riding a bicycle! I set off later than planned out of Springdale, Utah, at around 10am, for a lovely cruise along the canyon towards the Temple of Sinawava.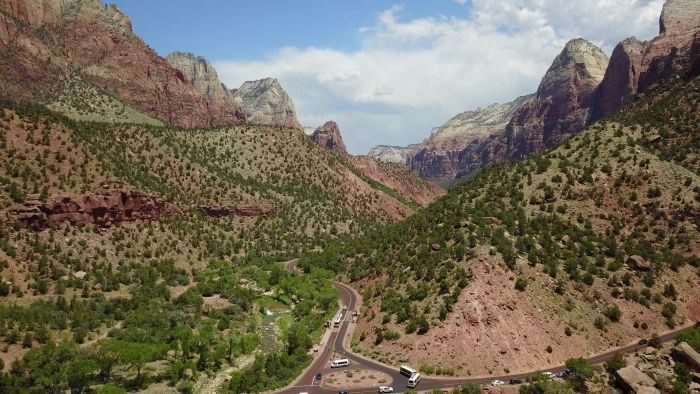 Sadly, I didn't make it to the end of this scenic thoroughfare; I can tolerate the heat pretty well, but temperatures in the 100's F aren't good for anyone. Thus, I listened to my inner voice of reason and turned for home early, but only after taking an obligatory wade in the river that runs through the canyon, as well as multiple drone camera flights.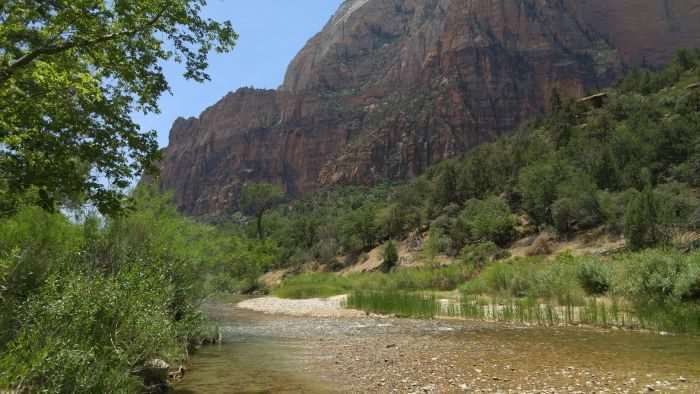 As an FYI, garnering a GPS signal fix is difficult in this area, but to be expected considering the massive rockfaces on either side of the canyon.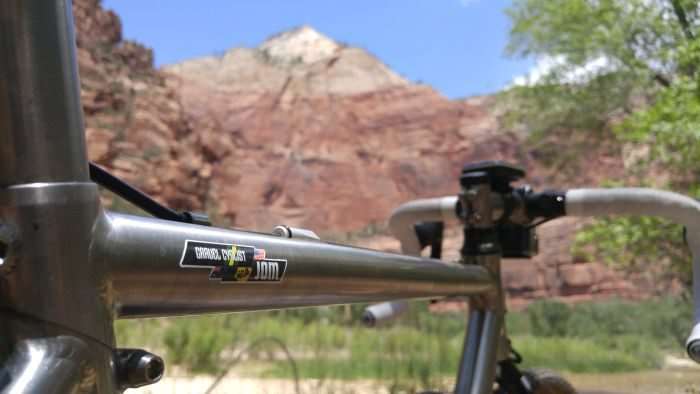 Safely back in the confines of my rental car, I spent the rest of the afternoon making the drive to Beaver, Utah in the company of yet more caffeine. No matter one's chosen route, it is guaranteed the scenery along the way gets better and better as the altitude increases.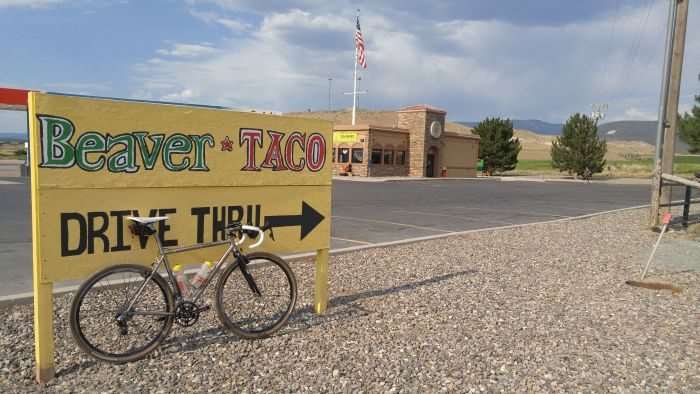 With the duties of hotel check-in covered, it was time for another light spin on the bike, and filming of downtown Beaver, Utah, drone style. The day was brought to a close when Mr and Mrs K-Dogg arrived, having made their own journey to Beaver, Utah via Denver, Colorado. Time for some rest!
Friday 7/7/2017
Weary from our respective travels, the trio of yours truly, K-Dogg and Mrs K-Dogg rode from our hotel in the morning, for a leisurely paced ride along the early miles of the Crusher in the Tusher course. We rode through downtown Beaver, Utah, and along 153, the paved road that would lead the Crusher in the Tushar away from town, and onto the first dirt and gravel climbs of the race.
Despite the town of Beaver residing at a lowly 5,902 feet of elevation, the thinner air was immediately obvious. I can train for a long gravel race such as Dirty Kanza 200 or Almanzo 100, but there is no bluffing altitude. Making things a little more interesting for me, is this cursed bronchial infection I've been carrying around since this year's Dirty Kanza. This isn't an online pity party, so no sympathy please… but it's always good to have an excuse ready to go… remember, all decent cyclists always have an excuse to backup a shoddy performance 🙂
We'd been informed the ride along 153 was among the flatter roads of the course. Yet, it parallels a river. Remember, water flows downhill – among other things – thus, we were climbing much of the time, mostly at an average gradient of around 2%. Approximately 10 miles / 16kms into the ride up 153, comes the right turn onto 137 / Kents Lake Road. This road is rather cheeky, in that it ramps up almost immediately to at least a 10% gradient.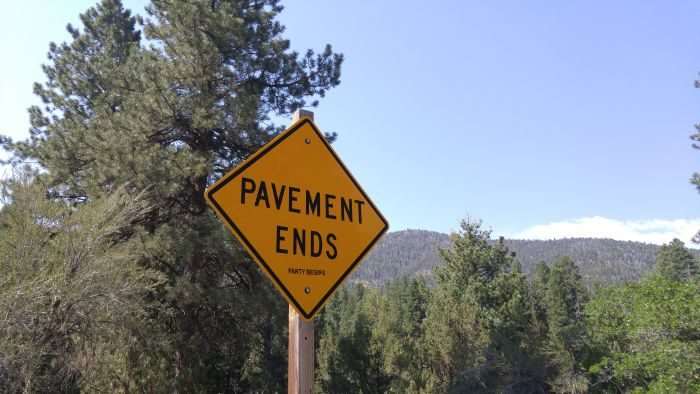 Approximately half a mile into the climb, near the entrance of the Little Reservoir Campground, the road turns to gravel.  We rode another 100 metres, before unanimously deciding "that's it!", and turned around for Beaver, Utah. Pre-ride over, we'd seen enough to realize every ounce of energy would be needed just to finish Crusher in the Tushar.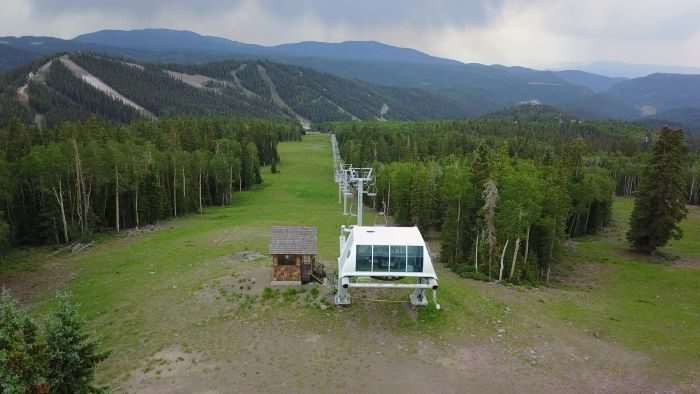 The remainder of the day was spent driving and scouting the steep climb to the finish line, and race packet pickup / race expo. I really must commend Burke and his team of volunteers.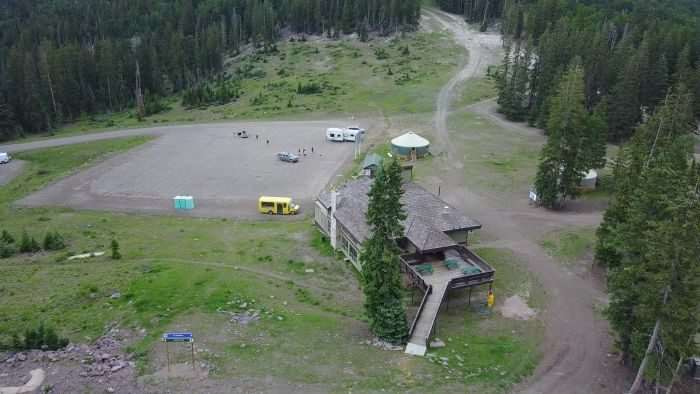 Race packet pickup was fast, efficient and staffed by friendly volunteers. Outside, racers enjoyed music by Mad Max and the Wild Ones, in addition to wares on show from Enve, Panaracer (Gravelking SK is THE official tyre of Crusher in the Tushar), Moots, Muc-Off, DNA Cycling and others.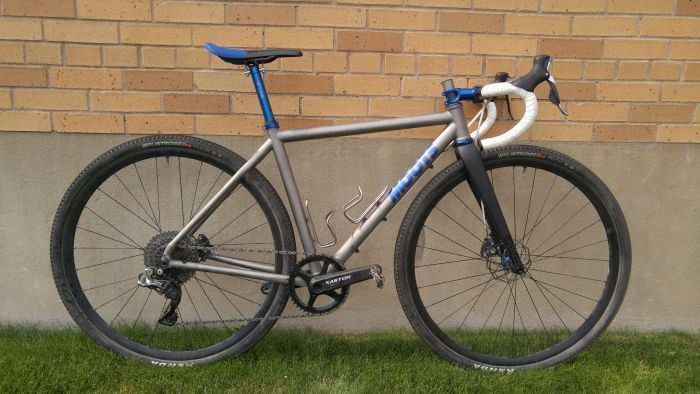 Thank you also to Shimano – their crew was kept busy making last minute bike tweaks.
Saturday 7/8/2017 – Crush Time

Crusher in the Tushar kicked off at 8am USA mountain time, with the various age groups and categories separated by a one minute gap.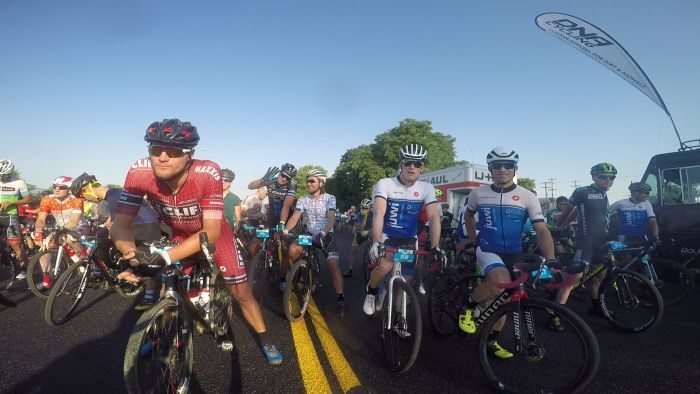 The start order was:
Pro Men
Women (all categories, mass-start together, scored separate)
45-49 Men
Men 60+
Men 40-44
Single Speed/Tandem
Men 50-59
Men 29 & Under
Men 30-34
Men 35-39
I found myself in the Men's 45 – 49 year old group (giving away my age now), and third off the blocks. In years past, 45 – 49 Men started last, but from what I understand, this group was one of the fastest (sounds about right), and caught just about every group along the early miles of pavement before the first gravel sector. With that many cyclists coming together on a narrow and mountainous road, it was less than ideal.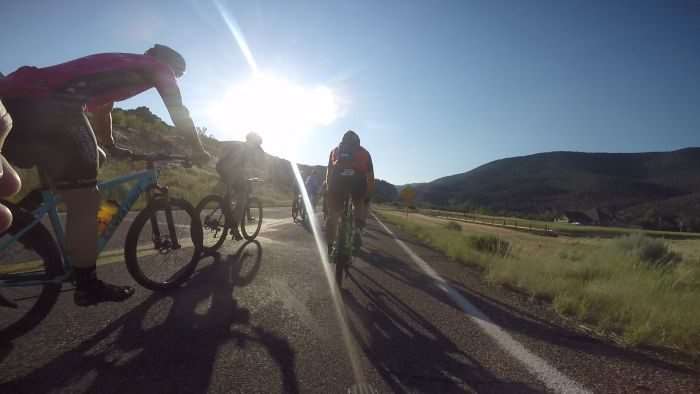 At 8:02am, 98 men in the 45 – 49 year old group rolled out. I settled in somewhere towards the middle of the group, knowing that it was only a matter of time before I was shelled out the back.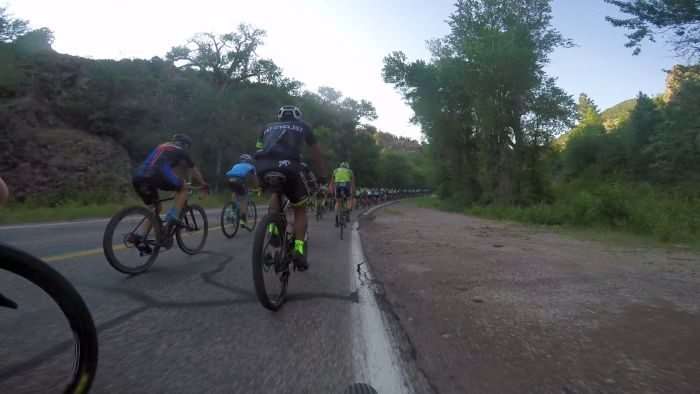 The group was riding a steady tempo, anywhere from 15mph / 24km/hr to 18mph / 28mph. Not brutal by any means, but on a constant grade of around two percent, it quickly took its toll.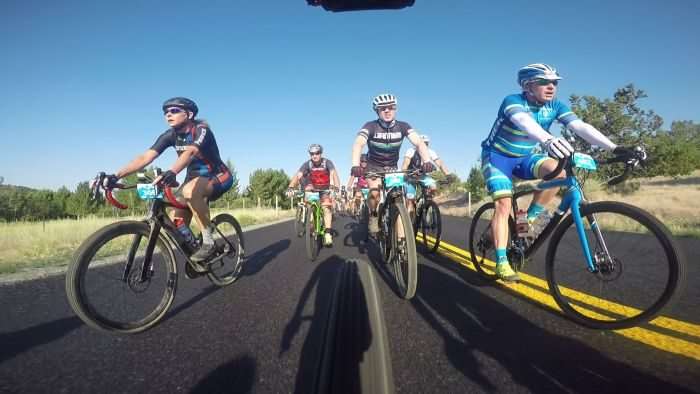 Less than a mile into the race, our group began catching some of the ladies who were riding a gentler, more pleasant tempo. With so far still to race, I wondered how fast the Pro Men's and Pro Women's fields were riding!?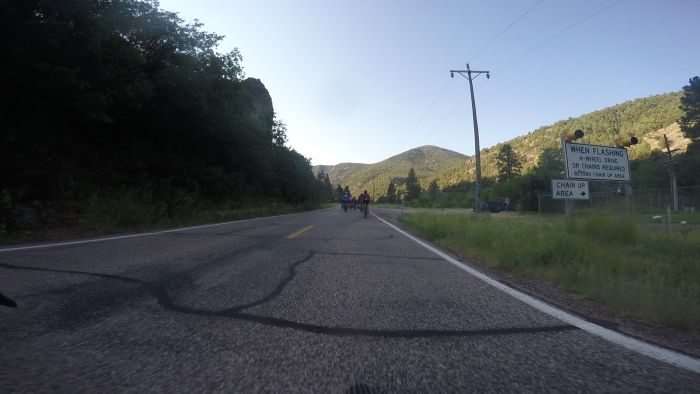 Approximately eight miles into the race, close to the Beaver Hydro station, I became unhinged in the company of Debora Adam, a reasonably local lady racer out of Perry, Utah.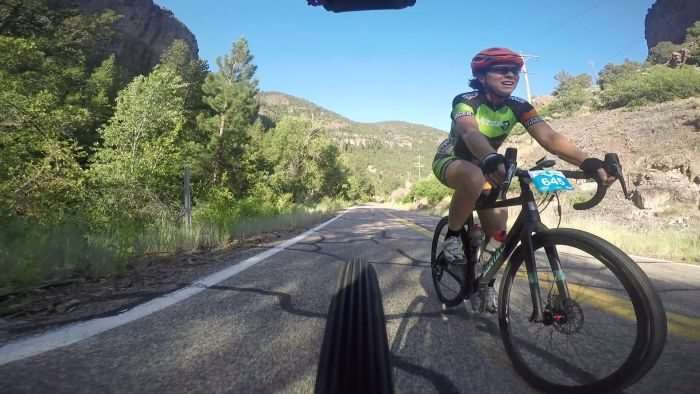 There were 62 miles of racing still to cover, and these were the lower altitudes of the race. Definitely best to conserve, especially when one possesses zero "tribal knowledge" of the Crusher in the Tushar course. I ride by feel, but once in a while would flick over to the heart rate screen on my trusty Garmin 800, just to see how I was doing. My breathing wasn't too labored yet, but I had to avoid going into the red.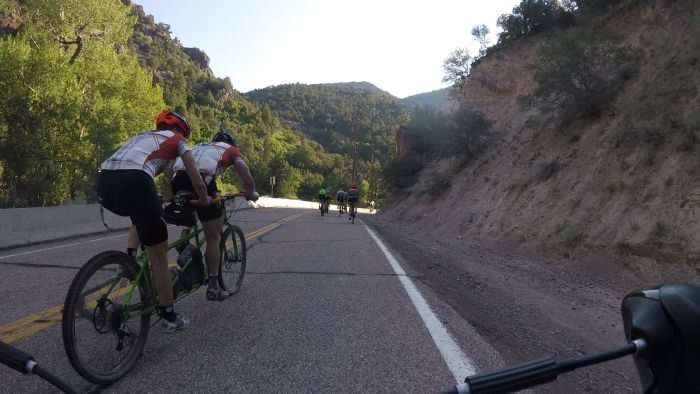 The Men's 60+ group, containing Gravel Cyclist teammate, K-Dogg, started a minute in arrears. If history is an indicator, it wouldn't take long before the stud talent in the Men's 60+ field would catch and pass me.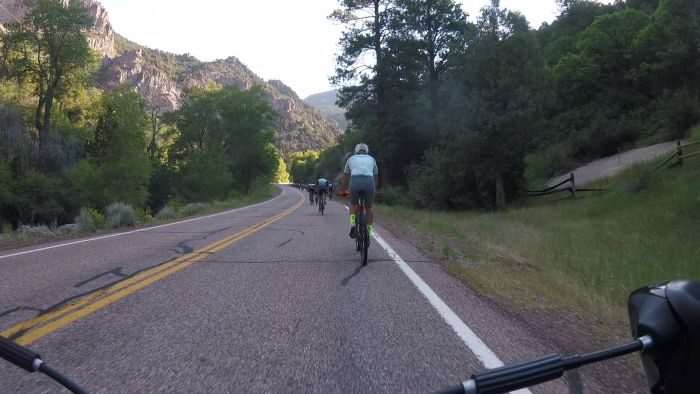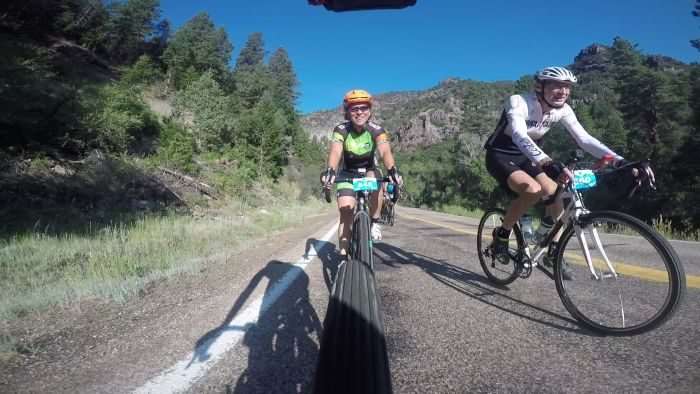 On cue, a few minutes later, I heard the inevitable "Oi!" from K-Dogg (he likes to use my Aussie speak slang on me). Caught and passed so early by K-Dogg, bugger… but, good to see he was riding well. The Dogg was seeking redemption, after a very rough 2017 DK200 experience.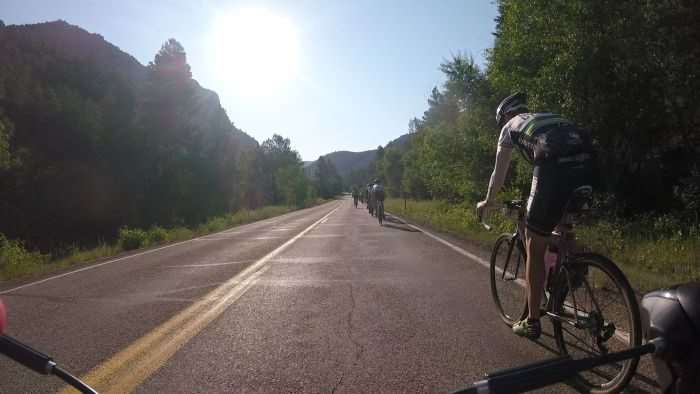 I believe I yelled something like "I hate you" (joking), or "give us a tow biatch!" as he rolled on by. My hopes of drafting the Dogg, riding tempo on his favorite terrain, were zero and none. My favorite terrain, the eight mile descent of the Col de Crush was a long ways off.
Resume survival tempo.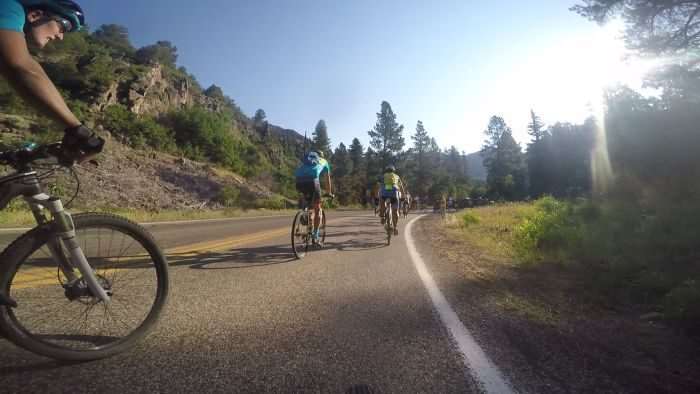 Approximately 10 miles into the course came the right hand turn to Kents Lake Road… and the true climbing hell begins. Let me remind you that Crusher in the Tushar is a race that favors the climbers. There is some descending along the course, but the climbing definitely outnumbers the descending. Did I mention I reside in Florida these days – I'm at altitude – and I climb like a Quarter Horse with colic and four lame legs… err.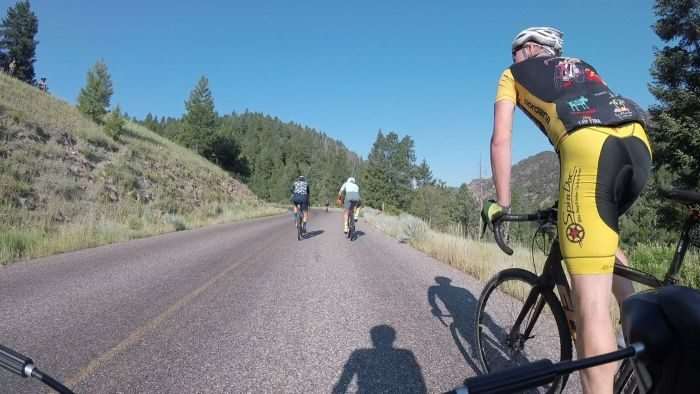 At least the scenery was amazing, right! Begin the Crusher in the Tushar Gran Fondo!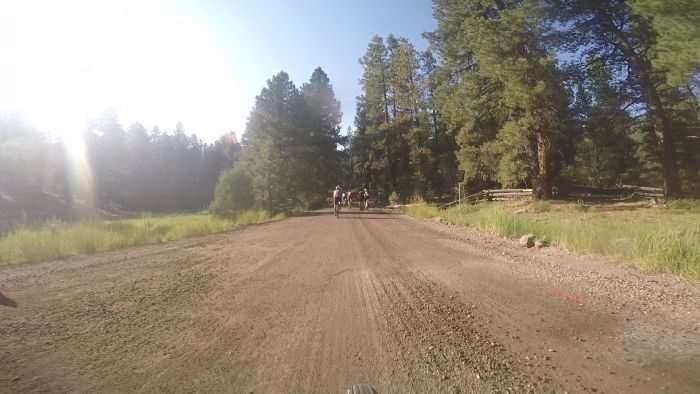 I was onto the gravel roads of the Crusher now. Rain hadn't fallen in the area in some time, and while most of the roads later along the course were dry and dusty, the first eight or so miles of gravel had been dampened; I can only assume the County or Park Rangers had something to do with this.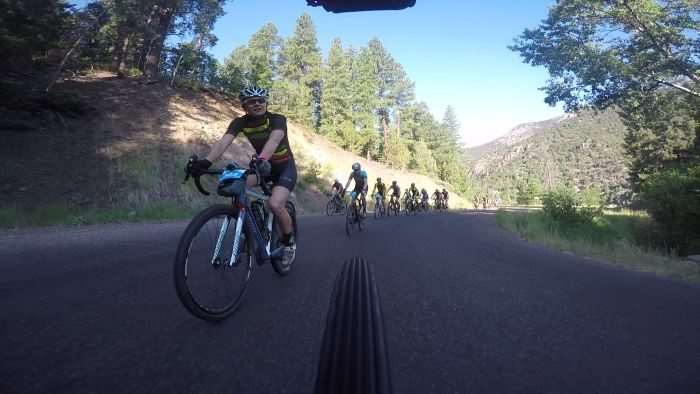 I chugged along at my own tempo. It wasn't fast, but I wasn't redlining and was making decent pace.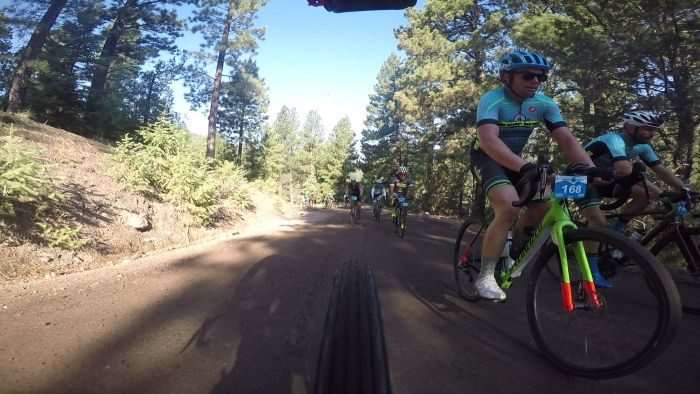 I lost count of the number of riders who caught and passed me, but one or two riders were rolling the same tempo as me; somewhat reassuring I wasn't alone in my suffering. I received plenty of encouragement along the way. "Yo, how is the Gravel Cyclist doing?" To which I replied, "Today, I am the GrOvel Cyclist!"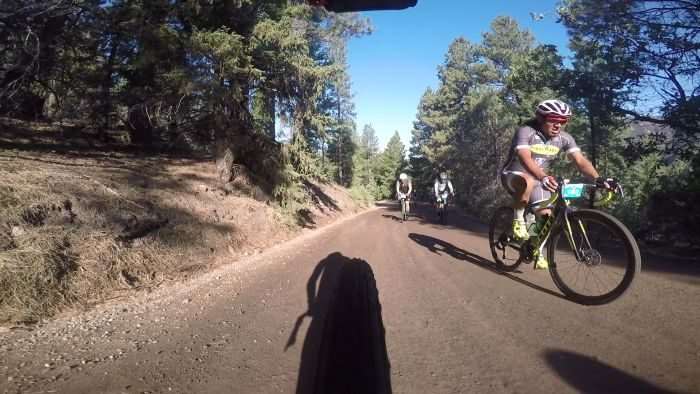 Few words were spoken as racers scaled the lengthy grade, verbalization replaced by the sounds of deep breathing and crackle of gravel and dirt beneath one's tyres.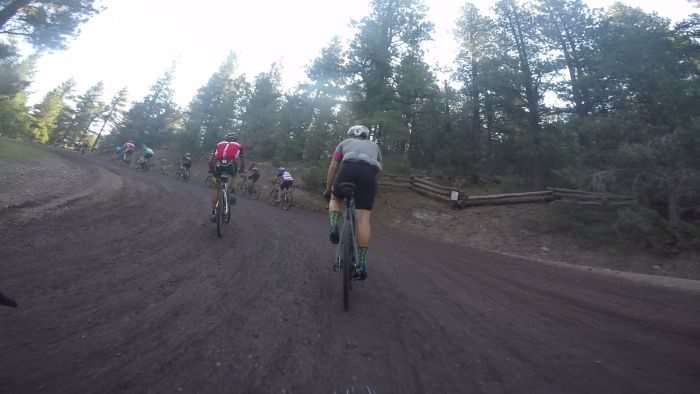 Selecting the appropriate gearing for a race like Crusher in the Tushar can make the difference between a really good day, and a horrendously bad day. There are riders who prefer a single chainring drivetrain, and those who are the most hardcore of all, the single speeders.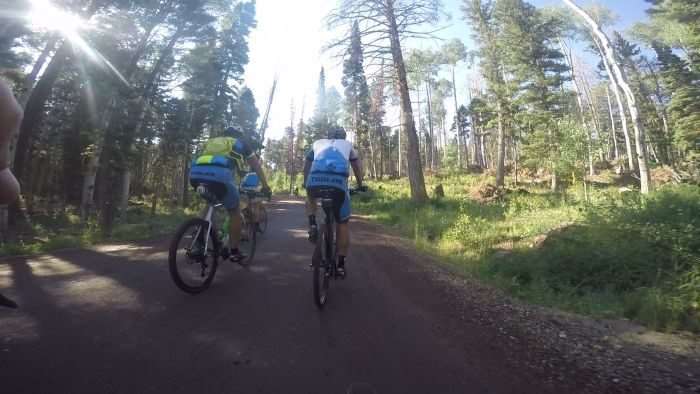 I was quite chuffed with my choice of gearing for the Crusher in the Tushar. Not of the single speed or single chainring camp, I was all over my White Industries MR30 crankset with its 46 / 30 double chainring combination, paired to an 11-32 11-speed cassette.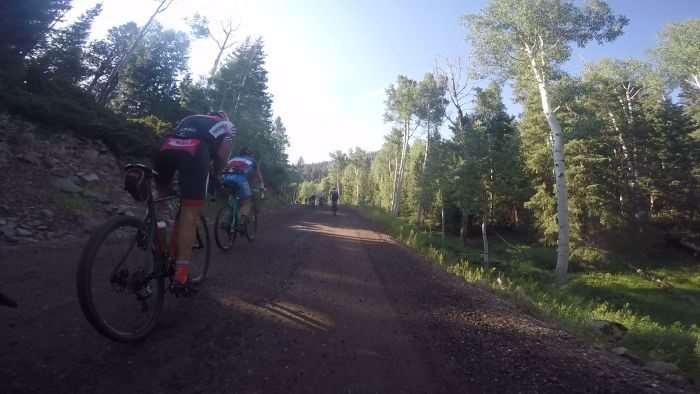 Spin spin on the 30 x 32 a while, shift up one tooth to the 28 to stretch out my back as I rode out of the saddle.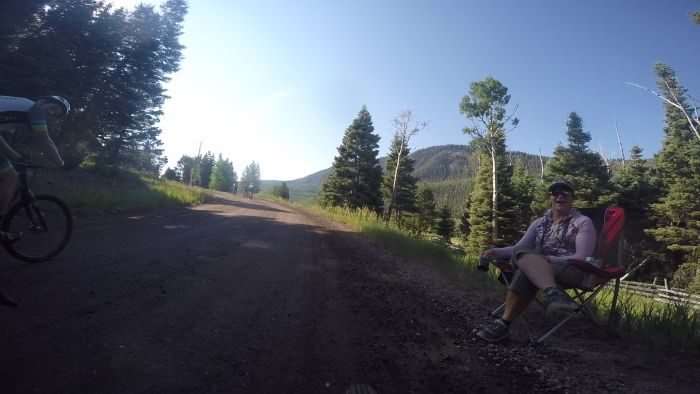 My body wasn't used to pushing gears against the forces of gravity for an extended period of time. This is the side effect of mostly living in Florida.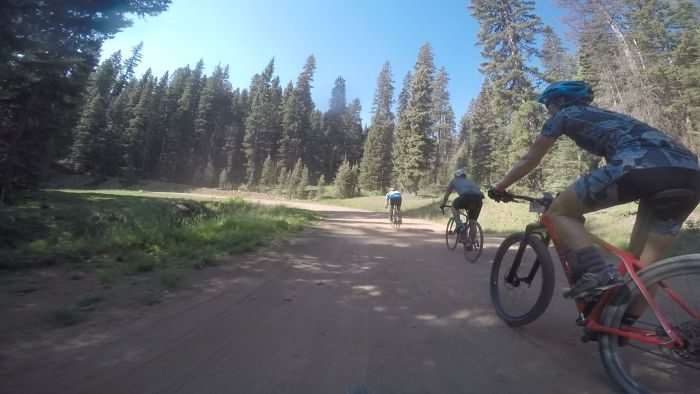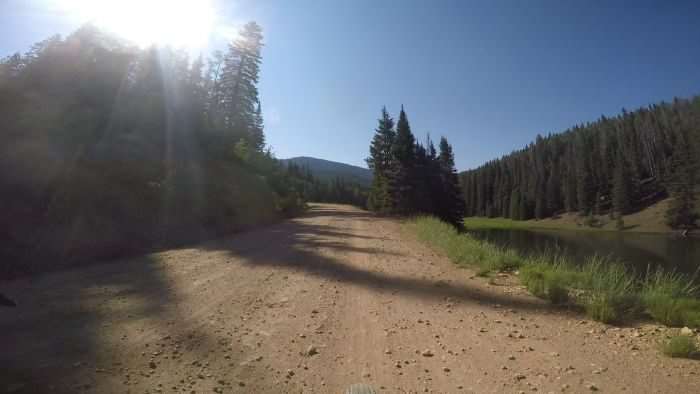 The first aid station drew nearer, approximately 18 miles / 30km into the course. I wouldn't be stopping, but it was a good indicator of my progress along the course.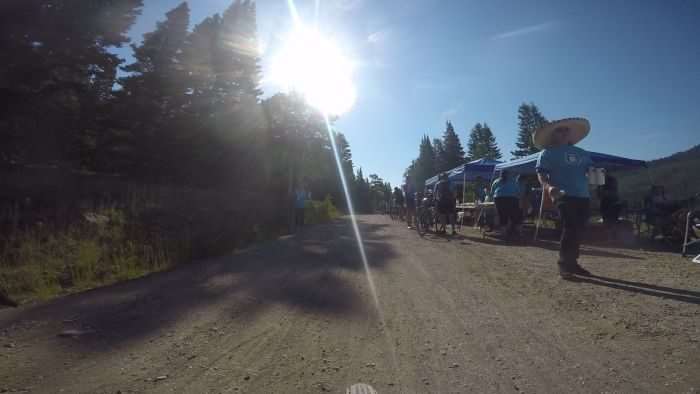 I rolled through, politely declining the water and energy drink handups from the volunteers.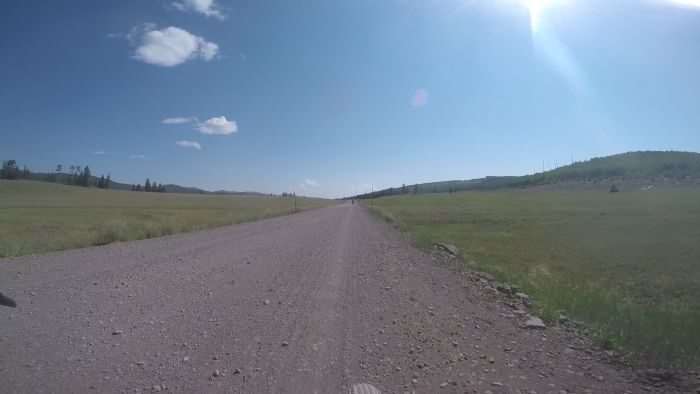 Aid Station #2 was but a stone throw away at nine miles later, and also served as a cutoff point for those riders a little behind schedule. If riders missed the 11am cutoff at Aid Station #2, it was game over. I rolled through with approximately 24 minutes in the bank.
Col de Crush Descent
"The descent is dry, dusty and heavily washboarded / corrugated", warned the organizers. "Don't ride it too fast, the chance of riding off the edge of the road, devoid of safety barriers, is very real." With these warnings firmly planted in my mind, I descended the Col de Crush in a rather conservative manner.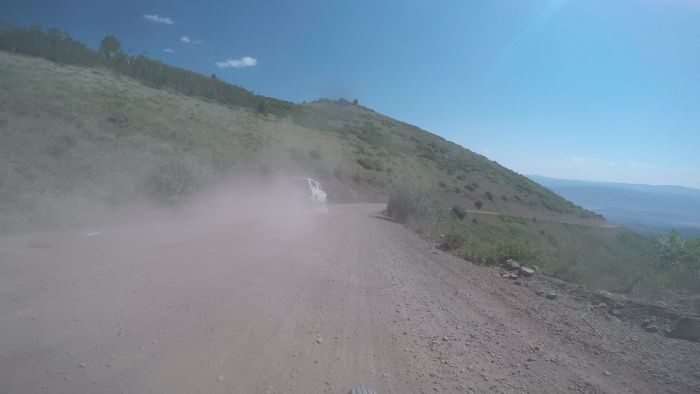 The promoter states there is no perfect bike for this race. Truer words have not been spoken. The descent of the Col de Crush was perfect for a hardtail mountain bike with suspension fork, of which there were plenty at the race.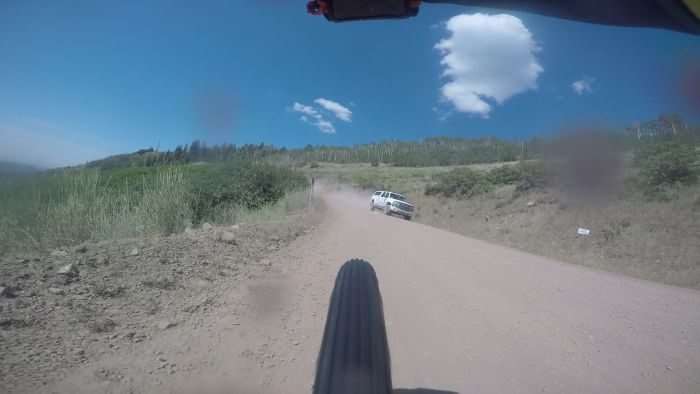 I caught and passed several riders on the descent. My bike's cantilever brakes worked well and hard when they had to, trimming speed well in advance of the Col's loose and gravelly switchback corners.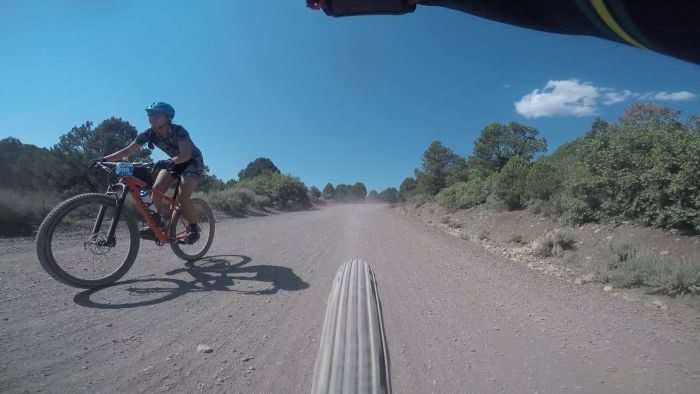 The washboarded straightaways and corners were hard on the body, suspension or not. Many sections were so rough, riders were forced to run their bikes free sans braking, else skip uncontrollably across the top of the washboard.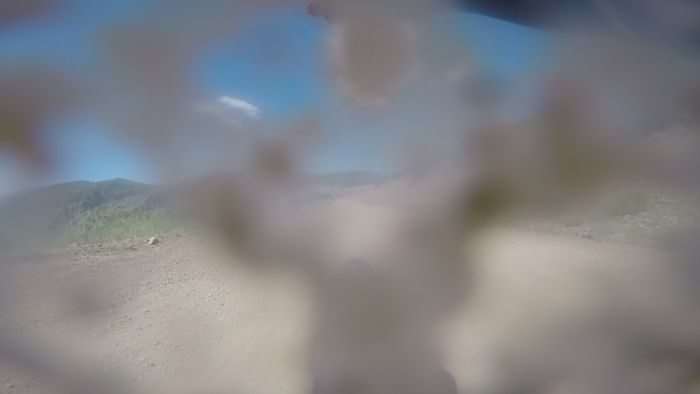 Unknown at the time, I suffered a tyre puncture approximately half along the Col de Crush descent. Orange Seal Endurance formula sealant sprayed onto the bottom of my bike's seat tube, and over the rear camera case. Judging from my race video footage, the puncture sealed quickly without any noticeable loss in air pressure. Thank you Orange Seal!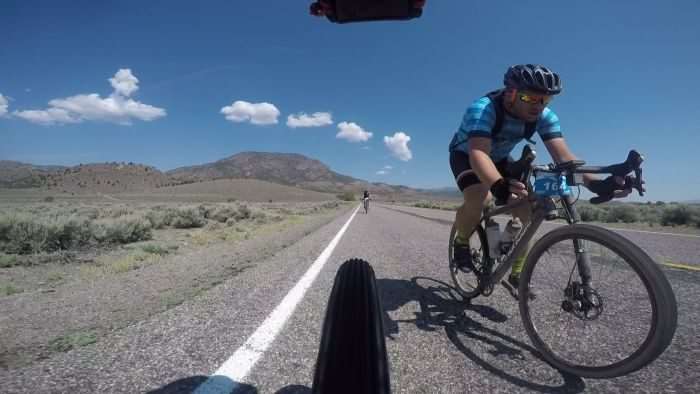 The fast descending continued, this time on pavement into the town of Junction, Utah. Swapping turns with #164, Sawyer Pangborn of West Jordan, Utah, we made quick work of the descent, rolling into town a few minutes later.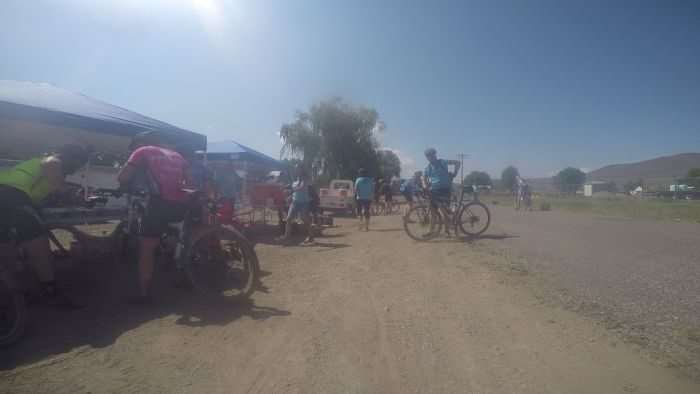 Rounding the right hand turn into town, Aid Station #3 welcomed riders like an oasis in the desert. Already tired of energy gels, I dined on expertly sliced watermelon and oranges, the absolute perfect foods for the increasingly warm temperatures. Those six and a half minutes stuffing my face, well spent.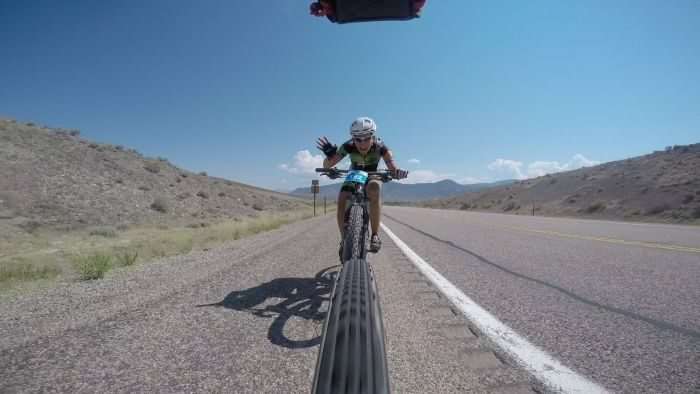 Following the town of Junction, Utah, was the flattest and smoothest part of the course, about six miles / nine kilometres of pavement into the town of Circleville. Not surprisingly, this is one part of the course that suited me, and winds were mild as I pushed onwards. However, the heat was building and reflecting off the asphalt road surface. For this sector, I was joined by #192, Joan Meiners and #145, Spencer Brown.
Proof that Planet Earth is a very small world, I learned that Joan attends the University of Florida in Gainesville, and spends summers in Logan, Utah. Clearly a month of altitude in the Utah summer was agreeing with her; she was riding strongly, aboard a hard tail mountain bike shod with tyres not optimal for any of the paved roads. Chapeau!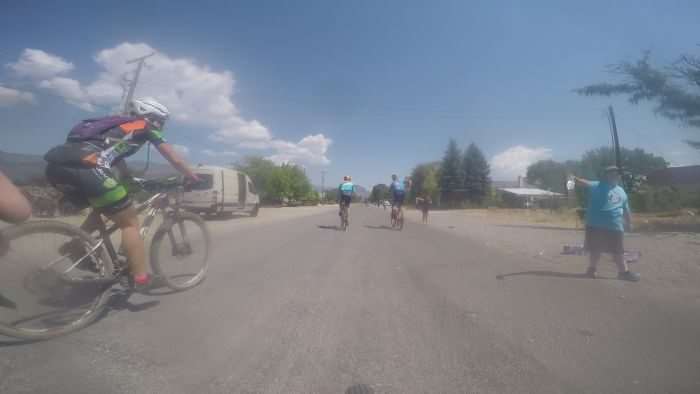 In the town of Circleville, I bid Joan and Spencer farewell. It was time for me to top up fluids at the next aid station. Because I was toting Zefal's one litre bottles, taking bottle handups from the volunteers wasn't an option. I really cherish those gigundo bottles. Stop, refill, get going again.
Hell's Kitchen
This sector of the course which follows Circleville, is also known as "Mojave Desert Hell" on Strava. 7.3 miles / 11.7kms of climbing whose average gradient hovers between 3% and 8%. All of this in completely open terrain with one or two shrubs for shade.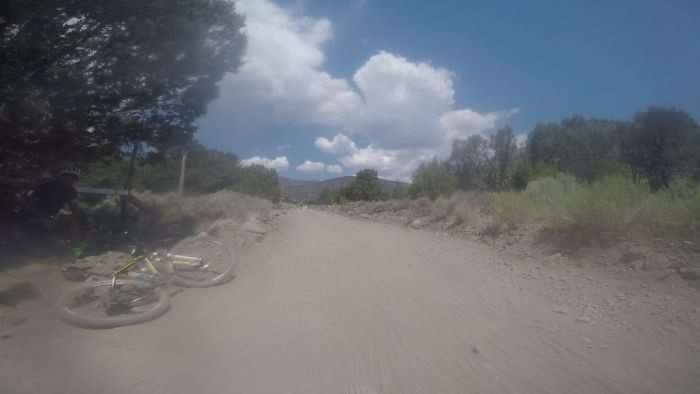 I counted two shady spots, both were taken by riders seeking a break from the sun beatdown. The dirt / gravel surfaces of this road were very loose and slow going, which added to me feeling like proverbial arse.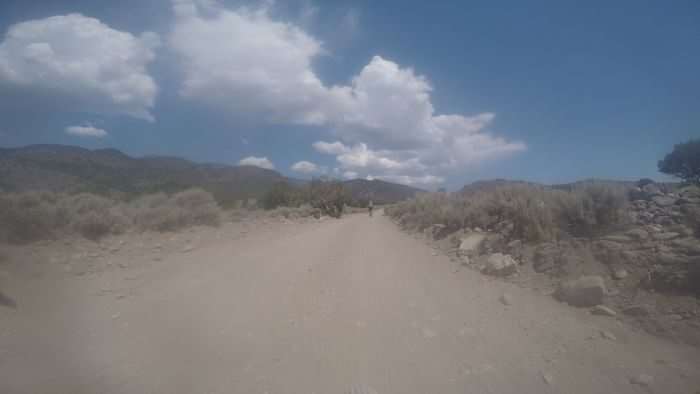 But, I'm mostly about forward motion, so stopping for a lie down wasn't an option. The conditions reminded me of a ride or two I've done on the southern edges of the Australian Outback, in summer. At least here at the Crusher, I had contact with other humans on bicycles.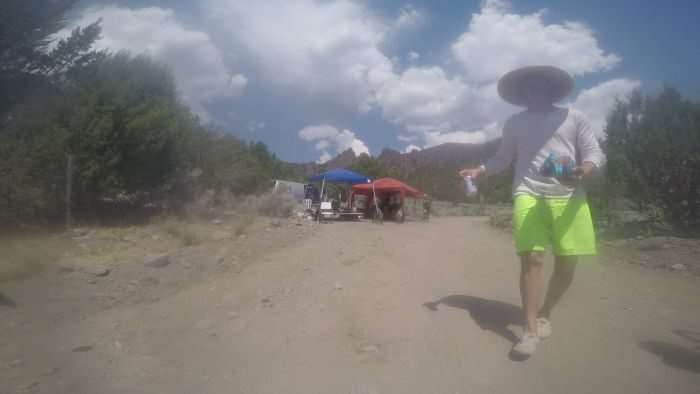 The Oasis of the P-Town pit stop came into view. They had water, but more importantly, cold beer. Yes! What a lifesaver!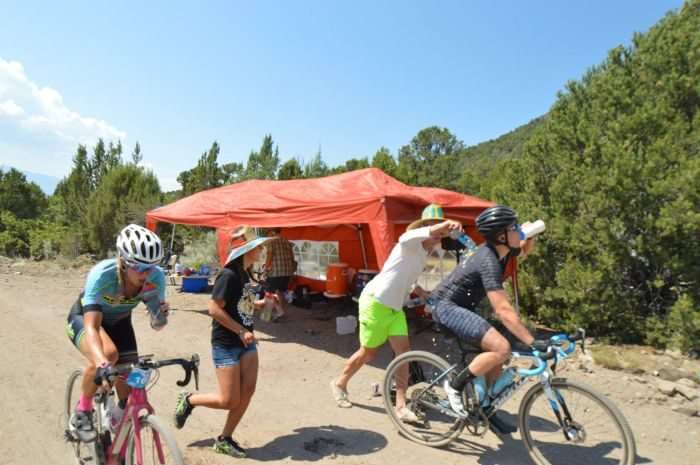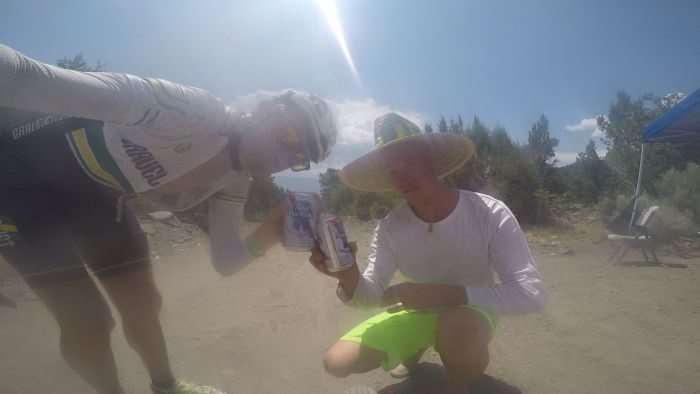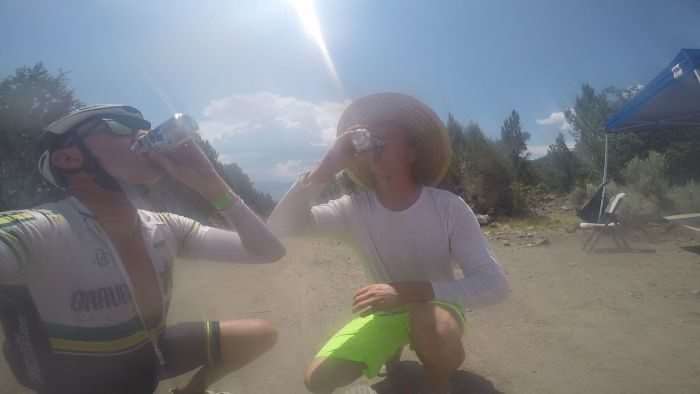 Never underestimate how amazing a cold beer is when you're feeling a bit dodgy. I couldn't thank these lads enough!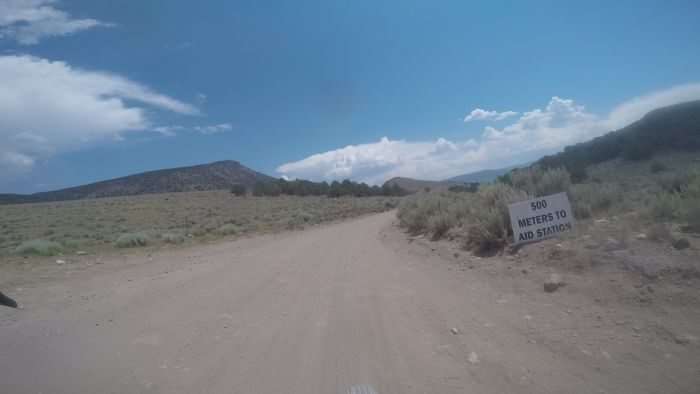 Less than two miles later came another rest stop. Without doubt, Crusher in the Tushar had every base covered with the number of rest stops, official or unofficial, along the course. Riders could only blame themselves if they experienced dehydration. Drink up!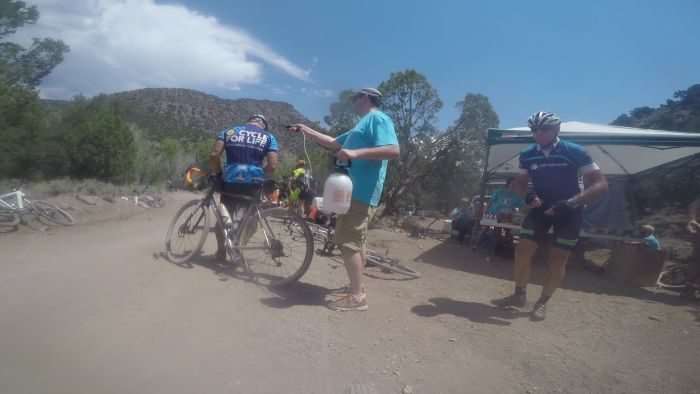 I enjoyed an ice cold bidon of First Endurance at this aid station, before continuing. If you haven't figured it out yet, I was probably stopping more than riding – the finish line would have to wait!
The Ascent of the Col de Crush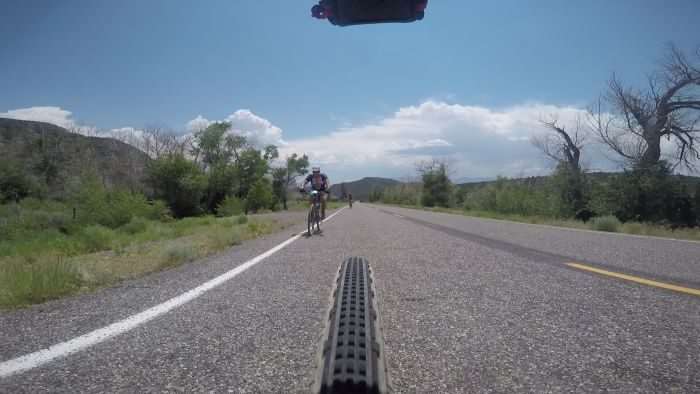 Veterans of the Crusher warned me – save some gas (petrol) for the climb of the Col de Crush. I'd descended it earlier in the day, it really didn't look like too much to worry about.
I should have known better. The paved climb of 153 to the dirt and gravel turn to the Col de Crush was tough enough, averaging around 5% to 6%. Blazing sun, open terrain and rather tepid temperatures.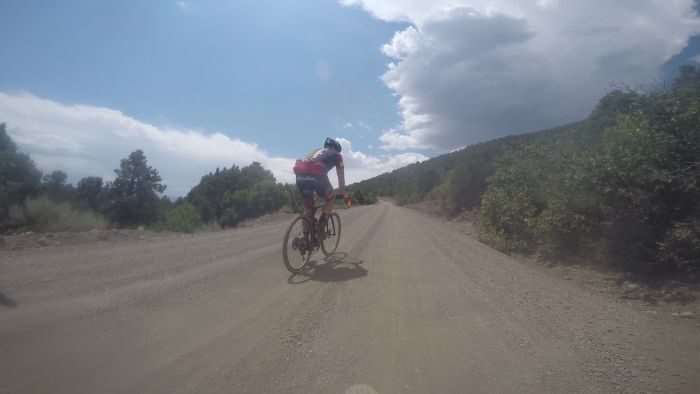 The Col de Crush is aptly named. The Pro Men, Women and gun riders may have blasted up this climb, but in Regularville, we were suffering.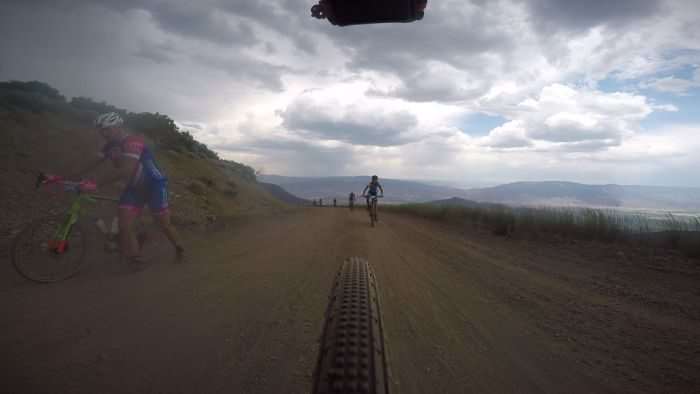 I saw blokes turning squares on their cranksets, blokes taking their bike for a walk, and one bloke having a lie down.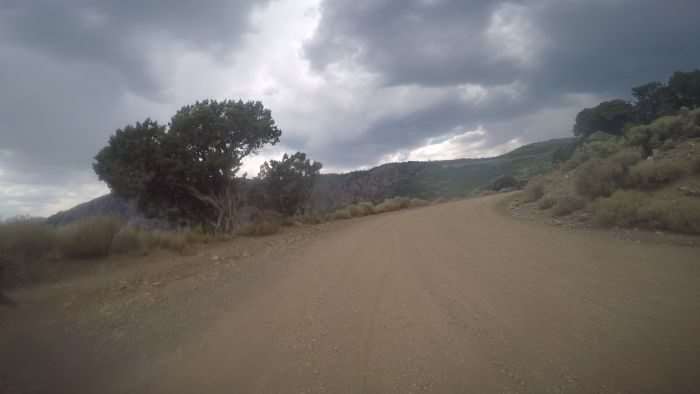 I was turning squares on my low 30 x 32 gear, but it was mostly due to having no power at altitude and Florida lungs. On the positive, at least the scenery was fabulous.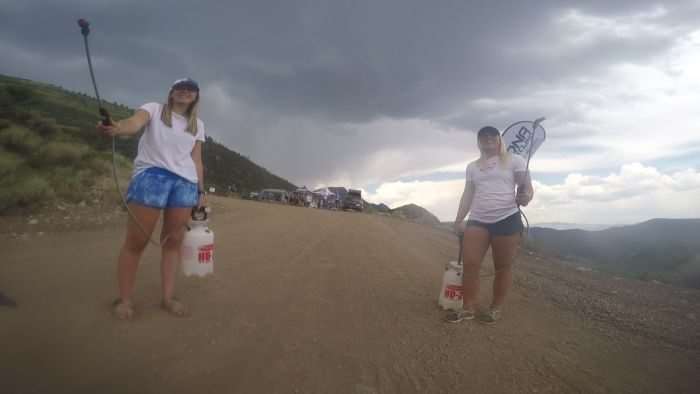 It took a while to reach Aid Station #4, hosted by DNA Cycling, but the timing was spot on. Water spray down ladies and cold Cokes, so amazing.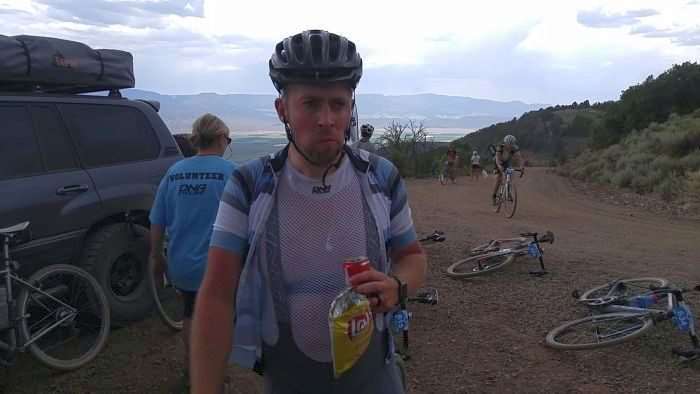 I took this opportunity to film, and lounge around a while in the company of my fellow gravel cyclists.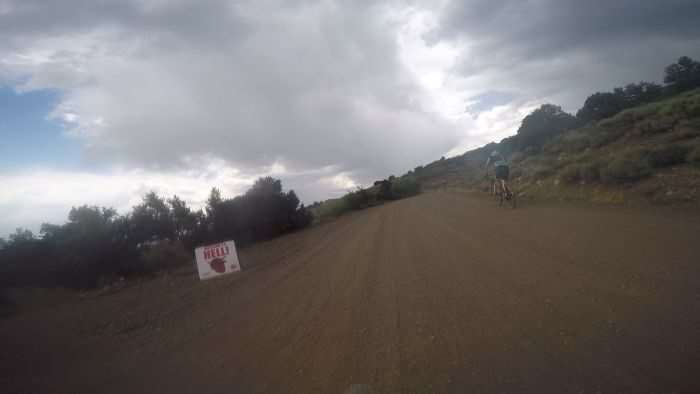 Post rest stop, more climbing hell. The sign above rings true.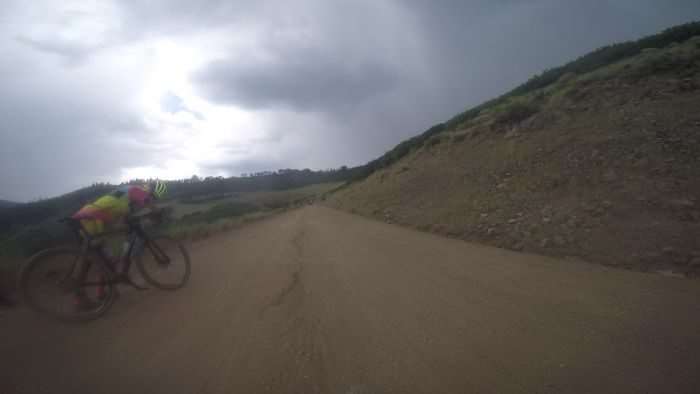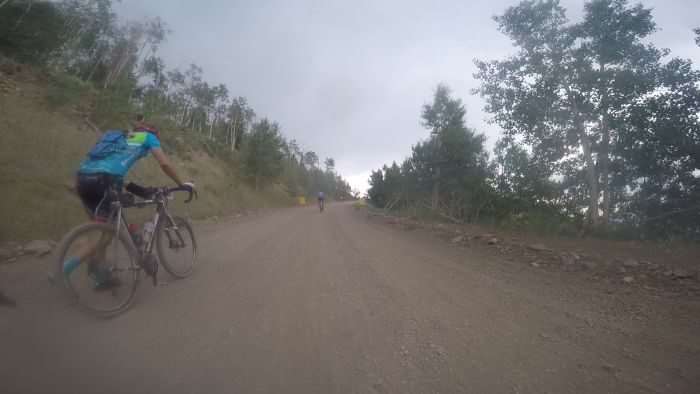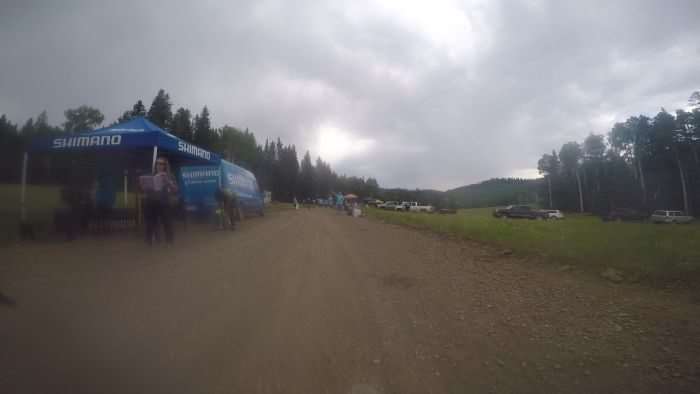 Some time later, I safely crested the KOM point of the Col de Crush, and arrived at Aid Station #5 for a final fluid top up. Thunderstorms could be heard in the distance, and light rain had begun to fall. The drop in temperature at this altitude was welcome relief from the heat of the day.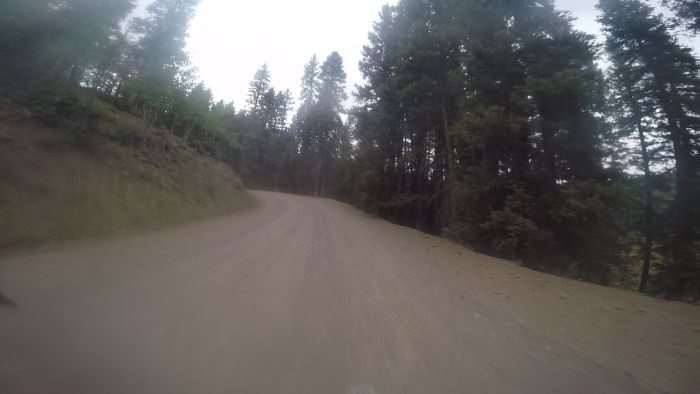 Just 10 miles / 16kms remaining, and most of it uphill, and at high altitude.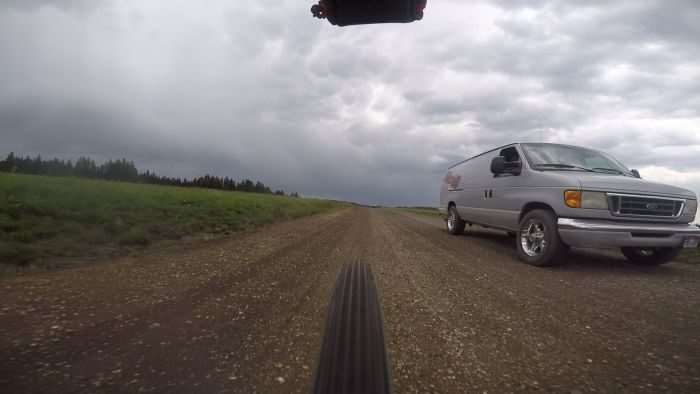 Despite feeling pretty rough with a throbber of a headache, one I attribute to the altitude, the whole Crusher experience kept me going. As the altitude increased, so did the variance and beauty of the scenery around me. This is the best way to suffer. Also, major kudos to the blokes driving the Nicolls Racing van – thanks for the encouragement!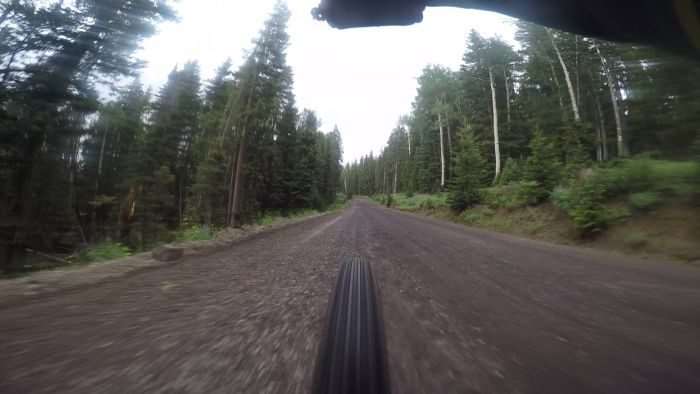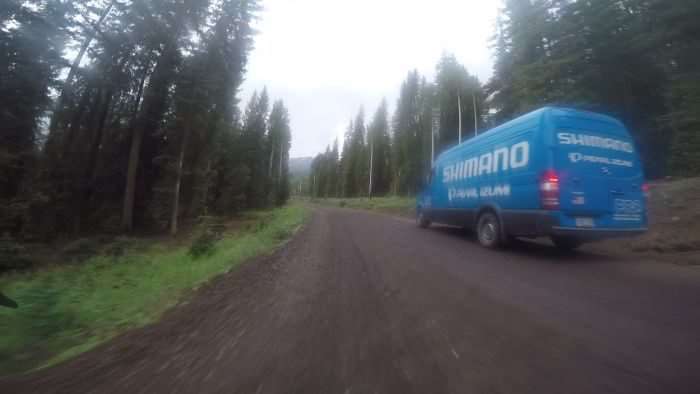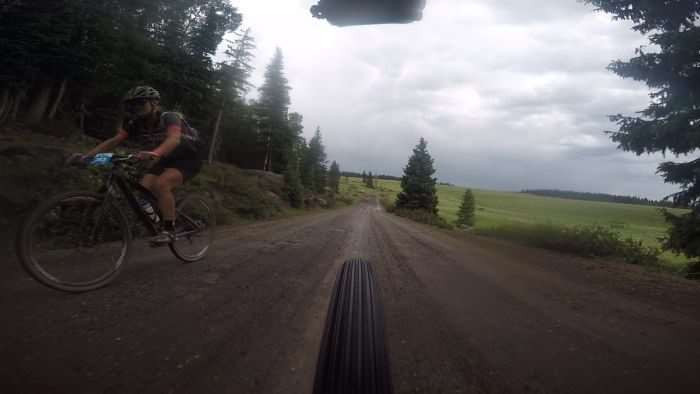 During the final miles of my 2017 Crusher in the Tusher experience, I yo yo'd back and forth with Ms Jan Holding and Mr Mike Remington.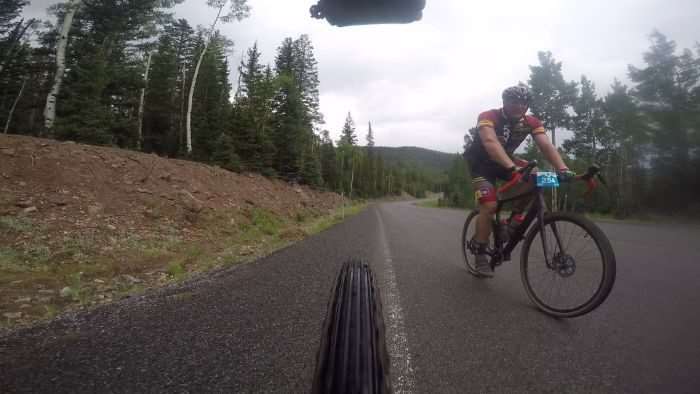 We weren't racing each other. Rather, we battled the final climbs and increasingly cold temperatures together. Over 100F / 38C a little earlier, now, low 40's F / 6C as we neared 10,000 feet of elevation. Quite the contrast.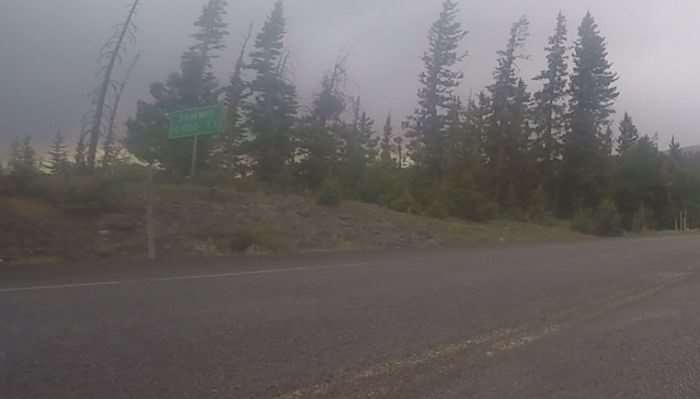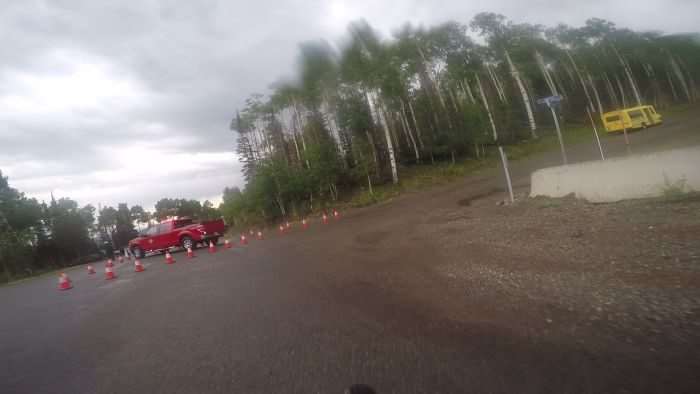 The final paved climb to the finish was pretty heinous. Just 1 mile / 1.6km long, the average gradient was 8%, with several pitches much steeper than that.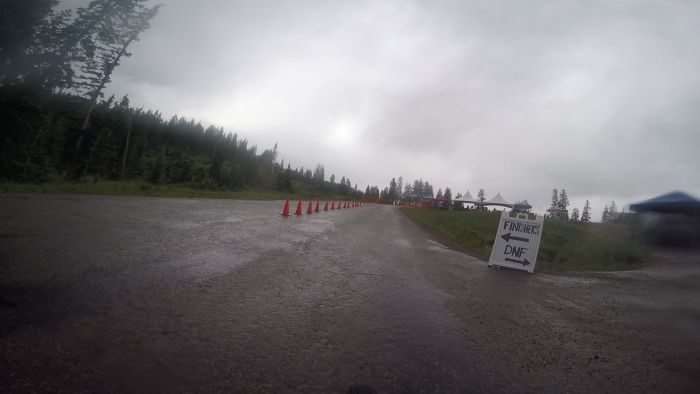 My ascent wasn't pretty. According to Strava, it took me 15 minutes to scale that final mile. No power and no legs. Completely thrashed, I used the "paperboy" technique on the final ramps of the climb, snaking left and right, doing anything to ease the gradient.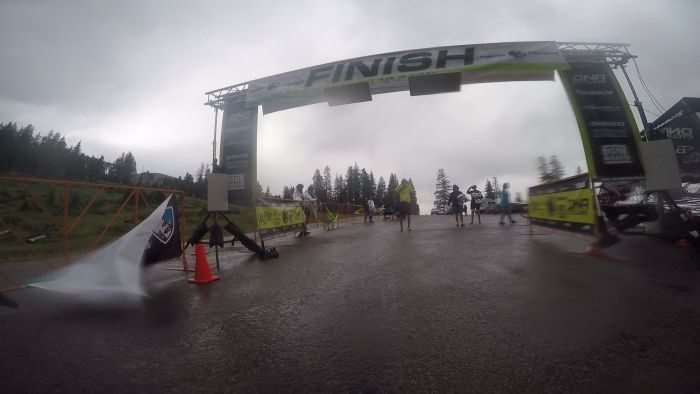 Final clock time was 7:28:53. Not exactly rapid. Granted, I'd wasted plenty of time at the rest stops, resting and socializing, but I was satisfied to have finished Crusher in the Tushar. Don't kid yourself, Crusher in the Tushar is not a walk in the park, even if you are a well trained cyclist who lives at altitude.
If you had asked me at the finish line, "JOM, would you ride the Crusher again?" I would have answered, "no effin' way". Now that I've written this article and recovered a little, I cannot wait to do it again, but hopefully, a bit faster! Crusher in the Tushar is an amazing experience, just finishing is a major accomplishment. Not the longest gravel race I have contested, but possibly the hardest gravel race I have done, the altitude and climbing crushed me.
Crusher in the Tushar, mission accomplished!
Thank You
To Burke Swindlehurst and his family – the amazing team of volunteers, sponsors and police officers. As alluded to earlier, the aid station support at this race was numerous, the best I have experienced. I would liked to have met Burke in person, but as a race promoter, you're a little run off your feet on race weekend.
To the local communities of Beaver, Junction and Circleville, Utah. Thanks for hosting us.
To my fellow gravel cyclists. I made a lot of new friends and had a blast chatting / suffering with so many of you. Cannot wait to do it again!
Strava Data
I'm not the biggest user of Strava, but I generally upload my big races and interesting training rides. My effort from the 2017 Crusher in the Tushar can be seen HERE.
What's Next?
The Crusher in the Tushar race video! (don't forget to subscribe to the Gravel Cyclist Youtube channel)
Then, some rest, and a little down time from travel. The past month and a half has been busy. Almanzo 100, Dirty Kanza 200 and Crusher in the Tushar have taken their toll. But have no fear, I'm still riding my gravel bike, meaning there will be stories, musings and product reviews to come.
Thanks for reading!
JOM (aka Jayson)