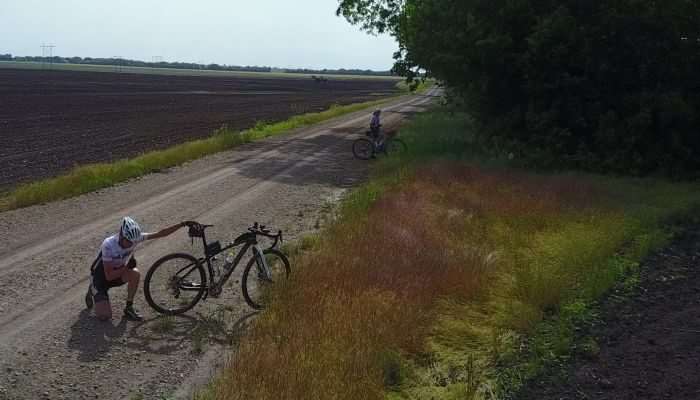 Don't read this if you get depressed or bored easily. It's about a DNF experience – not a victorious one – so go read something else.
I crashed out.
It happens.  It happens to everybody sooner or later if you race enough. It happened to me at mile 52 just a few miles past the first checkpoint. Everything was going perfectly… perfect weather… plenty of water and food consumed. I survived the inevitable winnowing of the huge mega-pack. I stayed safe mid-pack for a long time. At the first checkpoint the wonderful Crew for Hire was flawless and fast. I was rolling in less than five minutes.
I eventually nestled in with 10 steady riders who kept a single file tempo, just a little faster than I could comfortably do alone. The road was flat with perfectly packed smooth gravel. I remember easing toward the middle to check the road ahead when suddenly my front tire (Teravail Cannonball, 38mm wide) slid out, sending me over the bars at about 20 mph. I landed on my left side, shredding my calf, hip, shoulder and forearm. That red stuff dripped everywhere like the final scene from
Carrie
.
Time stopped.
I stood up and yelled a bad word at the sky. In the eerie silence that followed I heard a guy say "He looked over his shoulder", as if that would explain everything. Maybe it did but I've been looking over my shoulder for more than 35 years of racing without crashing. I'm very careful to keep my wheel pointed forward, always.
$hit happens. Nothing was broken. I backed down the
norepinephrine
and my desire to sling the bike into a wheat field.
I called the support crew. In the half hour it took to pick me up, hundreds of people rolled by. "Are you OK?" said hundreds of wonderful people. "I'm fine" I said, hundreds of times before I got tired of it and hid behind a gate post. Soon Mrs. K-Dogg came by and palpated everything. "You're OK" she said. "Don't let me ruin your race. The jeep is on the way" I said.
Soon enough, the jeep came and loaded all my muddy and bloody parts inside. The nice driver didn't ask if I was OK, just loaded up the
Eldorado
and I. I liked him already. On the drive back to checkpoint one, he told me how much he enjoyed the jeep club and their fun outings. He explained the giant Borg gizmo hanging from the ceiling between the two front seats. One was a short wave radio – the other was a CB. There were also cell phones from three different carriers. We weren't getting lost anytime soon.
At checkpoint one medical, two oncologist nurses and an Equine Veterinarian scrubbed out the gravel then wrapped me up, perfectly (I had already pre-medicated with three Ibuprofen.) They were very nice and humorous. They drove me back to my accommodations where I took a "half shower", to avoid soaking my fresh dressings. A "half shower" involves a washcloth and stepping half in and half out of the stall.
Beer to the rescue!
Feeling clean and calm, I realized there were consolation prizes to crashing… the race was over… I didn't have to suffer another 12 hours or so in the wilderness… and the local brew pub, Radius Brewing Company, was open for business and psychological consultation. After consultation with a "Pot Roast" pizza and two bodacious Porters, I felt much better, then wandered into the charming six block streets that comprise most of historic downtown Emporia.
Happy bike tourists and local kids frolicked everywhere, playing street party games and licking up local treats like shaved ice and funnel cakes. I half expected to see Richie and Potsie from Happy Days strolling up to the malt shop or strolling into the Granada Theater to see Jailhouse Rock or The Blob.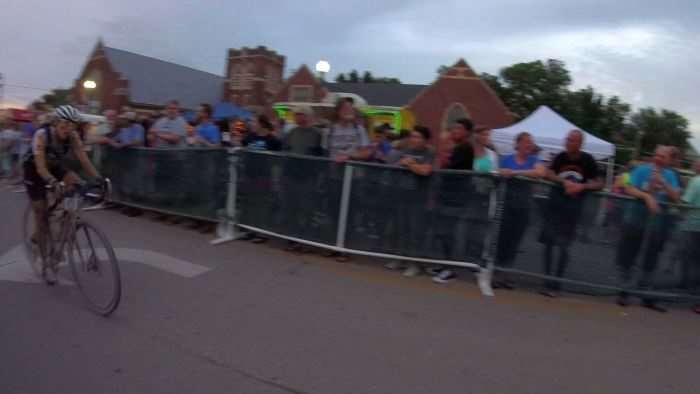 I also got to watch and video Mrs.K-Dogg come down the chute of victory, shaving almost three hours from her 2016 time. Amazing! Mrs K-Dogg ended up taking 4th place in her age group, a pretty nice result! Anybody that finishes this epic race is a true champion, in my opinion. 
Emporia is an amazing little town that eventually turned my frown upside down and maybe even convinced me to try again next year… assuming I am lucky enough to register in less than 12 minutes!
K-Dogg