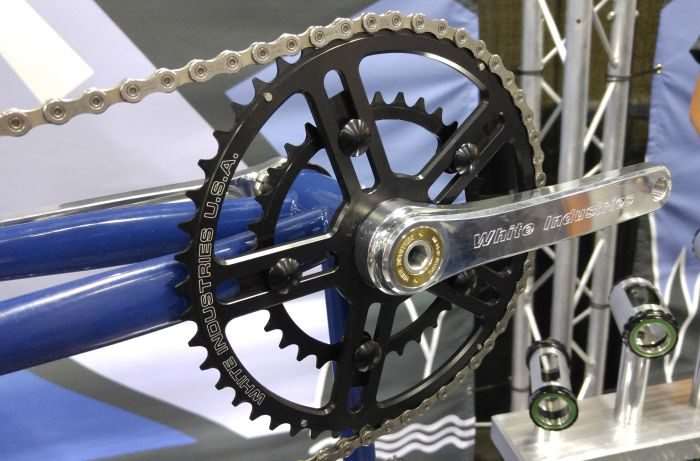 From the White Industries website – "White Industries was founded in 1978 when owner and president, Doug White, had aspirations to develop, manufacture, and market bicycle products of his own design. One of the first products brought to the market was an elasticated leg band named Pegger which wrapped around ones pant leg keeping clothing free from chain grease. White Industries, however, was destined for much more. Doug, a master machinist by trade, utilized his training as a machinist and blended those skills with his passion for cycling creating the famous White Industries components known throughout the world today. All our products are manufactured in our Northern California manufacturing facility, and we are proud to be able to say that our components are made in the USA."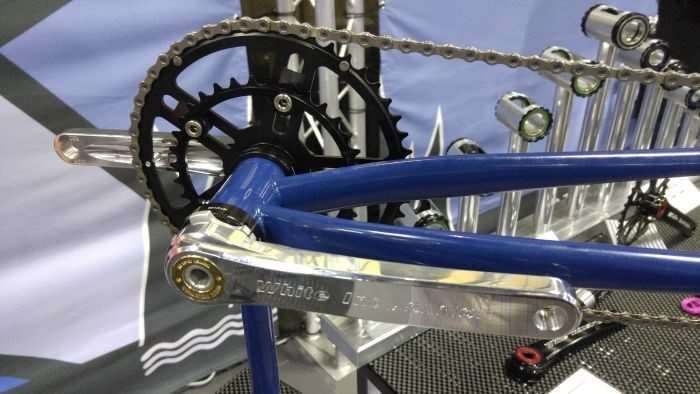 For many years, White Industries have manufactured the square taper VBC crankset – variable bolt circle – VBC chainrings allow owners to setup various tooth configurations to attain their perfect gear ratio. The outer chainring has a slotted section, on which the inner chainring self centers, allowing for virtually any gear option – no limitations on bolt circle diameters as with other cranksets!
Inner chainrings are available in 24 – 38 even increments, and outer chainrings in 38 – 52 even increments. White Industries recommends at least a 10 tooth differential between the inner and outer chainring and a maximum difference of 24 teeth.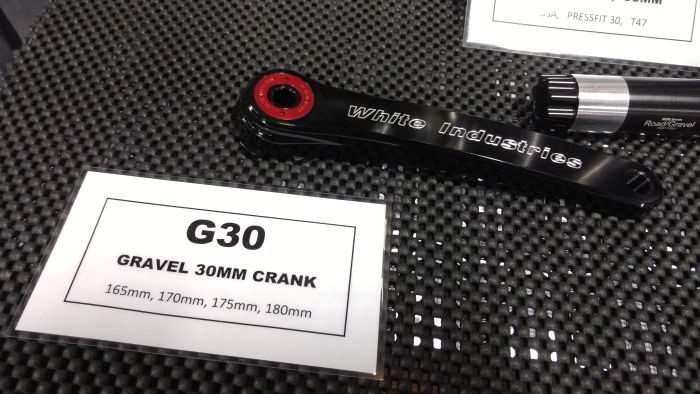 The square taper bottom bracket standard was the leader for many years, but new axle standards have changed much about crank and drivetrain standards – thus was born the White Industries MR30 range. The company still produces a square taper option, but a new 30mm axle variant brings the company's offering into the 21st century. The all-new MR30 crankset is available in three distinct flavours – M30 Mountain, G30 Gravel / Adventure and R30 Road.
MR30 crankset options:
M30 Mountain -Available with 1x, 1x Boost or 2x chainrings. Both 1x options are designed with narrow / wide chainrings in mind, while the 2x utilizes White Industries VBC chainrings. Q-Factor is 176mm. Available in 170mm, 172.5mm and 175mm*
G30 Gravel – "Adventure gravel crankset". These cranks are designed to give a rider the spacing required for wider tyres while the spindle retains a tight chainline. Available in 1x narrow / wide chainring configuration and 2x VBC. Q-Factor is 171mm. Available in 165mm, 170mm, 175mm and 180mm.
R30 Road – White Industries do-it-all road crank which utilizes the 2x VBC chainring system – or 1x narrow / wide chainrings if you prefer. Q-Factor is 157.2mm. Available in 170mm, 172.5mm and 175mm*
All of these cranks are available in a silver polished or black anodized finished, with options for crank extractor colors – red, blue, pink, purple, black and gold.
* Available lengths to be confirmed.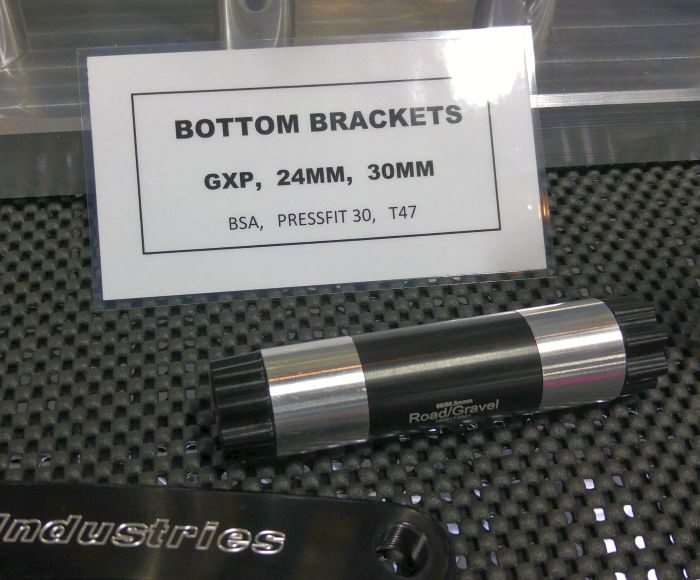 The MR30 crankset rolls on the company's beefy 30mm aluminium axle. This axle mates to one of the three compatible bottom brackets manufactured by White Industries – BSA (English thread) featuring external cups, Pressfit 30 and T47.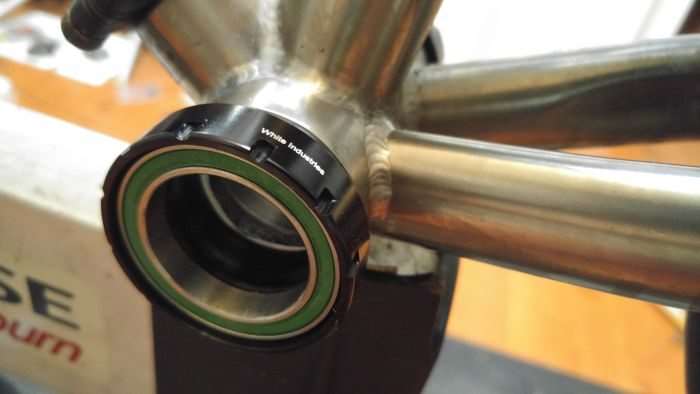 The bottom brackets are available with stainless steel or XD ceramic bearings (stainless steel pictured above).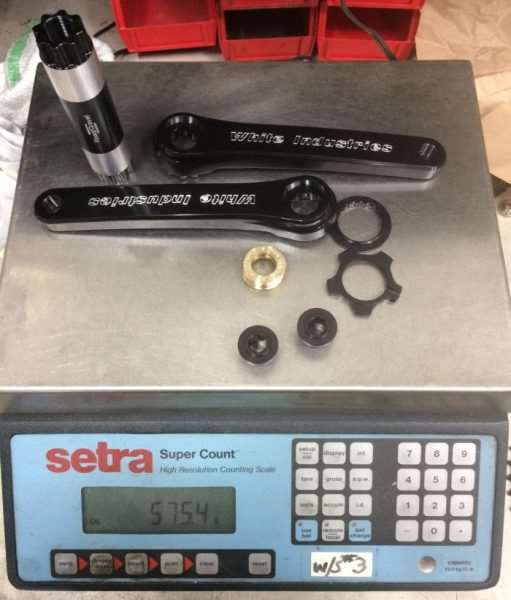 Above, the White Industries R30 road crankset with bottom bracket axle and other parts required for operation. 575 grams on the White Industries scale.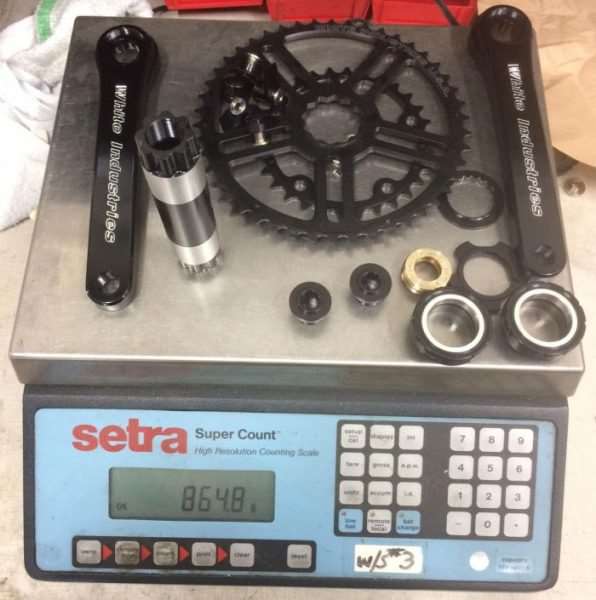 Above, the White Industries R30 road crankset with everything required to get you up and running – BSA bottom bracket, 46 / 30 chainrings and fixing bolts. bracket axle and other parts required for operation. 864 grams on the White Industries scale.
Long-Term Review
JOM of the Gravel Cyclist crew has acquired one of the first White Industries R30 cranksets in 172.5mm for long-term review. The crankset has been installed on his Ritchey Breakaway gravel travel bike, initially with 46 / 30 chainrings. The crankset faces its first test, ironically at a non-gravel event in Taiwan on October 28, 2016 – the Taiwan KOM Challenge – where low gearing will come in very handy! JOM also has a 48 / 34 chainring set for the R30's and will be running the entire configuration through the review wringer. Watch this space for the full review.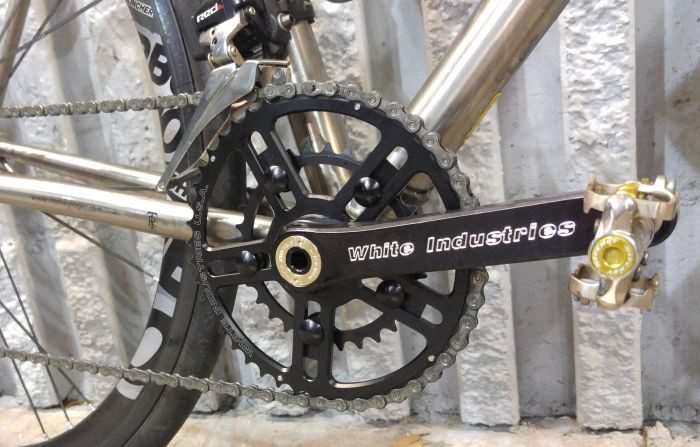 White Industries USA-made MR30 cranks are available now directly from the company. Pricing details and other information is available on the White Industries website.