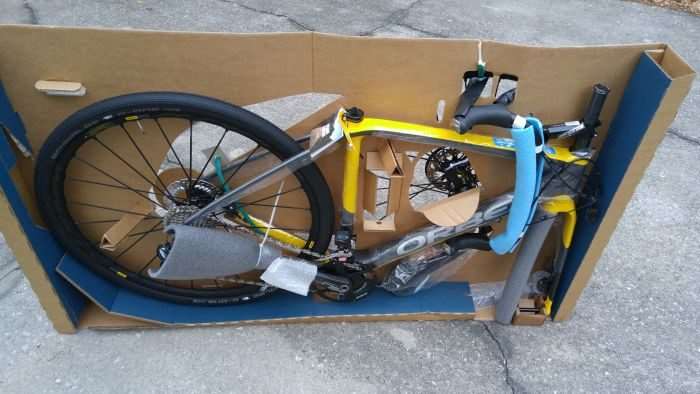 Greetings trendsetters! In Part One, I covered my loosely formed training plan for the 2017 Dirty Kanza 200 as well as the food I plan to consume race day.
Part Two covers my bike preparation and related items.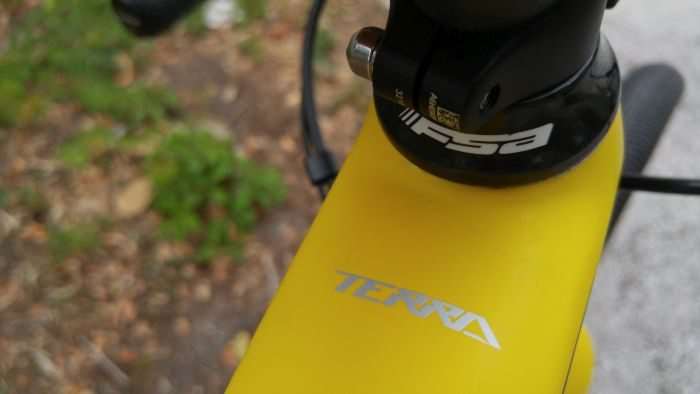 Unlike some of us riding Dirty Kanza 200, I am in the enviable? position of riding a review bike for this year's race. I firmly believe that a proper review constitutes training rides, and wherever possible, running a bike through the wringer at a legit gravel race / event. Picking lines on a crappy gravel road is easy when you're alone, but in a race / event situation, it's a whole different story!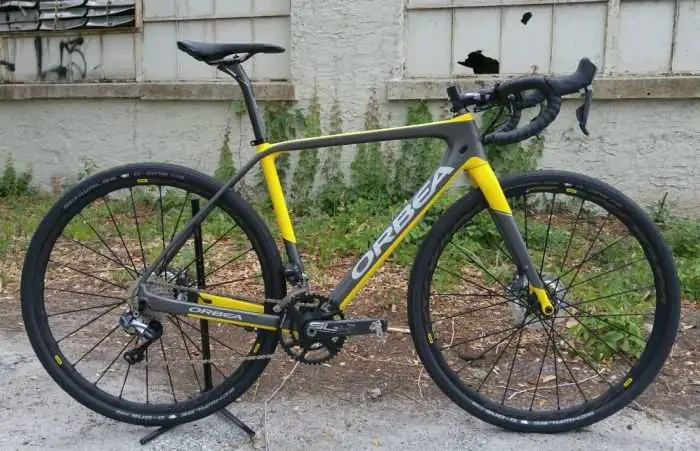 I won't be going into intricate detail about the riding properties of the Orbea Terra just yet, that will be saved for the review. The Terra is brand new to market and I'm aboard  the top tier model in size small (about a 54cm top tube).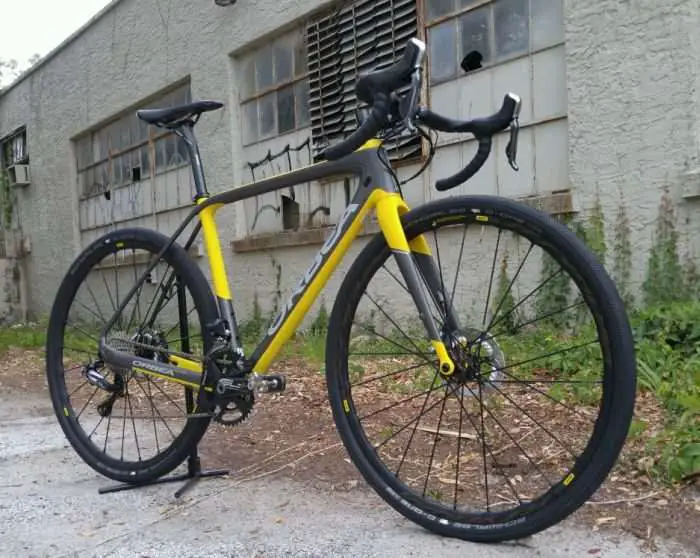 The bike is shod with Shimano's superb Ultegra Di2 electronic shifting / hydraulic brake drivetrain, FSA's new K-Light Adventure crank fitted with 46 / 30 chainrings and Mavic Pro All-Road disc brake wheels with Schwalbe G-One tyres in 40mm.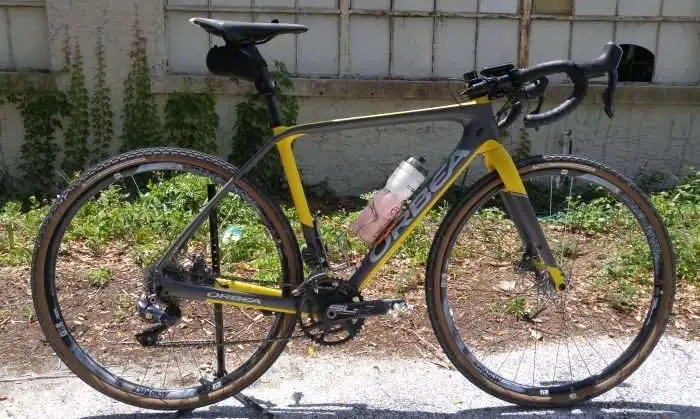 Immediate differences you will notice from the stock build are my wheelset and tyres of choice. For race day, I'll be rolling the American Classic Race 29'er wheelset (enter our contest to WIN a pair of these wheels!), but on my brand new pair in the latest finish from American Classic and Panaracer's marvelous Gravelking SK tyres. The Mavic's are relegated to spare status for the event.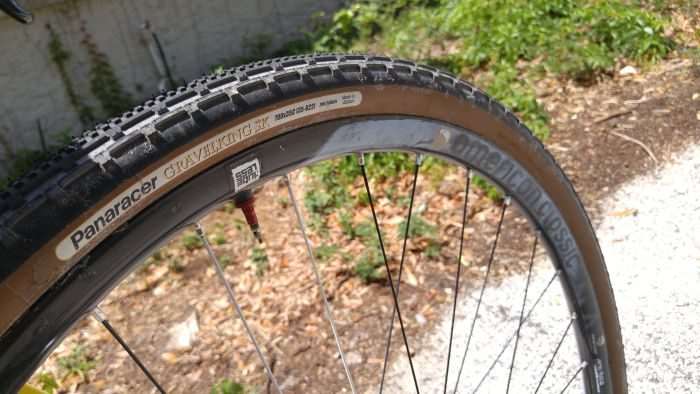 Pictured above is the regular version of the Gravelking SK tyre in 35mm. For race day, I will be rolling the just-released 38mm version of the tyre, which features additional sidewall protection, a must-have for an event such as Dirty Kanza. The Flint Hills of Kansas are not kind to tyres. Orange Seal's Endurance Formula sealant is my sealant of choice, and that of Team Gravel Cyclist – mostly a team of slackers who have a lot of fun!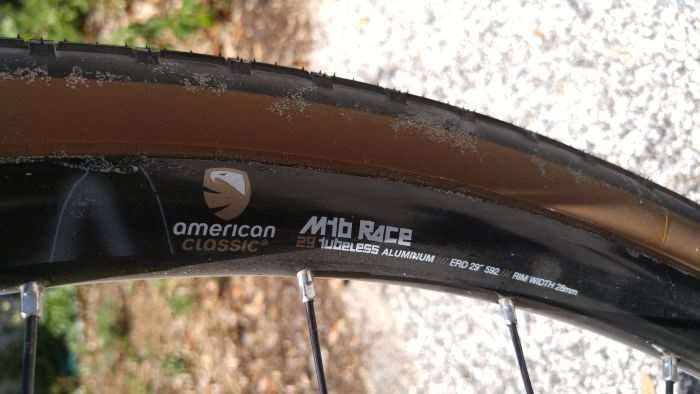 The American Classic MTB Race 29'er wheelset… not just for MTB, it is superb on gravel and weighs around 1,500 grams for a pair.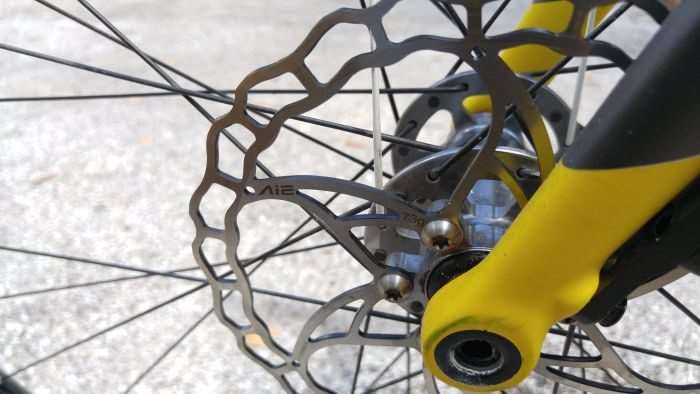 Trialing Ashima's lightweight AI2 rotors with Titanium bolts.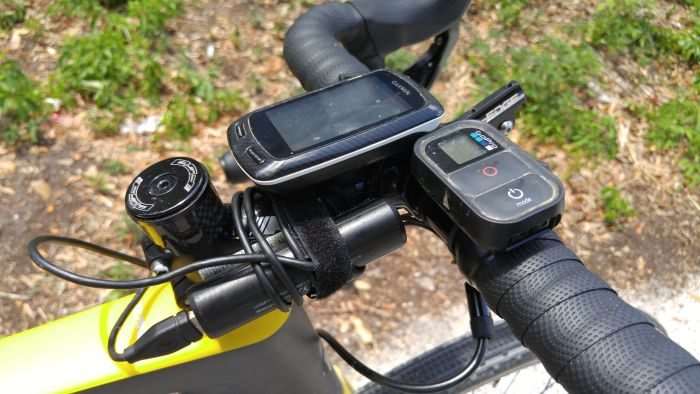 The cockpit, and the busiest area of the bike. In the photo above are a Garmin 800, external tube battery and USB cable to ensure the Garmin goes the distance, GoPro camera remote (two for race day – front and rear) and K-Edge mount for the GoPro camera + larger battery.
In this photo, you can see the Shimano Di2 satellite climbing shifter button, reversed from the suggested method of mounting. The GoPro remote is sitting on top of the the bars just for photographic purposes, but will be zip tied and moved lower so I can operate the Di2 switch sans hassle.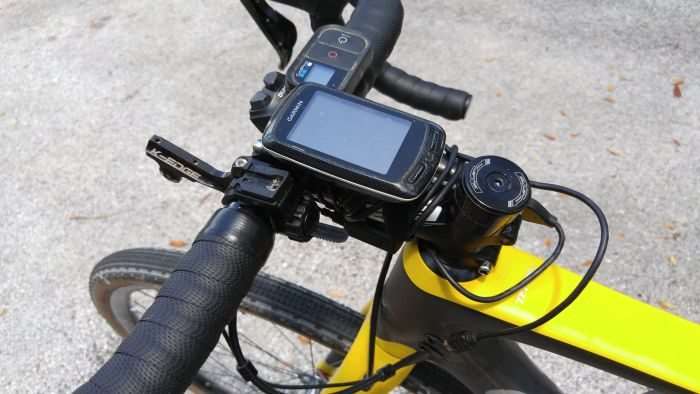 Left of the Garmin 800 is a light mount for a Cateye 700 lumen LED light. I hope to make it to the finish line before night falls, but with 200+ miles of gravel roads, anything can happen! Hopefully not a bad leg day…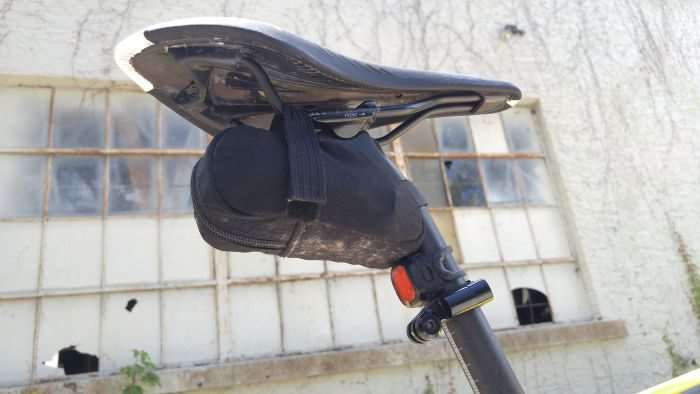 The stock saddle has been replaced with my personal favorite, the Fizik Arione. Also in the photo are my saddle bag, rear Knog taillight and rear facing GoPro camera mount. This particular mount is far superior to the stock Garmin seatpost mount.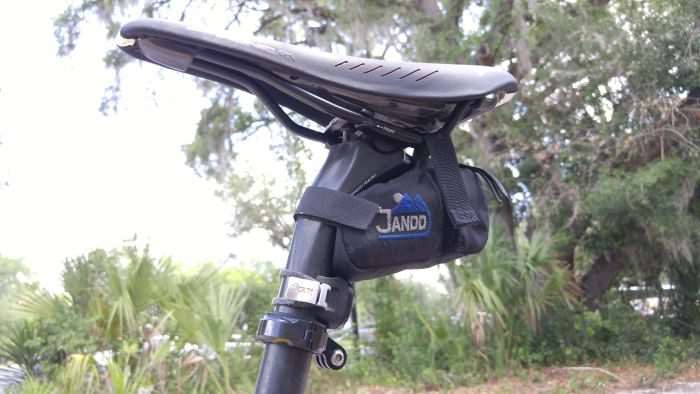 Inside the saddle bag are 1 x tube, 2 x Co2 cartridges, 1 x microscopic Co2 inflator, 1 x tyre lever, 1 x KMC X-11 master chain link and 1 x tyre boot. An additional tube will be stashed in the cavity beneath the saddle on race day… a chain tool will also be jammed somewhere.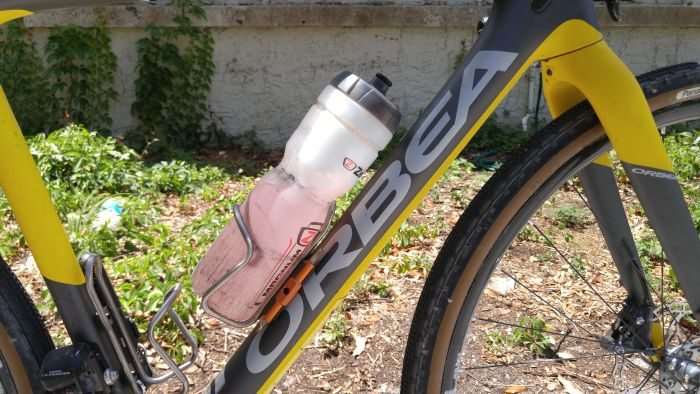 For water and hydration, I rely on Zefal's Magnum water bottles, which hold about one litre. They are held in place by King Cage titanium bottle cages, and a Fix-It Sticks kit serves as the bike's toolkit.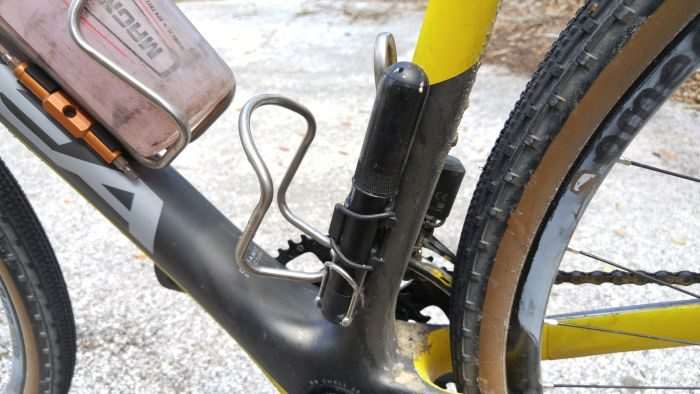 The rear bottle cage is also home to the backup inflation system, namely the Specialized Air Tool Road Mini Pump.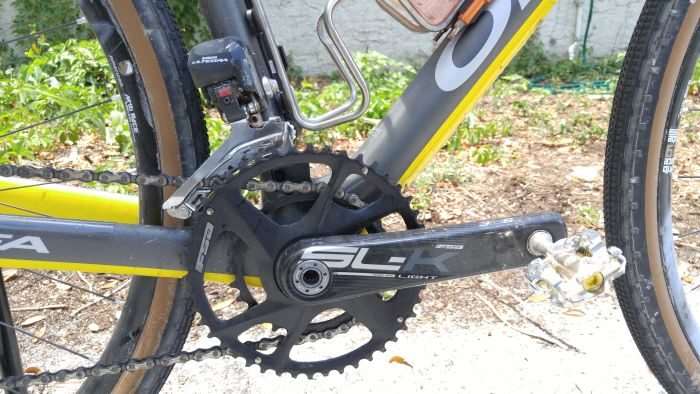 FSA's SL-K Light carbon crankset and 46 / 30 chainrings – perfect for those who ride a high cadence when the road tilts upwards. There are many steep climbs in Kansas. Kansas isn't flat!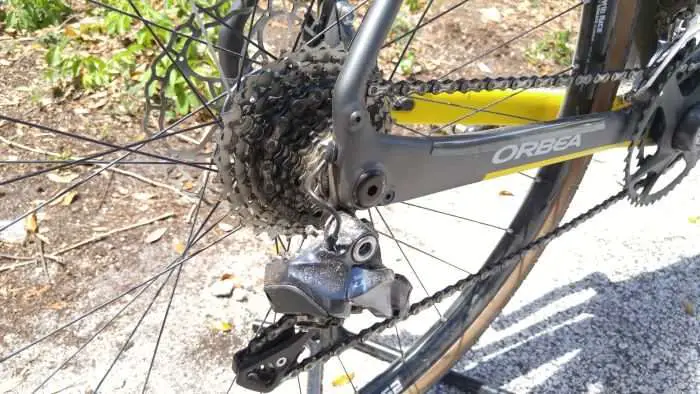 This year, I am running a reasonably lean setup and will not be using a small frame bag for food. In my rear pockets will be a Platypus Softbottle in .5 litre or one litre (to be detmined), Gu gel flask, Lara Bars, Gu Chews, and extra Gu gels in those pockets, or stashed underneath the leg gripper of my bib shorts. You can see my food and hydration in more detail on Part One. I plan to reload gels, bars, bottles etc, at each aid station.
The Plan B Bike
In the event the Dirty Kanza weather forecast is for rain, sludge and muck, I will run the Lynskey GR250, a titanium gravel bike I have been enjoying and reviewing for some time. The video review is due to appear soon (I promise!) – the GR250 has superior tyre clearance over most any bike on the market today. Ideally, I will have more than five minutes notice to swap bikes, unlike last year's Dirty Kanza rainstorm, which pelted Emporia about two hours before race start, and caused major pandemonium for a lot of riders, five miles into the course!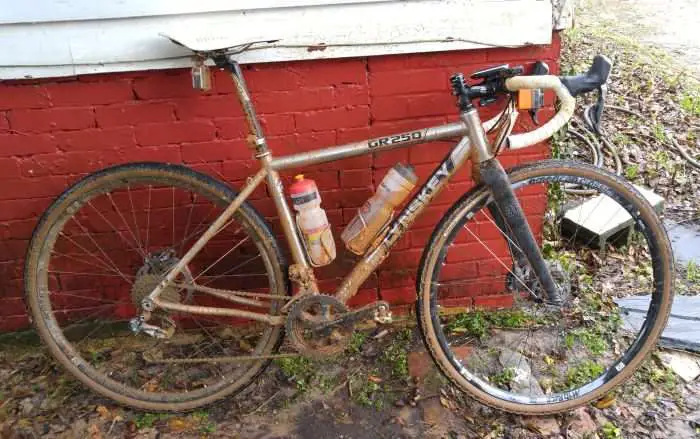 Pictured at the finish of the 2017 Middle Georgia Epic, I may have been dropped from the front group of racers, but I rode my bike just about the entire time while others walked, with zero issues relating to tyre clearance. Same story again at the 2017 Land Run 100 in the mud, although I abandoned that race due to cold, rain and near hypothermia 🙁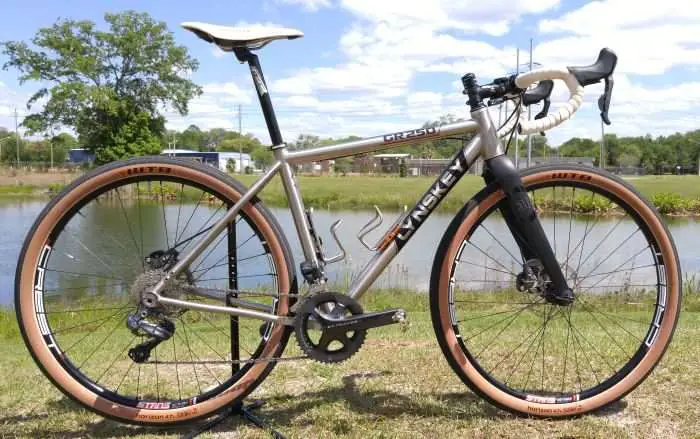 Pictured in sunnier times with 650b wheels and WTB Horizon tyres, the Lynskey GR250 "Plan B" will be fitted with American Classic Race 29'er wheels and Panaracer's lesser known tyre, the Gravelking Mud, a tyre I used at Land Run 100.
Pre-Ride your Gear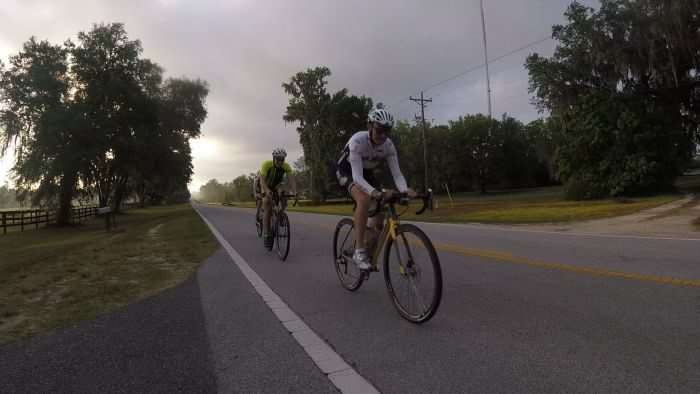 I cannot stress the importance of pre-riding your race bike setup for a race such as Dirty Kanza 200. Don't wait until race day! Pre-rides are the time to find out where the gremlins are, and fix them ahead of time.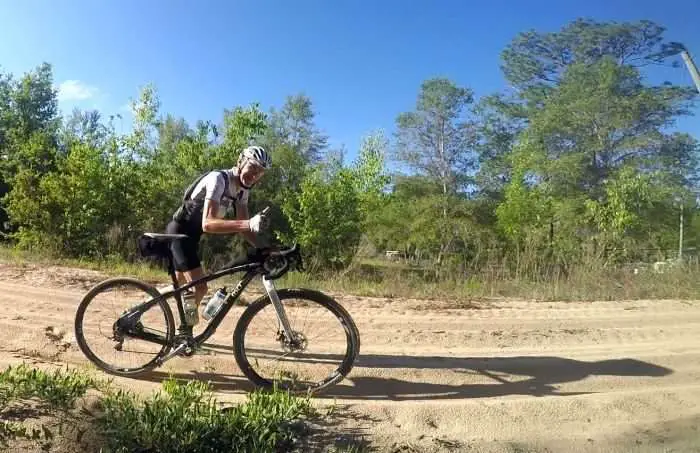 Last Sunday, joined by K-Dogg, Mrs K-Dogg and our friend the Belgian Diesel, aka Lambert, we rode our race setups over 176 miles / 284 kilometres of mixed surfaces. The ride included pavement, dirt, gravel, sand and a bit of sludge. For extra training, I took the crew on a notoriously sandy sector that had everyone walking – what doesn't hurt you makes you stronger, right?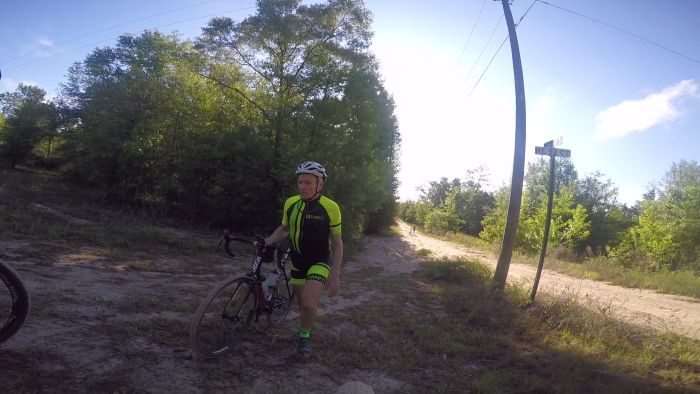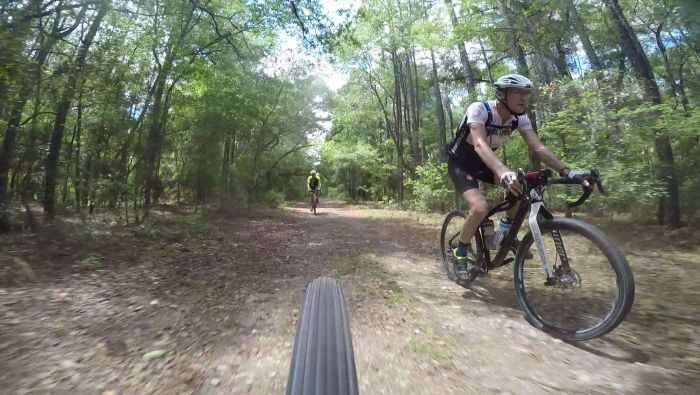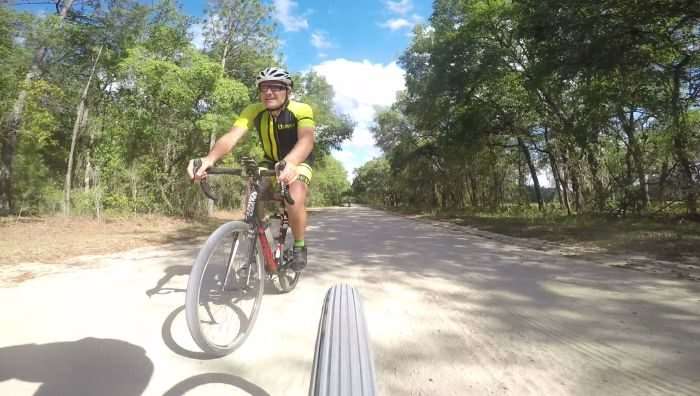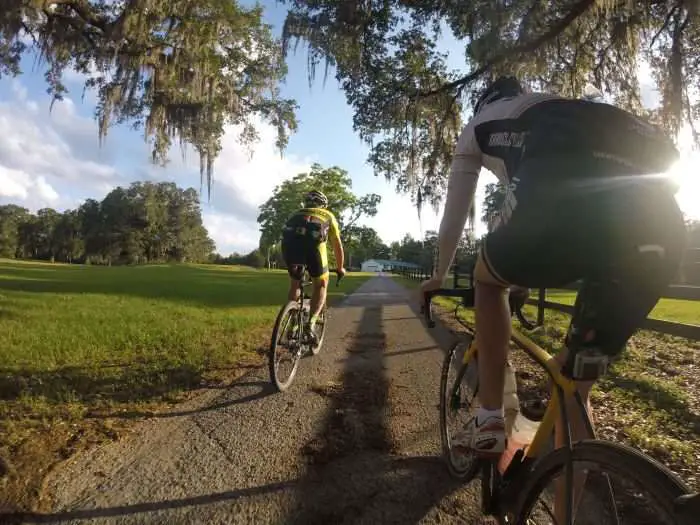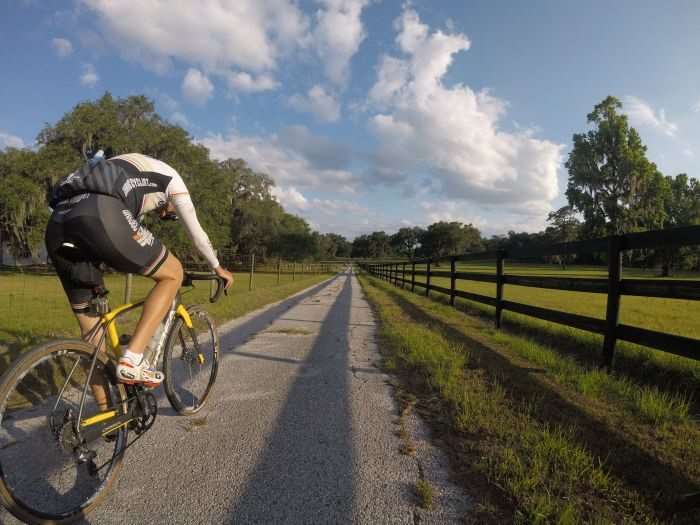 For those so inclined, you can check out my Strava data from Sunday's ride, HERE.
What's next?
This weekend I'll be at Almanzo 100, an event I have always wanted to ride. After that, rest, relaxation and what they call tapering… before a long journey in a minivan packed full of bikes, spares and stuff to Emporia, Kansas.
Good luck with your preparation! Thanks for reading!