"Derek Brayton and Tadd Armbruster know a thing or two about what makes a great set of wheels. Their years of experience riding, observing and creating bikes in the industry plus a desire to build a set of wheels has culminated in a set of superior rims that will not only exceed your expectations but excite you on each and every ride." – Atom Composites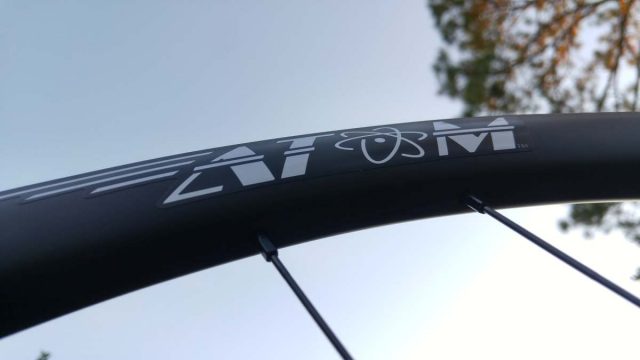 "Derek, Tadd, and their team handcraft each wheelset in the Long Beach, California area from carbon fiber and complimentary lightweight components to offer a smoother and more reliable ride which allows for better cornering and greater performance."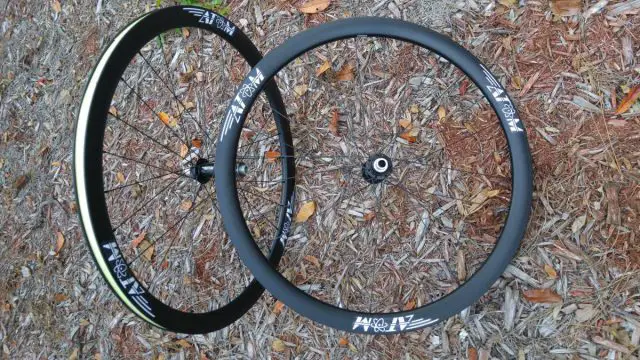 Atom Composites was founded in August of 2015 with a goal to bring part of the bike industry back to the United States. More on that later.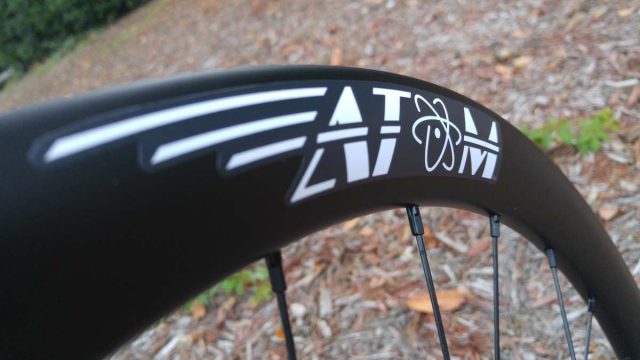 Arguably, interest in road cycling and racing has waned over the past year or two, whilst gravel cycling has possibly seen the biggest cycle of growth. Most manufacturers seem to have jumped onto the gravel bandwagon, extending their product ranges to include complete bikes, wheels, components and so on. Thankfully, there are no rules or hindrances governing bike and component design in this genre, so rejoice and revel in the anarchy of it all!
Atom Composites Carbon CX38 Wheelset – Designed for Gravel and Cyclocross
The CX38 wheelset is not featured on the Atom Composites website, but rest assured, Yuri Hauswald, winner of the 2015 mud edition of the Dirty Kanza 200 rolls on these wheelsets. If they're good enough for him, they're probably good enough for you.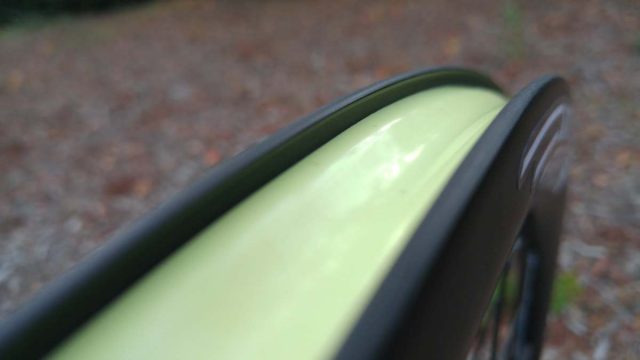 Unfortunately, I cannot tell you too much about the carbon rims other than the CX38 nomenclature comes from the fact the rim measures 38mm in depth. The rim measures 25.5mm externally and 19mm internally. As far as gravel-specific wheelsets go, that inside width is relatively narrow. The CX38 rim features a traditional bead for holding the tyre in place, meaning it isn't a hookless design.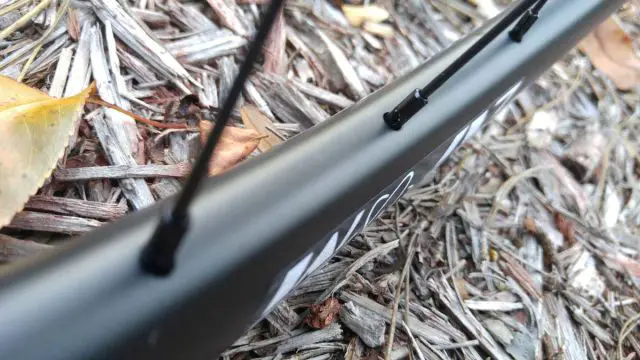 I suspect this wheelset was designed for cyclocross but is doing double duty for gravel. In defense of Atom Composites, I've had this wheelset in my possession for quite some time, so they may already have a wider rim variant in the pipeline.
Weights and Specifications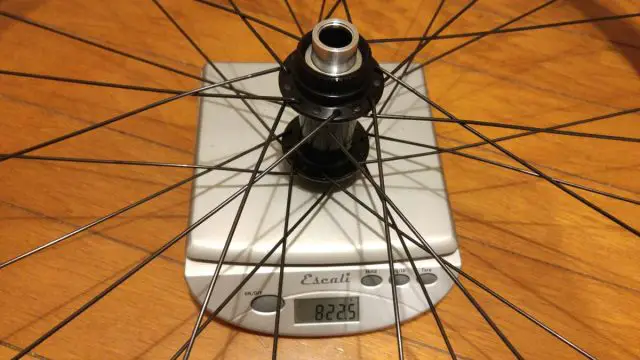 Placed onto my gram scale, the front wheel sans rim tape and valve weighed 822 grams.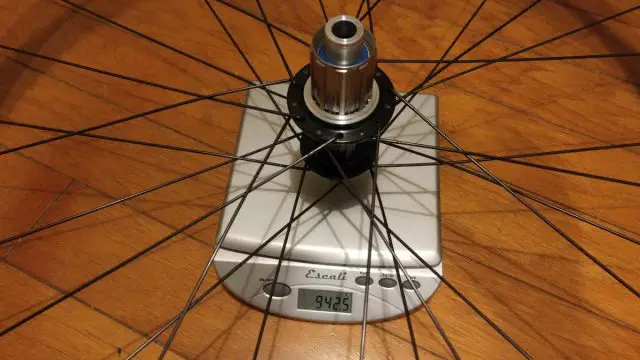 The rear wheel, 942 grams sans rim tape and tubeless valve.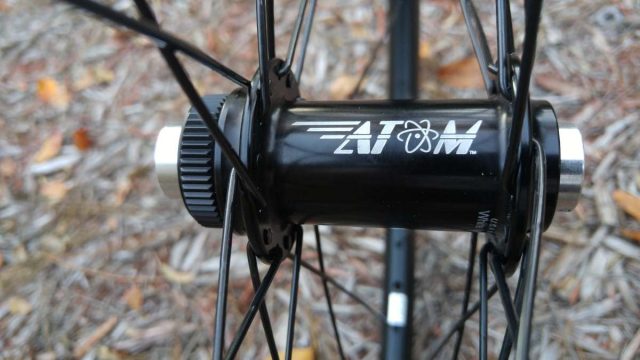 Mentioned earlier, Atom Composites proudly tout "a goal to bring part of the bike industry back to the United States". I cannot report on the country of origin of the carbon rims, but the hubs are manufactured by White Industries in the USA, complete with the Atom Composites own logo.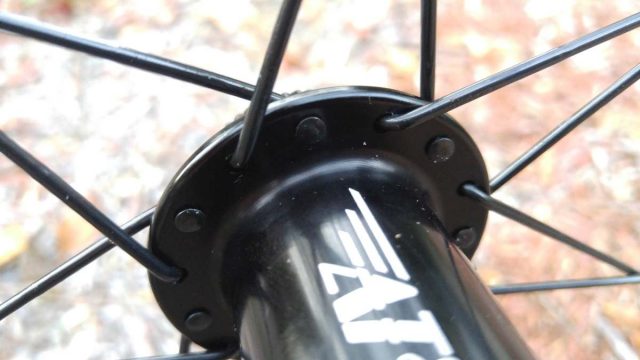 Round, non-aero J-bend spokes may seem rather ho-hum, but they make for a strong wheel, and replacements are easy to find at your local bike shop. Atom Composites built the sample wheelset with 28 Sapim Laser spokes front and rear; a stout build with no tricks or gimmicks and a promise of easy maintenance. Good traits for a wheelset designed for rocking down your near or far gravel road.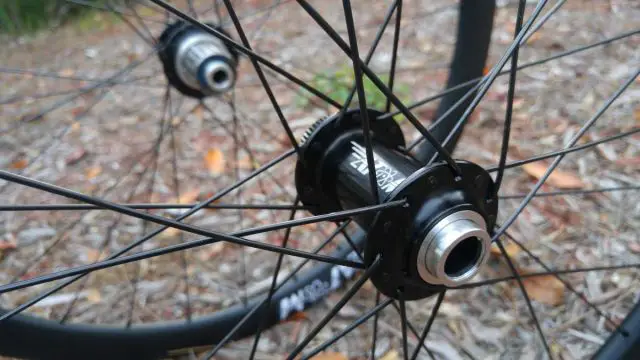 White Industries hubs have a reputation for quality, reliability and flexibility. Atom Composites isn't the only company utilizing rebadged White Industries hubs for their builds if that means anything. In the case of my sample CX38 wheelset, they were configured for thru-axles front and rear, namely 15mm x 100mm front and 12mm x 142mm rear. The particular model name is White Industries CLD (center lock disc).
Above, the rear drive-side cartridge bearing is sealed but exposed. Not a fault of Atom Composites, but I would like to see White Industries use a secondary seal to better shield that portion of the hub from the elements.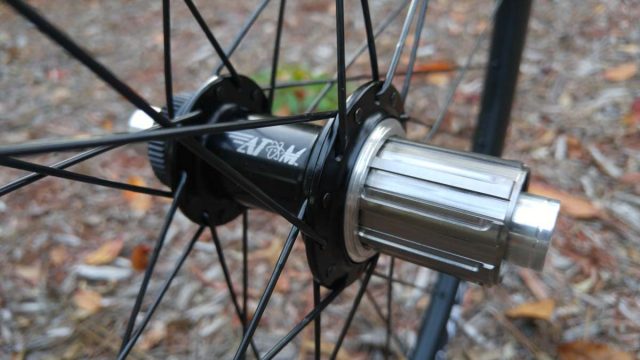 The cassette body is a Shimano 10/11-speed compatible unit, manufactured from titanium. Lighter than steel but heavier than aluminium, titanium does a much better job of resisting scoring to the cassette body, mostly caused by individual cogs moving a smidge under load.
Disc Rotor and Tyre Installation
I have nary a bad word to say about Shimano's center lock brake rotor standard. It is the easiest and fastest in terms of time taken to swap disc brake rotors. Super handy when you review a lot of wheels!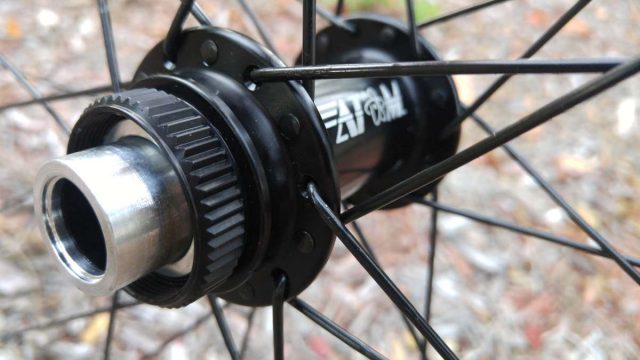 For the duration of the review, most of my time was spent riding the Atom Composite CX38's with WTB's Resolute 700c x 42mm tyre. Towards the end, I ran a colored variant of the Panaracer Gravelking SK. For both tyres, there was no drama involving the mounting process; no overly tight or difficult fit, and easy tubeless inflation.
Both brands of tyres were easy to inflate and seal to the rim, thanks to assistance from Bontrager's Flash Charger pump and the Topeak Joe Blow Booster pump. Owners of air compressors will have an even easier time of installation. My tyre sealant of choice was Orange Seal's Endurance Formula.
Additionally, both brands of tyres were easy to remove from the CX38 rims. I've mentioned this in prior reviews. I've experienced at least two brands of wheelset that required an extraordinary amount of force to remove tyres from the rims, and tyre brand was irrelevant. This should be a factor in your purchase decision. Nobody likes being stuck by the road at the best of times, but stuck and unable to remove a tyre and fix a puncture? Dealbreaker.
Atom Composites Carbon CX38 Wheelset – Ride Review
At a combined weight of 1,764 grams, the Atom Composites Carbon CX38 wheelset isn't setting the world alight with its weight. The White Industries CLD hubs are decently lightweight, so I'm assuming some of that weight lay in the rims and heavier duty Sapim spokes of this wheelset. Compared to some lighter wheelsets I personally own or have reviewed, I can feel the effect of this wheelset's extra weight during acceleration. It isn't a wheelset that responds immediately to changes in speed, a definite negative if you're sort of rider who likes to throw the bike around out of the saddle.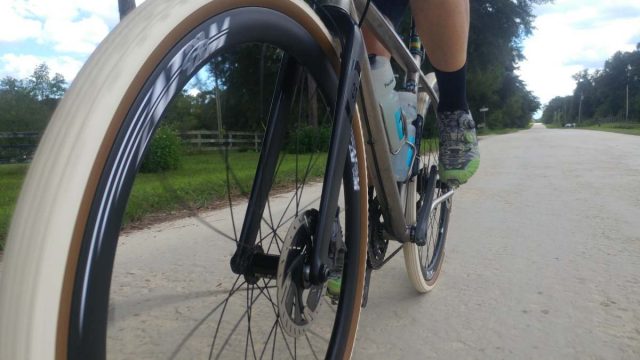 But, that isn't generally what gravel cycling is about. Get your bike up to speed in the saddle, and chug along all day. That's where this wheelset does well. Accelerated to 17mph to 20mph (32kmhr) on fast, flat gravel roads, the CX38's are happy to roll along all day. The rims are deep enough to provide a perceived aero effect – remember, it's highly likely a wide gravel tyre acts as a sail in regard to aerodynamics – which can be good and bad – but more importantly, the depth isn't enough to be blown about the place when side winds are kicking up.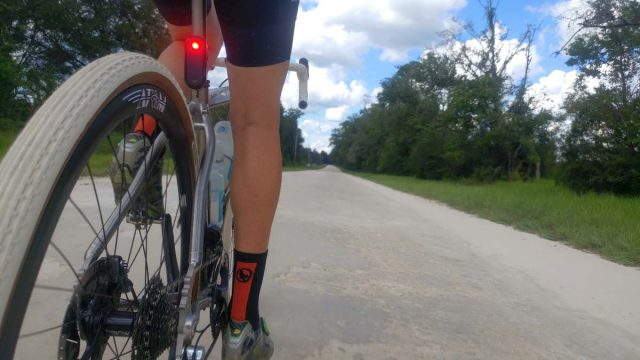 Tyre pressure is the biggest factor to overall ride comfort. My friends at ENVE kindly provided this handy tyre pressure guideline chart, and it's one you should consider referencing as well. Despite having a relatively narrow inner rim bed compared to other wheelsets on the market today, both sample tyres measured bang on spec width on the CX38 rims; 38mm for the Panaracer Gravelking SK and 42mm for the WTB Resolute. In both cases, no burping (air loss during cornering) was experienced, so Atom's non-hookless rim did its job well.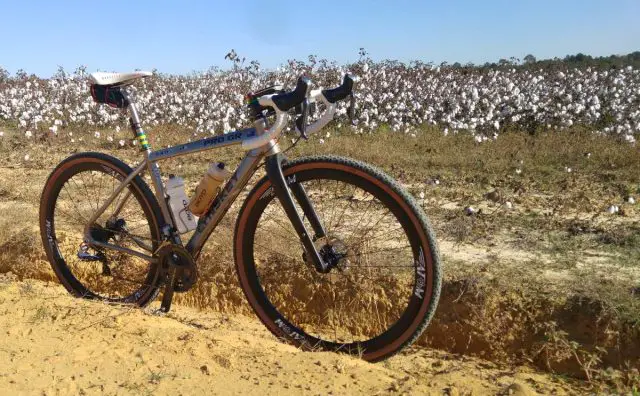 The other positive about a narrower rim bed is the ability to install roadie width tubeless tyres. I'm talking about 25mm or 28mm wide here. I've ridden my personal gravel / cyclocross bikes on pavement on many occasions, and it's nice to have a wheelset I can run wide or narrow tubeless tyres if I choose to. That is generally not possible with the wider rims we're seeing on the market nowadays. Moving on.
My reviews aren't spent hanging around looking fancy in the parking lot before I head over to a coffee shop. Therefore, I don't ride on groomed gravel roads or perfectly smooth pavement. Washboard/corrugated roads, potholes and other gravel road features are part of my riding experiences. Additionally, my bikes are devoid of suspension, unless I'm specifically reviewing such an item, in which case I would mention it here.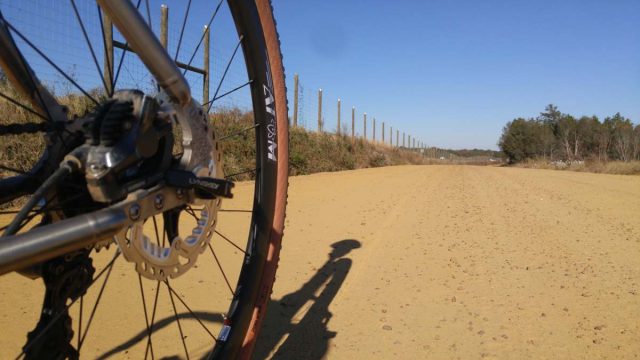 Where possible, I like to get a race or two under my belt during my review miles/kilometres, but unfortunately, my time on that Atom CX38's was restricted to training rides only. During the abuse they endured in north central Florida and southern Georgia, the CX38's stayed perfectly round and true. Tadd and the crew at Atom Composites are competent wheel builders, and this is reflected in durability of their build. I also like the fact the CX38 wheelset is relatively subdued in appearance, which is a good look for most bikes.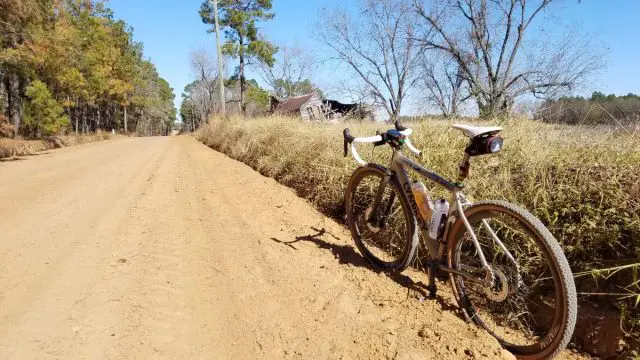 The White Industries CLD hubs at the heart of this wheelset were trouble free with bearings as smooth as the day I received them. Hub engagement is fast enough for the type of riding I do, and I'm unaware of a rider weight limit on this particular CX38 wheelset. Without doubt, it is a wheelset I would recommend to a heavier or powerful rider. Yours truly isn't renown for being a powerhouse on the bike, meaning the wheels resisted all of my futile attempts to wiggle them laterally.
Thru-axles are one of the greatest inventions for disc brake hubs – here's why. Stiff hub interface, no brake rotor rub, and decently consistent rotor alignment between wheel changes.
Brake Performance
This paragraph is almost moot, considering the Atom Composites CX38 is a disc brake wheelset. I rode Shimano's hydraulic brake / electronic Di2 system on the bike using during this wheelset review. What's not to like about powerful hydraulic braking with excellent modulation and performance in all weather conditions?!
Warranty
Unknown at this time, but I will amend this review should that information come to light!
Atom Composites Carbon CX38 Wheelset – Summary
Atom Composites is not a household name, but their CX38 wheelset is no frills and well-built, assembled from high-quality materials. I wish I could tell you more about the CX38 rim, but the wheelset's White Industries CLD hubs are well-known, reliable and flexible, in terms of catering to the different axle standards currently on the market. I've had a mixed bag of success in past years with Sapim's CX-Ray spokes (breakages), but the Laser spoke used in this wheelset has never given me trouble.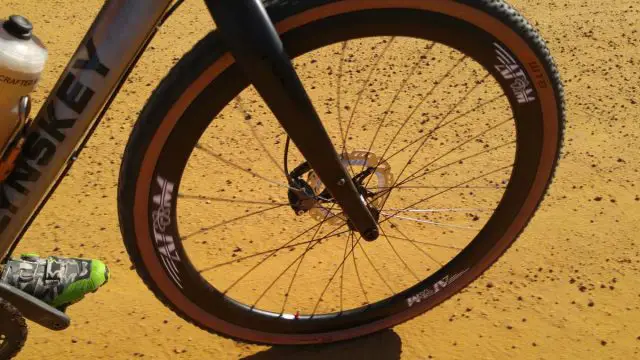 Positives:
A stout wheel built, perfect for the beatdowns of gravel.
White Industries CLD hubs. Excellent reliability and somewhat future-proof until some bicycle industry boffin (a really smart bloke) invents another standard.
Regular J-Bend round spokes. Super easy to find replacements at a local bike shop.
Easy to mount and remove tyres.
Excellent build quality and a look that goes well with most bikes.
Does great double duty on a disc brake road or cyclocross bike.
Negatives:
If you're a weight weenie, this is not the wheelset for you.
Narrow rim bed. Not a deal killer for some, but don't expect 2 – 3mm of free width from tyres mounted to this wheelset.
Not a wheelset problem, but a lack of information about this wheelset on the Atom Composite website.
Priced somewhere starting around $US 1,820.00, visit the Atom Composites website for more information.
Thanks for reading!