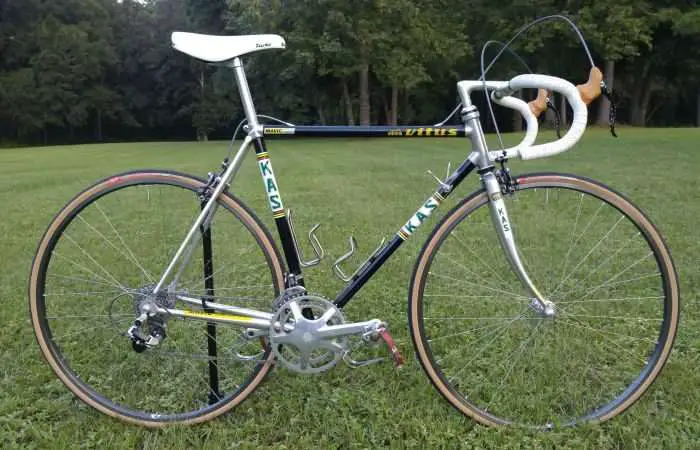 L'Eroica started in 1997 because of one man, Giancarlo Brocci. Giancarlo admired the values of a past cycling so much that he wanted to reconnect others to the heritage that inspired much Italian history; literature, culture, and music.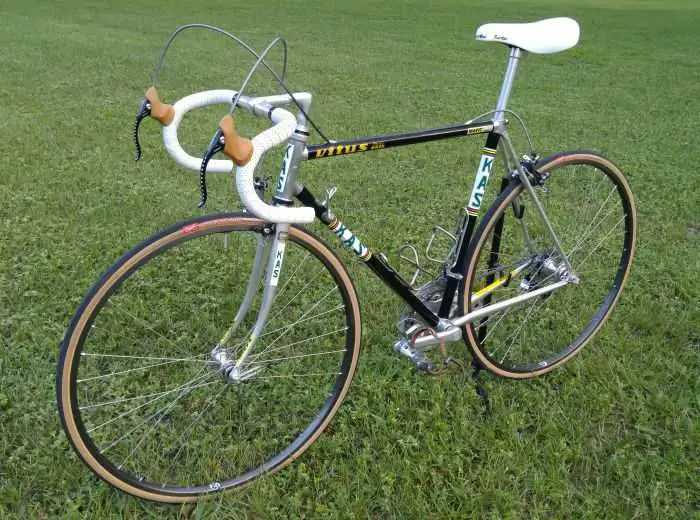 L'Eroica also began as a foundation for the protection and preservation of the last gravel roads in Tuscany. These romantic concepts led to the idea of L'Eroica, an event that initially saw 92 participants, or "hunters of feelings and emotions", as the creator Giancarlo Brocci names them.
You can read more about the experiences of the Gravel Cyclist crew at the 2016 L'Eroica in Italy, below:
(Part One) – (Part Two) – (Part Three, The Ride) – (Part Four, The Video). There's also plenty of retro bike goodies from the event – Retro Bikes Part One – Retro Bikes Part Two.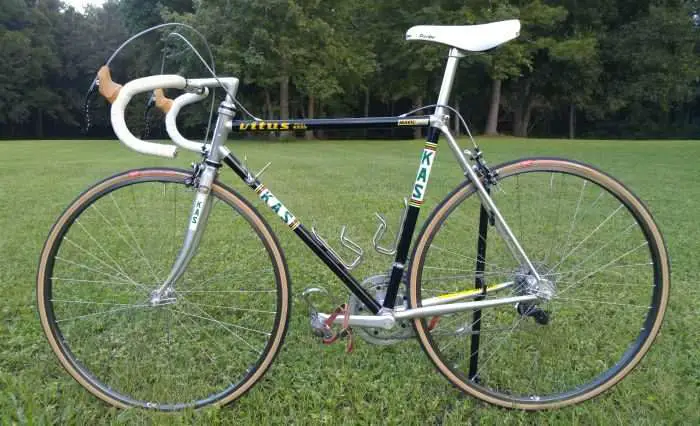 L'Eroica has strict requirements on bicycles – in a nutshell, they must be a road bike – although I did spot a few Alan CX bikes last year – that aside, pre-1987, downtube friction shifting, exposed brake cables and toestrap pedals.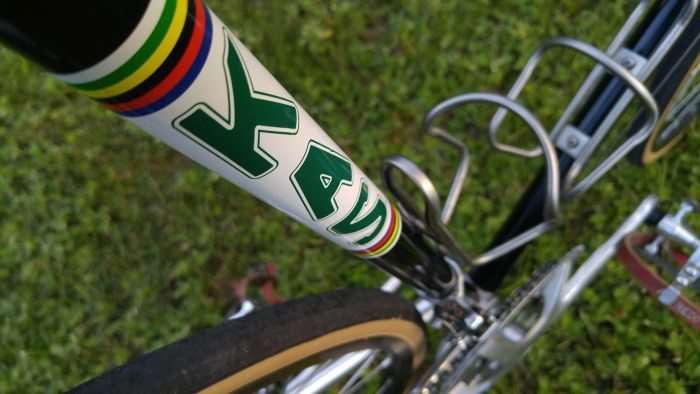 The technology from this timeframe is so different from what is available nowadays. Steel frames were the norm, as were large and very limiting gear ratios, typically consisting of a five speed freewheel. Quite the departure from 11-speed electronic drivetrain systems with hydraulic disc brakes!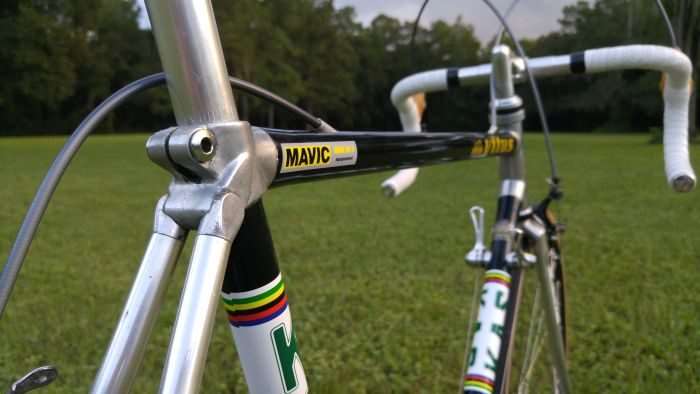 With that said, I wanted to build a bike that was trended towards the upper end of technology during the late 1980's. I'm a long-time Sean Kelly and Phil Anderson fan, but considering I had a Vitus 979 frame and fork laid away as a future project, that made the choice easy – build a Sean Kelly Team KAS replica for L'Eroica.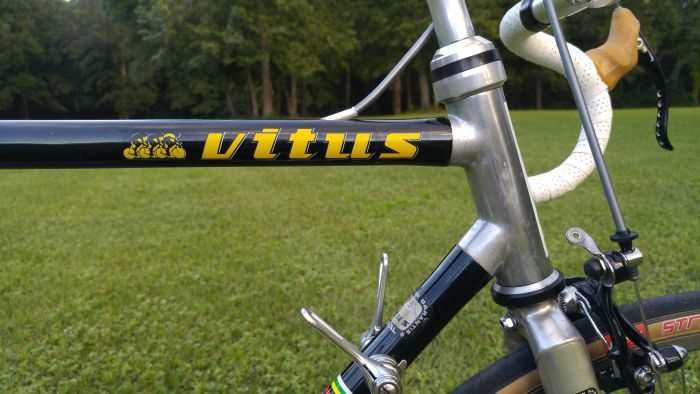 The Vitus 979 is constructed from the company's Dural aluminium – it also one of the few aluminium frames that is accepted by the L'Eroica organization. The frame's lugs are aluminium too, and the frame tubes are effectively screwed into the lugs and glued. At the time, this was cutting edge technology.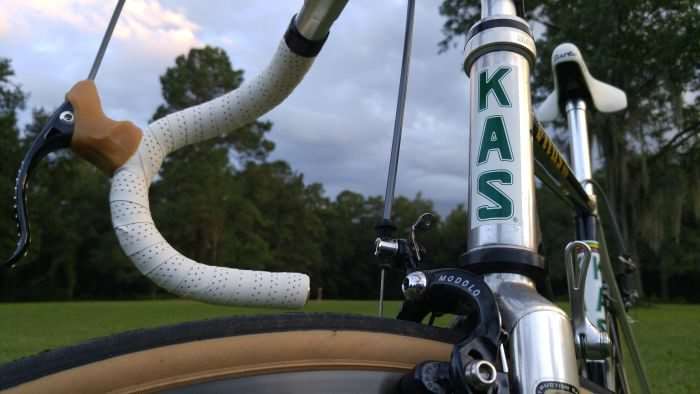 The technology wasn't perfect, and over the years, the bonds on many of these frames has failed. Thankfully, the example I have has been well looked after and is a size 54 – not quite as flexy as the bigger frames.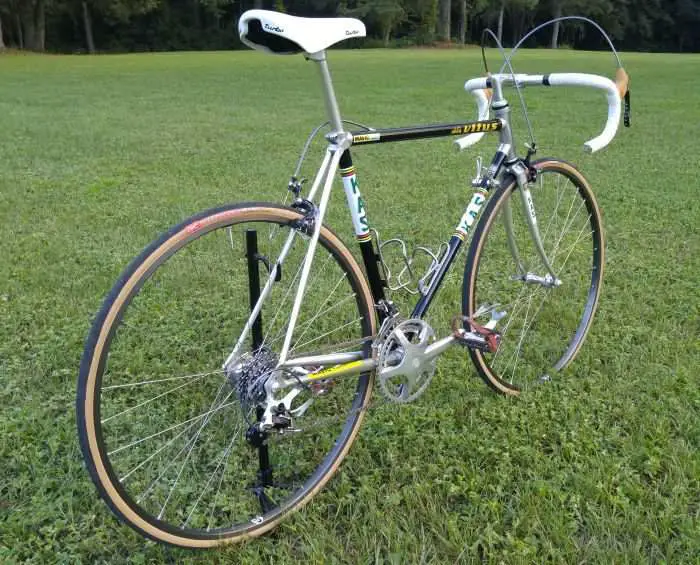 The components on my Vitus 979 aren't quite period correct, but they are reasonably close. Team KAS was supplied by Mavic components. At that time, Mavic was a supplier renown for reliable and reasonably lightweight components that were completely rebuildable. I set about building the bike as close as possible to how Sean Kelly would have raced it, but with a few allowances for some modern conveniences.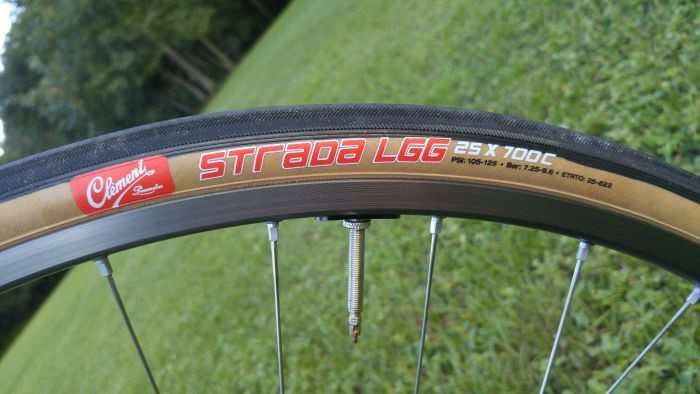 On event day, I chose Clement's Strada LGG in 700c x 28mm – thank you Clement for supplying the tyres! – These are the clincher variety, whereas when this bike was new, they would have been tubulars.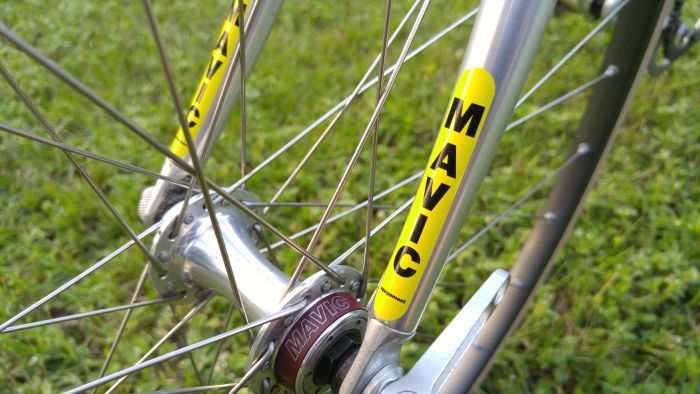 The rims are HSon Plus TB14's, which mimic the low profile nature of aluminium rims, the norm at that time. Hubs are the 571 variety by Mavic, but these are cassette hubs, and the last of the line. Mavic still produces hubs, but the 571 series was the last they ever sold as hubs alone.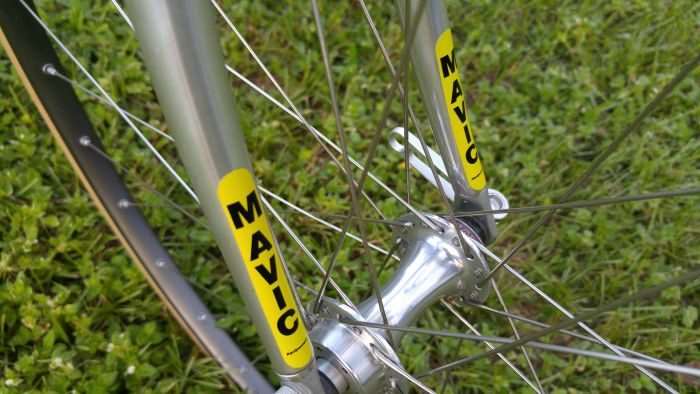 Above, the Vitus aluminium fork and 32 spoke, 3 cross front wheel.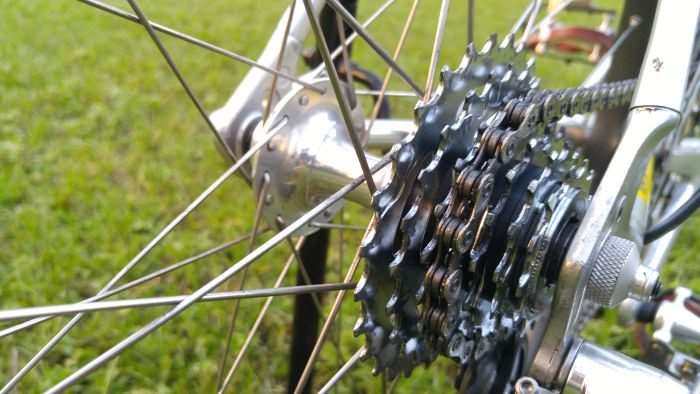 On the rear wheel, the matching Mavic 571/2 hub – not of the freewheel type, but a cassette. This allows me to use these wheels on other project bikes, and not just dedicated to the Vitus. For L'Eroica, the wheelset was fitted with a 7-speed 13-28 cassette and 8-speed chain.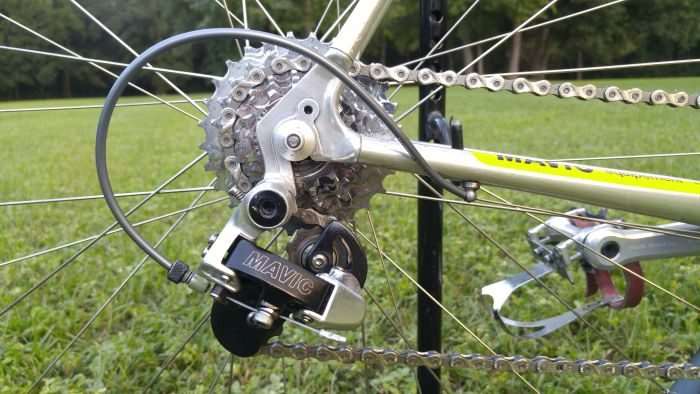 Not exactly the period correct derailleur, the Mavic 840 works fine in friction mode but was originally built for Mavic's 7 and 8 speed index system. I just couldn't bring myself to use my mint / new old stock Mavic SSC derailleurs.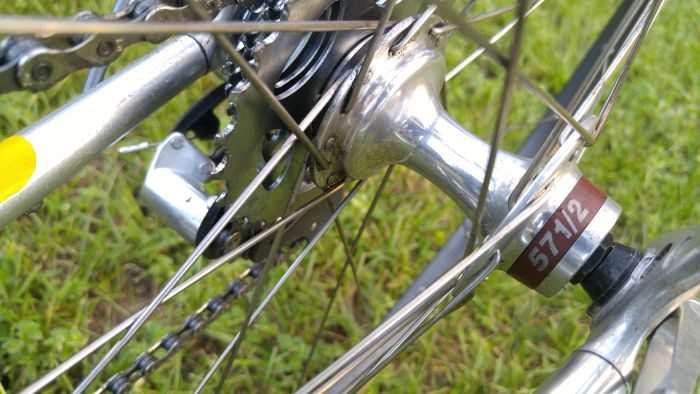 The Vitus 979 frame is designed for 7 speed systems, and thus is spaced for 126mm at the rear end. However, the properties of aluminium allow me to stretch just a little, and fit the Mavic 571/2 hub, which is intended for 8-speed / 130mm spaced rear ends.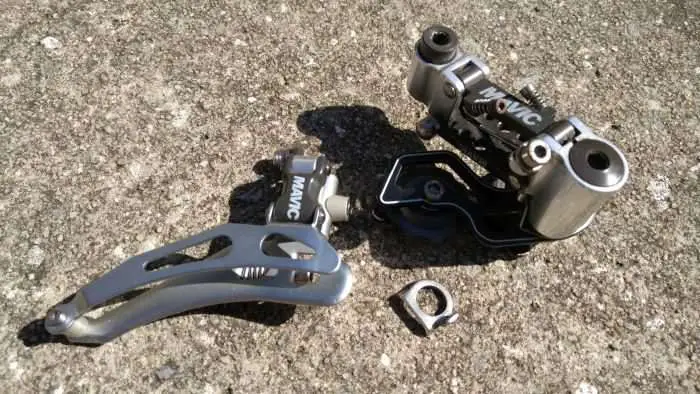 Pictured above are my period correct derailleurs for a Team KAS Vitus. I just need to find some examples that aren't in such primo shape… this is the problem with collecting cool components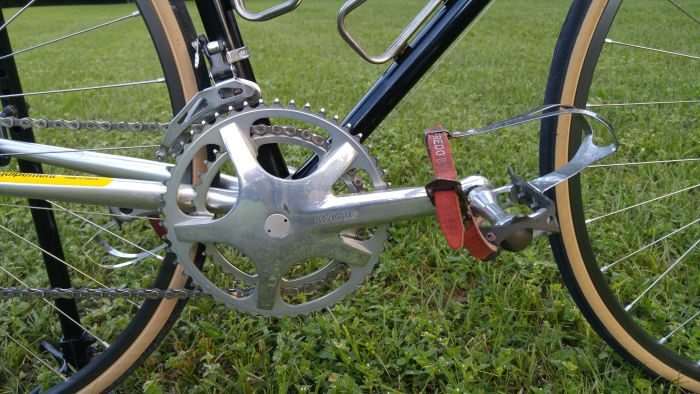 The classic Mavic 631crankset  isn't period correct either, but this crank features 130BCD, which allowed me to fit a very rare set of genuine Mavic 50 / 38 chainrings. Thus, I would have marginally lower gears than most at L'Eroica. 53 / 42 was the norm for a bike of this period.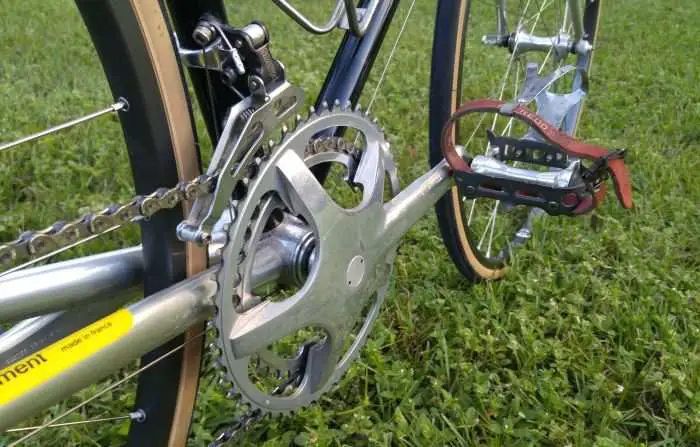 The Mavic 631 is commonly referred to as the "Starfish" crankset.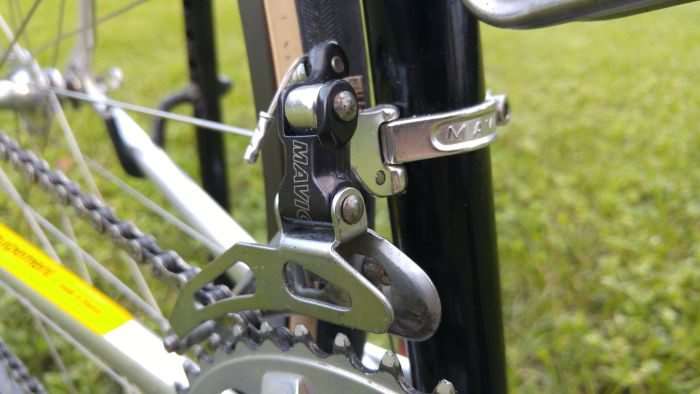 The only difference between this Mavic 862 front derailleur and the one pictured earlier, is the lack of SSC coloring on the derailleur body. Restoration purists would scoff at this, but I was after function.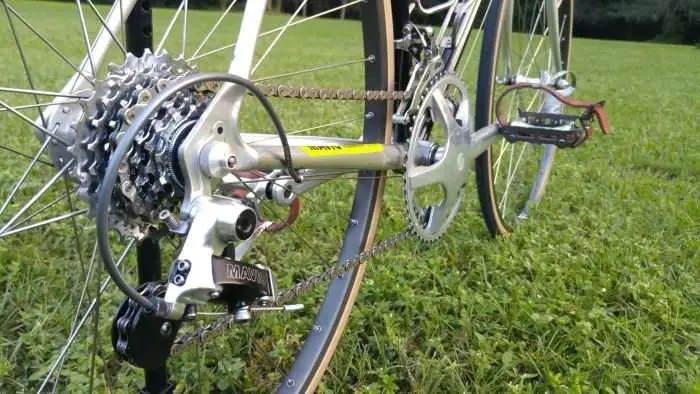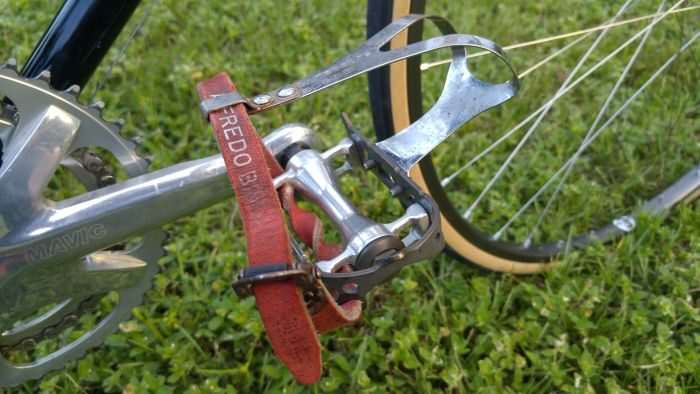 Mavic 640 pedals with Campagnolo medium cage and Alfredo Binda straps. This is a very secure interface, but not quite as convenient as the modern clipless pedals we are all so used to.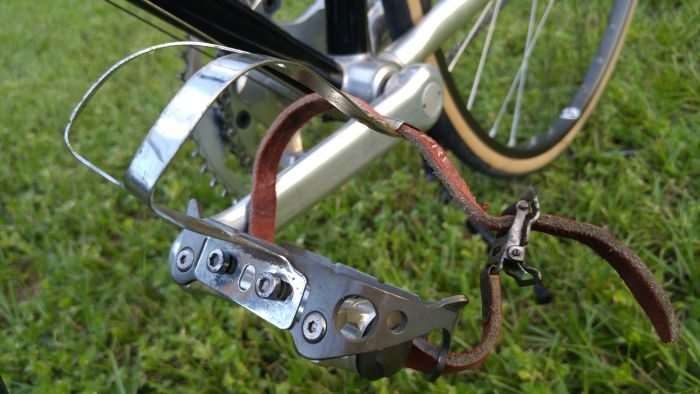 As I found out first hand at L'Eroica, it doesn't pay to lock your feet down at maximum tightness using toestraps. I had sore and numb feet by the time the 209 kilometres of L'Eroica was over.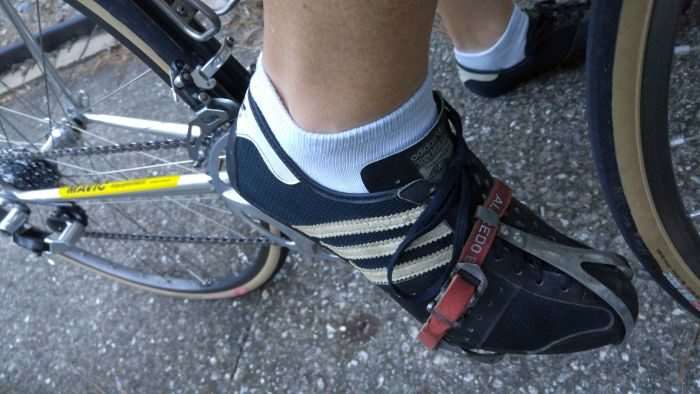 Retro bikes and pedals need appropriate retro shoes, and I got lucky finding a pair of genuine Adidas 3-Stripe Eddy Merckx shoes. Love them!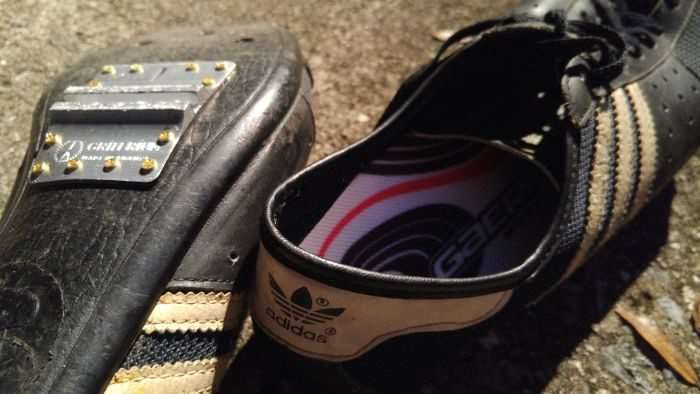 Above, the shoes are fitted with a modern insole to make the fit a little better, and new old stock nail-on T.A. aluminium cleats. Yes – nail-on. Once you determined your position with the cleat on the sole, you nailed them down. However, I cheated a little and used very small brass wood screws – much better than nails.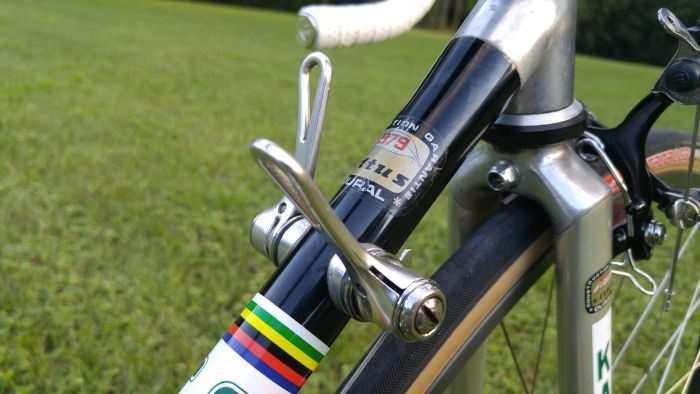 The business end of shifting – Simplex friction downtube shifters.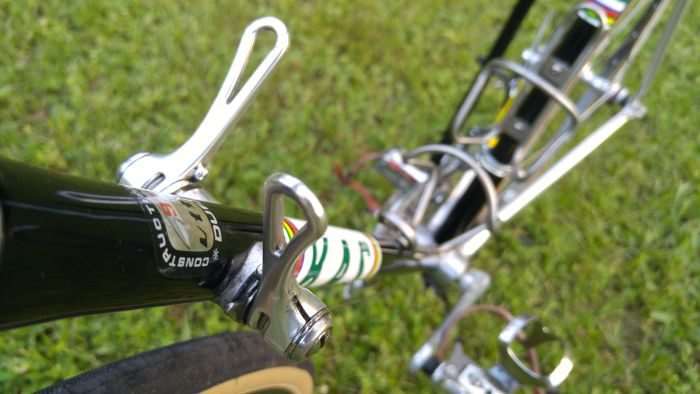 These work well and in my experience, didn't slip.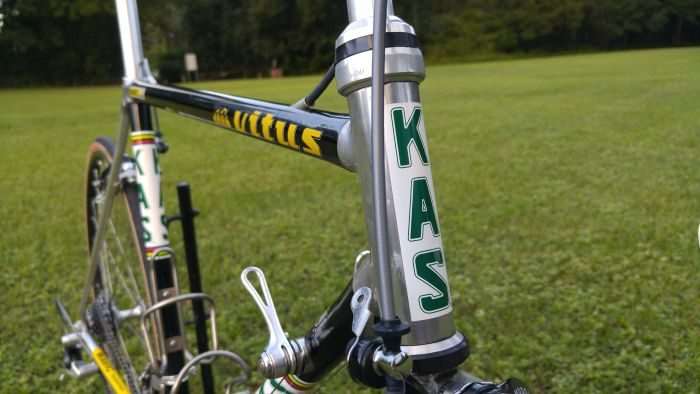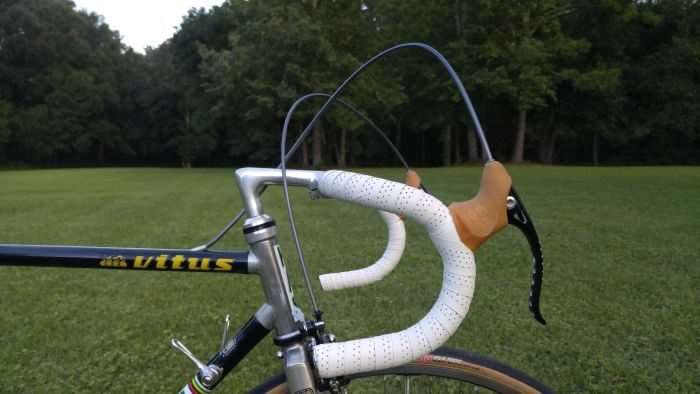 Mavic 351 handlebars and Modolo Speedy brake levers.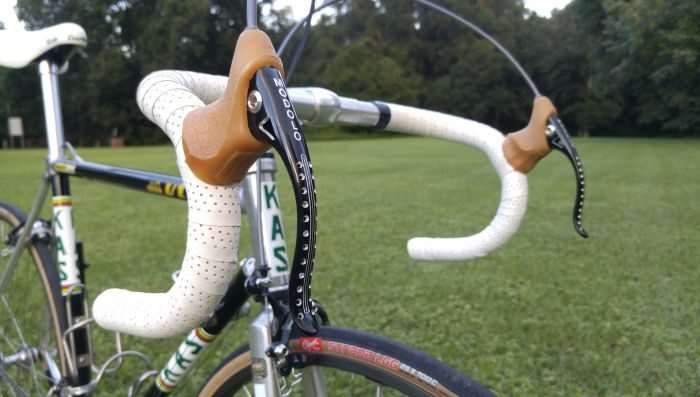 Since these photos were taken, the brake levers have been replaced with so-so conditon Mavic SSC brake levers (which are rebadged Modolos). We are spoiled nowadays by the anatomic shapes of modern brake levers. The Modolos are difficult to operate from the hoods.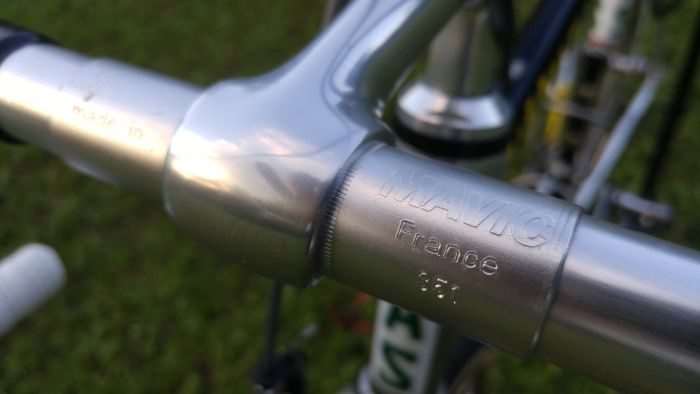 Genuine Mavic 360 quill stem, another very rare item.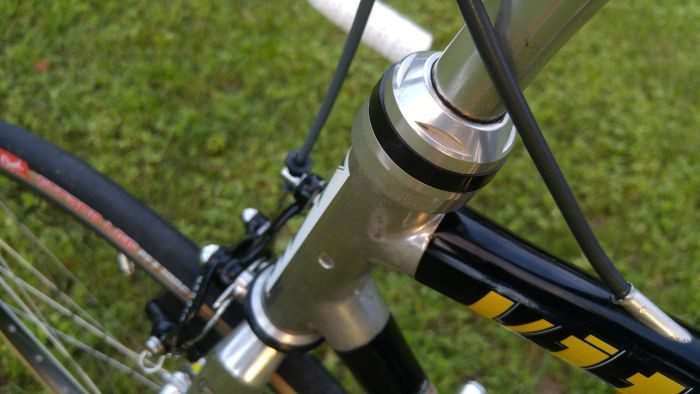 Mavic 305 headset – not quite period but much easier to obtain than the Mavic 310 headset. If anyone reading this has one available with the installation tool, please contact me.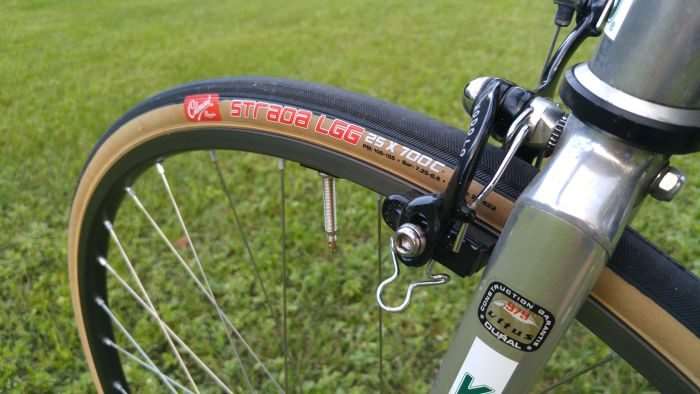 Close up of the 979's Dural aluminium fork. This fork provided a very comfortable ride at L'Eroica. Much of L'Eroica is on gravel roads, and many of them aren't so smooth.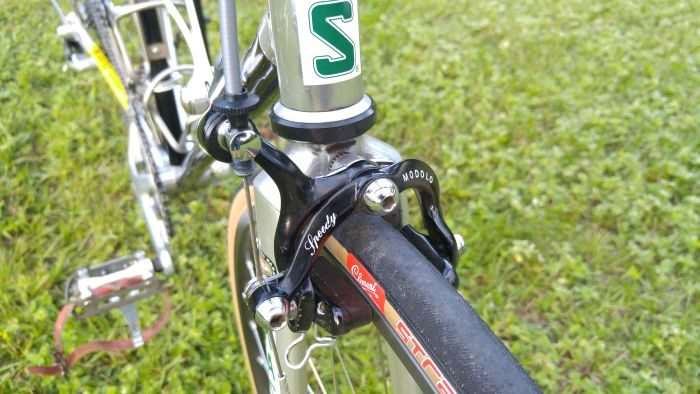 The Speedy Modolo brake has reasonable braking power, once you toe the pads in. Ideally, these will be replaced with Mavic SSC brakes in the future – readers, please contact me if you have some laying around for sale!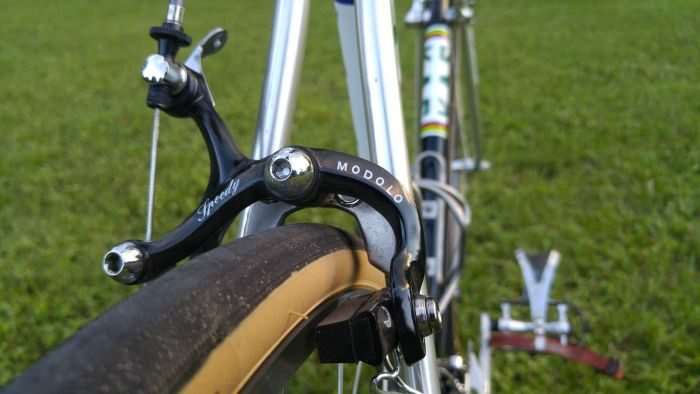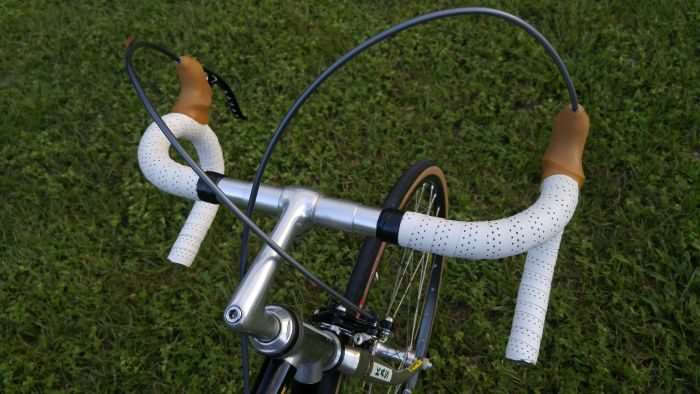 Brake cable routing isn't so optimal on retro road bikes.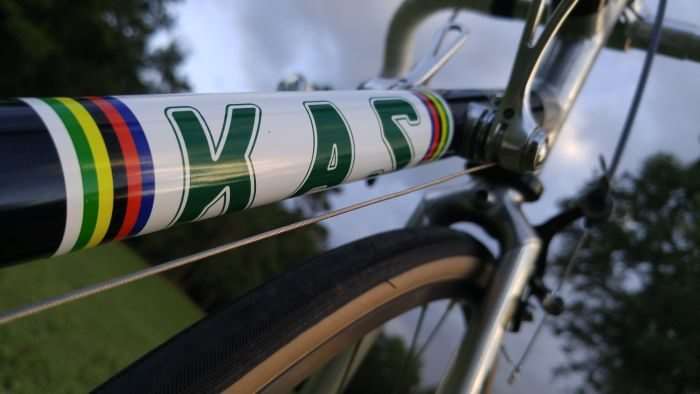 KAS is the brand name of soft drink produced by Pepsi, and is available in Mexico, Spain and France. Its roots can be found in the Basque Country of Spain, circa 1956.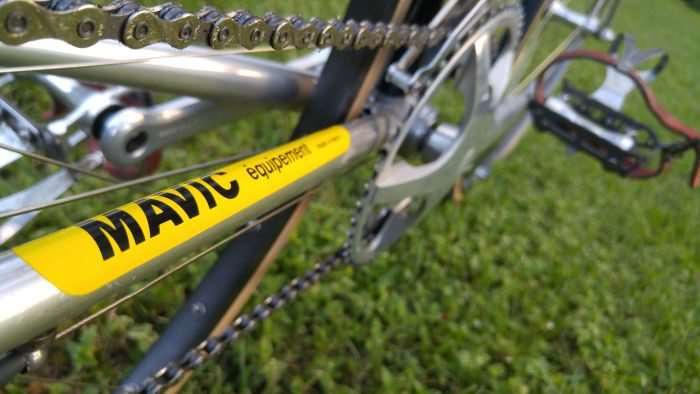 Mavic made some lovely components over the years, it's a shame they are no longer in that business – but they do live on, mostly producing wheelsets.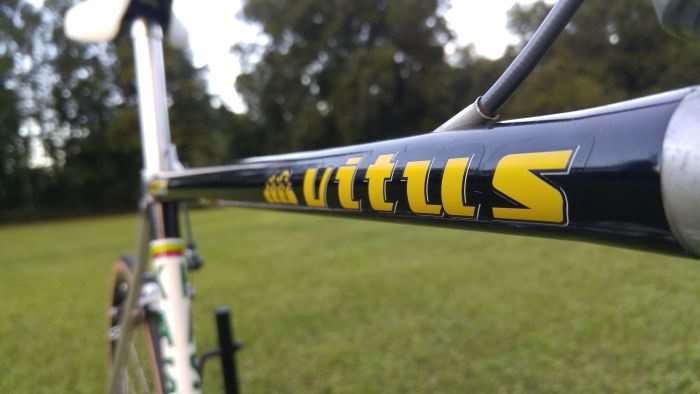 Above, internal cable routing for the rear brake.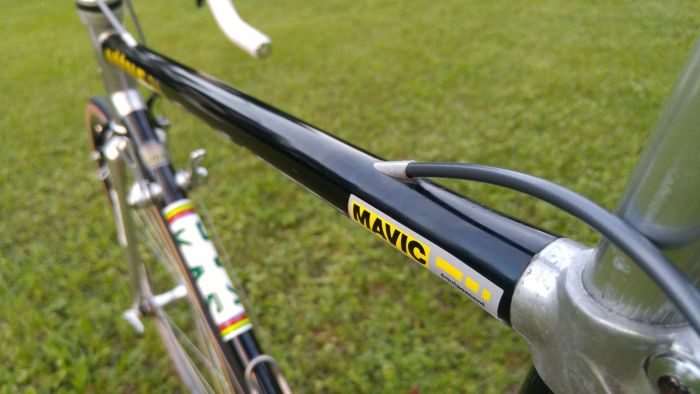 For those who have built up a Vitus 979, you'll know how tricky it can be to route this cable, particularly if the previous owner didn't leave a brake cable in place when you acquired the frame!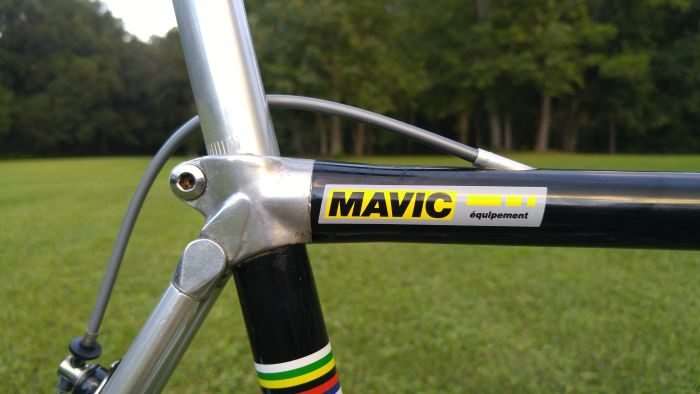 The Vitus 979 relies on a 25.0mm seatpost. Seatposts from that time were typically 20 – 40mm shorter than the usual 250mm length posts we are used to. The American Classic 25.0 seatpost pictured above is one of their last ever Ohio-made posts, and features very thick walls. Bill Shook of American Classic informed me a person of my weight could run it right at limit without worries of a breakage – but it isn't recommended.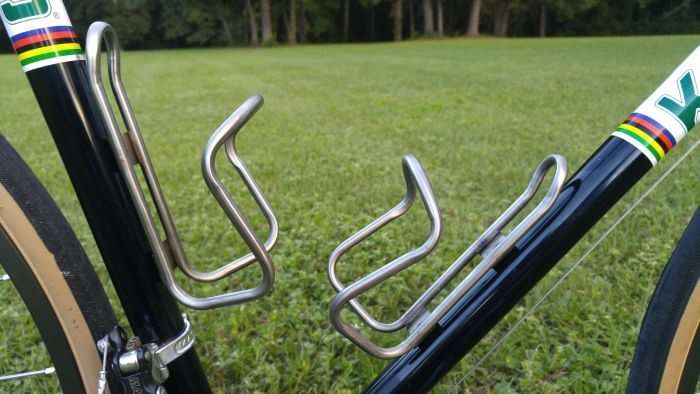 King's titanium cages aren't period correct, but they never drop a bottle.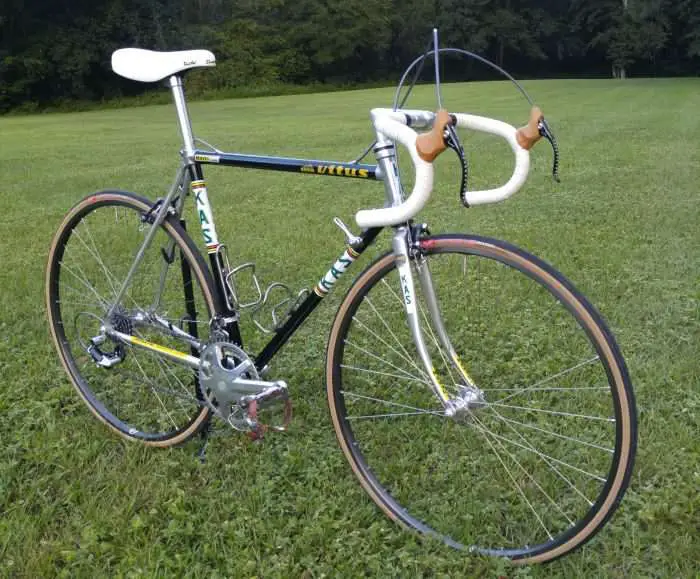 Specifications:
Frame: Vitus 979 aluminium, circa 1987.
Fork: Vitus 979 aluminium 1″ threaded steerer.
Headset: Mavic 305.
Stem: Mavic 360 quill.
Handlebar: Mavic 351 40cm centre to centre.
Front brake: Modolo Speedy.
Rear brake: Modolo Speedy.
Brake levers: Modolo Speedy.
Front derailleur: Mavic 862.
Rear derailleur: Mavic 840.
Cassette: Shimano Dura-Ace / Ultegra 600 7-speed, 13-28.
Chain: KMC X-8.
Crankset: Mavic 631 with 50 / 38 chainrings (ISO)
Bottom bracket: Campagnolo Record square taper, 111mm axle, ISO.
Pedals: Mavic 640 with Campagnolo medium size cages and Alfredo Binda straps.
Wheelset: HSon Plus TB14, Mavic 571 hubs, DT Revolution / Competition spokes, 3X, brass nipples.
Front tyre: Clement Strada LGG in 700c x 28mm (for L'Eroica) with tube.
Rear tyre: Clement Strada LGG in 700c x 28mm (for L'Eroica) with tube.
Saddle: Selle Italia Turbo.
Seatpost: American Classic 25.0mm x 240mm.
Bottle cages: King Cage Titanium.
Computer: N/A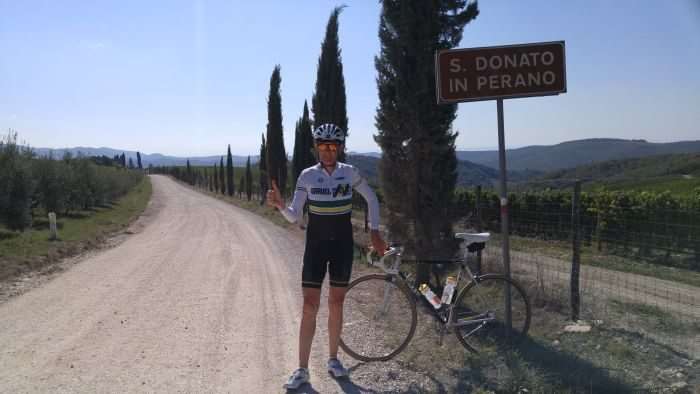 The L'Eroica experience was amazing, and my BEST day on a bicycle – ever. It also gave me a true perspective into how hard the professionals from the 1980's and before were. The equipment they used was often less than optimal for the task at hand. And, many of the European roads from earlier times were gravel – including all of the Grand tours and not so grand races.
Enjoy!