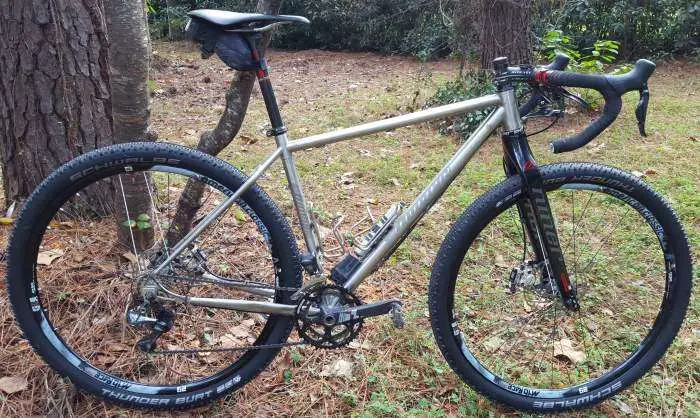 Gravel Cyclist first featured Dr. Pain's Monster CX bike back in September of 2014. Since that time, the custom-built, Michigan made Quiring Cycles machine has evolved considerably. Much of the bike's recent evolution centers around the shifting – gone is the cable-actuated mechanical shifting system.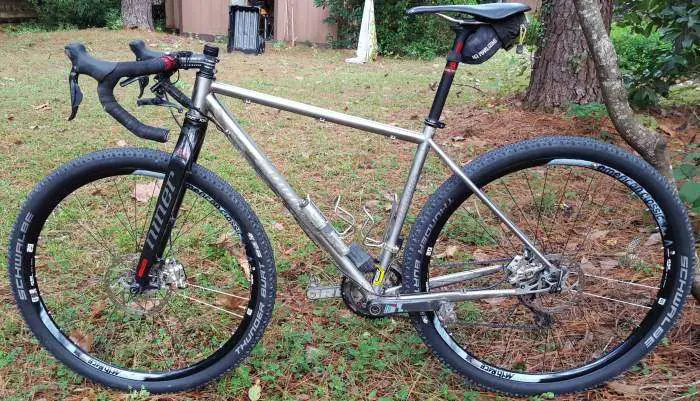 While mechanical shifting proved reliable in most gravel rides and races, the mud and sludge of extreme gravel races, or Ultra CX races as they are sometimes called, caused major issues when contaminants infiltrated the shifting mechanisms. On one occasion, the right shifter was rendered totally useless after a two race spell of appalling conditions. Southern Cross and Hilly Billy Roubaix are fantastic and challenging races, but the 2015 editions were very hard on equipment.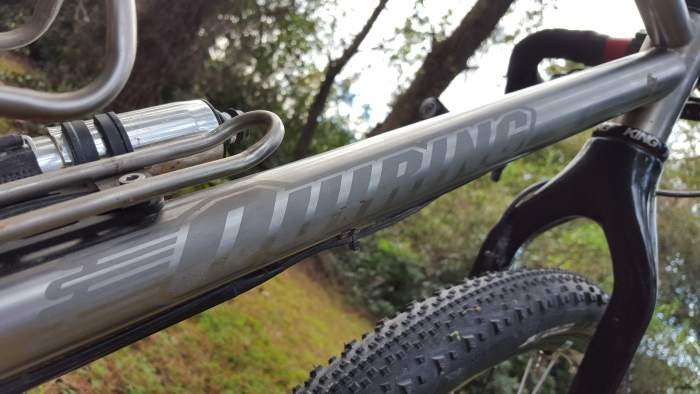 This is where electronic shifting came to the fore. Well proven on JOM's Monster CX bike, Dr. Pain made the switch to Shimano's Ultegra Di2 11-speed system, and has experienced nothing but flawless shifting performance in good and bad conditions ever since. While the Quiring frame was not drilled for Di2, the system wiring was installed externally, which is perfect should one need to resolve a technical issue.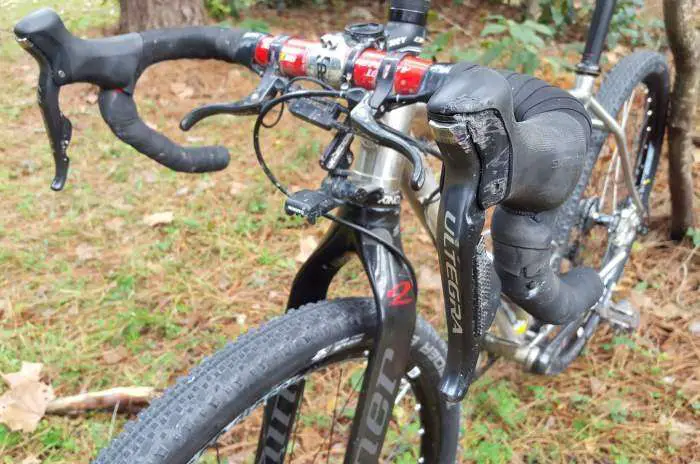 Utilizing Shimano's medium cage variant of the Ultegra Di2 rear derailleur, shifting is flawless using cassettes ranging from 11-25, all the way up to an 11-36 (with a few turns of the B-screw).
The bike enjoys added flexibility with the addition of the Lindarets RoadLink, which we reviewed earlier this year – allowing for a 40 tooth on the rear cassette, in conjunction with 46 / 34 or 48 / 34 chainrings. Brilliant!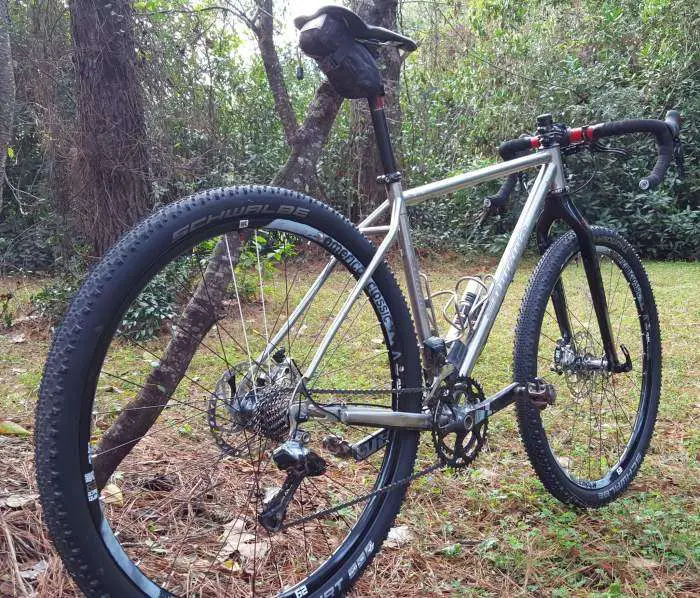 The bike features a road width bottom bracket – Dr. Pain is sensitive to Q-Factor, meaning road cranks were an essential requirement when he sought a custom bike. The chainstays were manipulated to provide clearance for a 50 / 34 chainring combination, and are approximately 1.5cm longer than most modern-day gravel bikes for supreme tire (tyre) clearance. The longer chainstays do not compromise ride quality or handling in any way; rather they aid greatly with the comfort factor of the bike.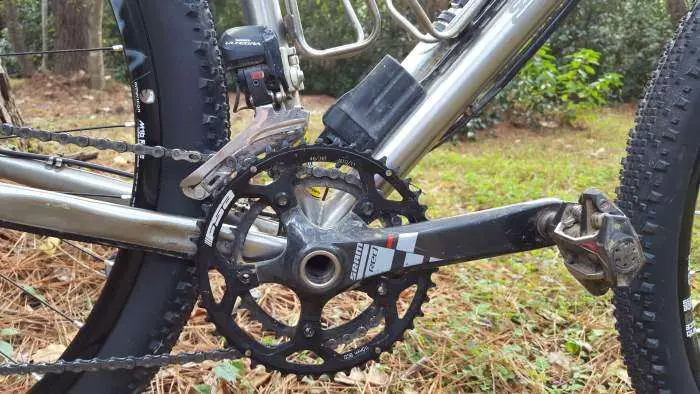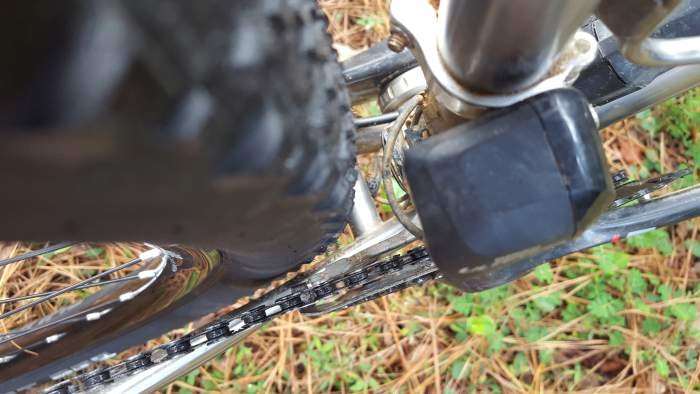 We believe Dr. Pain's machine is the ultimate all-round gravel bike. Tipping the scales at approximately 20.5lbs (9.3kg) sans saddle bag, frame pump, etc, the bike has tire (tyre) clearance for up to 2.1″!  It can handle any gravel ride or race, whether it be in Florida, North Carolina, Virginia, Pennsylvania, Kansas, Nebraska… you get the point.
Readers may scoff at the thought of running such a wide tire for gravel races. 35mm – 40mm tires certainly have their place in gravel cycling and racing. But for gnarly terrain, bigger is better. With many miles recorded by the Gravel Cyclist crew on tires such as the Specialized Renegade in 1.8″ or 2″, the Schwalbe Furious Fred in 2″, and now the Schwalbe Thunder Burt in 2.1″, ALL of these tires are fast under the right circumstances – 2.0″ tires crush sand, while 40mm tires sink.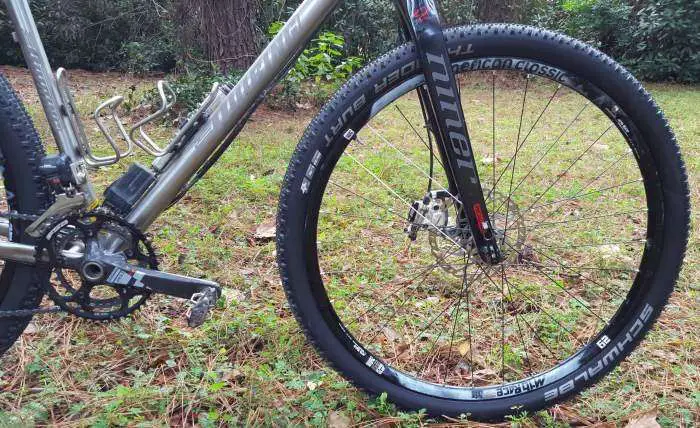 To further prove the point of big tire speed, JOM and Dr. Pain have attended fast local road rides running the 2.0″ Furious Fred tire, and actively participated in these rides – meaning more than just wheelsucking

While a Monster CX rig with big tyres is not for everyone – although companies like Open Cycle are taking note – they add a measure of safety, particularly when descending real mountain passes on gravel roads, where 35mm – 40mm tires are sometimes insufficient.
In the opinion of the Gravel Cyclist crew, you cannot put a price on safety!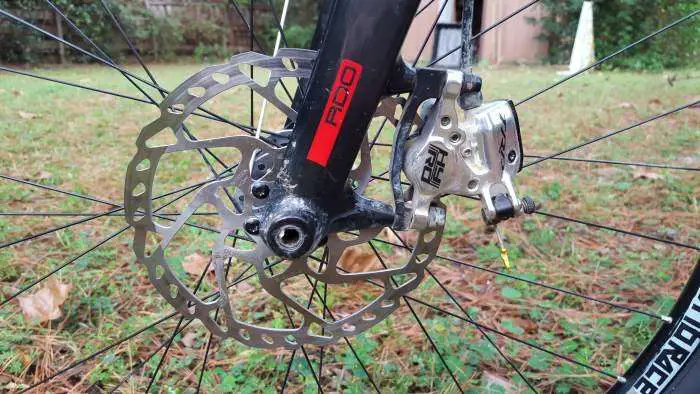 Dr. Pain uses TRP's cross top brake levers for an additional braking / hand position; useful for descending gnarly and difficult terrain.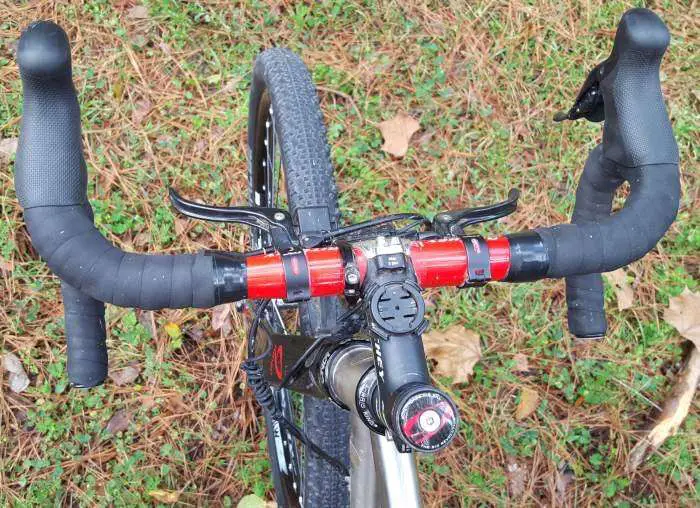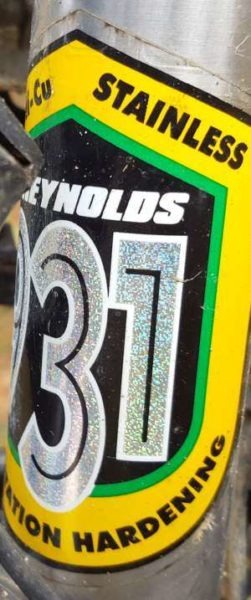 Dr. Pain's Custom Quiring Cycles Monster CX

Frame: Quiring Cycles featuring Reynolds 931 Stainless Steel tubing.
Fork: Niner 29'er RDO full carbon thru-axle, tapered 1 1/8″ to 1 1/4″ steerer tube.
Headset: Chris King.
Seatpost: Niner RDO carbon.
Saddle: Selle Italia SLR.
Wheelset: American Classic Race 29'er tubeless, thru-axle front, quick release rear.
Tyres: Specialized Renegade in 1.8″ or 2″, Schwalbe Furious Fred in 2.0″, or Schwalbe Thunder Burt EVO in 2.1″.
Handlebars: Ritchey WCS Aluminium with TRP carbon cross top brake levers.
Stem: Ritchey WCS -17 degree.
Shifters: Shimano Ultegra Di2.
Derailleurs: Shimano Ultegra Di2 11-speed.
Crankset: SRAM Red 10-Speed carbon fitted with FSA 46 / 34 tooth chainrings.
Bottom Bracket: SRAM or Hawk Racing, external, English thread.
Pedals: Time Atac Carbon.
Cassette: Shimano, ranging from 11-25, 11-36 or 11-40.
Brakes: TRP HY/RD Mechanical / Hydraulic Disc with TRP 183mm / 160mm rotors.
Bottle Cages: King Cage Titanium.
More Images