About Open Cycle – From Open Cycle's website:
"Three words describe this new venture: bikes, open and simple.
Bikes we live and breathe. Andy's career spans from downhill racer (back when helmets were optional!) to CEO of a mountain and road bike company (BMC). Gerard's career includes co-founding Cervélo, where he's done everything from engineering and design to sales, supply chain and marketing.
OPEN means open to new ideas; from our customers, retailers, vendors and ourselves. Open to show the intricacies of our products but also our company. Open even to issue shares to some of our customers. If open is the goal, simple is the tool."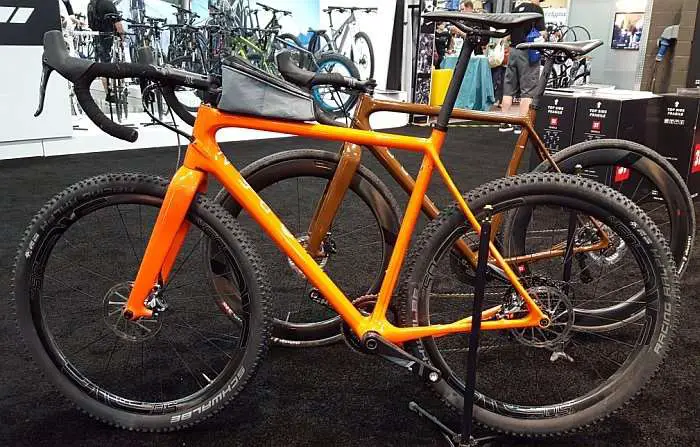 Open Cycle "GravelPlus" U.P. (Unbeaten Path)

The Open Cycle "GravelPlus" bike isn't news to everyone, having been released earlier in 2015. However, this was the first time JOM of Gravel Cyclist got up close and personal with the "GravelPlus" U.P, at the recent Interbike show in Las Vegas, Nevada.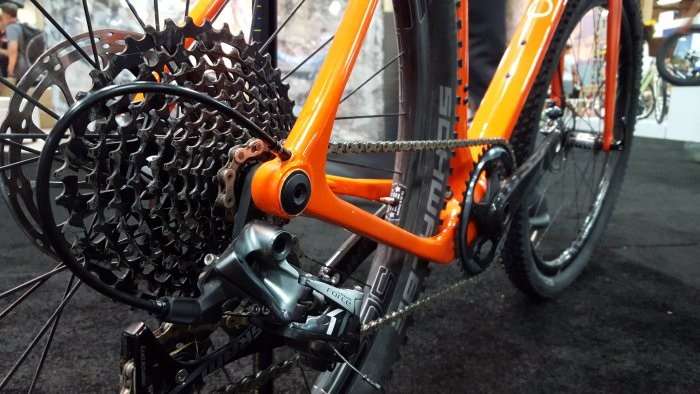 This bike is appealing in that it resembles a road / cyclocross bike, yet with big tire clearance, up to 2.25″ wide – mountain bike size. On the gram scales, a fully-built Open Cycle U.P. tips the scales anywhere from 16lbs – 18lbs depending on the build. With a semi-trick build, this rig could easily drop into the 15lbs range or lower.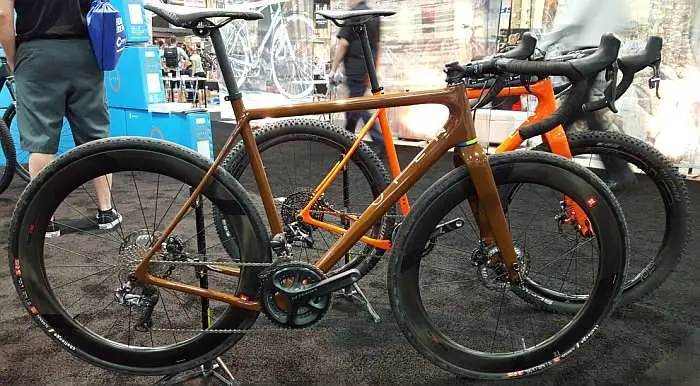 So, how does Open Cycle jam big tires into a bike that resembles a Road / CX bike?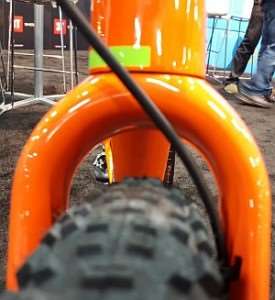 Answer: Rather than use the 700c / 29'er wheel size for running MTB size tires (tyres), they opt for the recently made popular wheel size of 27.5″ / 650b.
If you compare a 27.5″ / 650b wheel fitted with a 2.1″ MTB tire, outside circumference of the tire measures about 347mm. By the same token, a 700c / 29'er wheel fitted with a 40mm tire measures about 350mm – almost identical.
Very clever on the part of Open Cycle.
Unfortunately, the favorite tire of the Gravel Cyclist crew for gnarly gravel races – the Specialized Renegade in 1.8″ or 2.0″ – and the Schwalbe Furious Fred in 2.0″ for hardpack and sandy conditions – are both only available in 29″.
However, we are hopeful that 27.5″ / 650b options will continue to improve. Schwalbe Tires certainly look to be releasing more and more tire options so at least one manufacturer is taking interest.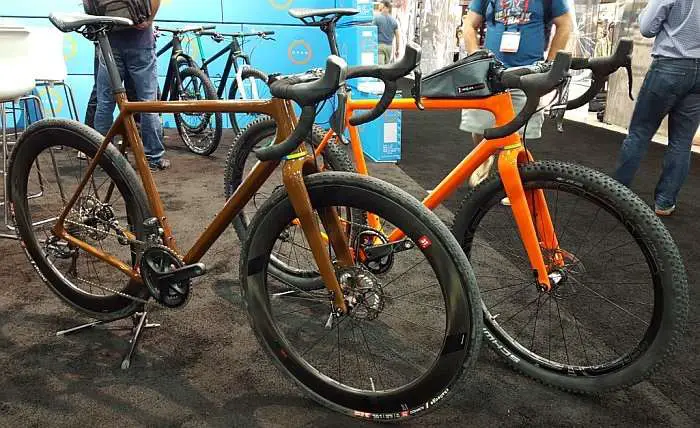 Other positives about the Open Cycle "GravelPlus" U.P. include the following:
Crank clearance – With a clever design that drops the right chainstay, one can run road cranksets of the compact variety – 50/34 and of course, cyclocross type gearing options. Alternatively, one can opt for a single chainring and remove the derailleur and associated mount.
Fully internalized brake and shifter cables, and support for internalized electronic shifting. Looking clean while getting dirty is a bonus for some.
Thru-axle front and rear – This is uber nice for a rock solid connection with the bike, and consistent alignment of the disc brake rotor relative to the caliper. If you use a regular quick release interface, you will know what I (JOM) am talking about.
Top tube bag mount – Very handy for supplies, tools, food, etc.
386 EVO bottom bracket standard. While the favorite BB interface for JOM of Gravel Cyclist is the English thread bottom bracket shell, 386 EVO supports many cranks on the market, including offerings from Shimano, SRAM (GXP version) and Campagnolo. Hawk Racing offers a nice 386 EVO 24mm adapter bottom bracket for those so inclined.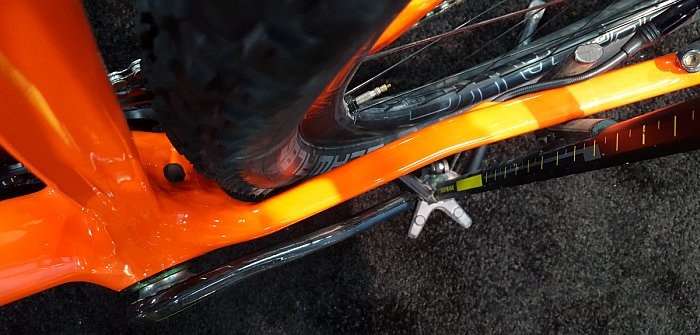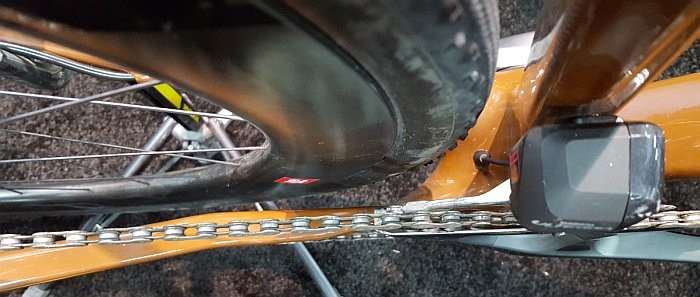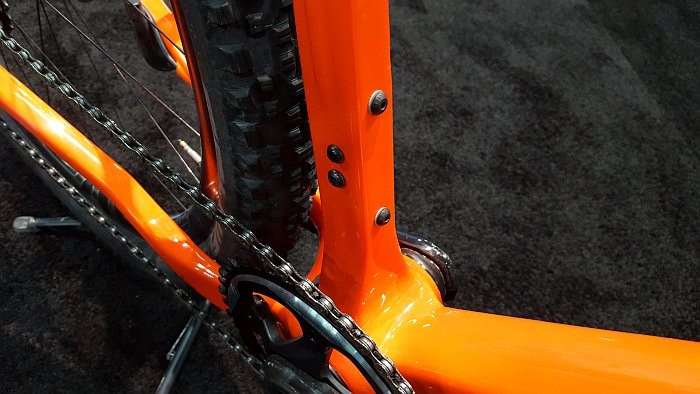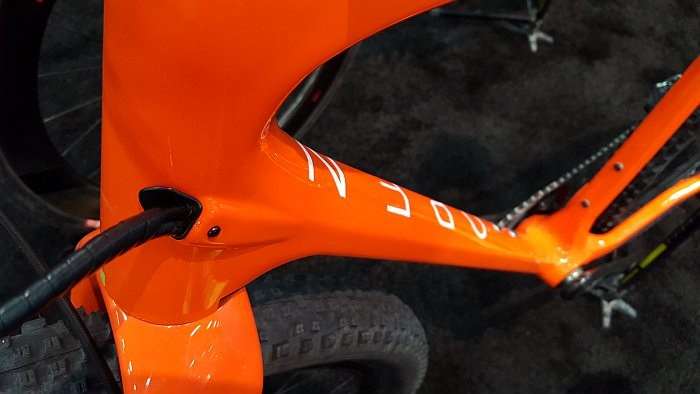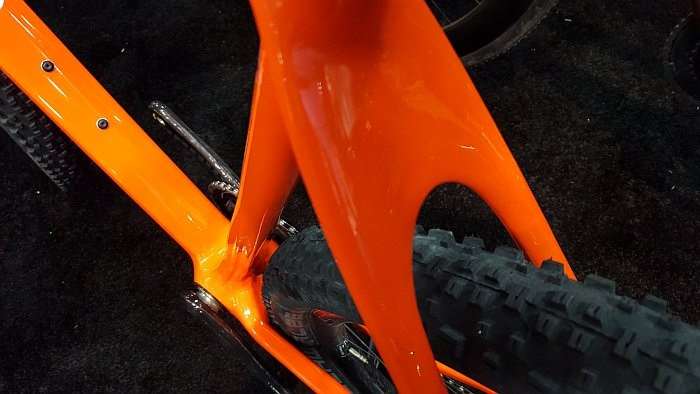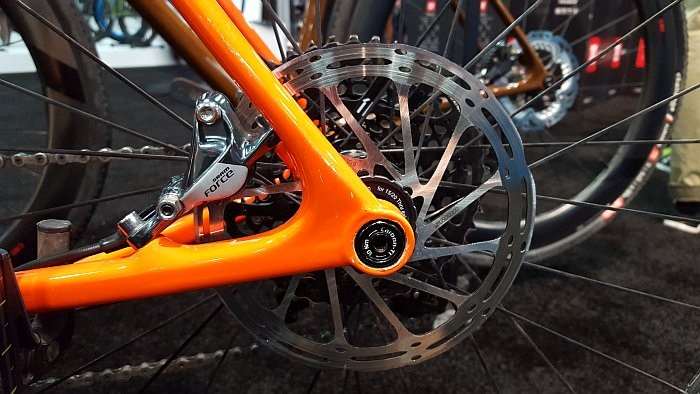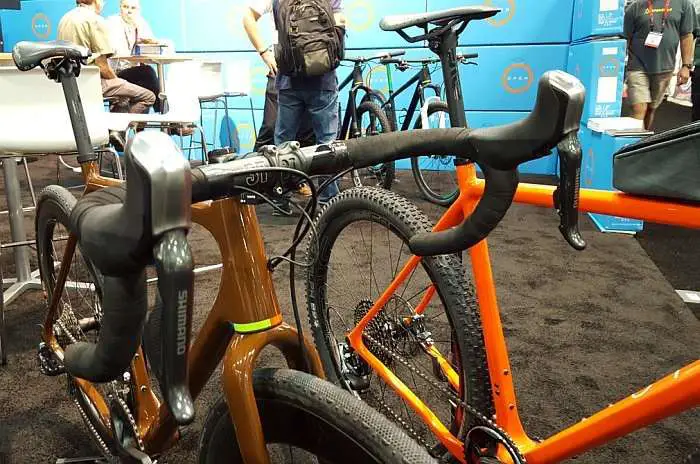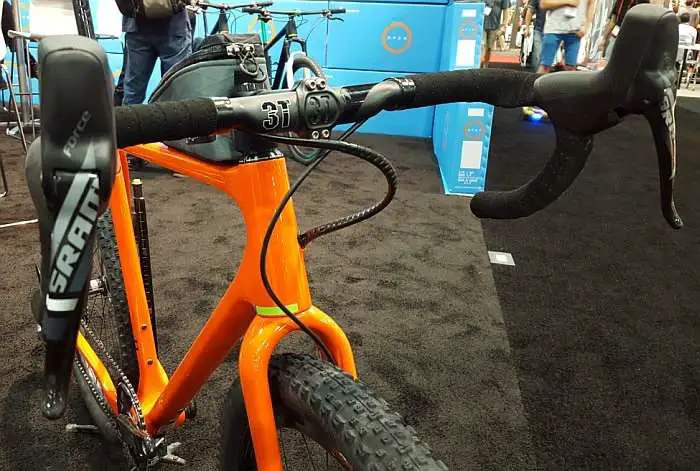 The Open Cycle "GravelPlus" U.P. is a bike we'd like to get our hands on for review and testing – along with some fast 27.5″ / 650b gravel tires.
Available in four sizes ranging from Small, Medium, Large and X-Large. Frame and fork is priced at $US 2,900.00.