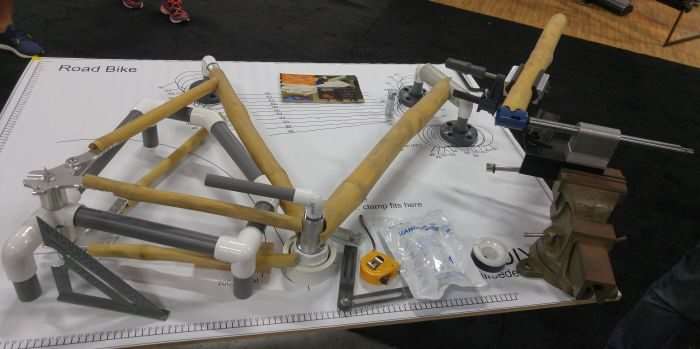 Our final post about the 2016 Interbike show features a roundup of interesting goodies relevant to the genre of gravel cycling.
First up is the Calfee Bamboo DIY frame kit. If you've ever thought about building your own frame, Calfee makes that a much easier proposition. Calfee's DIY kit supplies the customer with all of the materials needed such as bamboo tubes, metals parts for the head tube, seat tube insert, bottom bracket and rear drop outs, casting tape, instructional video and complete tool set.
The kit is available for Road, MTB (26″, 27.5″, 29″), City Bike, BMX and Adventure / Cycloross. Rear spacing is available in 130mm / 135mm spacing, dropouts can accommodate disc brakes and derailleurs but are slotted, catering to single speed or internally geared hubs. No thru-axle option at this time.
Customers can buy the DIY toolset to build their frame for $US 600.00 or rent the toolset for two weeks, one month or three months. DIY material kits are priced between $US 200.00 – $US 220.00. The Adventure / Cyclocross kit looks pretty awesome and offers bent chainstays for larger tyre clearance.
---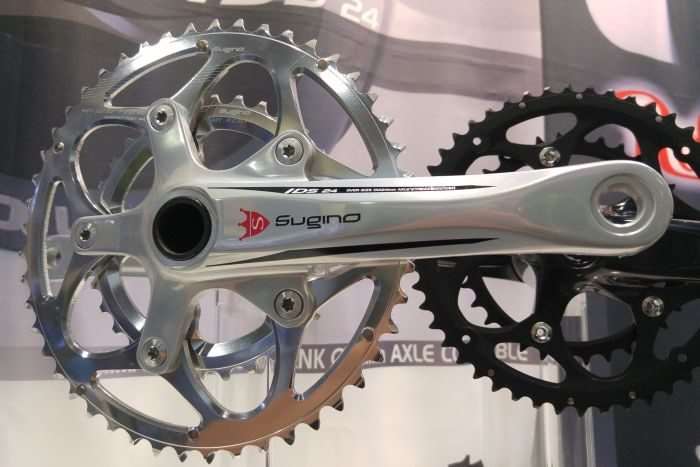 Sugino OX901D Classic Compact Plus+ Crankset with 24mm axle (Shimano bottom bracket compatible) – Compact Plus+ is a double crank set design featuring a 110 and 74 bolt circle diameter which opens a wide array of chainring combinations.
Available lengths are 160mm, 165mm, 167.5mm, 170mm, 172.5mm and 175mm – compatible with 10 / 11 speed drivetrains – available in black or silver – Q-factor of 145mm.
Chainring combinations are 52-36T, 50-36, 50-34T, 48-36T, 48-34T, 48-32T, 46-36T, 46-34T, 46-32T, 46-30T, 44-32T and 44-30T. Product weight is unavailable at this time.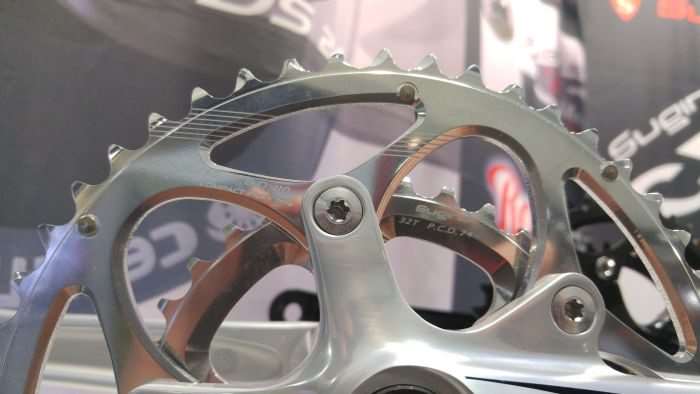 Not all distributors carry these cranks, but they are available directly from Sugino in Japan through their mail order service. Priced at ¥ Japanese Yen 46,000 / $US 399.00.
---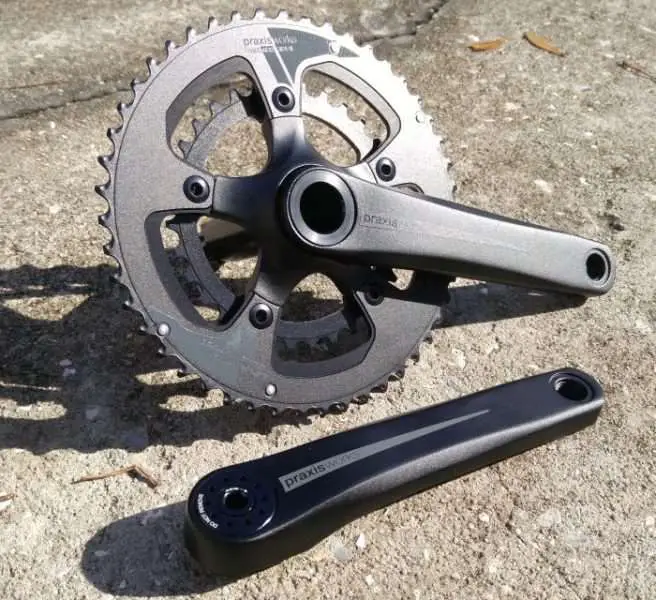 Praxis Works Zayante M30 – "Named after a famous redwood covered road in Santa Cruz County, the Praxis Zayante 30mm Hollow Forged crank represents a huge amount of technology in a "Comp" level package. The Zayante combines the benefits of a wide outboard bearing stance with a 30mm aluminum spindle."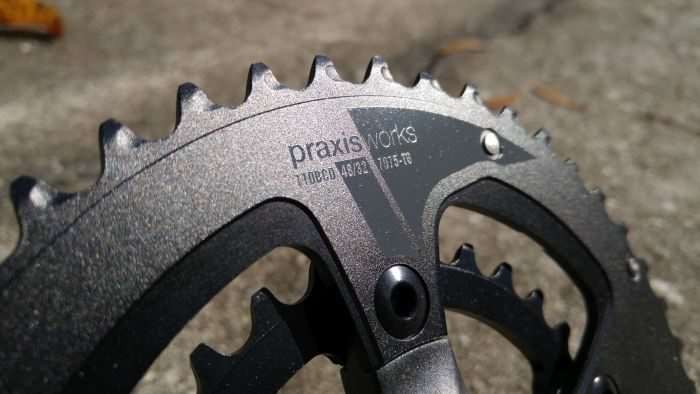 "Add in beautifully sculpted hollow forged crank arms and you have a massive amount of stiffness and power transfer. Praxis Works Cold Forged chainrings and M30 bottom brackets round out the Zayante package for what is a very versatile road crank with top notch Praxis shifting."
Featuring the 110BCD (bolt circle diameter standard), the Zayante is available in lengths of 165mm, 170mm, 172.5mm and 175mm – Chainring options are 48 / 32, 50 / 34 and 52 / 36. The crank supports BB86, English threaded (68mm and 73mm), and BB30 / PF30. Praxis work a little magic to make the 32 tooth chainring fit on a 110BCD.
The Zayante crankset retails for $US 240.00 – the crankset pictured above is currently under review at Gravel Cyclist on behalf of our friends at BikeRumor.com – that sample is fitted with 48 / 32 chainrings and weighs 719 grams.
---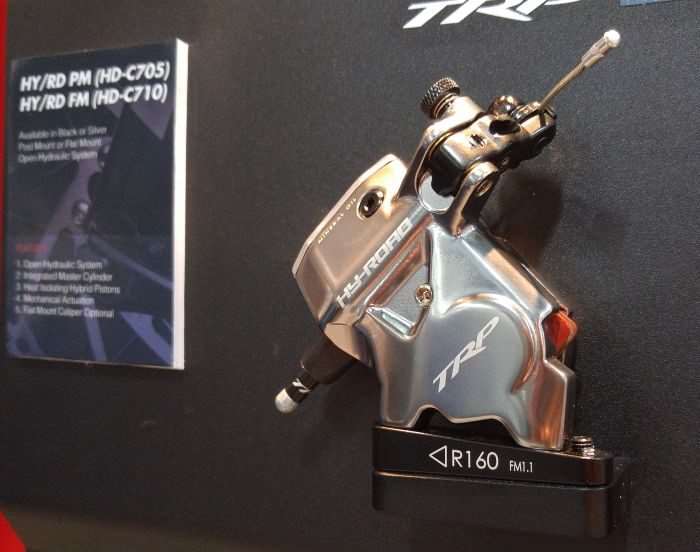 If you're not aware, the TRP HY/RD offers the power of hydraulic braking, but actuated by a regular mechanical brake cable. Everything relating to the brake, including the hydraulic reservoir is contained in a reasonably small package – and performance is excellent.
Flat-mount disc brakes are on the rise – the TRP HY/RD (pronounced "high road") has been around for a while and is now available in this standard. More standards in cycling aren't always fun, but flat-mount disc brakes will alleviate the harmonic vibration problem we've heard emanating from the rear triangle of the odd bike – think a whole lot of vibrating type noise under decent braking force and you'll know what we are referring to. For most bikes, the HY/RD's will mount directly to the frame and fork, but a flat plate type adapter may be needed for one's front brake, as in the photo above.
Weight is approximately 205 grams per caliper. TRP's HY/RD retails for $US 124.99.
---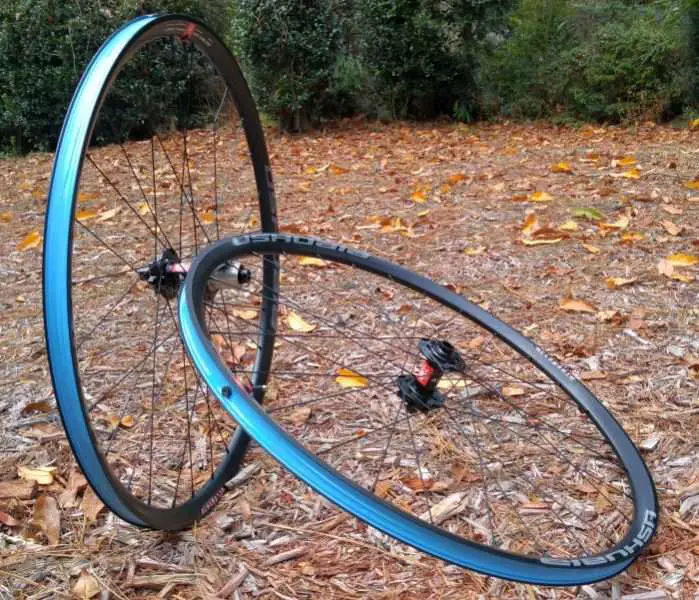 Clement Ushuaia Gravel / Cyclocross Tubeless wheelset – weighing approximately 1620 grams and featuring a wide rim bed measuring 23mm internally, the Ushuaia is touted by tyre company Clement as a stout wheelset designed to the handle the rigors of 'cross and gravel.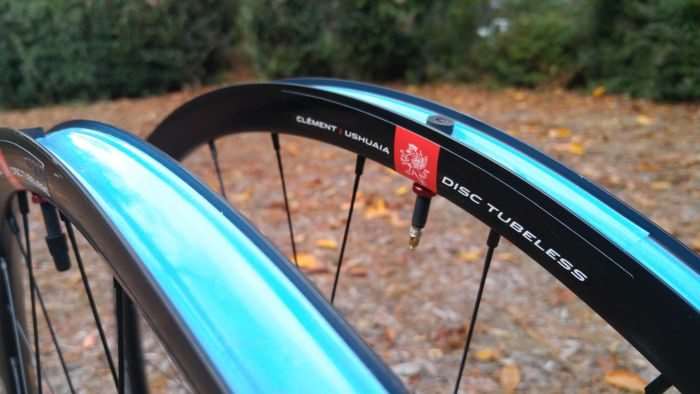 The Ushuaia rim is hookless, capable of handling a 28mm road tyre, all the way up to a 50mm wide MTB / 29'er type tyre. The rim has a small lip to keep the tyre pressed up against the rim and thus prevent burping.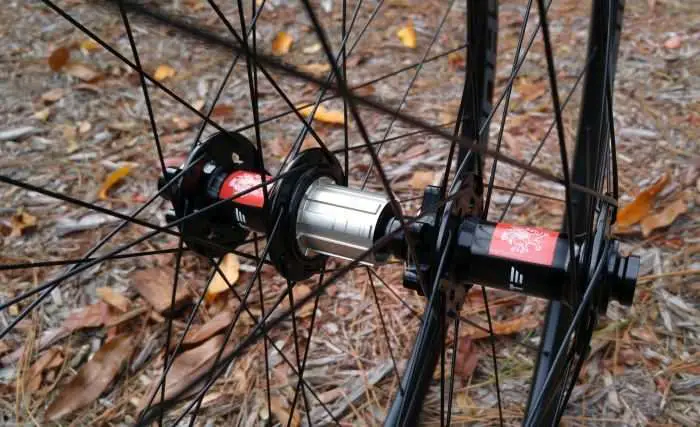 The hubs in the Ushuaia wheelset are uber versatile, offering compatibility with quick-release and thru-axle, including 12mm or 15mm on the front and 142mm x 12mm on the rear – a neat set of thread-on end caps makes this possible. Hubs are available for 6-bolt or center lock rotors – internal to the hubs are 36 points of engagement and availability for SRAM / Shimano 10 / 11 speed and XD Driver hub body.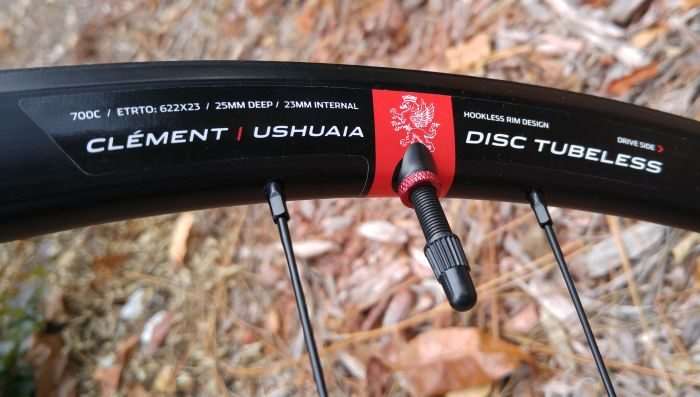 Gravel Cyclist has a pair of the Clement Ushuaia wheels on-hand for review – we are looking forward to running them through the review wringer in the near future!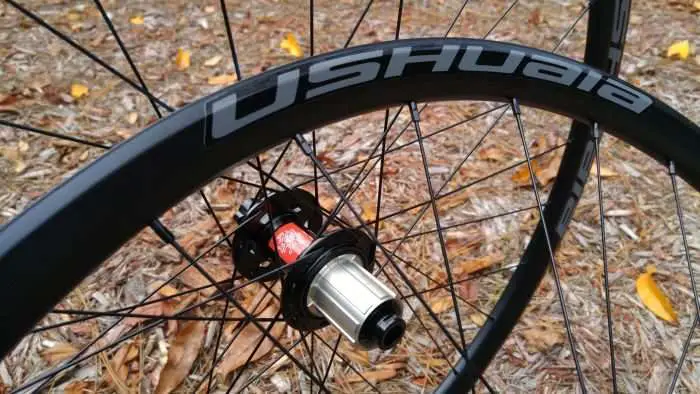 The Clement Ushuaia is slated for release in 2017 and may feature on stock bikes from Raleigh and others. Standalone, the wheels are priced at $US 650.00.
---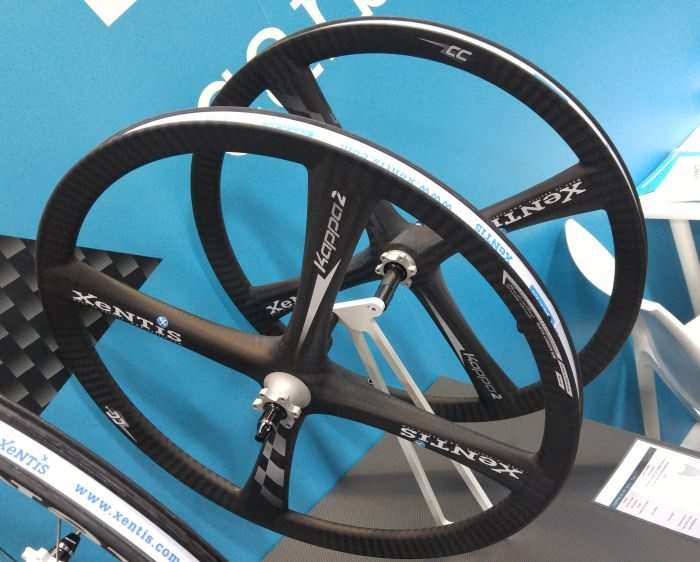 The Xentis Kappa2 is a unique wheelset hailing from Austria. In the past, wheels from the Xentis company have graced the time trial bikes of infamous / retired professional road cyclist, Jan Ullrich. Available in the 27.5″ /650B wheelsize, the all carbon Kappa2 wheel is tubeless ready and supports the 15mm front / 142mm x 12mm rear thru-axle standards. The hub is available for SRAM/ Shimano 10 / 11 speed or XD Driver with 6-bolt rotor compatibility.
27.5″ / 650B wheels are slowly making inroads to gravel bikes – fitted to a bike designed for 700c wheels, they give a new birth of life to those bikes by offering the ability to run some very wide tyres, in many cases 27.5″ x 2.1″. Sometimes, wider is better, depending on your locale. Anyone for Iron Cross in Pennysylvania?
Tipping the scales at approximately 1385 grams the pair, the Xentis Kappa2 wheels are light and look uber cool. They are pricey, but not as pricey as you would think – around $US 1,900 depending on the exchange rate.
---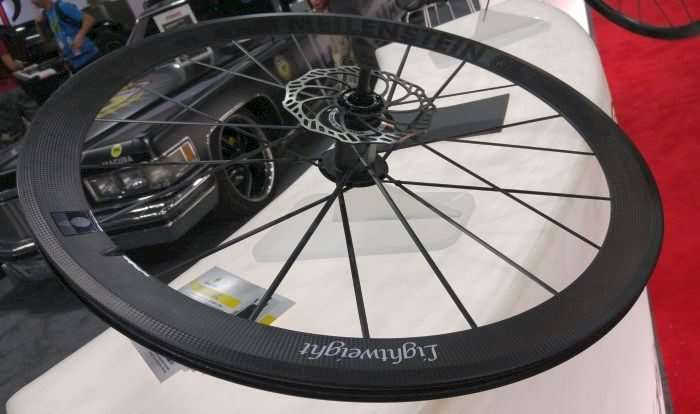 Lightweight Wheels are very expensive. If you have to ask the price, you probably don't want to know… moving on… Lightweight doesn't offer sponsorships. If you're a big name rider, that doesn't matter. These wheels are so exclusive that nobody gets a free pair of Lightweight wheels, including a certain well known ex-professional road cyclist hailing from Austin, Texas.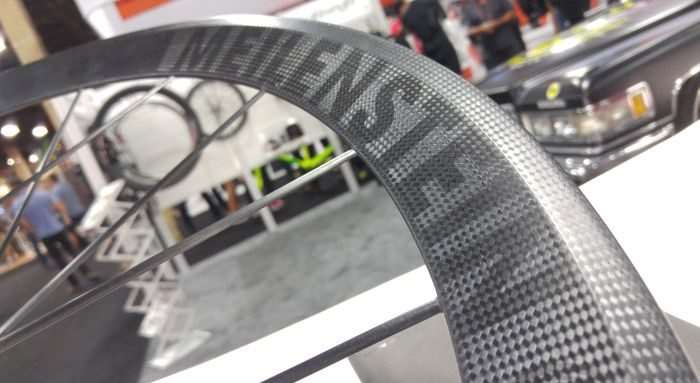 The Lightweight Meilenstein C wheelset (C for clincher) is probably not intended for gravel cycling – but it is touted by Lightweight as their wheel for "maximum toughness". Available with disc brake and center lock rotor compatibility, you know that somewhere, someone on Planet Earth is riding these down a gravel road, but more likely shod with road tyres. Weight seems to average around 1,370 grams.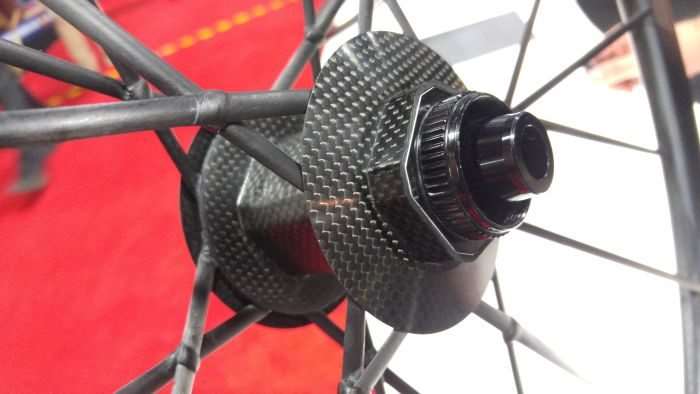 Surprisingly, the wheels also support thru-axles in 12mm and 15mm on the front, and 142mm x 12mm on the rear – Shimano 10 / 11 speed and Campagnolo cassette bodies. The Lightweight Meilenstein wheels are not tubeless compatible and in all reality, are really intended for road cycling – but they are quite a sight to behold, and thus included in this article.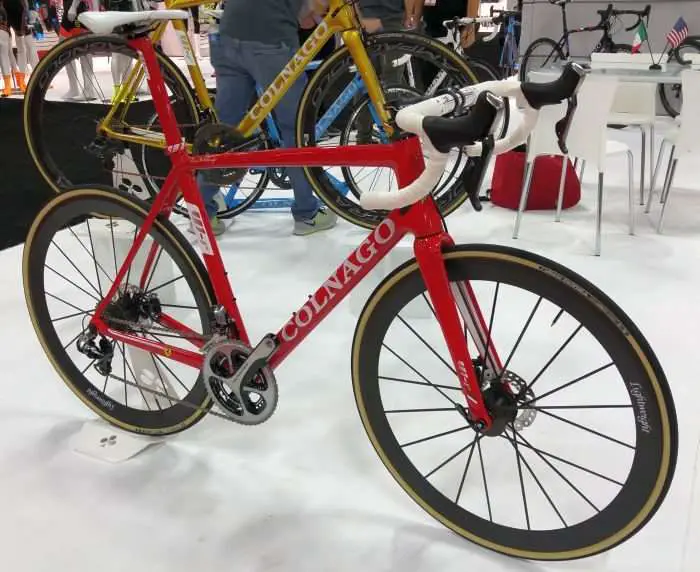 Are you sitting down? The Lightweight Meilenstein Clincher disc wheelset is priced at $US 6,500.00, or $US 7,200 for the "Schwarz" Edition.
---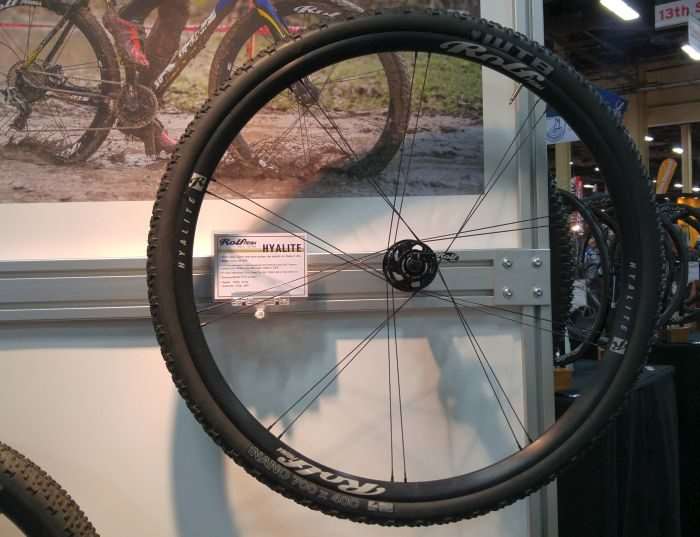 Rolf Wheels are synonymous with their paired spoke technology, first introduced to the cycling world in 1997. The theory behind paired spokes – spokes closer to the rim neutralize the left and right outward pulling forces, allowing Rolf to build strong and true wheels with light rims and fewer spokes. Less = more. Less spokes = more aerodynamic.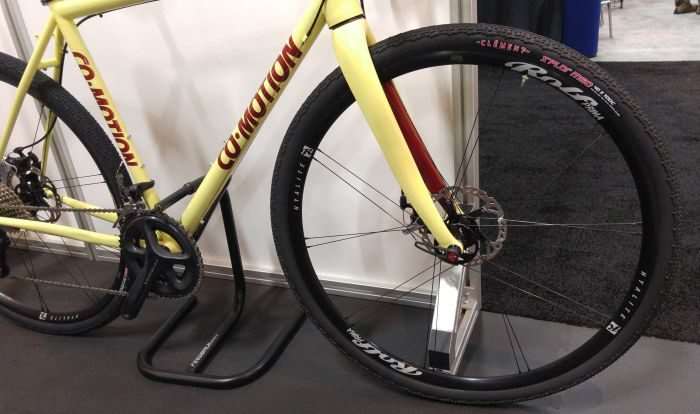 Falling under Rolf's "Adventure Wheels" category, the Hyalite wheelset is tubeless ready and supports disc brake rotors of the center lock type. Axles supported are quick release, 12mm or 15mm front thru-axle and 142mm x 12mm rear thru-axle.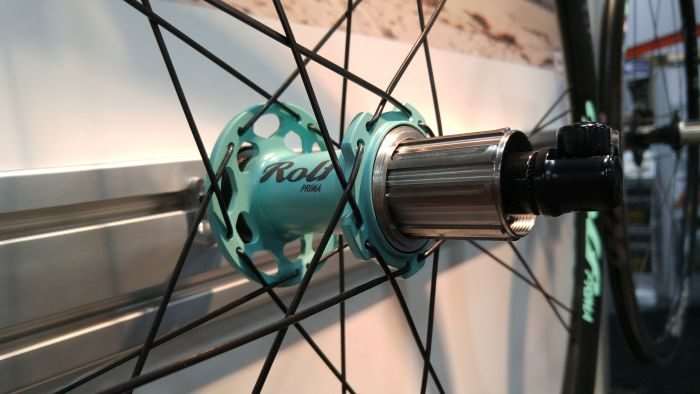 Cassette bodies of the titanium kind are available in SRAM / Shimano 10 / 11  or XD Driver. There are just 20 spokes in each of the Hyalite's wheels with an external rim width of 25mm, 22mm internally.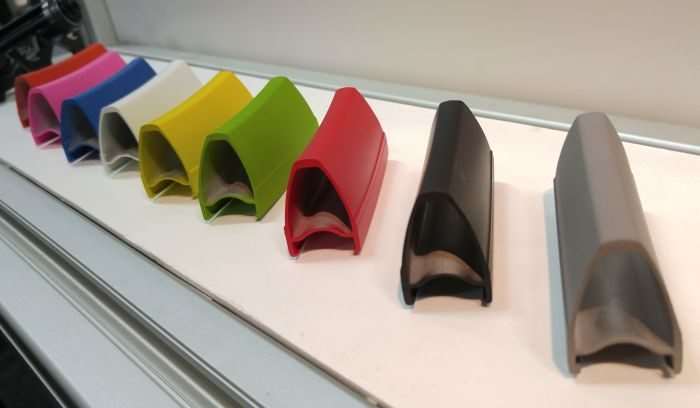 The Rolf Hyalite wheelset can be customized, right down to hub, rim and decal color. The Hyalite wheels tip the scales at 1,520 grams – 700 grams front, 820 grams rear and sell for $US 1,199.00.
For those on a budget, the Hyalite ES wheelset is also available for $US 8,99.00 with only a small weight penalty.
---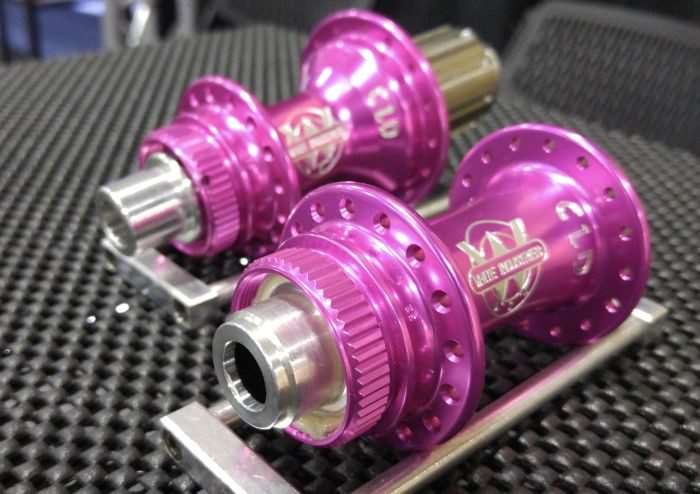 The beauties pictured above are White Industries CLD's – Center Lock Disc hubs. The splined disc interface drops weight to become the company's lightest disc hub to date, but without sacrificing durability. The CLD hubset is compatible with all Shimano center lock rotors including IceTech in the 140mm size. The CLD is available in spoke counts of 24 hole, up to 36 holes, and available for quick release, 15mm thru-axle front and 142mm x 12mm on the rear. The titanium cassette body is available in SRAM / Shimano 10 / 11, Campagnolo and XD Driver. Available colors are red, blue, gold, pink, purple, silver and black.
Weight is 145 grams front, 265 grams rear. Front hub pricing starts at $US 166.50, rear hub at $US 327.50.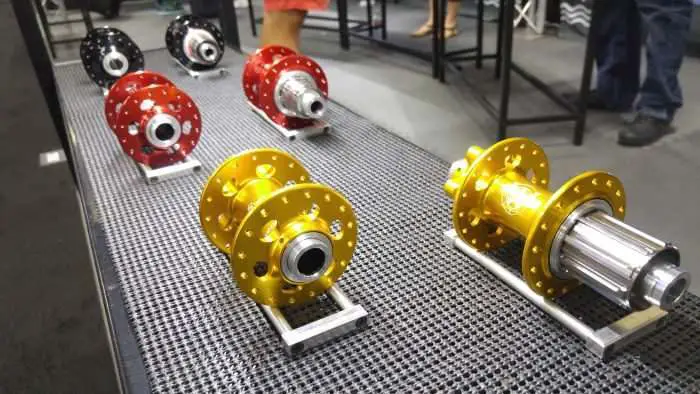 Six bolt hubs aren't forgotten about with the XMR hubset. Standard fitting is White's titanium cassette body, available for SRAM / Shimano 10 / 11, Campagnolo and XD Driver. Enhancements to the latest hubset include options for a new high engagement ratchet system, and a plethora of colors – red, blue, gold, pink, purple, silver and black.
Weight is 175 grams front, 298 grams rear. Front hub pricing starts at $US 169.00, rear hub at $US 332.25.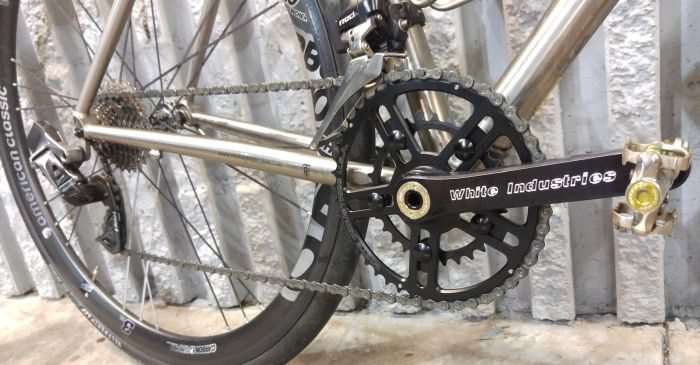 Finally, the White Industries VBC crankset. We featured this crankset HERE, and are well into our long-term review of the product. Thus far, it has performed well at the 2016 Taiwan KOM Challenge, and will continue racking up miles in the Southern Hemisphere – Australia – late 2016 / early 2017.
---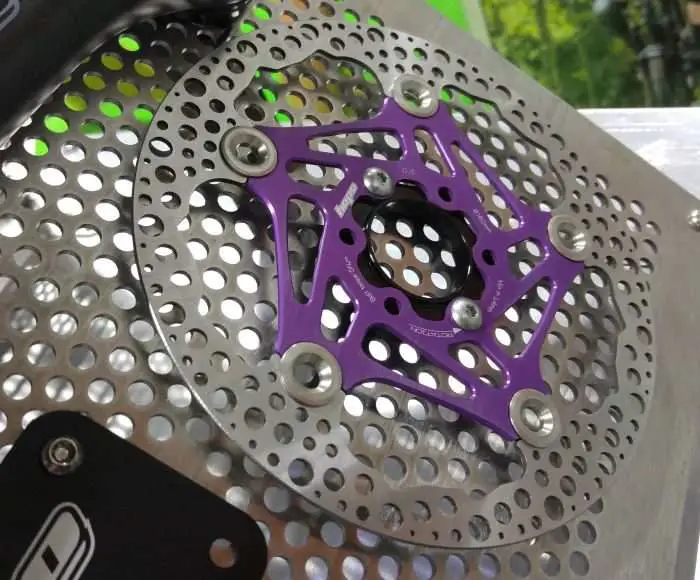 We love Hope Floating rotors. They are the epitome of function while looking good – and a departure from the norm. The floating design is proven to well handle the ever changing temperatures on the surface of the rotor. Hope's rotors recently underwent a little redesign to provide a wider braking surface, thus making them more compatible with brakes from other companies.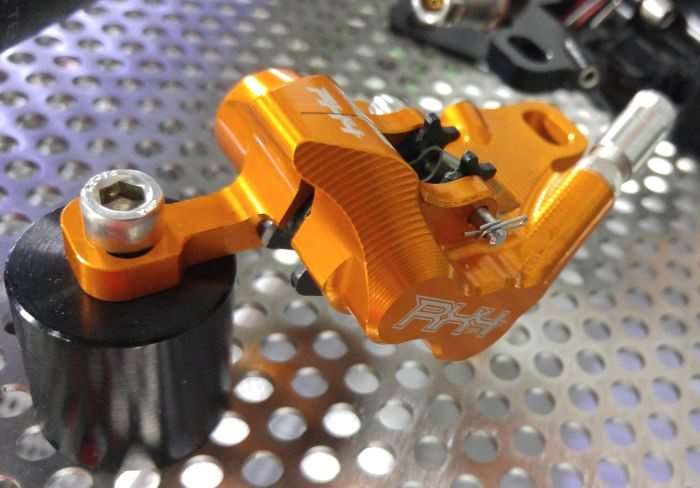 Hope also makes some lovely – and elegant – disc brake calipers.
Hope Floating rotors are available in 140mm, 160mm, 180mm, 183mm, 200mm, 203mm and 205mm with six color options – red, orange, blue, purple, silver and black. Weight for a 180mm rotor is 146 grams.
Hope Floating Rotors retail for about $US 40.00 to $US 60.00 each.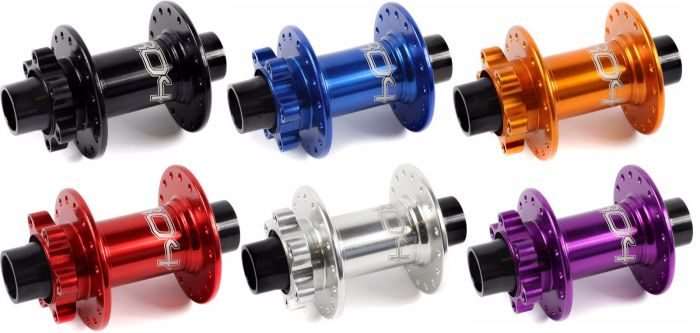 Hope also offer a full line up of hubs, including the Pro 4 front and rear, which support quick release, thru-axle 12mm and 15mm on the front, and 142mm x 12mm on the rear – and six colors – red, orange, blue, purple, silver and black. Weights starting at 181 grams front, 300 grams rear.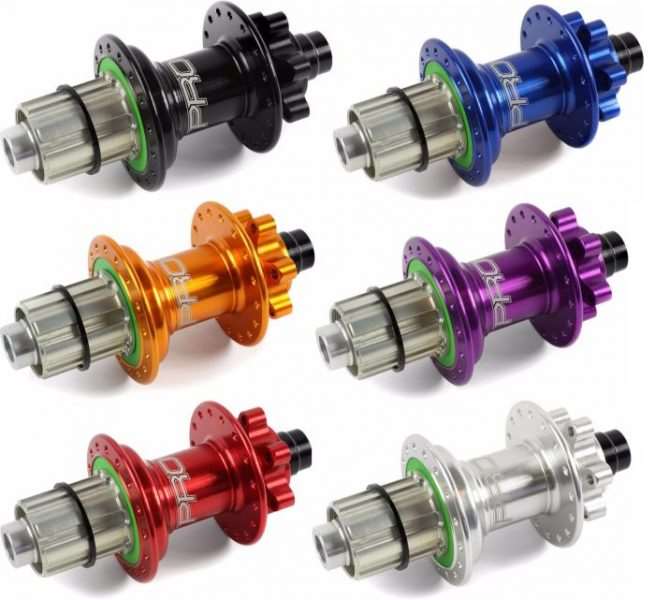 All of Hope's products are proudly designed, tested and manufactured in Barnoldswick, England.
---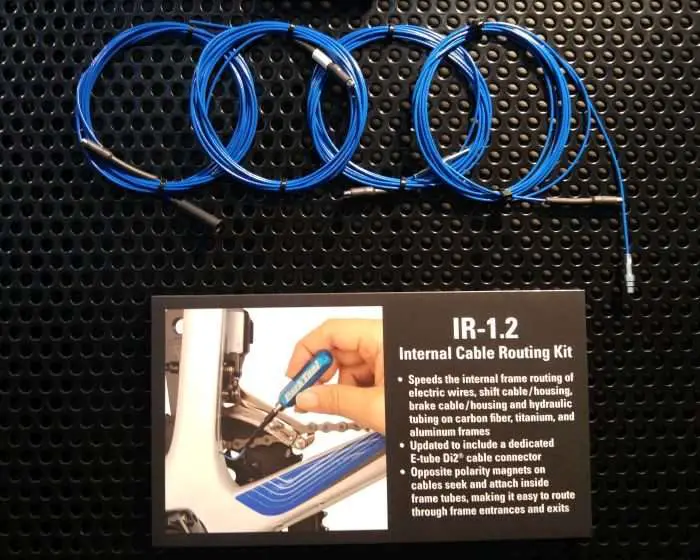 For the home or full-time mechanic, running internal cabling can be a total nightmare. Park Tool's IR-1.2 tool promises to change all that, speeding up the installation of electronic shifter wires, mechanical shift cables and hydraulic tubing on all manner of frames.
The kit includes four plastic coated cables with attached magnets and unique fittings – and an external guide magnet to speed operation. The opposite polarity magnets on those cables seek and attach to each other inside the frame tubes, making installation through tricky frame ports a thing of the past. The latest update to the kit includes a dedicated Shimano E-Tube Di2 cable connector.
Priced at about $US 60.00, the kit isn't cheap, but the amount of time and frustration saved, priceless!
---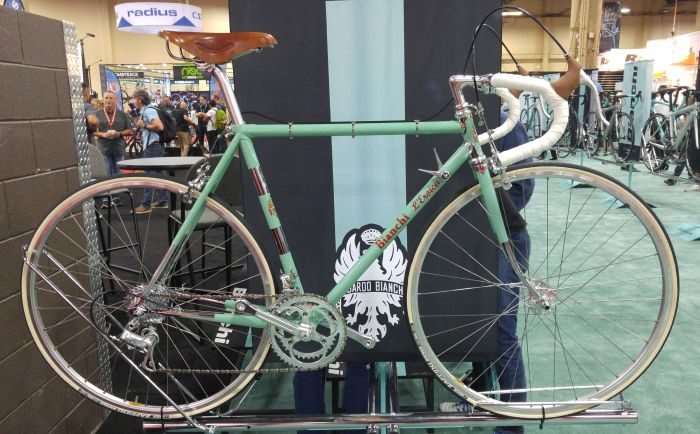 Want to ride a L'Eroica event but the thought of putting together a bike for it is a bit too much? Step in Bianchi with their L'Eroica edition!
The L'Eroica edition Bianchi is constructed from Columbus Zona tubing. Chainstays are chromed / painted – chrome and paint extends to the gorgeous steel lugged fork.
The groupset may be Campagnolo 10-speed but shifting is friction from the downtube – to keep it legal for L'Eroica. Gearing is not so traditional but a blessing as the original L'Eroica in Italy features a lot of climbing. 48 / 36 chainrings and a 12-29 cassette.
The Bianchi L'Eroica edition is available in seven sizes: 50cm, 53cm, 55cm, 57cm, 59cm, 61cm and 63cm.
Check out our experience at the 2016 L'Eroica in Part One – Part Two (video preview) – Part Three – Part Four (the ride video).