Georgia Red Clay:
"The red color of soils is generally related to unhydrated iron oxides, although manganese dioxide and partially hydrated iron oxides may also contribute red colors. Since unhydrated iron oxide is relatively unstable under moist conditions, red color generally indicates good drainage and good aeration. Strongly red soils are expected on convex surfaces underlain by pervious rocks." – Soil Taxonomy
Ram.ble:
walk for pleasure, typically without a definite route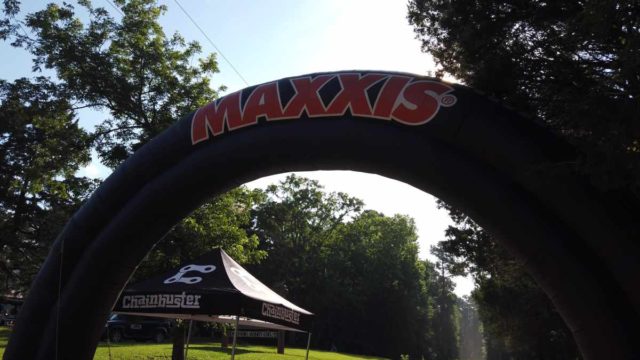 Or, a 54 mile / 86 kilometre-ish cycling ramble along the red clay roads of middle Georgia, known as the Red Clay Ramble. Hosted by Chain Buster Racing, the ever-popular event has grown considerably in all aspects since the Gravel Cyclist crew's first foray at the event, way back in 2014.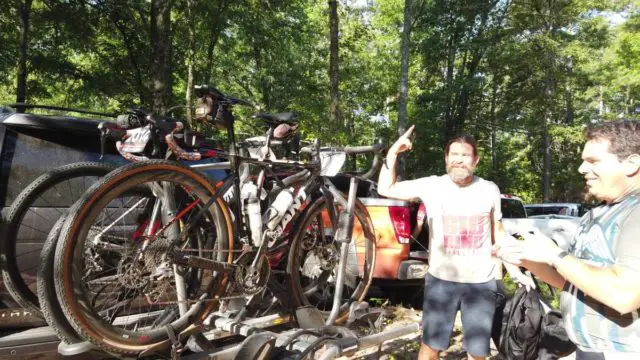 On that day, I nabbed third spot in the Master's category, albeit it on a different course. Nowadays, the average Masters men's and women's field are jam-packed with talent, meaning my former glory days of early victories before gravel cycling got popular are long gone. It's a good thing most of us, myself included, don't really care about those sorts of things anyway… we're in it for the fun factor, right!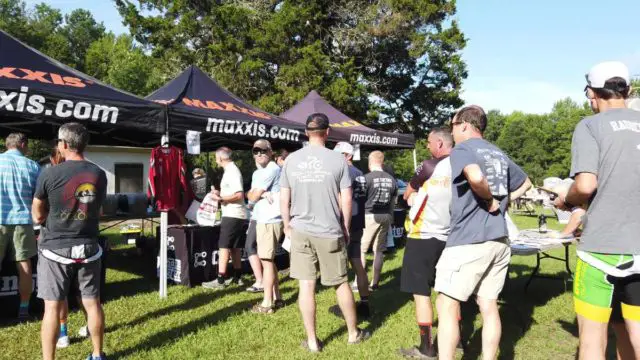 Whenever I line up for most of the gravel races, I milk the media privileges of my humble website; snap a few photos, capture some video, and slink into the front row. Invariably, most of my gravel races quickly transform from a front row start to the rear of front-pack somewhere, gnawing on the stem and clinging desperately to the front group.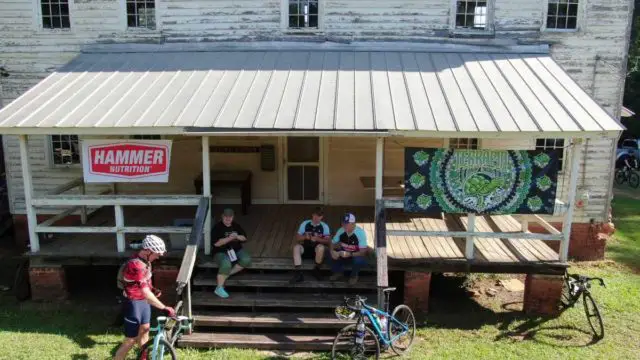 A nasty hill of sorts usually sounds the death knell for those without the legs or lungs. The splintering of riders off the back sorts the wheat from the chaff, and yours truly is no exception. My place in the race becomes somewhere in the middle of the pack, and I'm quite OK with that. I'm just a regular bloke with a j-o-b and a website.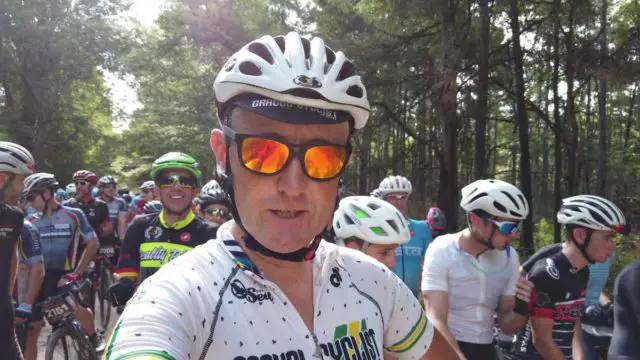 In the interest of adventure and shenanigans, and cajoled by my good friend, Dr. Pain, I decided the 2019 Red Clay Ramble provided the opportunity for a completely new experience. Start the race from the very back of the field! But first, I recorded my customary greeting to all of the trendsetters at the head of a massed horde of Red Clay Ramblers.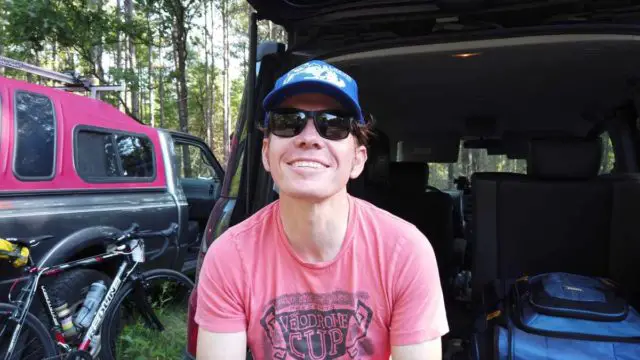 A special cheerio to Jeff Hopkins, fellow Aussie, former professional cyclist with Jittery Joes and an all-round good bloke. Jeff is no stranger to getting dirty at the Red Clay Ramble and he's still strong as eff on the bike, even if his miles / kms logged have dropped since his retirement. Nowadays, Jeff is one of the co-owners of Service Course Auto Works of Scottsdale, Georgia, just outside of Decatur.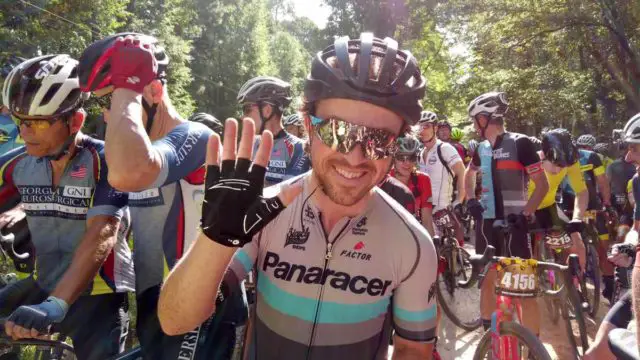 Observations made during my walk from the front to the back of the field. At the head of the field, things are a little tense, riders are on edge, waiting for the countdown to race start.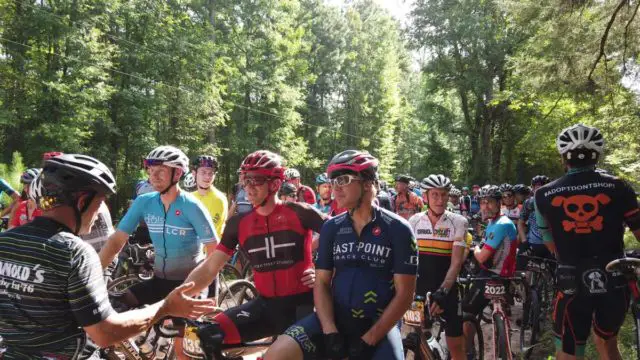 Towards the middle, a sense of calm wafted about, nobody seemed too concerned with the race about unfold. At the back resides party crowd. The lads pictured below are the epitome of gravel cycling. They don't give a flying eff about their time, they're out for a fun and toasty day of gravel cycling fun.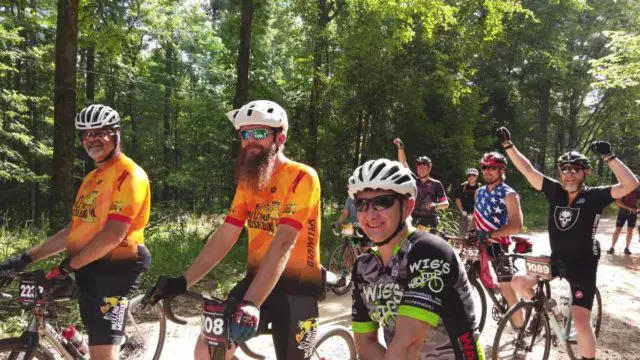 And toasty it was when the race began at 10:00am Eastern USA time. Standing around in the heat for an hour pre-race was an easy way of shedding a kilo of body fluid, so you can imagine what would follow in just a few short hours on the course.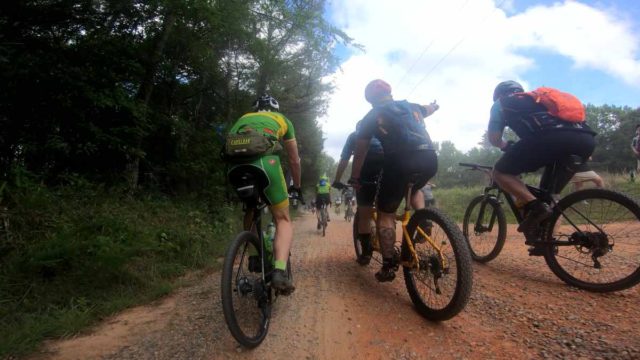 To be expected, starting from very back of the field was an experience in log jamming the first 500 metres, but I made sure to announce when I was coming through… "on your left", "on your right", "in the middle", and so on. Clear of the start / finish area proper, I settled into a tempo that I hoped would be sustainable for the remainder of the race.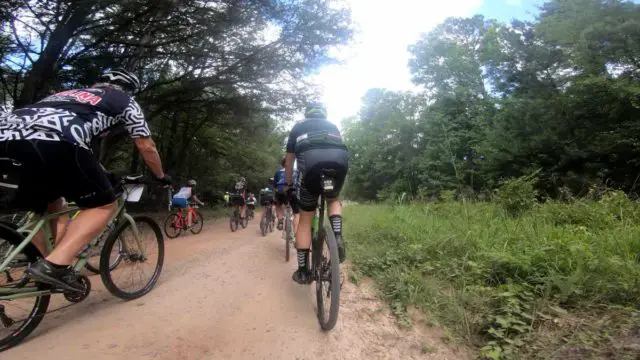 Starting from the back meant I had a constant stream of rabbits to chase on the dusty gravel roads ahead. Latch onto a small group… pedal, coast a bit, recover, pedal again and repeat.
Unlike my usual scenario of blowing up my legs early, then having riders catch and pass me, I had great sensations in my legs and was doing a good amount of catching and passing of my own.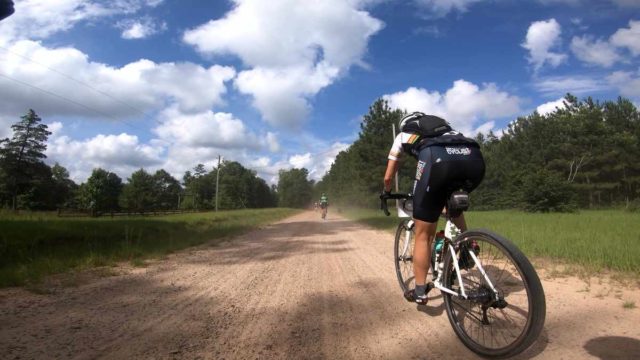 I briefly rode with Mrs K-Dogg, who wisely started somewhere in the middle of the Red Clay Ramble pack. She said, "get off the front, you're doing too much work, look behind you!" I was in the "zone" and hadn't paid attention to the long stream of riders comfortably sitting my wheel.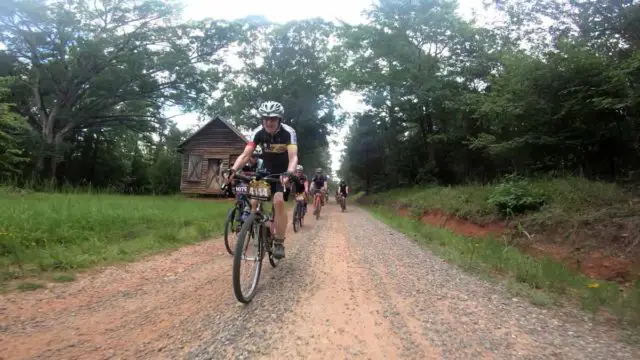 I'm a little dim at times when exhaustion sets in, but it was early, and so I made the point to get off the front and allow someone else to be the hero / heroine doing all of the work.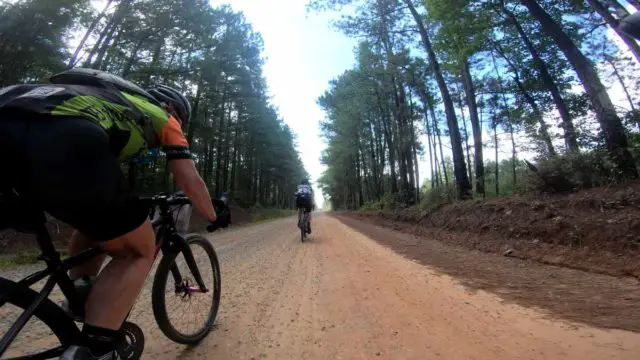 It took at least 30 or so minutes until I found the near perfectly paced group of fellow gravel cyclists. I didn't catch everyone's name, but present in our group were Jesse (Single Speed), Bryan (Masters 40+), Ursula (Women's 40+) and Betty Jean (Women's 40+).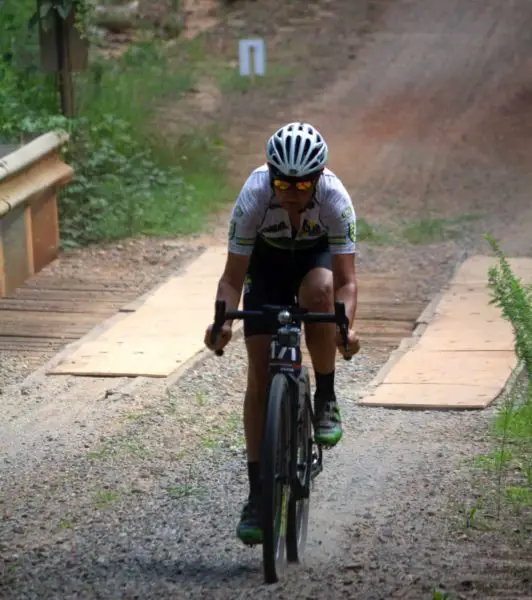 This area of Georgia is a gravel rollercoaster. Jesse and I would zip ahead on the gravelly descents (did I mention I love descending?! – see my video all about that), and everyone would catch us again on the following climb.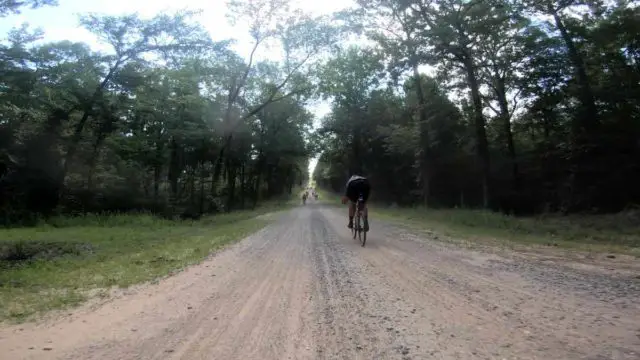 Jesse would seemingly disrupt the pace and fly off at times, but because single speed is all about momentum, I knew what he was up to.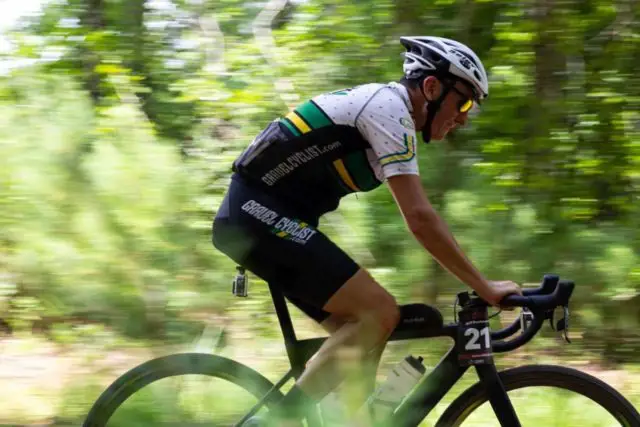 With every hill crested, we'd catch sight of another group of riders, dangling ahead, tantalizingly close. This happened over and over and over. Catch a group, hope that some of them would stick around, and keep chugging away. In between the groups was the onesie, twosie riders who'd been unceremoniously ejected from their own group. Some of those riders looked a little beat.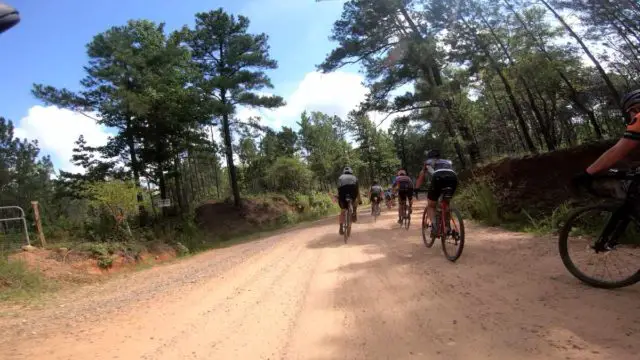 Approximately 25 miles into the race, our tempo must have reached the sweet spot. Hovering about 30 seconds ahead was a group of 10 riders. I knew the time gap because of the mental stopwatch running in my head. Thirty seconds dropped to 25, then to twenty, eventually reaching a plateau of about 15 seconds. Judging from another influx of onesie, twosie riders we caught a little later, I was of the opinion some of the riders in the group ahead upped the tempo to lighten their numbers a little.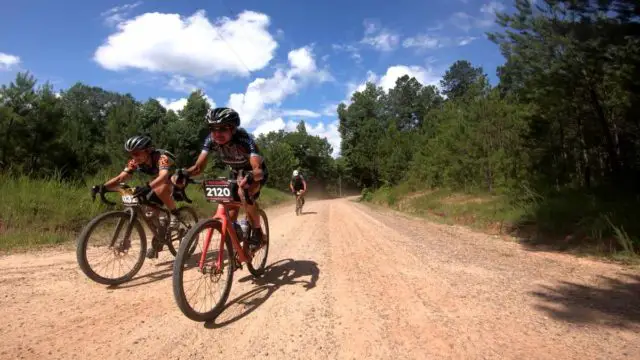 Somewhere along the way, we'd lost Betty Jean from our group, a bummer for sure, but gained the help of Greg (60+).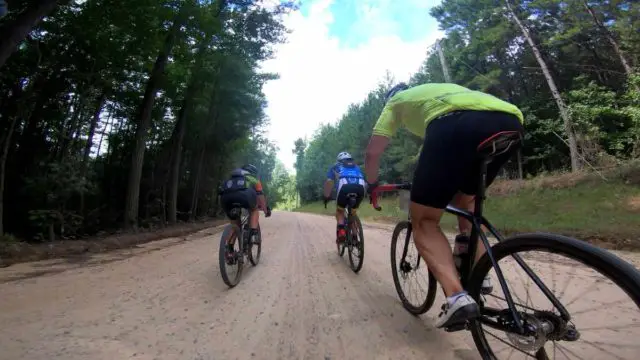 If you've not ridden in this part of Georgia, USA, the red clay roads are more than that. True gravel is smattered about atop much of the course, with the odd rut from truck tyres and water washouts to keep everyone on alert. There were some tricky sections of pea gravel which were very loose and caused issues for a rider or two.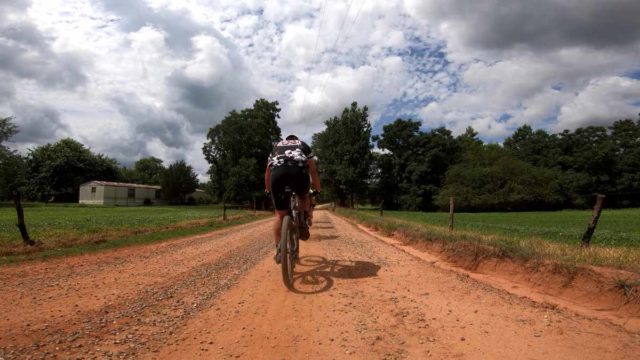 As mentioned earlier, one of the tips in my descending video is to relax and trust the bike to float. Tensing up with a death grip on the handlebars and brakes isn't good for anyone, but it does take time and experience before these techniques come naturally. Unfortunately, I did catch sight of at least one crash after it happened towards the end of the long course (nobody was seriously injured), but I sincerely hope that was the only crash of the day.
With 35 miles / 56 kilometres now safely beneath my wheels, our group had picked up some more stragglers as we rolled down Otis Redding Drive. I made the acquaintance of Shaune Huysamen, owner and proprietor of Whitetail Bicycles and Coffee Shop. We had virtually met on Instagram / Facebook, but it was nice to put a name to a face, and learn Shaune was another expatriate living the American Dream! Shaune comes to the shores of the USA from South Africa.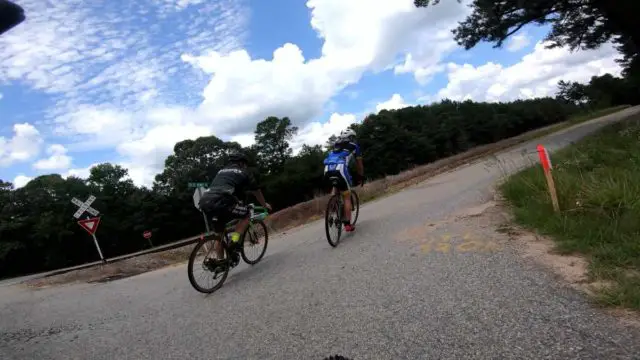 A few miles later, the group made a right turn to ride the gravel road parallel to the railway line located near the community of Round Oak, Georgia.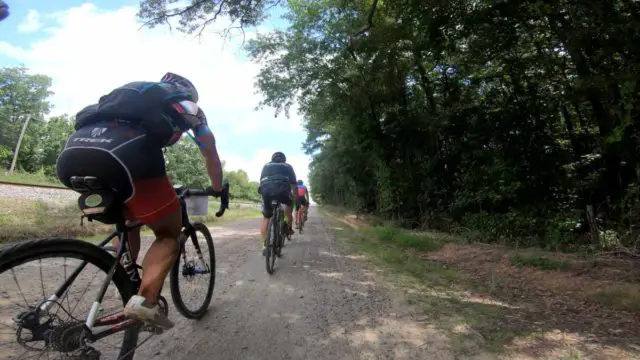 The furthest-most aid station was also located here and most of us, myself included, made a splash and go for water, Indy Car style (as in, really fast).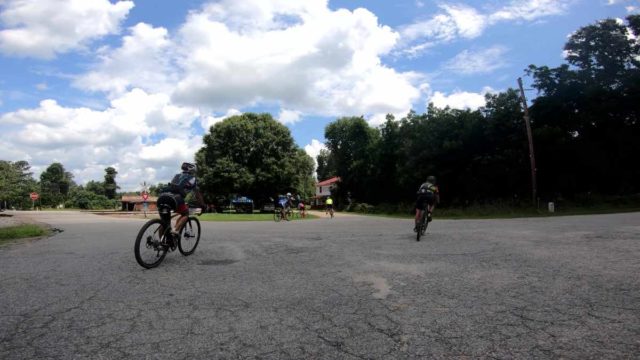 Just 20 miles remained to the finish line back in Eatonton. To say conditions were warm would be an understatement, and judging from some of the riders we caught and passed, it was apparent some were in the hurt bin. The quartet of yours truly, Ursula, Greg and Bryan were riding well together, although I freely admit I was feeling the pinch on a couple of the roller hills during the next 10 miles.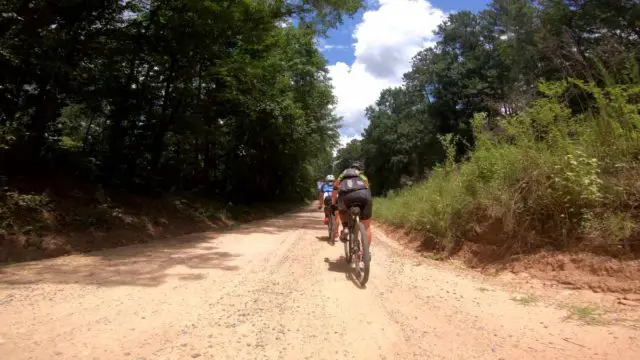 To make this situation work in my favor, I'd back off my tempo a smidge, especially if I was on the front, and hope that nobody came over the top of me. Failing that, I'd allow a small gap to open that I closed once the hill had been crested, and the red clay and gravel road turned downhill again.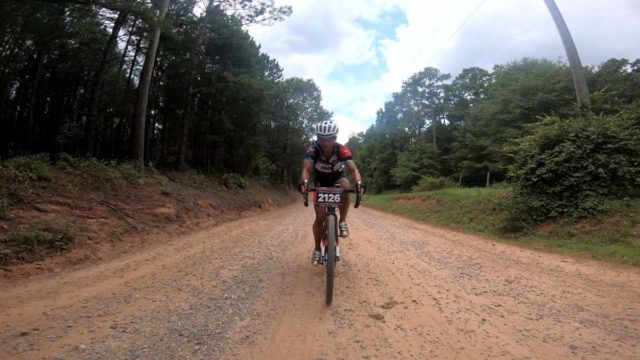 With approximately nine miles remaining, the final aid station rolled into sight. I didn't really need to stop, but I figured another splash and go of water could prove useful later, even if I was going to dunk the water over my head. The stop saw me lose contact with my splendidly paced group, but I was feeling quite energetic (thanks caffeinated Gu gel!), and pressed on towards the finish line.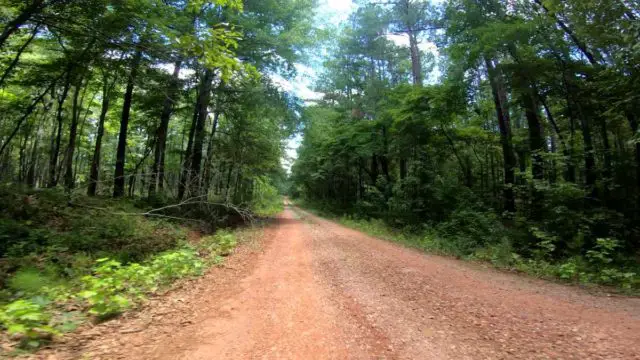 Somewhere along Dumas Road (yes, I know what you're thinking… the name), came two steep but reasonably short climbs that would test the legs of every rider. In fact, the Garmin 830 navigation device I was using (unboxing / features video coming soon to the website… even though I've already unboxed it), triggered the new ClimbPro feature. In a nutshell, an on-screen graphic displayed a representation of the climb with average gradient, distance and altitude remaining to the summit, and one's progress along the way. A super neat feature for sure, and a great compliment to the altitude screen that has long been a feature in every Garmin since the 705.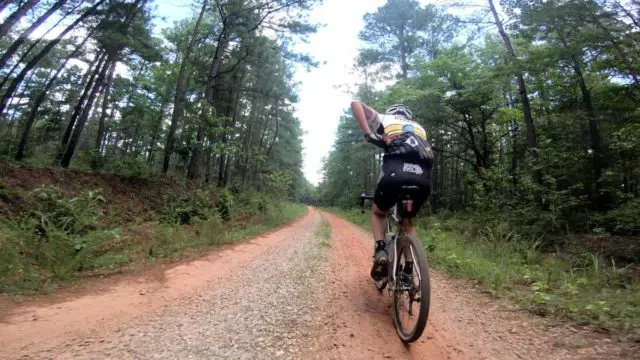 During the final climb indicated by the Garmin, I caught sight of my 64-year-old teammate, K-Dogg. Judging from his mannerisms on the bike, I knew he was tired. Evil JOM thought momentarily about attacking him on the other side of the road for a good laugh, but Good JOM thought it best to help his teammate to the finish line. I yelled out an "Oi!" to grab his attention. It turns out K-Dogg had hung with the second group of Red Clay Ramblers for the first hour but burned through a few matches that he didn't have to spare, particularly in the heat. K-Dogg has his own version of affairs coming soon.
A little ahead of K-Dogg and I was Greg, in the same age category as K-Dogg. If you recall from earlier in this story, Greg was part of my tempo group for a while, but had seemingly splintered off into no man's land (or no person's land if you want to be PC), toiling along on his lonesome (if I have this wrong, forgive me… there are a lot of riders to keep track of!) Taking a mental inventory of riders I'd seen to this point, Greg was one of two "Ultra Master" aka 60+ yo riders I had spotted. Thus, I figured that Greg and K-Dogg may have a shot at making the podium for the Red Clay Ramble.
It needs to be said that K-Dogg and I are former roadies, as in, a long time ago. I found the way of the gravel sometime around 2005 / 2006 before it went viral, and kicked road racing to the curb for good sometime around 2011. K-Dogg got a divorce from road racing, which you can read all about in the highlighted link. Because of our past, we are well apprised in the artform of sneaky roadie tactics. I kindly informed K-Dogg I would drag him to the line, in the hope he could profit and pull off a sprint for the podium.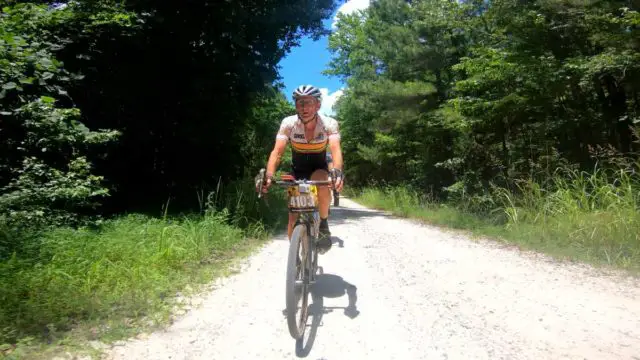 Whether Greg had figured out what the eff K-Dogg and I were up to, or even if he cared?, was another matter. I tested the waters a couple of times by lifting the tempo within the final four miles, mostly to see who was in difficulty. Mostly, it was K-Dogg who was gapped, which wasn't the desired result. Greg was riding well, and K-Dogg was cramping or near to, so what to do?
K-Dogg is quite a resilient fellow, and between him and I, we've both experienced our share of bad days on the bike. But, I knew the Dogg had it in him for one final effort. Greg had drifted up the road and held a nice gap with about half a mile remaining until the finish line.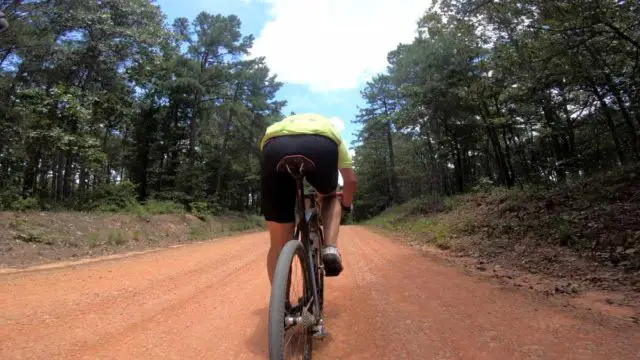 I lifted my tempo one last time with K-Dogg on my wheel, and brought back Greg close to the finish line, just in time to glob onto his wheel a short while, before leading out K-Dogg to launch his sprint.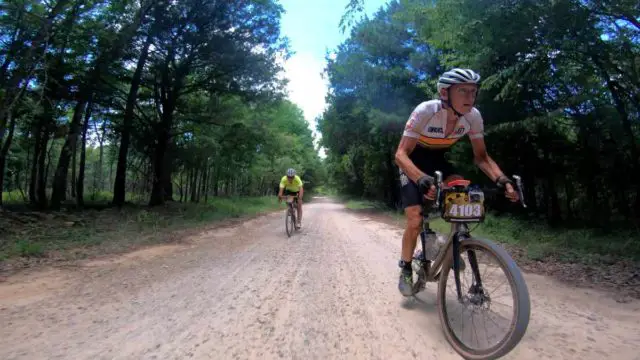 It wasn't a fast sprint, pitiful would be a better word, but it was good enough for K-Dogg to take the final podium spot for third place.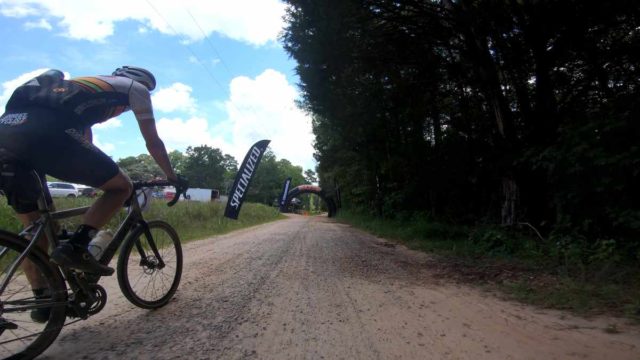 Hats off to Greg for his stellar ride, and apologies if we offended you with our silliness during the final five or so miles.
Yours truly ended up somewhere in the middle of the Men's Masters group, a good result considering I got off to a slower than usual start. Would I start from the back of a race again? I'm pretty sure it will happen again very soon.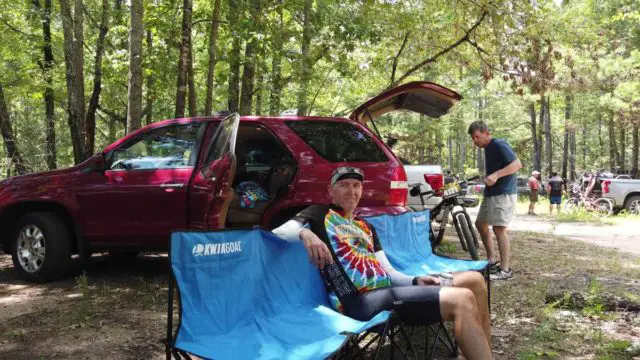 I must pass along a hearty well done to my good friend Cathy, who chose the Red Clay Ramble as her first ever gravel race. She could have chosen the shorter course and based on time would have handily won the Women's Masters short-course category! However, Cathy enjoys a challenge and pushed herself to the long course finish. Chapeau!
Much as I'm not a fan of Strava, I do upload once in a while; you can see my Red Clay Ramble effort here.
Thank You's
The Chainbuster Racing promotion team of Jason and Dawn, and their team of volunteers! Red Clay Ramble is a fun event and long enough to prove challenging, especially in the heat of middle Georgia.
My fellow Gravel Cyclists! Thanks to everyone I rode with, and to those who had good things to say about the Gravel Cyclist website and its related entities. Your encouragement and kind words really mean a lot.
3T for providing my Exploro race bike (reviewing it at the moment), along with ENVE Composites for the G23 wheels, Panaracer for the Gravelking SK tyres (700c x 38mm) and Orange Seal for the endurance formula sealant. I may not be crushing records and creating havoc, but the 3T Exploro is an amazing gravel race bike. It was flawless all day.
Mr and Mrs K-Dogg for chauffeuring me to and from the Red Clay Ramble in the back of their minivan 🙂
To everyone who will ultimately read this report… the 2019 Red Clay Ramble race video is coming soon!