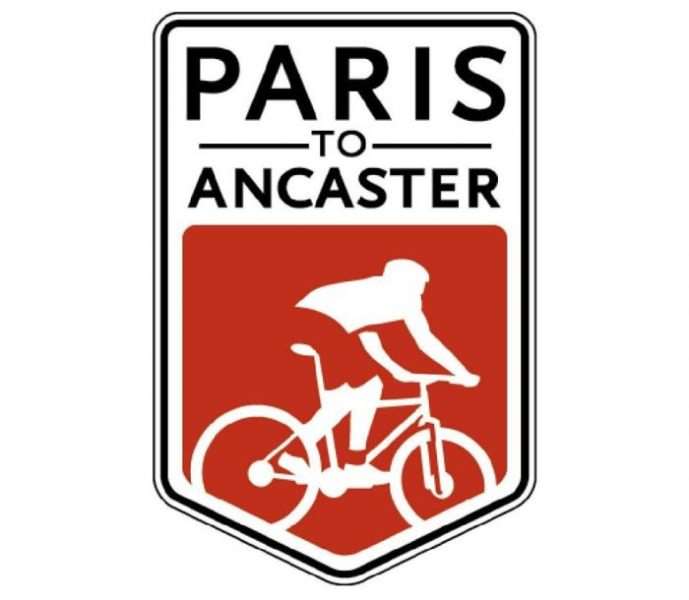 "For over a century the roads of northern Europe have been home to the toughest bicycle races in the world. The most famous of these, Paris to Roubaix, takes place each spring over brutal cobblestone roads that have been preserved in their historic condition for over 100 years. Inspired by this classic race, the Paris to Ancaster has taken place for the past twenty three four years over the roughest farm lanes, trails and gravel roads we can find. Combined with unpredictable spring weather and the largest field of riders assembled in Canada, it has become a classic race experience for everyone from average riders to Canadian Olympians."
Inspired by this description of the event and Damian Bradley's 2015 race report, Paris to Ancaster was added to my must-do race/event list for 2017. Making the decision easier was the VIP media invitation I received to the event. Many thanks to organiz(s)ers and founders, John Thorpe and Tim Farrar for extending that kind offer.
All aboard, destination Niagara Falls!
Friday, April 28, 2017: The first step in my journey to the 2017 Paris to Ancaster race was the drive from my USA hometown of Gainesville, Florida, to board a flight departing Sanford, Florida, bound for Niagara Falls, New York. In the days leading up to the flight, I'd carefully prepared and packed my gravel travel bike, the venerable Ritchey Breakaway Titanium CX bike. For those so inclined, you can view my packing procedure for the bike here, but I have streamlined a few steps since the video was published. Additionally, since the former article, the bike has received several upgrades in the form of wheels and other parts, so expect an article soon concerning Revision 2.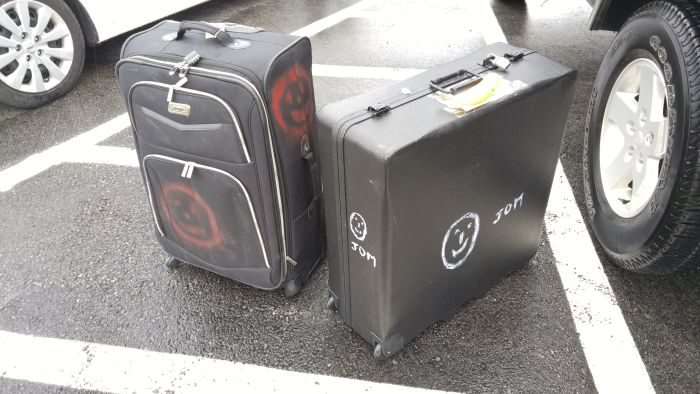 Allegiant Airlines offer excellent fares to some very neat destinations, on direct flights from many of the larger airports they offer service. Orlando Sanford International is one such airport. A 9:13am departure had me landed in Niagara Falls at around 11:50am.
Tim Farrar, one half of the organization team behind P2A (Paris to Ancaster) invited me to Friday's VIP pre-ride with some of the stud / studette pro and generally very fast riders attending this year's race. The ride was scheduled to begin at the Robert E. Wade Community Centre (P2A HQ and location of the finish) in Ancaster, Ontario, Canada at 3pm. What follows next is a blur.
Exit plane in Niagara Falls International Airport. Collect luggage. Collect rental car.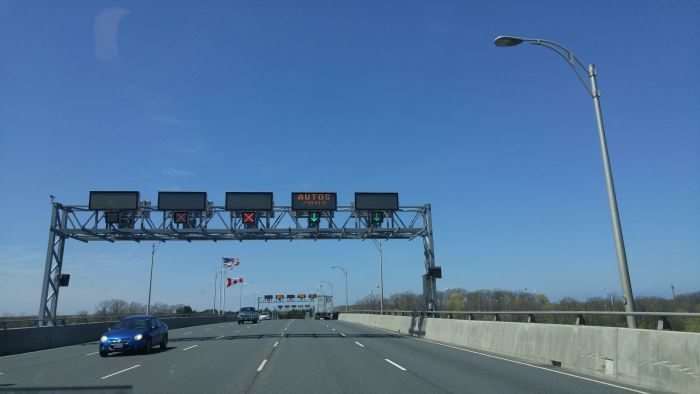 Drive into Canada with a stop at immigration; don't forget your passport! Pay close attention to my speed in kilometres an hours (Canada is metric – YES!), and blindly follow my GPS plot to the venue in Ancaster. Incidentally, I didn't purchase a Canadian phone sim for the trip, so I was mostly relied on the Maps.ME app (Android and iPhone) for offline GPS navigation, or WiFi leeched by visiting one of the many Tim Hortons located around Ontario; they offer great options for food and coffee, so it wasn't all about stealing WiFi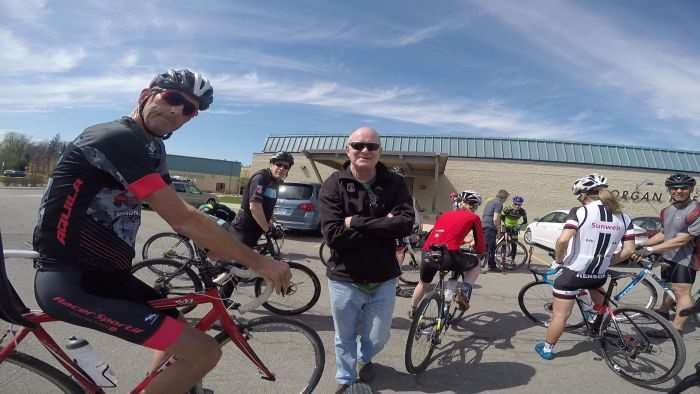 The GPS plot was spot on, and I arrived with an hour to spare before the ride was due to meet. Sadly, I had no time to take photographs of this particular build process, but I set a new build record, which included adding sealant to the tyres – 40 minutes – with everything happening outdoors in the parking lot.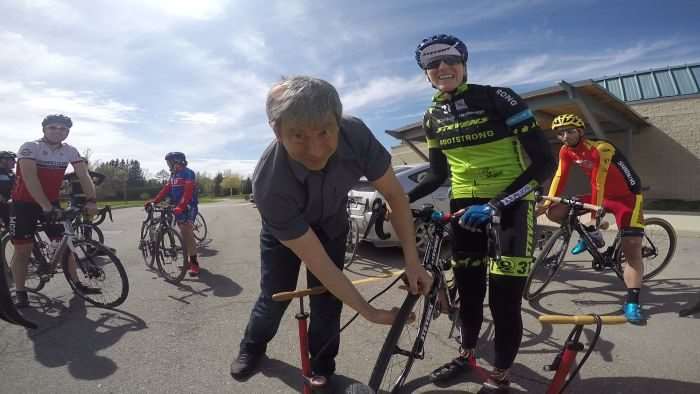 The 40 minutes didn't include kit up time, or frantically rummaging through my bags looking for various sundry items required for the ride. The group was kind enough to wait and departed a little after 3pm. I understand this ride always departs late, so the tradition lives on!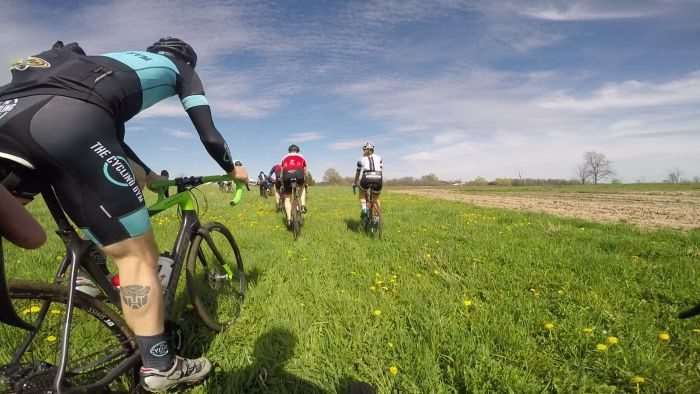 My legs felt terrible. They were ticked off with my 3:30am wake up, and sitting around in a car and plane for hours. However, the assembled group of VIP's and pro riders were taking it easy, and the scouting of some of the trickier sections of the course was greatly appreciated by yours truly.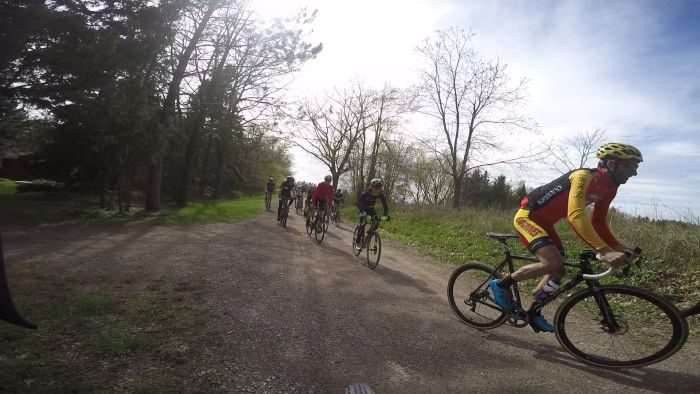 I seldom get the chance to ride in muddy conditions, which are a lot different from loose and sandy conditions I have experienced in many other parts of the world.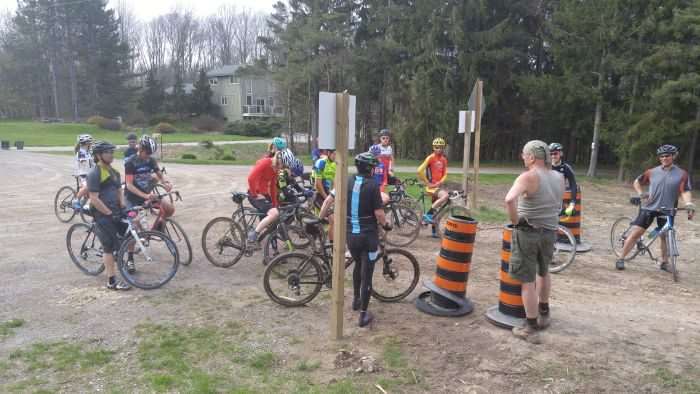 Predictably, I hoofed it for some of the known mud obstacles along the course, but one cannot put a price on the gathering of a little course "tribal knowledge". Thankfully, this mud was of the non-clogging variety, so I experienced no issues other than my front wheel rudely changing course unexpectedly in the tyre tracks of other riders. This pre-ride also determined I had the wrong tyres mounted for the race. Later, I would switch from my ever reliable Panaracer Gravelking SK tyres, to Panaracer's Gravelking Mud tyres.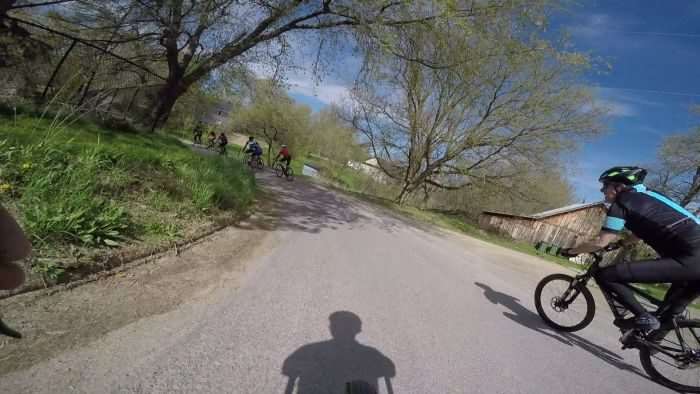 Post ride, I was invited to dinner in nearby Dundas, Ontario, but I politely declined due to fatigue and the need for a lot of beauty sleep. Some will say I should sleep for a week… hilarity ensues…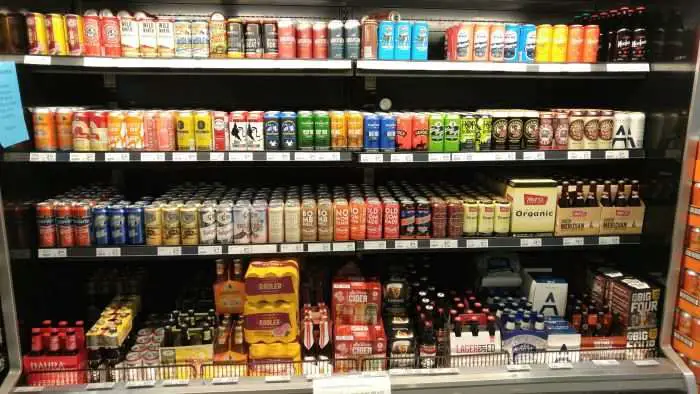 Saturday – A little more reconnaissance, Toronto and Paris
Using tips in this article, and this article, I plotted a 50 kilometre / 32 mile course for Saturday morning, that took in some of the early kilometres of the P2A course, and a couple more of the known trouble spots.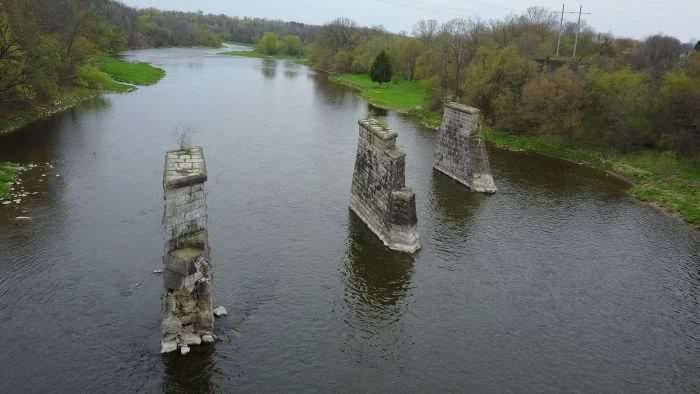 My legs felt a lot better, despite the cooler temperatures compared to Friday's pre-ride. This ride was also an opportunity to take some photographs, and capture drone footage of the Ontarian countryside. My sidekick, Little JOM, aka my drone, checked off another region of the world as visited. He gets around.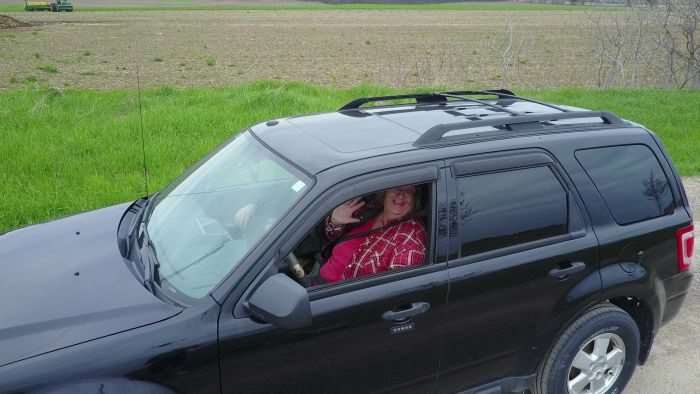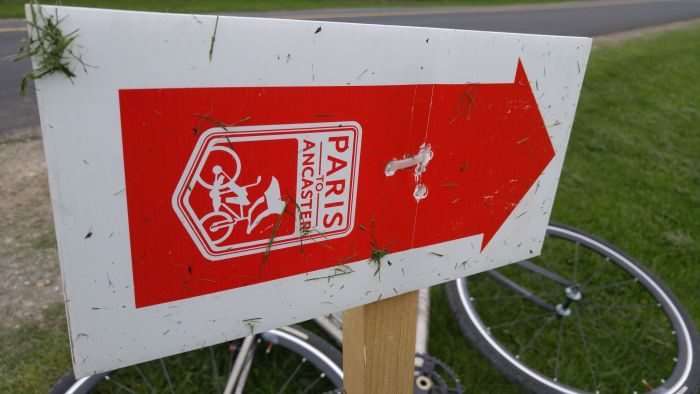 Little JOM also attracted the interest of several locals, who I must say were welcoming and friendly. Maybe it's a sympatico thing between Australians and Canadians (both are Commonwealth countries), but I LOVE Canada, and would gladly relocate, if it weren't for the brutally cold winters.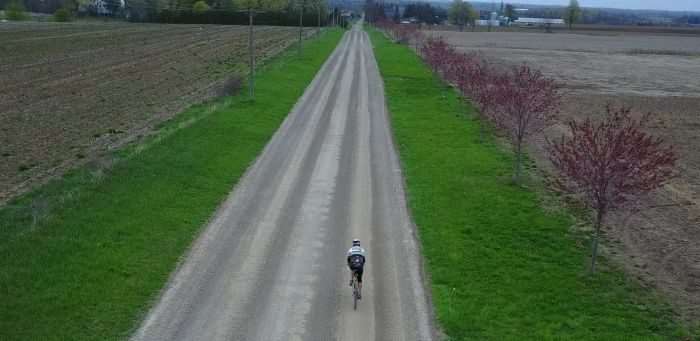 You can check out my Strava data from Saturday's cruise ride, HERE.
Because I started Saturday's cruise ride later than planned (curse the need for sleep), my trip into Scarborough on the east side of Toronto got off to a late start. Traffic on a Saturday heading through downtown Toronto is pretty horrendous. In hindsight, I should have parked my rental car on the outskirts of the city, and taken the Go Transit train that was belting through the city as I sat in traffic. D'oh! Nevertheless, I arrived at Toronto Cycles, 30 minutes later than planned.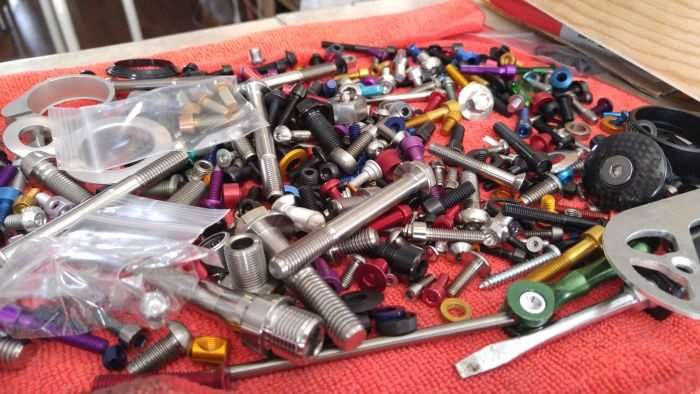 Toronto Cycles is THE premier online source on the planet for titanium and aluminium bolts, and custom anodizing, if that is your thing. Titanium doesn't rust, and I generally fit titanium bolts to almost every bicycle I own. Shop owner, Tom, maintains a very limited schedule for open shop hours, sales only – no repair services are offered. Considering I'd ordered from Tom in the past, it was a great opportunity to meet him in person, and collect my high zoot bolt order at the same time… a new gravel bike is in the works for yours truly, more on that later. Tom, thanks for your time!
Sadly, due to my contribution to Toronto's traffic problem on Saturday afternoon, there was no way I'd make it back in time to Paris, Ontario, for the inaugural criterium, part of the festivities that are Paris to Ancaster.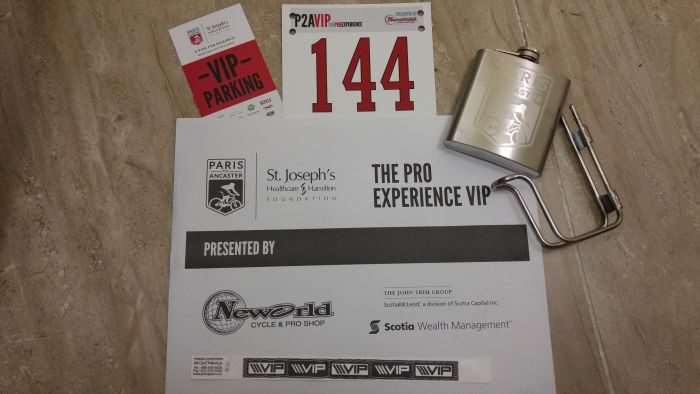 As it was, I barely made it to packet pickup in Ancaster before they closed for the day. Whew!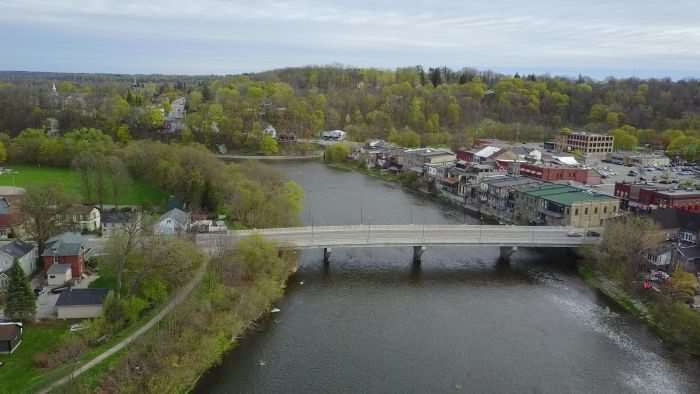 https://www.instagram.com/p/BTeoELJjKDQ/
Instagram footage above from Margriet Kloppenburg. This criterium was different; a short 750 metre course, mostly on cyclocross bikes through downtown Paris and along some back lanes. Fun times!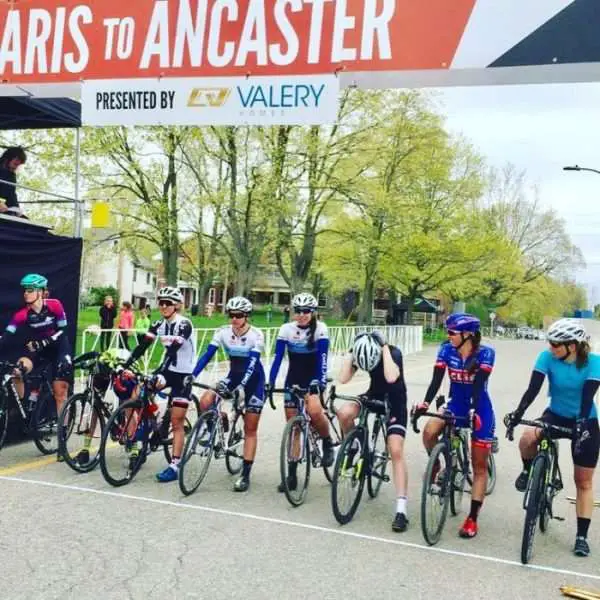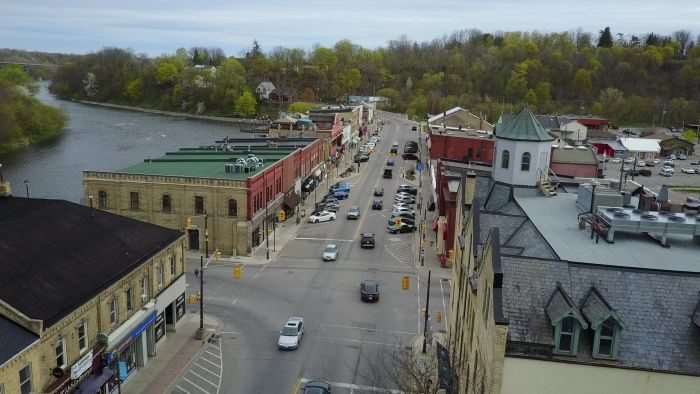 I did however capture some nice footage of downtown Paris later in the day, known as the "Prettiest Little town in Canada." Some of that footage will feature in the upcoming event video.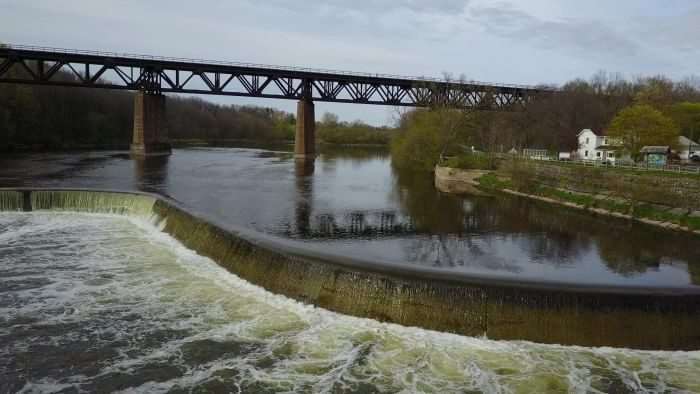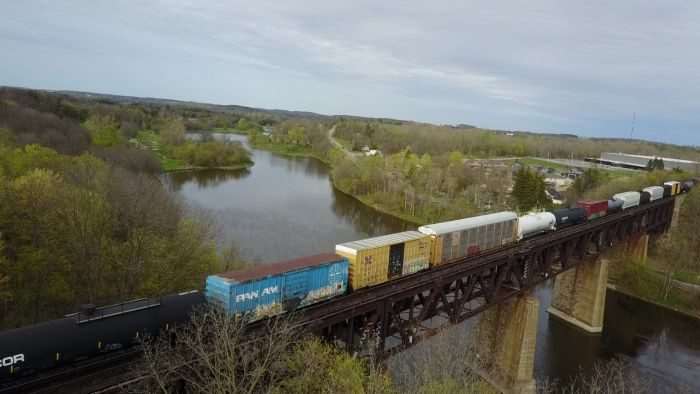 Sunday – Race Day
In the week and days leading up to the big day, the weather forecast was primo… except for Sunday. 70% – 80% chance of rain, and temperatures hovering around 42 Fahrenheit / 5 – 6 Celcius. Would this be another case of 2017 Land Run 100? I chose not to agonize about it too much, but did make better preparations concerning my choices of clothing.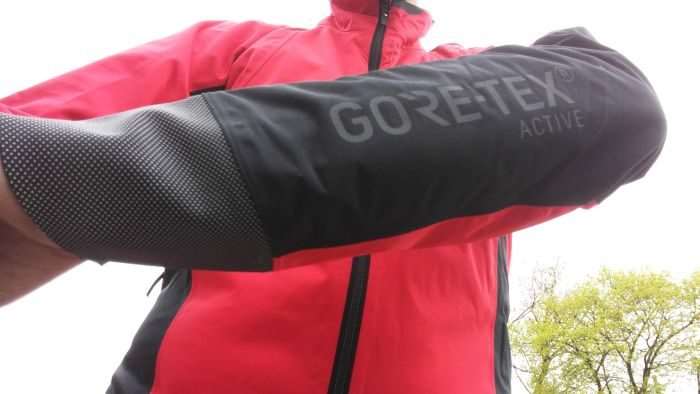 Joining me for this journey was a review sample of Gore Apparel's Active Bike Jacket, Defeet wool socks, some additional base layer options and chemical hand and toe warmers. In the big scheme of gravel events, P2A is a relatively short race at around 70 kilometres / 43ish miles, but staying warm and dry was of great importance to me, no matter the distance.
Around 5am, I was woken by the sound of distant thunderstorms. That couldn't be good. I rolled over in the bed, denied the existence of rain and thunder, and dozed off. At 7am, my alarm clock went off, signifying the end of dream time. Bleary eyed, I sauntered about the room, got dressed in civvies for a breakfast visit to a Tim Hortons, conveniently located less than 200 metres from my hotel. Brilliant!
Opening the hotel door, I was pleasantly surprised to see an almost dry parking lot, and dry roads just beyond. Looking at the clouds above, it appeared the weather people may have gotten it wrong, but in a good way. Following a savage chow session at Tim Hortons, I further consulted the weather.com website for the area. Unlike the USA, the Canadian side of the fence doesn't offer Doppler radar? However, if you switch your location to Buffalo, New York, you can easily see where the incoming rain bands have been, or are headed. A massively clear window had opened itself above Brant County, Ontario and would remain open for hours after the race. No rain! Yes! What to wear? It was still c-o-l-d.
Long sleeve base layer, yes. Extra warm short sleeve layer on top, yes. Knee warmers, arm warmers, embrocation on the lower legs, wool socks, toe and hand warmers stuffed into shoes and gloves, cap beneath my helmet, bib shorts and jersey. I was good to go. The Gore Active jacket stashed nicely into one of my rear jersey pockets. Most of these dressing activities happened within the discreet confines of my rental car near the start line. It also helps to have a massive pile of clothing to choose from – plan for the worst, hope for the best.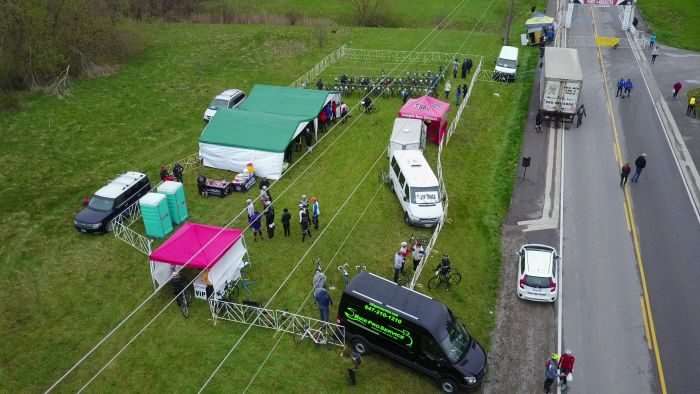 P2A is arguably one of Canada's premier cycling events. It was completely sold out – 3,000 riders! I was fortunate enough to be in the 70km Elite / VIP wave, which contained many of the professional riders and general stud / studette riders who could smash me with one pedal stroke.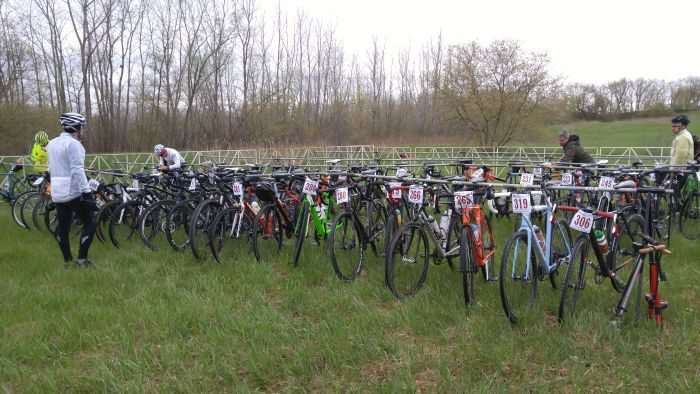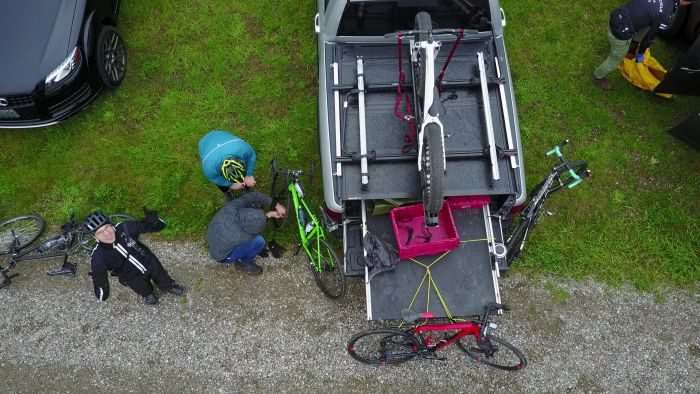 'Tis a good thing I was there to have a good time, do some filming and socialize! My goals were, have a ton of fun, ride well enough to make it home under three hours, capture some good footage along the course and not crash or die.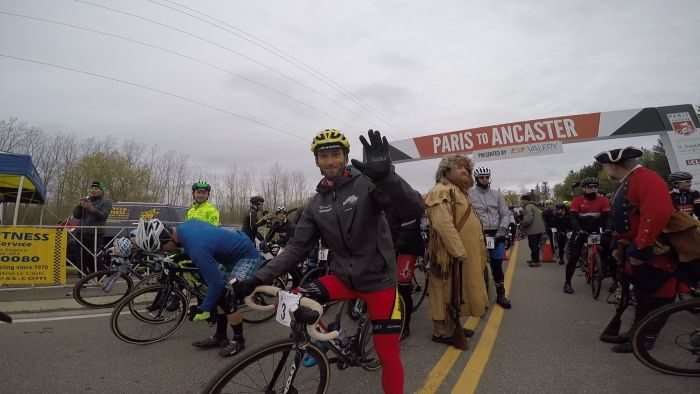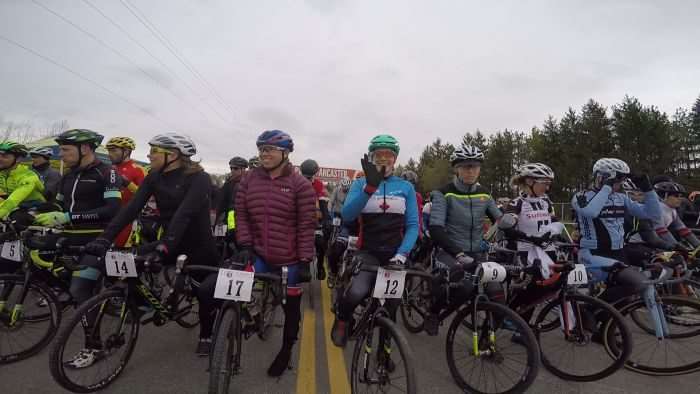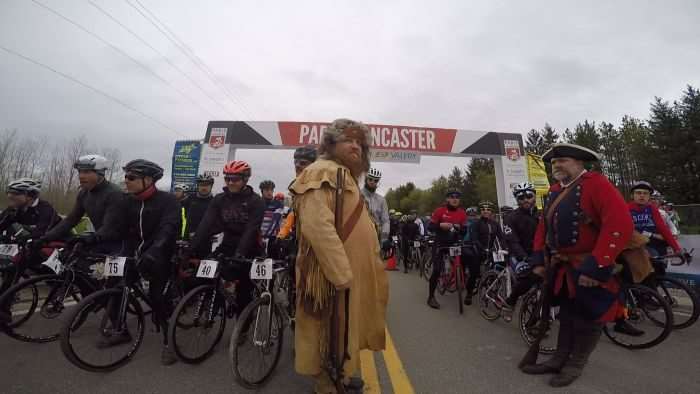 I filmed the front row of elite riders, and politely slipped into the second row of the assembled mass. At 9:45am, the sound of muskets resonated and the Elite / VIP herd was off!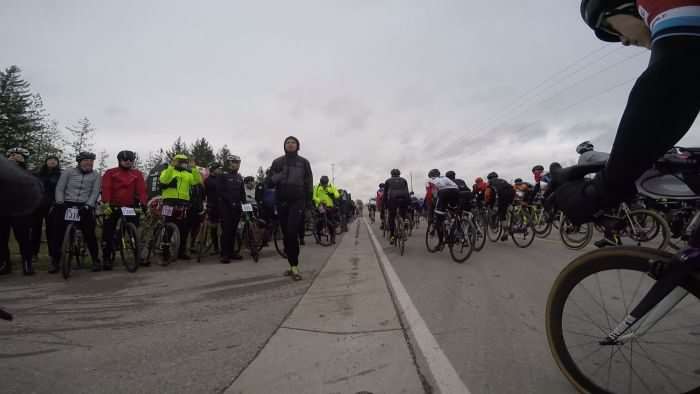 The speed at which this race started blew me away, literally and physically. Think full-on cyclocross start and you get the picture. I'm more attuned to race starts being bit more mellow, and my warmup was in line with this. Exactly 150 metres of riding ensuring my gears and brakes functioned, before returning to the warmth of the rental car. Starting slowly is my specialty.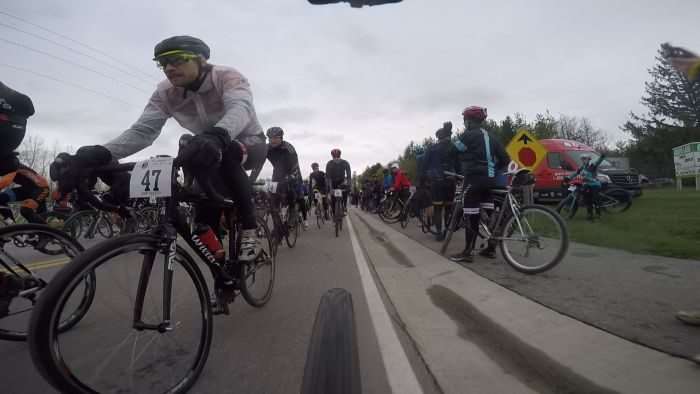 At least half the Elite / VIP field blew past my right shoulder, and I happily slotted into the back somewhere, along with the other stragglers taking it a bit easier.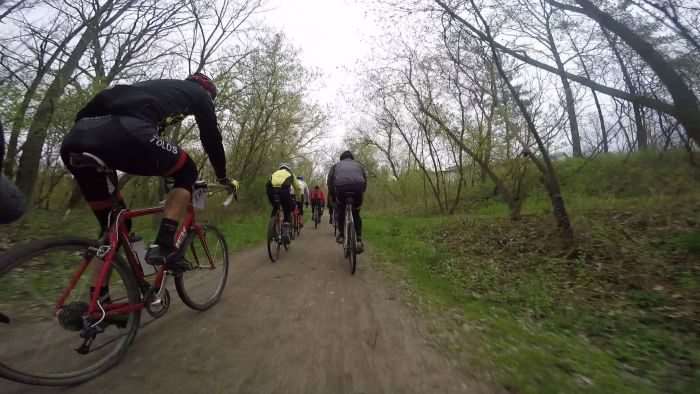 It didn't take long before I was in a nicely paced group, cruising rapidly along the first sector of the Trans Canada rail trail. I did my best to throw in an obligatory turn here and there, and not make it too obvious I was hiding from the wind.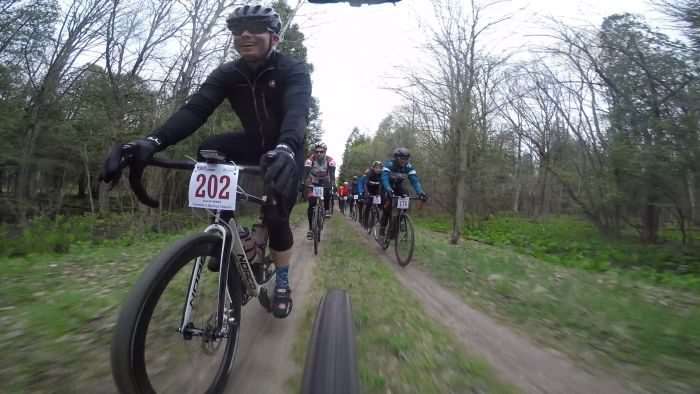 Wind gusts were projected at 25mph / 40km/hr, so this was a day to hide and ride smart.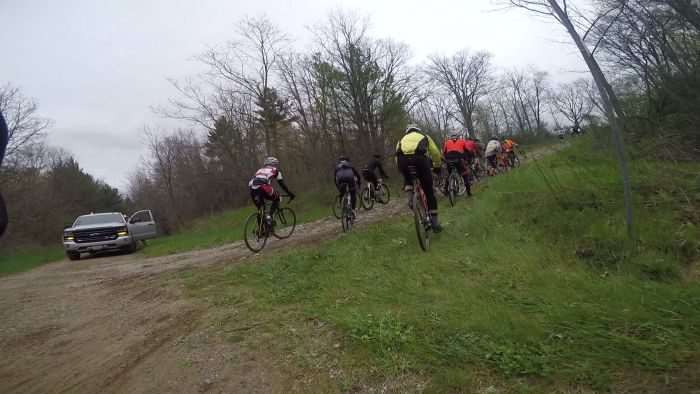 Approximately 9 kilometres / 6 miles into the race, a sharp right turn had our group exit the trail. Immediately following was a reasonably steep hill, covered in loose rocks and gravel. During my Saturday pre-ride, I had no problems scaling this little berg.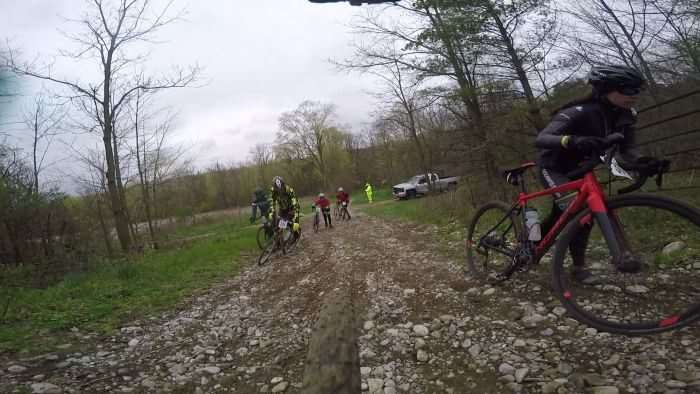 Race day in the company of a bunch of racers, my perfect Saturday line was blocked, so I hoofed it, like everyone else. All of this heat generation was keeping me super toasty warm, even in the cold conditions. For once, I was dressed to perfection.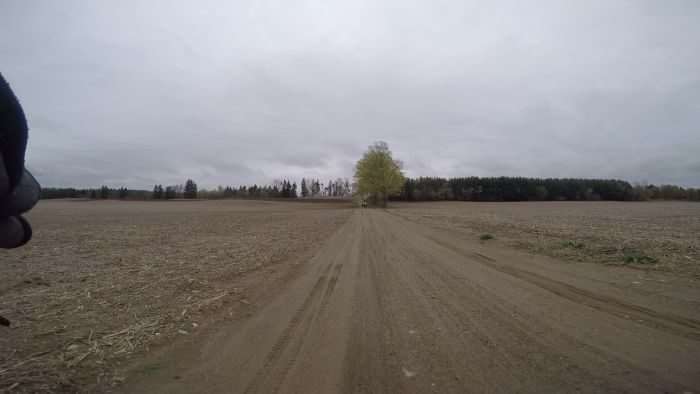 Despite there being 250 riders in the VIP wave, it broke up quickly, unless you were one of those hanging in the front bunch. I was alone here and there, but picked up riders in one's and two's, and eventually formed a decently sized group to tackle the terrain and winds.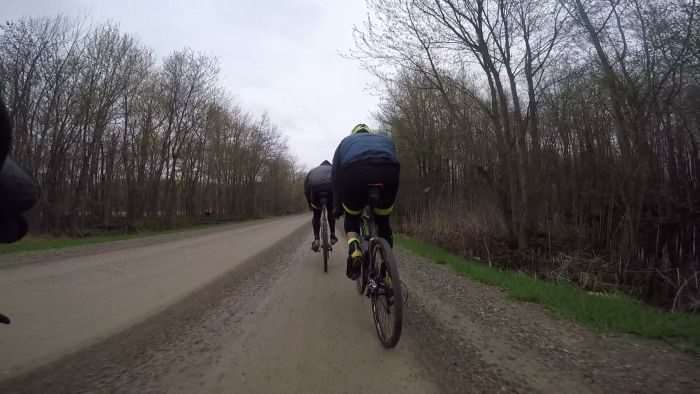 The cross winds were brutally strong, and for a lighter rider could prove troublesome. A few in our group didn't know about the finer points of echelon riding, so I politely suggested how to deal with the conditions, in order to ride more effectively as a group.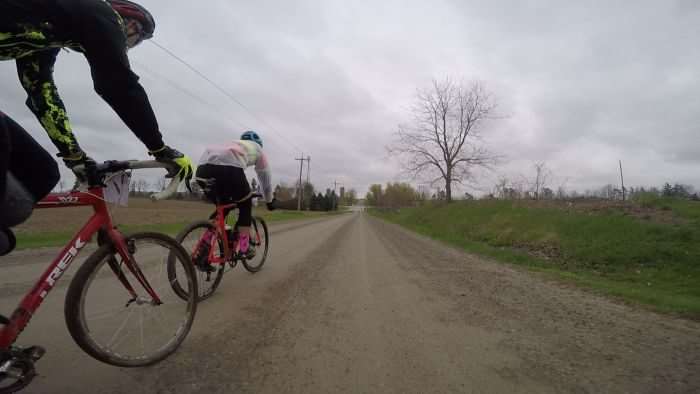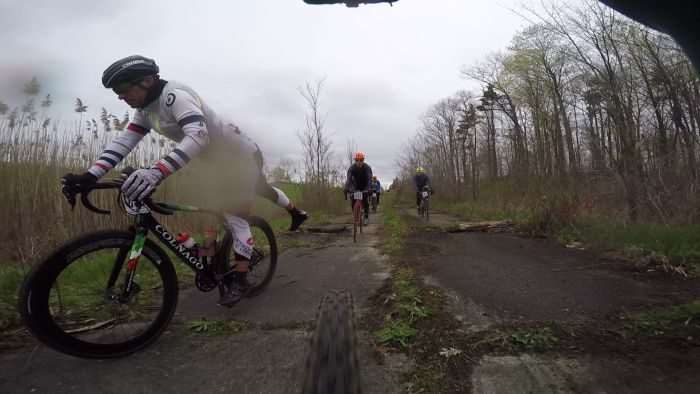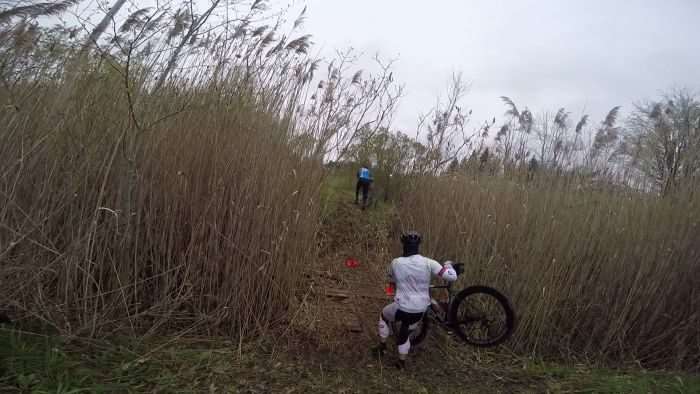 The group stuck together until the muddy section of woods that began adjacent to Brant Road. Mostly, I was ditched off the back due to my less than stellar technical skills. Thus, I rode at twinkle toe speed through the mud, hoping it wouldn't pack up and potentially destroy my rear derailleur or derailleur hanger. This race was also serving as a tough field test of my SRAM eTap system, which to date has handled everything thrown at it. Check out Part One of my review of the system, HERE. Part Two  is coming soon!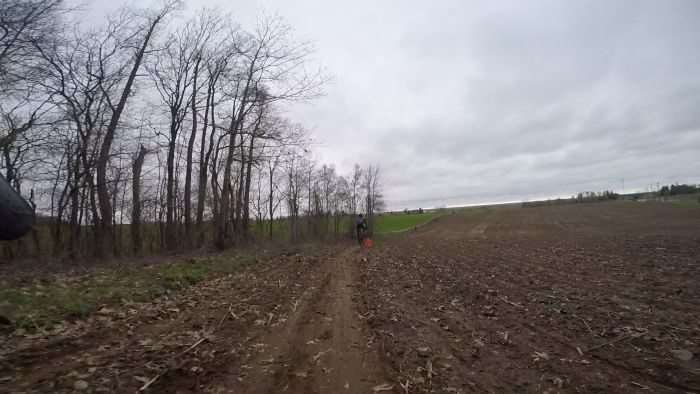 Once I'd exited the first notable sector of sludge, the route turned to an open field, with riders strung out as far as the eye could see.
By this time, my legs had finally warmed up and the windy conditions weren't posing too much of a problem for me, mostly because I am used to riding big miles / kilometres solo. I cite this recent ride as an example (probably need my head checked).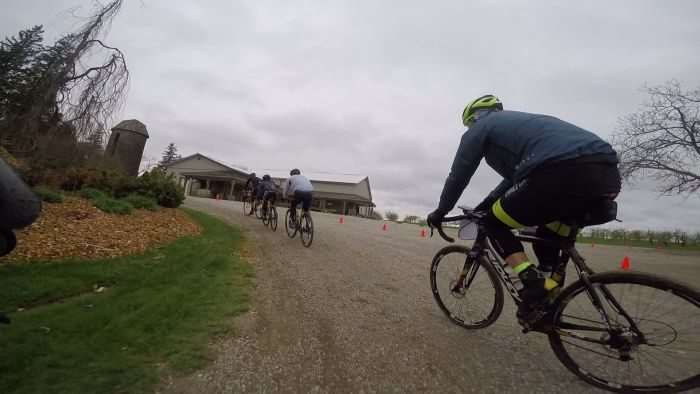 The best way for me to describe Paris to Ancaster: a giant steeplechase for cyclists. Much of the course traverses private land that is made available for race day only. Organizers John and Tim work hard to maintain these relationships, and in some cases, have started new relationships with land owners when properties are sold. Invariably, the course differs a little each year.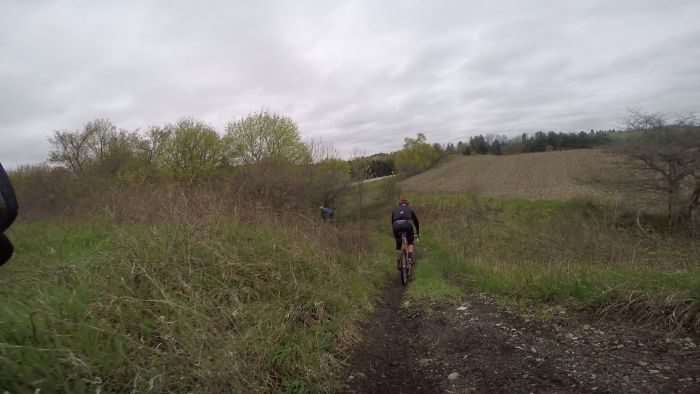 So, if you're in the area and looking to ride the Paris to Ancaster course, do everyone a favour and stick to the public lands, and stay off the private property. John, Tim and everyone else will thank you.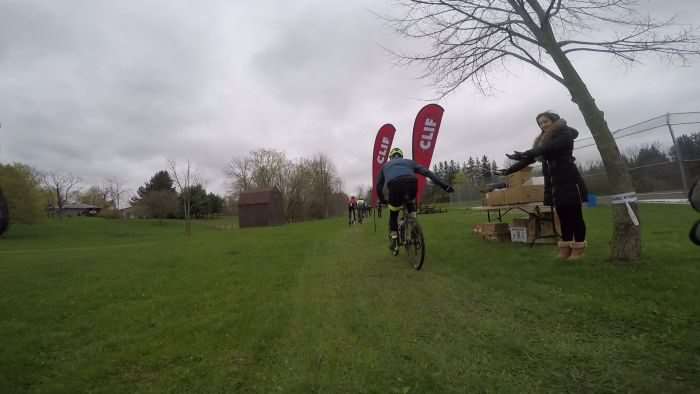 Approximately half way into the race, or perhaps a little less, my group was caught and passed by the leaders from Wave #1. These lads probably belonged in the Elite / VIP wave, but one must finish in the Top 100 for men to qualify… or, pay the VIP entry fee. Not long after, a couple more lads from Wave #1 caught us, just as my group rolled through the feed station. I stopped briefly to grab a small stash of Clif Bloks, and resumed the madness.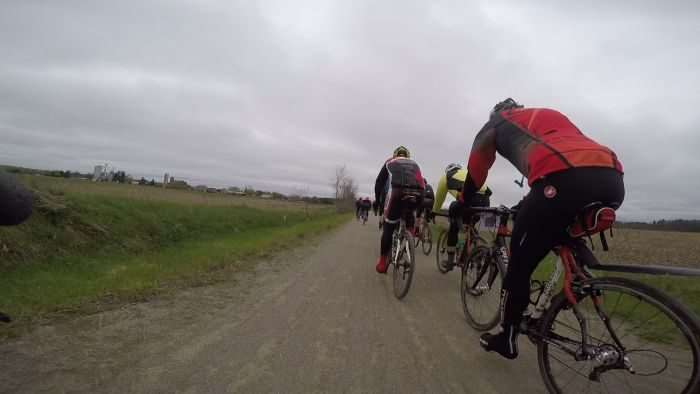 A nicely sized group of Elite / VIP / Wave #1 riders formed just before a lengthy section of the Trans Canada Rail Trail. I was safely ensconced in the group, but the cross winds were causing problems for many riders, ultimately, splitting the group. There were those who knew how to ride echelons, and those who did not.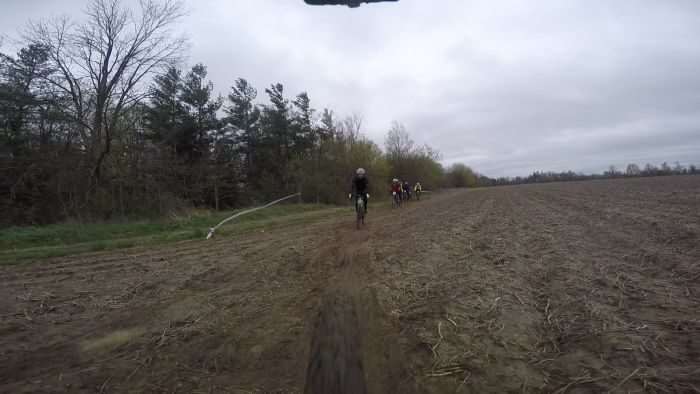 The group split again as we crossed a bumpy field (pictured above), which was immediately followed by a decently sized patch of loose dirt, gravel and mud. It was every man and woman cyclist for themselves!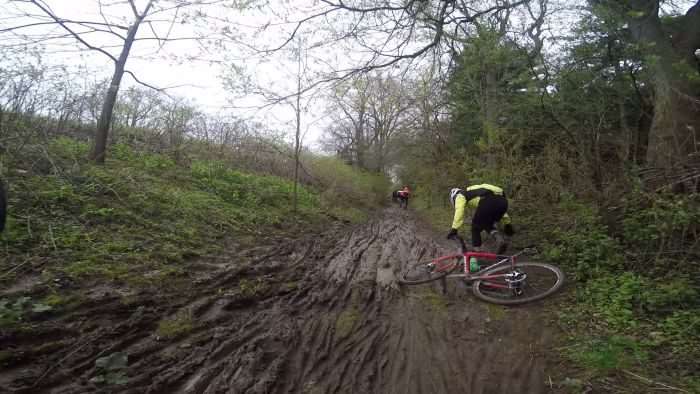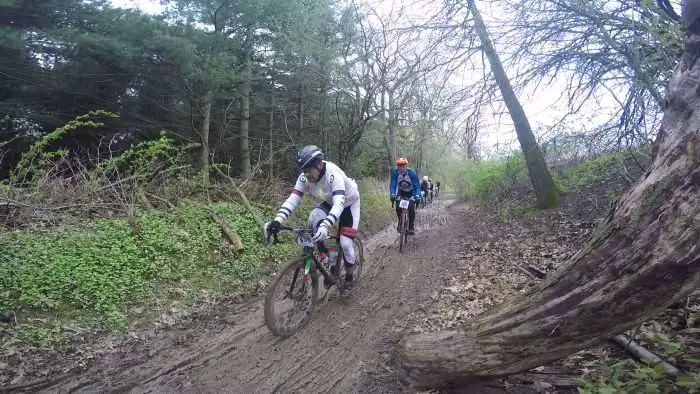 This pattern continued for much of the course. A little pavement, a bit of gravel, a track across a farm property, some fun singletrack and challenging mud.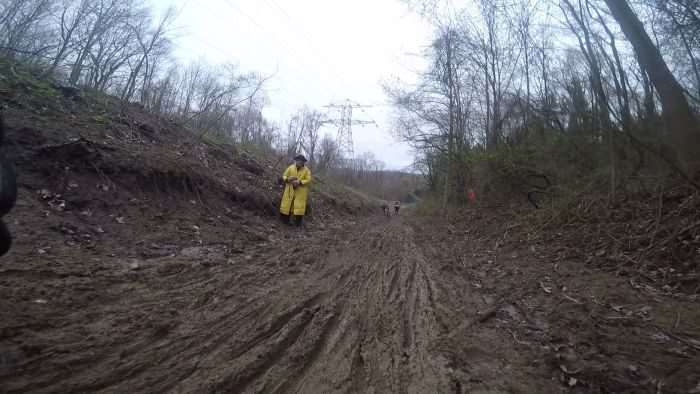 Not far from the end of the iconic Powerline Road mudslide was a section of relatively easy double track that lead to the base of the Martin Road climb. This climb leads to the finish line, and while relatively short, it features a couple of steep sections that can really sting one's legs.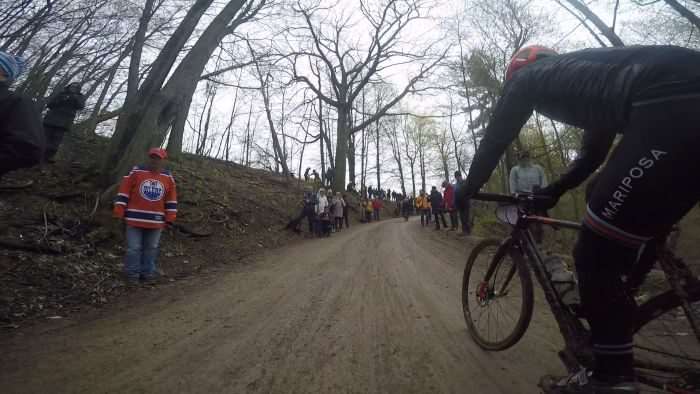 I was happy to be rolling a 46 / 30 chainring pairing on a White Industries MR30 crankset (under review), and combined with an 11-32 cassette, my 30 x 32 low gear allowed me to remain seated and maintain a pleasing cadence to the summit.
No speed records were set, but I was happy to cross the line in a time of 2:53:15.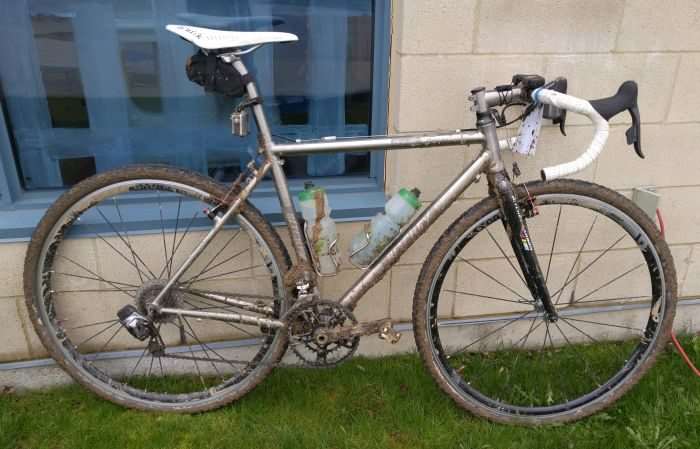 Summary
Paris to Ancaster is a top notch, professionally organized event that has something for everyone. Some people race it, and some people ride it. If the full monty 70kmish race isn't for you, there is a shorter, 40 kilometre version, and new for 2017, a 20 kilometre ride for families.
Despite the challenges associated with the spring time weather of Canada, Tim, John, their huge crew of volunteers, land owners, residents and the local police all come together to make this event a huge success. Paris to Ancaster is a blast; it's difficult for me to articulate in this article how much fun I had!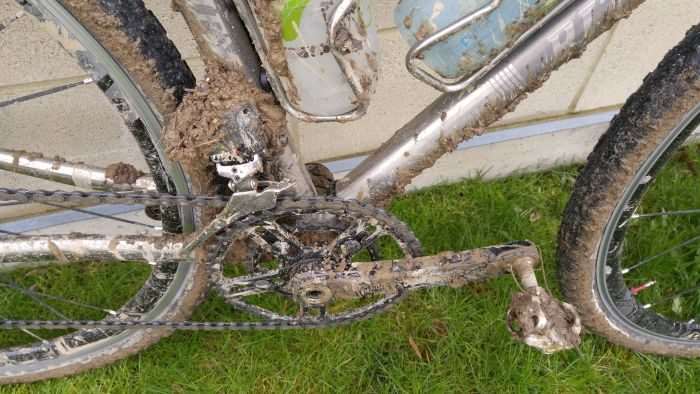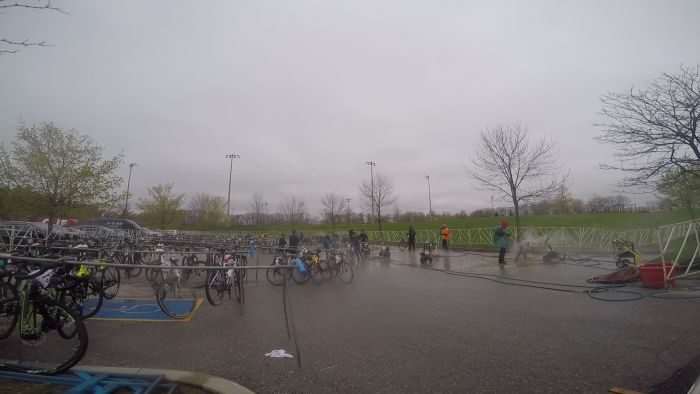 Post race, there is plenty of food on offer, and socializing with one's fellow riders. I did plenty of that, and made many new friends in the Great White North of Canada. I must pass along a special thank you to David Hanna and Bill? (sorry if I got your name wrong). The ride back to my rental car at the start line in Paris was greatly appreciated!
In the future, I'd love to return to Brant County and nearby, to ride some more in the area, and improve my time a little at Paris to Ancaster. Sometimes filming takes precedence over my ride time, but such is the nature of media. First world problems…
Finally, shout out to Steve and Kristi of The Hub Cycling of Port Orange, Florida, and Brad Shallow. These folks also made the trip from Florida for the race. I'm pretty certain they had just as much fun as I did.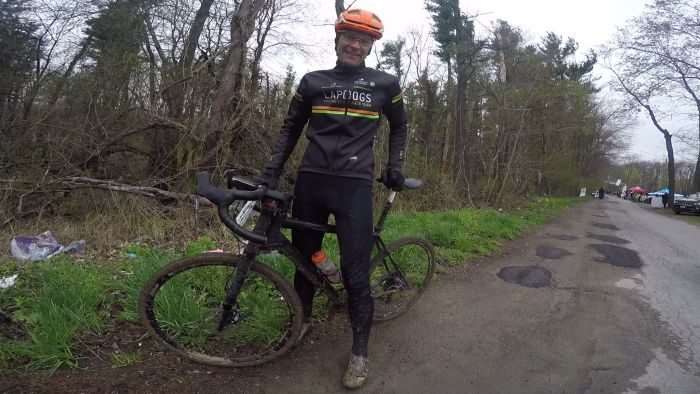 For those so inclined, you can see my Strava data from the 2017 Paris to Ancaster, HERE.
Full race results can be seen HERE.
Race video featuring drone footage, and front and rear POV cameras is coming soon.
Thanks for reading!